Are you looking for the best Hostinger alternatives for your small business?
We all know how crucial web hosting is in establishing a strong online presence.
I'm sure you've already heard of Hostinger and all it has to offer. And don't get me wrong, there's a reason why Hostinger is a popular choice for many businesses.
Hostinger is known for its easy-to-use interface, fast loading times, and range of features.
However, it's not the only option out there!
Hostinger Alternatives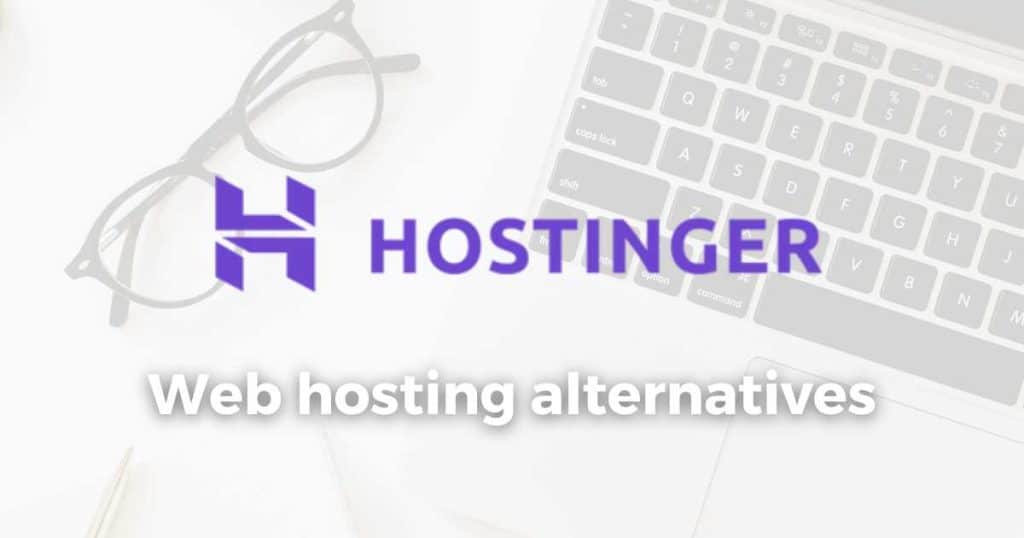 There are many incredible Hostinger alternatives available for small businesses.
All have different features, pricing plans, security and privacy options, and more.
And that's exactly what I will uncover in this Hostinger alternatives blog post!
I'll be diving into the top 5 Hostinger alternatives so you can find the perfect hosting solution for your small business.
Let's get stuck in.
Also, check out my recent Hostinger AI website builder tutorial here.
Hostinger vs GoDaddy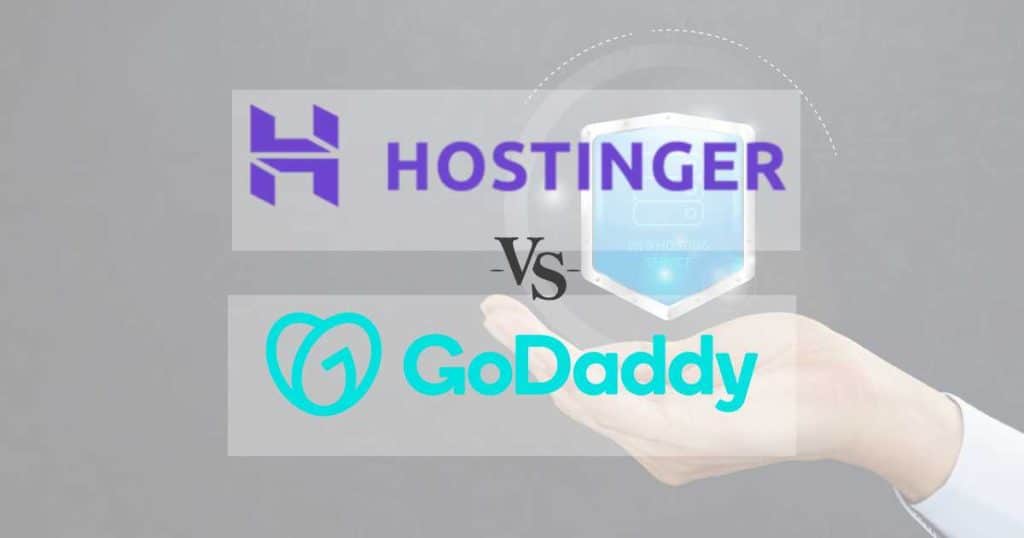 GoDaddy is a huge web-hosting typhoon and is a popular choice for teams after a scalable web-hosting solution, as they offer a huge range of features.
I don't know about you, but I'm constantly getting GoDaddy ads on my websites, Youtube, and social media.
So, how does it stack up compared to Hostinger?
Hosting types:
Both platforms offer all the basic hosting options, such as shared hosting, WordPress hosting, and VPS hosting.
The main difference between the two is that GoDaddy doesn't have a cloud hosting plan like Hostinger does, and Hostinger doesn't have a dedicated server hosting plan.
Read more: How to use WordPress.
Pricing:
In terms of pricing, Hostinger is undoubtedly the cheaper choice, with shared web hosting plans starting at just $1.99 per month.
GoDaddy's shared hosting plans start from $6.99 monthly and are much more elaborate than Hostingers.
Plus, there are so many plans to choose from, which can get confusing!
The cheapest shared hosting plan has unmetered bandwidth, a free domain, 1 click WordPress installation, 25GB of storage, daily backups, and a free email for one year.
Hostinger's cheapest shared hosting plan includes more storage (50GB), one email, weekly backups, and dynamic WordPress management and website builder tools.
But the main difference between the two is that you have to pay for your domain on Hostinger.
Security and Privacy:
When it comes to security and privacy, both have Firewalls, DDoS protection, and automated backups.
GoDaddy offers a free SSL certificate on plans just for the first year. But after that, you'll need to pay.
Plus, you'll get 24/7 network security on GoDaddy (no extra charge).
But Hostinger's Cloudflare protection and free forever unlimited SSL certificates on ALL plans is a winner in my eyes!
Read more: How to set up CDN for WordPress
Customer Support:
Both platforms have 24/7 live chat and email support, but Hostinger doesn't offer phone support on any plan.
This doesn't bother me, but this can be a huge drawback for some who prefer to speak to someone with an urgent query! 
Hostinger vs Namecheap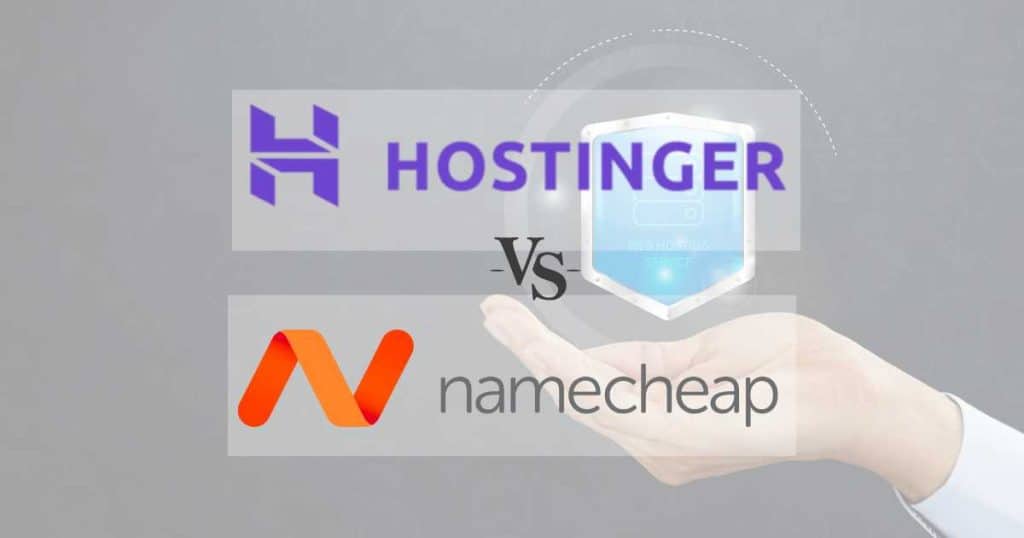 Next on my list is Namecheap.
Hostinger and Namecheap are huge players in the web hosting game, bringing different strengths to the table!
Namecheap is known for its storage space, bandwidth, and RAM, whereas Hostinger is best for businesses wanting affordable pricing plans and fast loading times.
Let's find out more.
Hosting types
Both platforms have a variety of hosting types, including shared hosting, WordPress hosting, and VPS hosting.
Hostinger also offers:
cPanel
Cyberpanel
Minecraft hosting.
And with Namecheap, you can also choose a dedicated hosting type plan.
Plus, they offer a reseller hosting type option, ideal for web developers or hosting contractors wanting to resell their accounts eventually.
Pricing:
Hostinger is well known for its affordable hosting prices. So, how does Namecheap compare?
When comparing the 'Shared Hosting' plans on both Hostinger vs Namecheap, Namecheap's cheapest shared plans come in at a slightly more affordable $1.98 (annual price per month).
And within Namecheap's most basic plan, you'll get three websites, access to the website builder tool, 20GB of storage, website migration, and more.
Hostinger, on the other hand, offers more storage (on the basic plan) but only comes with one website.
And what about their most expensive shared hosting plans?
With Namecheap, you'll pay almost half of what you'd pay with Hostinger! ($9.48 per month compared to $16.99 per month).
And if you opt for one of Namecheap's WordPress hosting plans, you'll get your first month for free.
Who would have thought Hostinger would ever be a second place for web hosting??
Read more: Hostinger vs Bluehost
Security and Privacy:
Both platforms have all the essential security features you'd expect from a good web hosting site, such as SSL certificates, weekly backups, and server security.
But with Namecheap, you'll receive FREE lifetime domain privacy on all plans!
Plus, some plans even let you back up your website twice a week.
With Hostinger, you'll have to pay extra for domain privacy ($5 per year), and daily backups are available on the priciest plan only.
Customer Support:
Hostinger and Namecheap are on par regarding the types of support they offer.
You'll get live chat, email, FAQs, and tutorials on both. And neither offer phone support.
On Trustpilot, both have pretty good reviews, with Hostinger leading the way at 4.7 out of 5 overall and Namecheap averaging 3.9 out of 5.
It's also worth mentioning that some users have reported that Namecheap is lagging in terms of customer support.
Read more: How to use HostPapa. 
Hostinger vs SiteGround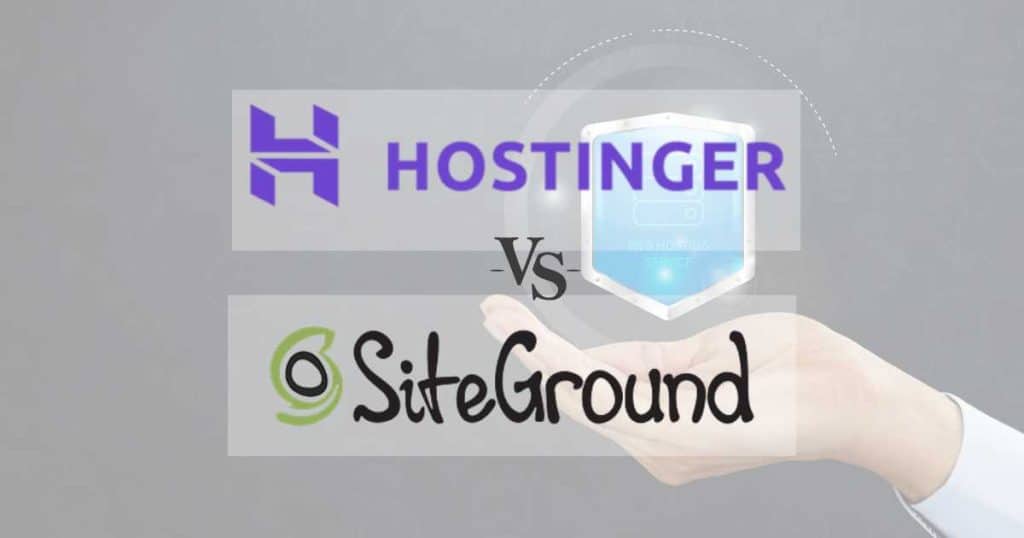 SiteGround is another top contender, often praised for its high level of web hosting security.
So, what's the better choice – Hostinger vs SiteGround?
Can SiteGround beat Hostinger's affordable pricing plans, intuitive interface, and fast loading times?
Hosting types:
SiteGround offers four types of web hosting options:
Shared hosting.
Cloud hosting.
WordPress hosting.
Learn more about how to use WooCommerce here.
Hostinger, on the other hand, offers all that and more, including dynamic hosting options such as VPS and Titan email hosting.
Pricing:
Hostingers pricing plans are, once again, unmatched. SiteGround's shared hosting plans start at a discounted $3.99 per month (for the first year).
Once that year ends, you'll have to pay the total $14.99 price.
In saying that, you get more storage, backups and a free CDN with SiteGround.
The most basic plan includes one website, 10GB of storage, free SSL, automated daily backups, free email, and more.
If you're after cloud hosting, SiteGrounds are significantly pricier than Hostinger, starting at $100 monthly.
Security and Privacy:
SiteGround and Hostinger are trustworthy hosting platforms offering advanced security measures to help you protect your website.
However, SiteGround takes things to the next level with daily backups, real-time monitoring, AI and-bots, and WAF (web application firewall).
You can also purchase domain security on both platforms, with Hostinger being the cheaper option (Hostinger $5 per year and SiteGround $12 per year).
With two-factor authorization, DDoS protection, and malware scanning, Hostinger's level of privacy and security is good…SiteGround is just better!
Customer Support:
SiteGround offers phone, email, live chat, tutorials, and FAQ support.
Both tutorials and FAQs are super helpful, and the general consensus online is that both platforms have a pretty good response time for support.
However, as previously mentioned, Hostinger doesn't offer any phone support. So, in terms of support, SiteGround is the winner!
Want to know more? Read my comprehensive Hostinger vs SiteGround blog post here. 
Hostinger vs DreamHost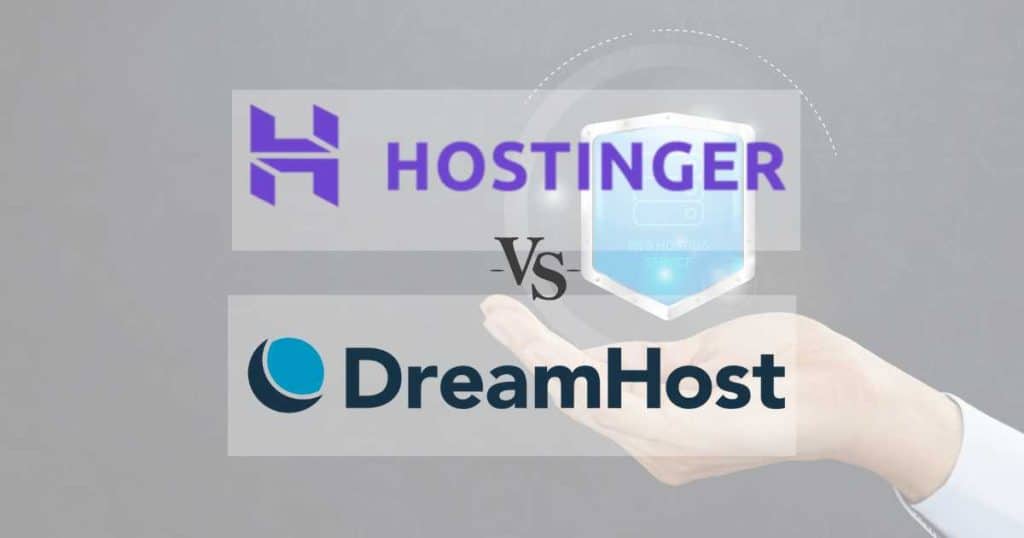 Known for its incredible back-end functionality, DreamHost is the perfect option for mid to large-sized businesses wanting to build and scale a full-featured website.
So, can small businesses use DreamHost too? Or should that be left to our trusty favorite – Hostinger?
Hosting types:
Dreamhost has all the standard web hosting types, such as shared hosting, VPS hosting, cloud hosting, WordPress hosting, and dedicated hosting.
Although this gives a good range of hosting options, it doesn't compare with the number of hosting types Hostinger offers (mentioned earlier in this blog post).
Pricing:
DreamHost has just two shared hosting plan options. The cheapest pricing plan (for three years) is $2.59 per month, and the unlimited plan starts at just $3.95 per month.
The basic plan offers:
One website.
A free domain.
Unlimited traffic.
An SSL certificate.
Fst storage.
Fee domain privacy.
WordPress migration, and more.
If you opt for the unlimited option, you'll get all that plus unlimited emails and websites!
One of the best things about DreamHost is that it comes with a built-in WordPress website builder.
Learn more about WordPress.com vs WordPress.org
While Hostinger's plans are certainly cheaper than DreamHost (starting from $1.99), DreamHost is the obvious choice for teams wanting to build a WordPress website.
Security and Privacy:
Both providers offer free SSL certificates, server security, backup, and domain privacy.
So, what's the difference between the two? DreamHost offers daily backups and free domain privacy.
Hostinger's backups are only weekly (unless you opt for a higher-paid plan), and you can't get domain privacy protection on lower plans.
With that said, DreamHost is the winner here!
Customer support:
Like many other web hosting platforms, the main difference is that Hostinger doesn't offer any phone support.
However, according to Trustpilot, both platforms excel in customer support, with an average of 4.7 for both Hostinger and DreamHost! 
Hostinger vs Wix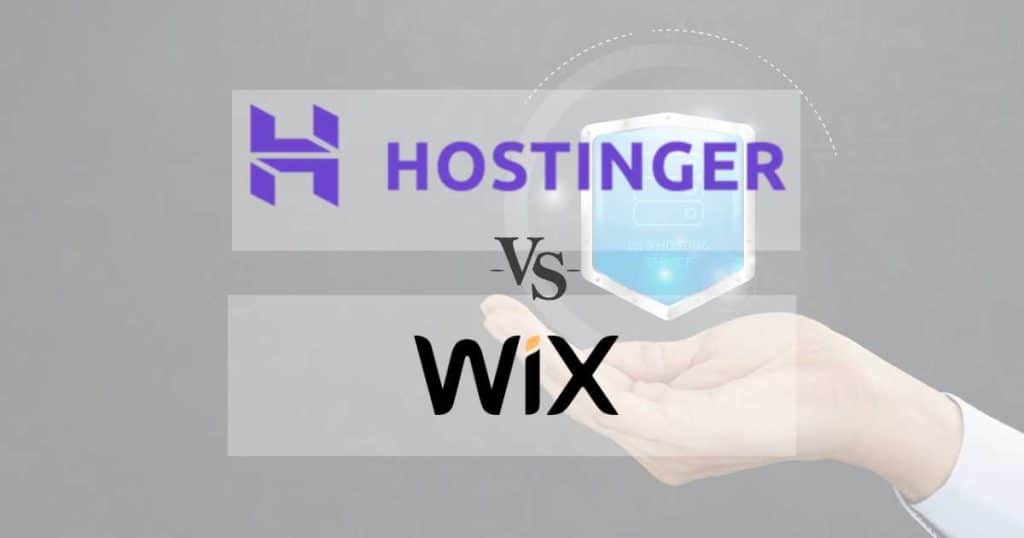 Last but not least, we have Wix!
Wix is one of my favorite website-building tools. But did you know that every website built with Wix comes with website hosting?
So, is it worth going with Wix as a Hostinger alternative?
Hosting types:
Wix is different from all the other web hosting platforms I've mentioned.
When you build a website with Wix, you'll receive website hosting on a CDN (content delivery network).
This includes all your basic web hosting services and features. You'll have to upgrade to a paid plan if you require more.
Wix only offers one type of website hosting, meaning you don't get all the other dynamic web hosting options that Hostinger offers.
In saying that, if you don't know what you're looking for in a hosting platform, Wix may be a good choice!
Pricing plans:
Web hosting with Wix is completely FREE!
That's right, on any Wix plan, you'll get free web hosting, including:
A free SSL certificate.
500MB of bandwidth and cloud storage.
And if you upgrade to a premium paid plan, you'll receive 1GB – 50GB of storage and unlimited bandwidth (depending on your plan).
Wix is a great free (and paid) option if you're after a total website builder and web hosting service.
However, for the small price of $1.99 per month, you can't look past Hostinger's high level of storage and bandwidth!
Learn more about how to create a free website with Wix here.
Security and Privacy:
If you choose Wix for web hosting, you can guarantee your website will be safe and secure!
With advanced security monitoring, 99.9% uptime, hacker protection, and automatic backups, Wix has earned its name as a trustworthy and reliable platform.
Customer support:
Wix's free plan offers online customer support, including Wix blog access, video courses, and lessons.
On paid plans, users also receive 24/7 customer support (and priority phone support on the highest-paid plan).
And if you're after web development, SEO, or graphic design help, you're in luck! You can hire a professional through Wix's marketplace.
Therefore, I believe Wix's customer support (on paid plans, anyway) is better than Hostinger's.
Plus, unlike Hostinger, you can actually speak with someone on the phone!
Read more: Zyro (Hostinger AI website builder) vs Wix. 
Which is Best for You?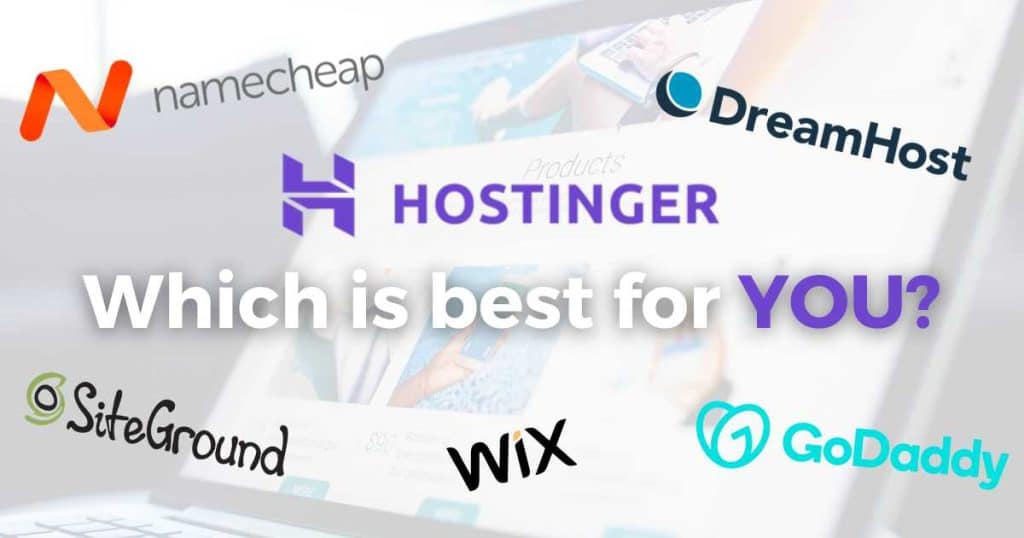 So with all that said, what is the best web hosting service for you? Are you still leaning towards Hostinger, or has another alternative swayed you?
In my opinion, Hostinger's all-inclusive, simple, basic, and affordable pricing structure means you know what you're getting with your web hosting.
If you're after a trustworthy, reliable and affordable web hosting solution, Hostinger is an incredible choice.
Plus, their AI-powered website builder Zyro is one of the best in the market!
In saying that, if you're a larger business looking for a complete web hosting solution to handle your complex requirements, GoDaddy may be the best choice for you.
But if you're a web developer, freelancer, or contractor and require a total web hosting, domain, and website builder tool, go with Namecheap!
SiteGround is perfect for people wanting to prioritize security over everything else, and DreamHost or Wix are excellent web hosting and website-building options. 
Check out this tutorial on how to choose a domain name for your local businesses
Stews Final Thoughts
That's everything I wanted to cover in this 5 best Hostinger alternatives article!
I hope you can now distinguish each platform's differences, strengths, and weaknesses.
As you can see, although Hostinger is an affordable, reliable, and trustworthy solution, there are so many other options out there.
Most of these platforms either offer free trials or money-back guarantees.
So, pick one or two that you think would suit you and your business best, and give them a go!