Adobe Express vs Canva – the two clear front runners when it comes to online graphic design tools.
But which one is the best choice for you?
Are you tired of always having to Google how to use specific tools or functions within complicated design software?
Well, now you don't have to… because I have the answer for you!
I love and use Canva a lot… I use it literally every day.
So I'm going to find out if Adobe Express is a better or worse solution for all levels of designers.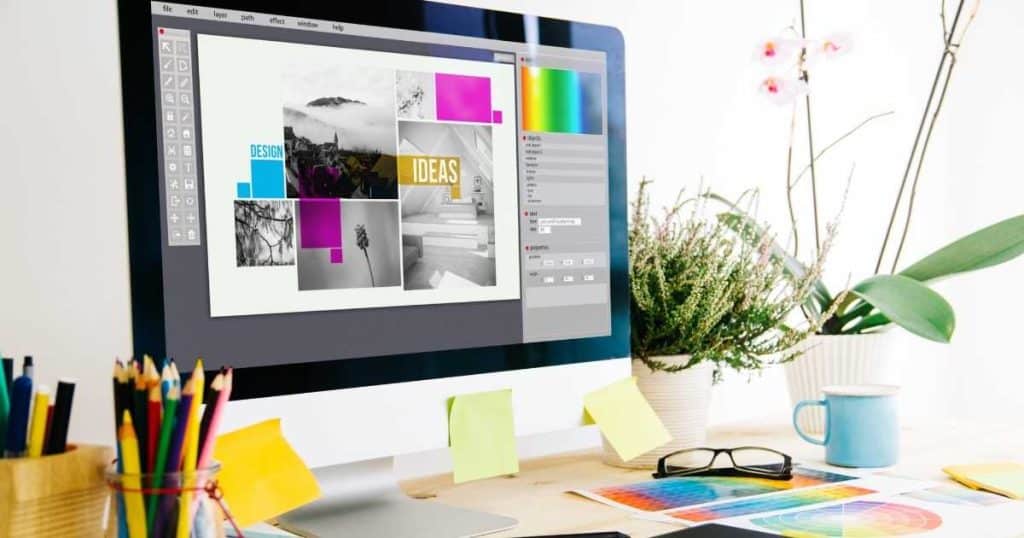 Adobe Express and Canva are two of the most popular graphic design tools on the market.
Both platforms let you create stunning graphics and visuals. And the best part? You don't have to spend hours learning how to use them.
These tools are the perfect web-based online graphic design tools for small business owners who simply don't have the skills or time to muck around with complex systems.
But what is the difference between the two?
In this blog post, I'm going to dive into everything I know about the two platforms, so you can decide which one you want to use for all your business design needs.
So, whether you're a professional graphic designer or a beginner looking to spruce up your social media posts, you've come to the right place!
Let's get stuck in.
Adobe Express vs Canva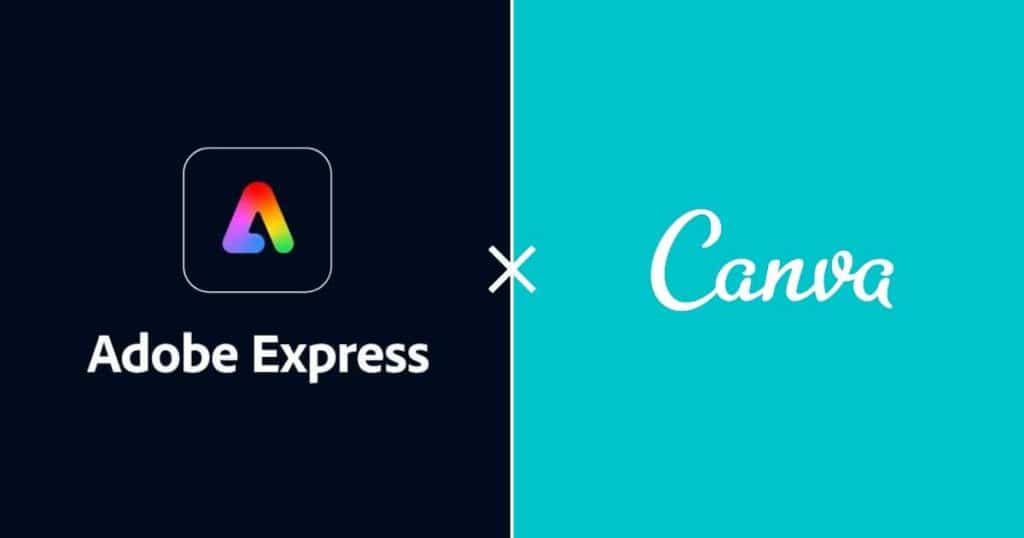 It's safe to say that Adobe Express and Canva are two of the most popular online graphic design tools online in 2023.
Both platforms offer a range of features and capabilities and have distinct differences that make them better suited for certain types of users and projects.
It's like choosing between two different types of pizza – both are delicious, but which one is right for you?
What is Adobe Express?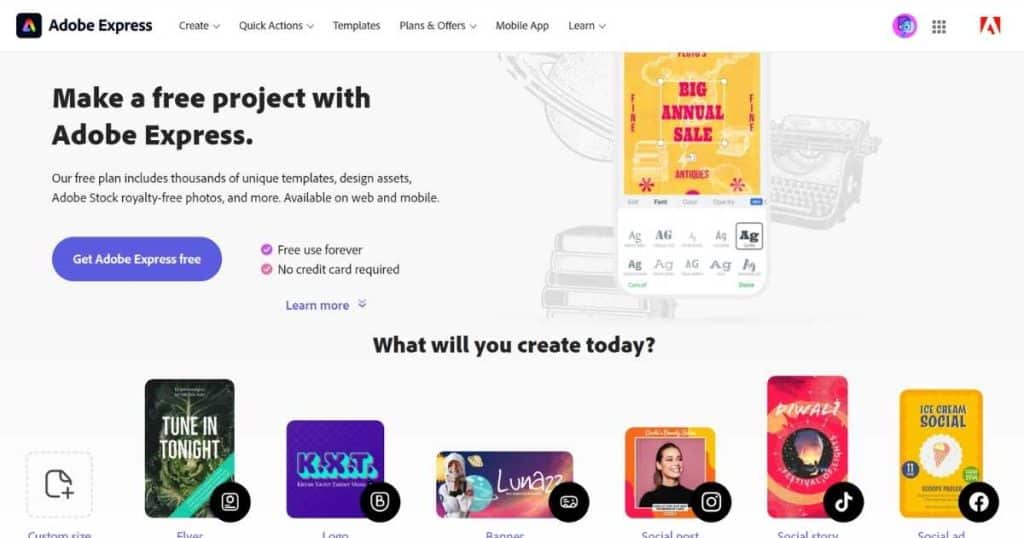 Adobe products are widely used in the world of creatives and designers.
And Adobe Express is one of the many products the leading software company Adobe offers.
I'm sure you've heard of their other applications such as Photoshop, Indesign, and Illustrator.
I know what you're thinking…what are you talking about? These products are what professional graphic designers use!
Well, Adobe Express was designed specifically as a much simpler design tool.
Adobe Express is entirely web-based, meaning you can create stunning visuals and graphics on the go (as long as you have an internet connection).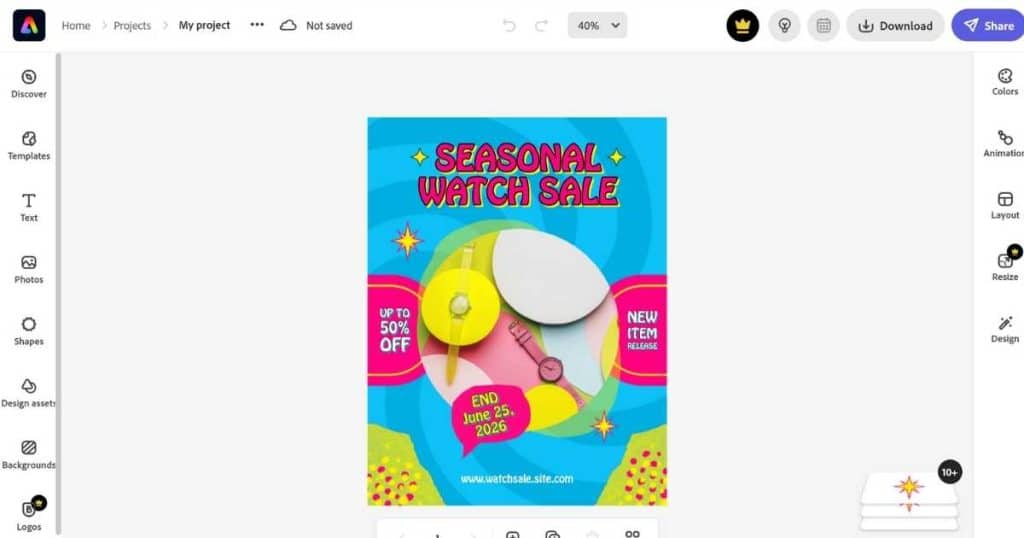 You can create anything from:
Flyers.
Logos.
Social media posts and stories.
Book covers.
Resumes and more!
Simply choose from various templates, fonts, and graphics to create unique designs on point with your brand.
So whether you're creating a logo, social media post, or marketing material, Adobe Express has everything you need to bring your vision to life.
But, is Adobe Express the best alternative to Canva, our favorite online graphic design tool?
Let's find out.
What is Canva?
First, I'll give you a brief rundown of what Canva is.
Canva is a popular web-based graphic design platform that allows users to create stunning visuals and graphics for social media, presentations, posters, and many more.
You can even create a logo or a fully functional website using Canva.
And the best part is that you don't need any design experience to use it!
Learn how to create a logo with Canva here.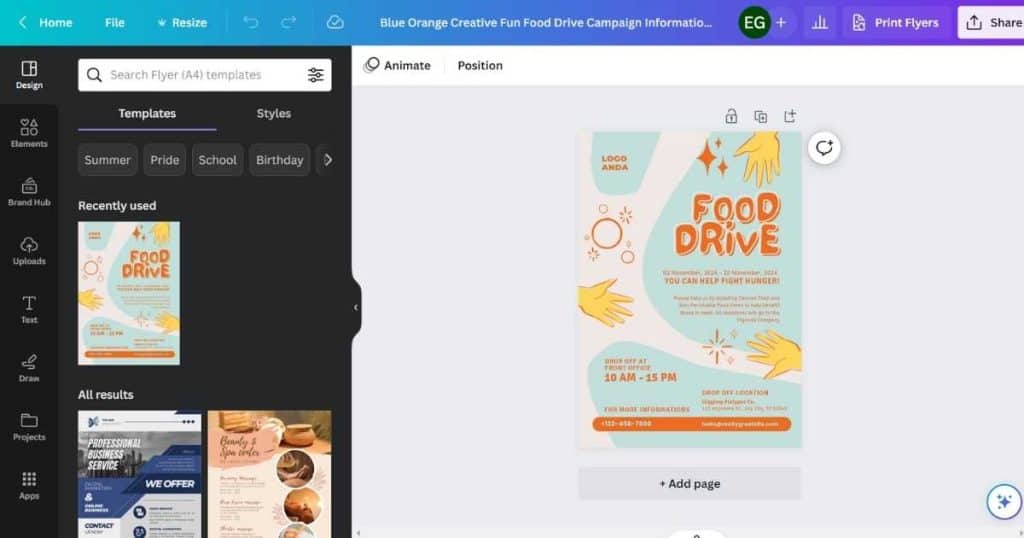 I use Canva almost daily as it's easy to use and has such a wide range of:
Templates.
Images
Videos.
Graphics and fonts.
And if you're a business owner with little to no design experience, you can easily edit your designs through the simple drag-and-drop editor tool.
Basically, whether you're a marketer, blogger, or a small business owner, you can be sure that Canva has everything you need to create professional-looking designs!
How does Adobe Express work?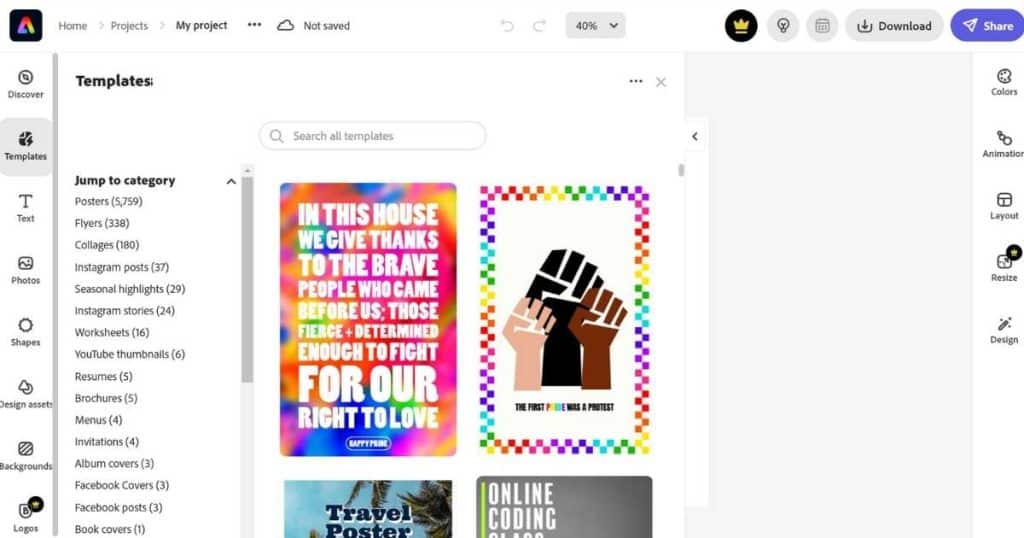 The first step is to simply sign up for the free or paid plan on their website. If you already have an Adobe account, you can also sign in with those details.
One of the things I love about the free plan is that you can still access templates, photos, and more on both web and mobile versions!
Next, choose what type of project you want to create. This could be a social media post, web page, or video (just to name a few!)
Create a design from scratch or choose a template and customize it the way you like. You can add your own images, text, and graphics or use the abundance of Adobe fonts and stock images.
Once you're happy with how your project looks, you can save it to your device or share it directly on your social media channels.
Additionally, you can directly collaborate on projects with other team members in real-time.
How does Canva work?
Canva actually works similarly to Adobe Express:
Sign up and sign into Canva on their website. You can choose between a completely free plan or the Canva Pro plan to access more features and templates.
Select what type of project you want to work on. Remember, you can choose from many Canva templates to help you get started!
Customize your template using Canva's huge library of images, text, fonts, and graphics (or upload your own). Then, edit these through Canva's easy drag-and-drop editor.
Once you've finished your design, you can download, save or share it to different channels.
Similar to Adobe Express, Canva also offers a built-in real-time collaboration feature.
Adobe Express vs Canva Pricing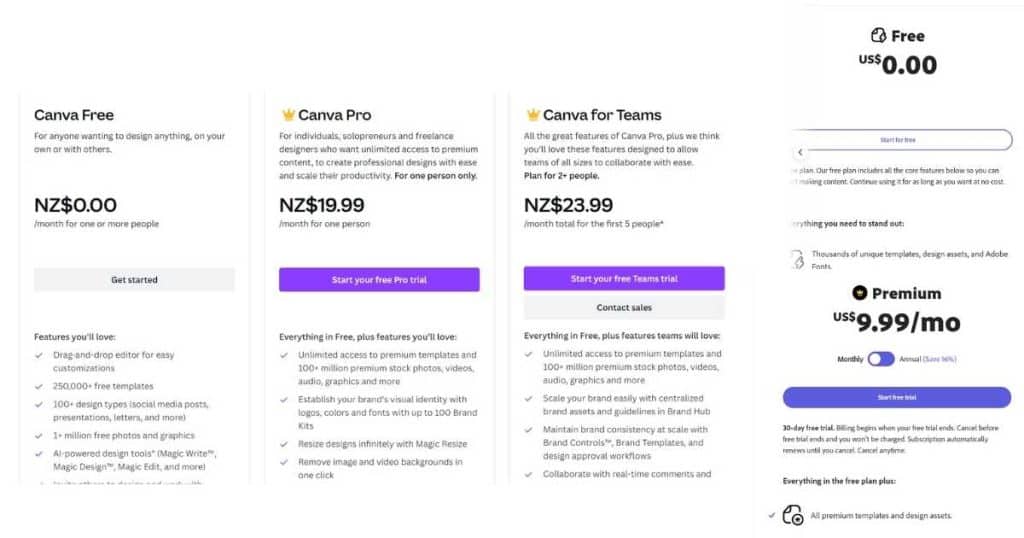 Free: $0. Thousands of templates, limited stock images, and fonts. Basic editing and effect functionality and 2GB of storage.
Premium: $9.99 monthly. Premium templates, 20,000 fonts, 160 million stock images, premium editing features, convert and export to PDF function, 100GB of storage.
Free: $0. 250,000 templates, 100+ design types, 1 million free images, AI-powered tools, Collaboration capabilities, and 5GB of storage.
Pro: $12.99 monthly per person. Premium templates, 100+ million images, photos and audio, 100 brand kits, Image removal in one click, schedule social media content feature, 1TB of storage, and 24/7 support.
Teams: $23.99 monthly for the first 5 people. Everything on the pro plan, except you can collaborate with teams in real-time with comments and tasks, create reports, 300 brand kits, and enable pay-as-you-grow billing.
Adobe Express vs Canva User-friendliness
When comparing the two, I noticed that both platforms are almost identical in terms of the user interface and layout, even down to the font both platforms use.
That makes things interesting…!
You'll find pretty much everything you need to customize your design on the left-hand side of both tools.
Canva's clean, easy-to-use, intuitive interface and drag-and-drop editing tool means anyone can quickly create and customize designs.
I mean it when I say that virtually anyone can make stunning and professional designs with Canva!
Other Canva alternatives may leave you feeling overwhelmed and frustrated, but with Canva, you'll feel like a pro from your very first design.
The interface and editing features of Adobe Express remind me of a simplified version of other Adobe products I've used before..sort of..mixed with Canva?
If you already know your way around Adobe products' features and tools, you'll find Adobe Express a breeze. Otherwise, it might take a little longer to figure it out.
They also have a drag-and-drop editing tool, but Canva's is more intuitive.
The chances are, you'll most likely prefer Canva's layout if you're a beginner.
Learn how to create an email campaign with Canva here.
Winner = Canva
Adobe Express vs Canva key features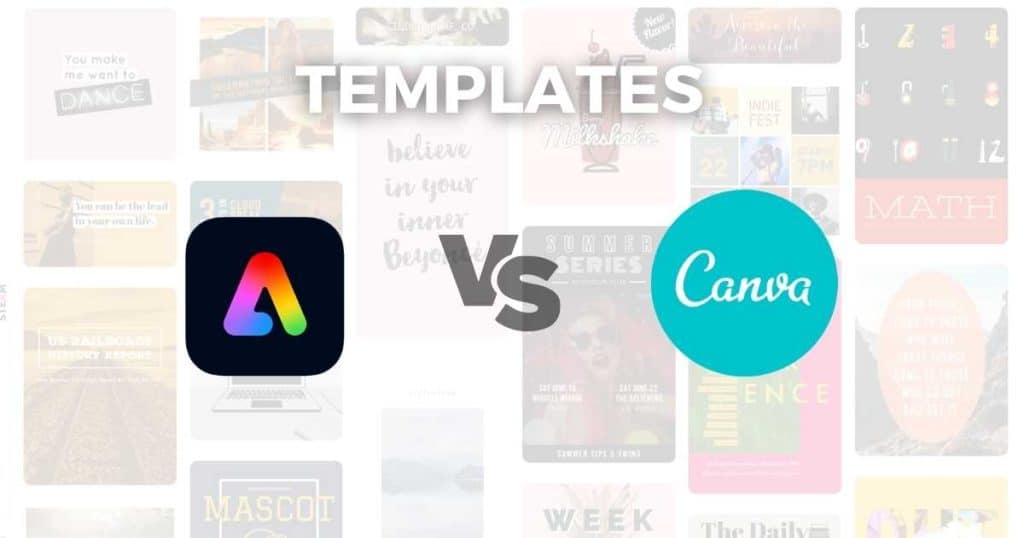 Both tools provide an abundance of high-quality, customizable templates (even on the free plan). However, with Canva, you'll get a whopping 250,000 templates on the free plan alone  and even more on the paid plan.
This is over double what Adobe Express brings to the table on their paid plan!
If you're stuck on where to start with your design, you'll be able to find just about anything on Canva. And all for free!
Winner = Canva
One of the best things I love about both platforms is that they offer a tonne of stock photos that you can use without worrying about copyright issues.
Adobe Express gives you 800,000 images on the free plan and 160million + on the paid plans – that's a lot of images, right?
One thing to consider is that some of Adobe Express's stock images are from Adobe's own stock library, which comes with some limitations you should know about.
Canva, on the other hand, offers over 1 million stock photos, graphics, videos, and audio (all on the free plan!)
Winner = Canva
In terms of fonts, Adobe has a huge catalog of 20,000 Adobe fonts on the premium plan.
With Canva, you can use just over 2000 different fonts but also have the choice to upload your own custom font.
Winner = Adobe Express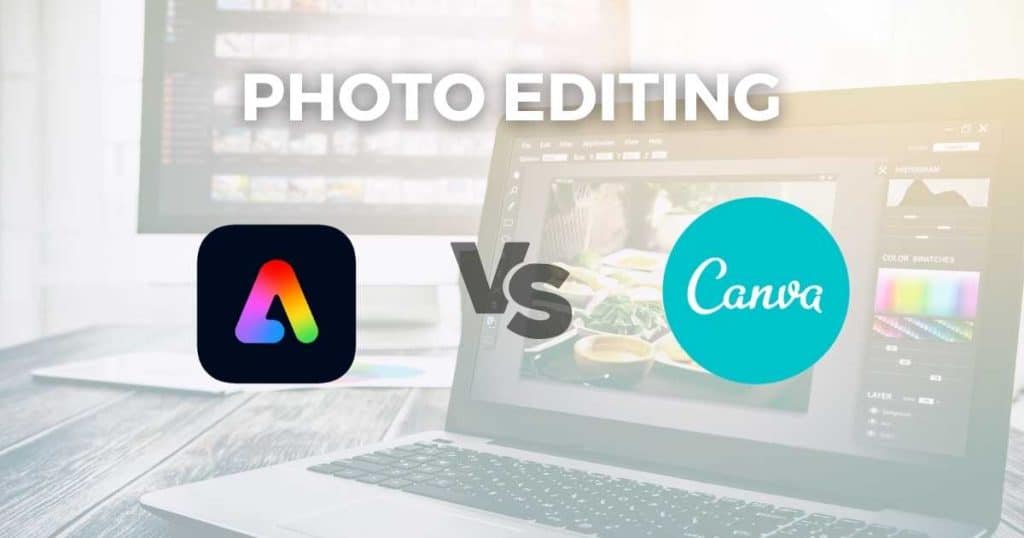 Whether you want to upload, edit and amplify your own photos or edit from the photo library, both Canva and Adobe Express give you a decent number of effects and filters to do that.
You can change the:
Brightness.
Saturation.
Opacity.
Distortion and more.
In terms of differences, Canva has a cool 'Copy style' tool where you can apply a style from one image to another image. Adobe Express doesn't offer this.
On both platforms, you can remove the background of your photo. However, you get it for free on Adobe Express, whereas you'll need to upgrade to a paid plan to use that feature with Canva.
Also, with Adobe Express, photo editing options are limited if you don't know what you're doing. For example, you have to blur or brighten your image manually.
Winner = Canva
These graphic design tools don't just stop at static images! Did you know you can also create stunning videos on both platforms?
Canva is primarily geared towards creating videos from scratch (or through the template library), perfect for beginners or if you want to make quick videos.
In comparison, Adobe Express offers tools for you to create personal videos. This makes it a more versatile option if you need to edit your existing videos or create new ones from scratch.
Adobe Express has the edge in video editing and creating. However, if you just want to create a video without experience, Canva is your best bet.
Winner = Adobe Express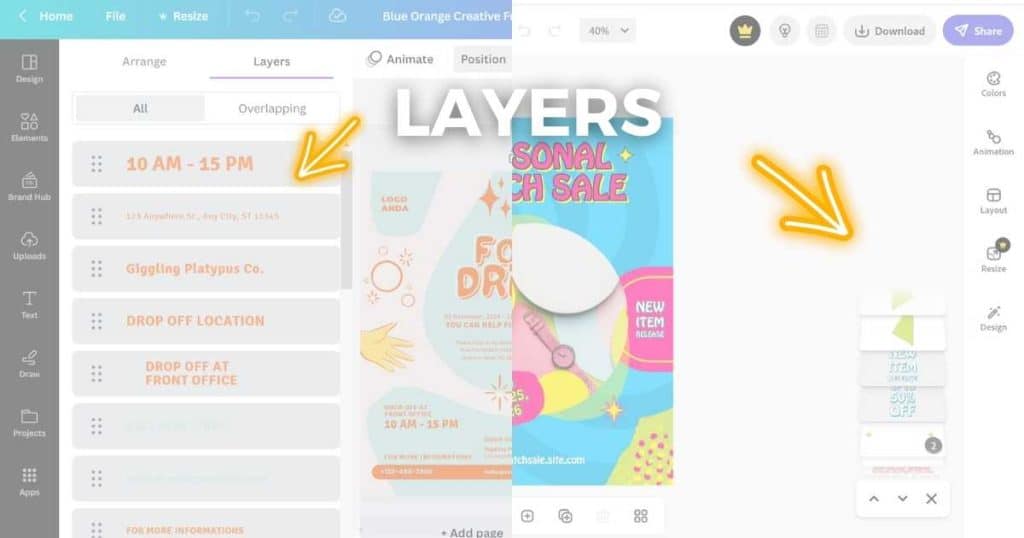 Adobe Express and other Adobe products graphic design tools have always had the 'Layer' function, which is where you can manage and see all the different layers to your design.
This is a new function that Canva recently brought in (to compete with Adobe Express?) and serves the same purpose.
Both functions are clear, concise, and similar in appearance and functionality.
Draw
That's right! You can create a fully functioning single-page website within Canva and Adobe Express.
It's important to mention that you'll never be able to create a complex website with these platforms like you can with website builders like WordPress, Wix, or Shopify.
However, if you want to create a simple and responsive website, you can do that for free on Canva or Adobe Express.
In my opinion, Canva wins this one! Why?
They offer way more website temples (800+) than Adobe Express (16 web page themes).
Also, you have a few extra options, such as password protection or custom domain name purchasing.
Winner = Canva
Click here to learn more about creating a website with Canva.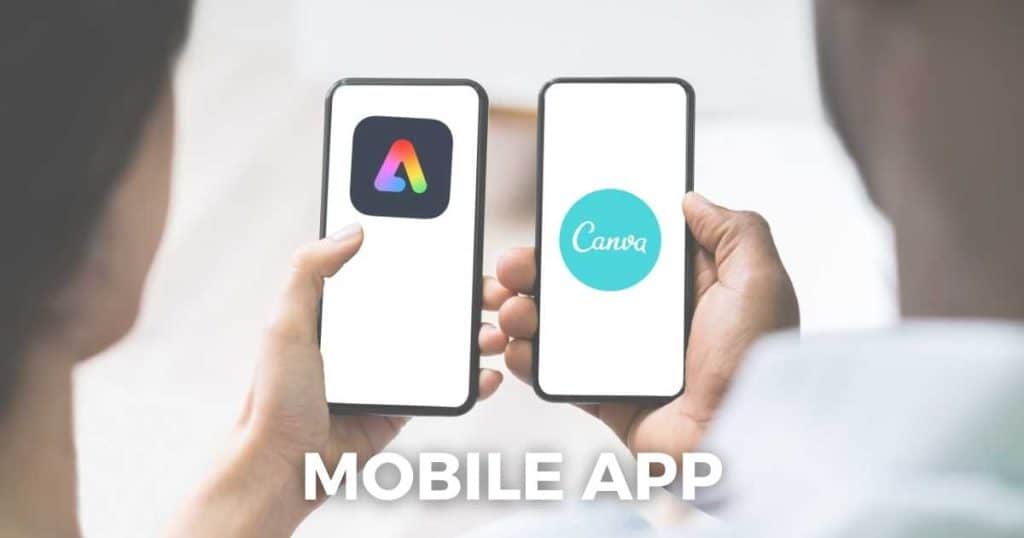 Both graphic design tools have a mobile app available on both iOS and Android so you can edit your designs no matter your location!
Most features are available on both apps, and both have generally good reviews on both platforms.
So what do I think?
Both are pretty user-friendly, but Canva is slightly in the lead because their app interface looks the most similar to the web layout.
Winner = Canva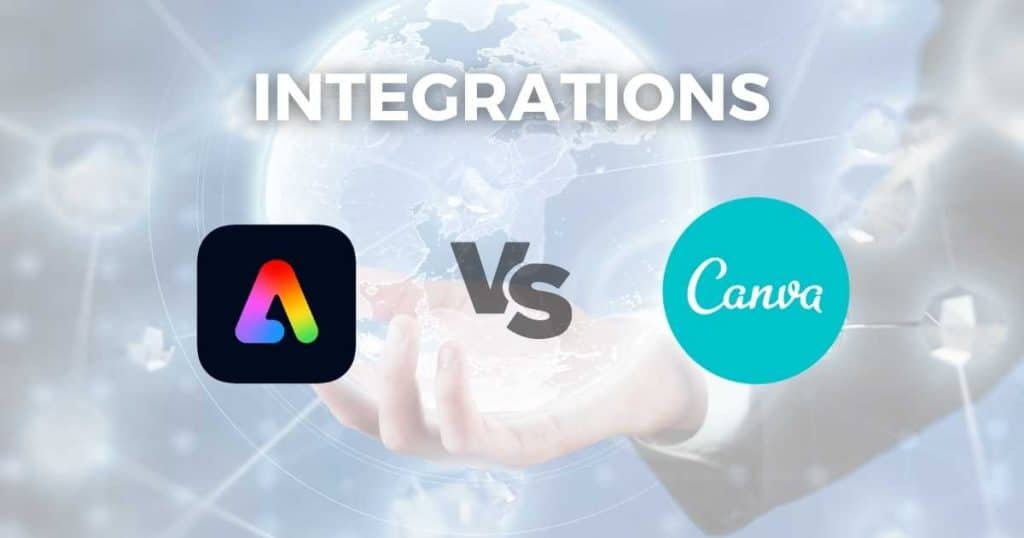 Adobe Express can integrate with other Adobe products, Google Drive, Microsoft Teams, and through their new 'Schedule' feature, which lets you connect to your social media channels.
Canva integrates with over 100 apps and integrations, including social networks, web apps, and productivity tools like Slack or OneDrive.
I personally use Slack daily, so having the option to seamlessly connect my Canva designs with all my other online tools is just great!
Winner = Canva
What I like about Adobe Express

The paid plan (for one user) is cheaper than Canva.
Background removal tool is available on the free plan.
Phone and live chat support.
More advanced tools on the paid plans.
What I like about Canva

Canva is affordable for small teams.
Thousands of templates.
Fast interface.
You don't have to worry about any image licensing issues.
Easy to use for absolute beginners.
What I dislike about Adobe Express

The interface is a bit slower than Canva's.
If you're not a professional designer or have never used Adobe products, the learning curve is steep.
Some of their stock images have limitations.
You don't get as much bang for your buck on the free plan.
What I dislike about Canva

You can't create super complex designs.
The paid plan is more expensive than Adobe Express (per user).
There's no free trial.
Which one is best for you? Canva vs Adobe Express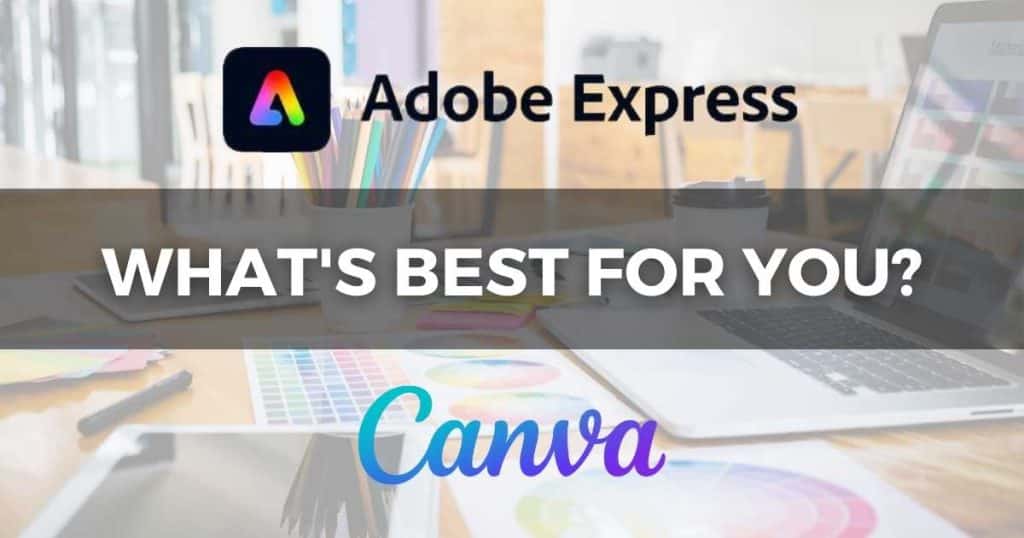 The ultimate question remains, what is the best graphic design tool for you, Canva or Adobe Express?
And is Adobe Express the best Canva alternative?
Honestly? If you're a beginner and want to create engaging graphics, videos, or websites quickly and easily, I'd stick with Canva.
I'd suggest going with Adobe Express if you're an intermediate or advanced designer and are already familiar with Adobe products.
Ultimately, both Canva and Adobe Express have their strengths, so it's up to you to decide which best suits your and your team's needs and goals!
Stew's final thoughts
And you've made it!
I've covered everything you need to know to help you decide what graphic design tool is best for you.
Regardless of your software choice, I'm confident you can create stunning designs with both tools, whether you're a beginner or a more experienced designer.
Let me know how you get on below.
Thanks for reading!