If you're self-employed and want to know the top 6 best accounting software to help you manage your finances, you've come to the right place.
Chances are, you've clicked on this article because you have no idea where to start, right?
I know how daunting it is to take the plunge and get rid of manual spreadsheets or physical accounting books.
So congratulations! You've taken the first step.
As self-employed business owners, there's always a lot to manage in a short amount of time.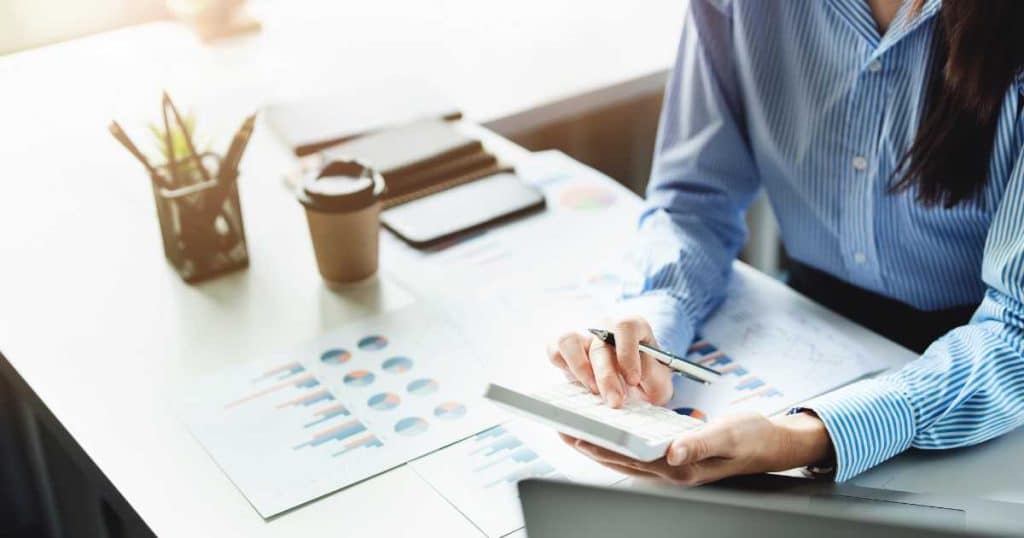 But trust me, using the right accounting software to care for your finances will make your life so much easier!
And with so many accounting software options available, it can be overwhelming to choose the right one.
This blog post will dive into our top 6 best accounting software options for self-employed individuals in 2023.
We've done all the research, so you don't have to do any thinking!
Our list includes user-friendly, affordable, and scalable software to help self-employed people easily keep track of their income, expenses, and taxes.
This article is perfect for self-employed:
Freelancers.
Restaurant owners.
Contractors.
Nonprofits.
Construction companies.
Real estate businesses or investors.
eCommerce stores and more.
No matter the industry, you can be sure there's the right accounting software out there for you!
It's time to throw those tedious spreadsheets (or worse, pen and paper!) into the bin and get stuck into a more efficient way of managing your finances.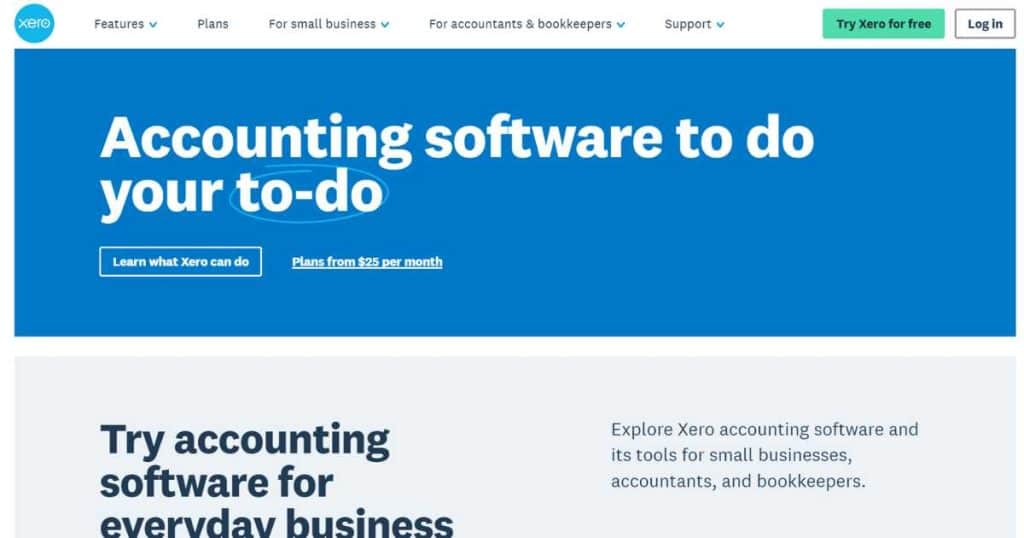 Xero is a popular online accounting software choice for small to medium businesses wanting to manage their finances.
Simply track expenses, create invoices, generate financial reports, and more with Xero's sleek interface.
Jam-packed with easy-to-use and robust features, it's no surprise that Xero is used by so many worldwide.
And one of the reasons why is that Xero is so flexible and scalable, as you can have unlimited users on any plan.
This means there's no need to pay extra when your team grows or if you want someone else to take on additional responsibilities such as bank reconciliation or expense tracking.
For self-employed business owners, Xero can help you manage your finances more efficiently.
For example, you can connect your bank account to Xero, enabling automatic bank feeds and reconciliation.
And freelancers, self-employed businesses, and small business owners who are on a budget will love Xero's affordable pricing plans (more on that later).
Additionally, the amount of integrations Xero offers is truly outstanding. You can connect your CRM or project management tools directly with Xero to help you streamline your processes!
You can find out more about how to use Xero here.
Pricing: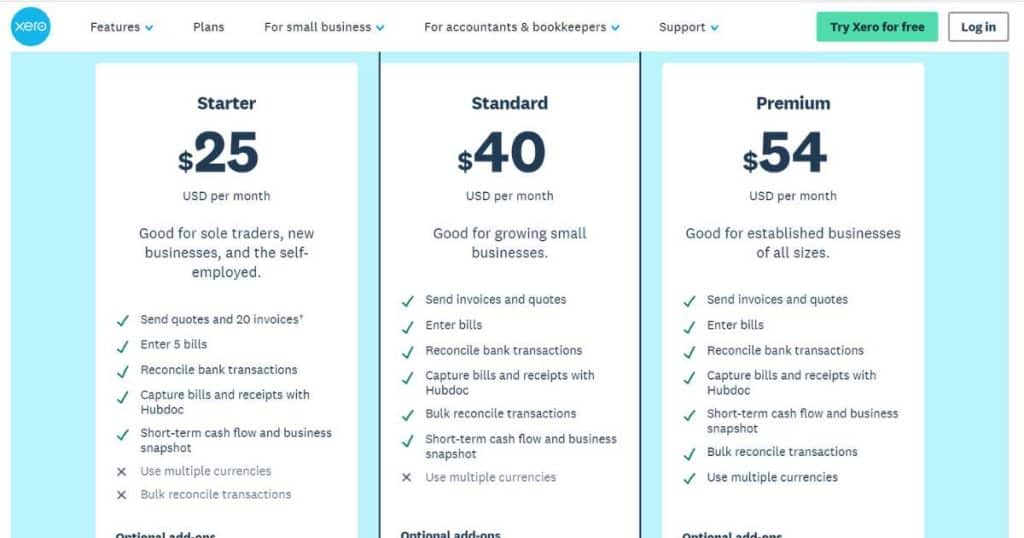 Starter: $25 monthly – best for sole traders, self-employed, and new businesses.
Standard: $40 monthly – best for small businesses and growing teams.
Premium: $54 monthly.
All plans also come with a 30-day trial.
Additionally, you can purchase time-tracking, advanced analytics, and claim expense add-ons.
What I like:
The mobile app is one of the best I've come across.
Xero's integration capabilities are also the best I've seen on the market.
All plans come with unlimited users.
Sleek, minimal, and easy-to-use design.
What I dislike:
No free plan.
The starter plan doesn't come with unlimited invoices.
Although Xero is easy to use, it has a steeper learning curve than other basic software.
Limited customer support.
Best feature: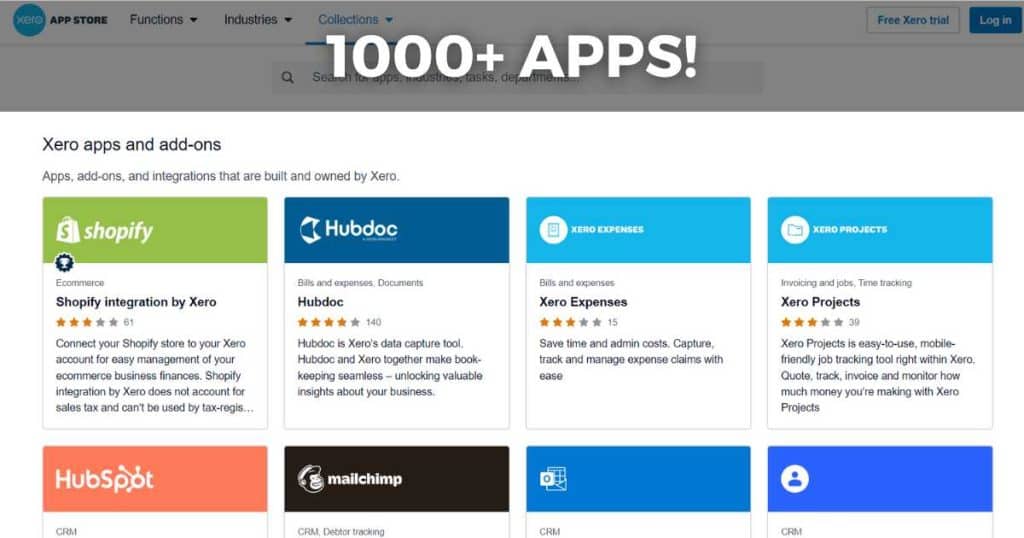 My favorite feature of Xero is the sheer amount of integrations it offers! Xero offers a far bigger pool of integrations, all available through their app store.
With over 1000 apps, this is far more than any other accounting software I've come across!
And integrations with many restaurant management systems make Xero one of the best accounting software for restaurants.
Nonprofits can track their donations, grants, and expenses with Xero, and also receive a 25% discount.
And if you're after the best accounting software for rental properties, look no further! With Xero, you can manage your property expenses and track your rental income.
Finally, with easy eCommerce integrations with Shopify, and dynamic reporting ability, online stores can use Xero to manage sales, pay bills and track inventory.
This means that self-employed business owners can use Xero no matter their niche.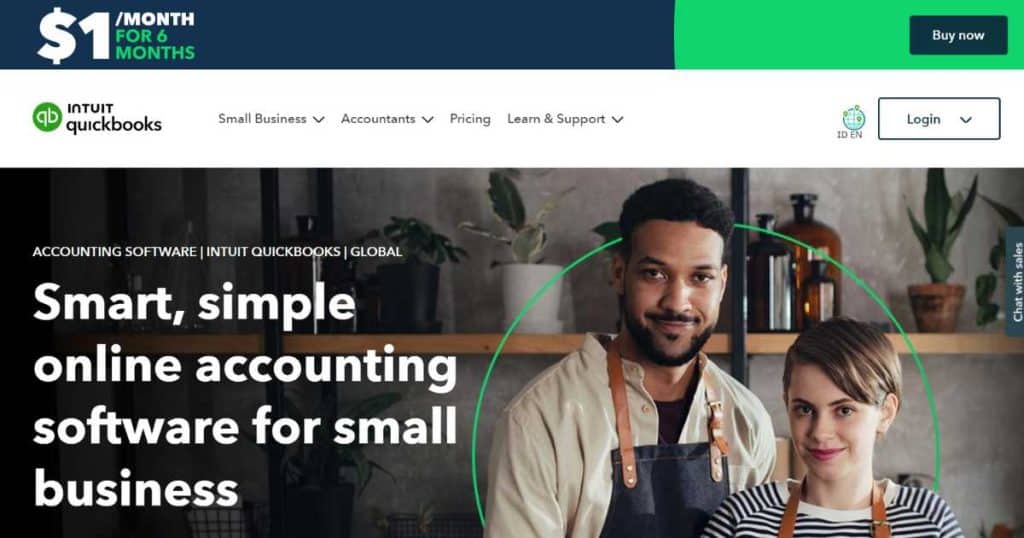 QuickBooks is another popular online accounting software often compared with the powerhouse that is Xero.
Designed for self-employed business owners or small businesses, QuickBooks is best for people who regularly work with bookkeepers or accountants.
The software offers all essential accounting features, including invoicing, expense tracking, bank reconciliation, and financial reporting.
With a slightly more traditional interface than Xero, the learning curve is slightly higher for people without prior accounting knowledge.
However, once you get past that, trust us when we say you'll fully embrace and love the flexibility, scalability, and functionality QuickBooks provides!
QuickBooks is the perfect solution for freelancers, contractors, or self-employed business owners with a growing team.
In fact, they have a dedicated 'Self Employed' plan, where QuickBooks helps you track your income, mileage, expenses, or other tax information (more on this soon).
I'm sure you know just how overwhelming organizing this information can be, even for the most systematic self-employed business owner!
Some of the best features of QuickBooks are:
Customizable invoices.
The ability to track your income and expenses through specific customers.
Receipt scanning.
In-depth reporting.
So if you're a self-employed business owner, get ready to save time on those tedious manual tasks and get ready to streamline your finances!
Pricing: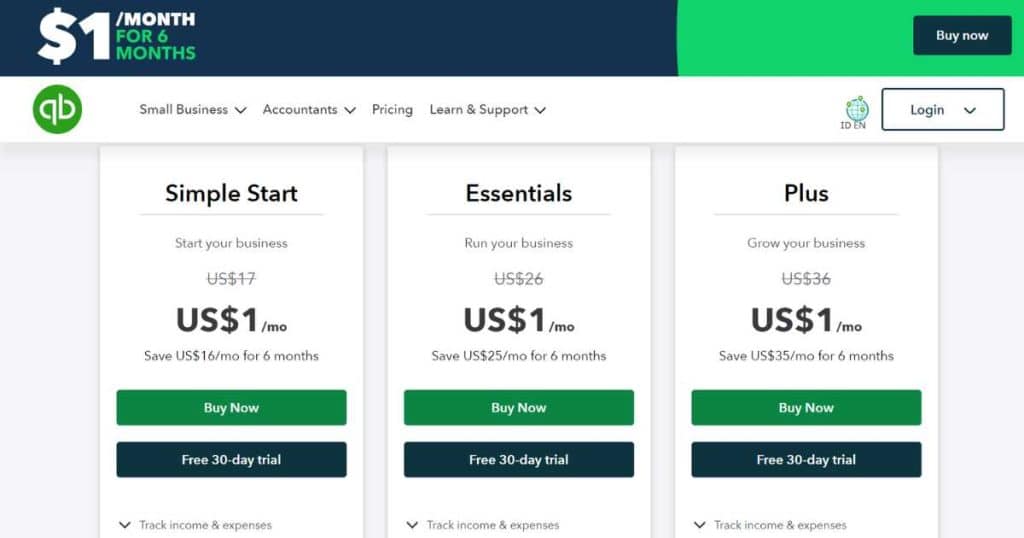 Self-Employed: $15 a month.
Simple start: $17 a month (1 user plus your accountant)
Essentials: $26 a month (3 users plus your accountant)
Plus: $36 a month (5 users plus your accountant)
Advanced: $200 a month (25 users plus your accountant)
QuickBooks offers discounts for the first 6 months, at just $1 a month for the first 3 plans, and a 50% discount for the advanced plan.
Additionally, they have a 30-day free trial on all plans.
What I like:
Plans are scalable for all types of businesses, including small businesses, the self-employed, non-profits, and online stores.
Offers a vast selection of reports and features.
Unlimited and customizable invoices are available on all plans.
Great mobile app.
 What I dislike:
Plans can get expensive for multiple users.
It can take some time to learn how to use QuickBooks if you're new to accounting.
Reviews online reveal that although they offer phone and live chat support, good customer support is lacking.
Best feature: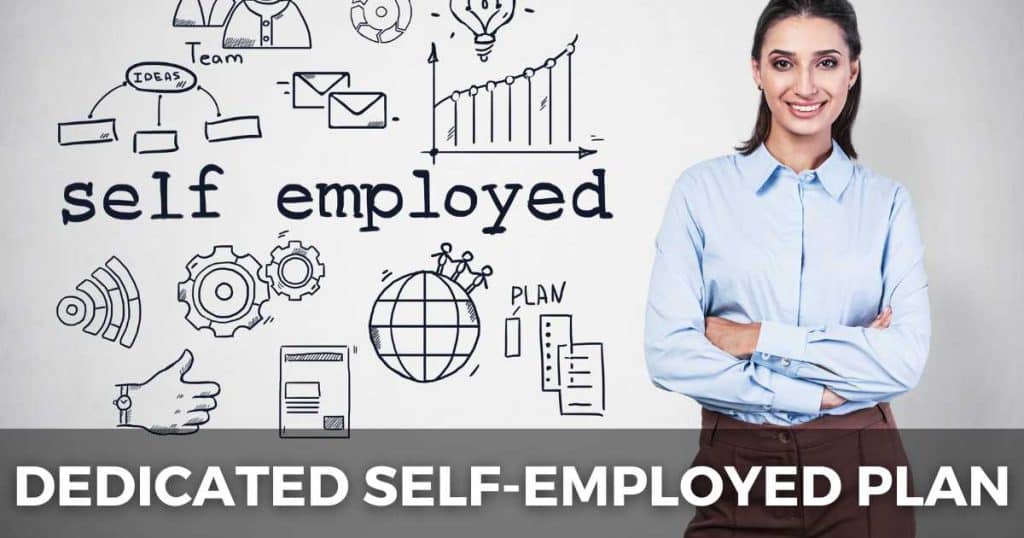 The best feature of QuickBooks has got to be its dedicated self-employed plan.
All you have to do is connect your bank account and credit cards to QuickBooks, and it'll automatically download, categorize and track your transactions – it's as simple as that.
The automatic mileage tracking feature within the self-employed plan is also an incredibly handy time and money-saving tool for tracking and filling in your taxes.
And the best thing is, you can do it all from your smartphone's GPS software!
How does it work?
The software automatically calculates the mileage.
Then, it categorizes it as either business or personal.
You can then add special notes to transactions if you wish.
This tool makes it super easy to separate business expenses from personal expenses!
The automatic mileage feature is just one of the features on the self-employed plan that can help business owners get on top of their finances. Other features include invoicing, expense tracking, and tax tracking.
Sage is more than just an accounting software. You'll also find various finance, HR, and CRM tools within the Sage empire.
At first, the amount of products they offer can be confusing, to say the least.
And the term 'Sage Accounting' can often be referred to as Sage's entire product list, which makes things even more confusing.
However, the only thing you need to know is that there are two cloud-based products for self-employed and small business owners.
Let's break it down for you.
Sage 50cloud Accounting (Desktop-based software connected to the cloud).
Sage Accounting (Completely cloud-based).
So, how do you know which one is for you?
Sage Accounting is for people after a simple (and more affordable) way to track and manage their accounting and finances and includes features like invoicing, expense tracking, and reporting.
This is ideal for solopreneurs, self-employed business owners, or freelancers who just want the basics.
If you want mileage or time-tracking features, you'll be disappointed.
However, you can automatically reconcile bank transactions and automatically create, send, and track invoices (depending on what plan you opt for).
Sage 50cloud gives you more flexibility, functionality, and a complete overview of your accounting needs.
I suggest investing in this product if you're a self-employed business owner looking to grow your business or eCommerce small business.
You'll be able to use all the basics – plus advanced inventory management, job costing, payroll, and payment processing features.
Once you wrap your head around what plan is best for you and your needs, Sage is undoubtedly a top contender for many different business types.
Pricing: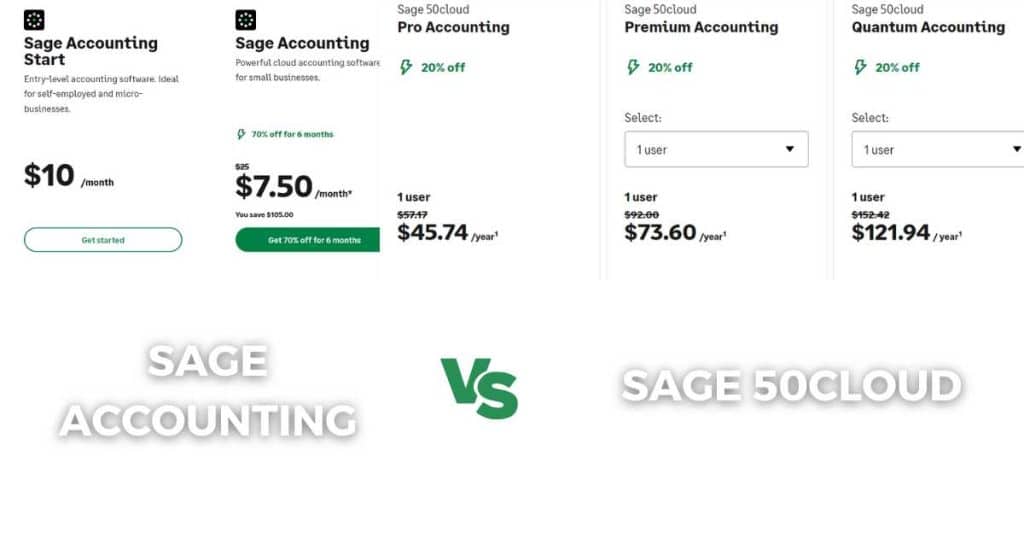 Sage Accounting:
Sage Accounting start: $10 per month.
Accounting: $25 per month.
Sage 50cloud:
Sage 50 Pro Accounting: $57.17 monthly (for 1 user only).
Sage 50 Premium Accounting: $92 monthly (for 1 user – can have up to 5 users total).
Sage 50 Quantum Accounting: $152.42 monthly (for 1 user – can have up to 40 users total).
What I like:
The Accounting plans are quite affordable – plus the Accounting plan supports unlimited users at a reasonable price!
There's something for everyone within Sage, whether you're a freelancer, small business owner, self-employed, or working in construction or real estate.
The level of customer support is generally quite good.
Sage50 cloud offers advanced and extensive features such as inventory management, and Sage accounting still offers basic inventory management features.
What I dislike:
The number of plans offered can be confusing.
If you're after more advanced features (Sage 50cloud) and have multiple users, this can get pricey pretty quickly.
Limited integrations with third-party apps.
Best feature: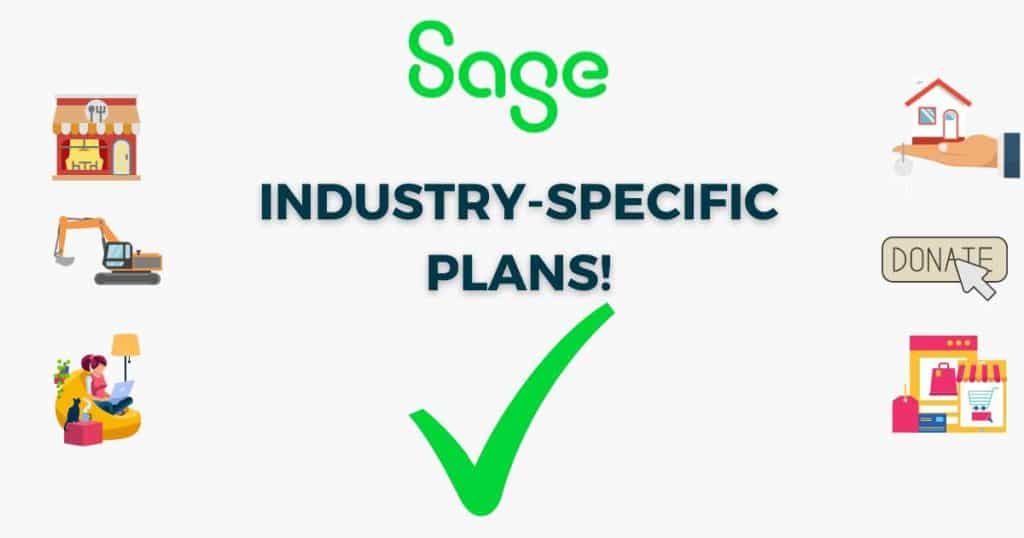 Whether you're a nonprofit, self-employed, a freelancer, or own a small eCommerce, real estate, or construction company, you'll find a plan within Sage that works for you.
In addition to their Accounting and Sage 50cloud plans, they also offer 3 tailored plans.
These are undoubtedly some of the best accounting software for real estate investors and construction workers:
I suggest checking these out!
Depending on the type of business you run and what accounting services you need, there's something for everyone.
This is why I believe Sage's industry-specific products are a cut above the other accounting software within this review!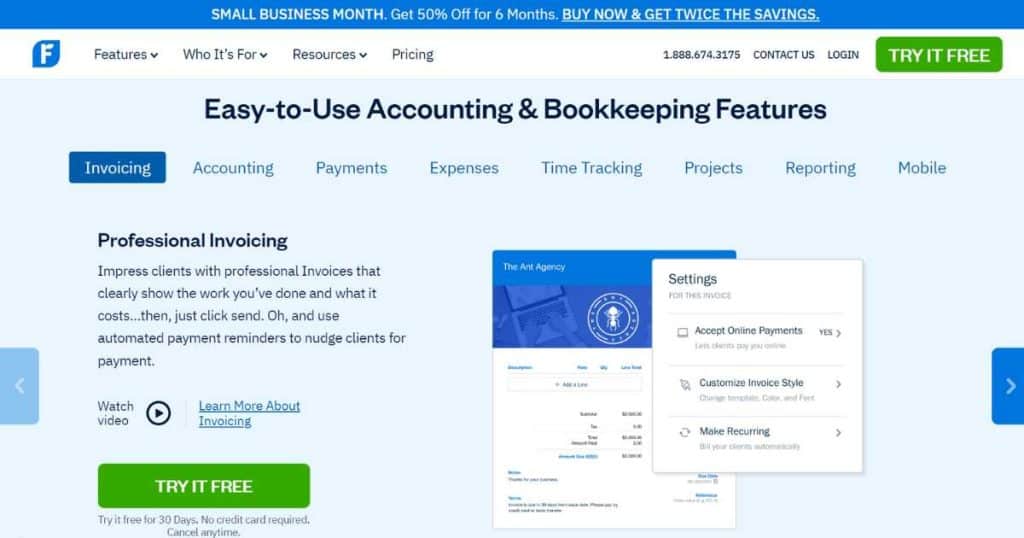 FreshBooks is another top cloud-based accounting software I recommend for self-employed freelancers and independent contractors.
Why?
FreshBooks combines essential accounting tools with project and team management features, like time tracking, built-in mileage and expense tracking, and file sharing.
This completely eliminates the need to invest in a project or team management software like Monday.com or Asana (provided your project management needs are basic).
FreshBooks' time tracking feature is handy for self-employed freelancers who bill clients by the hour.
Simply track your time spent on each project, and FreshBooks will automatically generate invoices based on that time.
As freelancers and contractors often have multiple jobs on the go at one time, this helps them ensure they get paid for everything they do!
If you're after more robust features such as inventory management, you won't find them on FreshBooks.
However, if you're a freelancer and just need a basic, easy-to-use, and affordable accounting software solution, I recommend giving FreshBooks a go.
Pricing: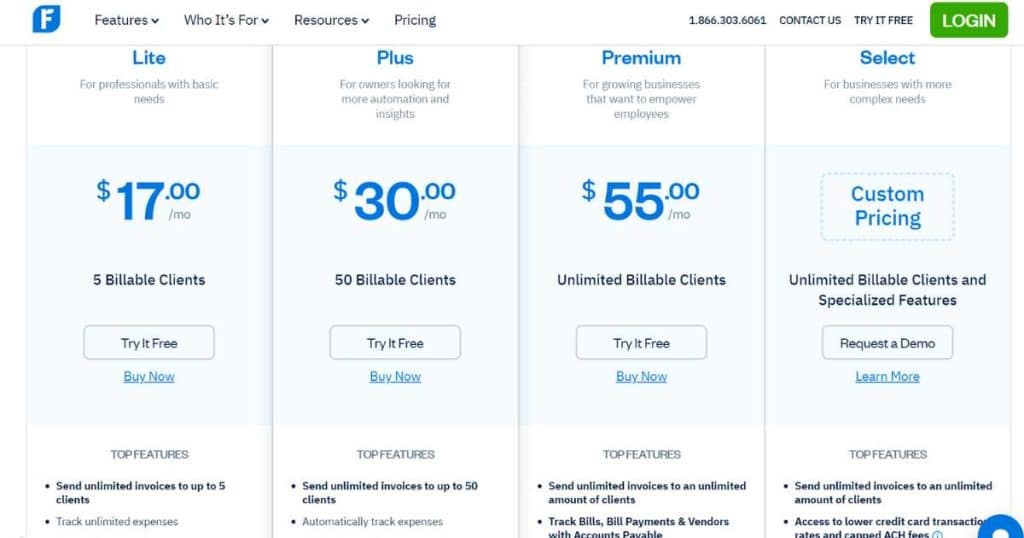 Lite: $17 per month (for 1 user)
Plus: $30 per month (for 1 user)
Premium: $55 per month (for 1 user)
Select: Custom pricing
What if you have more than 1 user in your team? This is possible, but you'll have to fork out an additional $11 per user.
They also offer a 60% discount for your first 6 months and a free 30-day trial for all plans.
What I like:
Affordable plan. Especially if you're a freelancer and only need 1 user!
Easy to use.
Time-tracking and mobile mileage features are also available on all plans.
Their customer support options vary, including phone, chat, email, and other online resources, and they tend to get pretty good online reviews.
What I dislike:
There is no bank reconciliation ability on the lowest plan (which is a core accounting task)
If you're a small team, the plans can get expensive.
The number of customers you can send invoices to is limited on the first 2 plans.
Best feature: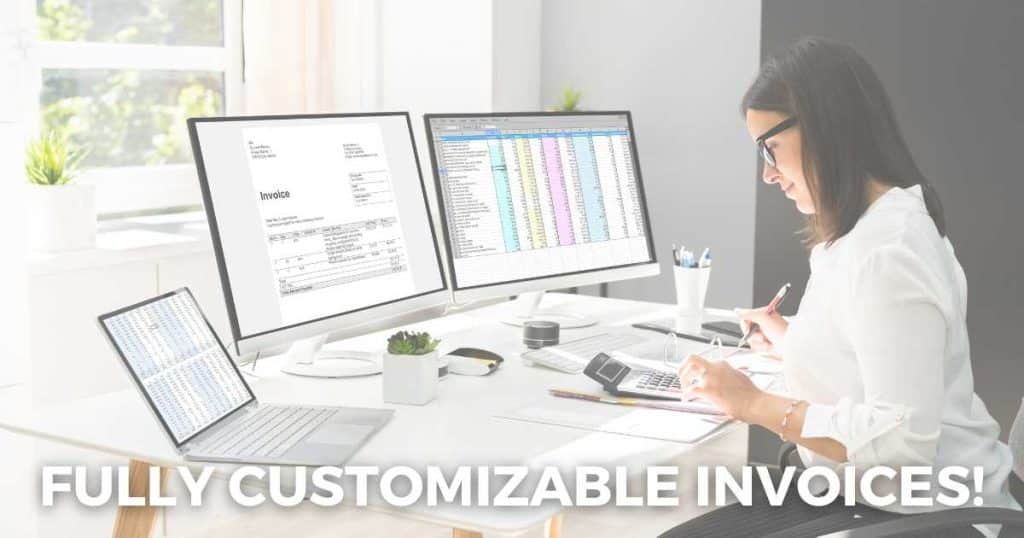 With unlimited and fully customizable invoices available on all plans, this has to be the top feature of FreshBooks.
Within the invoice generator, you can:
Change the color and layout.
Add your logo.
Offer discounts and deposits.
Set up automated reminders and notifications when something has been paid.
Apply a late payment fee.
Add a due date.
Track inventory.
Select your chosen currency.
Create a duplicate invoice.
View invoices on the mobile app.
Also, remember the time-tracking feature we were raving about earlier? You can add that directly to your invoices to ensure more accurate client billing.
The best part?
You can send unlimited invoices on all plans! Again, this is perfect for freelancers who often have many small monthly jobs. (However, don't forget about the limitation of billable clients on the lower plans).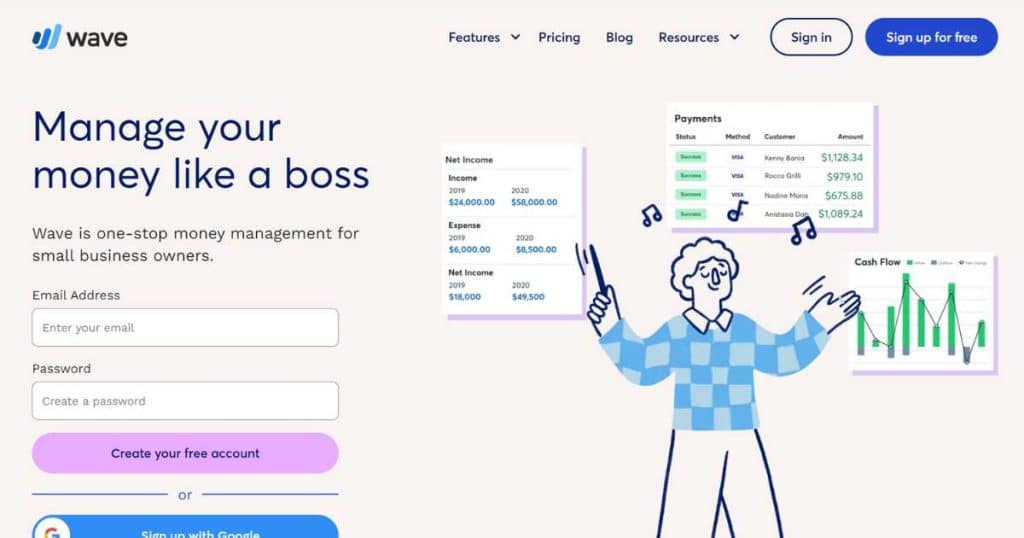 I know what you're thinking…all these accounting software options sound great, but…they're all quite costly for the average self-employed business owner on a tight budget.
There are so many things self-employed individuals, freelancers, contractors or small business owners already have to pay for. Taxes, wages, rent, Insurance, marketing, inventory..the list goes on.
So, why make your accounting software another cost?
If you're a self-employed business owner, I have good news! You don't need to break the bank on expensive accounting software with fancy features you'll never use.
That's where Wave comes in.
What you see is what you get with Wave.
Wave has everything you need to get started – including invoicing, expense tracking, payroll, and basic reporting – all free.
So, if you're self-employed, a freelancer, a nonprofit, or simply on a budget, Listen up!
We have a solution that'll help you simply crunch the numbers and handle your payments (so you don't have to).
Pricing: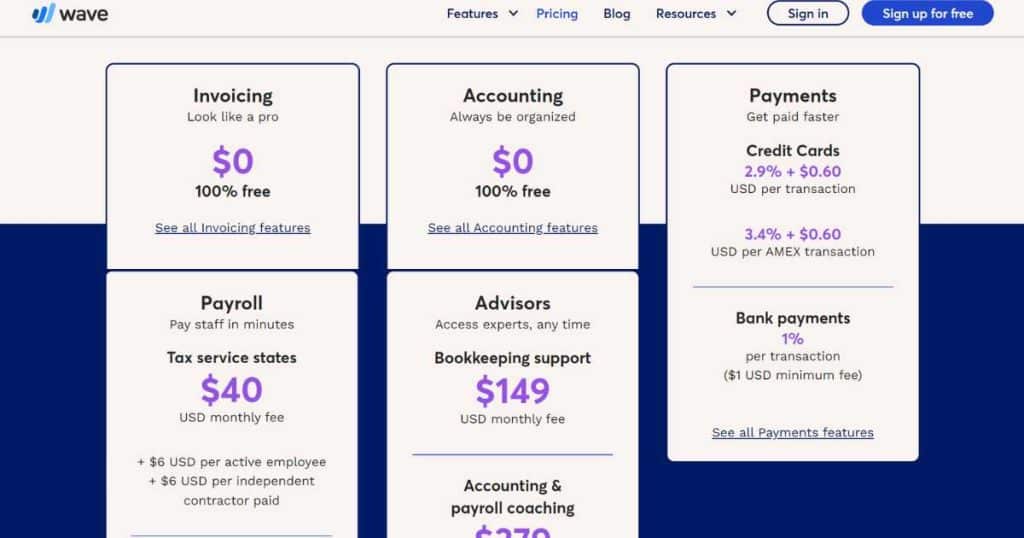 Free! That's right. No upfront hidden costs.
Wave Invoicing: Free
Wave Accounting: Free
The only things you can choose to pay for on Wave are Credit card and bank processing fees and Payroll services (if applicable).
Also, their free plans include unlimited invoices, billable clients, and users (crazy, right? Some of the paid options above don't even offer this).
What I like:
It's free!
User-friendly interface and dashboard.
No additional costs for additional users.
Integrates with Zapier, which is pretty helpful (providing you know how to use Zapier).
What I dislike:
You won't find any dynamic features available on Wave, such as inventory tracking or automatic bank reconciliation.
They could improve their customer support based on G2 reviews online.
Only really suitable for freelancers or businesses with just 1 or 2 employees.
Best feature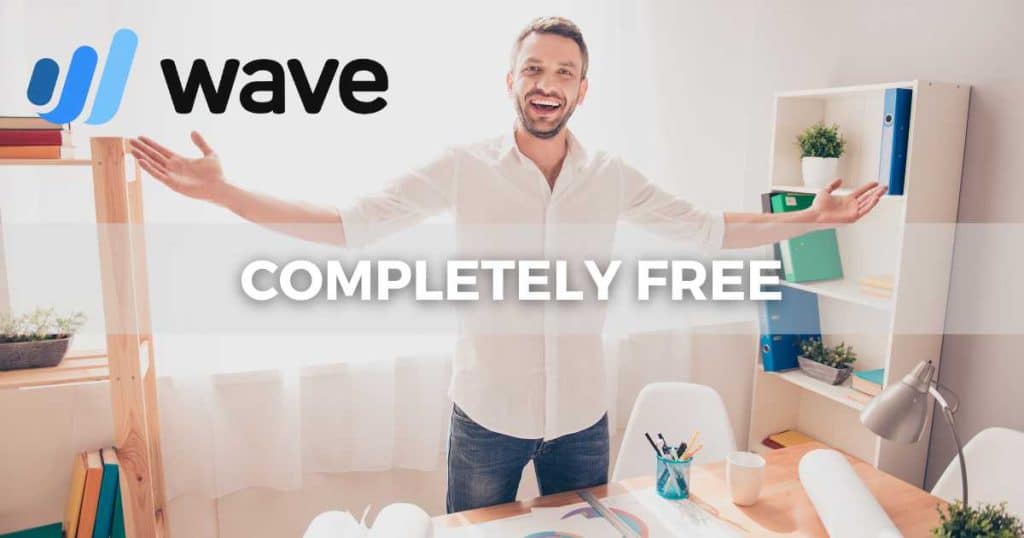 It's no surprise that my favorite thing about Wave is that you don't have to pay a cent!
I won't focus on what they don't provide (like time tracking and other project management tools). But in all honestly, that doesn't matter if you're just getting started.
Plus, there are so many project management tools and platforms out there!
Read more about our top 7 project management tools here.
However, for a free accounting software, they provide everything you need to get the job done. And actually, some of their free features are even better than what the paid software brings to the table.
Let's take a quick look at what they do offer:
Unlimited expense tracking, income tracking, billing, and invoicing.
Customizable invoices.
Basic reporting.
Unlimited users.
Recurring invoices.
Automatic bookkeeping.
Multi-currency support.
Double-entry accounting function.
Mobile App.
Unlimited credit card and bank account.
Overall, in my opinion, Wave is the best accounting software for self-employed, nonprofits, or freelancers on a tight budget!
If you're interested, Learn wave accounting software tutorial.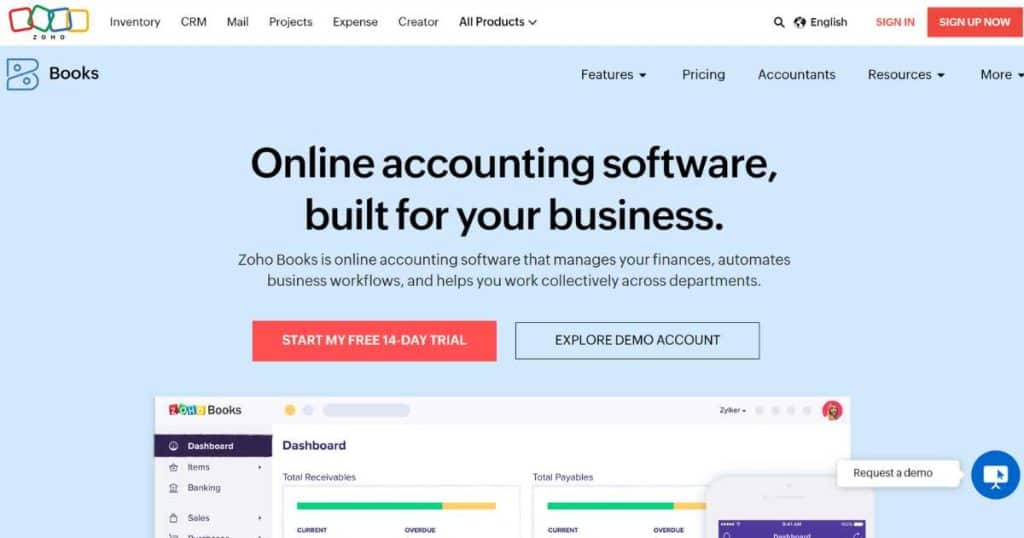 Last but not least, we have Zoho Books, another leading cloud-based accounting software (often compared with Xero).
As you can probably tell by the name, Zoho Books is part of the wider all-in-one Zoho brand that offers other helpful tools to streamline and automate your business processes.
We're always going on about how Zoho is the ultimate all-in-one platform, so it's no surprise that Zoho Books has made this list!
If you're self-employed and use Zoho CRM, Zoho Projects, or Zoho Mail and are after an accounting software, I'd definitely check out Zoho Books!
If you're after software with amazing automation capabilities, look no further!
Some of those automatic features include recurring invoices, payment reminders, and bank transactions.
Do you want to track your business expenses, create and send invoices, collect payments, and collaborate with your clients?
Zoho Books' free plan is the perfect option for you (that's right, they have a free plan!)
One major drawback is the payroll system within Zoho Books.
To put it bluntly – they don't have a good one.
This means you'll end up having to go with another payroll software, and therefore, only really suitable for freelancers or one-person teams.
However, the free plan has everything you need to get started. And once you outgrow the free plan, you can upgrade and access features like time and mileage tracking, recurring invoices, and more.
Pricing: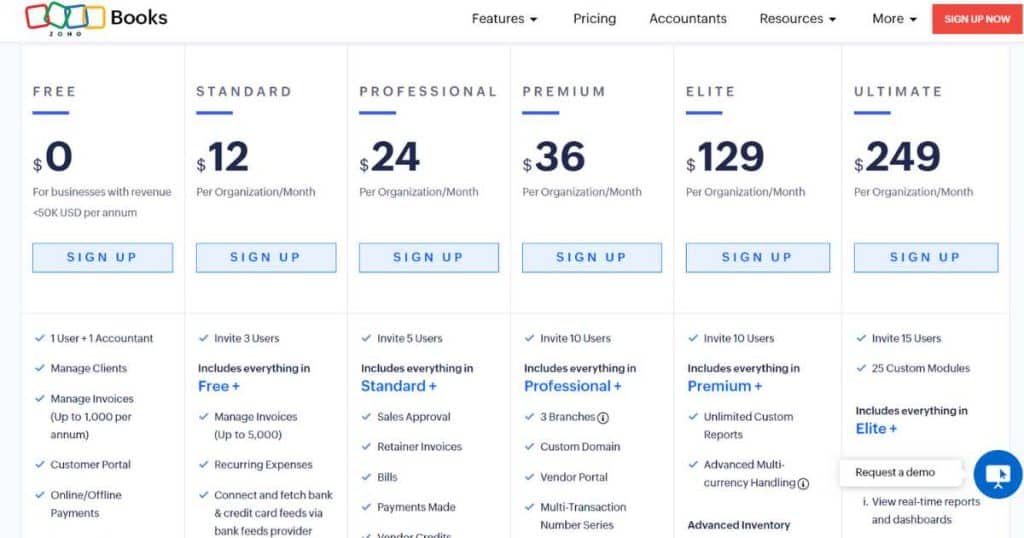 Free: $0 (1 user)
Standard: $12 per month (3 users)
Professional: $24 per month (5 users)
Premium: $36 per month (10 users)
Elite: $129 per month (10 users)
Ultimate: 249 per month (15 users)
Zoho Books also offers a 14-day trial on any plan, and the option to add additional users to any plan for $3 (per user, per month).
What I like:
Free plan!
Lots of features available on all plans.
Great automation ability on all plans.
Lots of customizable invoice options.
What I dislike:
Payroll system.
Limited integrations outside of Zoho.
The learning curve can be slightly higher than other software if you don't already use Zoho products.
Best feature: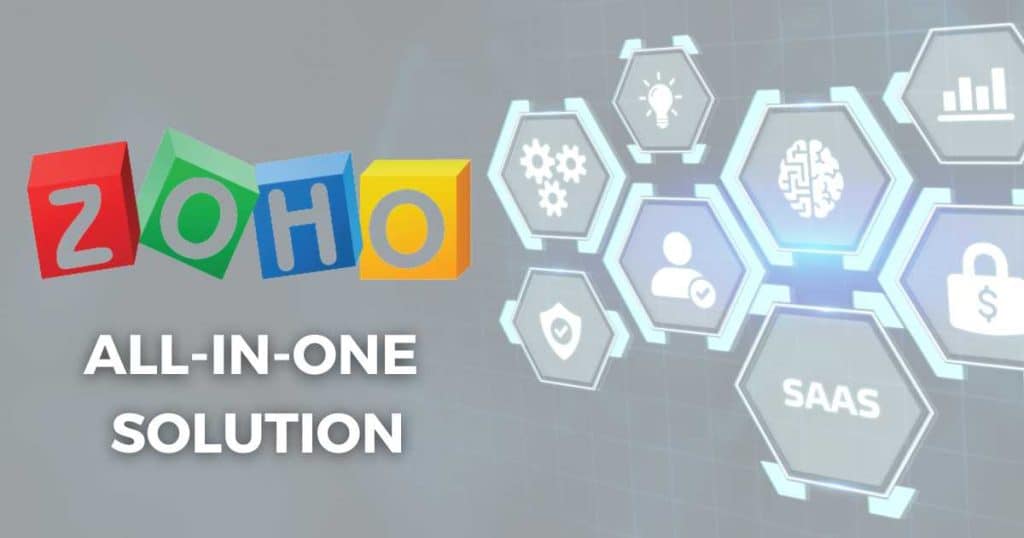 There's a lot to love about Zoho Books, and although you can use on its own, the fact that Zoho is truly an all-in-one platform is even better!
You can use Zoho Inventory or Zoho Expense to level up your accounting game, providing you with more advanced features.
Plus, all Zoho products easily interconnect with each other. There is such a range of features and tools across all platforms that you won't need to look elsewhere!
And finally, if you want to make use of everything Zoho has to offer (including Zoho Books), Zoho packages all products up into one with Zoho One.
Final Thoughts
And that's a wrap on our top 6 best accounting software for self-employed business owners!
Thanks for reading all the way to the end.
As you can see, whether you're a one-man band, a small team, a nonprofit, a restaurant or construction company owner, or a real estate investor, there's an accounting software out there for you!
I hope you can now confidently choose the best accounting software for you and your business.
If you have any questions or want to know more, feel free to get in touch!