What AI tools can help level up your business? Let's find out!
AI (Artificial intelligence) has been a huge disrupter and enabler for businesses of all shapes and sizes as we all navigate further into 2023.
The Terminator is coming!
Well, not quite! However, it's both scary and exciting to see how far AI has evolved in just the last year.
In my opinion, AI tools have been more of an enabler than a disrupter. Especially for businesses that stay up to date with trends!
This is because AI has made life easier and businesses or employees can and are becoming more productive by leveraging the many amazing AI tools for business activities. 
And more recently there has been a huge surge of AI tools for small businesses, these AI tools are allowing small businesses to produce more, do more, and grow at an unbelievable rate!

Therefore, in this post, I'm excited to break down and identify my top 11 best AI tools for small businesses in 2023.
These AI tools will supercharge your small business in the many vital day-to-day activities of running a business.
I will share the best AI tools for AI content creation (copy and images), creating a website with an AI website builder, multiplying your business with AI productivity tools and creating marketing videos using an AI-generated video platform.
Best AI Tools For Small Businesses in 2023: Make Life Easier with AI
How Did I Choose The Best AI Tools For Small Businesses?
My day-to-day lifestyle consists of working with and creating educational content for small business owners.
Therefore, I owe it to small business owners to stay ahead of the curve and provide the most relevant information. 
I've seen many of the business tools that my clients and I use adopt AI and integrate this technology into their service offerings.
For me, I've been curious to see if these AI business tools or AI service extensions are actually useful in such an early stage of AI.
After testing dozens of AI business tools specifically useful for small businesses, I've managed to narrow down my top 11 AI business tools that I believe are actually useful in the business categories that I mentioned up above.
There is no way I can test all of these emerging tools, it seems like there are many new AI tools being launched each day!
However, I will update this list each time I discover a new and valuable AI software that I believe will provide small businesses with an edge.
With that, here are my best AI tools for small businesses.
Best AI Productivity Tools For Business 
Business productivity is all about being effective and efficient at your workplace. AI allows you to maximize your productivity through what I like to call 'AI delegation'. 
Think about the tasks that you engage in on a daily basis that are tedious, dull or repetitive (boring stuff!).
These are the tasks that you can optimize by leveraging AI productivity tools.
Below, I've added two essential AI productivity tools that are essential for small businesses.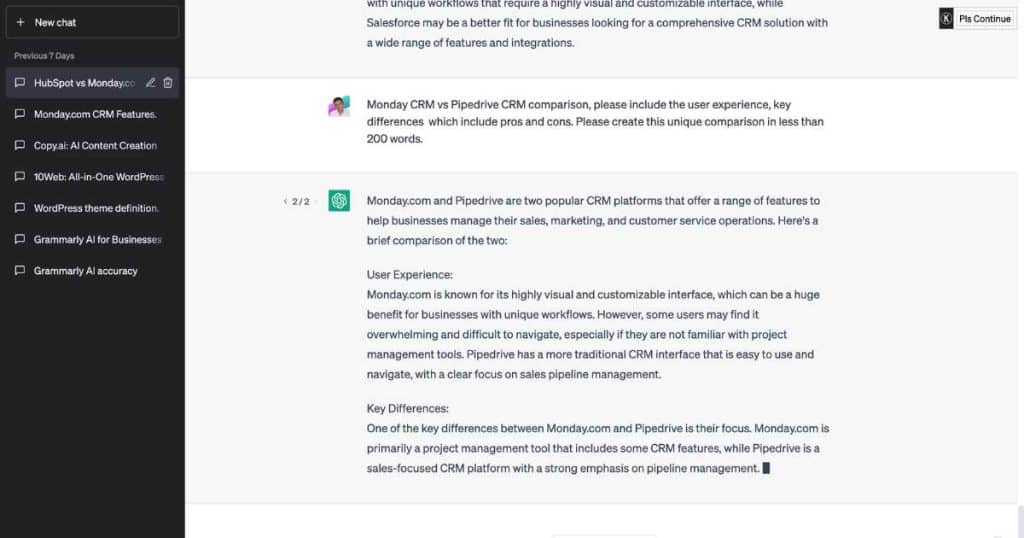 If you haven't heard of ChatGPT, then you're in for a treat.
Developed by Open AI, ChatGPT is a human-like AI chatbot or smart bot that allows you to ask any type of question that will then generate a human-like response. Crazy right!?

The great thing is anyone can use ChatGPT, it's free and easy to use.
Simply head over to ChatGPT and add a prompt (this is information that you input), this could be anything specific and relevant to your business.
For example, you could add the following prompts and ChatGPT will generate a human-like response:
Create an email template that asks our customers to leave a Google review for a roofing business.
What is a compelling home page description for our Indian restaurant website? Include the words, authentic, original and spicy.
Create a business plan for a co-working space in Sydney, Australia. Our budget is $100,000.
Following your prompts, you can continue engaging in that chat by asking for more specific information surrounding a topic, concept or idea.
If you are interested check out our ChatGPT tutorial for small businesses down below.
For small businesses, this AI tool can be used in many different ways like generating ideas for content, marketing and strategy, keyword research, SEO activities, finding specific information and more.
You can also use ChatGPT for helping you write entire documents. The key is to learn how to use ChatGPT for fundamental activities that can manually take you a long time, then you can build on the response that has been generated.
Moreover, you can access advanced ChatGPT features like faster processing of responses, the ability to understand image prompts and longer conversations.
To do this you will need to subscribe to ChatGPT Pro and pay around $20usd per month. This is becoming a popular paid option for those that want to avoid the peak times when ChatGPT is overloaded and will not work!
So can you see how ChatGPT can save you huge amounts of time and energy? 
What I like:
Free and easy to use.
Simply manage all your Chat GPT conversations.
Prices:
ChatGPT is free to use.
Chat GPT Pro ($20 per month).
Give ChatGPT a go and you'll soon realize how much more productive you are when using this AI productivity tool in your business for creating content, generating ideas engaging in business research. 
ChatGPT is one of the best AI productivity tools for small businesses in 2023.
Read more: How To Use ChatGPT For Business
Are you tired of re-reading your emails, essays, and documents to make sure they are grammatically correct?
What if there was a tool that could help you catch errors with ease?

Introducing, Grammarly – this is essentially a writing assistant that promises to make your life much easier.
Honestly, my spelling isn't amazing… So for me, I cannot live without this tool. This AI writing assistant helps me when I'm crafting important emails, documents and educational content.
Actually, thinking about it, it's the tool I use the most!
As a small business owner, you want your communications to be clear, professional, and error-free.
That's where Grammarly AI comes in. This powerful tool uses advanced algorithms to analyze your writing and make suggestions for improvement, helping you to create content that is polished and effective.
Grammarly AI is incredibly easy to use.
Simply install the tool on your device, as a browser extension or use it online, and it will automatically begin checking your writing for spelling, grammar, and punctuation errors.
It can also flag issues with tone, style, and clarity, giving you detailed feedback on how to improve your content.
One of the best things I love about Grammarly AI is that it works across a variety of platforms, including email, browsers, social media, and word-processing software.
This means that you can use it to check your business emails, social media posts, and marketing materials, ensuring that everything you create is of the highest quality while in the process of writing.
Recently Grammarly released a new AI feature (GrammarlyGO) that allows you simply take your writing and either select to improve, generate ideas, simplify, shorten or adjust the tone of your writing…
This is with one simple click! The AI will then make those personalised changes for you. How cool right?! 
What I like:
Smoothly integrated with my favourite apps and tools meaning I'm always on top of my grammar and writing.
The ability to improve my writing with one click using AI.
Prices: (Grammarly AI is available for all users)
Free (Basic features)
Premium ($12 per month)
Business ($15 per month)
Overall, Grammarly AI is an essential tool for any small business owner who wants to improve the quality of their written communications. It's truly the perfect solution for ensuring that your content is clear, professional, and error-free. 
Best AI Website Builders For Small Businesses 
Building a website usually requires a moderate to advanced level of experience.
However, with the rise of website builders now anyone can create a website with ease.
You've probably heard about popular website builders like Wix, Squarespace, Weebly and others.
These are drag-and-drop website builders that require no coding or web design experience.
Although, with the rise of AI you can now take your web designing to the next level by leveraging AI website builders to generate an AI website in minutes.
The crazy thing about the AI website builders that I'm going to mention down below is that the website, images and copy are all unique and personalised!
Simply answer a few questions and boom! Your unique website is created with AI.
Below, I've added three of the best AI website builders ideal for small businesses.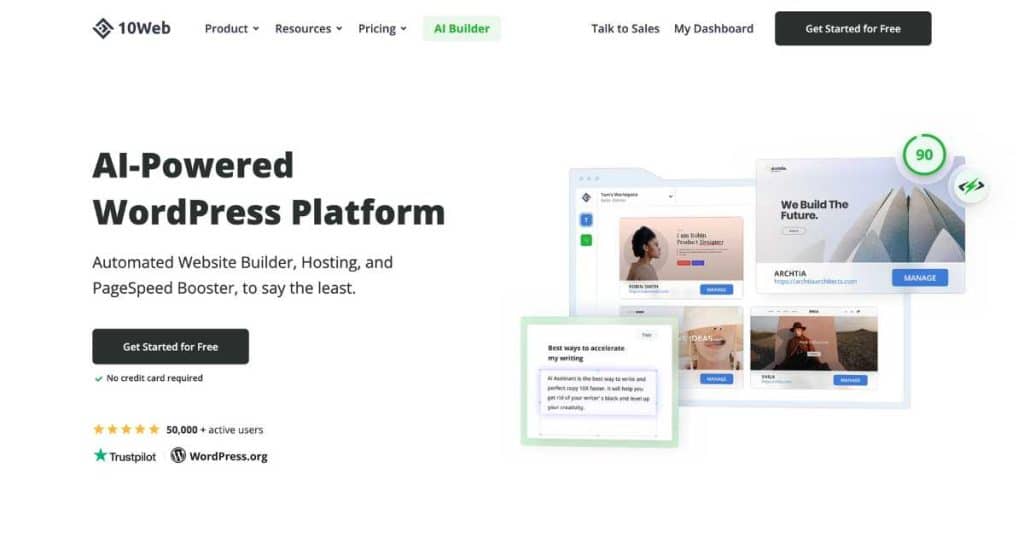 Have your heard of WordPress before? Well, WordPress is a leading CMS (Content Management System) that essentially controls the internet. Over 40% of websites on the internet are built with WordPress.

However, building a website with WordPress can sometimes be challenging!
There are often many technical barriers to building a stunning website, which means your spend a lot of time trying to figure stuff out or evening breaking the budget paying someone for technical support.
The solution… Web10.
This is an all-in-one AI WordPress website-building platform that offers a comprehensive suite of AI tools and features for creating, managing, and optimizing WordPress websites. 
10Web allows you to create an AI website from scratch by simply answering a few questions about your business.
Then in minutes, you will have a fully functional, responsive AI-generated WordPress website! You will have a personalised website with unique images and copy all generated with AI.
After your website is generated you can then customise the website content and pages using 10Web's Elementor-based page builder. 
Check out our 10Web tutorial if you're interested in creating an AI-generated website.
Not only this, but you can use the AI recreation feature which allows you to recreate any page from any website that you like the look of inside 10Web.
So, if you like the structure of a competitor's website, you can simply recreate it inside 10Web.
Also, everything is managed within your 10Web account. This includes WordPress hosting and your domain and content.
You have assessed to 24/7 support and a dedicated Slack channel for getting in touch with the 10Web engineers directly.
What I like:
Recreate any website page within 10Web with AI and then the ability to customize any element with the Elementor-based page builder.
Everything is managed in one platform.
Unbeatable support for peace of mind when creating a WordPress website with AI.
Prices: (AI website builder and hosting are included in all plans)
Personal ($10 per month)
Premium ($24 per month)
Agency ($60 per month)
10Web AI website builder is ideal for small businesses that want a powerful WordPress website without all the technical barriers and also want everything managed in one convenient platform.  
4. Durable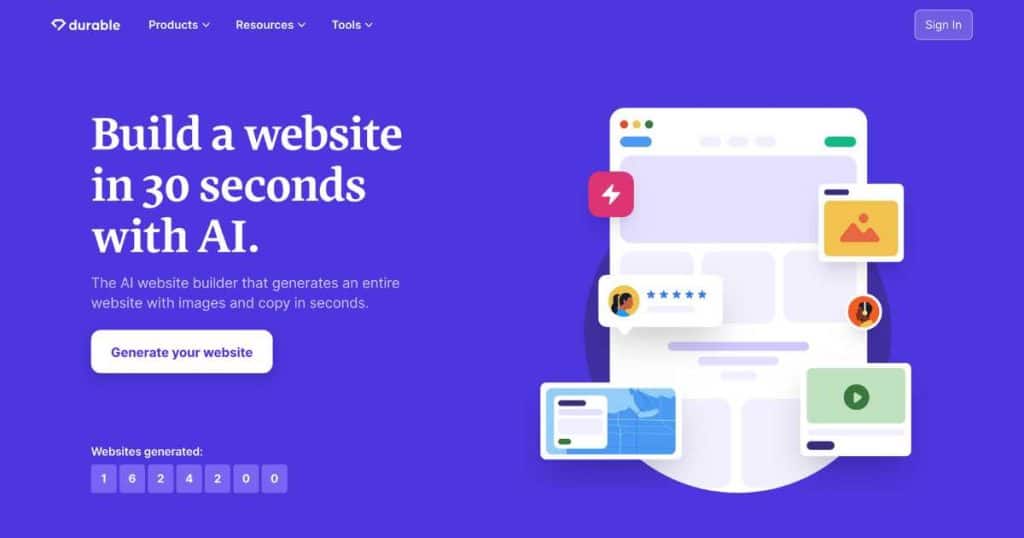 For those that just do not have the time or the budget to invest into a comprehensive website then the Durable AI website builder could be your best option.

Durable identifies itself as the worlds fastest website builder… Simply create your AI generated website in just 3 clicks. 
Your website will be built based on your business type and location with AI-written content, images, copy, colours and a contact form or lead generation form.After your website is built you can then customize your website with there drag and drop editor.
The Durable AI website builder is not just for creating a quick and response AI website, you can also access:
CRM tools for managing customers and leads.
Managing invoicing within Durable.
Get AI-generated name ideas for your business.
Leverage AI-generated copy for creating ads.
Soon you will also be able to manage your business finances directly inside the Durable app.
You will be able to organise your spending with virtual or physical prepaid Durable Visa cards. How cool! 
What I like:
Highly responsive AI website across devices especially on mobile. 
Cool AI features like content creation, business name generator and ad copy generator. 
Prices: (30-day month back guarantee)
Starter ($12 per month)
Business ($20 per month)
As you can see Durable is not just a powerful AI website builder, they are becoming an all-in-one AI business management platform.
So, if you looking to quickly create a functional and affordable website and like the idea of leveraging some of the key features that I mentioned above, then Durable could be the right choice for your small business.
Durable AI website builder and AI tool kit video Tutorial
Learn how to create a website with Durable AI and leverage Durable's AI tool kit and features.
5. WIX ADI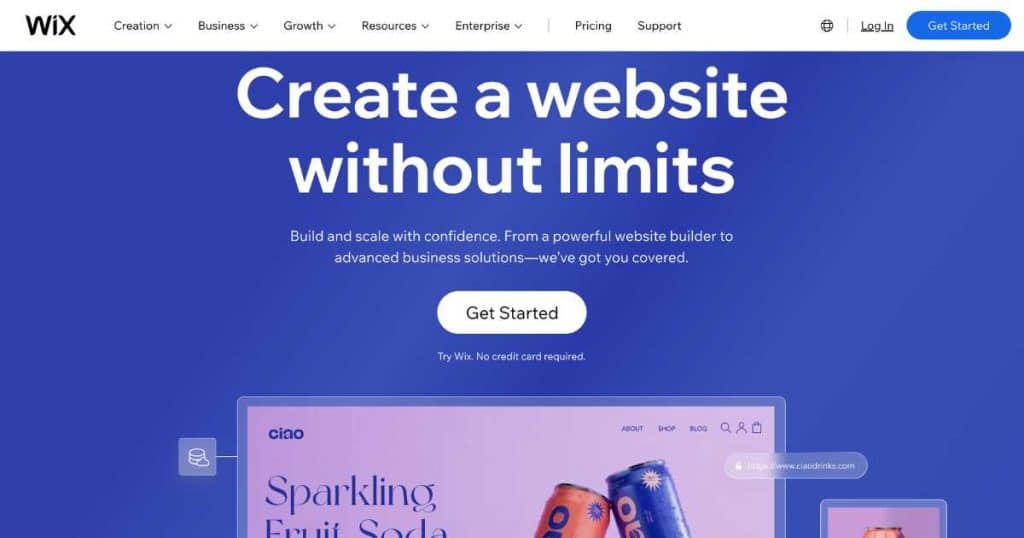 If you've been following me for a while then you know that I love talking about Wix as a premium website builder for small businesses.

Now, the WIX ADI (Artificial Design Intelligence) has been around for a while, but I thought it was important to include it in this list as it's one of the first and best AI website-building features on the market.
Wix is an all-in-one website builder that offers all the extensive features you would expect in a website builder.
They lead the market for being easy to use as well as hundreds of apps, features, integrations and templates for creating any website that you can dream of.
Wix ADI uses artificial intelligence to create personalized websites for users based on their specific needs, ideas and preferences.
Simply answer a few questions, choose your branding, themes and style and WIX will produce your custom website in minutes.
Check out our Wix ADI tutorial if you're interested in creating an AI-generated website.
For small businesses, Wix ADI offers several benefits:
Ease of use: With Wix ADI, even those with no technical or design expertise can create a professional-looking website quickly and easily, as AI technology takes care of the design and layout.
Time-saving: By automating the design process, Wix ADI allows small business owners to create a website in minutes with AI and the use of pre-made templates and elements.
Personalization: Wix ADI uses information provided by the user, such as industry type, business goals, and design preferences, to create a unique website tailored to the specific needs of the business.
Responsiveness: Websites created using Wix ADI are designed to be responsive, ensuring that they look and function well on a variety of devices, including smartphones and tablets.
Cost-effective: Wix ADI provides small businesses with a more affordable option for creating a professional online presence compared to hiring a web designer or developer.
Ongoing optimization: The AI technology behind Wix ADI continues to learn and improve, ensuring that websites created with it remain up-to-date with current design trends and user expectations.
What I like:
1000s of templates, apps and sections that you can use for extensive customizations.
Offers everything you need internally that compliments your website such as CRM, emails, forms, channel integrations and more (you don't need to use different tools).
Prices: (All plans allow you to use the Wix ADI feature)
Free plan (Wix branding and Wix domain)
Connect domain ($4.50 per month with Wix branding)
Combo ($8.50 per month)
Unlimited ($12.50 per month)
VIP ($24.50 per month)
eCommerce plans ($17 – $35 per month)
So, if your looking for a dynamic and full-featured AI website builder then Wix might be the AI website builder solution for you.
Wix has been around for the longest (since 2006) and therefore has developed an advanced product compared to the other website builder we have talked about up above.
Read more: How To Make A FREE Website With Wix
Best AI Writing Software or AI Content Generator
AI has been a true disrupter when it comes to writing content.
Open AI was the turning point and now hundreds or even thousands of products are available on the market to help you quickly and easily create human-like content. 
Writing will no longer be the same! I'm not going to lie, we use AI on a daily based to help us create content for our blog. 
Think about how much time and effort you could save if you integrate an AI writing assistant into your business to help you create ad copy, post ideas, articles, email newsletters, reports and more.
Below, I've added two of the best AI writing software ideal for small businesses.
I use Canva literally every single day to help me create images, videos and copy. Canva is in my opinion the best multipurpose online design tool available.

Canva allows you to create any type of content that you can think of from posters, social media posts, ads, ebooks, videos, documents, business cards and even websites!
Recently, Canva released many AI features and one of these is called Magic Write which is a powerful AI text generator and AI writer.
I love this new feature because you can open up any document inside Canva and then click the Magic Write feature, add a prompt and then Canva will generate a response. 
This is similar to how ChatGPT works like we mentioned up above at the start of this article. 
Check out our Magic Write tutorial to see how you can use this awesome tool.
Magic Write is great because it assists your writing and if as an example if you're creating a post for social media you can enable Magic Write to help you with writing on those media types.
What I like:
The AI integrates directly into your creative process meaning that you can easily switch between designing and writing with the help of Magic Write.
Prices: (You must have Canva Pro in order to use Magic Write)
Canva is free (limited features)
Canva Pro ($179.99 for one person, full access per year)
Canva for teams ($239.90 for the first 5 people per year)
Canva's AI text generator and AI writer are ideal for small businesses you you find yourself spending a lot of time creating different types of content for your business.
You can simply create all your content inside Canva and then leverage the powerful Magic Write feature to assist you in all your content creation activities.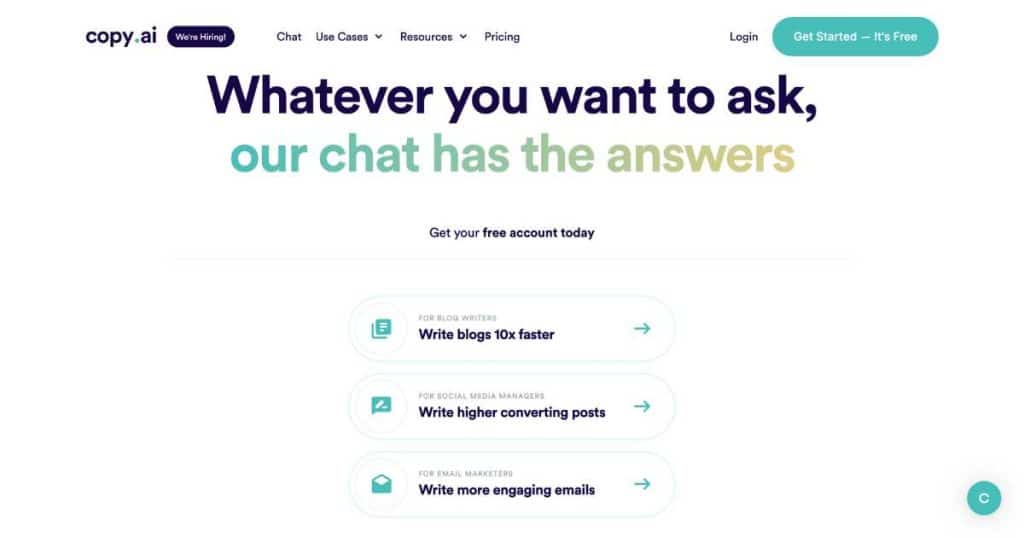 Are you ready to write your blogs 10x faster?
And create engaging email campaigns and posts that actually convert?
This next AI tool will help you with all of the above.

This AI writing software is specifically useful for creating long-format posts like blog posts on your website so that you can quickly start ranking your website pages.
Copy.ai is one of if not the easiest to use AI writing platforms for creating AI-driven content. This is because they offer a streamlined process from start to finish and publish your content live.
How to use Copy.ai? It's incredibly simple!
Step 1 – First head over to Copy.ai and sign up.
Step 2 – Enter in your title or project name.
Step 3 – Give Copy.ai more context about your project, this would be keywords, subtitles and other information you want to be covered. You can also select a tone of writing.
Step 4 – Copy.ai will generate the copy outline for you to review.
Step 5 – Then review the AI-generated talking points.
Step 6 – Time to generate your content! 
Step 7 – You have the option to regenerate certain parts of your content if you like and access all the content formatting options.
Step 8 – Create and publish your content on your website or other channel.
And just like that you have created an AI-assisted article or post in just a few minutes.
I like this tool because it gives you a clear structure for creating engaging long-form content.
What I like:
The structure is the best on the market when it comes to the actual process of using AI to create written articles. 
The AI chat feature is great for quickly generating AI content.
The most affordable AI writing software considering how advanced this AI tool is.
Can summarise YouTube videos into a few bullet points. Great for creating summaries of my YouTube videos to send to my audience via my email list.
Prices:
Free plan (2000 words per month)
Unlimited plan ($36 per month)
So, if your small business is looking to scale its content creation activities then Copy.ai is definitely a must!
Especially, if your creating multiple blog posts each week on your website, then this AI tool can help you speed up the processes, and publish high-quality and unique content. 
Read more: Copy.ai Review 2023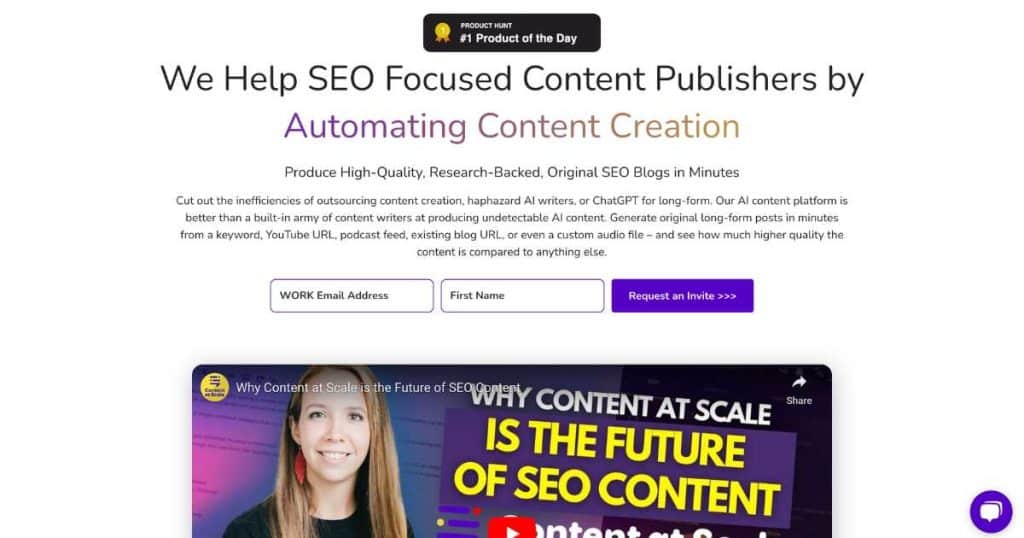 Another great tool that is similar to Copy.ai is called Content at Scale.
This AI writing software is not just another top layer built on Open AI, this AI tool is built with three AI engines and natural language algorithms.

Rather than hiring writers, you can use these platforms to create all your long-format content on your website.
I like this tool as they give you the option to create fresh AI-generated content by simply adding keywords or you can create written content by adding a YouTube video, podcast episodes or even recreating an existing blog post or audio clip!
How to use Content at Scale? Just a few steps
Step 1 – First head over to Content at Scale and sign up.
Step 2 – Enter in your keyword phrase that you want to rank for.
Step 3 – Enter in your ideal word count.
Step 4 – Then add any additional context to help the AI generate your content.
Step 5 – You can then customize your posts with the internal editor and access all the content formatting options before publishing to your website.
This AI tool has a powerful sidebar that can help you with SEO activities and more.
What I like:
Scale at content has a great editor interface once you have created your content with AI. They even automatically add external links. 
Easy for quickly creating and formatting long-format content that is ready to be published on your website.
Prices:
Solo plan ($250 per month) 8 posts per month
Starter plan ($500 per month) 20 posts per month
Scaling plan ($1000 per month) 50 posts per month
Agency plan ($1500 per month) 100 posts per month
Ready to create content at scale? This AI writing software could be your ideal blog post, content-creating assistant.
This tool is designed for bloggers or small businesses that want to scale their business by creating written content (articles and blogs).
Best AI Image Generator
Remember that time when we had to take photos or spend hours creating images inside Adobe or another platform?
Well, look where we are now! 
You can create AI-generated images with AI image generators in seconds by simply adding a prompt like 'Cat going shopping and carrying a radio' and AI can now create that image!
This is simply mind-blowing!
These are not only fun AI tools but also useful when creating image-based content for social media, your website and other channels.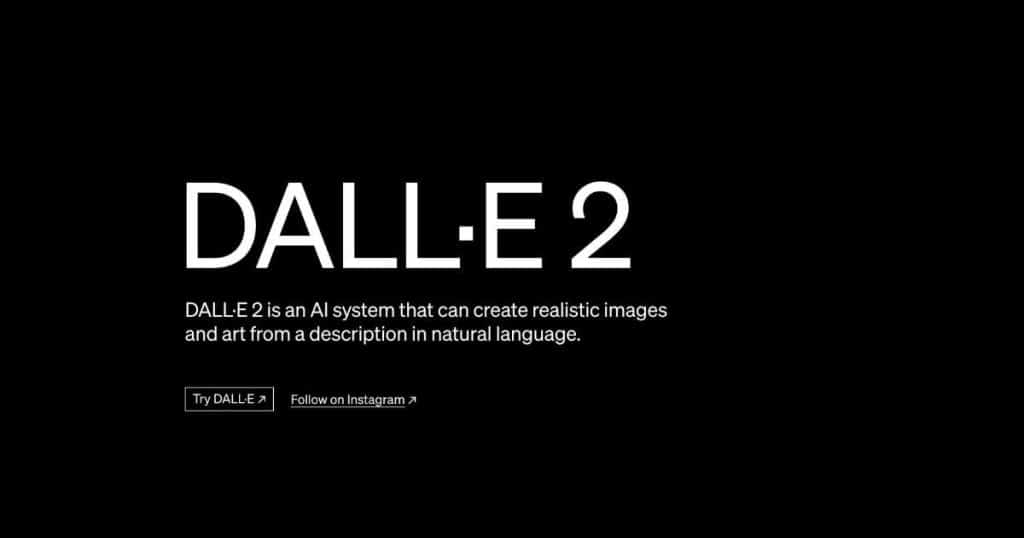 Open AI's DALL·E 2 is one of the best AI image generators available today
Just think of any image that you want to create, for example, 'a pixel image of a cat eating a mouse while sitting on the moon' and boom!
You have an AI-generated image based on your prompt.

How to use DALL·E 2? 3-step guide
Step 1 – First head over to DALL·E 2 and sign up.
Step 2 – Enter in prompt and hit generate. You must have credits in order to request the prompt.
Step 3 – In a few seconds you will have 4 images that you can download, share, save and create other variations. If you edit a request that will cost another credit.
What I like:
Easy to use and very accurate with creating images from basic to advanced prompts.
Prices: (based on credits, one credit equals one request)
$15 for 115 credits
$30 for 230 credits
$45 for 345 credits
Prices increase with more credits.
In terms of using DALL·E 2 in your business, think about creating content in relation to your content marketing activities like creating posts.
For example, if your creating a post about a service offering 'free house inspection' rather than using a boring-looking picture you could create a fun one using DALL·E 2.
Or maybe you want some AI-generated images for your website, newsletter or something else, then you can quickly create these with this Image generator.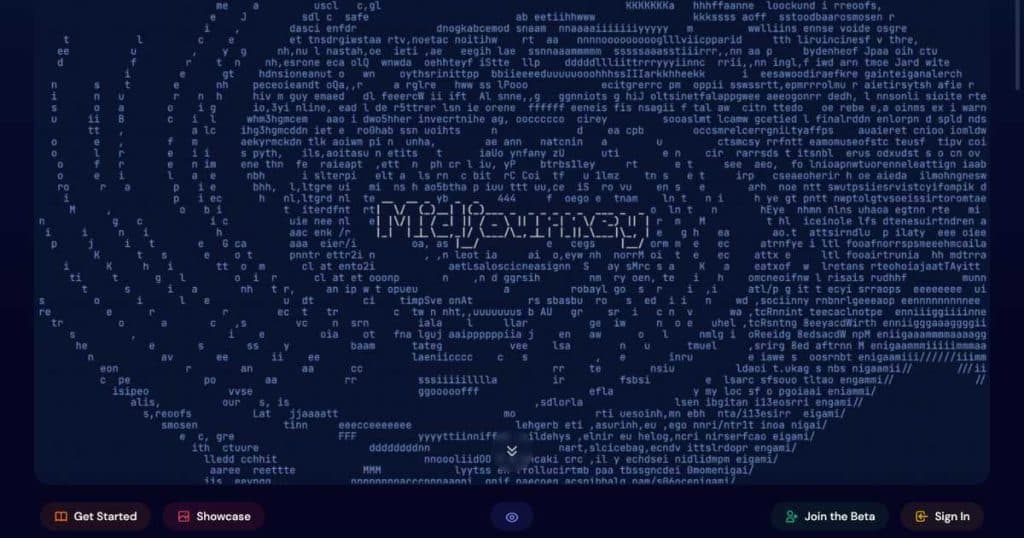 Midjourney is another popular AI image generator that is comparable to Open AI's DALL·E 2.
The best way to use Midjourney is through chat applications like Discord to generate images.

I see this as more of an AI art-generating tool for creating crazing-looking art pieces. 
How to use Midjourney? Getting started
Step 1 – First head over to Discord and sign up or sign in.
Step 2 – Head over to https://discord.gg/midjourney 
Step 3 – Once you join the midjourney discord server, click on a newbie channel.
Step 4 – Type in /imagine and then the keywords related to the image that you want to create (make sure you are very specific with what you want to create).
What I like:
The integration with Discord and the plans that make this AI image generator accessible for anyone.
Prices: 
Free plan
Basic plan is $10 per month
Standard plan $30 per month
Pro plan $60 per month
This AI art/image generator is ideal for creative small businesses such as artists, digital creators and other based content businesses. 
Best AI Video Generator
Okay so we've already talked about creating written copy, websites, images and more with AI, but what about AI videos?
Is it possible to create video ads, promotional videos and product videos in seconds with AI?
The answer is yes!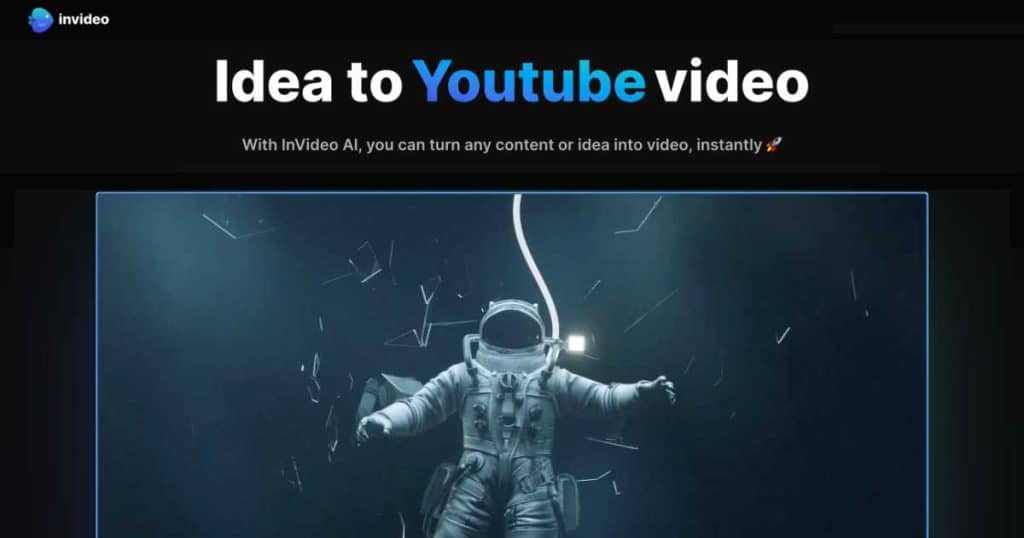 InVideo is a powerful video maker that we love talking about on our blog and YouTube.
We love this tool because it allows anyone to quickly create video content in minutes.

InVideo offers hundreds of video templates that you can use to create all sorts of videos.
And now, with InVideo's new AI feature, you can turn any idea into a video!
How does it work? All you have to do is simply add a prompt, and the AI will decode this into a video script.
Boom! Just like that, you have a unique video to use in your business that you made in minutes with AI.
What I like:
The ability to create unique AI videos with a single prompt. I like that you can continue editing your video by adding additional information as a prompt.
Prices: 
Free plan (Videos will have watermarks)
Business plan ($15 per month)
Unlimited plan ($30 per month)
This product enables you to turn any idea you have into a video in seconds!
So if you're interested in this AI video maker, then give it a go today. I guarantee you'll be just as impressed as I was.
Read more: How To Create Videos for Your Business
My Final Thoughts
There we have it! Those are my 11 best AI tools for small businesses in 2023. These AI tools can assist your business in many different areas including productivity, web design, content creation and more. 
It's important to embrace AI in its early stages as it's only going to get more advanced in the near future.
AI can be invaluable for small businesses if adopted and used correctly.
So, what are you waiting for? Most of these AI tools that I mentioned are free or offer free trials for you to test and identify if these tools are right for you and your small business.
I hope you found this AI tool guide helpful! All the best with your small business.