It's safe to say that AI writing software, including AI writing assistants, has taken over the world at an unprecedented rate, and is only expected to grow exponentially! 
I save $1000s each month and 2 – 3 hours each day using AI.
For me… 
I save $1000s each month leveraging AI rather than full-time writers.
I save 2 – 3 hours each day! Using AI to help me generate content like ideas, scripts, blogs, emails and more.
I'm naturally more productive with my time.
So, how can your small business benefit from these incredible AI tools?
You can simply leverage AI writing tools to create and publish more quality written articles, posts, product descriptions, email campaigns, and other business materials.
Check out our top 7 AI website builders for small businesses here.
We all know that creating engaging and professional content is absolutely vital for small businesses to succeed online. 
Content is not just about generating more traffic and leads. It's also about providing valuable information and building trust with your audience, eventually leading to higher credibility online and, as a result, natural business growth!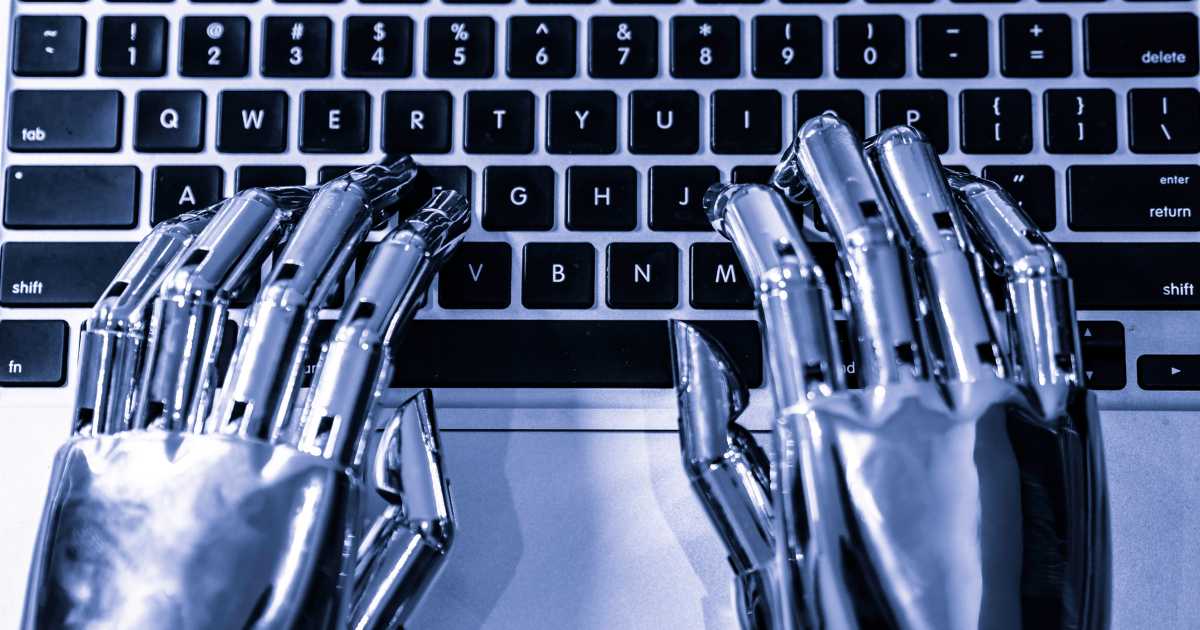 We also believe that in this ever-changing, digital world, it's essential that small businesses adopt and pivot to new and emerging trends. However, we're all about keeping things super simple and actionable.
AI writing assistants – are they worth the hype?
This is where AI writing assistant software comes into play.
AI essay writer software can completely revolutionize the way small businesses create content. By leveraging these AI writing assistant tools, companies will save considerable time, maintain the same tone and style throughout their content type, and ultimately drive more traffic and engagement to their website and brand.
Whether you're a lover or a hater of AI, it's time to start getting involved! Implementing AI writing software to your content is a game changer, and we're here to tell you why.
You may have heard of popular AI writing software ChatGPT or free AI writing software Copy.ai, but have you heard of other ChatGPT and Copy.ai alternatives to assist you in creating your content? 
We will get stuck in and review and compare our Top 6 best AI writing assistant software (free and paid) that small businesses can leverage to create high-quality content.
Best AI writing software and AI writing assistants for small businesses
With that, let's identify the best AI writing software for your small business in 2023.
Copy.ai is a leading free AI writing software and… you guessed it! Copywriting tool!
Content freelancers, copywriters, and marketers can quickly create short-form, catchy, engaging content for marketing ads and copy, headlines, social media posts, product descriptions, slogans, and more. 
With simple, easy-to-use templates, tools, and workflows, Copy.ai's free software eliminates the need to hire ghostwriters or content writers, saving you both time and money when creating engaging and professional copy content.
Find out how to start automating your content creation process and create resonating pieces of content suited to your target audience in this Copy.ai review for 2023!
Whether you're a small business owner, marketer, or content creator, Copy.ai can help you create effective and compelling content that drives results.
Pros:
Copy.ai eliminates pricey and unnecessary copywriters or content freelancers.

You can create multiple content types with customizable templates matched to a specific brand voice tone, including witty, friendly, sassy, persuasive, professional, and others.

Super affordable compared with other AI writing software competitors.

It can generate content in 25 different languages, which is ideal for businesses with a global audience.
Cons:
While using Copy.ai for personal use or

as an

AI novel writing software

for

long-form articles is possible, it's more suited towards short-form copywriting-type content.

Content created by Copy.ai lacks the natural human touch, meaning you'll have to edit it quite a bit to get it up to scratch.

Some of their unique features aren't perfect and will still require some tweaking.

The number of templates they offer can be overwhelming.
Pricing:
Copy.ai free plan:

Up to 2000 words per month.

Pro plan: $36 per month. Unlimited words.
Enterprise plan: Automate any workflow.
Exceptional features:
Rewriter tool: This helps you rewrite sentences you can't quite get right. It's also great for writer's block!
SEO title generator: This is ideal for creating catchy, appealing SEO titles for your content.
Real-time prompt: This new feature gives Copy.ai a cutting edge over other AI software, such as ChatGPT, that can't give you up-to-date real-time information.
There's a reason why Copy.ai is a leading choice for individuals and small businesses looking to create professional copywriting content across various platforms! They're the only AI writing software on this list (minus ChatGPT) that offers a completely free basic plan. 
The Copy.ai free plan is an obvious AI choice for small businesses wanting to create short-form copy content such as emails or social media posts with little to no budget. And in a competitive market, this is incredible! 
Check out my complete Copy.ai Review for 2023 here.
Byword.ai is another AI essay writer assistant and content optimization platform that helps users create high-quality content that resonates with their target audience. 
Type in a keyword, choose the tone, language, and length you want your article to be, and they'll come back to you with a large-scale professional article with the proper structure, readability, and SEO optimization for your audience. 
It really is as simple as that!
Whether you're a blogger, marketer, or content creator, Byword.ai can help you create high-quality articles specific to your audience. You can save time and rank higher on Google and other search engines with the assistance of Byword.ai! 
Pros:
Optimized content for SEO, readability, and engagement.

Customize your tone, style, and brand voice for a personalized touch.

Supportive of nine languages in total.

Free trial of 5 credits.
Cons:
You're limited to only being able to type in a keyword, article title, or article title and subheadings.

Creating the body content of your article is slow compared to other AI writing tools.

It's limited to long-form SEO articles only.

Less flexibility – you can't edit your article using the free plan. This means that if the article is slightly off or completely wrong, you'll have either upgrade or use another credit to create another article.
Pricing:
Either purchase a batch of credits for $5/credit (first 50 credits), $4/credit (for 51 -> 250 credits), or $3/credit (for 251 credits and above).
Alternatively, you can opt for their monthly starter, standard, scale, or unlimited plan (add pricing screenshot here).
Exceptional features
Social post generation: Creates automatic social media posts for Facebook, Instagram, Twitter, and LinkedIn from your article once you've written it.
Batch generator: Create bulk articles in a short amount of time from your keyword list.
Image generator: Once you've generated your article, Byword supports the article with four images related to it.
It's hard to compare this AI essay writer tool as a Copy.ai alternative, as it's used for a different purpose. What we mean by this is, If you want to create high-quality, engaging, and relevant long-term blog content articles and images quickly and efficiently, definitely give Byword.ai a go! 
Remember, what have you got to lose with a free trial? Make the most of it and determine if this AI writing software provides enough flexibility and meets your small business needs!
Contentatscale.ai is a new leading AI-driven content creation platform often duped as a Copy.ai alternative aimed to target businesses, content freelancers, agencies, and marketers that want to create long-form content on a large scale.
But does it have what it takes to be named the best AI writing assistant out there? Let's find out!
By leveraging advanced artificial intelligence algorithms, Contentatscale.ai copy generator creates high-quality and engaging SEO-optimized content for various purposes, such as blog posts, articles, social media updates, and more. 
With Contentatscale.ai, small business owners can save time and effort while creating high-quality SEO-optimized content that drives results.
Type in a keyword, Youtube URL, podcast feed, blog link, or audio file, and watch Contentatscale.ai do all the hard work for you!
Pros:
ContentScale.ai optimizes content for SEO, readability, and engagement, improving the quality and relevance of your content.

Match the user's tone, style, and brand voice, providing a more personalized output.

The interface and text editor are clean and easy to use.

Easily creates a long-form (up to 2500 words) article in just a few seconds!
Cons:
Their plans are on the expensive side, which isn't ideal for small business owners.

It's not perfect. You'll need to make a few edits, add images/alt text to each post you generate, and check a third-party SEO tool like SurferSEO for SEO optimization.

Only suitable for long-form business content.

Unfortunately, Contentatscale.ai is not a

free AI writing software

,

and doesn't offer a free trial.
Pricing:
Solo: $250 per month. 
Starter: $500 per month. 
Scaling: $1000 per month. Agency: $1500 per month

(add a screenshot here).
Exceptional features
Built-in plagiarism detection: This helps small businesses ensure their content is original and doesn't violate copyright laws.
Contentatscale.ai is the only software with three AI engines, natural language processing, and semantic analysis algorithms.
Built-in SEO capabilities: You can ensure all your SEO needs are covered. You'll receive a title, meta description, headings, URL slug, paragraphs, and more! 
The name speaks for itself – Contentatscale.ai is the perfect solution for businesses wanting to well..create content at scale! However, in our eyes, it doesn't live up to its name as an acceptable Copy.ai alternative simply because of its expensive price point (with no free plan option).
However, if you have a larger budget and want to focus on developing and driving as many SEO-optimized blog posts as possible to rank higher on Google, then this software is for you. 
ChatGPT+ is a subscription-based service that provides users access to GPT-4, an advanced language model developed by OpenAI.
We're not lying when we say this AI writing software took the world by storm in 2023 for personal and business use! Businesses all around the globe are using ChatGPT (free version) and ChatGPT4 (paid version) to deliver coherent, context-aware, human-like responses.
For business use, all you need to do is type in a keyword, phrase, or question. Then, chat GPT4 will reply in a matter of seconds with a professional reply which you can use as a foundation for creating compelling content, customer support, virtual assistance, and more. 
ChatGPT powered by GPT-4 means that any individual or small business owner can easily leverage the potential of AI in their communication and content creation to grow their business online!
So what about ChatGPT4 as a Copy.ai alternative? And does it live up to the hype? Let's find out!
Pros:
The more accurate you are in your message, the more precise your response from ChatGPT4 will be.

The platform isn't limited to one type of input format, meaning you can ask questions, write statements, paragraphs, or keywords. The response will reflect your message, and the outcome will differ, making it suitable for small businesses with diverse content needs.

Fast response times! We've found ChatGPT4 has a quicker response time than other AI writing software.

Simulates natural conversations that mimic the human voice, making generating content with minimal edits easy.
Cons:
The response quality depends on the level of complexity.

Unfortunately, there is limited up-to-date or specialized industry or niche knowledge, leading to generic, unhelpful responses.

GPT-4 is a paid service plan that operates within OpenAI's platform, which might be a drawback for individuals or businesses with budget constraints.

There are built-in SEO optimization capabilities.

Limited prompts per day.
Pricing:
OpenAI offers free access to ChatGPT for anyone to use, as long as you have an internet connection.
ChatGPT Plus is the subscription plan costing $20 per month and allows access to GPT 4, which offers faster response times and priority access to new features and improvements.
Exceptional features:
ChatGPT4 can process both images and texts.

Regenerate response: Rewords and improves a previous response to your message.

You can save your previous conversations.

It can generate large amounts of content quickly and efficiently, making it a suitable tool for small businesses with high content creation needs.
There is definitely more advanced and niche-specific AI writing software out there over ChatGPT4. However, the beauty of this software is that it's the perfect starting point to create various pieces of content! So think of ChatGPT4 as a base you can work on to form the perfect piece of content. It might take a little longer, but it'll be worth it in the end! 
We recommend playing around with the free version of ChatGPT first, then upgrading if you're serious about leveraging this software for business use.
Read more: How To Use ChatGPT For Business
If you're interested in learning how to use ChatGPT for SEO and keyword research. I will add my video guide down below.

Jasper.ai is another excellent Copy.ai alternative AI essay writer assistant that helps you write content for your business!
Type a brief description within their super simple interface of what you want to create, choose the title, tone (you can get creative with it), keywords, length, and language, then sit back and relax! Jasper.ai creates your content in a matter of seconds! 
Create anything from books, blog posts, emails, Youtube scripts, and more with Jaspar. You can even integrate the software with SEO tools!
Jasper.ai is the perfect base for businesses wanting to create a large amount of content quickly. But how does it stack up against other platforms when choosing the best AI writing software for you?
Pros:
Jasper.ai is super quick, meaning your content will appear before you know it.

Can create both long or short-form content (however, short-form is best on the starter plan, and long-form is best on the boss mode plan).

You'll find 50+ easy-to-use templates to help you with content such as blog posts, product descriptions, social media posts, captions, Google and Facebook Ads, and more.

25 + languages.
Cons:
Jasper.ai can spit out content quickly; therefore, some words need to be revised! Plus, this means your daily limit of words stacks up quickly.

You have to pay more for the plagiarism checker.

You must upgrade to the pricier 'Boss mode' plan to create engaging long-form content.

No free plan.
Pricing:
Jasper.ai's pricing structure is determined by how many words you use monthly. 
Starter: From $29 a month. 

Boss Mode: From $49 per month. 

Business: Custom plan and price. Most suitable for growing teams.
Exceptional features:
Sentence expander: Type in a sentence, and Jasper.ai will expand your sentence without any unnecessary words!
Jasper recipes: These are helpful workflows of specific Jasper commands that will help you create captivating content.
Only AI with a Chrome extension: You can use the AI generator on Google Docs, Gmail, WordPress, Youtube, and more.
Surfer SEO and Grammarly integrations: Available on the boss plan.
Jasper.ai is an excellent option for business owners wanting to create SEO-friendly content; however, it can take a bit more work to edit your work to perfection, so keep that in mind.
With built-in SEO and Grammarly capabilities, Jasper.ai is best suited for businesses wanting to ramp up their content writing skills or not wanting to hire a copywriter! 
However, it's important to note that many of these incredible features are only available on the 'Boss plan,' meaning you'll have to invest a bit more to reap the full benefits of this AI writing software.
Hypotenuse AI is an AI writing assistant and text generator designed to help users quickly and efficiently create high-quality content. It's primarily aimed at e-commerce businesses, online retailers, and digital marketers looking for an efficient and effective way to create and optimize content.
This AI-driven platform is particularly beneficial for businesses with large product catalogs or frequently updating or adding new products. It streamlines the content creation process and ensures consistent quality and relevance. 
Additionally, Hypotenuse AI writing assistant can be an invaluable resource for digital marketing agencies and freelance content writers who work with e-commerce clients, helping them to deliver top-notch product descriptions at scale.
Using Hypotenuse AI as a means users can save time and effort while creating high-quality content that resonates with their target audience.
Pros:
Variety of content. You can create anything from posts, product descriptions, Instagram captions, Facebook or Google Ads, and more.

Hypotenuse AI offers seamless integration capabilities with Shopify and WordPress.

You'll maintain a consistent quality and tone throughout your content.

Scalability: The platform can easily handle large volumes of content, allowing businesses to scale their content creation efforts as needed.

25+ languages.

Offers a 7-day trial.
Cons:
Lack of templates compared with other AI writing software.

Some businesses may find integrating Hypotenuse AI with their existing content management systems or e-commerce platforms challenging.

There's no SEO built-in integration tool.

Not ideal for long-form content.
Pricing:
Starter plan: $24 per month, up to 25,000 words.
Growth plan: $49 a month, up to 87,500 words.
Enterprise: Custom plan and price based on the individual. 
Exceptional features
Bulk generate: Import your products from a CSV file or through Shopify. Hypotenuse will then create descriptions for those products!
Content detective: This feature helps fact-check your content before going live.
Image generation: Creates complimentary images to accompany your content.
Text summarization tool: This one is pretty self-explanatory – type in a paragraph, and they'll summarize it for you! Great for creating concise content.
If you're an eCommerce business, look no further! This is absolutely the choice for you! No other AI writer tool on this list supports the number of online store capabilities and social media activities like Hypotenuse AI does, especially if you have a Shopify store. Moreover, you can also create long-form content with Hypotenuse AI writing assistant.
However, we recommend utilizing the 7-day trial period before committing!
Final thoughts 
We know the struggle small teams (especially ones with a smaller budget) face trying to keep up with the big guns when it comes to creating professional, compelling, and high-quality content.
Small business owners often have limited resources and time. Therefore, it's beneficial to leverage smart AI writing assistant tools to help increase productivity, save time, and improve content quality.
AI writing software helps to bridge this gap by automating the content creation process, allowing small business owners to focus on other aspects of their business. 
So, what is the best AI writing software out there? Well, it all depends on what you need it for! 
Think about what you want to get out of the software, meaning what do you want to create? 
Whether that's long-form, short-form, conversational, technical, or other, there's something for everyone. 
Make sure you try before you buy, and check out all the free trials these platforms offer!
There are so many fantastic AI tools out there (probably a bunch more since releasing this article) which is exciting! 
So ahead and make the most of them and start creating better content today with any of these 6 best AI writing software platforms!