Are you after the best Canva alternatives for all your graphic design needs?
Since you clicked on this article, I assume you've heard of Canva, the popular all-in-one online graphic design tool.
I personally love and use Canva almost daily. Why? Because it's just so easy to use and offers more than just design-focused tools!
With Canva, you have the freedom to create anything from logos, flyers, newsletters, social media posts, presentations, QR codes, websites, and more – the list goes on.
Learn how to create a professional logo with Canva here.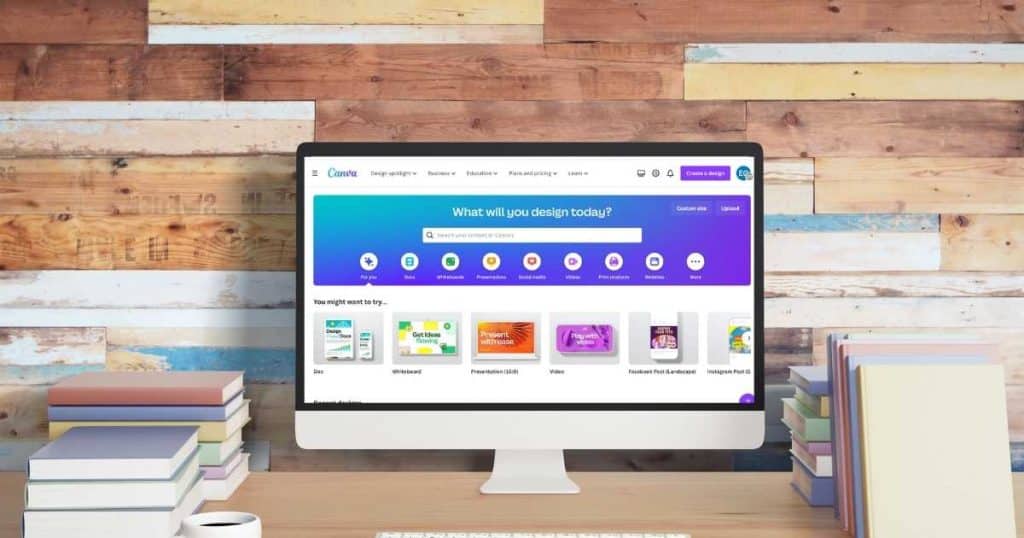 One of the reasons Canva is so popular is because you don't need any graphic design experience to use it (the design interface uses a simple drag-and-drop experience).
This means that even absolute beginners can create stunning marketing and printing materials for their business!
So with that said, is there anything out there better than Canva?
This is where I step in.
In this blog post, I will delve into what I believe are the 5 best Canva alternatives.
These easy-to-use graphic design tools offer unique features and capabilities best suited for different needs and requirements.
I'll be exploring each and every tool, including their ease of use, pricing, my favorite feature, and pros and cons.
By the end of this article, you'll be able to answer the question all small business owners (including myself) have been pondering!
What's better than Canva? And, what's the best graphic design tool for me?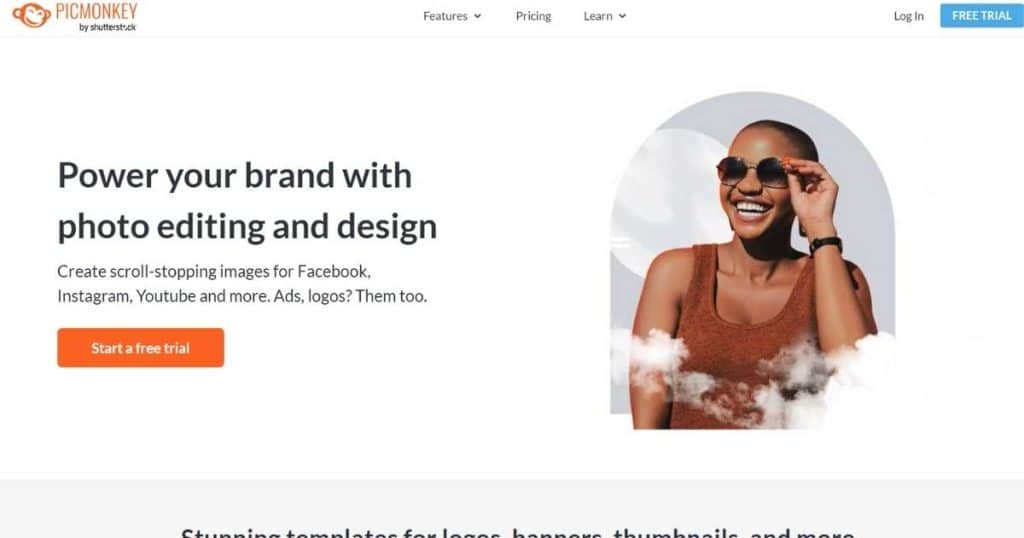 PicMonkey is an online photo editing and graphic design tool born in 2012.
Similarly to Canva, you can create anything from flyers, presentations, logos, invitations, and more.
Although PicMonkey is both a graphic design and photo editing platform, it's primarily known for its photo editing capabilities.
You can simply leverage their templates, mobile app, and dynamic photo editing features to edit and create stunning designs!
I'd describe PicMonkey as an online, easier-to-use Photoshop alternative, perfect for photo editing.
If you're a blogger, freelancer, or social media content creator, PicMonkey is a great option for you to create professional and beautiful photos and videos for your online brand.
Is PicMonkey the Canva alternative you've been searching for? Let's jump in and find out.
It's no secret that Canva is famous for being stupidly simple and easy to use.
But how does Canva vs PicMonkey compare regarding the ease of use and interface?
For the most part, PicMonkey is a user-friendly photo editing platform. However, the learning curve is slightly higher than Canva, especially if you're new to photo editing.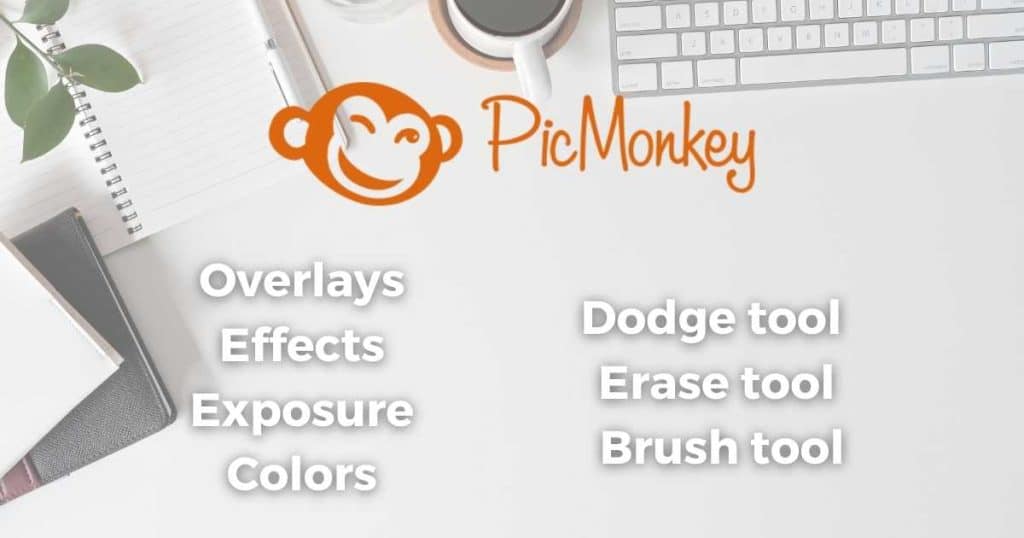 This is because of the photo editing features (similar to Photoshop) like:
Overlays.
Effects.
Exposure.
Colors.
The dodge, erase, and brush tools.
In terms of editing your designs, both platforms come out on top with their clean and easy-to-use drag-and-drop editing tool.
Like Canva, the main functions and editing options are on the left side, while the top bar allows you to share, download, or resize your designs.
When testing out both platforms, PicMonkey's editor is sometimes laggier than Canva.
Also, you have to create a new page for each design. With Canva, you can simply add a new page below your design, which is easier when creating documents with multiple pages or designs (in my opinion).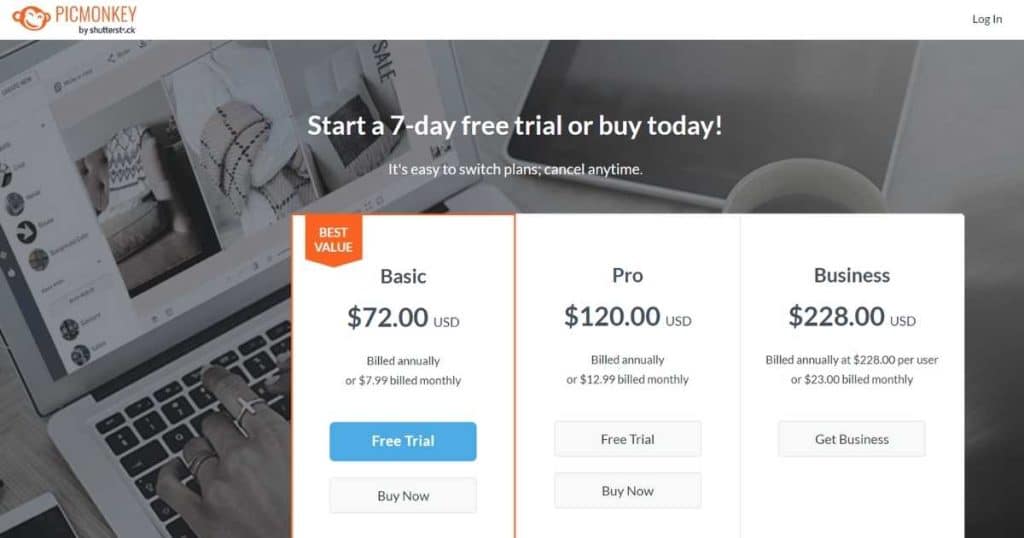 Pricing is such a huge factor when it comes to choosing an online design tool.
Canva offers a limited but functional 'Free forever' plan and two paid plans – Canva Pro ($12.99 per month) and Canva Teams ($23.99 for up to 5 people).
The biggest difference between PicMonkey vs Canva pricing is that PicMonkey doesn't offer a free plan on desktop. You'll only get a free basic mobile version.
PicMonkey plans:
Basic: $7.99 per month.
Pro: $12.99 per month.
Business: $23 per month per user.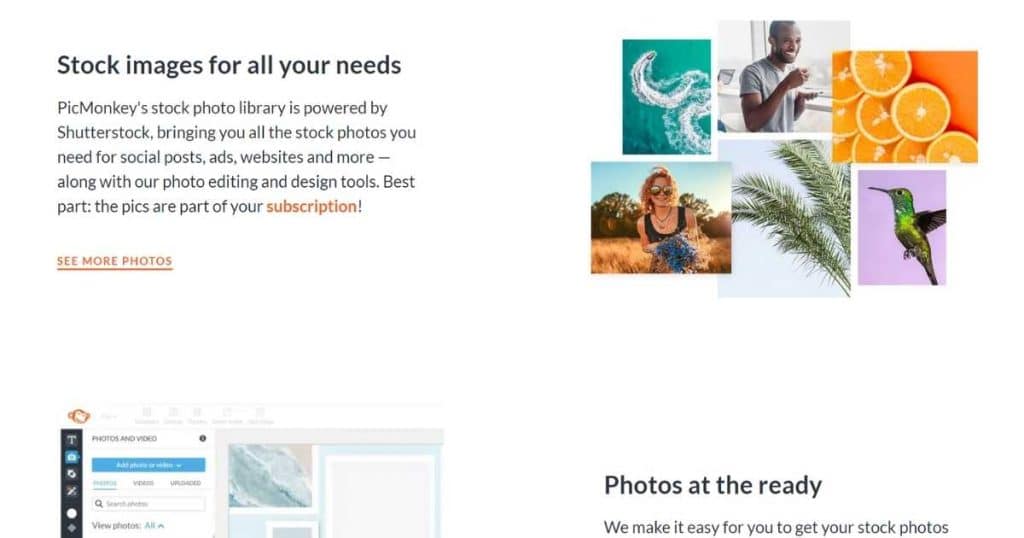 PicMonkey recently acquired Shutterstock's enormous stock photo library, meaning you can add high-quality photos to your designs.
In my opinion, both platforms offer a huge number of photos where you can find whatever you need to create stunning designs.
Additionally, you can add and edit your own photos on both tools.
However, PicMonkey wins by a landslide if we're talking about photo editing (which is no surprise considering it is a photo editing tool!)
Thanks to the touch-up, exposure, and sharpening tools, you can do fancy things like adding photo effects, filters, and colors.
Basically, you can completely fine-tune the way your photo looks. Plus, the simple sliding bar makes this super simple to do!
Canva offers basic photo editing tools like the background eraser, smart resize, crop, and transparency functions. However, it certainly doesn't compare to PicMonkey.
What I like:

The amount of photo editing options.
Easy to use.
They're continually improving and adding new content and features.
Free on the mobile app.
What I dislike:

No free plan.
Lack of educational content.
No video editor.
You must create a whole new page when adding multiple designs.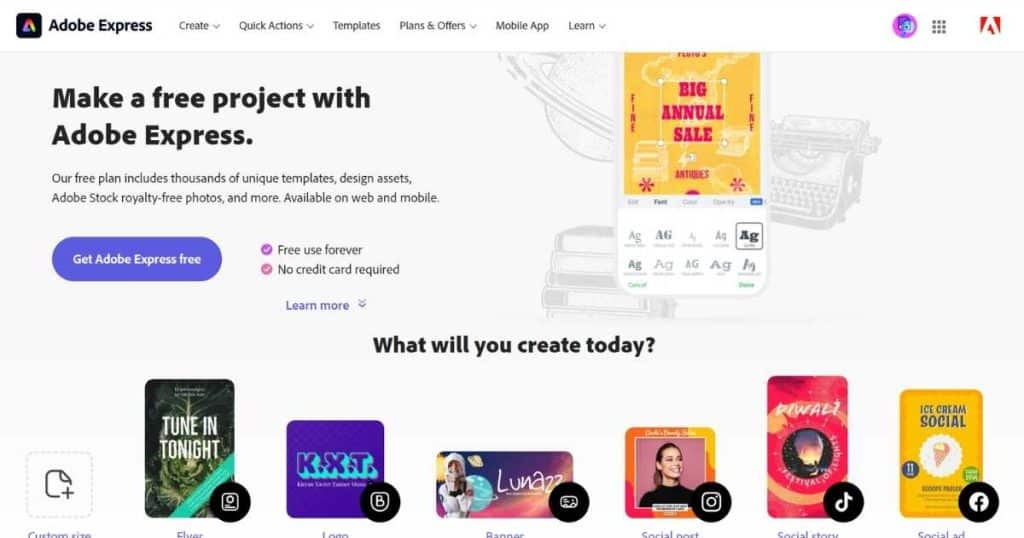 As you may already know, Adobe is a leading software company for creatives and designers, offering popular applications like Photoshop, Indesign, and Illustrator.
One of their many products is Adobe Express, created as a simpler design tool.
But, how does it compare with the powerhouse that is Canva?
There are a lot of similarities between Canva and Adobe Express. Firstly, it's entirely web-based.
Secondly, you can create anything from flyers and logos to social media posts, book covers, resumes, and more.
Choose from various templates, fonts, and graphics to create unique designs that align with your brand.
I'd recommend Adobe Express for any intermediate or advanced graphic designers after a quick and easy tool that will bring their visions to life.
So, how does it compare with Canva?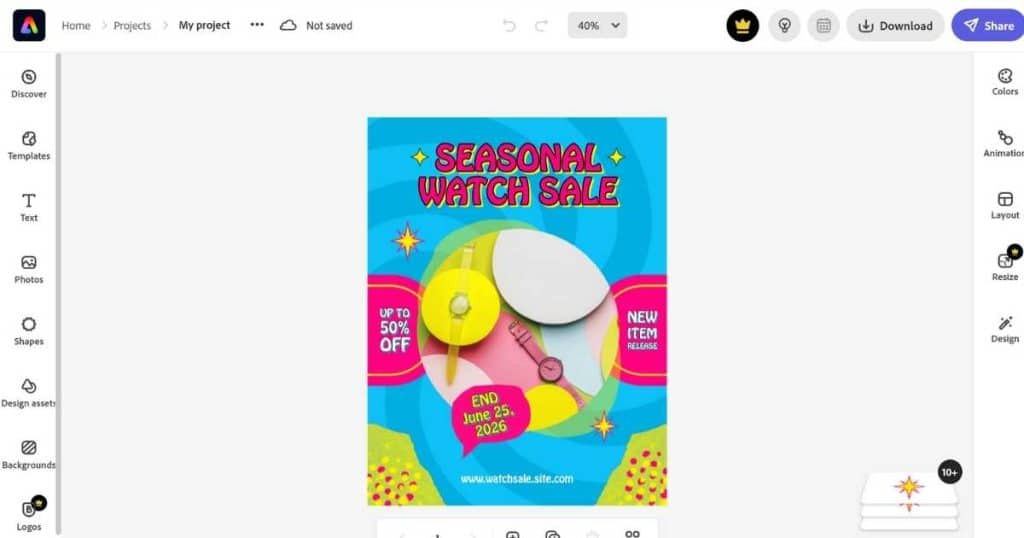 Okay, so we've established that Canva is easy to use. But how does Adobe Express stack up?
Adobe Express is almost a carbon copy of Canva in terms of the user interface and layouts – even down to the font used!
Canva's drag-and-drop editing tool, combined with its clean and intuitive interface, makes it easy for anyone to create stunning and professional designs.
On the other hand, Adobe Express offers a simplified version of other Adobe products mixed with Canva's features.
If you're familiar with Adobe products, you'll find Adobe Express easy to use.
However, if you're a beginner, you might prefer Canva's more intuitive layout and editing features.
Regardless of which platform you choose, both Canva and Adobe Express's interface and editor let you create custom designs that align with your brand and style.
The only negative aspect I can think of in terms of ease of use with Adobe Express is that it lags a bit compared to Canva, which can be frustrating.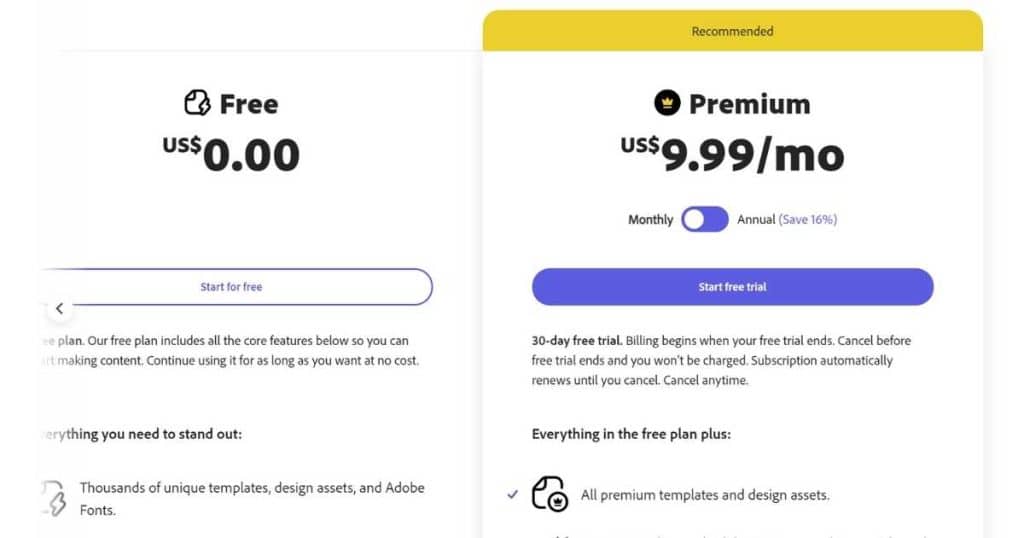 Adobe Express is slightly cheaper than Canva. They also have a free plan. However, you get a lot more bang for your back on Canva's free plan.
Adobe Express plans:
Free: $0
Premium: $9.99 monthly.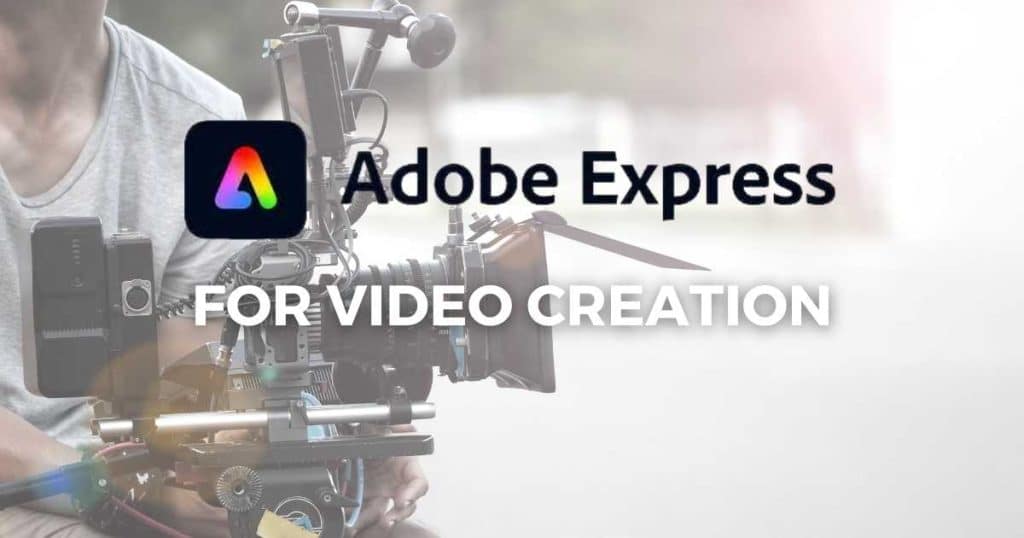 Adobe Express has a cutting edge over Canva when it comes to video editing and creation tools.
They offer a wide range of video templates, graphics, and audio.
The only downside is that some videos are from their own stock library, which has limitations.
Don't get me wrong, Canva is still good for video. They just don't offer as many video editing options.
Also, they're primarily geared towards creating videos from scratch or through a Canva template.
If you're looking to create a video and don't have much experience, Canva is a great place to start!
If you want to create new videos or customize your existing videos, I'd go with Adobe Express.
What I like:

You can use the background eraser tool on the free plan.
The interface is clear, concise, and easy to use.
Phone and live chat support.
You have the option to use more advanced editing tools.
What I dislike:

Apart from the video editing software, there's nothing super special about Adobe Express that you can't get in Canva.
The learning curve can be steep for beginners.
The interface can lag quite a bit.
Fotor is another popular Canva alternative, with over 300 million users worldwide.
What sets it aside from the rest? You can add filters, effects, and re-touch elements to enhance your images.
There are so many editing options available. Some of Fotor's tools include:
Vignette.
Sharpen.
Blur.
Add text.
Rotate.
Remove red eyes.
Adjust brightness.
Contrast.
Saturation, among others
And the best part is that you don't need any technical experience to use Fotor!
You can create your perfect design in a matter of minutes.
However, Fotor is not just for photo editing. You can also create other graphics for your small business through Fotor's 10,000+ premade templates.
These designs include banners, social media posts, cards, posters, and more.
If you're a photographer (or a complete beginner) and want to create beautiful images easily, look no further than Fotor!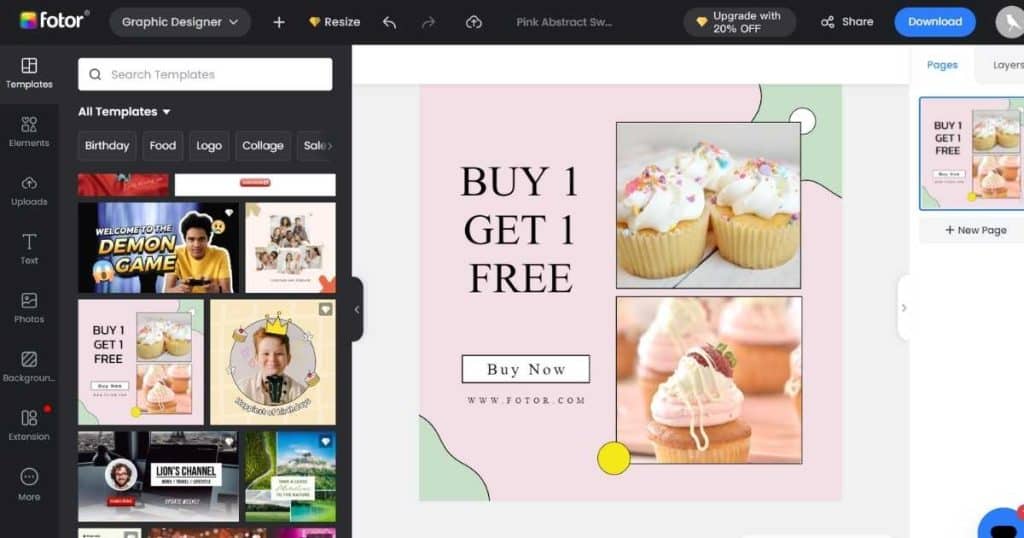 Fotor is made for beginners, and that shows in the user interface. Again, the layout is similar to Canva's (a common theme within this article, right?)
The main difference you'll notice is that the coloring within the editor is black. Initially, I personally found this a little harder to navigate than Canva.
But once I got passed this, I realized just how easy it is to use! You can easily drag and drop items and edit headers and body text directly on your design.
One of the things I love about Canva is that you can add multiple designs to one page, which is also something Fotor offers.
Another cool feature is the 'Quick Actions' header, where you can add and find all your favorite tools for quick access.
I also found it didn't lag as much as the other Canva alternatives mentioned. Although, I still think Canva is the quickest of the three platforms mentioned.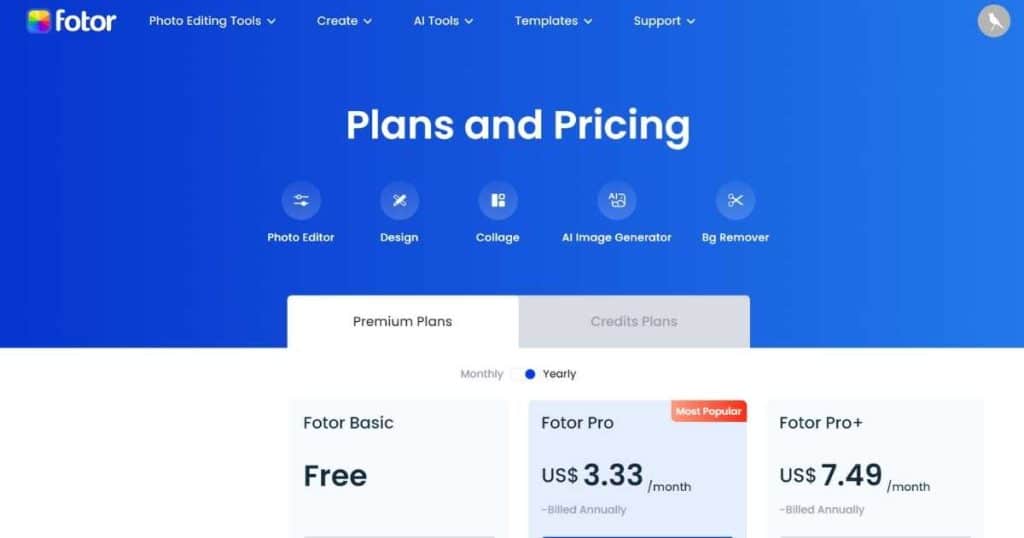 The pricing structure of Fotor is similar to Canva. However, Fotor is actually a bit cheaper!
They also offer a 'Credits, a pay-as-you-go system.
Fotor plans:
Fotor Basic: $0
Fotor Pro: $8.99
Fotor Pro+: $19.99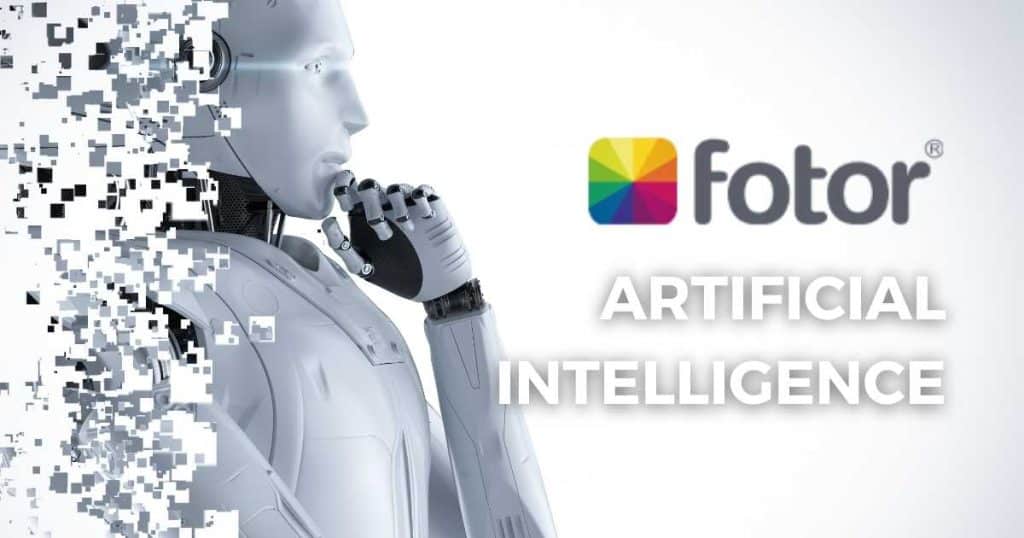 Fotor has quite a few impressive photo editing tools and features. But I'd have to say that their AI-powered tools are my favorite!
I'm sure you've heard of how AI is revolutionizing the way we work in 2023. We talk a lot about tools and platforms that are leveraging AI.
Learn about my top 7 best AI website builders for small businesses here.
So, how does Fotor do this? Of course, they use AI technology to enhance your photos!
You can do anything from adding makeup, smoothing out blemishes, removing wrinkles, and more with the AI beauty tool.
Other AI tools include:
1-tap enhance.
AI enlarger.
Magic remove.
Background remover.
AI image generator
And the new Photo colorizer.
If you're a photographer, content creator, or simply someone wanting to capture the perfect image, these tools are pretty impressive.
Although, keep in mind that most of these tools are only available on paid plans. If you'd like to check out these AI tools, make sure you check out the paid plan free trials before committing.
What I like:

Free plan!
Fotor is both a full-featured photo editing and graphic design tool.
Excellent mobile app.
You can easily share and collaborate your images on social media and with your team.
What I dislike:

You can't create an image from scratch.
Customer support could be improved.
Many advanced editing features are not available on the free plan.
There is no video creation feature.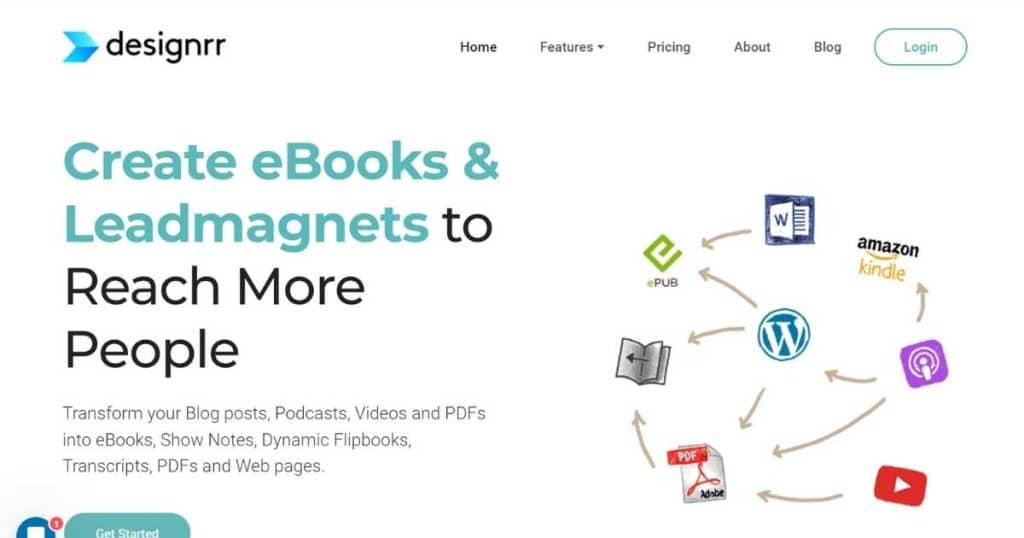 This powerful online content creation platform differs slightly from the rest of these Canva alternatives. And I'll explain why!
Designrr is quite a niche platform that lets you create:
eBooks.
Kindle books.
Lead magnets.
Flipbooks.
Blog posts.
I know what you're thinking…creating an eBook sounds quite daunting.
However, with Designerr's intuitive drag-and-drop interface, users can easily format their content into professional-looking eBooks.
You can then use these as lead magnets to attract and grow your customer base.
If you're a small business owner, content creator, or marketer and want to create a visually appealing piece of content (without the hefty price tag attached), Designrr is the best option for you!
Simply use their customizable templates, fonts, and graphics to make a unique and compelling eBook design that stands out from the competition.
Whether you're a blogger looking to repurpose your content, or a marketer looking to generate leads, you can't look past Designrr as a top choice!
With Canva, creating a basic eBook is possible. So with that said, is Designrr the ultimate Canva alternative for eBooks?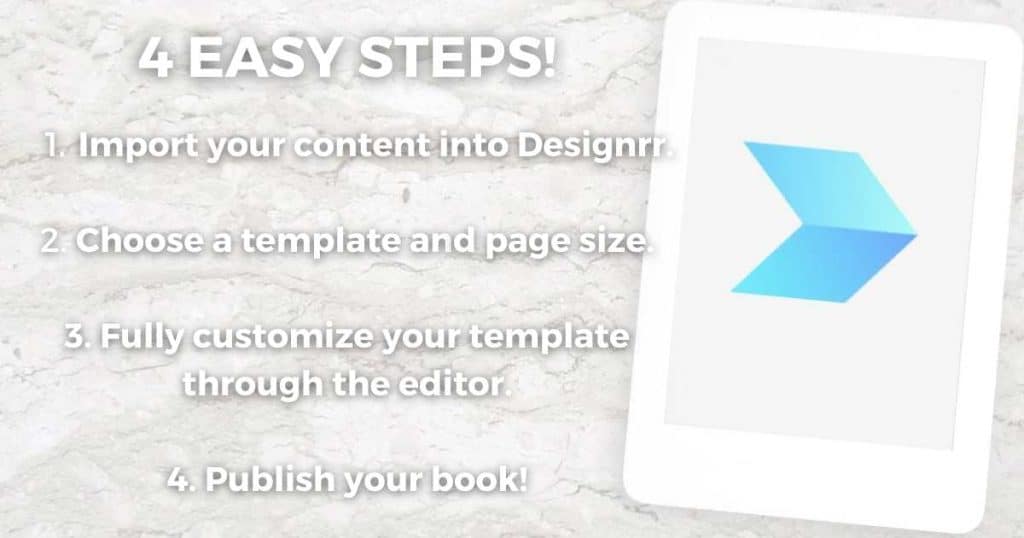 The idea of Designrr is to help you make an eBook quickly.
All you have to do is:
Import your content into Designrr.
Choose a template and page size.
Fully customize your template through the editor.
Publish your book!
Designrr is generally quite easy to use and offers a drag-and-drop interface (like many other Canva alternatives).
Designrr may be easy to use, but that doesn't mean your designs must suffer!
Simply add your images, videos, and other interactive activities to create a professional, engaging, and fun eBook on point with your brand.
Once you've finished creating your eBook, you can export it as a PDF or publish it directly to platforms like Kindle or iBooks.
At first, the idea of creating an eBook may sound overwhelming, but Designrr makes it possible even for people with no design knowledge!
However, while Designrr is easy to use, some people may find that their advanced features have a steep learning curve.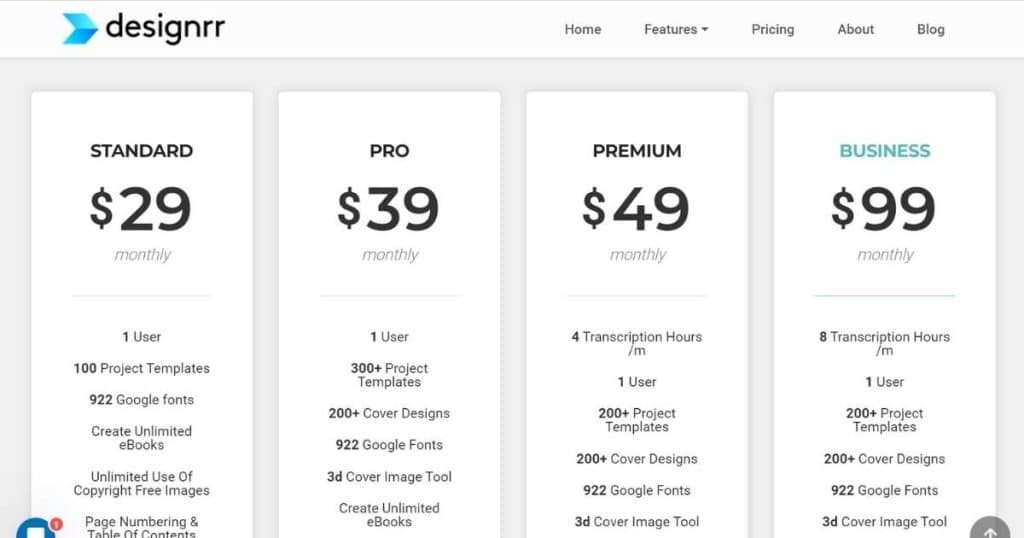 Designrr is a bit more expensive than Canva, especially if you're after advanced features.
Although they offer a free trial – I'd definitely make the most of that before you commit!
Standard: $29 per month.
Pro: $39 per month.
Premium: $49 per month.
Business: $99 per month.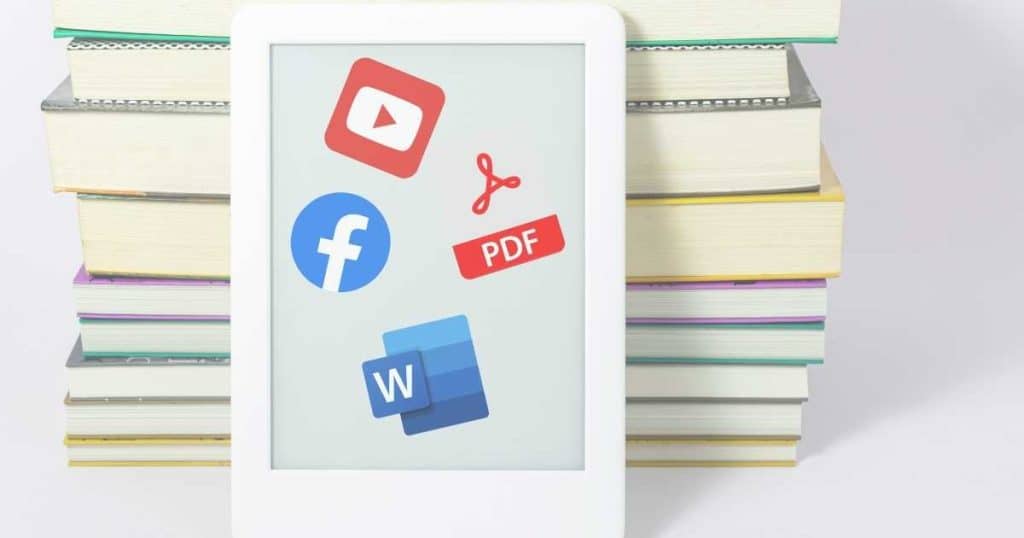 So now we've established that Designrr is an awesome eBook creation tool, let's talk about why.
One of its best features is its ability to import content from various sources, including:
URLs.
Facebook posts.
Old PDFs.
YouTube videos.
MS Word, and others.
That's right; you can transcribe and convert your video or audio files into a stunning eBook. How incredible is that?
This means you can quickly repurpose practically any type of existing content into a professional-looking eBook!
Also, I love that with Designrr you can add interactive content like quizzes and surveys to help you stand out from the crowd.
What I like:

Their customer support is generally quite good.
You have quite a bit of freedom when it comes to customization.
You can build your eBook from scratch or use pre-made templates.
There's an option to upload directly to eBook online marketplaces.
What I dislike:

Compared with Canva, the learning curve is steeper.
No free version.
The software is known to have some bugs and errors when making design changes.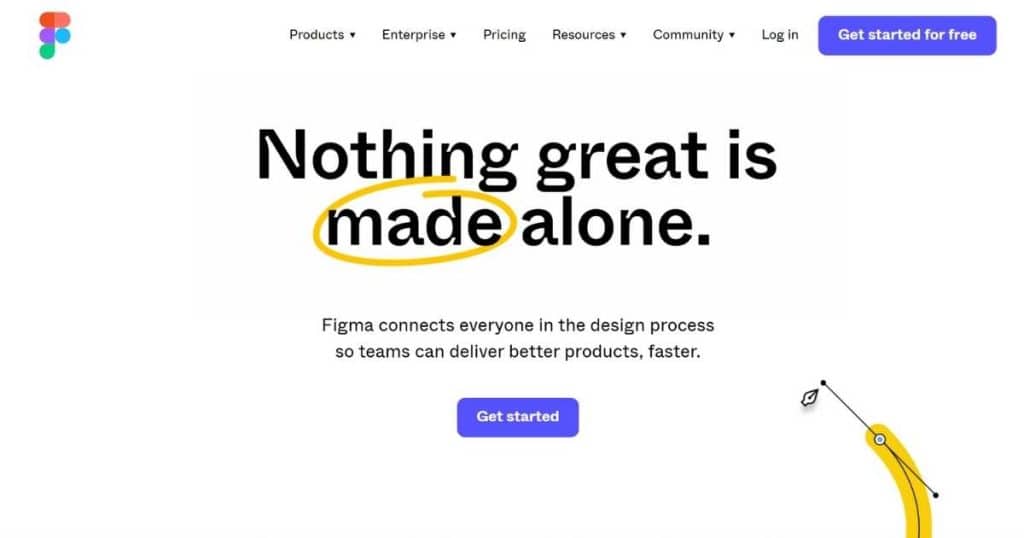 Figma is another online design tool with a different spin to help you create compelling designs.
Rather than focusing on simplicity, this Canva alternative targets designers or developers that need specific design, prototype, animation, and collaboration features.
In other words, you can create interactive and complex designs through Figma! So, if the above alternatives I mentioned sound too basic for you, this could be what you're looking for.
Let's dive in and find out more.
You'll first need to sign up and into Figma.
Then, create a new project
Import your file.
Start designing!
You'll find that Figma offers a range of dynamic tools and features.
These tools include shapes, text, images, vector networks, constraints, and auto-layout (to name a few).
5. Next, simply streamline your workflow and improve your designs by leveraging their wide range of plugins and widgets.
There are thousands of templates, plugins, widgets, and UI kits to help you get started.
6. Finally, you can work with and share your designs with others in your team (more on this soon).
So, if you're a designer and want a collaborative design tool to create your website, mobile apps, wireframes, prototypes, and more, I guarantee you'll love Figma.
Keep reading to find out more about Canva vs Figma.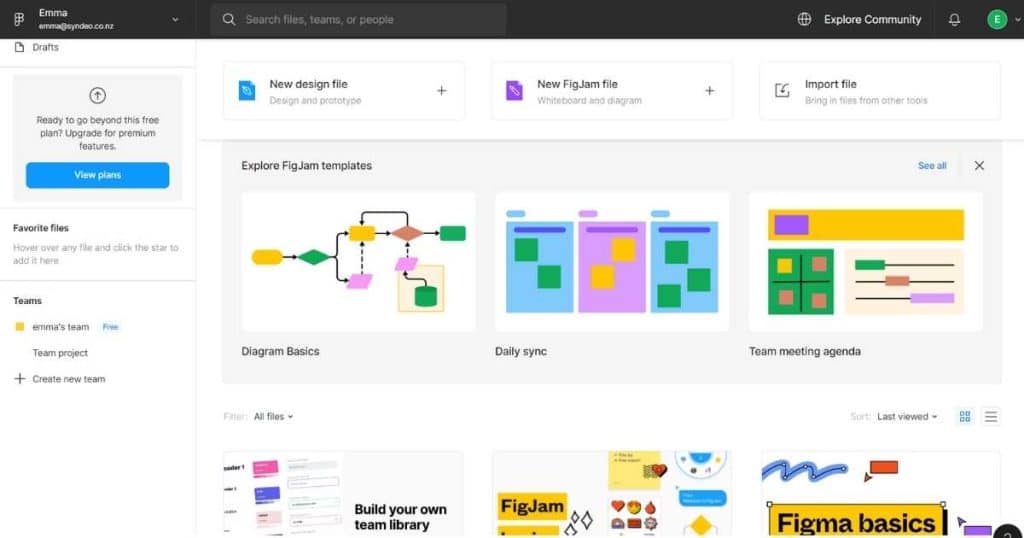 Although Figma has a steeper learning curve than Canva, you have the freedom to create and design beautiful graphics without any limitations.
One of the downsides, however, is that they don't offer many pre-made templates, meaning you have to create your own designs from scratch. This means you'll have to worry about technical things like the size of your design.
Also, the collaborative interface, in particular, can take some time to figure out.
But don't let that scare you!
Figma is designed to be as intuitive as possible. The interface is clean and has an easy-to-use drag-and-drop system.
When it comes to ease of use, Canva definitely wins. You'll have to have at least some UX and UI design knowledge to use Figma.
Plus, if you get stuck, they have a tonne of FAQs and resources, and educational documents to help you.
Basically, if you know what you're doing, Figma is pretty impressive!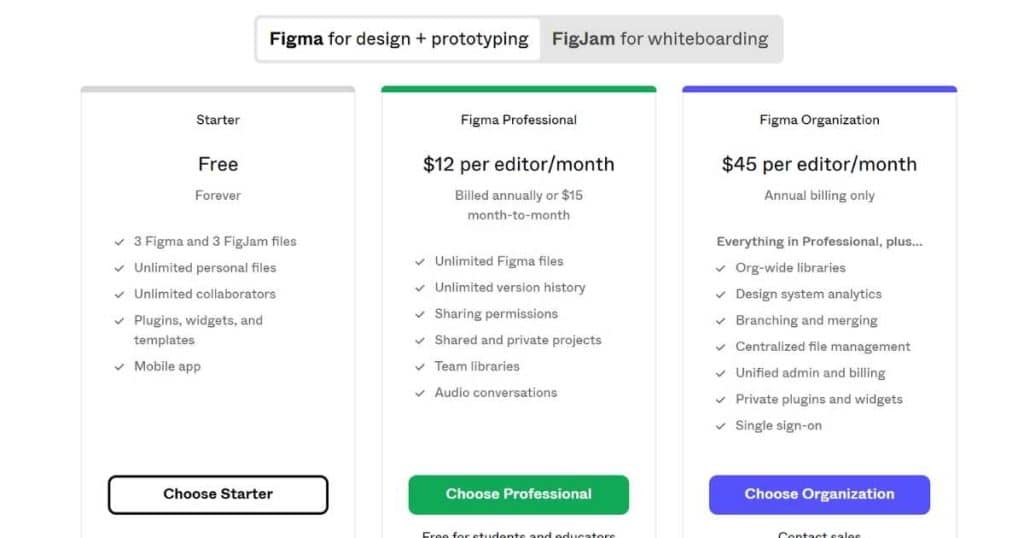 Like Canva, Figma offers 3 design plans:
Design + Prototyping:
Free: $0.
Professional: $15 per user per month.
Organization: $45 per user per month.
Additionally, you can sign up to their whiteboarding plans:
Whiteboarding:
Free: $0.
Professional: $5 per user per month (discount if you pay annually).
Organization: $5 per user per month.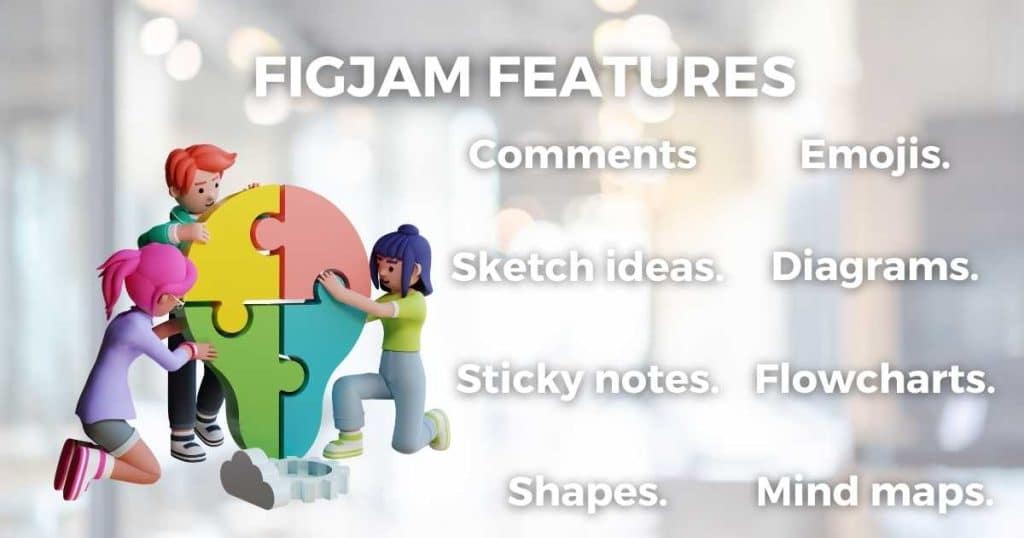 If this was a graphic design collaboration competition, Figma would hands down win!
This is because they take collaboration seriously. And when I say seriously..I mean throughout every single aspect of your design.
Simply create libraries for your entire team and invite as many members as you want to view and give you feedback on your designs.
Also, any viewer can extract code snippets and share them with external users in just a few seconds.
However, the collaboration feature I love the most has got to be the 'FigJam' feature.
Think of FigJam as a big, virtual, customizable whiteboard.
You and your team members can brainstorm on a fully customizable board through:
Comments in real time.
Sketch ideas.
Sticky notes.
Shapes.
Emojis.
Diagrams.
Flowcharts.
Mind maps and other visual aids!
With FigJam, you can create and organize seamlessly with your team members, regardless of where they are in the world!
This takes collaboration to the next level, letting you discuss and work together on your projects with your team as it evolves. How cool!
What I like:

There are thousands of unique design plugins!
The ideal solution for designers after an intuitive and easy-to-use platform for their designs, websites, or prototypes.
Free plan.
Supports both desktop and mobile.
Awesome collaboration features.
What I dislike:

Not suitable for beginners.
Doesn't work on all browsers.
It can be glitchy and clunky at times.
The export feature is reportedly not the best.
Stew's Final Thoughts
And congratulations! You've made it to the end of my Top 5 Canva alternatives.
As you can see, there are many different Canva alternatives out there.
They all offer slightly different features and tools to help you create perfect designs for your small business.
I hope you can now identify which design tool is the best for you, whether that's Canva or one of the other alternatives I mentioned.
Most of these platforms offer free plans or free trials, so give them a go and start designing now!
Thanks for reading, and let me know your thoughts below.