Dedicated CRM Software for Small Businesses
Let's identify the best CRM software for your small businesses. But first…
Are you tired of creating and keeping track of multiple spreadsheets or old-school paper notes in order to effectively manage your customers, team members, and deals (I've been there!)?
Or maybe you're struggling to put systems in place for marketing and sales processes (again I've been here too!).
In this best CRM software tutorial, Well, it sounds like you're in need of a 'suitable' CRM solution!
You may be like the many small businesses that we engage with that typically do not use a CRM system.
These businesses rely on email folders, physical notes and spreadsheets to manage the different activities in relation to task, customer and sales management.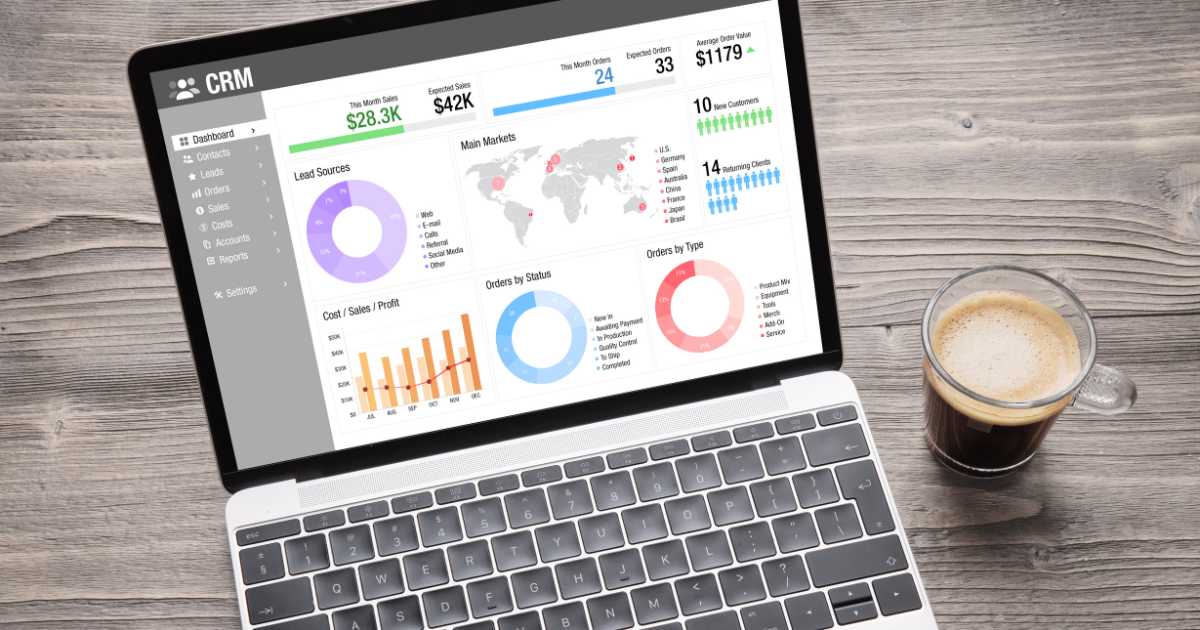 However, leveraging suitable CRM software can be an absolute game-changer for every small business type.
Why? Well, a CRM integrated into your day-to-day business activities can:
Save you hours each day through organisation and automation.

Dramatically increase your conversion rates by streamlining your customer journey.

Give your team a sales process to follow and execute (no longer a guessing game).

Understand your sales process pain points.

Increase your team's productivity.

Better manage your contacts, leads and customers.
And there is a lot more a sales CRM can do for your small business.
So, in the article, I'm going to discuss my top 7 Best CRM Software for small businesses with the primary goal of helping you identify the most suitable solution for your small business in 2023.
If you want to watch my quick top 5 CRM software for small businesses, I will add the video below.
What is a CRM system? (Customer Relationship Management)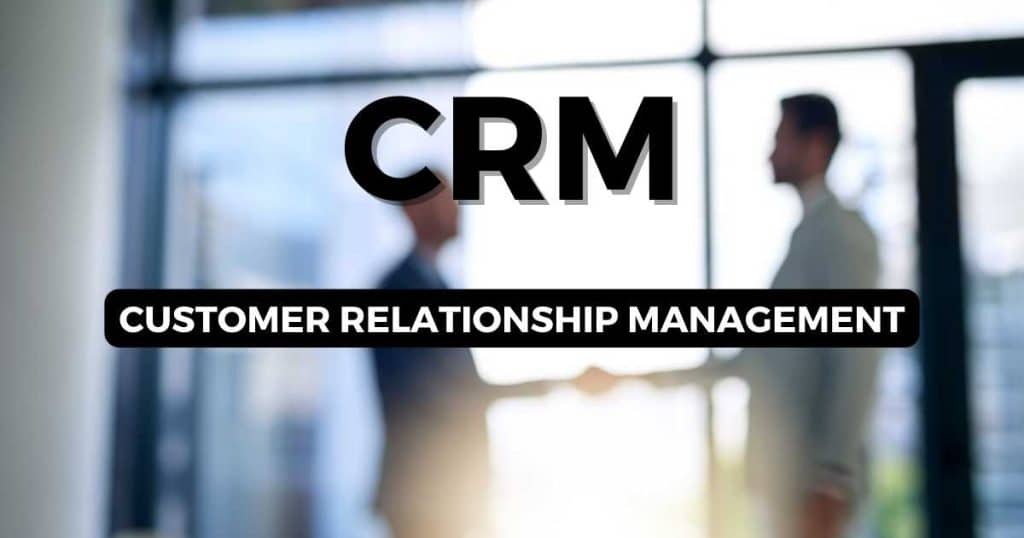 CRM (customer relationship management) software is an all-in-one platform that helps you keep everything 'customer-related' organized and together. 
Additionally, CRMs help you boost sales and gain, maintain and grow important relationships with your customers and teams along the way, to ensure you hit those all-important business goals.
Your first thought might be that this software is only beneficial for huge corporations with hundreds of staff, clients and millions of dollars… this ideology is wrong!
I know that small and medium businesses (of any type and size) can and will benefit from using CRM software to streamline their sales processes, operations, marketing and communication.
All your conversations, tasks, emails, leads, deals and more are all securely stored on one platform, virtually eliminating the need to jump between spreadsheets (or worse, rummaging around for that notepad buried at the bottom of your desk drawer).
The great thing? Many CRM's offer complete free 'forever' plans that can be suitable for most small businesses. As your business grows, you can always shift to a paid package (one of the best investments you can make).
A 'good 'CRM allows you to seamlessly integrate and automate all your email marketing, task, team management, notes and projects into one system so you can focus your energy and smash your business goals, so your business can absolutely thrive online!
Our purpose is to share our honest and raw thoughts on the Top 7 paid and free CRM software ideal for small businesses. 
Read out beginner's guide on Top 5 free CRM software for small business.
Our CRM software review will include pricing and plans, user-friendliness, key features, technical support and what we like and dislike overall, so you can choose the right CRM for you and your business's requirements.
Alright, let's get stuck in!
Best CRM Software for Small Businesses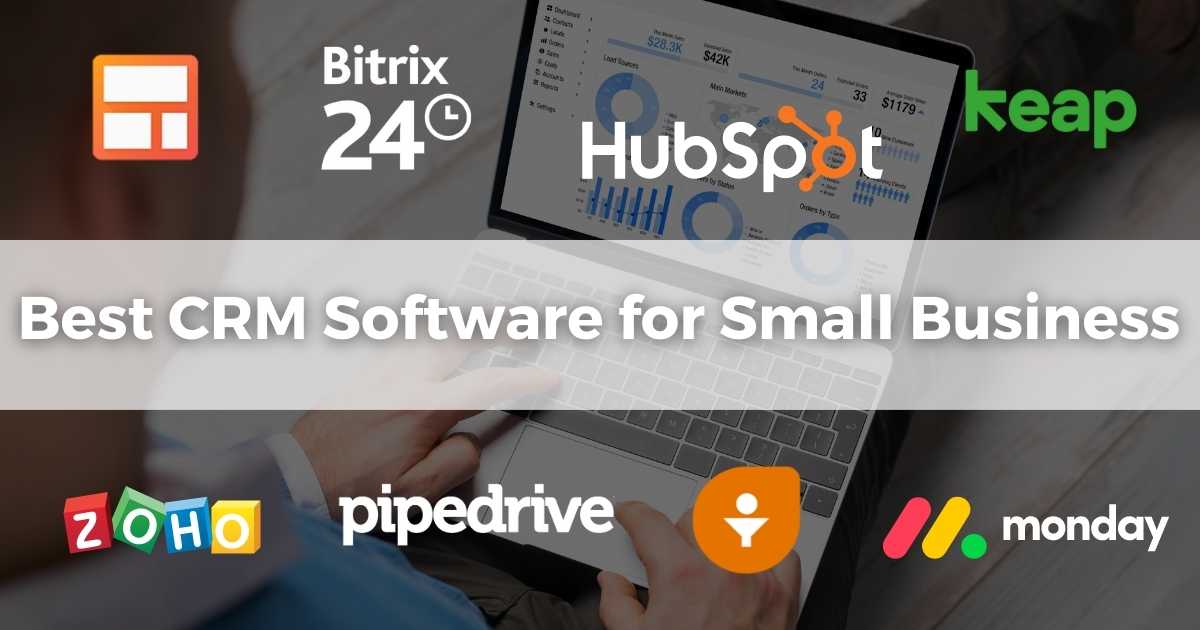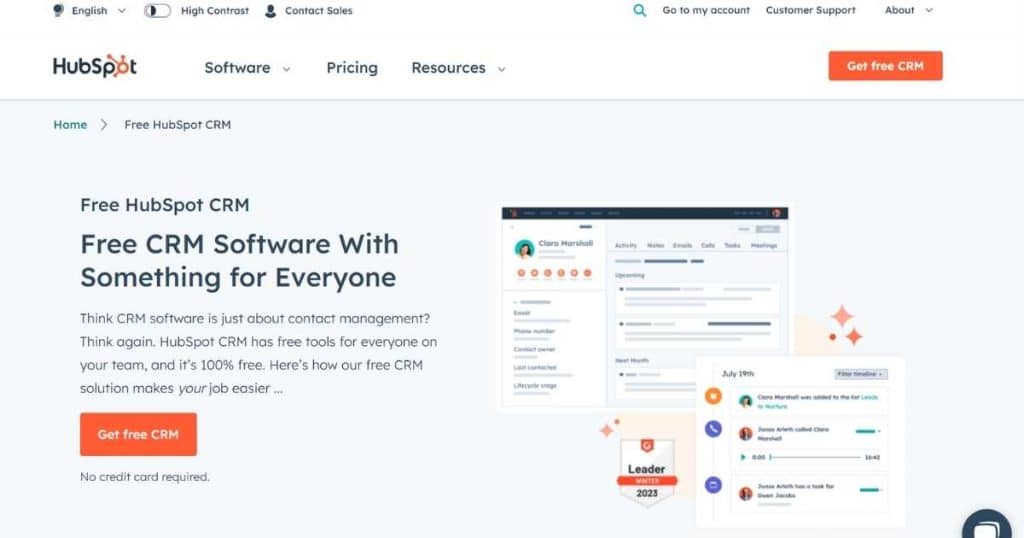 Best CRM software for commercial real estate. 
Best roofing CRM software.
Best free CRM software for small businesses.
HubSpot is one of the biggest game-changers in the CRM and online marketing world to date. Founded in 2004, they now pride themselves on helping over 135,000 businesses around the globe. 
Their platform can help you improve your relationships with customers and increase productivity and communication for your business, all through their all-in-one incredible marketing, sales and service CRM software. 
One of the most impressive things we love about HubSpot is that their marketing, sales and service tools and integrations are all on one easy-to-use platform, so you don't have to worry about any messy integrations or tricky instalments with any third-party apps. 
HubSpot lets you mix and match whatever tools are relevant for you and your business. 
Statistics show users close 75% more deals by engaging in HubSpot's marketing, sales and service features combined (wow)!
What's even more remarkable is that HubSpot offers a huge amount of their features all for free, with access to tons of marketing, sales and customer service tools and features to ensure your business flourishes. 
You can also add up to a crazy 1,000,000 contacts (all on the free plan!)
Additionally, you can rest assured that your data will stay safe, as HubSpot safely secures all of your information through its cloud system. This means you don't have to worry about your data getting lost in cyberspace. 
They also offer 6 different languages (and seven currencies!) 
HubSpot's aim is to target start-ups, entrepreneurs or small to medium businesses that want to improve their customer relationships, manage leads and drive sales – all in one place. And they certainly achieve just that.
Check out our beginners tutorial on everything you need to know about setting up and using HubSpots FREE CRM!
HubSpot Pricing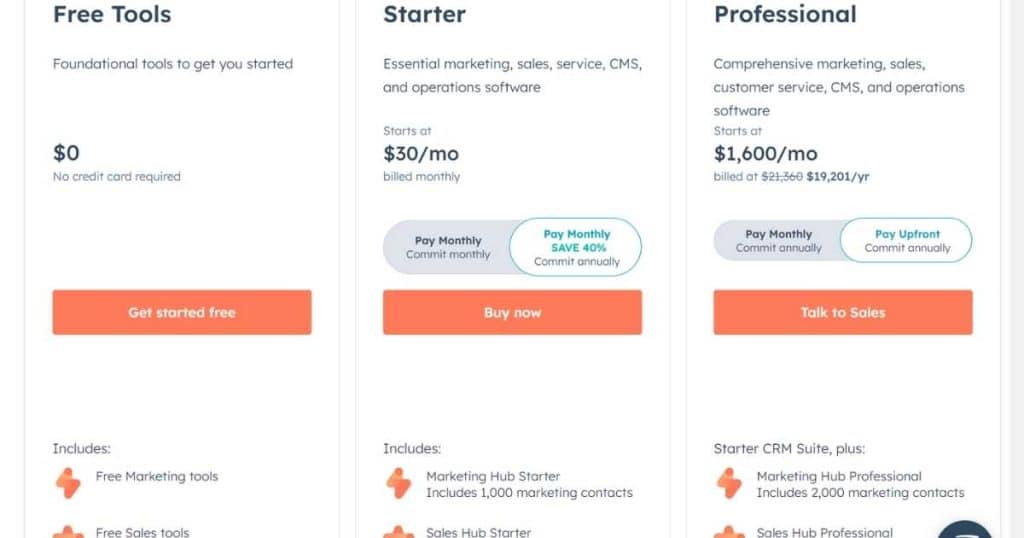 HubSpot really is leading the CRM game within the small business community when it comes to features vs price point.
However, their plans can be a little confusing to navigate around if you're a total newbie and don't even know where to start, so here are a few tips to get you up with the play.
We'll be looking at the free, starter and professional CRM plans only.
We recommend getting started with the free plan and upgrading later if you need to.
The 'Sales' hub is the best option for paid advanced CRM tools.
You can also 'Build your own bundle'. This will allow you to create a unique plan to suit your needs. 
Free plan:
Includes unlimited users, up to 1,000,000 contacts and an unlimited amount of customer data. HubSpot's free CRM features include:
Contact management.
Team email.
Email scheduling.
Limited email tracking.
Forms.
Basic deal and task management.
1 shared inbox.
5 snippets.
1 meeting scheduled per week.
3 reporting dashboards.
1 pipeline, Facebook messenger integration.
Email reply tracking.
Slack.
Gmail and Outlook integration.
1-1 email and email templates.
Starter: 
$20USD per month (2 users). $10USD extra per month per additional user. You can remove HubSpot branding from chat and:
Meeting scheduling.
Emails and documents.
Access unlimited email tracking.
Integration with Stripe.
5000 snippets.
10 reporting dashboards.
2 pipelines.
Multiple currencies.
B2B buying.
Conversation routing and limited team goals.
Professional: 14-day trial.
$500USD per month (5 users) $100USD extra per month per additional user. 
Includes:
Sales analytics and automation.
Custom reporting and forecasting.
Company and contact scoring.
Access to 100 shared inboxes.
15 pipelines.
30 currencies.
Automatic lead assigning.
10 teams.
1 million products and smart send times.
User-friendliness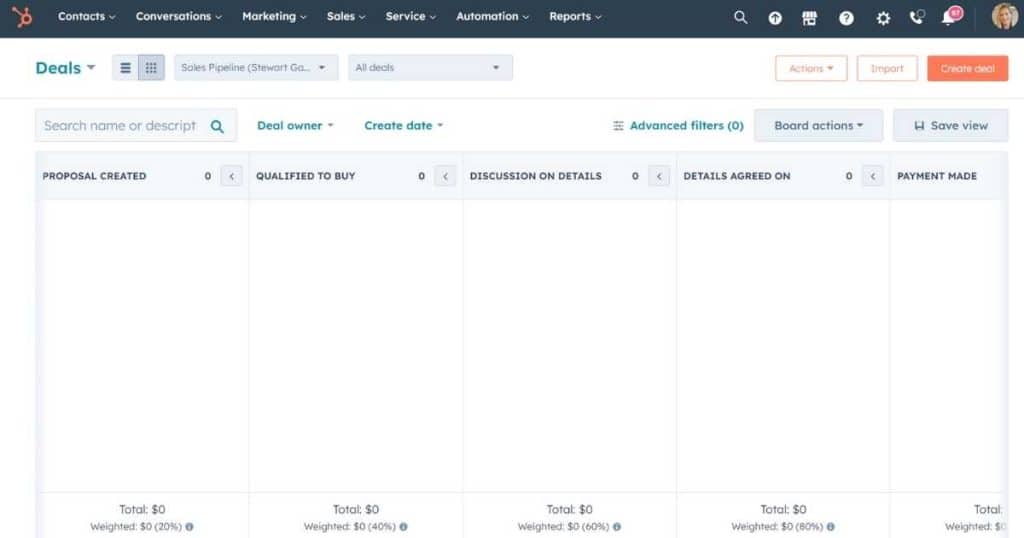 HubSpot is known for its intuitive yet easy-to-use interface. If you don't already have an account with them, all you need to do is head over to their homepage, simply answer some business-specific questions and you're good to go.
From there, you'll be taken to your main dashboard. HubSpot's aim is to make things as simple as they can for you! 
They display the same dashboard interface no matter what 'hub' you join (or if you stick with the free plan) and you can simply find everything you need under each heading at the top of your dashboard.
Additionally, HubSpot supports its new users by offering straightforward and unambiguous demos and user guides. 
Once you've set up an account, you'll need to simply connect your email address. From there, you can actually sync your contacts with your CRM. You can even directly sync your calendar to take advantage of HubSpots full (and still free!) features like meeting scheduling and logging and task management. 
Finally, the free version also lets you easily add and manage an unlimited number of users (yup – that's right. Unlimited!) HubSpot guides you every step of the way through this process. 
Limited platforms offer this on a FREE plan, so HubSpot really does stand out from the crowd with this one!
Key features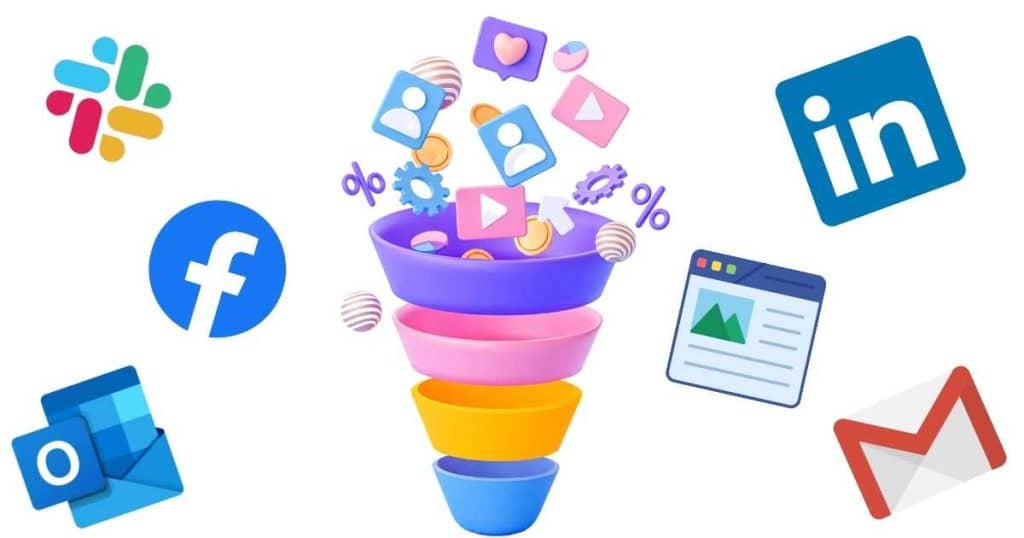 Internal and external conversations and communication:
Engaging and communicating with your visitors, contacts, leads and teams can be done in multiple ways with HubSpot. 
You can either manage your conversations internally (whether that's through email, chat or forms), or integrate external platforms like Slack or Facebook Messenger right into your HubSpot account!
All you have to do is simply connect with the channels that make sense for you and your team to start communicating with them.
What's great is that you have access to all of the above mentioned on the free plan, however, if you're after advanced messenger bots and reporting for Facebook messenger conversations, you'll have to bite the bullet and upgrade to one of the two higher-paid plans. 
You can even create live 'chat flows'. These are a series of automated 'bot' messages you can set up to chat with your visitors across multiple platforms. 
This is integrated directly with your CRM and is a super smart tool. Chatflows have the ability to use known details about your contacts to create personalized and targeted content. 
You don't even need to know any scary code to set this up!
In addition to this, you can create 'Snippets' on all plans. To sum up, snippets are like a little sister version of a template. You can set up and create small bits of regular content that you normally have to type out each time when communicating with your contacts. 
You can also create actual templates for your longer, more repetitive emails. Both snippets and templates aim to save you a bunch of time when communicating with your contacts!
Integrated marketing tools
As previously mentioned, one of the many awesome benefits of using HubSpot for your small business is that you can easily integrate additional online marketing tools to complement your CRM.
The free plan allows you to connect your website directly with your HubSpot CRM so you can easily capture leads, embed forms and chat onto your website.
You can integrate features such as ad campaign management with Facebook, LinkedIn and Google ads. You can even connect up to two ad accounts on the free plan. 
Additionally, you can send and schedule up to a whopping 2000 emails per month using premade customizable email templates, and can even dip your toes into important tracking and reporting features, such as your click and open rates. 
However, you'll need to take the plunge and upgrade to the paid 'Marketing hub' plan for more advanced email marketing features.
Other marketing tools that will supplement your CRM are landing pages and forms.
You can create impressive landing pages and captivating pop-up forms and banners using the easy drag-and-drop editor to capture contact information to convert visitors into leads! 
Forms and landing pages related to your contacts are then automatically stored in their file within your CRM. 
You can even set yourself a reminder to follow up with your contacts so they don't slip away.
Read more: How to create a landing page with HubSpot.
Free sales pipeline
Every good CRM platform should contain a dynamic and visually appealing sales pipeline, and this is a feature you should be on the lookout for when choosing your CRM.
HubSpot offers one pipeline on their free plan, (enough for small businesses) and offers multiple on the paid plans!
Sales pipelines are an essential and powerful tool as they show a raw, detailed yet visual representation of the amount, the close date and how each deal is tracked.
You can assign particular projects or day-to-day deal-related tasks to your team, create reports to identify any areas that may need help, and predict future revenue.  
You can view your pipeline in two different ways (depending on what works well for you), and create specific 'triggers' that notify you and your team when a contact has changed their position within the pipeline, so you can reach out to them at the right time in the right way.
Read more: How to set up a sales pipeline on HubSpot
Scheduling page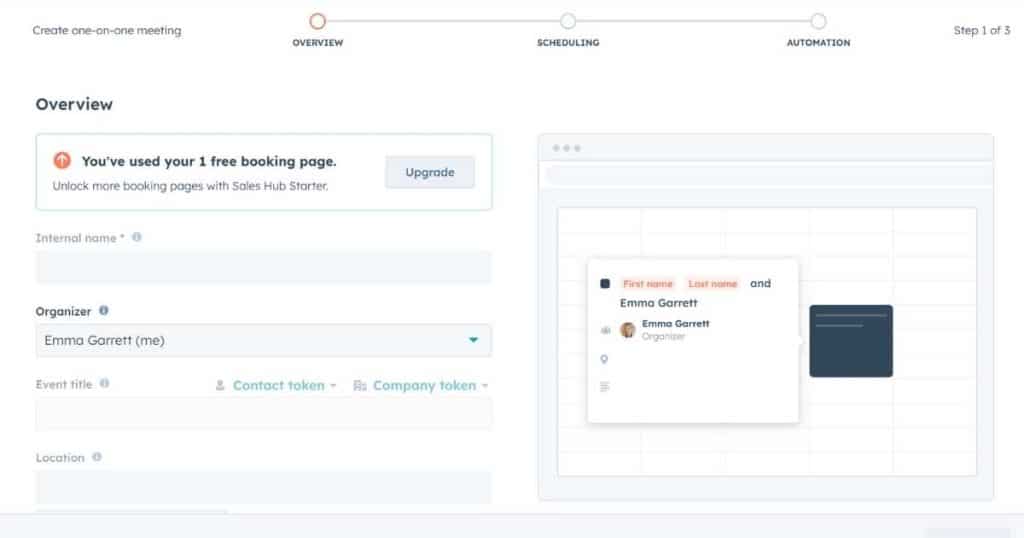 We absolutely love this feature, as it means you can seamlessly create, schedule and manage meetings for potential customers in just a few clicks. 
This feature is easy to use, available on the free plan and quite frankly, saves you a heck of time!
How does it work? Firstly, you'll need to pick a few available times that suit you to have your meeting. From there, all you have to do is share a link with those times directly to your meeting attendees. 
They simply open the link and pick the best time that suits them (out of your given options).
This reduces unnecessary email correspondence back and forth (which, let's be honest, no one has time for).
You can even sync the meeting schedule with your Gmail or Outlook account so you can be sure you haven't double-booked yourself. 
Read more: How to use HubSpots meeting scheduler.
Automation workflows
Unfortunately, the free CRM plan doesn't offer any automation tools or features. You'll have to upgrade to the 'Sales hub' plan to access workflows and automated sales emails.
However, we felt it was important to note automation as a feature HubSpot offers for bigger businesses.
You can create 'workflows' to automate time-consuming tasks (for example, sending an email after a contact fills out a form on your website).
You can even automate these emails and create specific email sequences. Every email will automatically link back to that contacts file, meaning you can use this information to add specific details and add personal touches about individuals to your emails.
Customizable and shareable reports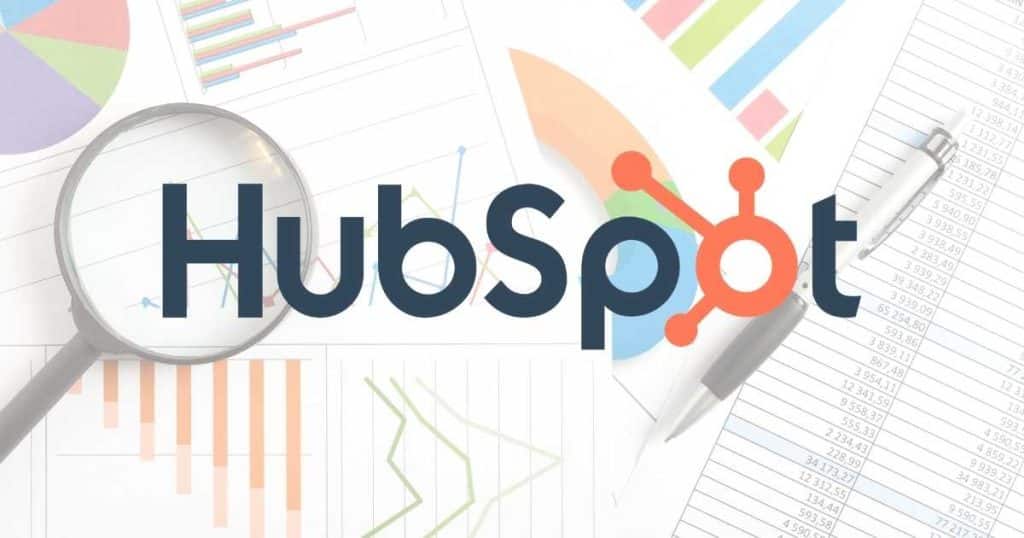 There are over 90 simple yet powerful reports, all broken down into easily identifiable categories. 
You can find anything from forecast reporting for deals, reports about your contacts, tasks or team, funnel reports and sales activity reports. You guessed it – these are all available on the free plan!
You can view your reports in a bunch of different views, then add and customize reports to a specific dashboard and share them via email for your team to view, helping with future business planning.
Additionally, if you're up for the challenge, Reports can also be made from scratch.
You can also use HubSpot's elaborate internal analytic tools to track your website traffic and any behavioural trends on your website on the paid plans.
External integrations and internal bundles
HubSpot CRM is well known for its ability to integrate with popular external platforms like Gmail, Outlook, Slack, Facebook and other social media platforms.
You can find a crazy amount (about 300!) integrations on their app marketplace, offering marketing, sales, customer service, productivity and finance applications.
The sky is truly your limit for connecting any type of app to your CRM. You can even build your own app or custom integration if you need something specific! 
Most platforms offer external integrations these days, however, HubSpot is unique as they offer flexible 'Marketing', 'CMS', 'Operations' and 'Service' hubs, which you can easily mix and match. 
You can simply select a 'Bundle' plan to create your version of your ideal plan depending on your needs.
Read more: How to create a HubSpot website – HubSpot CMS Hub.
Technical support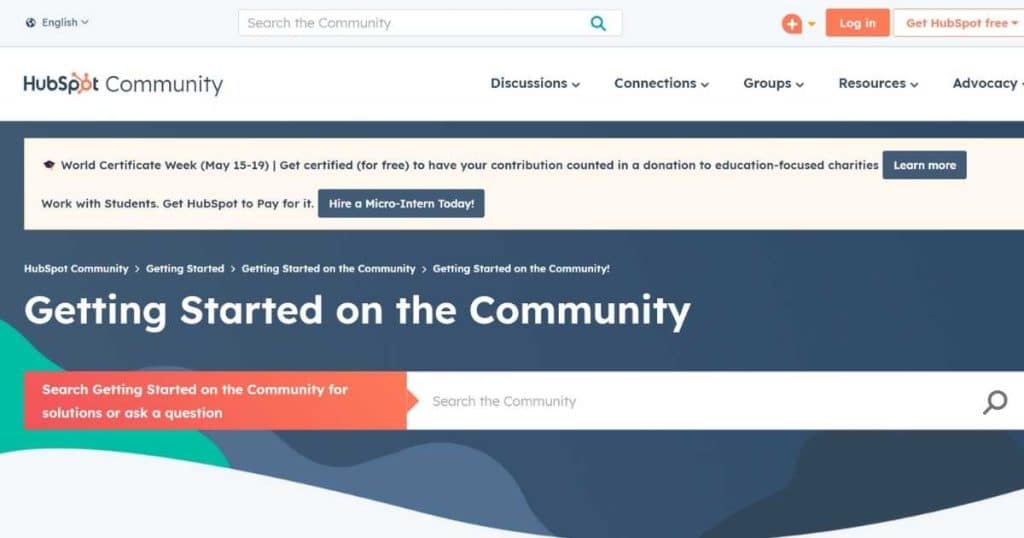 The level of one-on-one support on the free plan is unfortunately limited, however in addition to providing demo videos (when initially setting up), you can head over to their online help center on their website, where you can find a mountain of specific topic guides with articles, videos, customer blogs and more. 
There's also the 'Hubspot community' support, available on the free plan. You'll find different forums and blogs to help support you with any questions you may have. 
However, to receive email, chat or phone support, you'll need to upgrade to a paid plan.
What we like
Amazing free version that allows full access to marketing and sales features.
Mobile app available that you can use on either Android or iOS.
The ability to easily integrate with over 300 tools and multiple apps and platforms.
Good for small to medium-sized businesses.
Check out the beginner's tutorial on How to use HubSpot CRM App.
What we dislike
The pricing plans can be confusing and pricey (if you opt for a paid plan).
There is no one-on-one support for free plan users.
Check out our beginner's tutorial on how to setup hubspot for small business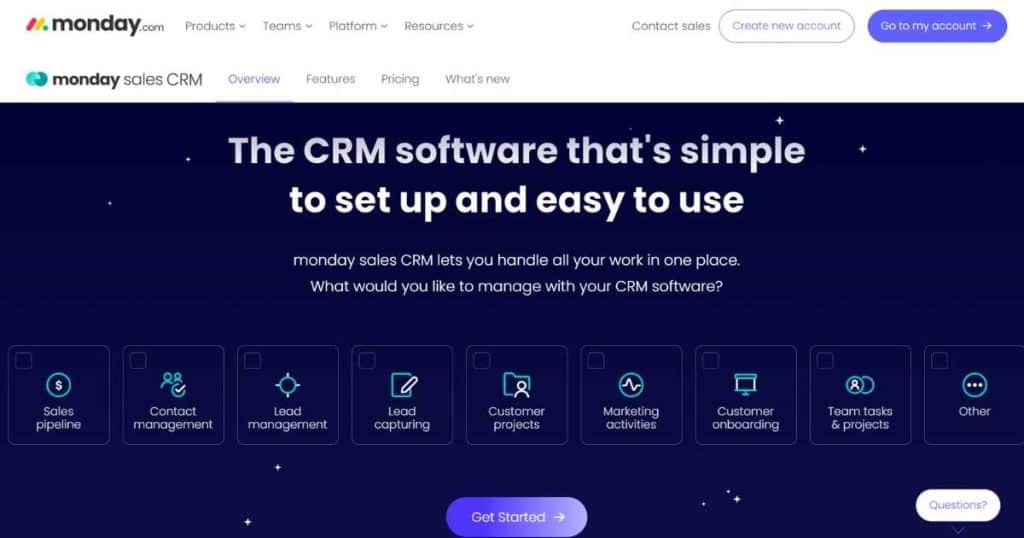 Best CRM software for creative businesses. 
Best CRM software for solopreneurs.
Best free CRM software for creative sales teams.
Best CRM for small project management teams.
Are you after an intuitive, visually appealing platform where you can customize any aspect of your sales pipelines and workflows? Monday.com may be the option for you!
Monday.com was established back in 2014 as initially a solution to common issues that many growing businesses were facing.
This is an all-in-one project management and CRM platform where users can collaborate and confidently manage any project, team or customer in a dynamic, easy-to-use platform. 
Originally known as a project management system, over 152,000 businesses now use Monday.com as both a project management and CRM system. 
They are quickly becoming one of the most popular, innovative and easy-to-use platforms for both small and large businesses to run effective and successful projects, whilst also maintaining strong customer relationships.
They provide one of the easiest and most modern interfaces online, with a simple drag-and-drop editor, so you can tailor your CRM just the way you like!
Basically, their aim is to create easily automated systems to eliminate those tedious and mundane tasks that take up way too much time in your day (allowing you to get on with the fun stuff).
In addition to this, you can gather, track and manage all your contacts and projects and collaborate within your team on one straightforward, easy-to-navigate platform. Monday.com truly does allow you to work without any limitations!
You can either simply dip your toes into their CRM platform alone, or take a deep dive into their project management system to manage all aspects of your projects and customers in one easy-to-use platform.
Read more: How to use Monday.com's CRM.
Monday CRM Pricing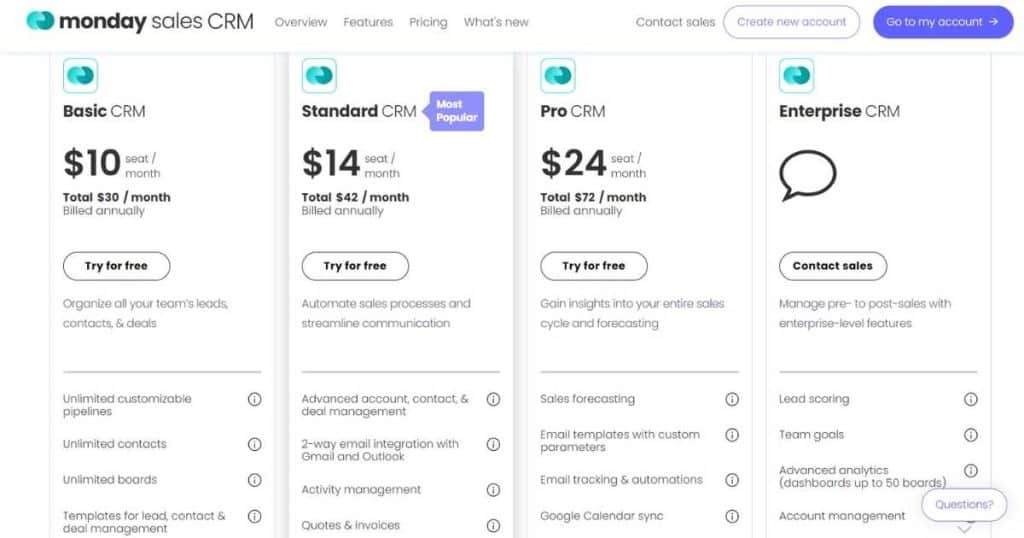 We are going to share the pricing for the basic, standard and pro plan CRM options for small businesses. Each plan offers a 14 day trial, you can save up to 18% if you pay annually. 
Basic CRM: 
$10USD per seat per month. Recommended for up to 3 users. 
Best for small teams wanting to organize marketing and sales pipelines.
Unlimited contacts.
Unlimited items.
Customizable pipelines and free viewers.
Unlimited number of seats allowed and 5GB of storage.
Standard CRM: 
$14USD per seat per month.
The most popular plan. 
Lead, deal and account management.
Integration with Google and Outlook.
Activity management.
Unlimited quotes and invoices.
Ability to merge duplicate data.
Integrations with Aircall, Pandadoc and Zoom.
20GB of storage.
Guest access.
Access to automation features (250 per month). 
Multiple reporting views and access to 5 boards per dashboard.
Pro CRM: 
$24USD per seat per month. 
Great for teams who want the complete CRM package.  
Customisations.
Marketing management.
Email tracking and user permissions.
More advanced reports.
25,000 automations per month. 
Mailchimp, HubSpot and Facebook ads integration.
Sales forecasting and analytics.
100GB of storage.
Time tracking.
10 boards per dashboard and more reporting view options.
User-friendliness: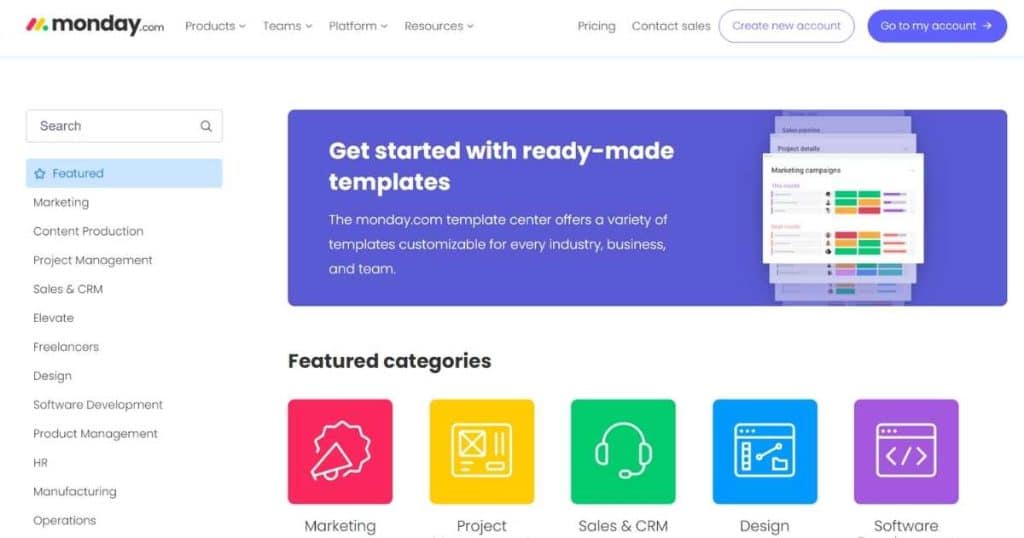 To get started with Monday, you can sign up for their free 14 day trial. All you have to do is enter your email address, follow the prompts and they'll take care of the rest. 
Monday.com provides over 200 premade customizable dashboard template options that you can then choose from, depending on the type of business you have. There really is something for every type of industry, team and business needs!
It is worth mentioning that you can actually create your own template, however, we suggest selecting one of their pre-made templates, as they're the best choice for beginners (and don't require any messy code or technical expertise).
From there, you'll be directed to your unique dashboard that was selected for you when you picked your template. Monday.com operates with a hierarchical structure that can be quite complicated to understand at first but really is simple. 
Basically, within your dashboard, you have your main workspace, and within that you have different folders (and boards within those folders). 
This hierarchical structure stays the same on both their CRM or project management platform, which is great if you want to utilize the two! 
Key features:
Categorizing contacts:
One of the key advantages of using a CRM is that you never have to flick between boring contact, lead or sales spreadsheets ever again! 
You can simply add your contacts directly into Monday.com by either importing automatically, manually adding contacts or using the form builder feature to create forms and capture contacts. Learn more about how you can make the most of forms here.
From there, you can manage and categorize your contacts into specific groups. For example: Contacts, Leads and Customers. You can be as creative as you like and all the boards are super customizable base on your sales process or how you want to manage your contacts.
You can even easily integrate your emails with Monday.com to communicate directly with your contacts. The system will automatically log and keep track of these emails for you, helping you to stay more organized!
Fully customizable color-coded sales pipeline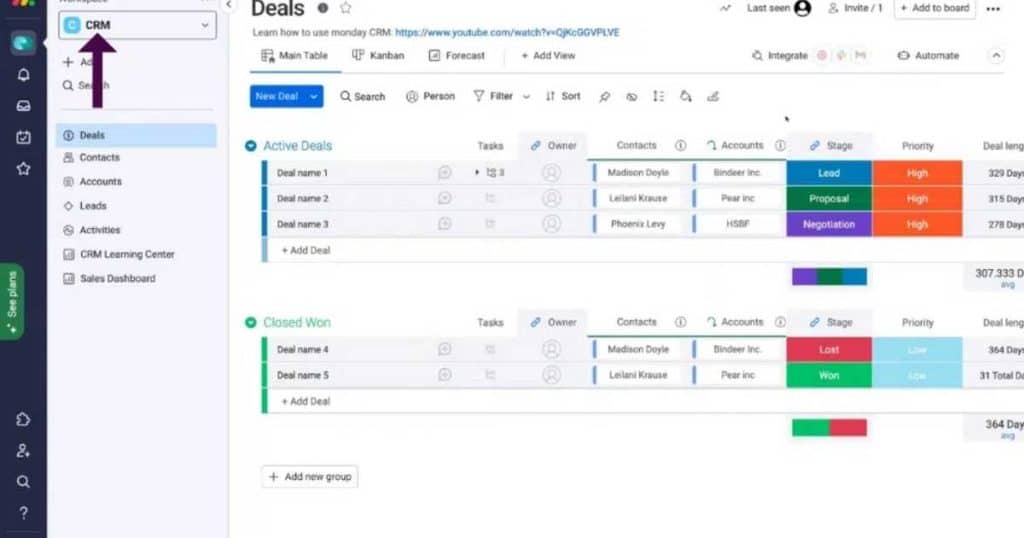 We love that Monday.com offers a variety of different visual sales pipeline views for you to easily track and manage all deals, leads and contacts in one place. 
You can add particular groups, and within these groups, you can add and customize as many 'columns' as you want to organize and view the information in one glance.
Columns include but are not limited to the number of leads, each lead's name, company and status, activity date, priority, deal size and more. 
You can bulk import leads, and add up to a whopping 20 columns using the 'Columns center' on the free plan. Monday.com quite literally lets you take total control in customizing each lead or layout to best represent the information you want to capture. 
Sales pipelines are also a great way to capture larger details such as forecasting information or managing your sales team. 
For example, you can select to view your pipeline with the people column layout so you know who is taking care of what. Some other basic columns you can choose from include date columns, number columns and file columns. 
These are all fully customizable and serve different functions depending on what goals you have.
Your pipelines are also always color-coded which means you can easily monitor information in one quick glance.
It's just a bonus that they happen to be aesthetically pleasing too! You can even share your pipeline with other users. We love that you're able to have total freedom with this easy-to-use platform.
Lead capturing form
You can simply capture new leads with Monday.com's lead capturing form feature! 
Simply create a name for your form, customize it to look how you want and add any important fields that you want to capture from your contacts. 
You can then share your completed form directly with a new or existing contact to complete and send it back to you. Additionally, you can actually embed your form directly to your website. 
Monday.com really does make capturing leads straightforward and easy!
Streamlined Integrations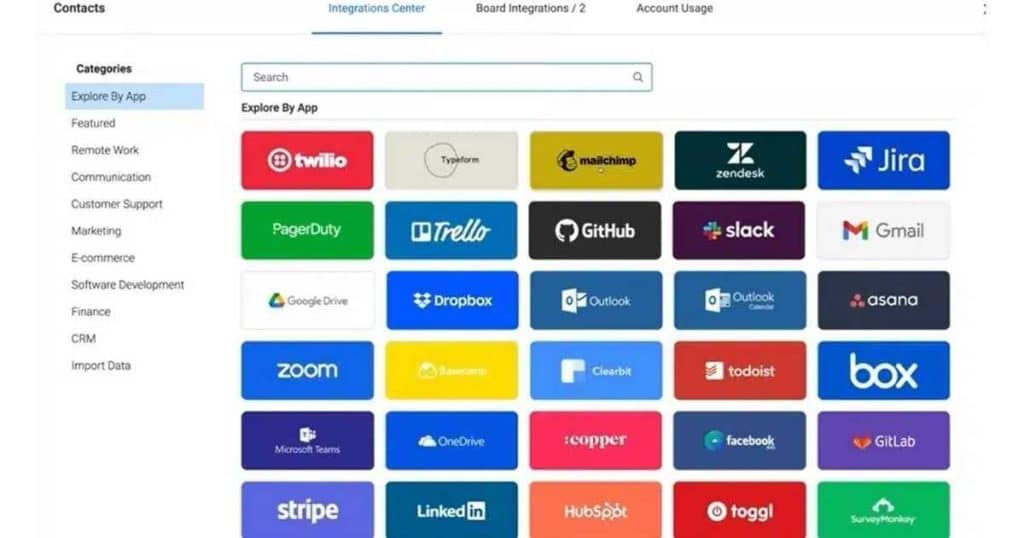 Do you already use a bunch of other online apps and websites online? No problem! Monday.com seamlessly integrates with many other popular websites and tools such as Stripe, LinkedIn, Shopify, Trello, Gmail, Zoom, Asana and Mailchimp (just to name a few).
Integrating with external platforms that you already use is an awesome way to help you streamline and automate as many processes as you can for your business, eliminating the constant frustration of switching between multiple tabs to access different tools.
You don't even need to have any coding knowledge to integrate these apps, all it takes is a few clicks! You can also easily customize how you want to integrate these depending on your business. 
Powerful automation workflows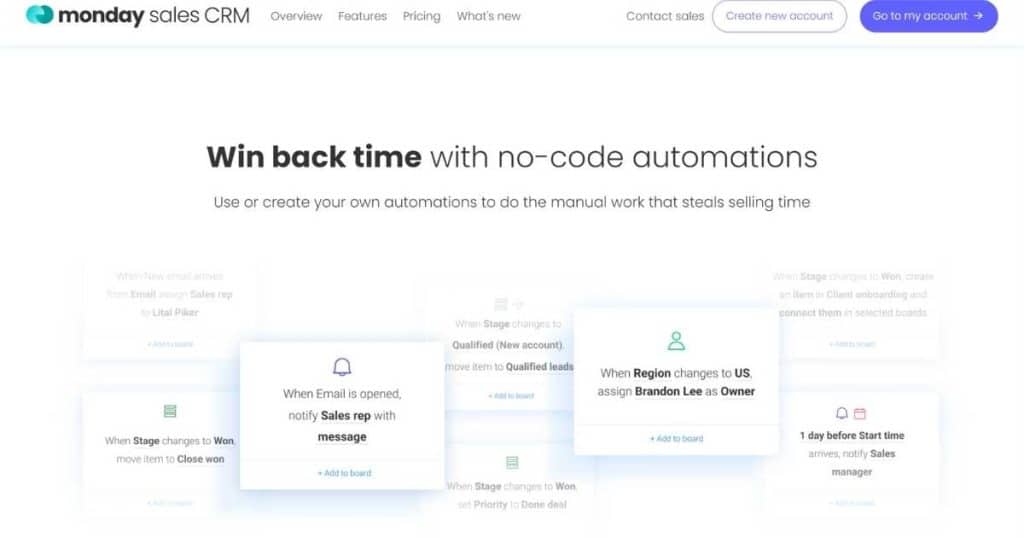 Automation processes are an important feature that in our opinion, every CRM platform should offer. Automation takes care of all of those time-consuming and unnecessary manual steps.
Monday.com easily offers one of the best and easiest automation workflow templates out there, so you can streamline your sales processes within your CRM.
You don't even need to know any code to do so!
You can add specific triggers (an event that starts the automation process), conditions (determines what you are changing) and actions (an event that occurs when the trigger and conditions are met). 
You can even create complex automation workflows by adding multiple actions under one automation rule, or create an automation workflow from scratch if you don't want to use a template.
To read more about automations, check out our step-by-step guide here to help you get started!
Reports and analytics
If you need to use any information you've gathered about team performance, projects and sales, Monday.com lets you turn any data from a single (or multiple) board into full-functioning graphs or tables.
You can view your data in different formats, however, it's important to note that graphs, sales forecasting, analytics and team goals are only available on the higher-paid plans. 
Technical support
Monday.com provides a huge amount of support including incredible (daily!!) webinars, community forums, articles, blogs and guides to help support you with any question you may have.
This is all in addition to the how-to tutorials you receive when you're setting up your account. 
They also have incredible 24/7 one-on-one support available on all plans. This includes email, phone and chat support, and you can even log a support ticket.
This is an incredible amount of support and stands out from a lot of other popular CRM tools we love such as HubSpot, Zoho and Freshworks.
What we like
Easy visual interface to track your sales, teams and leads in real-time.
Free plan available.
Lots of support available.
Amazing easy-to-use automations.
Various integrations available with other platforms.
What we dislike
You'll need to upgrade to a paid plan if you have more than two users.
Dynamic features are limited in the free and basic plans.
If you're interested, Check out our beginner's Monday.com CRM Tutorial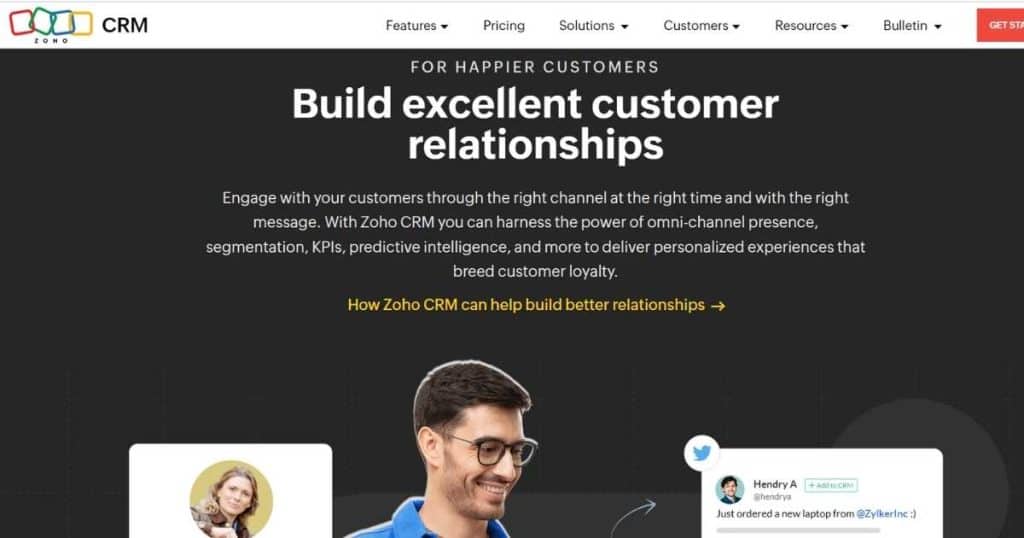 Best accounting CRM software (best for small accounting firms).
Best CRM software for law firms.
Do you already use Zoho, and want to start engaging in CRM for your business? Or maybe you're a small business owner that wants to start dabbling in CRM-related activities on a platform that lets you delve into other areas as your business grows.
Zoho is a multi-dimensional online platform, offering a variety of online tools under one umbrella to help businesses succeed online.
In addition to Zoho's CRM tool, they also provide project management, email marketing, customer service and other online solutions, and have over 75 million total users worldwide to date! They really are a massive business suite powerhouse.
You can even join Zoho One, which is their new all-in-one integrated business suite that combines all the apps Zoho provides.
Regardless of what type of business you have, Zoho CRM is the perfect choice for businesses just getting started (especially with their incredible free plan option!).
Zoho CRM helps you convert leads, engage with customers and track sales to drive revenue. 
They offer automated processes to over 250,000 businesses in 180 countries, helping an enormous amount of businesses globally stay on top of their activities and communicate effectively with their contacts, leads and deals, all in real-time!
Check out our article here on how to set up your Zoho CRM account for beginners.
Zoho Pricing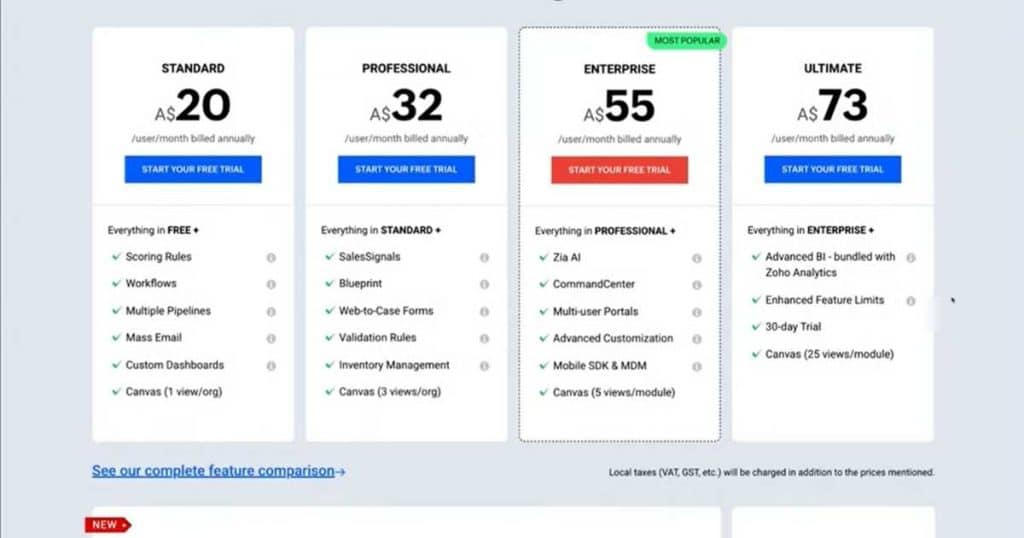 Offers up to a whopping 34% discount if you pay yearly.
Offers a free plan and free trials on premium plans. 
Free plan: 
Up to three users. You can create contacts, leads, tasks, notes, basic reports, workflows, and web forms and have access to mobile apps and marketing automation. 
You're also able to upgrade at any time to a paid plan.
Standard:
$20USD per month per user. 
Access to multiple sales pipelines.
Sales forecasting.
Multiple currencies and basic scoring rules.
Access to standard reports and 100 customizable reports.
Customized dashboards.
Social media integration.
Basic email marketing automation and mass email.
The ability to integrate with external platforms and add-ons, and access to one canvas design editor.
Professional: 
$35USD per month per user. 
Access to customer notifications.
Sales signals.
Unlimited customized reports and dashboards.
Unlimited email templates, blueprint, and inventory management.
Three canvas design editors.
Enterprise: 
The most popular plan. 
$50USD per month per user. 
Includes conversation Al.
Personalized customer journeys and customisation.
Multi-user portal.
Mobile app distribution and five canvas design editors.
Ultimate:
$65USD per month per user. 
Advanced analytics and feature limits, a 30-day trial and 25 canvas design editors. 
User-friendliness
So how do Zoho's interface and user-friendliness compare with other CRMs? 
Once you've signed up, you can 'take a tour' (a demo they provide to run through their features and how to use them). You can also choose to skip this step if you already know the ins and outs of Zoho.
Once you've created your account, you'll be directed to your dashboard. This is where you'll find everything you need to make the most of your CRM.
You can even migrate your data from another CRM software so you don't have to start from scratch. 
At the top of your dashboard, there are headings that relate to features that are available to you – these include your contacts, leads, deals, tasks, meetings (and more!).
Depending on what plan you choose, you'll have access to extensive features like advanced reports and forecasting. 
On any plan, the interface of your dashboard stays the same, allowing you to seamlessly navigate your way around the platform no matter what plan you choose!
You can move these headings around to suit you (or to show the order of how often you use each feature). 
Your dashboard automatically shows different important components in the main screen of your dashboard with information such as open tasks, today's leads and closing deals so you can easily view and manage these. 
Additionally, you can change the view of your dashboard from 'classic' view to 'custom' view. 
Ultimately, we think Zoho CRM successfully provides a delicate balance between a simple, clear and easy-to-use platform, and the ability to customize things the way you like.
Key features:
Tracking deals and sales revenue – visual sales pipeline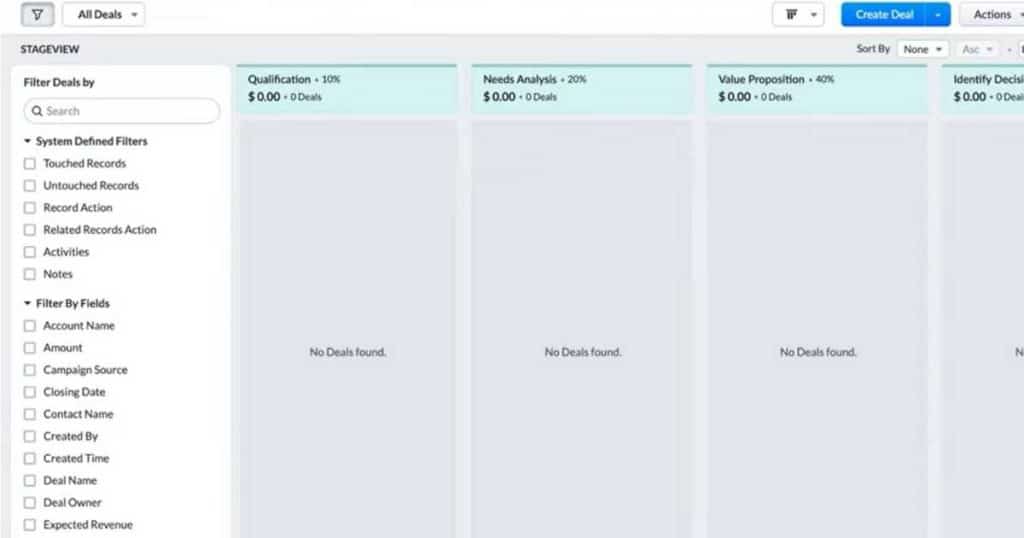 We believe keeping track of your deals is crucial for any business, no matter the size.
The best way to create and monitor your deals and overall performance is to streamline your sales processes – this is done through creating what we call a 'sales pipeline'. 
Zohos pipeline process and structure is really quite simple – all you need to do is fill in all relevant information when creating a new deal, link it to the correct contact and select the correct current stage for that deal. 
They take care of the rest! This information automatically gets translated into an easy-to-read, visual sales pipeline. 
Once your pipeline is created, you can simply drag and drop each deal to different stages of your pipeline if their status changes. Also, you can actually track the value of each deal, meaning you can track your sales revenue too.
Whilst Zoho's pipeline isn't as visually appealing and customizable as Monday.com's, you can still chop and change things up with your pipeline.
You can add, change or delete stages by again simply dragging and dropping, or you can do absolutely nothing and keep it the way it is!
Activities
Depending on the type of business you have, you can track your interactions with your contacts in a few different ways. These are called 'Activities'.
Your activities include things like scheduled calls or meetings/tasks to follow up with a contact, user or lead. You can even set up reminders for meetings, calls and tasks to help you and your team stay organized. 
Additionally, you can do fancy things like send an invitation to the person you want to meet via email and integrate your phone system directly with Zoho (if you opt for a paid plan). 
Feeds
Feeds are where you can interact with your teams, attach and share files and engage with users about progression on leads, customers, deals and any other activities within your CRM. Feeds totally eliminate the need for external communication software!
Both one-on-one or group interactions with your teams are available and in addition to this, you can actually notify specific users of information that you want to make sure they see. 
Integrations with Campaigns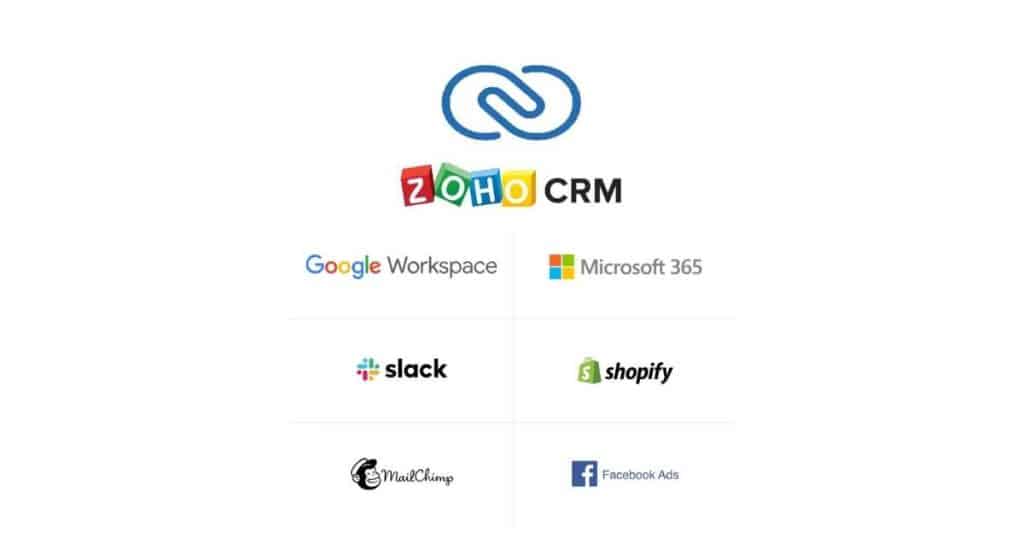 Most CRM and email software don't talk to each other, leaving your sales and marketing teams out of the loop with each other which can result in losing out on potential opportunities or collaborations, right?
One of the greatest advantages Zoho CRM has over other platforms is the fact that it's a one-stop-shop online platform. 
They offer a 'Marketing campaign' module that essentially integrates your email marketing into your CRM. 
This is so you can plan and manage effective campaigns and keep track of analytics like click and open rates, and can also show you how interested your new customers are. 
This integration seamlessly syncs both your contacts and your campaigns and vice versa, so you know which campaigns your leads are interested in and ensures that you only work with active leads.
However, this awesome feature is unfortunately only available on paid plans, so you'll have to upgrade if you want to utilize this great feature. 
Integrations inside and outside Zoho
As previously mentioned, Zoho CRM is incredible as you can integrate it with your email marketing. 
You can also integrate your campaign into other features within your CRM like tasks, deals, contacts and more, and you can even track and customize individual or bulk members' statuses for each campaign. 
You can of course seamlessly integrate your CRM with other areas of Zoho too, such as Zoho analytics, Zoho meetings, Zoho Campaigns and Zoho desk (on the paid plans). 
Zoho is up there with HubSpot in our opinion when it comes to being able to easily integrate within different areas of the platform!
In addition to integrating within Zoho itself, Zoho CRM integrates with over 100 various powerhouse third-party apps to enhance every aspect of your CRM.
Read more: How to use Zoho Mail.
Canvas
This is one of Zoho CRMs new unique features that gives users the ability to redesign their CRM without any code.
The canvas tool is an incredible way for businesses to create a unique platform for a more personalized experience and work the way that suits them.
Anyone is able to redesign their CRM without any coding knowledge. All you have to do is simply use their drag-and-drop tool to edit the design.
You can access these on the paid plans and have more freedom (and more Canvas views) on higher paid plans.
Al-powered sales assistant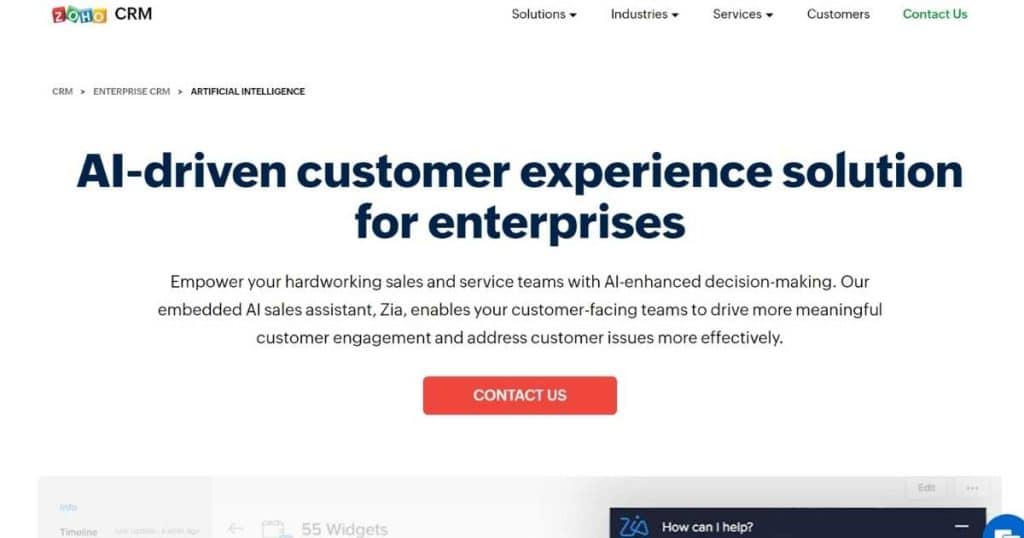 Have you heard of an AI sales assistant? Artificial intelligence-powered sales assistants (AI) are certainly the way of the future, and are a dynamic and robust addition to any CRM.
Zoho CRMs AI feature helps take your business to the next level. 
They use AI technology to gather information specific for your business (so you don't have to!) and help make predictions and suggestions to improve productivity, customer service and satisfaction, sales and more.
AI is a great addition to your CRM, and is a feature that not all platforms offer which is a big tick in our eyes.
Unfortunately, this feature is only available on their Enterprise and Ultimate plans.
Technical support
As previously mentioned, Zoho CRM offers beginner tutorials when you first sign up to guide you through the platform and offer 'how to' videos. 
They provide a huge array of FAQs, eBooks, webinars, forums and a self service portal where you can lodge a ticket to the support team under their help center (under any plan). 
They also offer higher customer support depending on what plan you choose.
What we like
Offers a free plan and free trials on premium plans.
Has a wide variety of internal and external integrations.
AI technology and mobile app available on paid plans.
What we dislike
A lot of their advanced features such as AI and analytical features aren't available on the free plan.
Limited one-on-one support for free and standard plan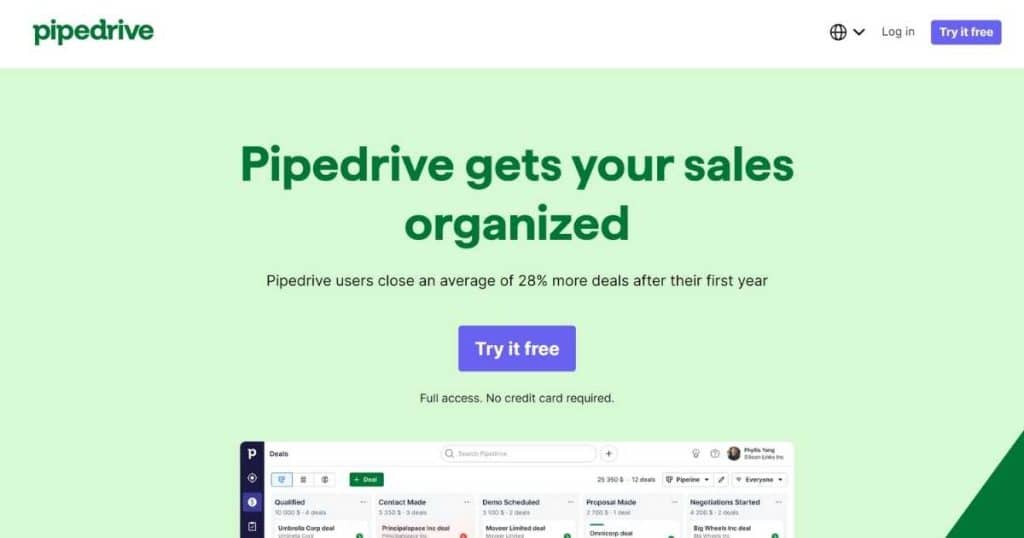 Best B2b CRM software. 
Best CRM software for consultants.
Are you a sales-based team looking for a sales-based CRM platform? We have the perfect solution for you! Pipedrive is in our opinion is a great alternative to HubSpot. 
Pipedrive is primarily a sales-focused and pipeline management CRM platform that helps with scheduling, tracking and completing activities to streamline and organize all of your sales and marketing data on one system.
They have over an incredible 100,000 users in over 175 countries and provide a variety of incredible sales tools and key features. 
These include visual sales pipelines, lead and communication tracking tools, email tracking and management systems, a variety of seamless integrations and automation workflows. 
Their main goal is to enrich sales-based businesses with an easy-to-use, all-in-one platform to engage better customer relationships, streamline sales processes and grow revenue.
As previously mentioned, we believe this is a good alternative to use instead of the leading online platform HubSpot (if you're not a fan of HubSpot!)
However, it's important to note that when comparing Pipedrive to HubSpot in terms of pricing, Pipedrive does not offer a free plan, whereas HubSpot offers an incredible full-featured free CRM plan.
Check out our complete beginners' guide here on how to use Pipedrive.
Pipedrive Pricing
 
Free 14-day trial for any plan. 
You can save up to 17% if you pay annually.
Essential: 
$15USD per user per month. 
Access to customisable visual pipelines.
3000 deals.
Custom fields, lead, deal and calendar management.
Email inbox.
Comments.
Attachments.
Sales assistant and basic reports.
One visual dashboard.
Basic security.
Mobile app and integrations. 
Advanced: 
$29USD per user per month. 
Access to full email templates and syncing abilities.
Group emails and email tracking.
10,000 deals and 30 workflow automations.
Professional: 
$59USD per user per month. 
The most recommended plan. 
Call tracking.
100,000 deals.
Unlimited meeting schedules.
Document open tracking.
Unlimited dashboards.
Limited team management.
Custom reports.
Revenue forecasting.
User-friendliness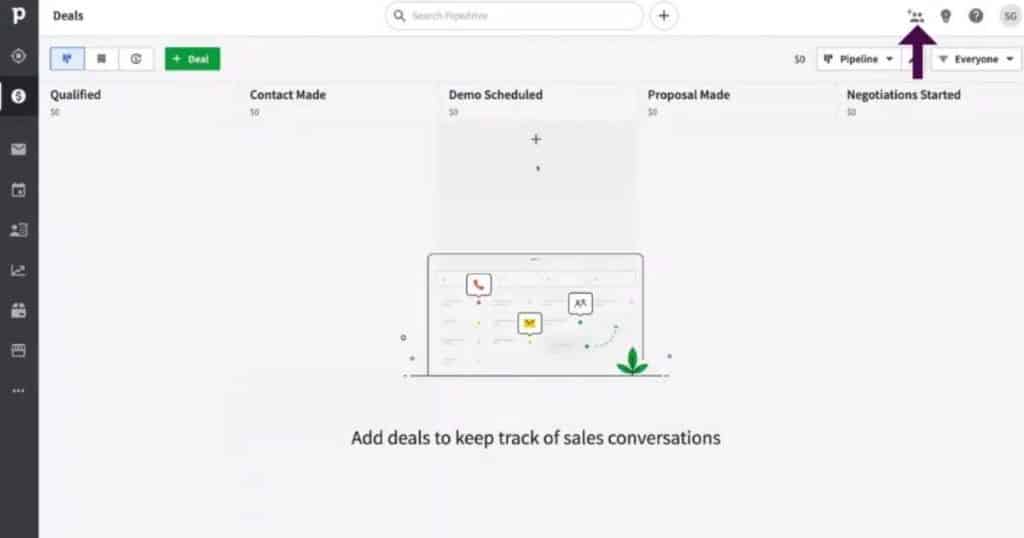 How does the user experience and dashboard interface stack up against other CRM platforms on the market? 
We think Pipedrive is without a doubt up there with other straightforward and easy-to-use platforms.
You can try Pipedrive for free, or simply sign-in through their homepage if you already have an account. Don't worry, Pipedrive will guide you every step of the way throughout the sign-up process. 
However if you're already familiar with the platform, you're able to skip any of these steps.
Once you're in, you'll be taken straight to your dashboard, where you can find all your sales pipelines. You can also view and track all of your contact, lead, activity and deal information in the easy-to-use left hand sidebar.
New contacts, leads or deals can be easily added by pressing 'add deal' or 'add lead' and completing all relevant details. This is also where you can edit any current details. 
Your dashboard is the main hub for your CRM and is the place to view, edit and create tasks, calls, meetings and emails. 
These are all found in one place so you can keep everything organized, and are easy to use when jumping between different tasks.
Head over to our Pipedrive video tutorial for an in depth how-to guide for beginners and get started today!
Key features
Super sales-focused pipelines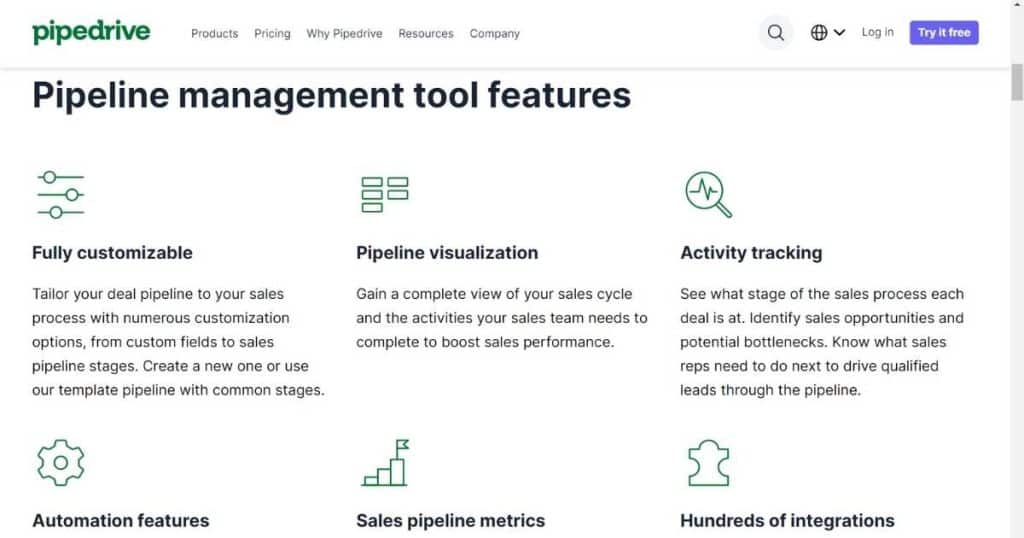 Pipedrive is different from other platforms, as they're a sales-driven CRM that focuses on sales-driven tools and features, such as Sales pipelines.
All plans can create unlimited, customizable visual sales pipelines, allowing you to track your customers every step of the way through the sales process.
This means you're able to easily see, manage and track all of your leads and deals from the second you capture them, right up to when you close each deal (and everything in between) through one easy-to-use sales pipeline. 
Customizing, filtering and creating custom stages on your pipeline is effortless with Pipedrive's simple drag-and-drop tool, and can view your pipeline in three different ways – list, pipeline and forecast.
Additionally, you can easily identify any overdue activities – shown as 'coloured cues' and organize your deals with color codes. Following up on important tasks or projects has never been easier!
Lastly, Pipedrive has a built-in snazzy analysis and report feature, so you can track goals, activities and reports with information gathered from your pipeline.
You can even get information on how many deals you've made, the average size and value of those deals and the number of deals you've closed. 
Pipedrive literally does the work for you – this is a super easy yet brilliant way to analyze sales and improve your processes.
Email features: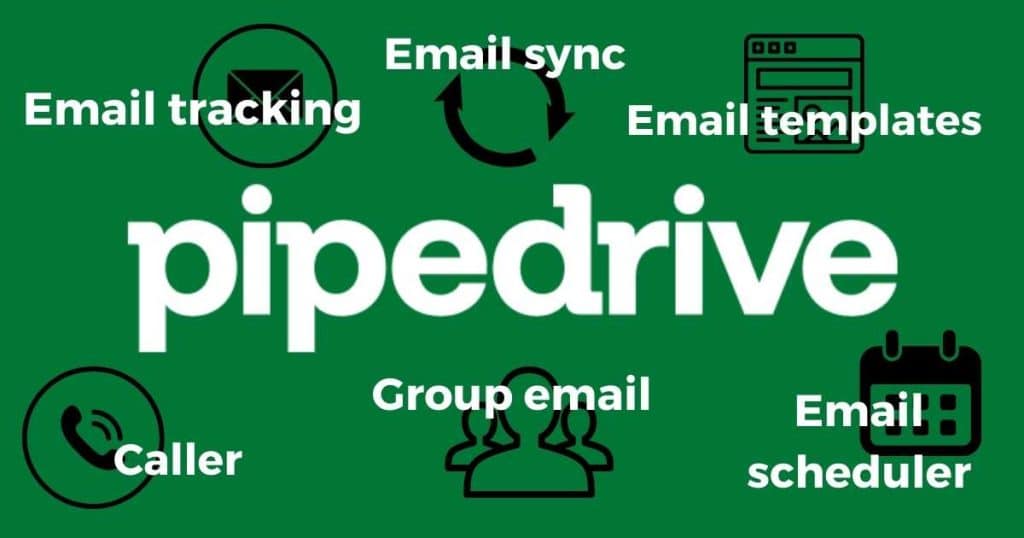 Email sync:

 
You can simply sync your Outlook, Gmail or company email address with Pipedrive so you can send and receive emails directly from your CRM (if you choose the advanced or higher plans). In addition to this, they have a 'Smart email BCC'  feature. 
This is where you can sync and store a specific email within your CRM. You simply add your individual Pipedrive email address into the BCC field, and they'll add that email to Pipedrive (and link it with the right contact and deal).
Email tracking:
Email tracking is unfortunately only available on advanced and professional plans, however, it is an amazing tool used to track when contacts have opened your email to measure customer engagement.
Email templates:
Pipedrive offers a wide variety of pre-made email templates – all with the ability to easily auto-populate messages you might use a lot (and can be customized to your liking). However, this is only available on the advanced or professional plan.
Group email:
You can send group emails to a whopping 100 contacts at once. This is done by creating email distribution groups. This is a really quick and efficient way to send bulk emails, however it's important to note that this feature is only available on the two higher paid plans.
Email scheduler:
Scheduling emails is a powerful and easy tool to target your overseas contacts! You can schedule important emails to be sent at specific times for different contacts. However, again this is only available on the advanced and higher plans.
Caller:
Did you know you can even call your contacts directly from your Pipedrive account? With their built-in 'Caller' feature, all you have to do is simply connect your phone number and you are good to go! 
All your contacts will then magically appear on your CRM ready for you to contact.
Your calls are always automatically saved and logged under the appropriate deal and can be tracked through reports (and even downloaded as an audio file!) The caller feature is without a doubt an incredible feature that helps you keep an eye on all conversations all under one roof, however, it is only available on professional and enterprise plans.
Sales and deal reports
As previously mentioned, you can build intuitive and informative reports from your sales pipeline data. 
In addition to this, you can create customizable and dynamic reports to track essential sales information like new deals, your revenue, the average age of deals, lead conversions, performance and more! 
You can even filter the results to help you forecast sales revenue.
Want to share your reports with your team? No worries! You can easily share any report you build with others, and if you go with the professional plan, you have access to an unlimited amount of sales report dashboards. 
The good news is that basic deal tracking and company goal reports are all available on the essential plan, however, you'll need to upgrade to either the professional or enterprise plan if you want advanced reports.
Leads inbox
There is absolutely nothing worse than missing out on potential deals because of poor inbox management. Pipdrive's leads inbox feature was created to help you declutter and organize your inbox. 
The idea is that you can keep all your leads in this allocated inbox until you're ready to move the lead forward. 
You can also edit and filter your leads in your lead inbox, or add activities associated with individual leads. Once your leads have become deals, you can move them directly into your sales pipeline.
Pipedrive also offers a LeadBooster add-on for an additional $32.5USD per month for businesses wanting to really dive deep into their CRM and boost revenue and customer relationships.
LeadBooster can be added to any plan and includes some really awesome features like chatbots, webforms, live chat and prospector features. 
Sales Integrations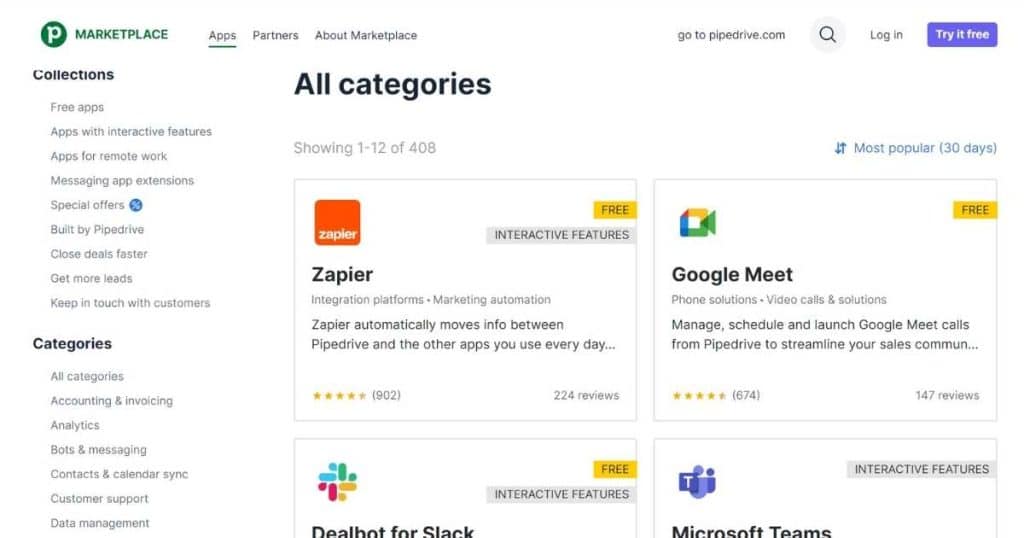 How do their third party integrations stack up against other CRMs? Well, they offer an exclusive app marketplace with 270+ integrations! 
You can find an app for anything from email marketing, accounting and invoicing, lead generation from social media, task management (to help with tracking individual sales and tasks) phone call tracking, recording, chatbots and everything else in between.
Additionally, popular websites such as Google, Xero, Asana, Zapier, Slack and many more are also all able to sync directly with your Pipedrive account.
Technical support
All plans offer 24/7 chat support and access to their online help center and community on their website. Here you'll find articles, blogs, courses, webinars, forums and more!
The enterprise plan additionally offers phone support and amazing custom onboarding assistance to help you get set up.
What we like:
Paid plans are reasonably priced.
Unlimited pipelines on all plans.
Mobile app capabilities and integrations are available on all plans.
What we dislike:
There is no free plan.
A lot of their great email and automation features are only available on higher-paid plans or add-ons like Leadbooster (at an additional cost).
Only suitable for sales-focused teams.
Best CRM software for home-based businesses. 
Best CRM software for service-based businesses.
Best CRM software for small businesses that prefer working out of Gmail.
Are you already a Gmail user and want to amplify your business's sales (whilst maintaining strong relationships with your customers)? It sounds like Streak is the solution for you! 
As an extension on your Chrome browser, Streak is a simple and easy-to-use CRM system for existing Gmail users that want the convenience of having all of their systems within a Gmail account. 
With over 750,000 users worldwide and various languages supported, Streak is quickly becoming one of the most popular CRMs available worldwide and we can understand why.
There are multiple benefits of using Streak. You can ensure your data will be widely trusted, fast and responsive. Additionally, the setup process is extremely straight-forward!
Deceptively simple yet powerful, Streak is the perfect blend of an easy-to-use CRM system with basic (yet effective) features to help you organize your projects, build and manage customer relationships and streamline your small business's sales processes to boost sales. 
Essentially, you can easily track and customize your sales pipeline, add and track tasks, reminders and emails and more on one secure, easy-to-use platform, all from within your Google account!
Learn more about how to get started with Streak here.
Streak Pricing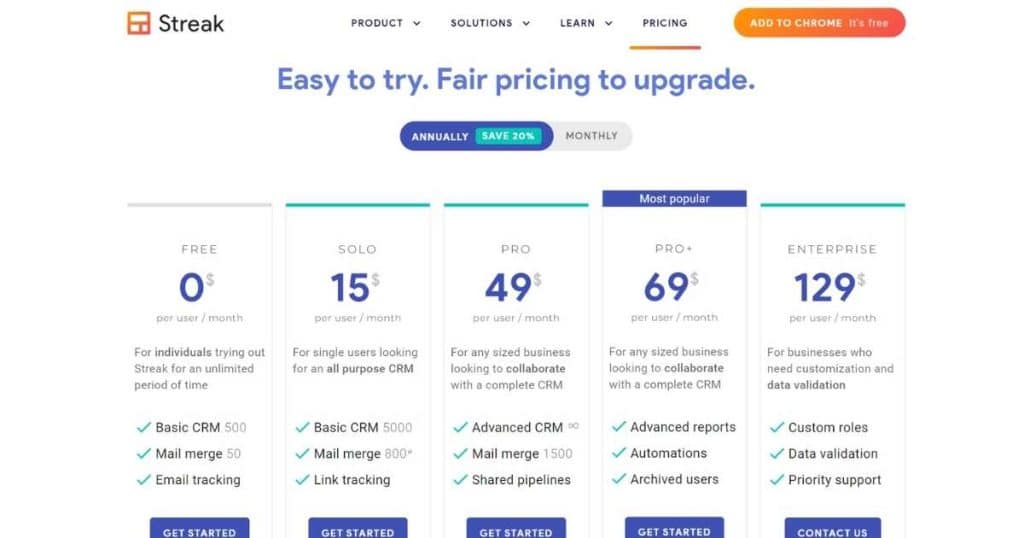 Offers 20% discount by paying annually.
14-day trial for the Pro plan. 
Free plan: 
Best for individuals. One user only. 
Access to 500 boxes.
50 mail merges and email tracking.
Snippets.
Unlimited amount of contacts.
Integration with your free or paid Google Workspace accounts, mobile access and basic CRM tools.
 Solo: 
$19USD per month per user. 
Access to 5000 boxes.
800 mail merges.
Offers more support and email link click tracking.
Pro: 
Most popular plan. 
$59USD per month per user. 
Access to more advanced CRM tools.
1500 mail merges.
Unlimited boxes.
Shared pipelines and training and onboarding. 
User-friendliness
Although Streak is relatively simple to set up and use, its sign-up process and structure are a bit different to other CRMs, however, don't worry! That's what we're here for.
Firstly, we suggest using Google Chrome as your chosen browser, as this just keeps everything nicely tied up together under one platform. 
This means you can also easily integrate other Google tools or features (such as Gmail). However, if you prefer using another browser, Streak will still work.
Next, you'll need to install Streak as an extension (even if you're a Google user). You can do this by simply jumping onto their website and clicking  'add to chrome'.
Once you've added the add-on to your browser, your Gmail account will automatically pop-up. All you have to do is then sign into the Streak form and select your Google account. 
They'll automatically integrate with all your favourite Google apps like Google Docs or Google Calendar, so you don't have to muck around with any manual tricky integrations or messy third-party installations!
Your pipelines, information about your contacts and more are all conveniently located on the same page as your Gmail inbox screen – how easy is that!
Again, Streak is the perfect choice for beginners already familiar with Google-based products. 
Key Features: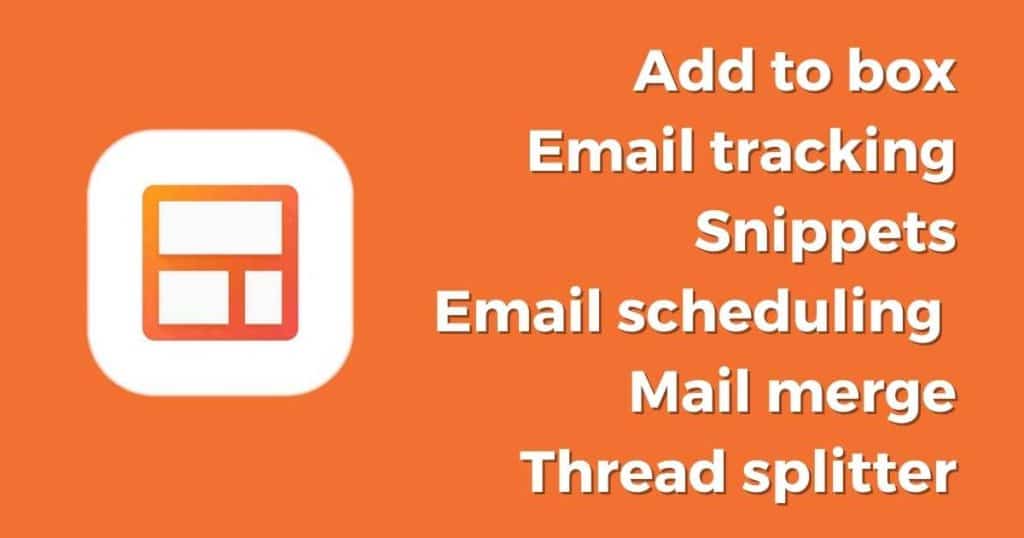 Contact management directly from Gmail
Similarly to Streak's simple sign up process, adding contacts is also a breeze. You can either bulk or manually import your contacts directly into your sales pipeline from an external spreadsheet, or import them directly from your Gmail account! 
This is a huge benefit of having your CRM located within your Google account, and is truly a unique feature only Streak provides. 
Additionally, if you've been emailing a potential or existing client or contact through Gmail, you can directly add those contacts directly into Streak and simply select which stage of your sales pipeline they belong. 
If you click to import from your Gmail account, Streak will even enter most of your contacts details for you. You can't get easier than that!
Once you've added these contacts onto your CRM, you can easily add, view and edit those contacts directly from your Gmail inbox onto your sales pipeline.
If you opt for a paid plan, you can even assign specific contacts to different team members for easily tracked team management.
Customizable sales pipelines templates
Streak offers various intuitive and customizable sales pipeline templates so you can pick one that best suits that specific project or brand. You can even create your own customized pipeline template if nothing tickles your fancy! 
Essentially, your sales pipeline is where you can set up individual customer 'journeys' to manage all your contacts, leads, projects, sales and hiring processes, support tickets and track sales all under one visual hub.
You can easily reorder different stages of your sales pipeline, add new stages, modify fields and add new information relevant to each contact (called 'boxes') within each stage by simply dragging and dropping. Additionally you can change each 'box' color.
Higher paid plans take this one step further by offering more boxes and allowing you to share your pipeline with other team members.
Upcoming
'Upcoming' is an incredible tool that really stands out from the crowd, essentially enabling you to organize all your tasks together under one easy-to-read view. 
Tasks are arranged in order of their due date, and you can customize and filter items such as daily tasks, tasks tied to specific users, pipelines and more. You can even share and collaborate tasks with different team members (if you go for one of the paid plans).
Seamless Google Integrations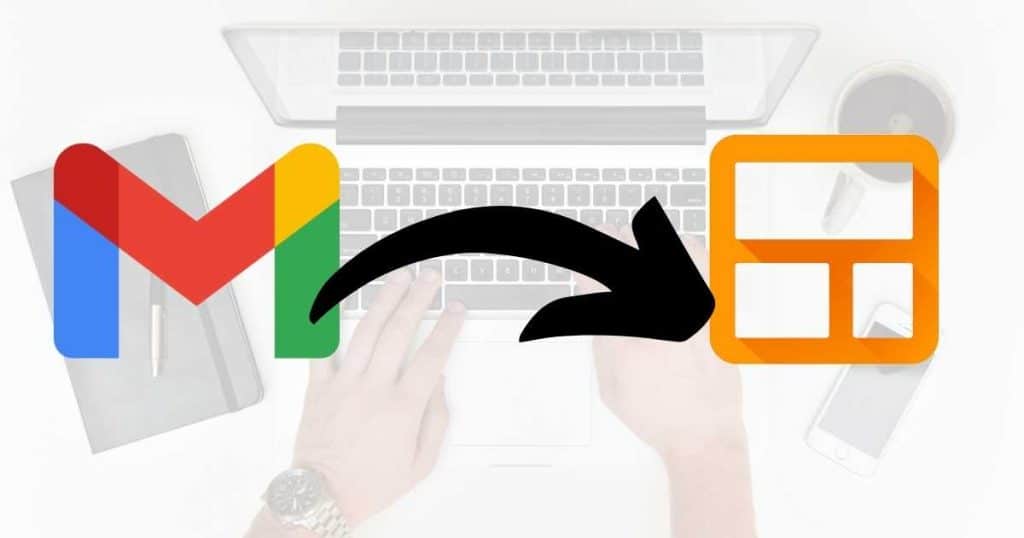 As previously mentioned, one of the biggest advantages of using Streak is its ability to integrate seamlessly with G-Suite and all of your favorite Google products (without any messy third party installations).
Also, you can integrate directly with Zapier to expand any integrations you need beyond Google, and build your own integrations with their API tool.
Unique email features
As a Google product, the expectation to have powerful and easy-to-set-up email features is a must, and Streak certainly doesn't disappoint. And what's even better is that these are all available on their free plan!
This is where you can easily add any person you've been emailing directly to your sales pipeline in just a few clicks (right from your email inbox). This is ideal if you're emailing a new contact, lead or deal and want to add them straight away to your CRM.
How engaging is your email or subject lines? 
Email tracking allows you to track when your email has been opened. This is a strong tool and isn't often available on other free CRM plans. Additionally, email tracking is a great way for you to follow up with clients that haven't gotten back to you.
Snippets reduce so much time and will truly change your life! 
Snippets are essentially smaller structured templates you can create for emails you commonly send. Simply type up your email text, add a shortcut word (so you can quickly get to the snippet when creating your email) and click save. You can even add links or images to your snippets.
The name speaks for itself – either select a suggested time slot or customize a time outside of these slots that suit you to schedule when you want to schedule your email to be sent.
This is an easy way for you to send the same email to a large number of recipients. Streak also automatically sends follow-up emails to these recipients for you.
This is one of our absolute favourite features and comes in handy so often. Have you ever wanted to send only a specific part of an email thread to another department instead of the whole conversation? 
Now you can! Streak automatically splits specific messages that Gmail might incorrectly thread together with its thread splitter tool.
Technical support:
There is little support on Streak's free plan, however, you can access their articles and  videos under their support pages on their website. 
Plus, since Streak is a Google product, there are hundreds of videos and articles online on other platforms such as Youtube.
However, the solo and pro plans offer email support and the enterprise plan receives top-tier priority support.
What we like
Seamless integration with your Gmail account.
Extremely secure.
Strong email tools to help with automation and customer communications.
Great email features.
What we dislike
Limited to Gmail users only.
Limited to one user on their free plan.
CRM features are not as advanced as other platforms.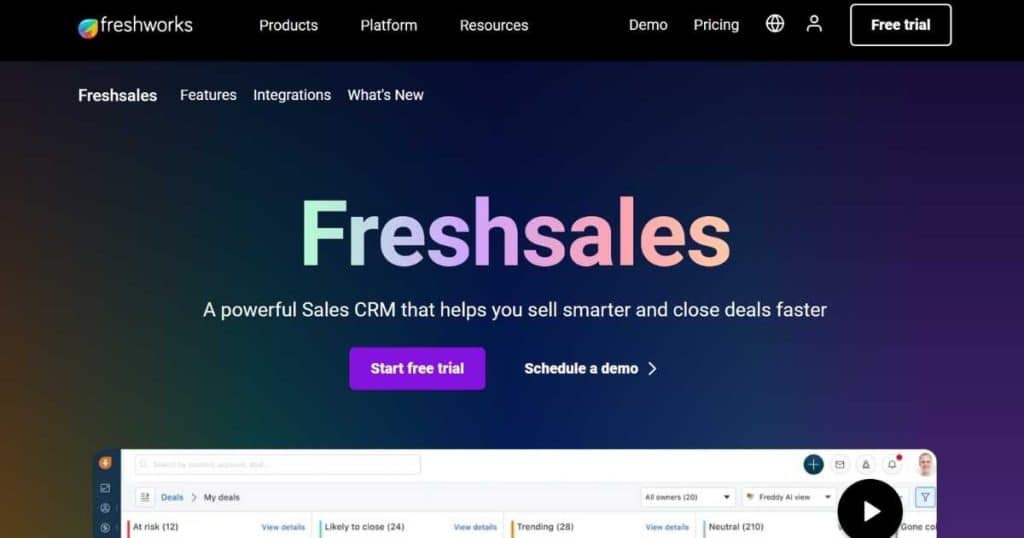 Best CRM software for Hotels
Freshworks is a CRM tool (formerly known as Freshsales) developed back in 2010 as an all-in-one platform to drive sales, manage contacts, leads and deals, heighten customer relationships and streamline sales processes. 
They now help over 50,000 customers world-wide to easily achieve customer satisfaction and close more deals. 
Additionally, they offer multiple languages and over 150 currencies so you can operate and scale your business from anywhere in the world.
Their interface is super easy-to-use; you can set up simple integrations if you already use other platforms (under the same umbrella) like Freshdesk or Freshcaller.
Freshworks offer a free plan and trial period to assist growing businesses who want to manage sales, deals and contacts all on one platform
They provide a 360-degree view of customers by combining smart and intuitive sales and marketing tools like Artificial intelligence (AI) technology and smart forms. 
These super-dynamic features help with lead and deal management, campaign management, landing pages and tailor-made, targeted email campaigns. 
You can even integrate Freshworks with other popular external software and communicate with your customers over the phone, email, Whatsapp or chat within your CRM. 
We've created a how-to video that you can watch here for a detailed beginners' guide on all you need to know about setting up a Freshworks account!
Freshworks Pricing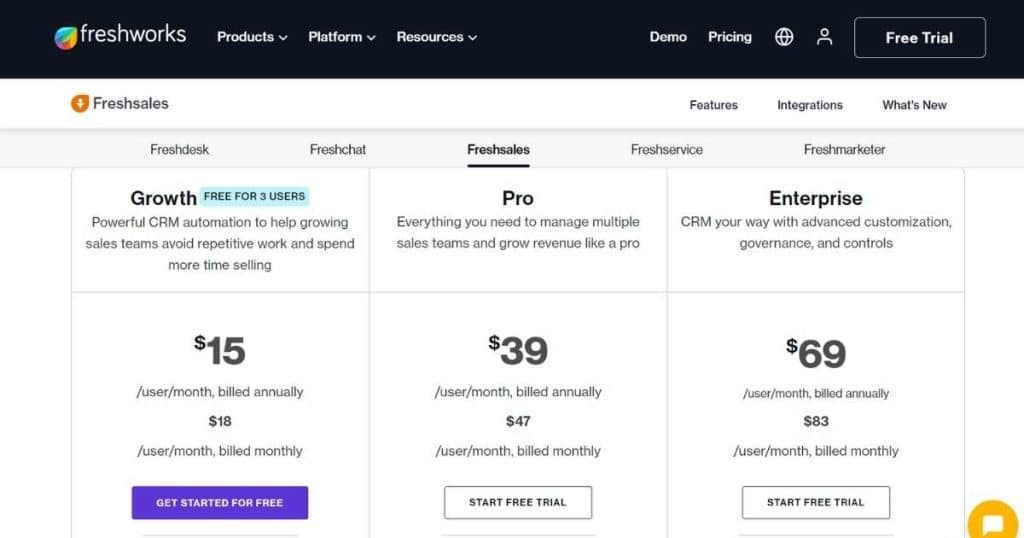 Offers a 21-day trial.
Free plan: 
Offers contact and account management and the ability to capture contact lifestyle stages. Access to their mobile app and 24-hour support five days a week. 
Growth: 
$18USD per month per user.
Access to a visual sales pipeline.
Basic AI-powered technology.
Automated sales sequences.
Up to 2000 bot sessions a month.
Access to Whatsapp business.
Pro: 
The most popular plan. 
$47USD per month per user. 
Access to multiple sales pipelines.
Time-based workflows.
Advanced AI technology.
3000 bot sessions per month.
Collaboration with teams.
User-friendliness
We love that you're given an option on how you can sign up. You can either sign up via email or simply select 'Google' if you like to keep everything in the same place.
However, we believe the free plan has everything you need and is totally sufficient for small businesses, or beginners just getting started.
Once you've signed up, you'll get redirected to your main dashboard. This is where you'll see your contacts, tasks and meetings.
You can add and edit these the way you want and easily navigate between your leads, contacts, deals, reports and emails through the left drop-down menu on your dashboard. 
The dashboard is super easy to navigate around, however, due to the design, you're limited with customization options (on the free plan).
Freshwork's approach is simple and straightforward, however, it is important to note that it is less visual than other CRM software like Monday.com, Zoho or ClickUp. 
However, a huge benefit Freshworks offers is the number of currencies and languages they support (a lot more than other CRM platforms) meaning you don't need to worry about people in your team that may speak other languages. 
As a result, more people around the world can enjoy and navigate the platform with ease!
Key Features
Deal management
Unfortunately, you can only access the 'Sales pipeline' tool on paid plans, which is one of the drawbacks of Freshworks. Other CRMs such as Monday.com and HubSpot offer at least one pipeline on their free plans.
However, we believe you definitely still have the ability to manage your deals effectively on the free plan with Freshworks. 
Alternatively, if you opt for a higher-paid plan, you can access multiple customizable sales pipelines. A sales pipeline is where you can keep track of all of your deals in one visual tool, and predict any revenue from those deals. 
You can edit each deal the way you want, reflecting what that specific deal entails and customize each pipeline depending on the sales process for each deal.
Phone, Whatsapp and Zoom integrations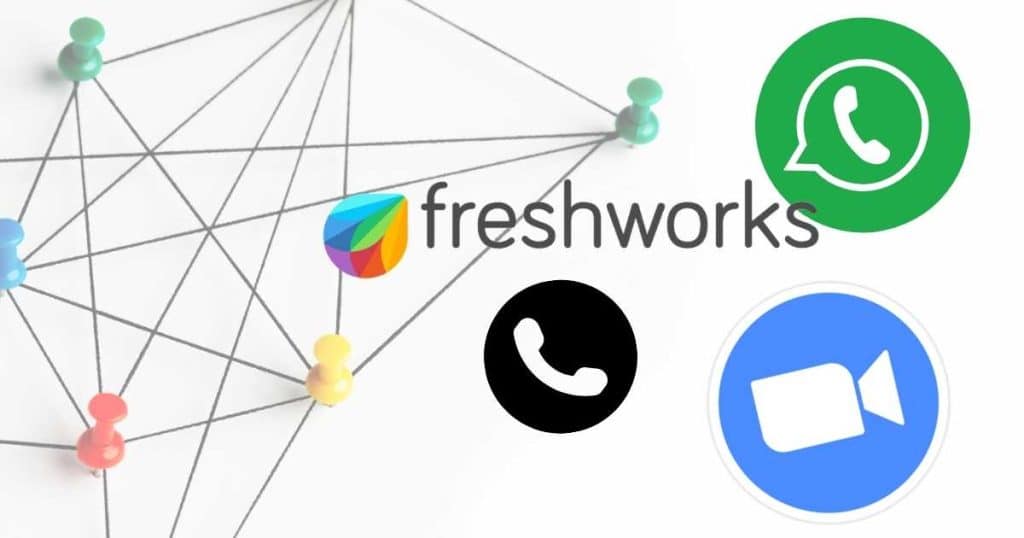 A good CRM should always have multiple integrations with external platforms. And Freshworks certainly does!
You're able to add a phone number of your choice to your CRM so you can call, chat, Whatsapp, Apple chat and Zoom with people directly all within the same platform.
This is a powerful tool that not many other platforms offer, and is a definite highlight of Freshworks that we love.
The free plan has limitations around this feature, however, you can still make phone calls within your CRM on all plans, and integrate basic forms to your website that link back to your CRM.
In addition to this, you can integrate your Google or Microsoft inbox and calendar with Freshworks CRM (on the paid plans). 
This is awesome, as your emails are then stored in one place and you don't have to jump between different platforms. 
You can also seamlessly integrate Freshworks with Mailchimp, Zapier, Slack, Xero and other popular platforms on all paid plans all available in the 'Freshworks marketplace'.
Freddy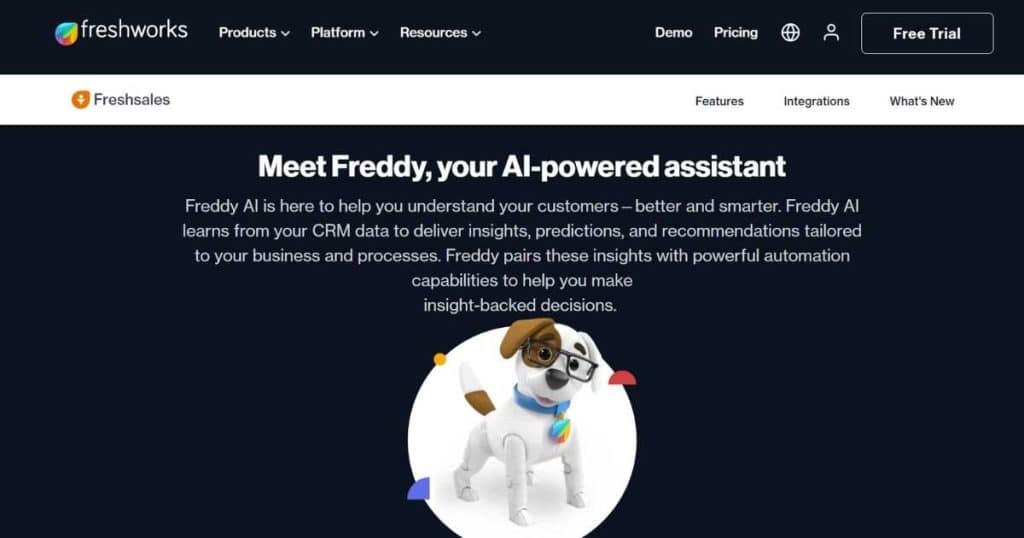 Automating tasks, predicting deals, performance and outcomes, forecasting revenue and driving sales has never been easier with Freshwork's dynamic and intuitive AI-powered assistant, named 'Freddy'. 
What is an AI assistant and how does it actually work? 
AI is built directly into your CRM. AI learns and uses information and data captured by you to make smarter decisions specific to your business.
It allows your teams to work better and more productively by automating tedious tasks, allowing you to focus on the important stuff like building customer relationships.
The idea is that Freddy is built to grow with you and your business, and is always coming up with new and innovative ways to improve your needs (and even identifies things you may not have noticed!).
You can target really specific information with features like lead scoring and ranking, and can even predict which leads will turn into deals. 
Unfortunately, AI is only available on their paid plans, and you have varied access to different AI forecasting and predicting features depending on which paid plan you pick. 
Another powerful feature is Freddy AI conversations, allowing you to create automated 'Chatbots' on your website based on customer queries, reducing the need to actually have a human at the other end of the computer!
AI technology is truly an incredible opportunity for you to take total control over your sales pipeline and your CRM, and provides you with monumental insights into your customers (without having to do much yourself!).
Smart forms
Smart forms can be set up on your website to automatically convert visitors into leads. How does it work? You can create and then link your webform with your CRM, and visitors can simply fill out the information on your form.
This information then gets added to your CRM system automatically, resulting in a new lead.
You can even create custom web forms to add to your website to capture in-depth information, and personalized auto-populate fields to gain leads. 
The best part is you don't even need to know any complex code! All you have to do is copy and paste the webform URL onto our website's HTML code, and the rest is taken care of for you. 
Built-in analytics and reports
Freshworks CRM offers amazing built-in analytical tools so you can build strong sales reports to improve your teams and sales achievements. 
You can identify and track the success of specific marketing campaigns, deals, sales activities and specific team members' performance. There is an abundance of different reports and templates, and you can even create your own custom report. 
In addition to this, you can share these reports with your team members and customize your dashboard to display sets of reports you use a lot.
Unfortunately, the free plan doesn't offer these important reporting functions and is something that should be considered when choosing what plan you want to go with.
Mobile app
If your team largely works remotely or on the go, you won't be disappointed with Freshworks CRMs impressive mobile app.
They provide amazing in-depth features such as analytical dashboards, access to Zoom meetings and text via third party apps, Google maps, notifications and more to track and manage everything that you need. 
You can even use the app when you're offline!
The mobile app is available on their free plan, offering limited yet useful features, however, you'll need to upgrade to a paid plan for more dynamic features (such as integration with Whatsapp).
Technical support
The good news is that all plans offer phone, chat and email support, however, the free plan comes with limitations – with only five days of support per week. 
However, you can always log a support ticket (that goes directly to the support team), and access their 'Knowledge base' online.
What we like:
Offers an amazing amount of language options and currencies.
Advanced mobile app and integrations.
AI technology.
Offers a free plan and 21-day trial for paid plans.
What we don't like:
Their support could be more responsive.
Their free plan is very limited regarding access to their amazing smart features.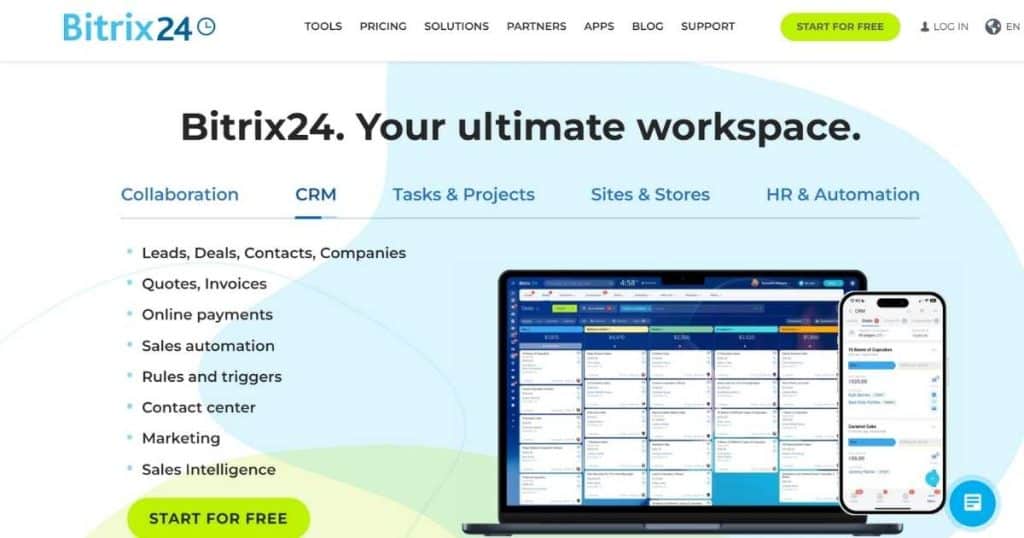 Best CRM software for real estate agents. 
Is your business in need of a new CRM, project management AND collaboration tool? Or maybe you don't have any of these tools and don't know where to start. 
Bitrix24 is an all-in-one business solution, aimed to create a space where you can manage all aspects of your business including your projects, customer relationships, collaborations, documents, teams and more. 
With an incredible 10 million+ customers and a crazy amount of languages available (18 to be exact), Bitrix has quickly become a global powerhouse within the digital world to help businesses achieve success.
As Bitrix is marketed as a multi-purpose platform, we recommend you use it that way to get more bang for your buck, however, it is important to note that different businesses can and may use Bitrix24 for different intentions, depending on your business's needs. 
So, let's talk about their CRM.
Their jam-packed CRM platform offers tools to help you gain, manage and communicate with your leads and deals, easily automate sales and tasks, lead and manage your team and workload and engage with online marketing.
They stand out from the crowd by allowing up to 12 users on their free plan. Most other popular CRM-free plans only offer one or two! Additionally, their interface is dynamic, modern and visually appealing.
Bitrix24 is an ideal platform for both small and medium-sized businesses that have a small to medium budget and require the 'complete online package'.
Bitrix24 Pricing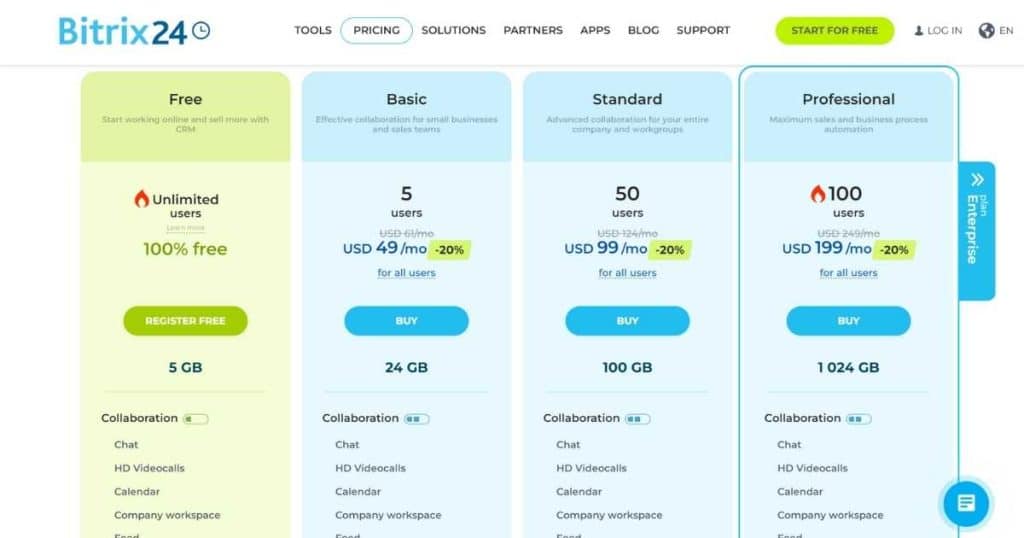 20% discount for annual payments. 
In addition to  CRM, you'll receive basic task management and document management tools, as well as marketing, collaboration, website building and project management features (the amount of these features depend on what plan you choose).
We will look primarily at CRM features in each plan.
Free plan:
5GB of storage.
Access to unlimited deals, contacts and catalog items.
Access to one pipeline, custom fields within your pipeline.
Meetings and calendar and the ability to create activities and comments within your deals. 
Up to 100 forms.
1000 leads for basic reports.
Integrations with Gmail, Outlook and Yahoo.
Basic limited automation rules and other simple CRM planning tools. 
Basic: 
$49USD per month for all users.
24GB of storage.
Access to unlimited invoices saved within your CRM and 5 sales pipelines.
Social media communication integration, task and team management.
access to the document generator tool, analytics, email and sales automation tools for team members or clients and higher levels of project and task management tools and support. 
Standard: 
$99USD per month total for up to 50 users. 
Unlimited leads and quotes, access to the CRM merge contact feature
10 pipelines
Zoom integration and higher levels of marketing
Customer support
Collaboration and project management tools.
Professional: 
$199 per month for all users. Unlimited users.
1024GB of storage.
Complete CRM features with unlimited pipelines.
Marketing automation processes.
Reports and analytics.
User permission and management and AI.
Advanced level of marketing, project management and collaboration tools.
User-friendliness
Considering there are so many features in addition to their CRM, the setting up process has the potential to become messy and confusing for new users.
However, Bitrix24 has created an easy-to-follow and streamlined system to help you with this. All you have to do is simply head over to their homepage and click start for free to get started.
From there, you can either set up your account via Google, email address or phone number. 
Next, you'll need to select the tool that best represents what you want to get out of it or what your business needs. This is important!
You can select from CRM, project management, communication and collaboration within your team or a website builder.
Whatever tool you initially selected will always show up first on your dashboard (but don't worry, if things change you can always shuffle the order around to easily access other areas). 
When compared with Monday.com's sleek and simple interface, we feel this is where Bitrix24 lacks.
Your dashboard is streamlined and visually appealing, however, some users may find it overwhelming! This is because there are so many features.
Again, it's important to have a clear idea of what you want to get out of the platform. This will make it easier to navigate around. We recommend taking the time and familiarizing yourself with the platform if you go with Bitrix24 as your CRM.
Key Features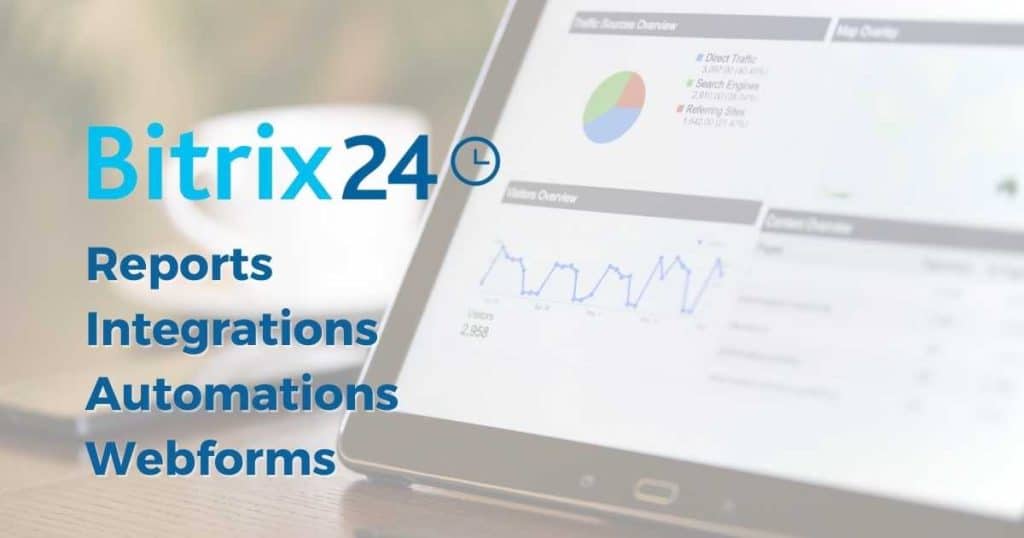 Activity Stream
This is the first thing you'll notice on your dashboard and is, in a nutshell, a complete overview of your CRM. 
You can view all ongoing activities, engage with your team members and ultimately keep up to date with (and stay on top of) every aspect of your business. 
In addition to this, you can also create notes, attach elements, see tasks, meetings, emails, tag team members and see and create notifications with your team all within your activity stream. 
Flexible team management
You can easily collaborate, engage and communicate with your team members directly through private or public chats, or video or phone calls directly through the platform, so everyone can work as one team!
External project management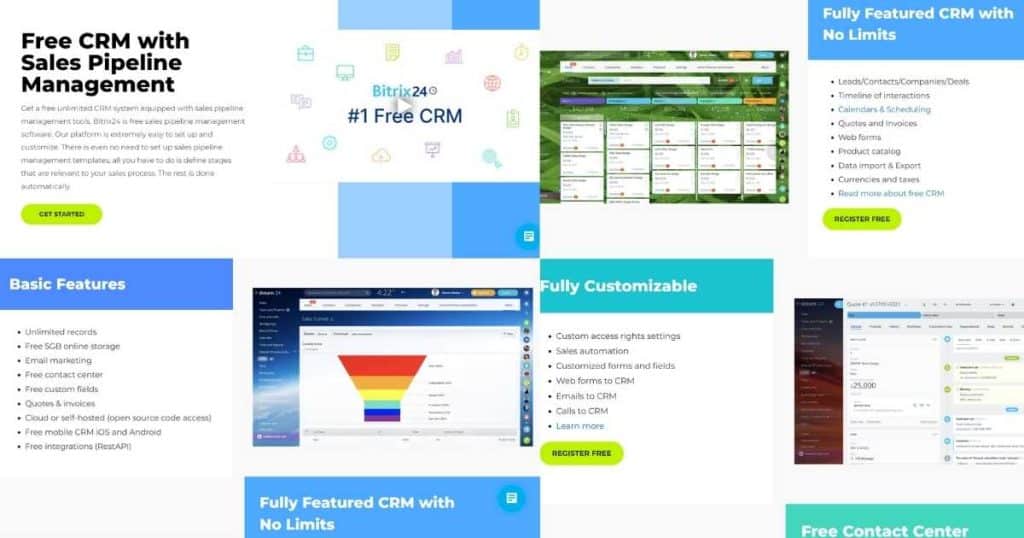 One of the things we love about Bitrix24 is that you can actually create external projects that your external clients can access and contribute to themselves, which is a really awesome feature not often used with other CRMs.
This creates a pipeline that can then help you track your sales or projects. You can choose to view this pipeline in two different ways, and can easily edit it by simply dragging and dropping items.
No-code sales pipeline
Your sales pipeline is where you can create, manage and store all of your deals. To make things easy, the process in creating a new deal is similar to how tasks and projects work.
All you need to do is simply create a new deal relevant to your business and add in the relevant contact, company, lead or deal information to any stage of your deal. This will create a sales pipeline! It's as easy as that.
Everything is fully customizable and done automatically, meaning you don't need to have any technical or coding knowledge.
From there, you can edit your pipeline and how you want to display relevant stages to that particular deal.
This is an incredible, visual way for you to easily view and track your customer and sales progress and process, and is also a great way to seek out any future opportunities.
Social media, call and email Integration
Do you use other platforms that you think would benefit your team and business? Bitrix24 offers plenty of unique integration options.
You can easily integrate your CRM with social media channels, meaning you can receive and save messages from clients directly into your CRM software!
In addition to this, you can take, record and save incoming calls, and you can even integrate your preferred email provider to your account to receive deals from new or existing clients. Bitrix24 will then automatically save these under the relevant contact. 
A bunch of their basic integrations such as Facebook and Instagram support integration are also available on their free plan, which is incredible.
Finally, they also have an incredible marketplace  that allows you to connect Bitrix24 with all your favourite email marketing, accounting, project management and task platforms, plus a whole lot more!
Reports from scratch
As we know, reporting is imperative for any business to track and manage their performance, so you can identify and implement any improvements. So, how do their reporting features compare to other CRMS? 
They offer a variety of standard report templates such as 'Team management' to track productivity, tasks, project management, invoice tracking and more. You can also create your own reports within their CRM software to track your analytics for leads, deals, contacts, companies or activities. 
These are broken down into two groups:
These reports aim to help you analyze sales funnels, employee performance, average lead time, conversion rate and more. 
In addition to this, you can filter specific fields of your reports if you need to zone in on a specific piece of information. The option is also available for you to create detailed reports within these fields.
Finally, if you're on a higher-paid plan, you can get customized, detailed and advanced reports within their project management software.
Webforms
Collecting information and requests directly from your website has never been easier with Bitrix24's 'Webforms' feature. 
Basically, once visitors fill out your form, their information is automatically saved as a new lead directly onto your CRM. How amazing is that! You don't even need to lift a finger!
This feature is available on all plans, however, you're limited with the number of forms you can create on the free plan. 
You can customize your Webforms to display anything important you want to know about your visitors. Webforms are a great way to capture and retain new leads so you can ensure no one slips through the cracks.
Long-term automation
We believe one of the best ways for you to be productive in your business is by cutting down on tasks that can be easily automated. 
Bitrix24 provides a wide range of easy-to-set-up automation tools, so you don't have to think about it.
Once set up, the system can automate things like dispersing requests amongst your team members, sending emails to the correct client, creating invoices and more. 
In addition to daily tasks, you can automate more long-term tasks and activities like scheduling marketing campaigns and task templates (that you can choose to renew at particular times).
It is important to note that most of these automatic functions are only available on Bitrix24's paid plans. However, they are very powerful and help with streamlining your processes and growing customer relationships.
Technical support
We love that anyone can access Bitrix24's FAQ section on their website. All their articles are broken down into topics for convenience and easy access (you don't even need an account, which is great for people who are just curious about the platform).
They also have various 'how to' videos, webinar recordings and courses to help you get started. 
These are available no matter what plan you choose, however, the amount of personal customer support you get is limited on the free plan.
Lack of customer support means it can be quite difficult for beginners that are overwhelmed by the number of features available or how to use them.
What we like
The free plan offers more users than other platforms.
Provides an all-in-one business suite that supports an online store, projects and collaboration. 
What we dislike
There are a lot of features within the platform, which can be overwhelming for beginners.
Not suitable for businesses wanting a simple CRM tool or businesses that already have other online platforms to help streamline their business. 
What is the best CRM software for your business?
So, what is the best CRM software for your small business?
Again, it comes down to your personal preferences, your current web stack and your feature requirements.
These are our top 7 CRM platforms and therefore they are all ideal options for your small business. 
I suggest testing out three of the platforms that we mentioned with your team for a week and seeing what solutions work best for your team.
My final thoughts
That is it for this CRM software overview for small business owners.
I hope this article, as well as the videos throughout, gave you an informed overview of the possible CRM systems for your business.
Let me know if you have any questions and remember to check out all our video guides on each of the CRMs too!
Thanks for reading!