Are you a small business owner looking for the best free project management software to take your operations to the next level?
What exactly is project management, and how can it benefit your small business?
In this blog post, we'll explore the ins and outs of project management for small businesses, including what it is, why it's essential, and how project management software can help you stay organized and efficient and assist you in hitting those all-important business goals.
Additionally, I will deep dive into an honest review of what I believe are the top 7 free project management software for small businesses and break down the best options for your niche.
So, with that said, let's launch in and find out what the best free project management software is for you and your team!
List of my top 7 free project management tools
I have also added video tutorials below each tool to help get you up and running with the project management tool you decide on.
We had to add Basecamp at the end of our list as even though it's not technically free, they offer such awesome features and tools!
Plus, they offer a 14-day trial.
What is project management (for small businesses)?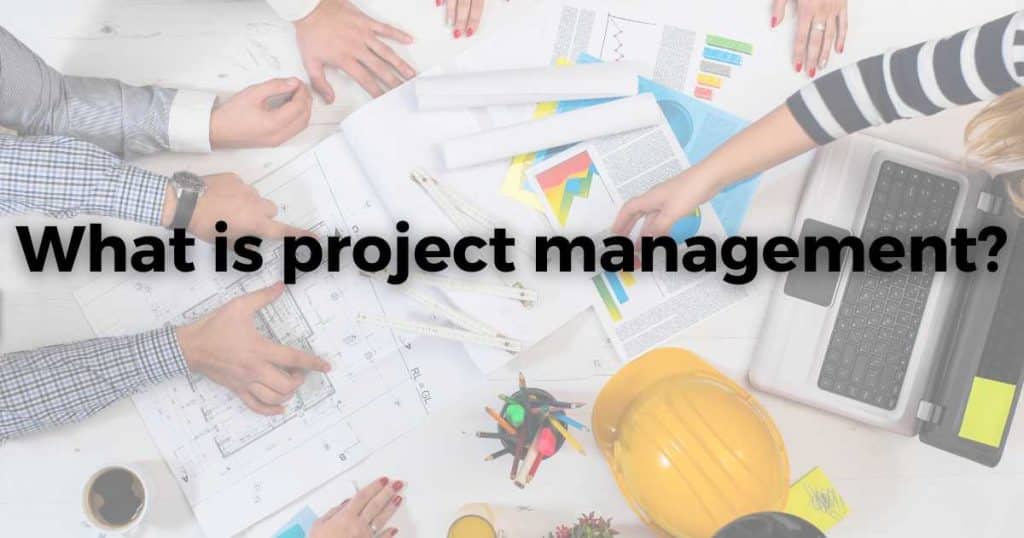 In a nutshell, project management is the process of planning, organizing, and overseeing your tasks and projects within a set timeframe and budget. You can pick apart and break down your projects into smaller, manageable tasks, assign team members to specific tasks, create deadlines, and track progress as you go.
Think about all the times you've had to juggle different tasks, teams, and projects simultaneously.
We've all been there! No matter the size of your business, managing these multiple projects can be challenging and stressful, especially if you're a small business and don't have the means to hire a costly (and, frankly, overpriced) project manager.
So what if we told you there was an affordable and accessible digital software solution to automate, organize and manage your teams AND all things 'project' related?
This is where project management software comes in to save the day!
There are so many different types of project management software available on the web, all offering slightly different tools, features, and benefits.
You can get anything from simple checklists or calendars to more robust tools that let you oversee your whole project.
However, as a whole, project management software essentially helps teams and businesses keep everything in one place.
And the best part is that many project management software platforms are free!
What's not to love, right?
Popular free project management software options for small businesses include Trello, Asana, Trello, and Monday.com (which we will dive into shortly), all offering essential task, sub-task, and project scheduling features.
However, each software generally also offers dynamic features specific to their platform, like time tracking, conversation and email capabilities, integrated analytic tools, third-party app integrations, and more.
When choosing the best free project management software for your small business, consider your business's core values, products or services, needs, and budget. What do you want to get out of it? Who is your target audience?
Let's dive into all that and show you how to optimize your team's performance and achieve greater success in your projects, productivity, and more with project management software.
Why do you need project management software?
One of the most significant benefits of using project management software is that it reduces the need for back-and-forth communication and coordination between tasks relating to a larger project.
Ultimately allowing you to increase productivity in other areas of your business, reduce costs and deliver a higher level of service to your customers!
We know what you're thinking…do small businesses really need to invest and learn a whole new software, even if they only have a couple of team members or projects?
The answer is YES, and we'll tell you why.
First and foremost, project management software helps small businesses to improve their efficiency and productivity by streamlining project-related tasks and processes.
This can lead to cost savings, increased revenue, fewer errors, and more time to grow their business.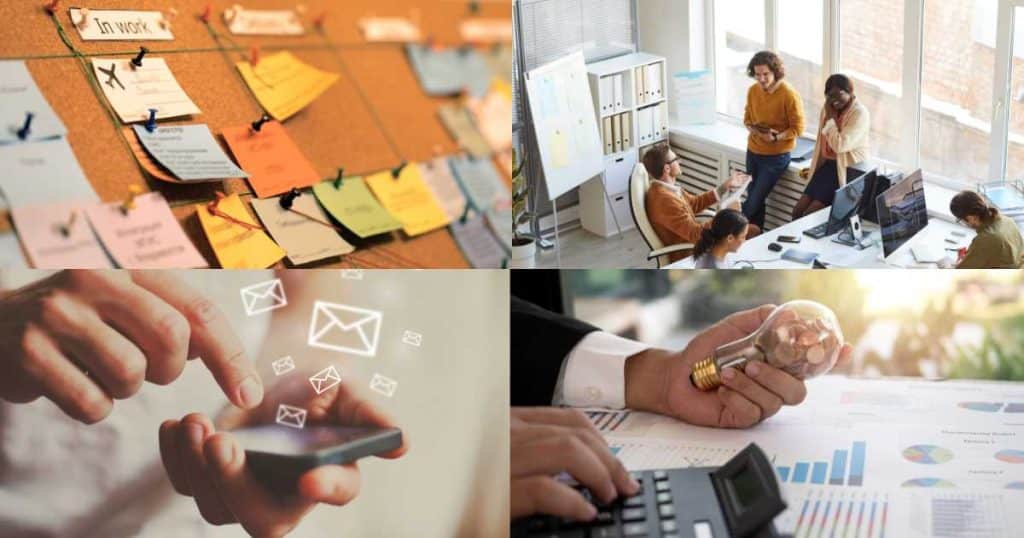 Project management software can also help manage resources, time, budgets, and team members. Simply assign tasks to individual members and use dynamic features such as time tracking to ensure your staff uses their time wisely.
Additionally, by leveraging messaging, file-sharing, and real-time updates on project tools, you'll find collaboration and communication among team members will improve, which is essential in this remote working day and age.
And finally, you can use project management software to provide your small business with valuable insights and data on project performance to help with future growth and business success.
Basically, you should be using good project management software regardless of your business size or type!
Plus, with so many free options out there, what have you got to lose?
Now let's delve into our top 7 best free project management tools and find the best option for your brand.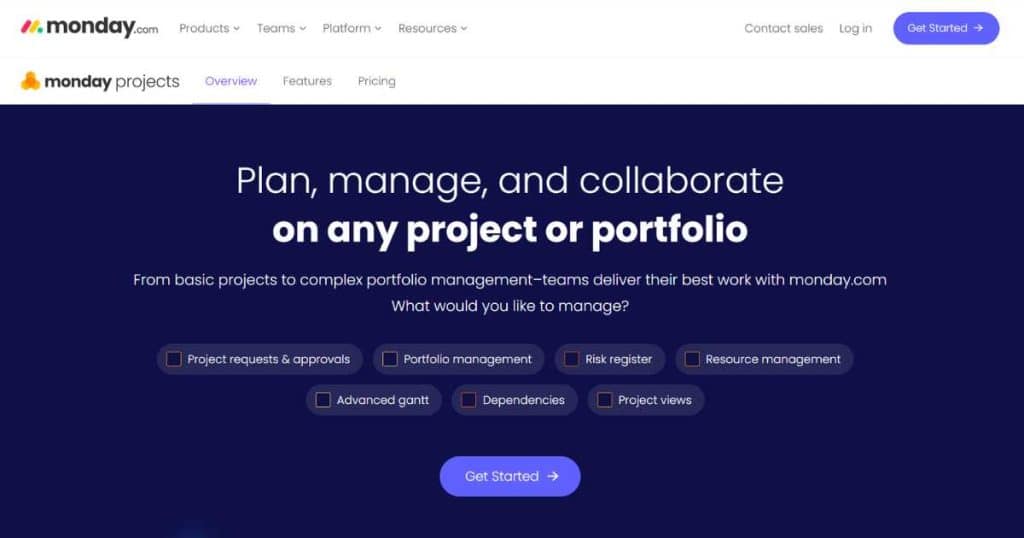 You've probably already seen and heard all the hype about Monday.com all over the Internet, and there's a good reason for that!
This versatile Work operating system helps teams manage projects, workflows, and tasks efficiently and with ease.
Known for its visually appealing and intuitive interface with fully customizable boards and dashboards and focus on processes rather than tasks, Monday.com is a popular choice for all business types and sizes.
The platform operates on a work management hierarchy:
Workspace (department).
Folders (used to manage different projects).
Boards (projects)
Groups (used to manage your tasks)
Items (tasks).
Monday.com has some of the easiest and best integration, template, and automation tools we've seen to help you streamline your work processes and improve team performance.
Additionally, they're a multi-product company, so whether you're after a CRM (customer relationship management), work management, product management, or marketing management tool, Monday.com has you covered.
So with that said, is Monday.com worth the hype? Let's find out why Monday.com is one of our best free project management software for small business.
What we like:
Monday.com's visually appealing and intuitive interface is by far the most attractive.
Their popular and customizable platform allows you to edit project board types, columns, and statuses at a high level, even for more complex projects.
With a shallow learning curve, even users with no experience can easily navigate and manage their tasks and projects.
You can easily connect elements and dependencies across different boards, including your Monday.com CRM
Seamless integrations with all your favorite third-party applications such as Google Drive, Slack, and Microsoft Teams.
The platform offers simple built-in automation options with hundreds of easy-to-use templates to improve efficiency and minimize errors. Their automation capabilities have got to be one of the best on the market!
What we dislike:
As you expand your team, the cost of using Monday.com can creep up since they charge per user.
Some users may find it challenging to manage complex projects on Monday.com due to the overwhelming number of features, templates, and customization options.
Unlike other tools such as SmartSuite and ClickUp, Monday.com doesn't offer an internal communication feature. If you need to chat or email another team member, you'll have to rely on external integration software.
The free plan is good and has a sufficient amount of features; however, it doesn't compare to other platforms like ClickUp that offer an incredible amount of free plan features, and Asana's generous user limits (Monday.com's free plan is only suited for two users).
Monday.com pricing: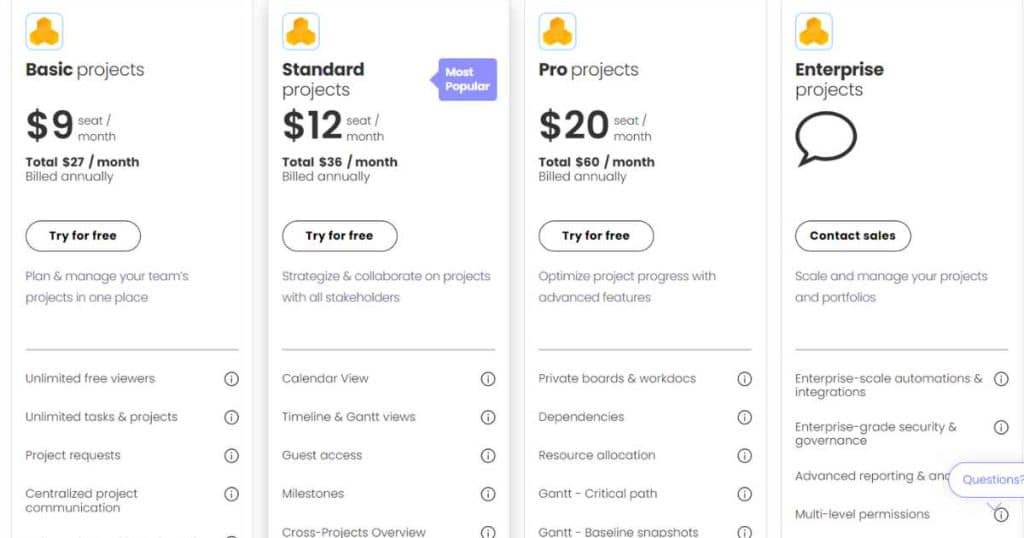 Individual plan (Free for up to 2 users).
Basic plan ($8 per user per month).
Standard plan ($10 per user per month).
Pro plan ($16 per user per month).
Enterprise (Custom price)
Best feature:
We love and rave about Monday.com a lot, so it's hard to pick one feature.
However, in our opinion, their visual interface offers exceptional customization and flexibility and truly does trump any other platform!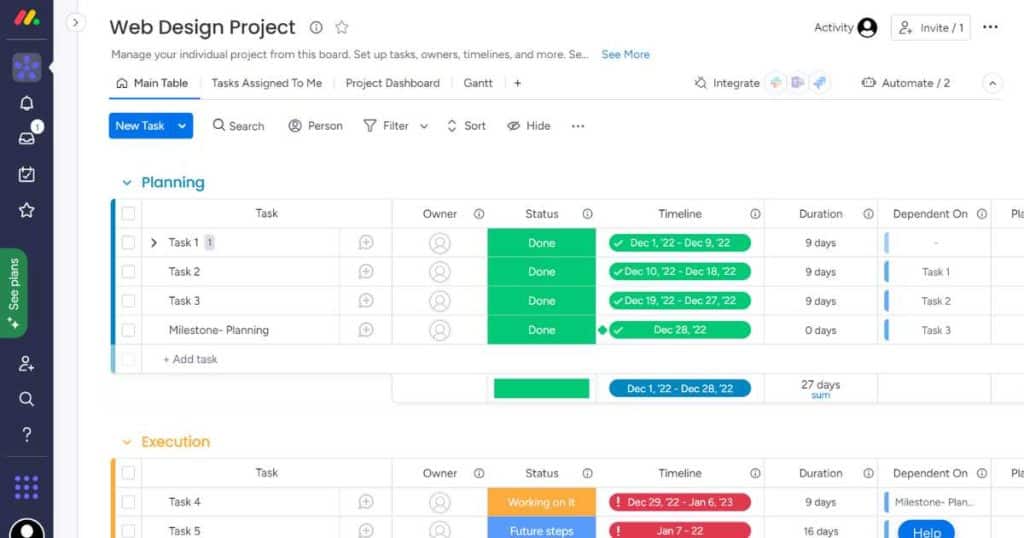 Small business owners can tailor and align their project management to the next level, then connect different dependencies across different boards, making Monday an invaluable tool for small businesses.
With this flexibility, businesses can easily and fully customize their boards for different projects, workflows, and departments and add, remove, or modify columns for specific tasks or projects.
This ability to personalize the platform to their needs allows small businesses to streamline their workflows and manage their projects more efficiently.
Check out our Monday.com comprehensive automations article here.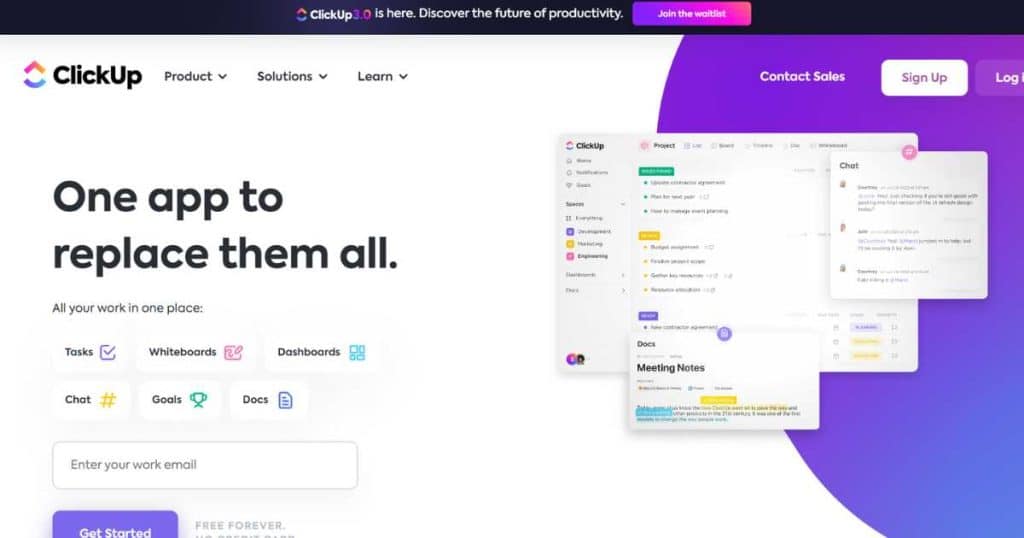 ClickUp is a project management platform often compared with Monday.com. ClickUp is one of the best free project management software for small businesses wanting a visually appealing, simple centralized all-in-one project management, time tracking, collaboration, and task management system.
What more could you possibly want or need?
Created in 2017, ClickUp was born as a solution that many other project management systems struggled with – most platforms either needed to be more or less complex.
ClickUp manages to achieve just the right balance. With their foolproof and easy-to-use customizable features, specific reporting ability, and user-friendly interface, ClickUp offers just the right assistance to help you manage and organize projects and teams efficiently.
They offer a hierarchal structure (like Monday.com):
Workspace (your organization).
Spaces (different departments, clients or projects).
Lists.
Tasks and sub-tasks.
ClickUp is mainly known for its project tracking, task management, time tracking, collaboration, reporting capabilities, intuitive user interface, and user-friendly design.
They stand out from the crowd as they're continuously listening to their customers, always finding new ways to improve their features, and developing new ways to make the platform more user-friendly, productive, and flexible for you and your team.
As mentioned, ClickUp focuses primarily on customization. They recognize that every group, business, and project is different. Therefore, you can view your projects in an array of fully customizable views, depending on the type or size of your business or your project type!
Additionally, you can use ClickUp as a CRM and collaboration tool.
So, is ClickUp the newest powerhouse in the world of project management? Let's find out.
ClickUp pricing: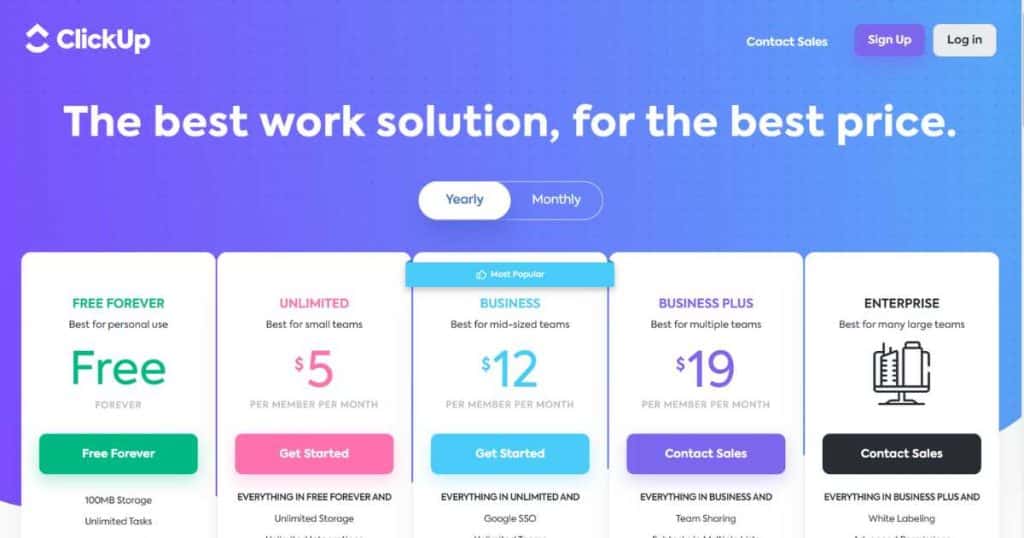 Free Forever: $0
Unlimited: $9 per user per month.
Business: $19 per user per month.
Business Plus: $29 per user per month.
Enterprise: Custom price.
What we like:
ClickUp offers a full-featured free plan, including time tracking and unlimited users, perfect for small businesses and teams. Additionally, their paid plans provide many dynamic, robust features.
The tool is user-friendly and easy to navigate, making it easy to plan, track, and manage work for any team.
ClickUp is highly customizable and user-friendly, which makes it well-suited for organizations or newbies..
Access to over 1000 popular external integrations in addition to its own 'ClickUp Apps' store.
Internal communication through their 'Real-time chat' function', so you can easily communicate with your team.
What we don't like:
The learning curve for ClickUp can be steep, particularly regarding their hierarchy structure (especially for those who aren't tech-savvy or new to project management tools).
The number of features and tools can be overwhelming for some users.
Some users say the loading time for features is slower than other software.
Best feature: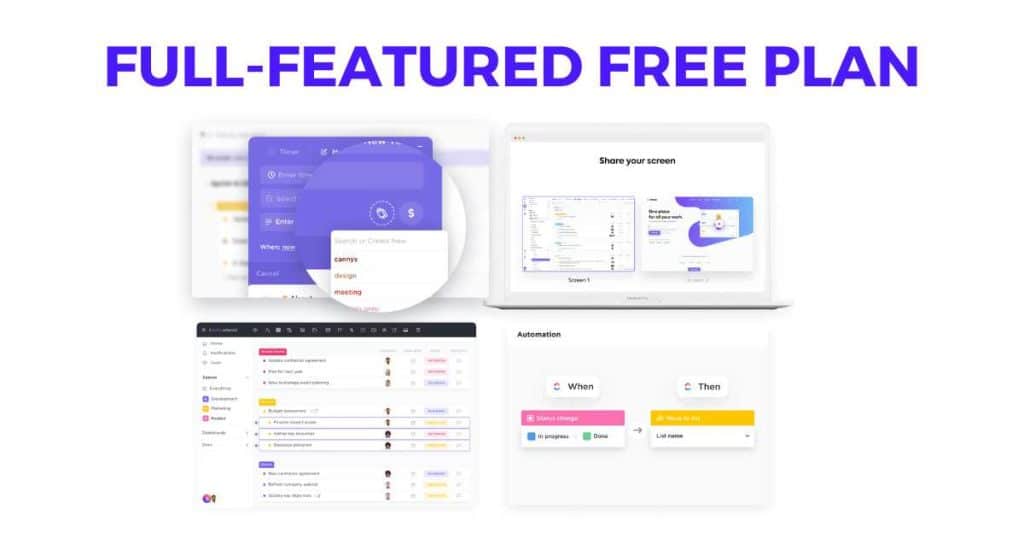 The fact that ClickUp offers many incredible features such as real-time chat, In-App video recording, time tracking, email integration, 100 automations per month, and unlimited tasks and members all available on their free plan has to be the best part about ClickUp.
ClickUp truly comes out on top by offering an impressive array of free and outstanding features!
Want to learn more about how to use ClickUp? Check out our full comparison guide here.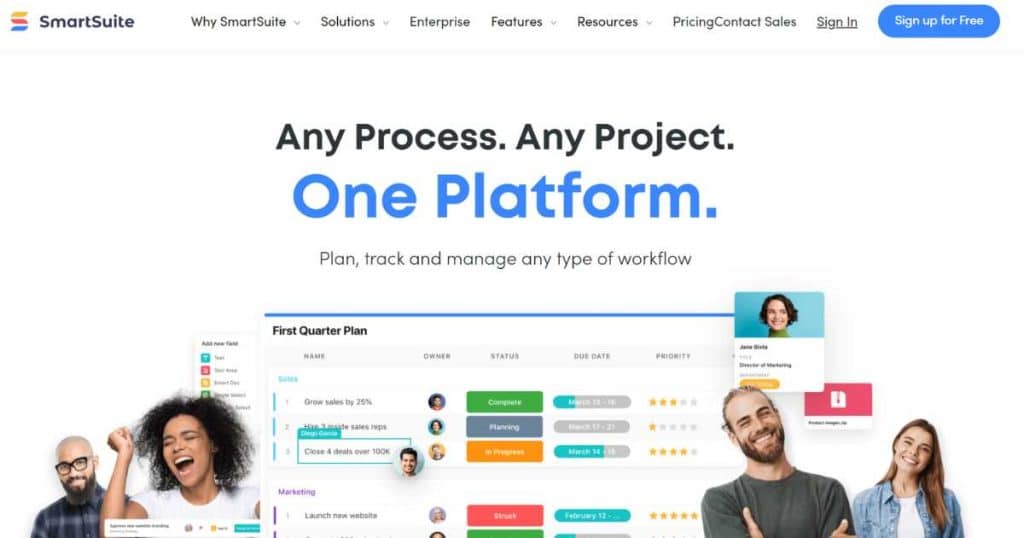 SmartSuite is a relatively new kid on the block created in 2022 to simplify, plan and manage any project, task, or workflow on one platform and challenge other big project management names like Monday.com and ClickUp.
With its free plan, fresh interface, and excellent user experience and navigation capabilities, SmartSuite is certainly deserving of a place in our top 7 best free project management software list!
SmartSuite follows a similar hierarchy structure that both Monday.com and ClickUp offer:
Workspace (your company or department)
Solutions (projects).
Apps (your project types).
Records (items, tasks, or sub-tasks).
You'll receive in-built automation tools that you don't need to set up, fully customizable field types and columns, a time tracking feature, high permission controls, interlinking between boards capabilities, and various layout views (wow, that's a lot of features!)
SmartSuite really does give other software a run for their money!
We love that SmartSuite is a product-first company with 100+ engineers and only 10 salespeople, and are constantly improving or adding features to its platform daily.
We can only imagine where SmartSuite will be once they have a few years under their belt!
SmartSuite pricing: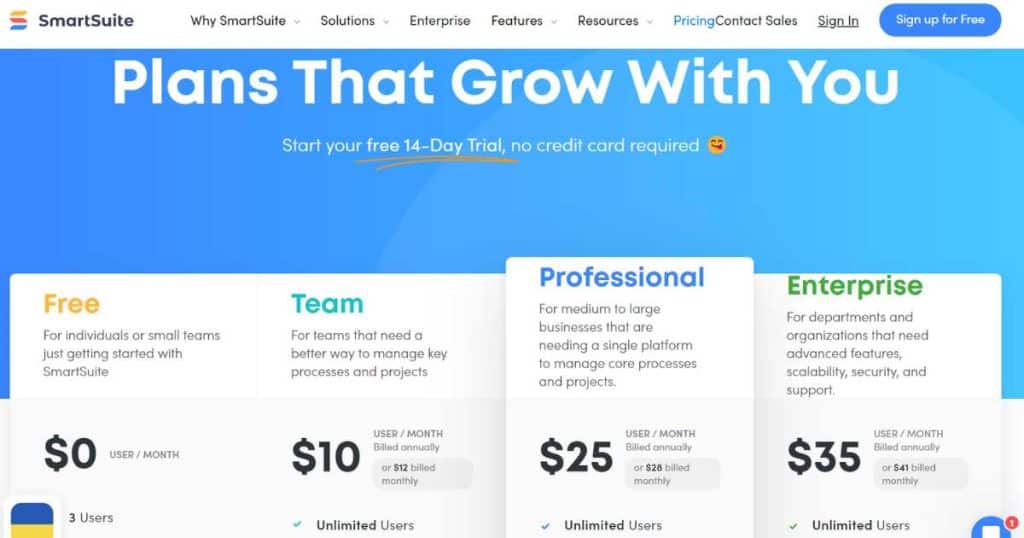 Free: $0
Team: $10 per user per month.
Professional: $25 per user per month.
Enterprise: $35 per user per month.
What we like:
Impressive full-featured free plan.
Over 200 solution (project) templates.
All 8 views are available on each plan!
Simply interconnect your information across different boards.
What we dislike:
Doesn't offer any automation templates. You have to create these from scratch which can be challenging and time-consuming for some new users.
As a whole, we're super impressed by SmartSuite's interface and tools. However, it can take some time to adapt, which some users may find off-putting.
Best feature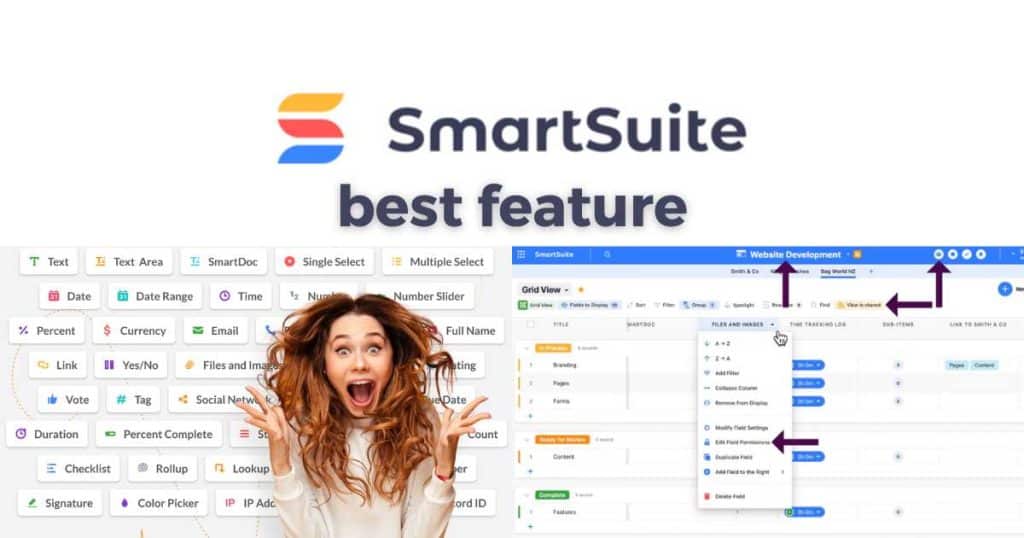 SmartSuite's level of customization and flexibility is next level, and therefore has got to be our favorite feature! With over 40 field-type choices available on all plans and an outstanding level of permission control and flexibility, SmartSuite is incredible for dynamic and growing teams.
It can take some time to get your head around all these complex customization options; however once you do, we promise you won't look back!
Read more: SmartSuite vs Monday.com.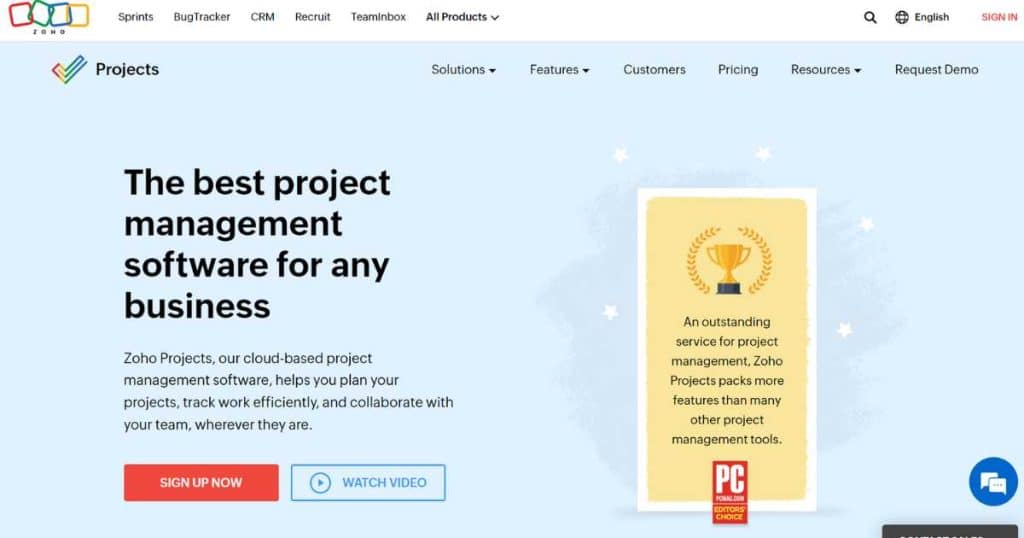 Zoho Projects is a project management software under the Zoho umbrella to assist in planning, tracking, and collaborating with your team on projects.
Known for its wide range of dynamic features to help teams manage their projects including project tracking, task management, time tracking, collaboration, and reporting, Zoho projects is a popular choice for a good reason!
Simply break down your projects, tasks, and subtasks using multiple view types, set up dependencies and reminders across your tasks, easily automate your workflows, and simply communicate and collaborate with other members within one platform.
If you already use Zoho CRM, Zoho Socials, Zoho Mail, or Zoho Invoice and need a complimentary project management software for your small team, Zoho project management is a no-brainer!
The best part is that they offer a free plan across all their platforms, so you don't have to pay a cent for anything!
Crazy, right?
Additionally, you can integrate your Zoho projects account with all your popular apps such as Google Drive and Dropbox.
Zoho Projects aims to help your team stay on top of deadlines, budgets, and resources so you can work smarter, collaborate better, and deliver results faster!
If you're after one of the best free project management software and interconnective tool that can help businesses and teams improve productivity, streamline processes, and achieve their goals.
Zoho Pricing:
Free plan: $0 up to three users.
Premium plan: $4 per user per month.
Enterprise plan: $9 per user per month.
What we like:
No integration or automation limit on their free plan, unlike other project management software.
Easy-to-use interface with a low learning curve, regardless of your experience with other Zoho products.
Their paid plans are reasonably priced compared to other project management software.
What we dislike:
While Zoho offers many super useful project management features, there aren't any 'wow factor' outstanding features unique to Zoho. In our opinion, it seems like Zoho have just added Zoho Projects to their brand simply so they can 'just do it all'!
The free plan only lets you have two projects.
They don't offer any project templates (on any plan).
Best feature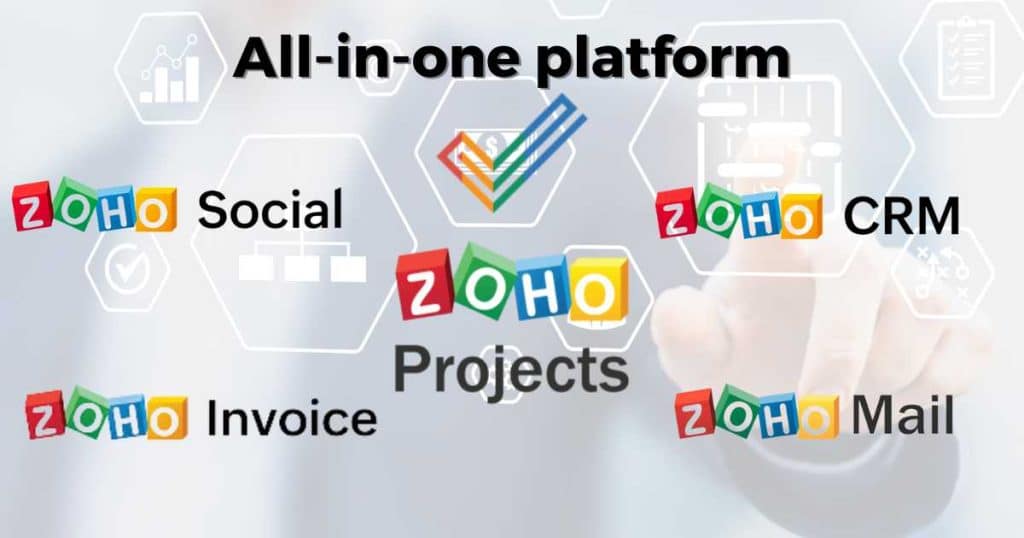 Zoho truly is an 'all-in-one' platform, so our top feature for Zoho projects is its ability to interconnect with all their other platforms, making Zoho a perfect choice for businesses that already use their other products.
For example, you can seamlessly add tasks to your CRM or Mail software or communicate with team members within each platform. Additionally, the user navigation is similar no matter what product you're using.
Check out our full Zoho Projects tutorial here to learn more about Zoho Projects.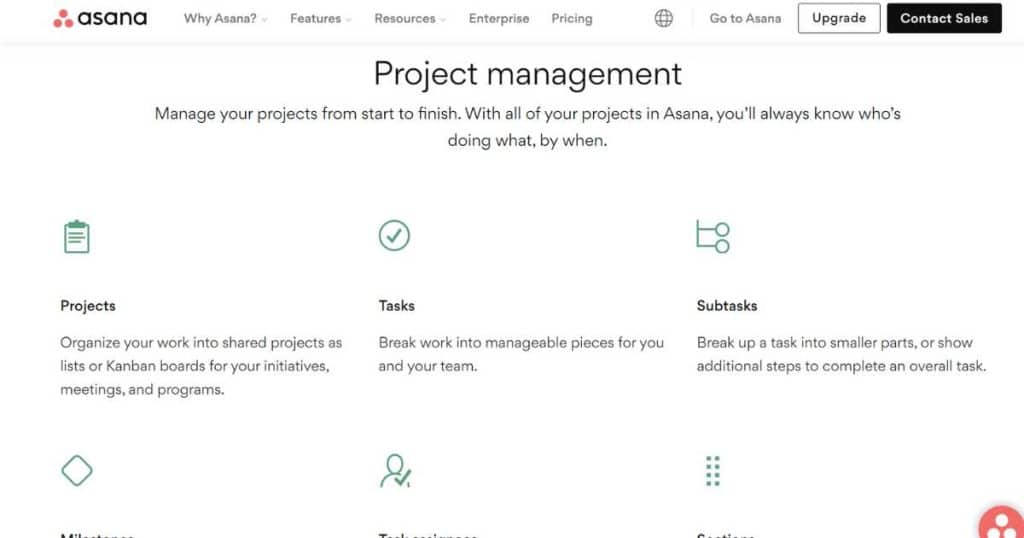 Are you after an easy-to-use yet effective tool to organize and keep track of your teams and projects? Asana might be the perfect solution for you!
Asana is a simple, straightforward all-in-one project management software used by over 100,000 teams worldwide, including huge organizations like Uber, Google, and Amazon (which means it must be good, right?)
The platform was born to make things easier for teams to collaborate, organize and coordinate their tasks, projects, and other work, and is why we've included it in our list of best project management software.
Think of Asana as an online to-do list, but better.
Asana informs individuals and teams what they need to do and why and lets you manage and track your tasks, projects, and teams all on one platform.
Why is Asana so popular? We think it may have something to do with their thorough, powerful, easy-to-use free plan that offers unlimited projects, tasks, activity logs, comments, and storage.
And guess what? You can have up to a whopping 15 users on the free plan!
This is game-changing for growing small businesses with little or no budget to invest in this software type wanting to reap all the benefits that task and project management software provides.
Asana pricing: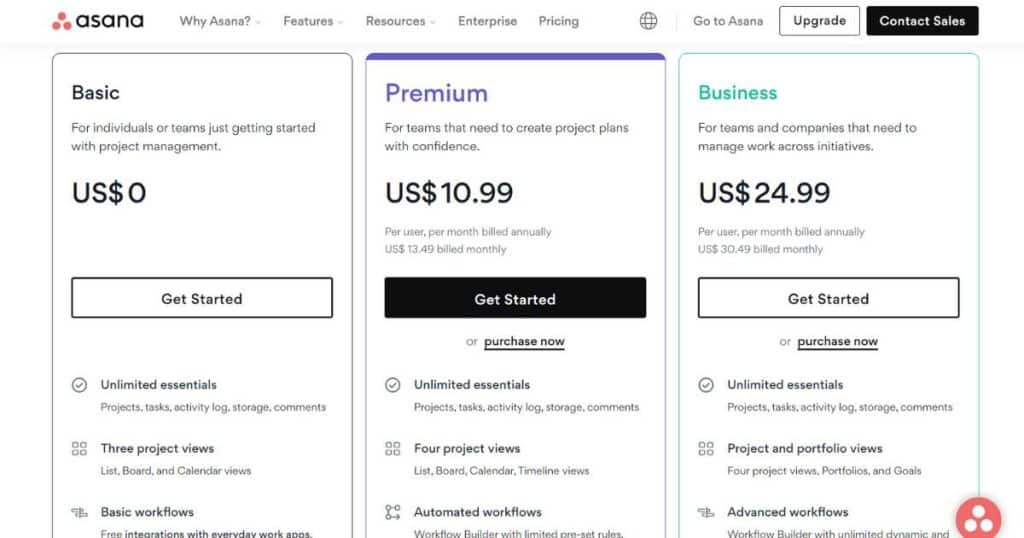 Basic: $0USD
Premium: $10.99USD
Business: $24.99USD
Enterprise: Custom price depending on your business needs.
What we like:
Asana's interface is super user-friendly and easy-to-learn.
Their incredible free plan offers up to 15 users, time tracking, unlimited tasks, projects, messages, activity logs, and file storage.
Their task and sub-task capabilities are easy to follow. Simply create, manage, set deadlines, and assign tasks to team members easily.
With their free plan, you can access three different views, including list, calendar, and board views, meaning you can visualize your project progress in a way that suits you.
Their integration capabilities are pretty good, with over 100 external integrations, including Google Drive, Dropbox, Slack, and more, to provide a seamless workflow for your team.
What we don't like:
Asana's reporting capabilities are limited, making viewing project performance and predicting future growth difficult.
Their customization options are also limited, especially on the free plan.
While Asana is excellent for basic tasks and project management, it's not made for more complex projects or workflows.
Although Asana's free plan is easy-to-use, there is a steeper learning curve than other platforms, such as Monday.com, when your upgrade to their paid plans.
Overall, Asana is an excellent project management tool best suited for teams or individuals looking for essential task management and collaboration features. However, it isn't the best option for teams that require in-depth tools or features.
Best feature: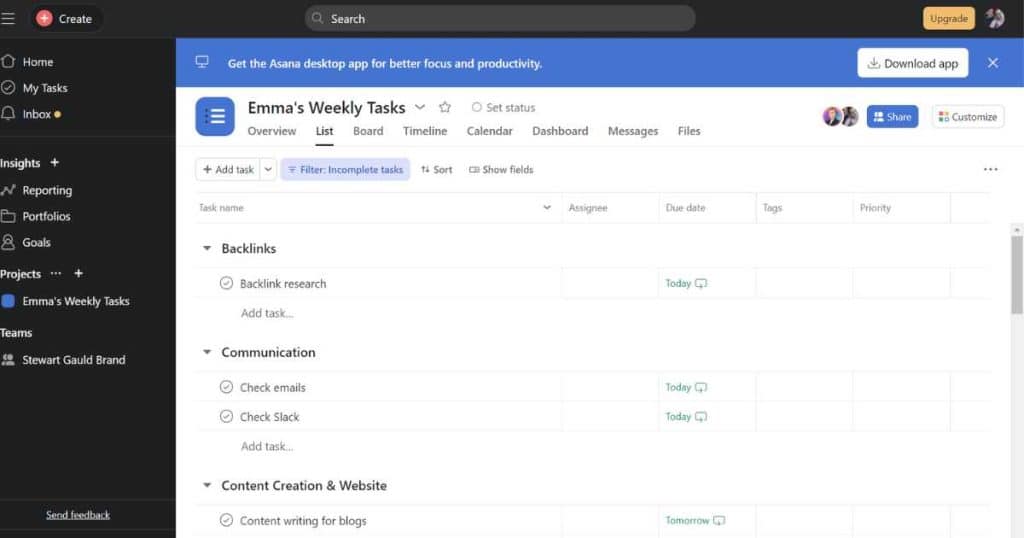 While Asana may not have any flashy features that make you say "wow," it does offer everything you need to manage your projects effectively.
However, the best thing about Asana is its task management capabilities. In fact, we'd go as far as to say it's the best on the market, especially when using their list view type.
Simply add each task within the relevant project in specific sections, allowing you to quickly find, track and complete each item.
Asana takes task management one step further.
In addition to being able to assign team members to specific projects or tasks, you can set deadlines, prioritize your tasks, add dependencies or sub-tasks to your tasks, or filter your task fields by the due date, project, assignee, and more.
You can add comments, tag team members, set reminders, add attachments, add tasks to different projects, copy the task link to share it with team members, and more!
Basically, you can fully customize your tasks with Asana, helping you to improve efficiency and productivity.
Check out our tutorial on  Asana in our beginner's guide here.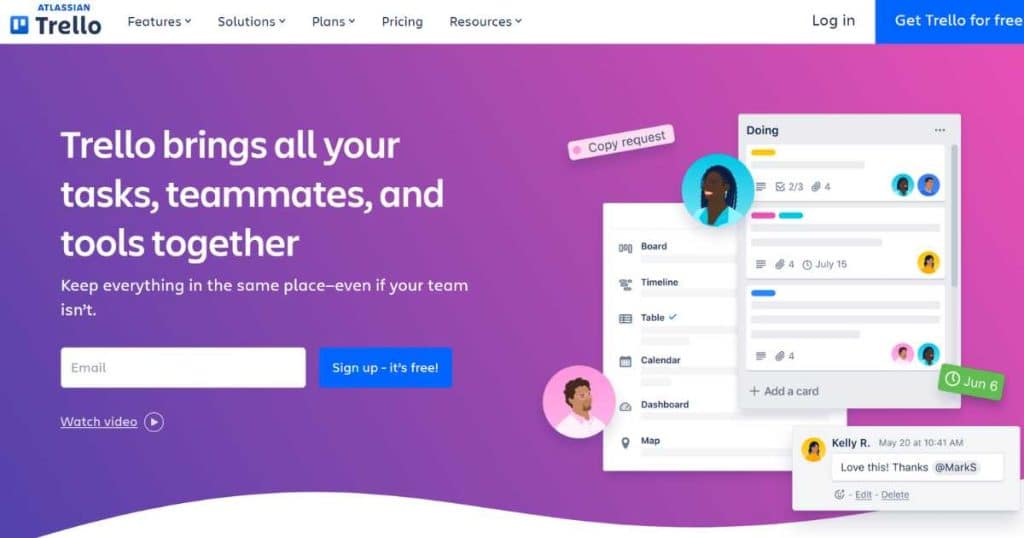 Are you looking for a visual, intuitive, aesthetically pleasing, yet flexible project management software for you or your small team?
Trello has the complete package for you!
With over 2,000,000 teams globally, it's safe to say that Trello dominates the online community! Their easy-to-use Kanban-type 'board' views to help you organize projects means virtually anyone can get started with Trello.
Trello's visual 'card system' and user-friendly interface means users can easily and visually create, customize, prioritize, and organize their projects and tasks on boards and share these with team members.
Another excellent advantage of Trello is that you can work directly with your internal team and clients on one platform.
They offer a generous free plan which we love. You can collaborate with an unlimited number of users and create a whopping 10 live projects, plus you can access an incredible number of other unique features. While most project management systems offer free plans, they often come with limitations, and this is certainly not the case with Trello!
Trello acknowledges that every team works differently and every project is different. You can customize, automate, integrate, and organize your workflows, tasks, and projects in a way that suits you.
Essentially, Trello aims to combine everyday to-do-list tasks with more significant projects so you and your team can collaborate, communicate and visualize your projects!
Trello pricing: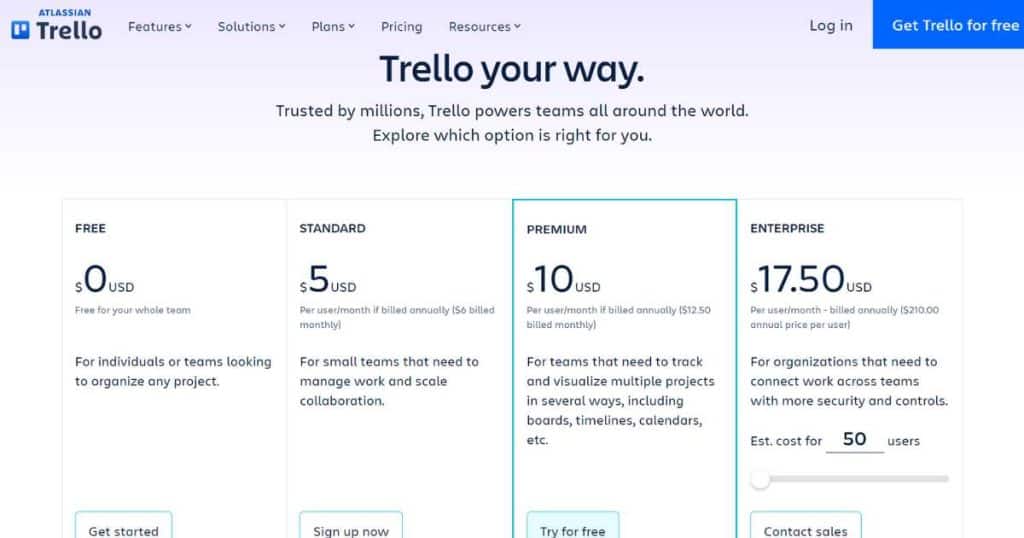 Free: $0.
Standard: $5 per user per month.
Premium: $10 per user per month.
Enterprise: $17.50 per month for 50 users (price increases the more users you have).
What we like:
Visual easy-to-use card system and interface, perfect for creatives, designers, or artists that want to watch their projects come to life.
Great for large, detailed projects.
Simple automation workflows (Butler).
Easy to understand pricing structure.
The notification system allows you to keep track of every move made on a project. With Trello, you'll receive an email notification for every update, comment, or task removal, even on your phone.
What we dislike:
Limited storage on the free plan.
Less suitable for smaller day-to-day tasks.
While we love Trello's graphic card-type view for projects, they don't offer many dynamic features such as time-tracking or multiple view types like Gantt charts.
We love Trello's visually appealing interface and the ability to add such a high level of detail to cards. However, this can become overwhelming for some users, resulting in users having trouble identifying and prioritizing crucial tasks efficiently.
Best feature: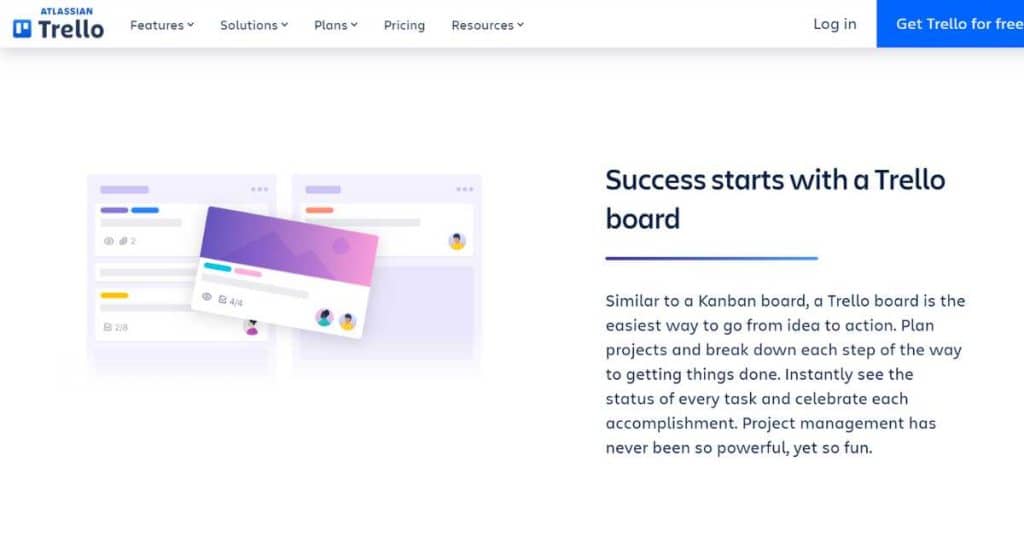 Trello's best feature has got to be, without a doubt, their visual card system, which is perfect for creatives, artists, designers, or people who just simply prefer a visual approach to their work.
With Trello, their boards, lists, and card system allow you to turn your ideas into reality in seconds. Their visual and easy-to-use interface means all team members can easily view, edit, streamline, and collaborate on projects.
Simply create, move around, and add images, files, and intricate details to your boards, lists, and 'cards' in a responsive, visual, and flexible way using the drag-and-drop interface, then share these with your team members.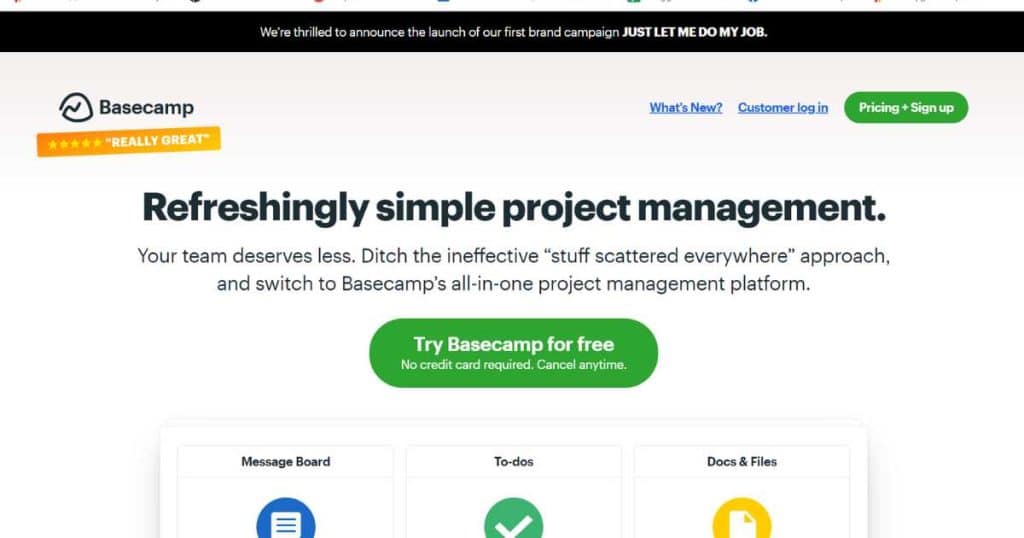 Okay, so Basecamp is a cheeky addition to this best free project management software list as it's technically not free…
BUT, if you're looking for a dynamic productivity, communication, collaboration, and project management platform for your small business, look no further! Basecamp may be the perfect all-in-one solution for you and your small business.
Created in the early 2000's, Basecamp now has millions of users globally.
With its intuitive features, Basecamp has taken the online world by storm as a popular solution to many businesses' day-to-day problems.
We love Basecamp as it highlights, prioritizes, and balances both strong communication and management of workloads.
Now we know Basecamp isn't free, but just hear us out!
Basecamp is an all-in-one platform, meaning small businesses don't need to fork out other external (not to mention pricey) productivity and communication applications or tools.
Basecamp offers all its features under one price, at one fixed price.
Think about how much money you'll save by not needing to invest in multiple paid communication and productivity platforms!
Also, Basecamp eliminates the inconvenience of switching between different platforms to manage your teams, communications, and projects. A win-win in our books.
Within this simple, fun, and flexible platform, you can effortlessly communicate with your team privately or publicly, create simple yet effective projects and to-do lists, share schedules, store files, and more to manage, organize and share everything in one place.
Most project management software focus on start dates, due dates, and everything in between; however, if start dates, end dates, or specific steps are roadblocks for your projects or work, then Basecamp is for you.
Basecamp recognizes that every team, business, and project is different and therefore likes to keep things simple. The only mandatory field you have to fill in is the name of your project (however, you can add more if you want).
Basecamp pricing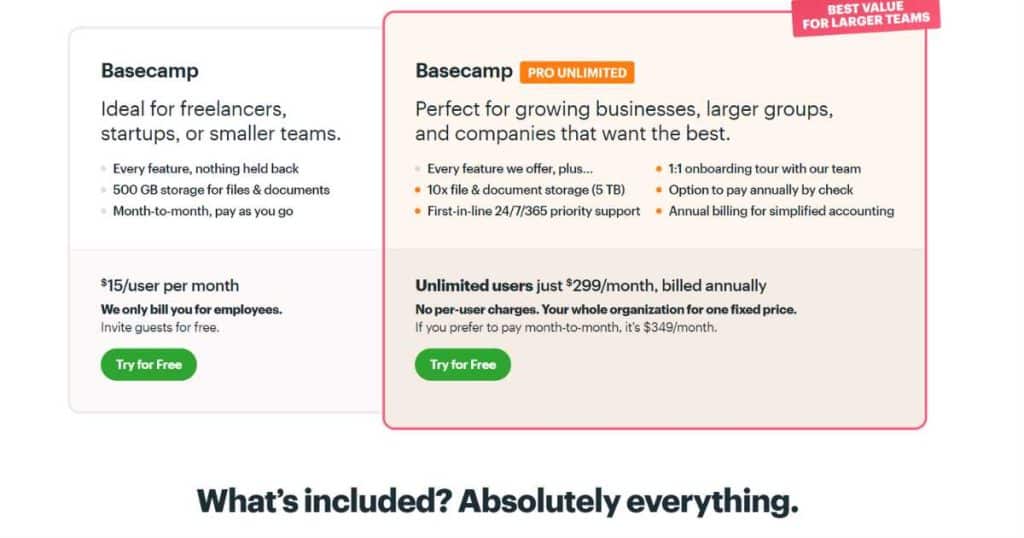 Basecamp: $15 per user per month.
Basecamp Pro: $299 per month.
What we like:
Simple pricing structure with only 2 plan options at a flat rate.
The 'Business' plan offers every single feature of the 'Business pro' plan.
Integrates team communication and productivity features with your project management software.
What we don't like:
Their all-inclusive communication plans and lack of flexibility may be overwhelming and unnecessary for some users or teams. For example, our team uses the free version of Slack, which works well for us.
Limited reporting or analytical features are not ideal for large teams.
You can't add tags or labels to prioritize or categorize your tasks, and there's no time-tracking feature. These are basic features that many other project management software offer.
Best feature:
Basecamp's stand-out features are their team communication features! Whether you set up automatic weekly, monthly or recurring check-ins with your whole team, specific departments, or individuals or utilize Basecamp's 'Campfire' real-time chat feature or calender syncing tool, communication with your team has never been easier with Basecamp.
Say goodbye to external apps or integrations, and start easily communicating with your team with Basecamp!
What is the Best Project Management Software For You?

Selecting the best free project management software for your needs out of all the options available isn't easy, we know.
We've only covered our top 7 project management software; however there are many more to choose from!
Zoho Projects offers various generic features and tools to help teams manage projects efficiently, including task management, time tracking, and reporting.
However, ClickUp is known for its flexibility and customization options, allowing users to easily tailor the platform to their specific brand or needs.
Monday.com is popular because of its user-friendly interface and visual project management capabilities, while Asana is an incredible task management tool.
Trello is known for its super trendy and creative card and board system, and SmartSuite thrives on its flexibility and permission control levels.
Basecamp is a paid option that seamlessly connects communication, collaboration and project management altogether.
So, now that we've covered each software's main features, prices, and what we like and dislike, advantages and disadvantages, let's delve in a little deeper and find out best option for you and your brand or niche!
Best Project Management Software For Solopreneurs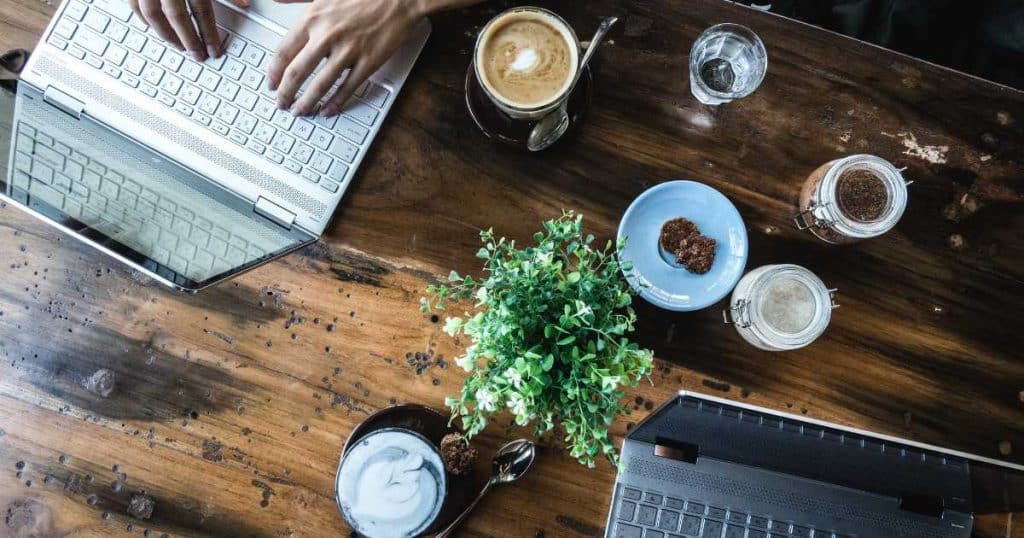 Trello: This is the perfect option for solopreneurs traveling on the go as you can quickly jot down and visualize your projects and tasks using their simple card system.
Asana: If you're a solopreneur and are after a basic task management system to help you stay accountable and productive on the move, Asana is the best choice for you!
Monday.com: As all solopreneurs require different needs, Monday.com's dynamic, flexible, and easily accessible feature-packed free platform is a great choice for users jumping between locations with a tight budget.
Best Project Management Software For Construction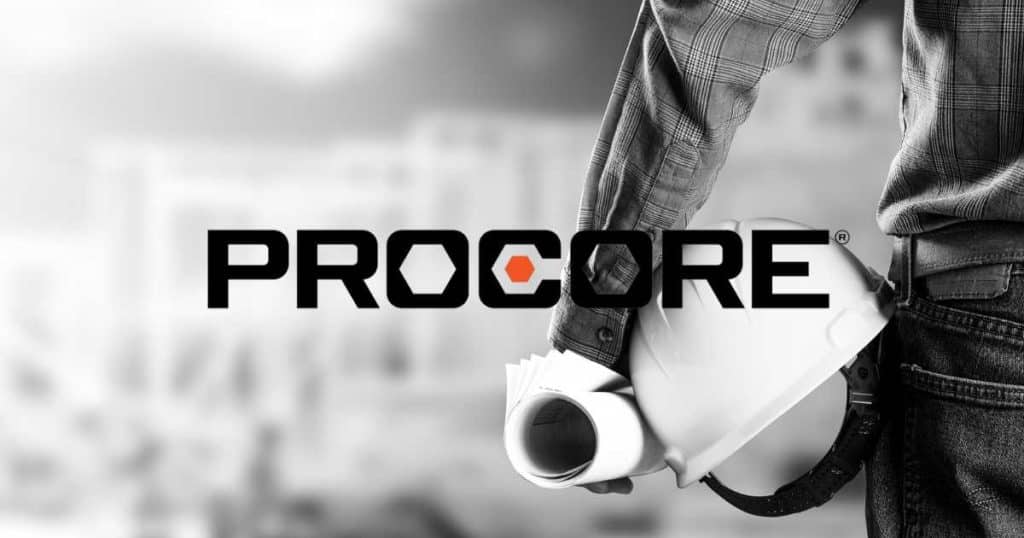 Procore is our best project management software for construction companies after an efficient project management software, as its features are designed specifically for the construction industry!
With Procore, simply use their document management, job costing, and scheduling features for real-time collaboration and tracking, making it easier for construction teams to manage projects efficiently and effectively.
Best Project Management Software For Architects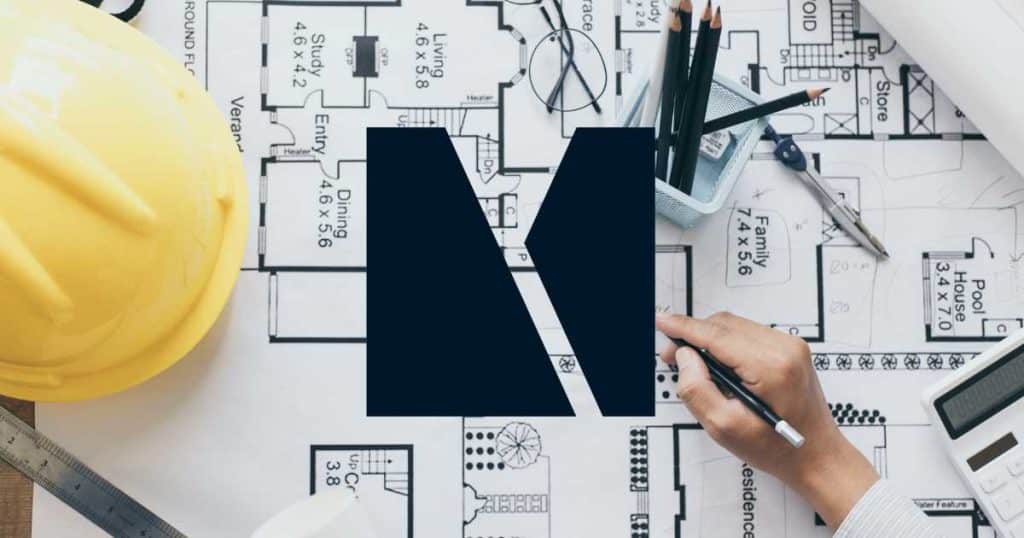 Monograph is a project management software designed specifically for architects and engineers. It provides robust features with the entire project lifecycle at the forefront of its mind, from developing budgets, resource planning, task tracking, and expenses and more in real-time.
Monograph offers a powerful dashboard that shows assigned tasks, current projects, timesheets, and more and includes a project planning module to easily track resources and daily progress.
Best Agile Project Management Software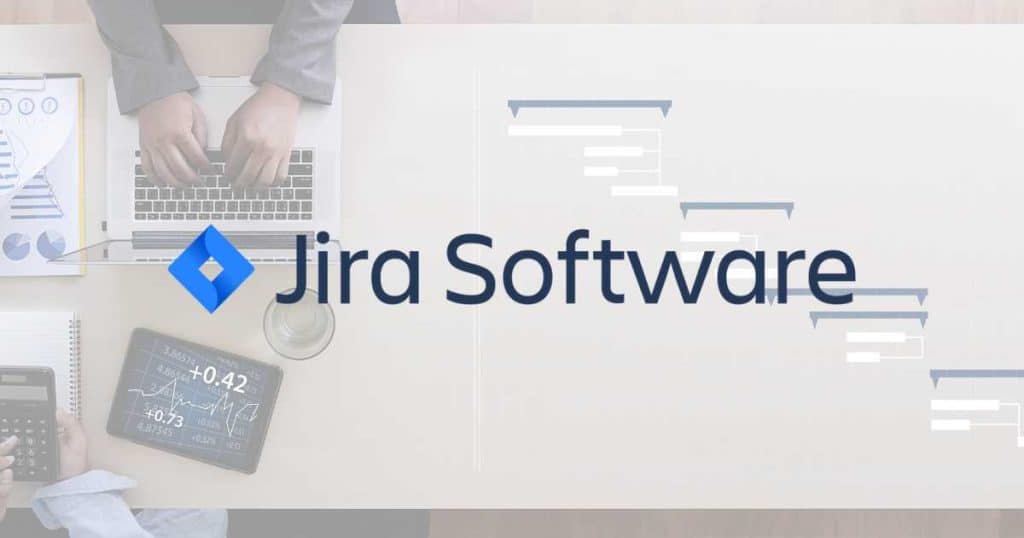 Jira is the best agile project management software for agile teams. It offers a wide range of features such as sprint planning, backlog management, and real-time reporting, the perfect solution for small teams wanting to manage and track their agile projects.
Best Creative Project Management Software For Solopreneurs
Trello: If you're a creative solopreneur, Trello is a perfect choice! In fact, Trello was specially made for creatives, artists, or designers needing a visual space to jot down and then work on their visual ideas, tasks, and projects.
Monday.com: Another awesome flexible and visually appealing creative platform for creative solopreneurs to sink their teeth into.
Best Project Management For Nonprofits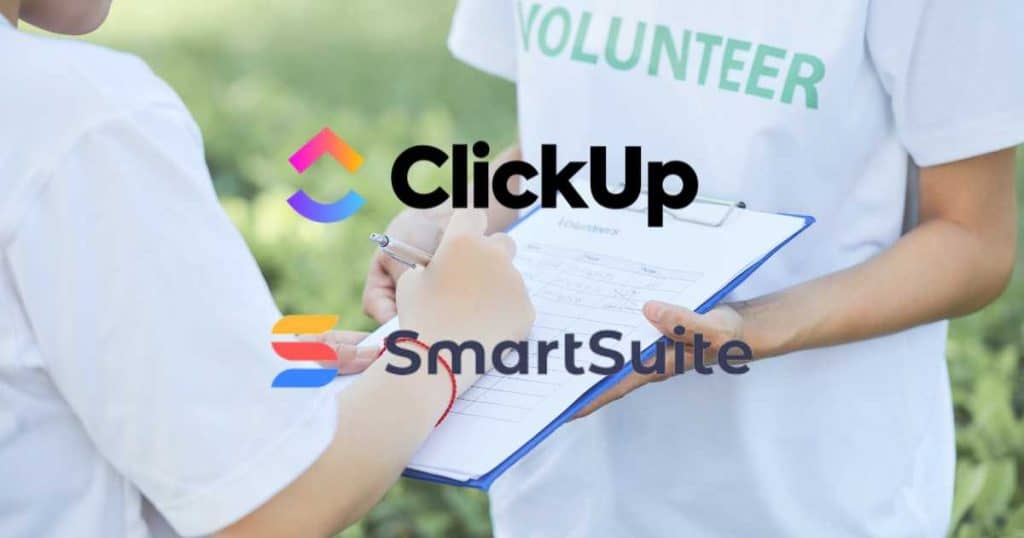 ClickUp: This is one of the best project management software for nonprofits who don't have the means in their budget for a paid project management plan but are after a full-featured free plan with tools like budget management, time tracking, and task organization features!
SmartSuite: Similarly, SmartSuite offers many incredible free features and a high level of customization options, perfect for nonprofits.
Final Thoughts
And that is it for this comprehensive 7 best free project management software review!
We hope you are now well-equipped with each project management platform and its features and functionalities.
However, the question remains…what is the best free project management software on the web today?
We know each software offers valuable tools for tracking tasks, managing teams, and increasing productivity.
Whether it's Trello's visual approach, Monday.com's customizable templates, ClickUp's all-in-one platform, SmartSuite's intuitive interface, Zoho Projects' collaboration features, Asana's task management capabilities, or Basecamp's integrated communication tools.
And whether you're a small business owner in a niche market, a solopreneur or creative, an architect or construction firm, or a nonprofit organization, there truly is something for everyone.
Additionally, we know there's a lot of contradicting information out there! So we recommend getting stuck into the free plans (or Basecamps free trial) of the software mentioned above that you liked the sound of and get started.
We can guarantee you'll crush those business goals with the right project management software!
Let me know if you found this post helpful.
Also, what project management tool did you choose and why? Let me know in the comments.