Chances are, you've landed on this article to see if there's a better Google Workspace alternatives out there for your small business.
Well, you're in luck! That's precisely what I'm going to uncover.
Google Workspace is a popular suite of productivity tools that many small businesses rely on to manage their day-to-day operations.
However, is it the best option out there?
Sure, Google Workspace is a great solution for small businesses on a tight budget looking for a reliable and secure platform to streamline their processes.
But it's by no means the only option!
And that's where I step in.
In this blog post, I'll delve into three of the best Google Workspace alternatives for small businesses in 2023.
These alternatives offer a range of features and benefits that can help your business stay productive and competitive without breaking the bank.
And with that said, let's jump right in.
Google Workspace Alternatives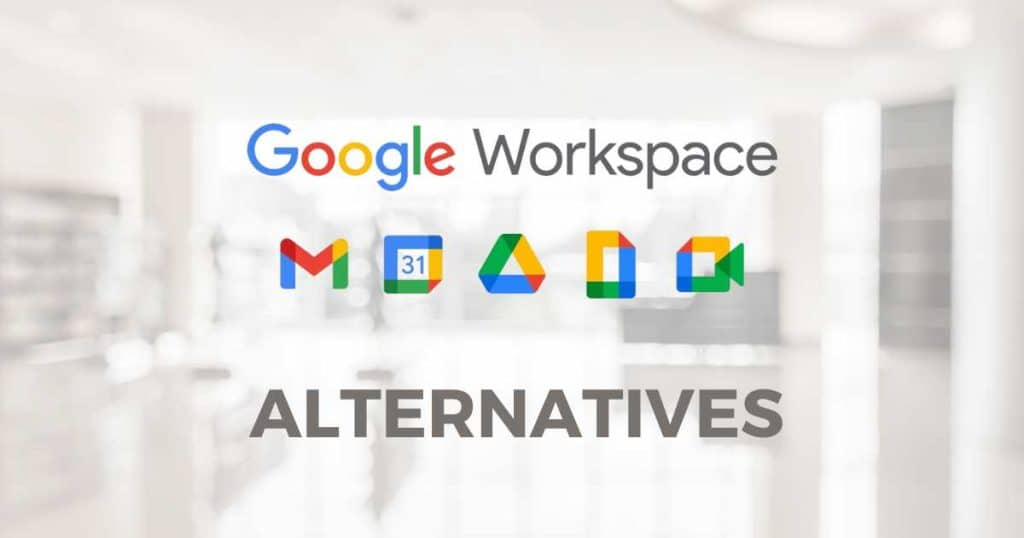 Before we get started, what is Google Workspace?
Essentially, it's an all-in-one platform within the powerhouse that is Google that provides many productivity, collaboration, and communication applications for businesses of any size.
Some of these applications include:
As all these applications are on one central database, users can create, share, and collaborate with team members all in one place.
Whether you're a sole trader, freelancer, or small to medium-sized business, I can guarantee you'll gain value from Google Workspace!
These simple tools enable you to create and share professional documents, spreadsheets, events, emails, calls, websites, and more.
And since everything is stored on the cloud, you don't have to worry about losing documents or version updates!
However, with the recent changes to Google Workspace's pricing model, some small businesses may be looking for alternatives that offer similar functionality at a more affordable price.
I'm going to look at my top 3 Google Workspace alternatives and their key features, pricing structure, pros and cons, and online reviews.
My aim is to find out and share…is there a better alternative to Google Workspace?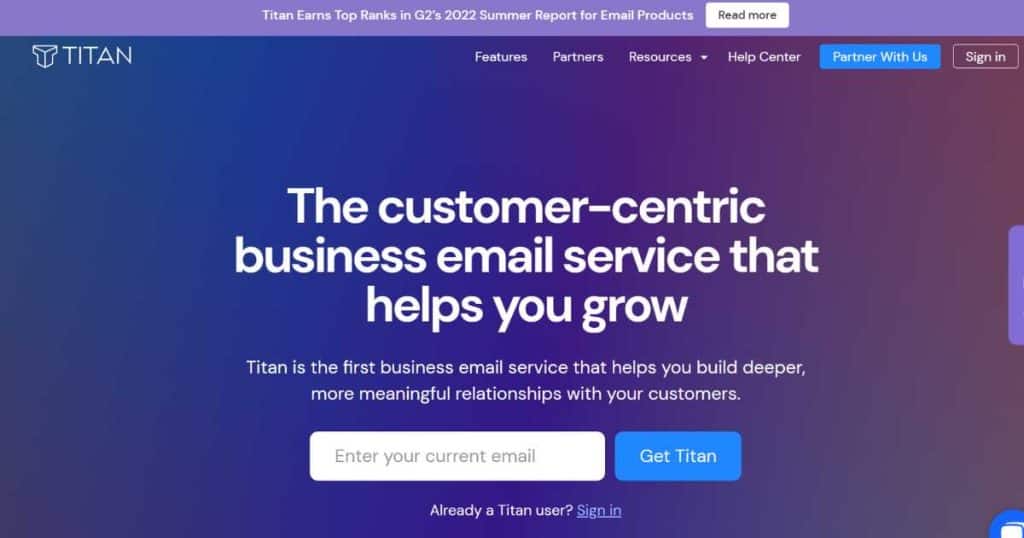 Titan is a great option for small businesses just after a powerful, easy-to-use, and affordable email service.
They focus on making their email service easy to use and set up for anyone, regardless of technical expertise.
This means that anyone can use and benefit from their services!
How does it work?
Titan works by partnering with popular companies such as Hostinger, WordPress.com, Name.com, and more.
There are two ways you can get started with Titan.
Purchase an email service from hosting websites like Hostinger or Name.com.
Create a website and purchase a domain, hosting (and Titan) through WordPress.com or similar.
Then, you'll need to set up your business emails with Titan!
Titan offers essential features that popular tools like Outlook and Google Workspace have overlooked, with a focus on the needs of specialists and small businesses.
As a result, Titan is quickly becoming the go-to solution for small business email!
They are continually growing and adding new features, making them one of the rising best-in-class solutions for simple yet powerful professional business emails.
Pricing: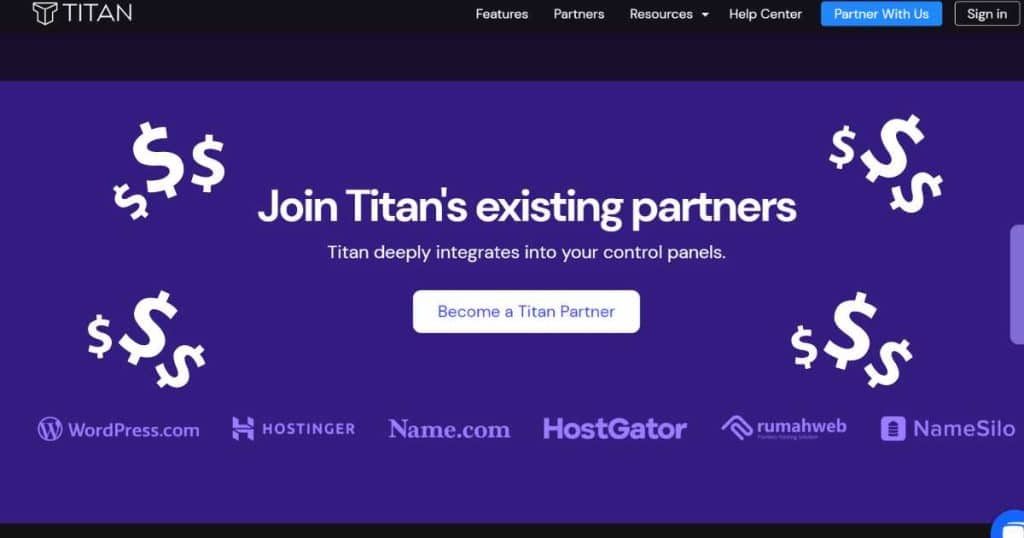 The pricing structure is super affordable, but it's important to note that the cost will change slightly depending on your chosen partner.
Generally, Titan's pricing ranges from about $1 per month for one email and one user. This includes everything you need from an email service.
How does that compare with Google Workspace?
Google Workspace pricing is significantly pricier – starting from around $6 per month (per user).
I'll let you do the maths on how pricey that can get for teams with a bunch of users or emails!
Also, if you're a small business, you may not actually require all the extra tools and features Google Workspace provides.
Key features: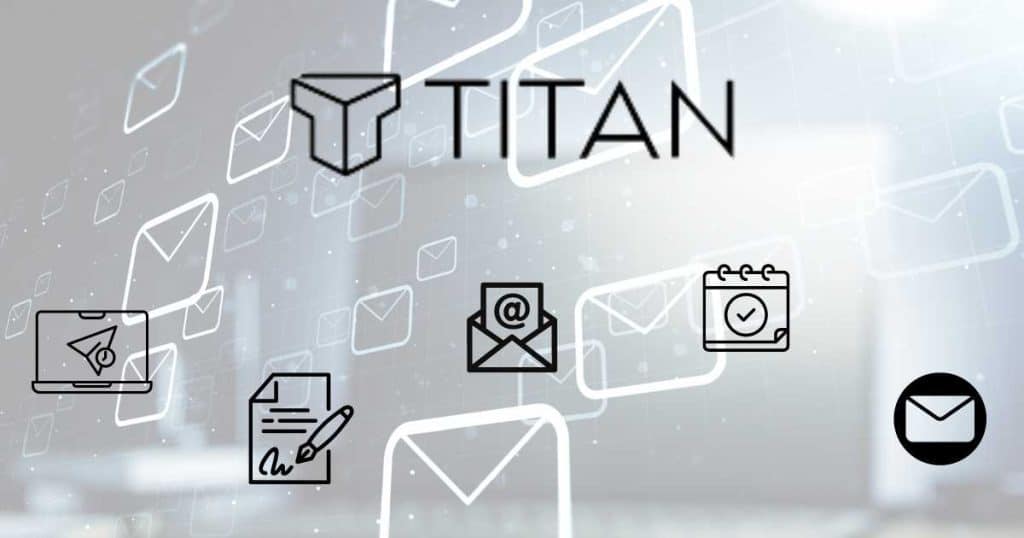 Email templates:
Simply choose from a list of premade email templates, or create your own from scratch for common emails you send frequently.
This reduces the time friction of creating the same email again and again!
Schedule Send:
Once you've created your email, you can simply click 'Send later' to schedule your email at a later time or day.
This is perfect for your clients living in a different time zone.
Also, this feature increases the probability of your email getting read!
Read Receipts:
This feature is incredible! With Titan, you can view who opened your email, meaning you'll always know who's engaged, who's not interested, or who needs following up.
Follow-up reminders:
You can set up reminders to follow up with any important unanswered emails you've sent.
Signature Builder:
Titan offers a built-in professional email signature builder. As it's created within Titan, you won't have to deal with messy or unformatted signatures!
What I like:
Significantly cheaper than Google Workspace.
Easy-to-use (even for beginners)
24/7 chat support.
What I dislike:
Limited integrations compared with Google Workspace
Titan is primarily an email service only, meaning they don't have other dynamic productivity and collaboration tools (like Google Workspace does).
Titan reviews: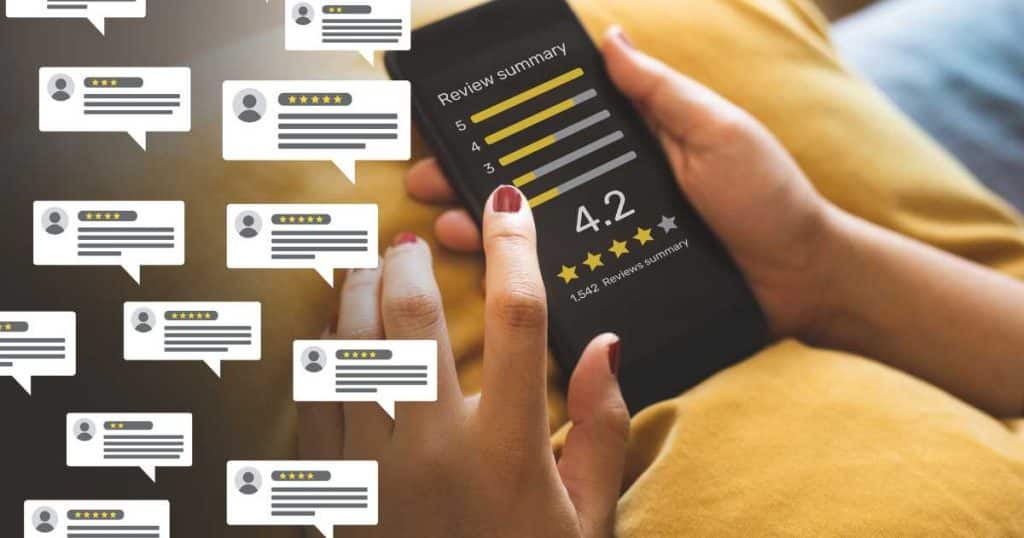 The general rating online is very high for Titan.
In fact, they were rated a 4.8 out of 5 stars for email software on G2 – thats pretty impressive considering Titan was only created in 2018!
So, if you're a small business needing a simple, easy-to-use email service as an alternative to Google Workspace, I would definitely recommend checking out Titan.
You won't be disappointed!
Learn more about how to create a professional business email with Titan.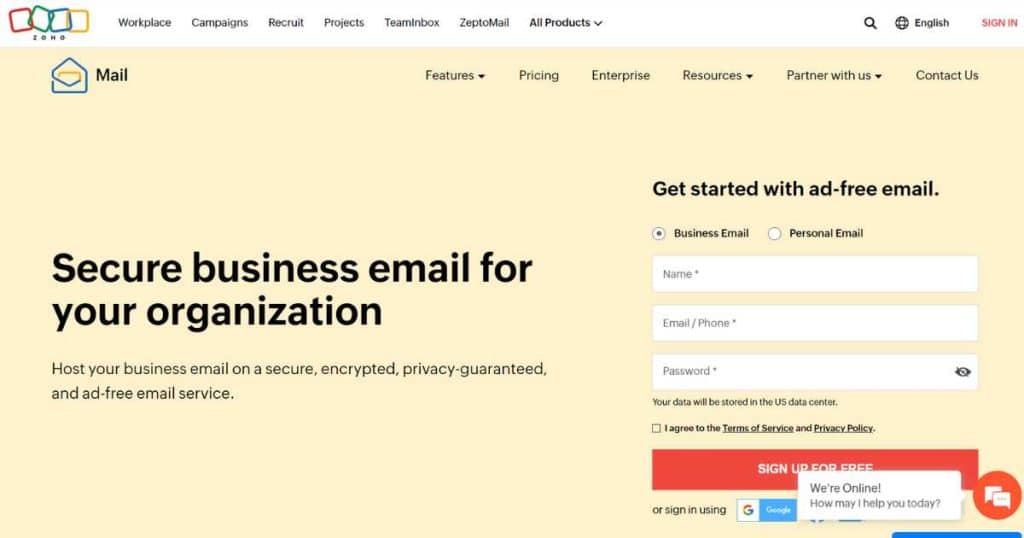 It's no surprise that Zoho makes the list as one of our Google Workspace alternatives!
I'm sure you've already heard of Zoho. However, just in case you haven't, Zoho is a popular  online business solution used by over 90 million people worldwide!
Google Workspace focuses mainly on providing your small business with productivity and collaboration tools, whereas Zoho is more like an all-in-one business suite.
Basically, whether you're after a CRM, project management, accounting, or inventory requirements, you'll find it all within Zoho!
And the best part? All products seamlessly connect with each other and offer the same interface.
This is what separates Zoho from all the other online platforms and tools out there.
In addition to all these tools, you can also use Zoho Mail as a reputable and secure business email provider.
Zoho has earned a reputation for its premium email features included in the free plan. So, with that said, let's dive in and find out what Zoho Mail has to offer!
Pricing: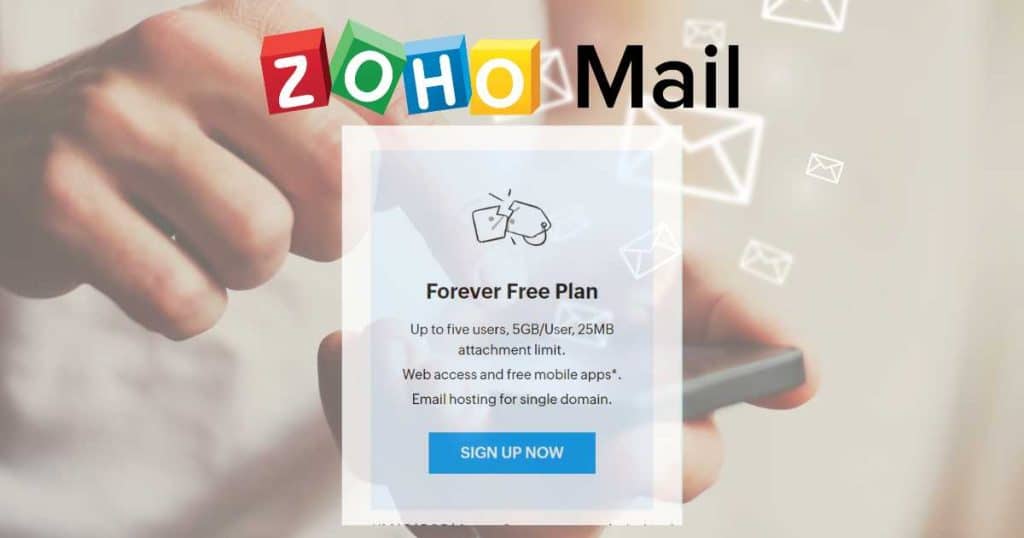 Forever Free: $0 limit of 5 users.
Mail Lite: $1 per user per month
Mail Premium: $4 per user per month
Workplace: $3 per user per month
The Mail Premium paid plan also offers a 15-day trial.
With a free plan, you can't go wrong!
Google Workspace doesn't offer a free plan; however, every Gmail comes with a (limited) Google Workspace account.
Although if you want to create professional business emails on Google, you'll need to pay for a plan.
Zoho Mail offers this for free.
Key features: 
Security and Privacy:
 Zoho is just about as secure as it gets! Some of the security and privacy tools and features are:
Encryption.
Two-factor authentication.
Suspicious activity reports.
Compliance certificates and more.
Basically, you can be sure your emails are safe with Zoho.
Business email organization:
Zoho Mail offers several modules to help you organize and streamline your work.
Tasks: Create manageable task schedules to break down individual tasks.
Notes: Add virtual color-coded sticky notes.
Calendar: Keeps track of all your upcoming meetings and events.
Contacts: Use your address book to contacts organized in one easy-to-use address book.
Migration Tools:
Are you already using another email service provider? No worries! Zoho allows you to easily migrate your documents, data, contacts, and emails in just one click.
Streams:
Zoho Mail's Streams tool replaces email threads with social media-style conversations, meaning you can effortlessly communicate with your team.
Four key features include:
Sharing emails by '@' mentioning team members.
Team-specific 'walls' for socializing and discussions.
Email integration with chats.
The ability to access Streams on the Zoho Mail app.
Email recall:
Have you ever accidentally sent an email to the wrong person? I know I have…
With Email recall, you can simply recall your email once it's been sent. This feature is a lifesaver!
What I like:
The amount of internal and external integrations is impressive.
Free and affordable pricing plans.
Secure email provider platform.
Intuitive mobile app.
What I dislike:
If you're unfamiliar with Zoho, the learning curve can be steep.
All their features are pretty generic, there's no 'wow factor' feature within Zoho Mail.
Zoho Mail reviews: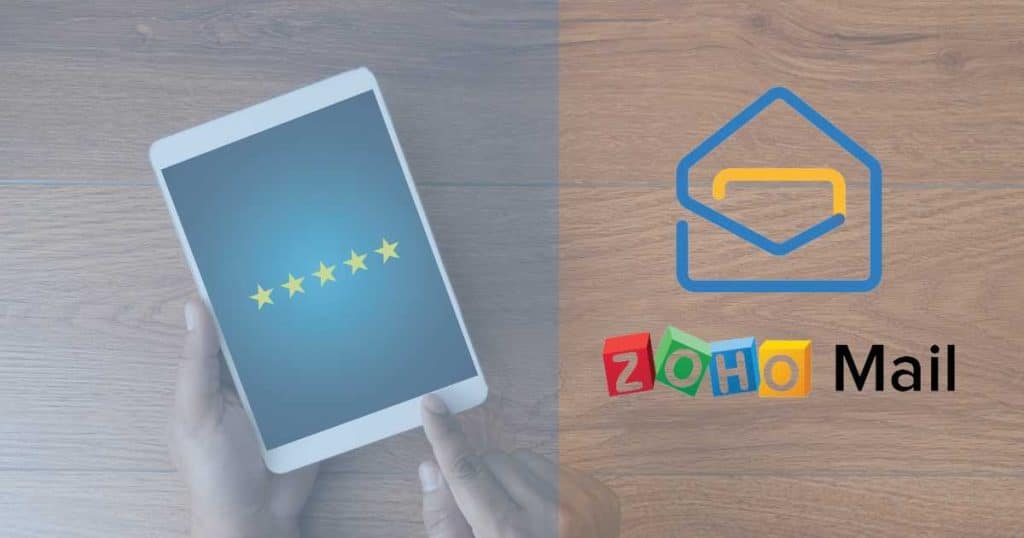 On TrustRadius, users praised Zoho Mail's integrations with other Zoho apps, third-party tools, and collaboration features, with an overall rating of 8.8/10.
However, some users have criticized Zoho Mail's customer service and email formatting issues, which lets the platform down.
So, if you already use Zoho's other platforms and need a trustworthy email service provider, why not give Zoho Mail a go as a Google Workplace alternative?
You may as well try out all their free plan has to offer!

Microsoft 365 is an online productivity platform powered by Microsoft and offers very similar features and tools to Google Workspace.
By subscribing to Microsoft 365, you'll receive all the latest Microsoft productivity apps.
These include Microsoft:
Team.
Word.
Excel.
Powerpoint.
Outlook.
OneDrive, and more.
I'd say Microsoft 365 is the closest comparison to Google Workspace within this list!
You can send emails, manage your calendar and files, create documents, spreadsheets, and presentations, and collaborate with your team through chat or video calls.
It sounds fairly similar to Google Workspace, right?
However, unlike Google Workspace, you can install and use Microsoft apps offline.
This means you don't need a stable internet connection. Plus, the desktop versions are often more full-featured.
Both Google Workspace and Microsoft 365 are great options for businesses after a professional email service provider and collaboration platform.
So, is Microsoft 365 the best Google Alternative? Let's find out.
Pricing: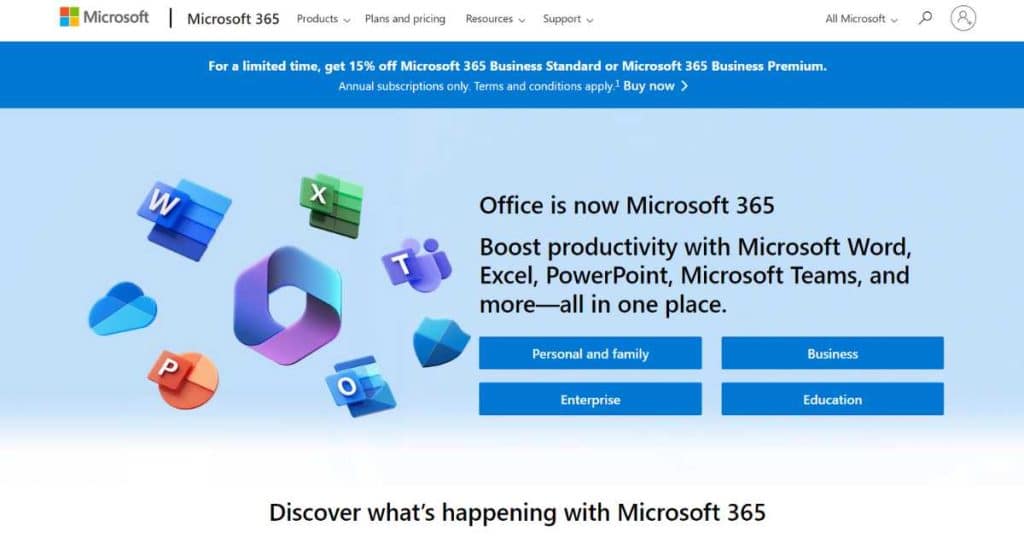 Microsoft 365 offers Business and Personal pricing plans. However, I will focus solely on the business plans in this Google Workspace alternatives review.
Microsoft 365 Business Basic: $6 per user per month.
Microsoft 365 Business Standard: $12.50 per user per month.
Microsoft 365 Business Premium: $22 per user per month
Microsoft 365 Apps for Business: $8.25 per user per month.
All plans also offer a 1-month trial.
This is fairly comparable with Google Workspace, with little difference between the two.
Key features: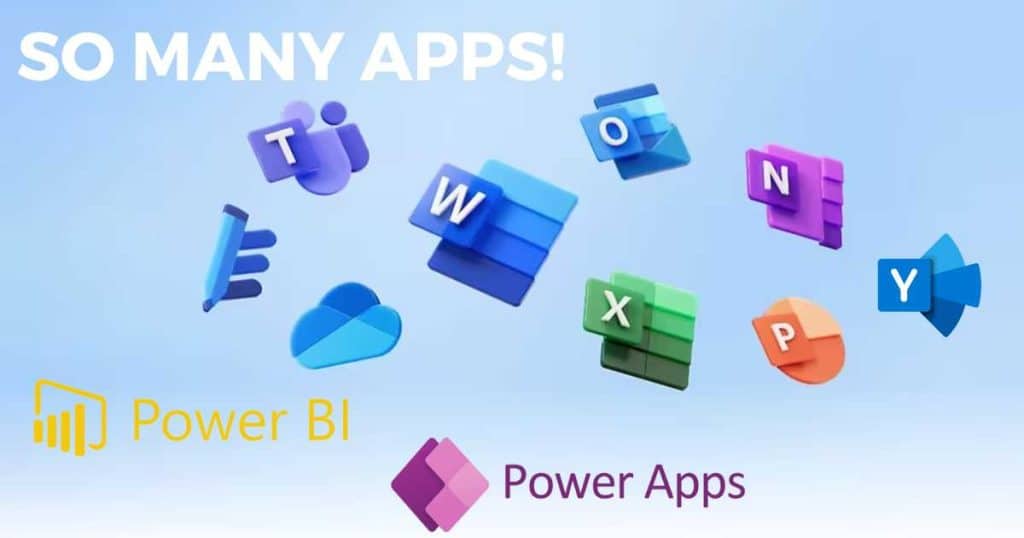 Microsoft Office Productivity Apps:
These include Microsoft Teams, Word, Excel, PowerPoint, Outlook, and OneDrive.
Storage and security:
You'll receive 1 TB of OneDrive cloud storage, even on the most basic plan.
Plus, you can be sure your information is completely secure, with advanced security features such as threat and information protection and identity and access management.
Collaboration tools:
Includes Teams, Sharepoint, and Yammer. These tools let you collaborate, share files and communicate effectively with your team (in real time!)
Analytic Apps:
Power BI and Power Apps allow you to analyze data and build custom business applications.
Cloud and desktop applications:
The fact that you can install all apps on your PC, Mac, tablet, or mobile phone means there's always a way for you to be productive, no matter how you work!
What I like:
Integrates with thousands of different software.
Regular updates.
You can work from anywhere.
Secure platform.
What I dislike:
Online Apps have limited functionality compared to the desktop version.
You have to install all applications, which some users may find frustrating if they only need one app in particular.
If you're not familiar with Microsoft products, it might take some time to learn how to use each application.
Microsoft 365 reviews: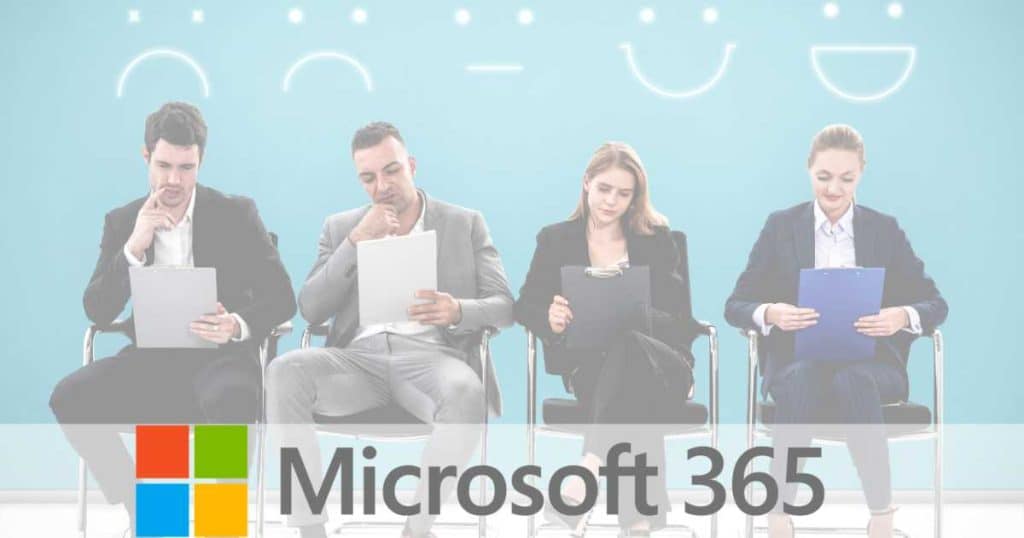 There are thousands of Microsoft 365 reviews on the popular review site G2. And overall, the ratings are pretty good!
Customers, on average, rate Microsoft 365 4.6 out of 5 stars.
Overall, Microsoft 365 is well-regarded for its powerful features and flexibility.
So, what if I compare Microsoft 365 to Google Workspace directly?
Microsoft 365 offers more powerful and feature-rich tools.
However, Google Workspace is more user-friendly and prioritizes collaboration and document-sharing features.
Stew's Final Thoughts
And that brings you to the end of this Google Workspace review!
As you can see, there are other Google Workspace alternatives out there. Each of these platforms bring something unique to the table, and are all impressive in their own right.
If you're after an affordable email service platform without all the bells and whistles, I suggest going with Titan.
However, if you're looking for a total business suite package, Zoho might be your best option!
If you're a larger team and want to access your apps from any device anytime, Microsoft 365 is a great choice.
Alternatively, stick with Google Workspace! While all these options are awesome, Google Workspace is an incredible platform I love and use all the time.
No matter what you choose, make sure to let us know how you get on.
Thanks for reading!