What Is The HubSpot CRM?
HubSpot's free CRM (Customer Relationship Management) is an all-in-one platform that allows you to engage in different marketing and sales activities.
It's one of the best CRM software (in our opinion).
This CRM allows you to manage deals, tasks, meetings, and contacts, engage in email marketing, and more.
Also, it's free to use!
Besides the desktop version, there is also a HubSpot CRM mobile app.
That means you can leverage all these amazing features directly from your phone.
This is one of the best mobile CRM apps that gives you a smooth user experience and access to many of the features that you will find inside the desktop version.
How to Use HubSpot CRM Mobile App?
HubSpot's CRM app enables you to engage with your contacts, leads and customers from anywhere using the free HubSpot App. In this tutorial, you'll learn how to use the HubSpot CRM mobile app.
1.      Download the HubSpot CRM Mobile App
Get started with Hubspot CRM for FREE here
 *The link above is an affiliate link, which means we will get a commission if you upgrade to a paid plan (with no extra cost to you). This helps support our education-based website and we thank you in advance!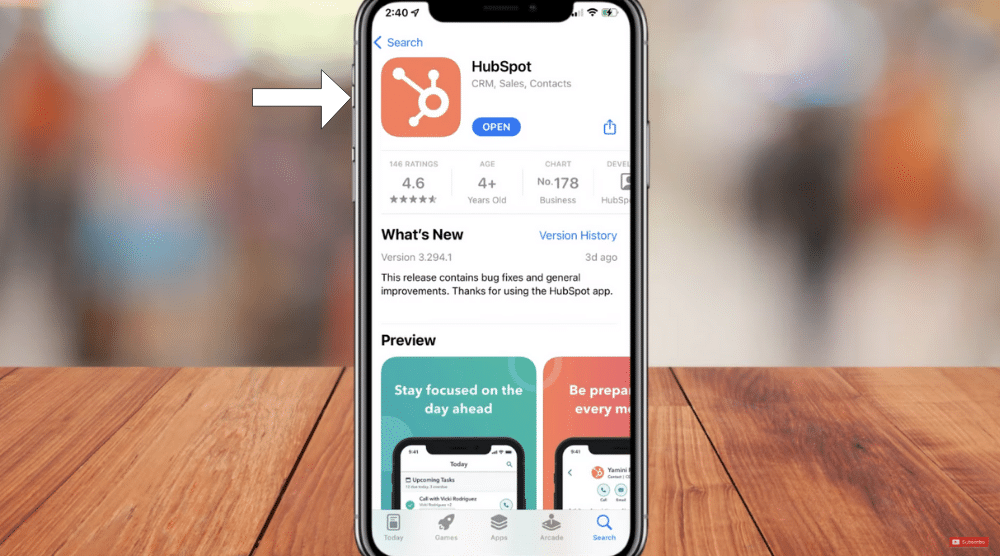 Visit Play Store/Apple Store
Locate the HubSpot CRM mobile app on your device
Proceed with HubSpot app login.
However, if you're a complete beginner, then we recommend watching this updated tutorial on how to use HubSpot CRM.
This video will help you in getting started with HubSpot CRM – the web version on your computer.
Once you get your head around the web version, you can proceed to use the mobile app.
Read more:  How To Use HubSpot CRM
2.      Visit the Today Section (Recent Updates)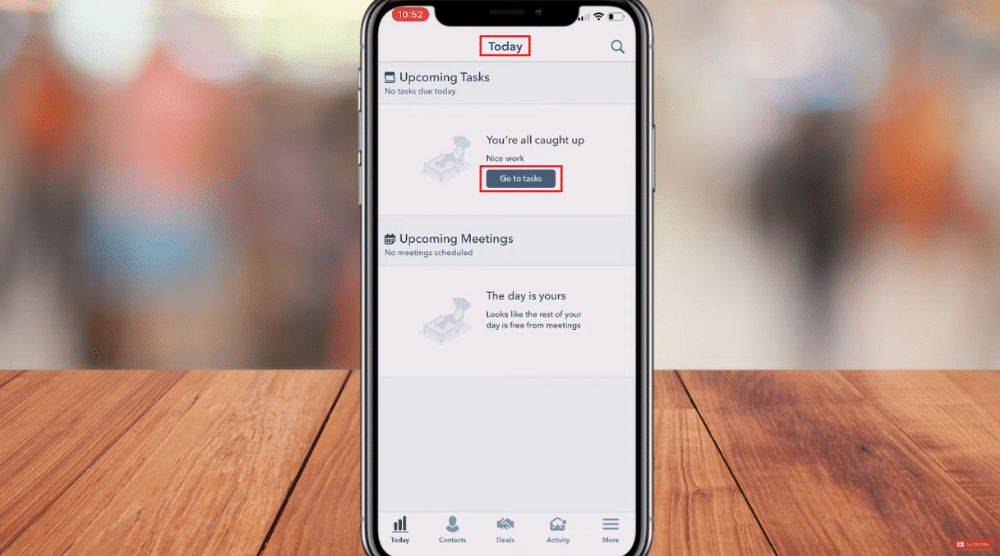 After you log in to the HubSpot CRM app, you'll be taken to the 'Today' section.
This will show you the upcoming tasks as well as meetings.
By clicking 'Go to Tasks', you can directly visit the tasks from this section.
This is a valuable HubSpot mobile app feature as you can see all the recent updates here.
3.      Manage Contacts & Companies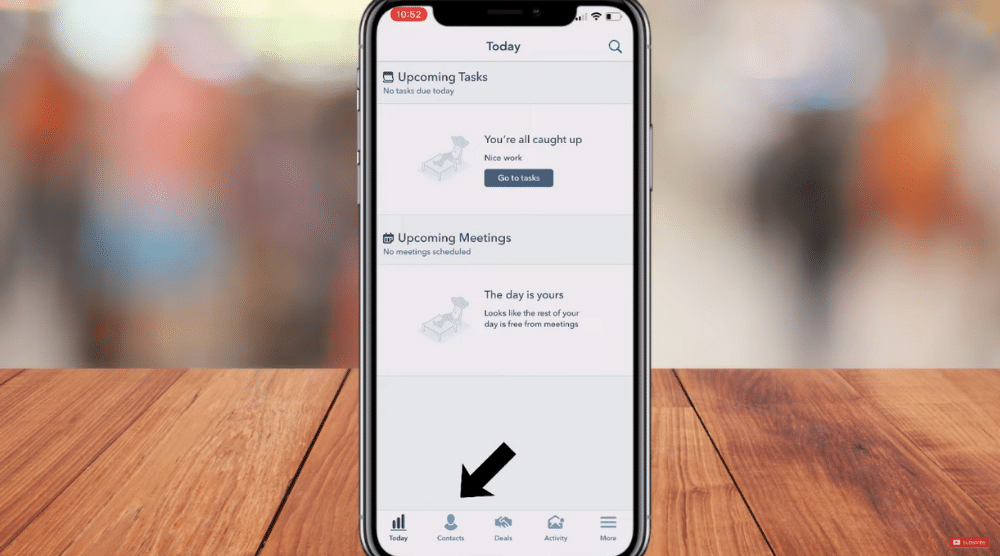 Navigate over to 'Contacts' (see bottom-left corner)
Click on it. This is where you can add new contacts (by clicking the '+' sign), sort, and manage contacts within the HubSpot CRM app.
Next to the 'Contacts' tab, we have 'Companies'. Click here and this will take you to where you can manage all your companies within the HubSpot CRM app.
Head back to the Contacts tab and click on a contact
Notice that you can add notes, create tasks, and log activities for each contact. Moreover, you can see the historic data, such as the date when this contact was created, the form submitted, and the lifecycle change.
Next to the 'Activity' tab, we have 'Associations'. This is where you'll find additional details regarding your contact, such as their company, deals, and tickets. You can also add these details if you haven't done so already.
Adjacent to the 'Associations' tab, we have 'About'. Here you can see the email, contact owner, phone number, last contact, lifecycle change, and lead status for this particular contact you've selected.
4.      How to use the Business Card Scanner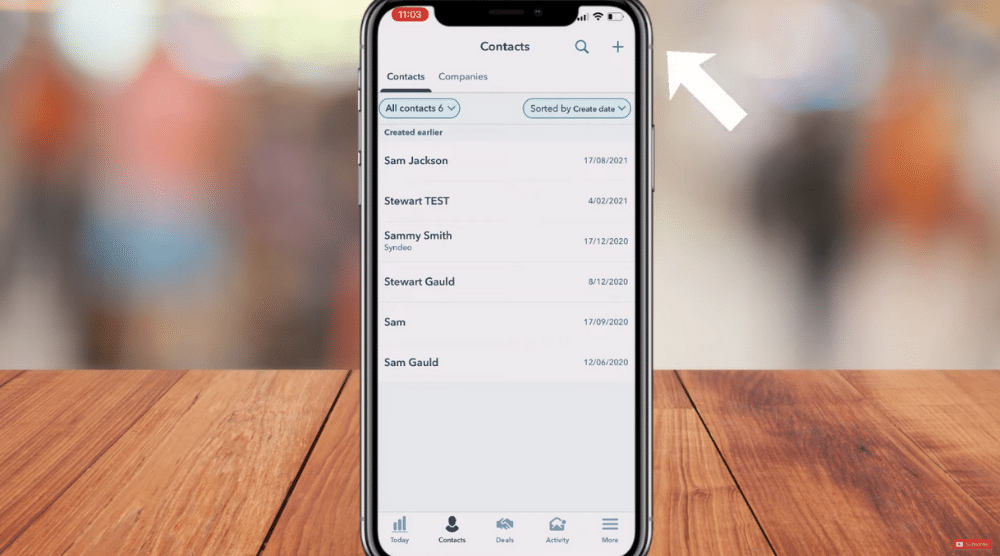 On your 'Contact' dashboard, click on the '+' sign (see top-right corner) to create new contact.
Alternatively, you may select 'Import from phone' to import your contacts to the best app for CRM.
A third option here is to choose 'Scan Business Card' instead. Using HubSpot on the mobile app, you can easily capture the contact details by scanning the business card. It will capture details like full name, job title, email, mobile number, and website.
Select the details that are correct and hit 'Next'
If there are any missing details, feel free to add those in the next steps.
Remember to hit 'Save' when all the information has been added and verified for this contact.
Similarly, you can add and manage new companies.
5.      Create & Manage Deals (Sales Pipeline)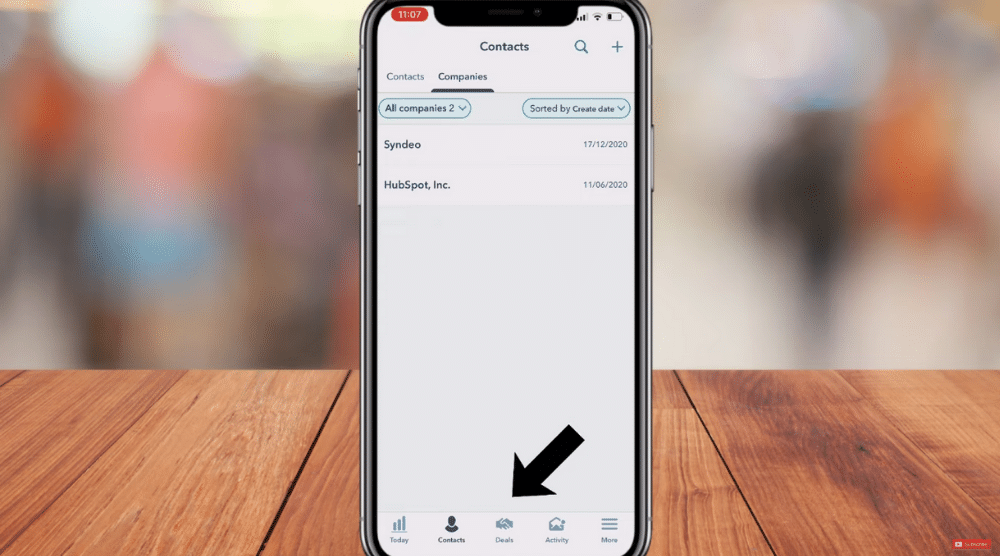 The HubSpot CRM app tutorial will now cover how to manage deals.
Click on 'Deals' next to 'Contact' (check the bottom menu). Under the free plan, you only have access to one sales pipeline.
Scroll through the sales pipeline to see where each of your prospects is in their customer journey.
Click on each of the deals within your sales pipeline. That will show you all the activities for this specific deal. Again, you can take actions like creating a note, adding a task, etc. The interface is similar to when you manage contacts and companies within the HubSpot CRM app.
For each deal, you can check out the associations and the 'About' information – just like contacts.
Notice the current stage of this deal at the top, which in this case is 'Define prospects needs'. Click on the downward arrow next to it and change the stage when needed. For this HubSpot CRM app tutorial, we'll change it to 'Offer sent'. 
Head back to the Deals interface and click on the '+' icon to add a new deal.
Fill out the deal information such as deal name, pipeline, deal stage, amount, close date, deal owner, and deal type. Hit 'Save'.
Read more: How To Create A Landing Page with Hubspot 
6.      View the Activity Feed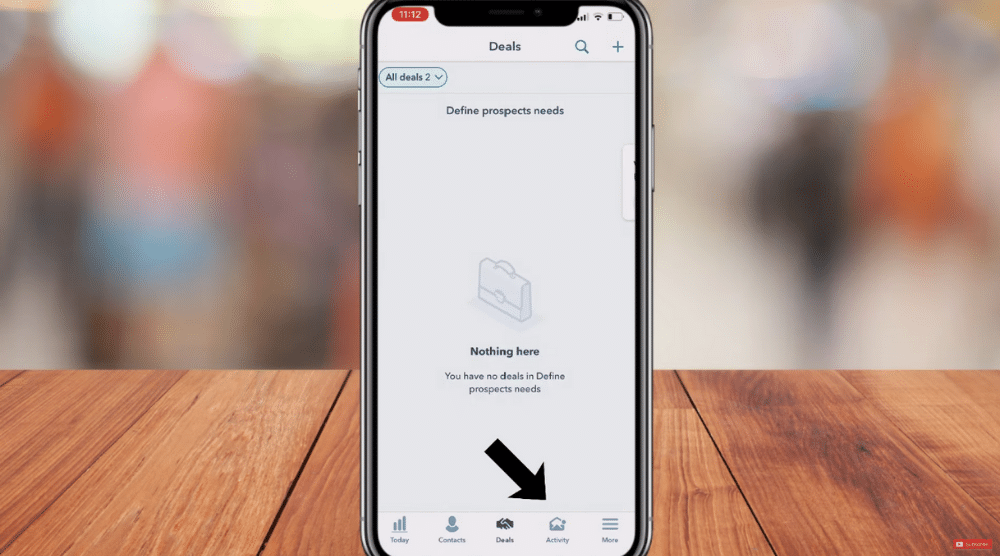 Down on the far-right-hand side of your HubSpot CRM app is the 'Activity' section. All the activity happening within your CRM is recorded here.
Observe the different tabs within your activity feed. Those include email opens, email clicks, sent emails, lead visits, prospect visits, document views, meetings, and forms.
Read more: How To Create a Sales Hubspot Pipeline
7.      Send Tracked Emails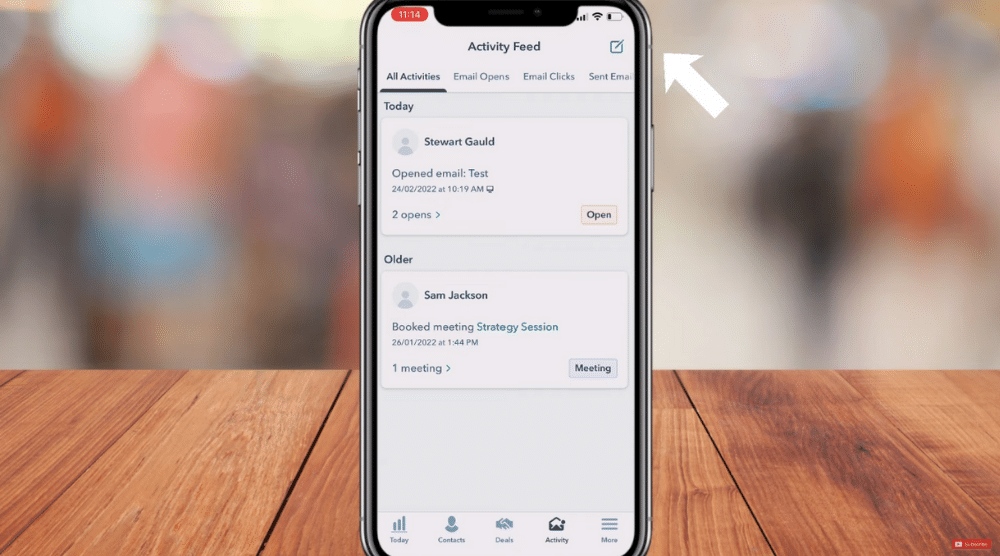 You can send emails from the activity feed using the HubSpot CRM App.
Here's how:
Navigate all the way back to 'All activities'
Click on the icon (see top-right corner)
Draft an email or choose a template if you like
Insert a meeting link if you wish to send a meeting invite via email.
The meeting link or the booking form is basically a scheduling form that you can create using the web version of the HubSpot CRM.
The free plan allows you to create one scheduling form, which can then be sent as a link to your contacts.
They can use the link to book the meeting/appointments with you.
This reduces the back-and-forth, messy emails and time friction trying to agree on all the details for the meeting.
If you wish to know how that works, we suggest watching this tutorial.
After sending the email, you can view the email opens and email clicks in the activity feed.
Read more: How To Use HubSpot Meeting Scheduler
8.      Discover More Settings & Tools
Navigate over to 'More' (see bottom-right corner)
Click on it to find more settings and tools
Under 'Account' is where you can manage your account settings
Under 'Tools', you can access the business card scanner, recorded calls, conversations, tasks, and academy.
Below 'Tools', you'll find the preferences section. That includes dark mode, notification preferences, caller ID, keyboard preferences, and more.
Towards the bottom is where you can access help & support.
Read more: HubSpot Tutorial for Beginners
HubSpot CRM Mobile App Tutorial (Full Video Guide)
That is everything we wanted to cover in this HubSpot CRM app tutorial.
The user-friendly app makes it quite easy to create as well as manage all your contacts, companies, deals, meetings, and tasks – all from one mobile app.
Note that the free plan only gives you access to one sales pipeline (which might be sufficient for small businesses or new entrepreneurs).
However, to create and manage multiple sales pipelines within the HubSpot CRM mobile app, you'd need a paid plan (HubSpot Professional and HubSpot Enterprise).
Accessibility, ease of use and convenience are the biggest benefits of any mobile app and it's true for the HubSpot CRM app.
Since the web version can only be accessed through a desktop or laptop, the app version allows you to manage your CRM activities on the go!
Watch our complete video below that will help you get started with the free HubSpot mobile App.
I hope you got value from this article!