Productivity for business is all about setting up systems and leveraging technology for the different areas in which a business operates with the end goal to become more efficient.
Here's what business owners need to contemplate:
How to automate day-to-day processes?
How to streamline sales processes?
How to better manage team productivity?
Which apps can help enhance productivity and thus grow our business?
You'll find the answers to the above questions in this article.
We have compiled our top 5 productivity apps for small businesses to help you identify the best productivity apps for your business requirements.
Before revealing diving into our list, it's important to understand why productivity apps are necessary.
Why Use Productivity Apps?
The more efficient and effective your processes are, the more time and energy your team has to focus on significant activities.
Productivity apps are used to enhance the different areas of your business (sales, marketing, communication, training, operations and more).
As a result, profits rise in correlation to productivity.
Using productivity apps is even more crucial in 2022 since many teams are working remotely.
With no supervision or guidance, it's important to maintain office-like productivity at home.
Productivity tools can vary in complexity, from simple calendar-booking tools to comprehensive, full-feature CRM systems.
Here's why you need to integrate productivity tools into your business:
Improved communication: No business can thrive without effective collaboration. And for effective collaboration between team members, you need good communication. With remote teams spread across different locations or hybrid teams, maintaining that collaboration becomes a chore. But thanks to productivity tools like Slack, all internal communication can be streamlined, helping you eliminate back-and-forth emails.
Reporting: To measure team and individual productivity levels, you need data. Extracting and manually analyzing the vast amount of data is time-consuming. However, with productivity tools, you get automated reports.
Automated workflow: Productivity tools like Asana and Scribe help you automate workflows. Scribe, for instance, helps you automate the process of creating how-to guides. As a result, businesses save a large chunk of their time by leveraging tools like Scribe for training activities.
Top 5 Free Productivity Apps for Business in 2022
Here's our list of the best productivity apps for small businesses:
1.       Scribe (Create How-to Guides)
Get started with Scribe for FREE here
 *The link above is an affiliate link, which means we will get a commission if you upgrade to a paid plan (with no extra cost to you). This helps support our education-based website and we thank you in advance!
The first free productivity app that we want to discuss is Scribe.
This app allows you to create how-to guides within seconds, also known as Scribes.
These how-to guides could cover topics or situations where you need to train or teach a team member/client about how to complete a particular process.
Instead of calling, emailing, creating a video, or manually creating a how-to guide, you can save a tremendous amount of time by using Scribe.
What's more, they offer a comprehensive free plan for generating unlimited how-to guides.
To use Scribe: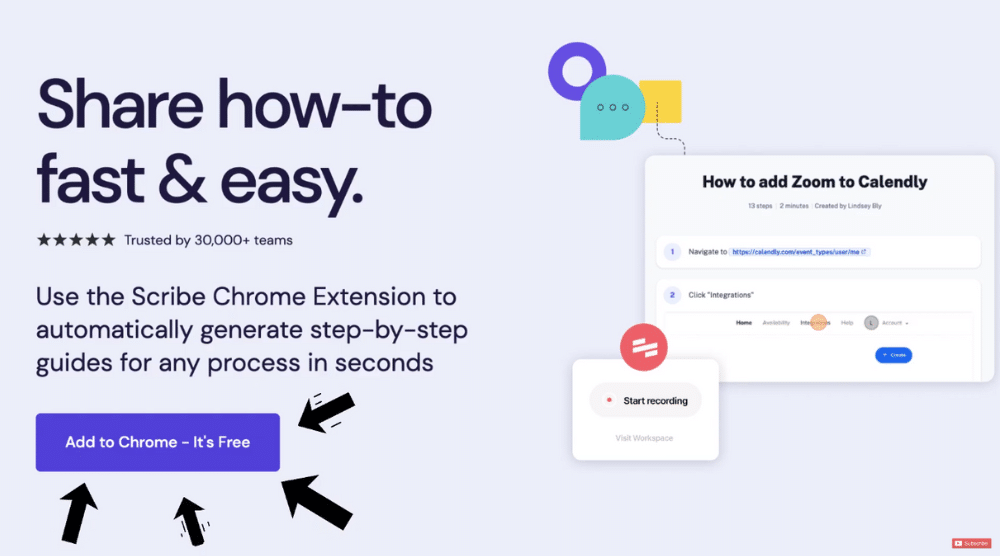 Install the browser extension.
Record the process that you want to generate the how-to guide for.
Click on 'Complete Recording' (the green tick) once you've created your Scribe.
As you navigate through the web application and record it, Scribe will capture the process and generate the how-to guide within seconds.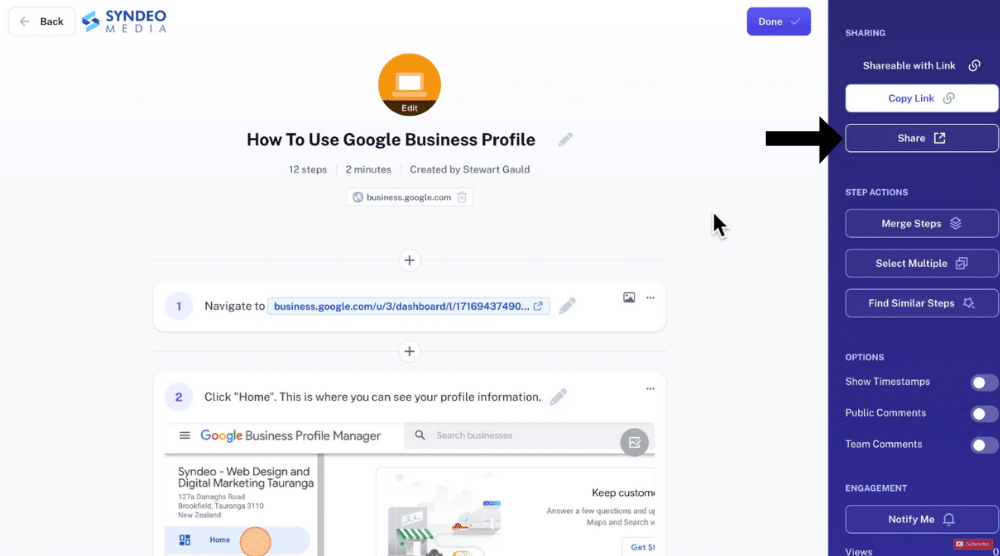 By clicking 'Share' on the right-hand side, you can start sharing the newly created guide. [Refer to the screengrab].
You can either share the link or email the how-to guide to employees or clients.
A third option is to download the guide and send it as a PDF file. To do that, click Share > Export > Export as PDF. 
The fourth way to share the how-to guide is using 'Smart Embed'. This feature allows you to seamlessly embed Scribe across other apps and tools. For instance, you can embed Scribes on your website, CRM, or project management software.
There is no doubt that Scribe is one of the top apps for productivity.
It helps you automate the complex process of creating and sharing visually pleasing, customizable how-to guides that all businesses can benefit from.
But the free plan does have certain limitations.
With the Pro plan, however, you can:
Install Scribe on your computer.
Capture how-to guides on both desktop apps and web apps (unlike the free plan in which you can only capture how-to guides on web apps using the browser extension).
Edit, crop, highlight, add annotations and remove any private information from the created guides.
Enable comments and time stamps.
Monitor the basic analytics regarding the engagement received by your how-to guides.
Hence, Scribe is one of the best productivity apps for business that helps you create systems through how-to guides for your team or customers.
You will save a great deal of time by streamlining training manuals, teaching processes, educating customers, and more.
2.       Asana (Streamline Workflows)
Second, on our list of the leading business productivity apps is Asana.
Every business has projects and tasks that they need to complete on any given day.
This is also called a workflow.
Asana is a project management solution that allows businesses to streamline day-to-day operations.
Asana offers a visually engaging app (available for desktop, mobile, and web) that allows teams to easily manage tasks and projects.
The free plan offered by this business productivity software can be used by up to 15 users – sufficient for small teams.
Thanks to Asana, you can get rid of messy paperwork or spreadsheets.
To start with Asana, you just need to create an account, add your teams, and start creating projects.
Within each project, you can create multiple tasks that can be assigned to different team members. Tasks are simply activities that you need to complete in order to complete your projects.
You can also allocate teams to specific projects.
Using Asana, you can set repetitive tasks to save time 
The widely used project management software provides different types of views, namely, list, board, timeline, calendar, and workflow.
However, Asana's free version also comes with limitations.
You need the premium version for accessing:
Reporting to analyze team performance.
Automated workflows to avoid manually engaging in activities upon task completion. For instance, you can set up automated workflows to notify a team member when a task is completed. Similarly, you can automate email notifications as well.
Therefore, Asana is a great project management tool that you can integrate into your daily activities.
Your teams can stay productive and up-to-date with your organizational goals using Asana.
To learn more about this excellent tool, watch this dedicated Asana tutorial.
3.       HubSpot (Optimize Processes)
Third, on our list of the best productivity software is HubSpot.
Today, we will introduce you to the mobile app version of HubSpot owing to its extensive productivity features that are great for small businesses.
You are likely using different tools for managing your sales pipeline, tasks, contacts, email marketing, and more.
Well, with HubSpot, you can get rid of multiple tools.
All these activities, including maximizing productivity, can be easily performed in the free HubSpot CRM.
For instance, the HubSpot mobile app has a built-in card reader which can automatically capture the information on a business card rather than having you manually add the contacts details.
This is a great feature when you're networking.
Using HubSpot CRM, you can:
Manage your sales pipeline from anywhere.
Add new deals or customize existing deals
As you may have already experienced, arranging meetings with clients is extremely time-consuming.
You typically need to engage in taxing email conversations to decide the time, location, and channel for the meeting.
With HubSpot, however, you can simply create meetings/booking forms inside the web version.
Using the app, you can send an email with the meeting link.
Your contacts can then book the meeting quickly through this link.
Moreover, the many integrated features inside the HubSpot app will help streamline your sales team's productivity.
If you want to understand the HubSpot mobile app in more detail, we recommend watching this tutorial.
4.       Google Drive (Simply Cloud Storage)
Fourth on our productivity software list is Google Drive.
Every business requires a secure online and offline location to store confidential and regular information.
Teams should be able to easily access this information when needed.
And this is where Google Drive comes in.
Once you've installed Google Drive, make sure that 'Stream files' is selected .
This ensures that you can access all your files from your computer.
However, your files are stored on Google Drive and they don't take up space on your computer.
A free Google account gives you access to up to 15GB of storage.
On the other hand, a paid Google Workspace account gives 30 GB of storage for each user.
If you want branded business emails for your team, then Google Workspace is the better option for you.
Apart from that, you have the option to upgrade the storage quota.
To access and upload files on the go, download the Google Drive app for mobile.
You can also sync the desktop app with the mobile app to access files across devices.
To sum up, Google Drive is a cloud-based storage app that seamlessly integrates with popular tools, devices, and apps.
To learn how to use Google Drive, watch this in-depth tutorial where we cover Google Drive (web version) in detail.
5.       Slack (Better Business Communication)
The last business productivity tool on our list is called Slack.
Essentially, Slack is designed to streamline internal business communication.
With Slack, you no longer need to use emails to communicate with your teams and try to ensure everyone is on the same page.
Instead, you can create channels for specific topics, departments, and projects on Slack.
The free plan is perfect for small teams as it allows unlimited users and offers one-on-one video calls.
On the other hand, the Pro plan is suitable for larger teams as it facilitates unlimited app integrations, group video calls, audio, and video clips to enhance communication.
Using the Slack app, you can also:
Access private conversations with team members
Attach and share important documents
What's more, Slack also conveniently integrates with the other productivity tools on this list.
We have a separate tutorial on Slack, detailing how to streamline your business communication with Slack.
Time to take your Business Productivity to the next level  (Video Tutorial)
That concludes our list of top five apps for business productivity!
These apps work harmoniously together to enhance business systems, automate tasks, reduce time frictions, optimize sales activities, streamline communication, and more.
Check out our full video down below that dives into our favourite productivity apps for small businesses.
Thanks for reading to the end, I hope you enjoy the video!