If you're looking to build your own eCommerce website to start selling products or services online, you've arrived at the right place.
This blog post will help you choose the best eCommerce website builder to establish your online presence.
You will find our top website builders for online stores in this post. In particular, we will discuss Shopify, Wix, and Squarespace – the best eCommerce website builders in 2022.
Top 3 Website Builders for Online Stores
We have identified our top 3 premium website builders for online stores. Shopify, Squarespace and Wix.
Each has its unique features and point of difference. Let's begin with the first website builder on our list:
1.   Shopify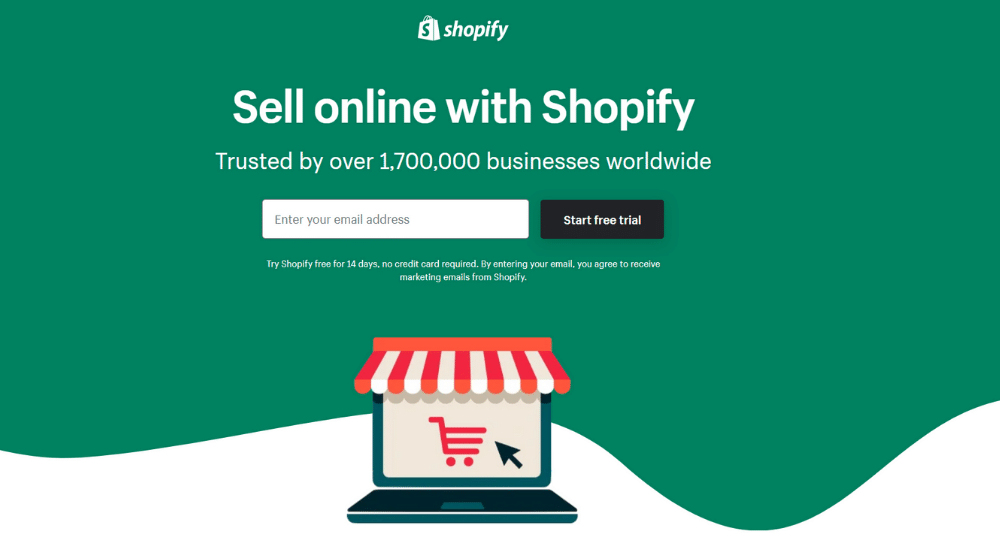 Shopify is a powerful and easy-to-use eCommerce website builder with hundreds of software integrations like eBay, Amazon, Facebook Messenger, and more.
To get started, you can opt for the Basic Shopify plan which would cost you $29 a month.
Shopify is a top online store builder that allows you to simply list your products and sell online.
For beginners Shopify allows you to easily set up its numerous integrations to increase the functionality of your online store. Moreover, you get access to dozens of professional themes to customize within Shopify.
You have access to free themes or you can pay for premium themes.
In the backend of your Shopify store, adding new products is a breeze.
You do have certain limitations with this online store builder such as page structure customizations.
Once you pick a theme, you are limited to section or element placement.
To make more customizations, you would need the help of a developer. Moreover, your monthly cost can increase dramatically as you add additional features to your website – sometimes amounting to hundreds of dollars per month.
Another downside is that all Shopify websites look similar. Even so, Shopify is still one of the best online store builders for small businesses as it offers a reliable and simple user experience for beginners.
Those with no website building experience can leverage Shopify to quickly make conversion-focused eCommerce websites that can scale for future growth.
Some eCommerce businesses have started with Shopify, then moved onto more custom or functional sites later on, once they have proven their business model and have some more finances behind them.
2.   Squarespace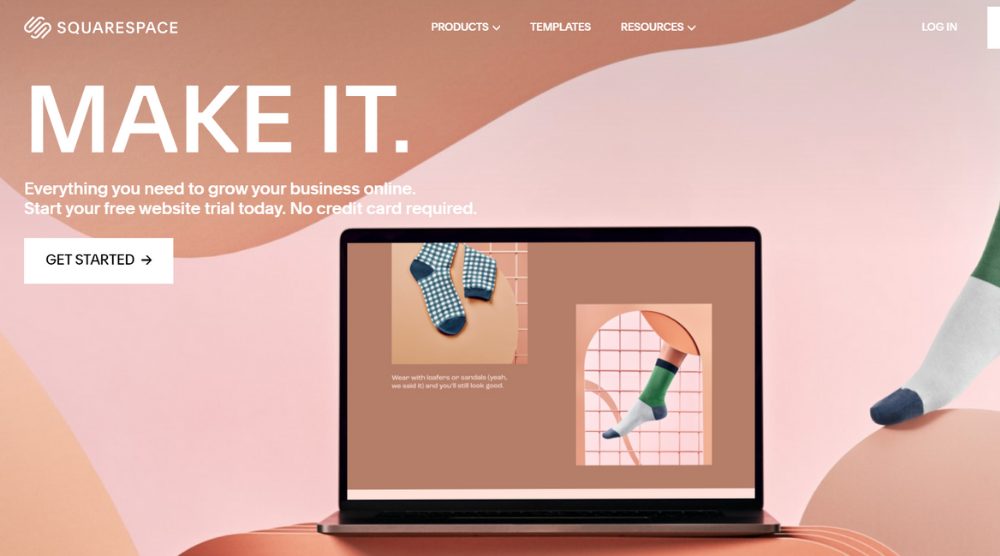 Next on our list of the best website builders for online stores is Squarespace.
This is a high-end website builder starting at around $26 a month for a basic eCommerce plan.
The sleek, professional, and elegant templates offered by Squarespace eCommerce website builder allows you to simply add your content without worrying about making changes to the overall design and structure of your online store. Squarespace offers a simple structured building experience, making it difficult to make mistakes along the way.
You can add features or elements (videos, maps, booking forms, etc.) to your modern-looking website in just a few clicks. Similar to Shopify, the downside with Squarespace is the limited customization options with each page as each section is structured in blocks.
Compared to Wix and Shopify, Squarespace has limited app integrations which is another drawback.
However, if you do not require all the tools and integrations provided by eCommerce website builders like Shopify and Wix, then Squarespace is a fantastic option for building a sleek, modern, impactful, and affordable eCommerce website.
3.   Wix
The final online store builder that we want to cover in this list is Wix.
Small businesses, in particular, love using Wix for selling their products online.
Wix offers hundreds of professional themes and layouts (over 500+ premade templates) that allow you to customise the way that you like.
Moreover, the simple drag & drop builder helps beginners customize their website with complete ease. You can use the ADI builder or more advanced Editor to build your website pages.
Not to mention, Wix offers an ADI (Artificial design intelligence) feature that allows you to create a website within minutes. All you need to do is answer a few questions and it will generate a website for you!
You can then customize your website the way that you like.
Compared to Squarespace and Shopify, Wix is slightly more affordable starting at $17 a month.
For a few extra dollars, you can upgrade to a $25-a-month plan which would give you access to all the features that you need for your online store.
It's time to discuss the cons of this eCommerce website builder.
Wix has a confusing frontend and backend. Beginners will find it a struggle to navigate through and understand all the features when building their Wix site.
You may also accidentally put an element in the wrong place because of its less-than-perfect drag & drop builder. Someone with no design experience may find this incredibly frustrating.
That said, SMEs may find Wix truly helpful since it's an all-in-one website builder with powerful online store capabilities.
Also, read: TOP 10 BEST FREE Website Builders for Small Business 
Which is Best: Shopify, Squarespace, or Wix? (Video Tutorial)
The top three online store builders are ideal for beginners. And they provide a 14-day free trial to help you get started.
We recommend trying each of these website builders with the free trial and then decide which one works the best for you and your online store.
Check out our full video guide down below.
Disclosure: Some of these links on this page are affiliate links, meaning we will get a commission if you buy through them, this helps support our education-based platform and we thank you in advance.