Clickfunnels vs Shopify 2023: eCommerce Website or Sales Funnel Builder?
ClickFunnels vs Shopify, what is the best option for your online business in 2023?
This is the question that I want to help you answer in this article.
As you may be well aware there is an abundance of digital platforms that you can use to sell your products or services online.
Two popular platforms stand out, these are ClickFunnels and Shopify. Most likely if you're searching for the best platform to sell online, you'll come across both of these platforms.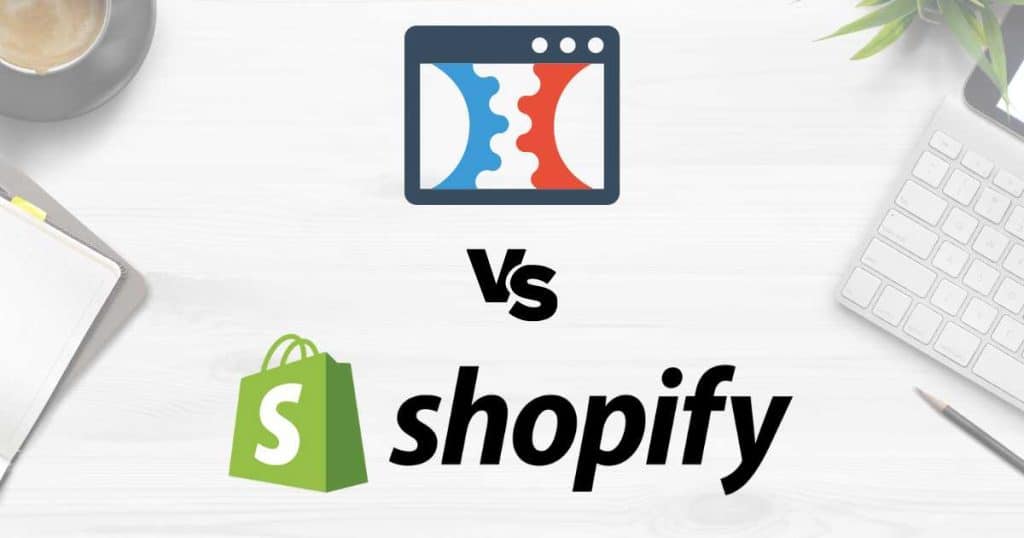 They both provide the resources needed for selling your products and services online, however, both offer unique tools and features that are designed for different business requirements and purposes.
The main difference between ClickFunnels and Shopify is that one is a marketing and sales funnel builder and the other is an all-in-one eCommerce website platform.
I've personally had experience with both these platforms to sell both physical and digital products as well as consulting services.
Read our beginner's guide on Shopify vs Etsy
So, we need to discuss what tools and resources your business needs and identify the best solution for your online selling needs.
Let's get into it!
ClickFunnels vs Shopify
First, we need to discuss and understand what are ClickFunnels and Shopify.
ClickFunnels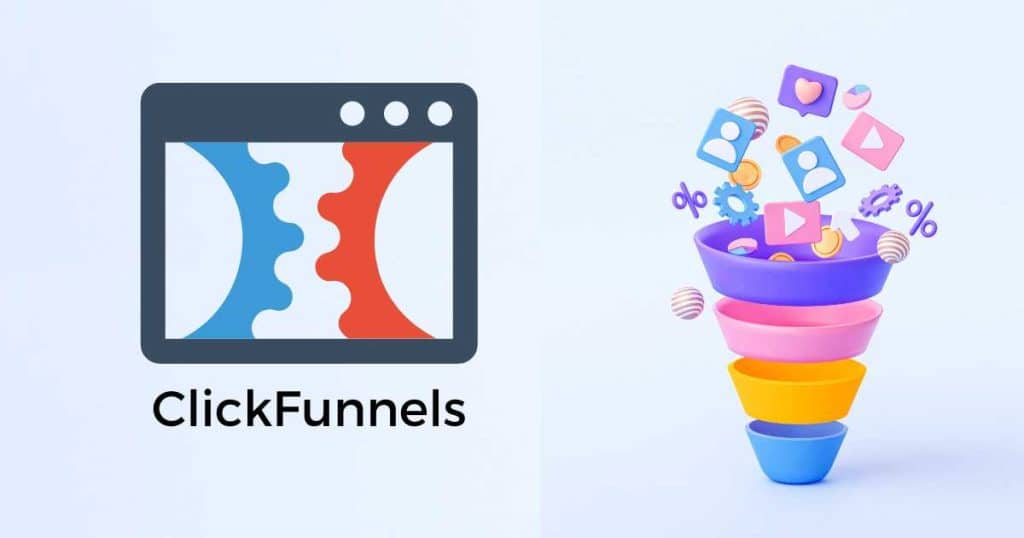 ClickFunnels is widely recognized as a comprehensive sales funnel solution for all your digital marketing needs.
Essentially, it's a marketing toolkit that supplies everything you need to create a high-converting, multi-step sales funnel.
Make sure you read my full ClickFunnels review if you want to learn everything there is to know about this popular platform.
Refer to the image below for an example of a multi-step sales funnel.
Using ClickFunnels or any sales funnel builder, you can personalize each phase (page) of your sales funnel, which serves a specific purpose.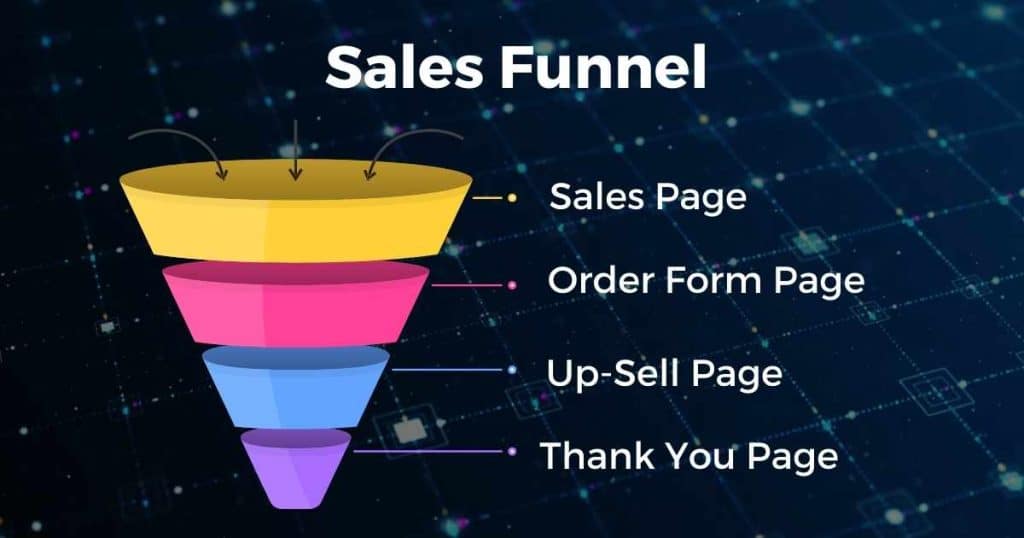 For instance:
Squeeze page – A landing page tailored to collect email addresses.
Sales page – An informative page highlighting your offer.
Order page – The assigned page to collect payment details.
Upsell page – An opportunity to advertise additional products/services with just one click.
Thank you page – The gratitude page displayed after a visitor completes a conversion.
Email automations – Consistently providing value to your audience, building your brand and business.
Read more to know What is a sales funnel and sales funnel builder.
The primary reason for choosing ClickFunnels over other marketing platforms lies in their focus on conversion-centric sales websites.
Once you build a sales funnel with ClickFunnels, you gain access to various tools aimed at boosting sales and building you customer base.
Key features of ClickFunnels:
Email marketing tools.
Marketing automation.
Membership sections.
User-friendly page builder.
Pre-made funnel stage templates.
Introduced in 2014, it was the pioneer sales funnel builder of its kind until recent years.
Before platforms like ClickFunnels, entrepreneurs relied on eCommerce websites to market their products or services online.
While websites remain an excellent method for selling products or services online, a sales funnel builder is more suitable if you have a limited number of complementary and hight-ticket offers.
Essentially, you would build one sales funnel for one particular offer. This could be anything from a physical or digital product to a service.
In terms of prices, they do not offer a free plan and prices are relatively high compared to other sales funnel builders on the market like Convertflow, GetResponse and System.io.
This makes ClickFunnels not an ideal product for small businesses or startups that are on a tight budget. There are better options which we will talk more about later on.
ClickFunnel prices (May 2023):
Basic for $127 per month.
Pro for $157 per month.
Funnel Hacker for $208 per month.
However, they do offer a 14-day free trial for new users to test out ClickFunnels.
ClickFunnels templates tend to be excessively focused on sales, appearing inexpensive and overly 'salesy'. This look and style approach is not particularly suitable for small businesses.
Their own sales tactics are similarly criticized. Have you encountered them? Fundamentally, they emphasize potential earnings and inspiring success stories.
They hardly ever discuss the actual product's value. Instead, they market the 'possibility' of becoming wealthy. As you can tell, I'm not their most avid supporter!
ClickFunnels has a drag-and-drop editor for building each of your pages, but it's rather clunky and that makes it difficult to design your sales funnel stages.
Although the builder is quite feature-rich, it can be quite daunting for beginners.
I'll elaborate on the differences between traditional websites and multi-step sales funnel builders later in this article.
If you're curious about using the ClickFunnels tutorial for beginners, watch my walkthrough video below.
Shopify
Shopify is a widely favored choice among numerous business owners worldwide, but what distinguishes it from other prominent eCommerce platforms like Squarespace, Ecwid, Wix, or WooCommerce?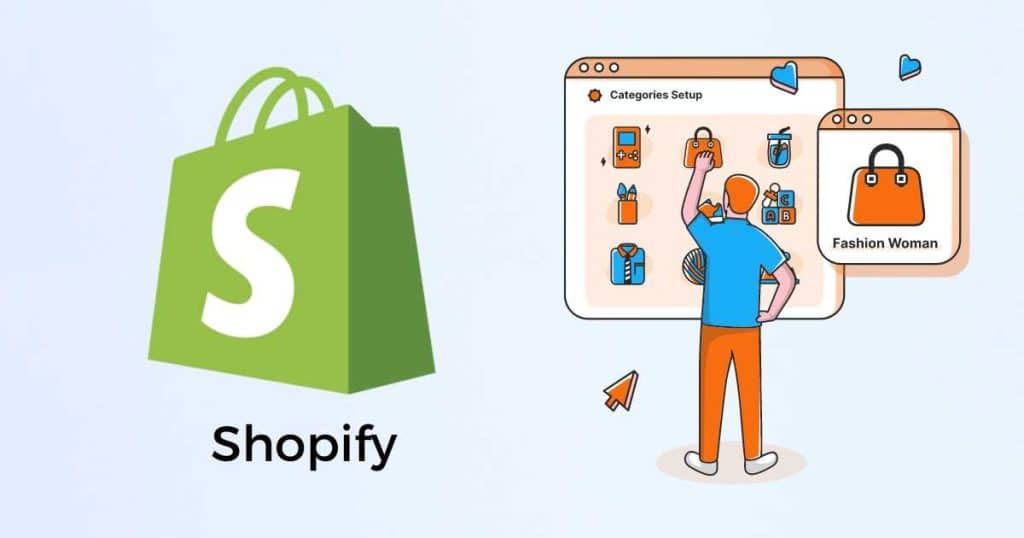 Read more about our top website builders for small businesses here.
First, I believe that Shopify has the most user-friendly dashboard among our preferred website builders.
It allows you to seamlessly set up, add products and manage your online store, apps, customers, emails, and analytics in one dynamic platform.
Shopify's visual page builder tool makes creating your website a breeze, even for complete novices!
Simply choose a website theme and add the sections and content to your website pages.
Furthermore, Shopify's integration capabilities are truly remarkable.
They offer 1000s of integrations with other apps as well as online channels such as Facebook, Instagram, and Amazon (to name a few), enabling you to reach and sell to a larger audience across different channels.
Additionally, Shopify offers a mobile app that allows you to manage your store and interact with customers on the go.
Now, let's discuss the aspects of Shopify that we don't particularly enjoy. Every platform has its shortcomings, and Shopify is no exception.
How much does it cost to sell on Shopify?
Shopify prices (May 2023):
Basic for $25 per month.
Shopify for $65 per month.
Advanced for $299 per month.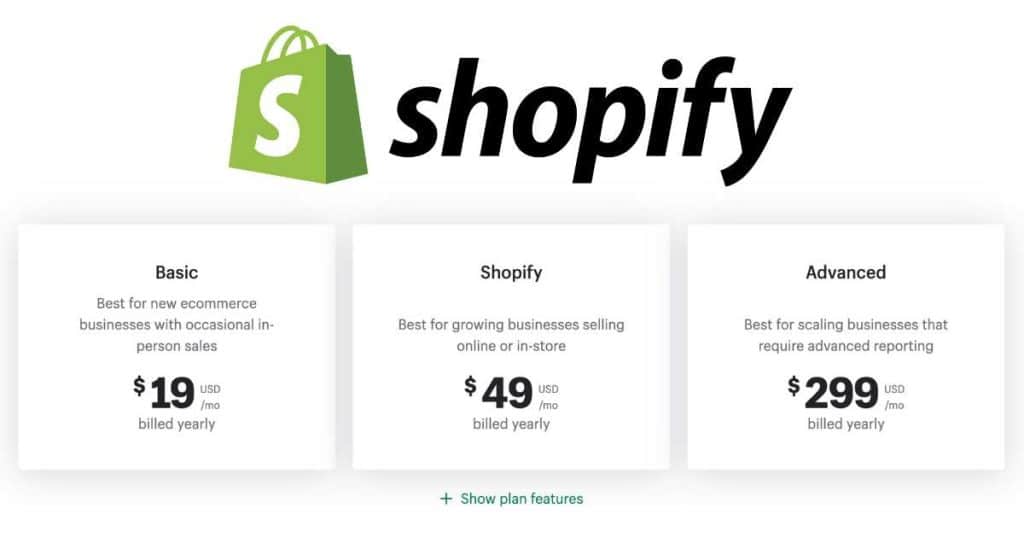 However, they do offer a 14-day free trial for new Shopify users and you can extend your free trial for one more month for just $1.
Essentially, Shopify does not provide a free plan, which can be a deal-breaker for small business owners with limited budgets.
Furthermore, integrating apps often involves additional monthly costs, which can quickly accumulate and raise your overall monthly expenses.
Another factor to consider is that while Shopify offers over 70 templates (some of which are free), their themes are not as customizable as other platforms.
This means your design capabilities are restricted to the theme structure (unless you're willing to tinker with the theme code!).
In short, your store may end up resembling another Shopify-based store unless you have coding expertise.
For example, if I open up an online store, I can usually tell straight away if that store was built with Shopify.
Although Shopify's transaction fees and additional costs may discourage some users, the overall Shopify experience remains unparalleled in the eCommerce space, equipping you with everything you need for your online business to flourish!
If you're intrigued, check out the tutorial on how to create an online store with Shopify.
Sales Funnel vs Website
Let's breakdown the difference between a Sales funnel and a website. This is important to understand before choosing either ClickFunnels or Shopify to sell your offering online.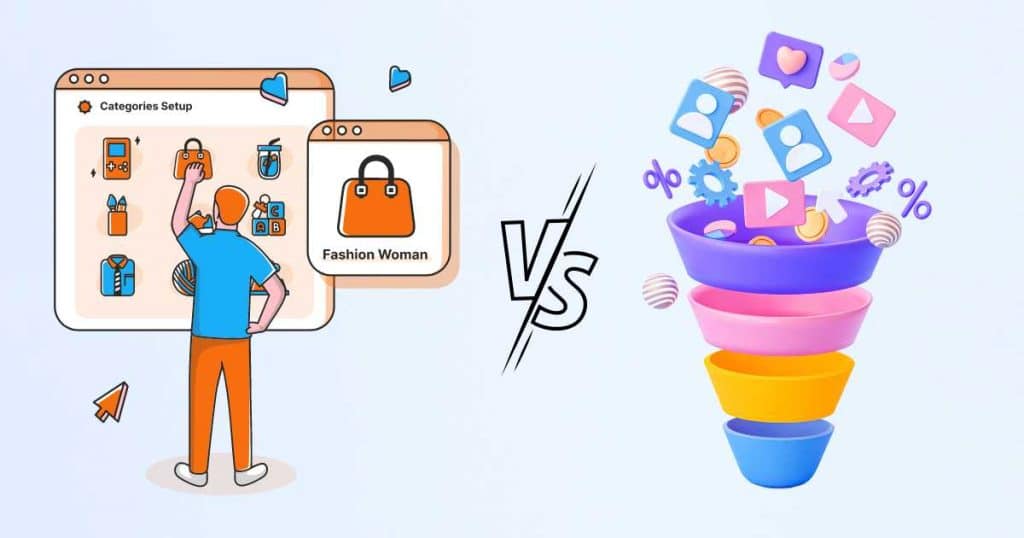 Sales Funnel
With a sales funnel, the potential customer will navigate through the stages of your sales funnel until they are converted.
Typically a sales funnel has a primary action that the funnel is built around. This could be selling an online course for example.
You would usually have one product or service for one sales funnel unless you have an up-sell page and you have complimentary offers to add on this stage of the funnel.
There are usually no other website pages that the visitor can navigate through. Each CTA (call-to-action) button on the sales funnel stages or pages leads to the next stage in the funnel.
This allows you to focus on one action on each stage that you want the potential customer to act on. For example:
Squeeze page – Action = collect email addresses.
Sales page – Action = provide value about your offer.
Order page – Action = collect payment details.
Upsell page – Action = Add more value that is hard to resist.
Thank you page – Action = Thanking the customer.
See the example below of a website vs a sales funnel.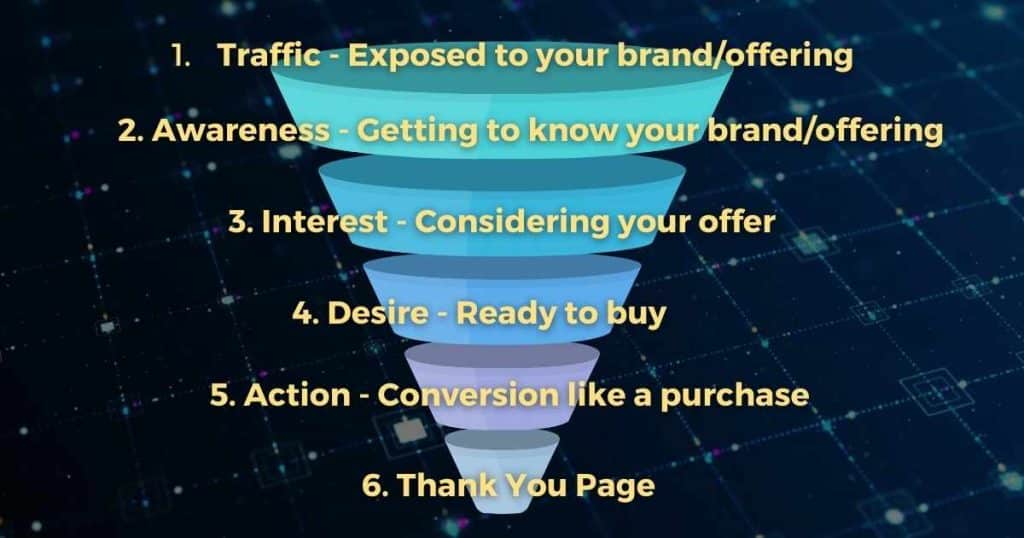 eCommerce Website
On the other hand a website or eCommerce website has many pages that are linear and have multiple CTAs.
A website visitor will arrive on the website and usually navigate through multiple pages before engaging in an important action on the website.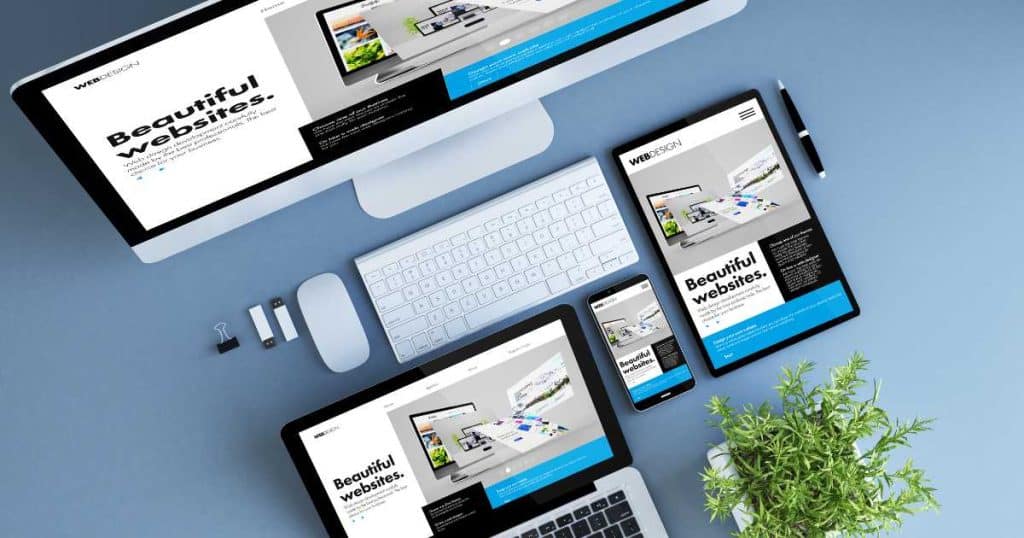 There are usually many important actions on a website including:
Selling products online.
Driving form submissions (contact or booking forms etc).
Building your email list.
Educating a visitor and more.
Websites are powerful for the majority of business sizes and types. They act as the foundation for any brand.
Note: Many businesses also leverage both a standard website as the hub of their business model and a sales funnel as a solution for selling a particular offer online.
ClickFunnels vs website (Shopify)
Although ClickFunnels is technically an eCommerce website, it allows you to create a website that functions as a multi-step sales funnel like the example we mentioned earlier.
On the other hand, Shopify is fundamentally an eCommerce website where you can list as many products as you would like to sell.
Therefore, a sales funnel is ideal if you have a handful of high-ticket items (high-value offerings) that you want to sell and you want to optimize the customer journey with a dedicated sales funnel.
If you sell online courses a sales funnel is also an ideal option. Most sales funnels offer a membership and course platform so you can manage everything in one place.
Therefore, a website or eCommerce website is a more appropriate solution over a sales funnel if you sell low to medium-priced products and services.
Also, if you have many categories and items to sell then a eCommerce website like Shopify is more relevant to you.
What is best for you, ClickFunnels or Shopify?
Check out the graph that we have created down below. This will help you identify the best solution between ClickFunnels and Shopify based on your requirements.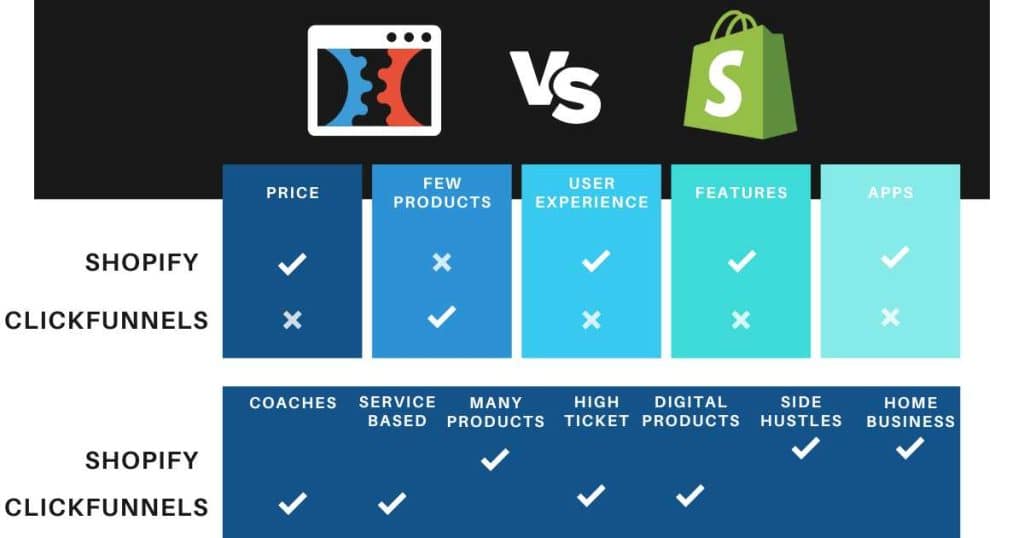 So based on the graph above here is a list of businesses that I believe are suitable for either Shopify or ClickFunnels.
What business should use ClickFunnels?
Real estate.
Coaches.
High-ticket products and services.
Online courses.
Established brands.
What business should use Shopify?
Most online stores.
Low-medium ticket products and services.
New eCommerce businesses.
Small businesses.
Stay-at-home moms and dads.
Side hustles.
In my opinion, I would recommend Shopify for most beginners in general if you're looking to start selling online.
Yes a sales funnel builder would be better in many cases as mentioned above.
However, in general, you can get more out of Shopify.
Also, if you're looking for more affordable ClickFunnel alternatives for creating a sales funnel, then we discuss more at the end of this article (click here to read that section).
However, my favourite free sales funnel alternative is Systeme.io. We have a full article that talks more about our favourite sales funnel here.
However, there are two main business types that I would recommend using ClickFunnels.
These are relevant and coaching businesses. Let's break down why down below.
ClickFunnels for real estate
Is ClickFunnels A Game-Changer for real estate agents?
For real estate, I would recommend using a sales funnel instead of a general website.
In the competitive world of real estate, standing out and generating leads are crucial for success.
ClickFunnels offers a range of customizable sales funnel templates tailored to the real estate industry, allowing agents to efficiently build high-converting landing pages and sales funnels.
These templates can be easily adapted to showcase property listings, virtual tours, and other essential information prospective clients are looking for.
As a result, real estate agents can effectively capture leads and nurture them through the sales process.
One of the primary benefits of using ClickFunnels for real estate is its ability to automate lead generation.
With built-in email marketing tools, agents can create targeted email campaigns, follow-up sequences, and automated responses to nurture leads and maintain consistent communication.
This not only saves time but also helps agents stay top-of-mind with potential clients.
Additionally, ClickFunnels offers integration with popular CRM systems and other marketing tools, allowing agents to streamline their workflow and centralize their lead management efforts.
This results in more organized and efficient lead tracking and follow-up, ultimately leading to increased conversions and sales.
From my perspective, ClickFunnels or another sales funnel builder like Systeme.io are ideal tools for real estate agents looking to get ahead in today's competitive market.
Mainly due to the, professionally tailored templates, and powerful automation features and integrations that make it a go-to sales funnel solution for generating and managing real estate leads efficiently.
By leveraging ClickFunnels, real estate agents can focus on what they do best – closing more deals and faster!
ClickFunnels for Coaches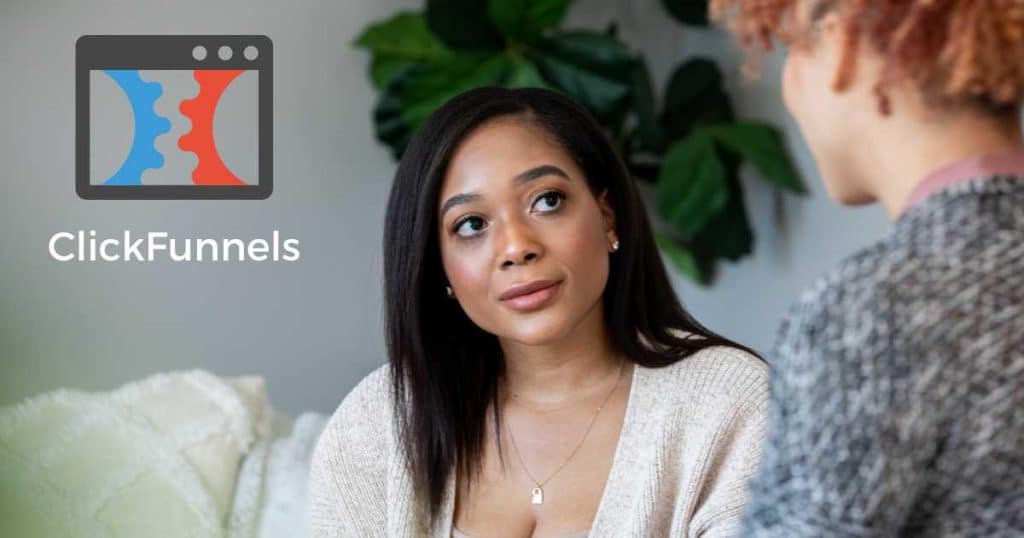 ClickFunnels for Coaches can be the one tool you need to scale your coaching business.
ClickFunnels, a powerful online tool, is designed to help businesses, including coaches, create high-converting sales funnels to grow their client base.
The templates that ClickFunnels offers can be easily customized to showcase coaching programs, webinars, workshops, and other valuable content that prospective clients are after.
As a result, coaches can effectively capture leads and nurture them through their sales process.
One of the primary benefits of using ClickFunnels for coaches is the ability to automate marketing, lead generation and integrations with popular CRMs. This is similar to what we discussed for real estate businesses.
Another advantage of using ClickFunnels for coaches is its analytics capabilities.
Coaches can easily track and measure the performance of their sales funnels and landing pages, identifying areas for improvement and optimizing their marketing strategies.
This data-driven approach helps coaching professionals make informed decisions and allocate their resources effectively.
So, ClickFunnels is a viable all-in-one sales platform for coaches so that they can focus on what they do best – empowering, educating and inspiring their clients and growing their businesses.
Clickfunnels alternative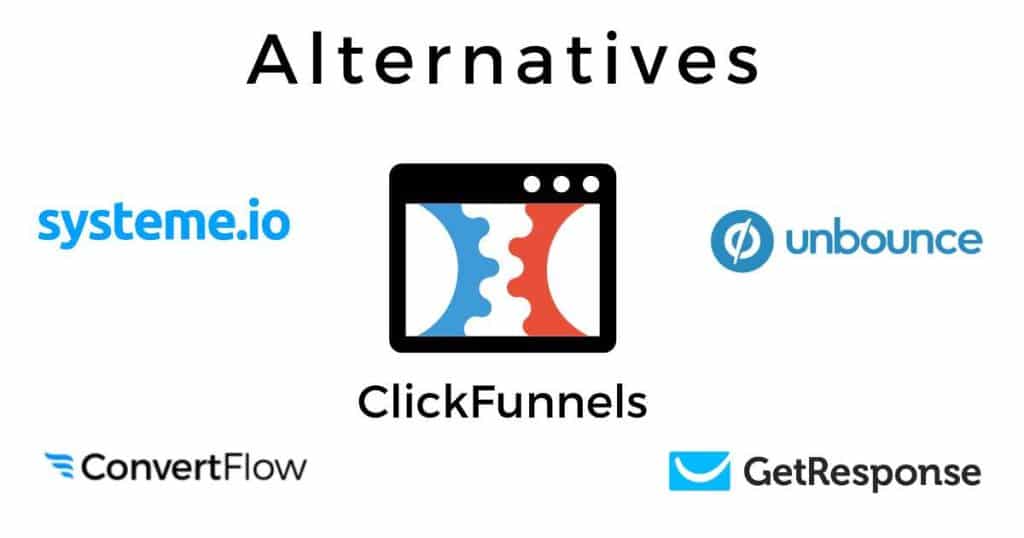 Let's get straight to the point, what is the best alternative to using ClickFunnels for building a multi-step sales funnel?
In my opinion, we typically recommend Systeme.io to most of our clients and audience.
This all-in-one sales funnel solution offers everything that you need to build a converting sales funnel for free!
That's right! Rather than paying over $100 per month for a sales funnel (basic ClickFunnels plan), you can access all these tools and features within Systeme.io's free forever plan.
Additionally, there are several other ClickFunnels alternatives, such as Kajabi, Convertflow, Unbounce, and GetResponse, to name a few.
However, these platforms focus more on marketing funnels and do not provide a seamless multi-step sales funnels experience like System.io and ClickFunnels.
In terms of platforms that offer completely free plans, Convertflow, GetResponse, and System.io are ClickFunnels alternatives that offer comprehensive free plans.
Yet, among these various sales funnel builder options, Systeme.io remains the frontrunner in terms of delivering the best value for money in my opinion.
Read more: ClickFunnel alternative for 2023.
My final thoughts
And that is it for my ClickFunnels vs Shopify comparison guide.
I hope that this guide first and foremost helped you identify the best option for your business type.
What do you think is best for your business? ClickFunnels for Shopify?
Let me know down below.
All the best on your digital journey.