You're reading this because you've most likely heard of the popular Copy.ai writing software.
In this Copy.ai review for 2023, I want to help you identify if this AI (Artificial intelligence) writing assistant is the best choice for your business requirements.
Currently, we are mid-way through 2023 and there are already hundreds of AI tools like AI writing software, AI writing generators or AI writing assistants.
Each of these AI tools like Copy.ai are built using the powerful Open AI technology. So it can be hard trying to decide on the best solution for creating content.
Maybe you want to create either micro-content for social media, emails etc or long-format blog content for your website.
So, to make your life easier and before you commit to an AI writing software like Copy.ai, I'm going to share in this Copy.ai review the benefits, disadvantages and how you can use this AI writing software.
I will also share what it is and how it works and discuss some comparisons to help you choose the right AI writing assistant for your business requirements.
Let's get into the Copy.ai review!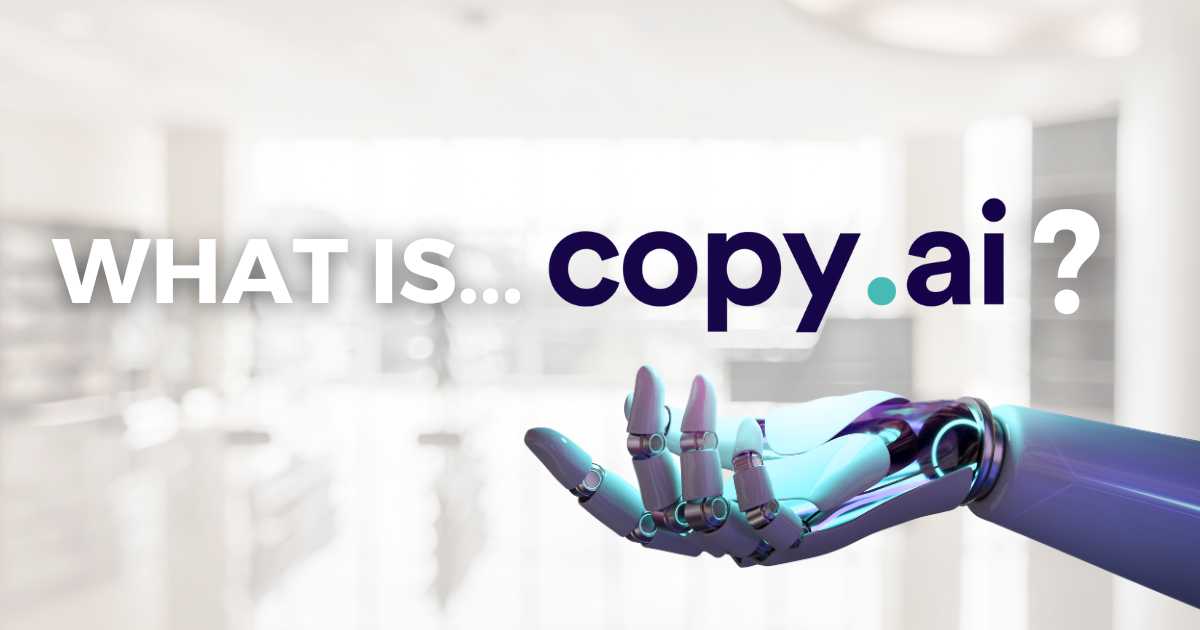 First, we need to understand exactly what Copy.ai is. Essentially, Copy.ai is a leading artificial intelligence (AI) platform that leverages the mind-bending power of advanced natural language processing (NLP) algorithms to simply generate high-quality and human-like written content.
The Copy.ai platform caters to a variety of business needs, including content creation, copywriting, social media activities, and email marketing.
Copy.ai is dedicated to simplifying the content creation process, allowing anyone like you and me to quickly generate engaging and unique text content in seconds.
This is awesome because by using Copy.ai you can save time on creating all types of content for your business. Simply enter a few key phrases or ideas (prompts) and in seconds you will have a human-like written output.
What is a Prompt? (Definition in AI terms): 
A prompt is information like keywords, questions or directions that you provide an AI model to generate unique content in return. This could be images, copy, code or video and more.
Copy.ai for small businesses (helpful or harmful?)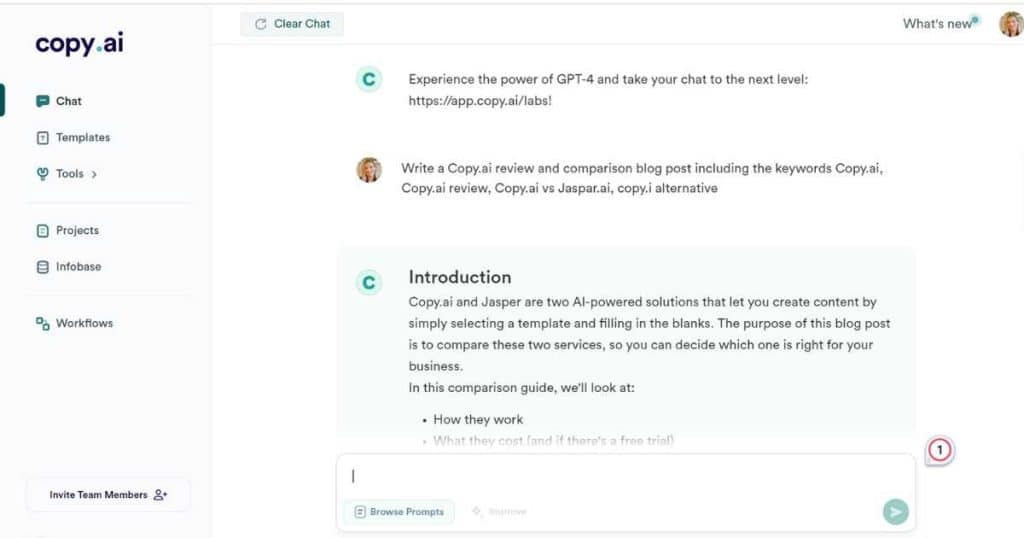 Are you ready to quickly and easily write your blogs? And 10x faster? (Copy.ai believes this is possible with their AI writing software).
Let's see if this is true from my Copy.ai review and practical experience.
The Copy.ai platform's primary purpose is to save businesses time and resources by automating day-to-day mundane tasks and reducing the workload for creating written content. 
Take a moment to think about the content creation process in your business. How long does it take you or your team to manually create long-format written content?
It can take a LONG time! Especially if you're creating high-quality content that converts or ranks high on Google Search.
From this Copy.ai review using this AI writing software, I believe Copy.ai is specifically useful for creating long-format blogs on your website so that you can quickly create content at scale and start ranking your website pages on Google.

For me, Copy.ai saves me on average about 3 hours per post. That's a lot of time and money saved if you consider my hourly rate too.
How? Well, Copy.ai gives you a clear content structure to follow. They offer a streamlined process from start to publishing your content live. 
How to use Copy.ai? (Simple step-by step guide)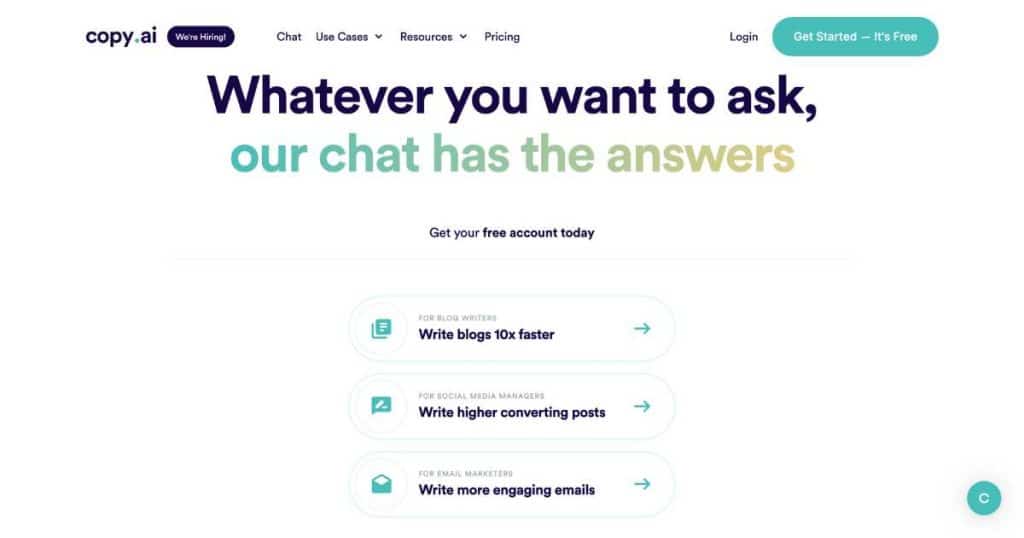 Step 1 – First head over to Copy.ai and sign up for free.
Step 2 – Enter your title (blog post title) or project name.
Step 3 – Give Copy.ai more context about your ideal outcome. This would be keywords, topics, sections and other information you want Copy.ai to write about as well as the tone of writing you would like.
Step 4 – Copy.ai will take a few seconds to generate the outline for your content to review.
Step 5 – Simply review and make the necessary changes to the AI-generated talking points.
Step 6 – Now it's time to generate your content! 
Step 7 – Copy.ai will give you the option to regenerate any part of the AI-generated content.  Here you can also access all the formatting options to polish up your content.
Step 8 – Create and publish your content on your website or other channel.
And it's as simple as that to quickly create high-quality and unique AI-generated content in minutes. I suggest you read through the context to ensure it flows and the information is correct. 
Copy.ai review (what I like, dislike & pricing)
In my opinion, and based on my Copy.ai review, this AI tool is a useful AI writing software that is ideal for small businesses due to its affordable pricing structure based on how much content you want to create each month.
Moreover, the smooth layout or process of creating content is user-friendly and the prompts and templates make it easy to follow and create the best possible outcome.
Once your content is created you can then copy and paste the content into your blog post, email, across your social media channels or on other platforms.
What I like:
The structure is the best on the market when it comes to the actual process of using AI to create written articles. 
The most affordable AI writing software considering how advanced this AI tool is compared to other AI tools on the current market.
Can summarise YouTube videos into a few bullet points. Great for creating summaries of my YouTube videos to send to my audience via my email list.
I can quickly bulk-create content in minutes.
The free forever plan is ideal for micro teams that just want to create one or two long-format posts per month or multiple social media posts with the help of AI. 
Over 29 languages work with AI.
The chat feature for researching before creating long-format content. For example, you can find good content or title ideas before generating your writing with AI. It's also handy to use this chat to quickly generate AI responses.
What I dislike:
More ideal interface for long-format content creation. I dislike the process of creating micro-content like email copy and social media copy. If that's the case, I would recommend ChatGPT free or the Chat GPT Plus subscription.
Prices: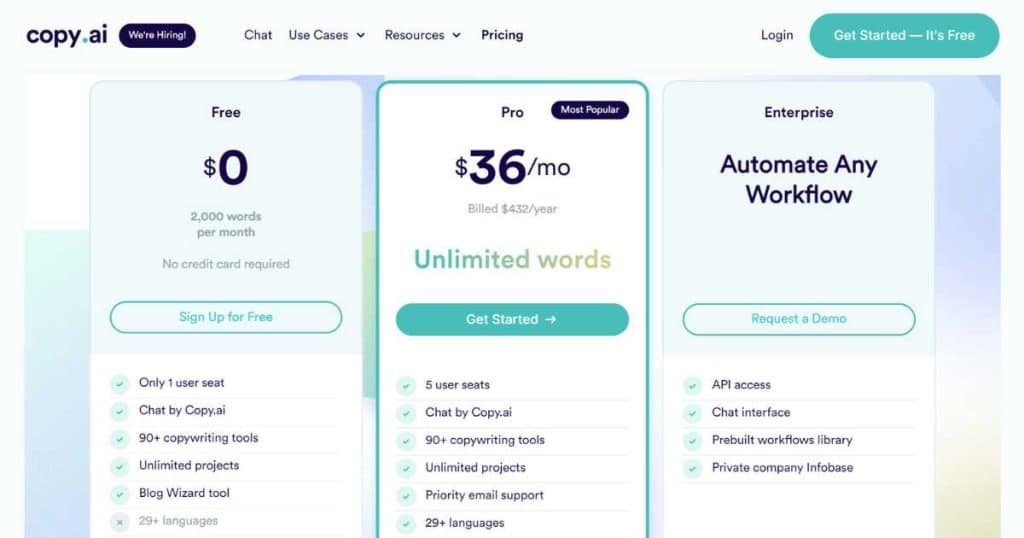 The free plan (2000 words per month)
Unlimited plan ($36 per month)
My favourite feature of Copy.ai:
The ability to regenerate talking points and content sections with ease to reduce the time commitment of creating content.
So, if your small business is looking to scale its content creation activities then Copy.ai is definitely an AI tool to consider checking out!
Especially, if your creating multiple blog posts each week on your website, then this AI tool can help you speed up your content creation processes.
Copy.ai vs Jasper (Popular AI copy generators)
Overall user experience: 
Copy.ai has a visually engaging step-by-step process for creating content. I personally like this structure when creating posts.
In comparison, we have Jasper AI which has a chat interface on the left and then the content editor or working document on the right.
Just add your AI prompts to the chat and then copy and paste the content from the chat to the editor.
It's a bit annoying having the two interfaces and I personally think you could just use ChatGPT.
For example, you could open up ChatGPT (free solution) on the left and a Google document (free solution) or another document type on the right. 
From my perspective, Copy.ai takes the lead for ease of use and the overall product experience.
Pricing: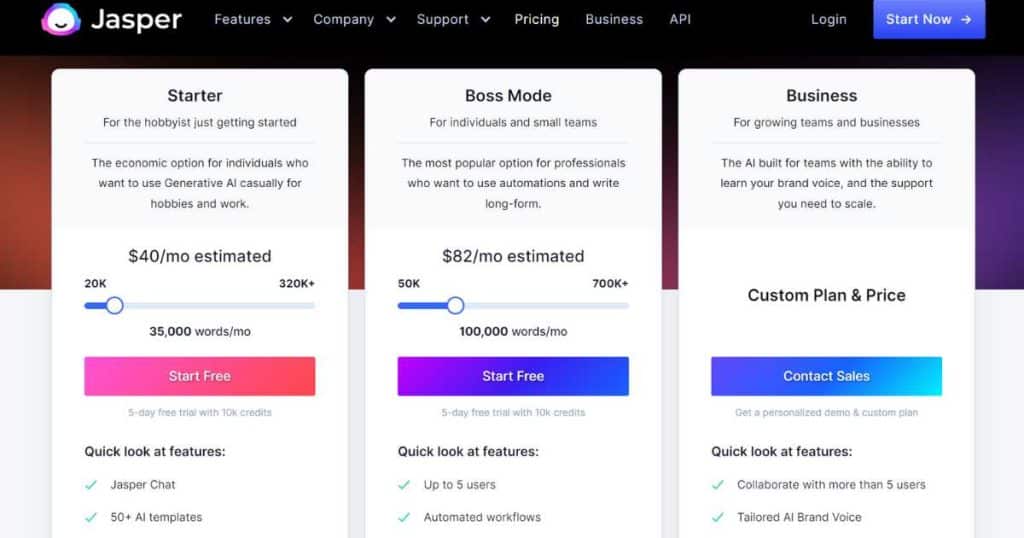 Copy.ai offers a free plan and a pro plan that is only $36 per month. This unlimited pro plan has no limits and you can create as much content as you like.
On the other hand, Jasper AI does not offer a free plan. Prices start at $24 per month for 20,000 words (about 8 long-format posts per month). The prices then increase based on the word count.
Copy.ai wins the pricing battle.
Features:
In terms of feature comparisons, both AI writing software offer essentially the same features. For example, both AI tools offer a built-in chat feature, multiple languages, and up to 5 users (for the paid plans).
Jasper AI does offer a browser extension which is useful and Copy.ai does not. 
Jasper gives a bit more value when it comes to the feature offerings.
Other Copy.ai alternatives for AI writing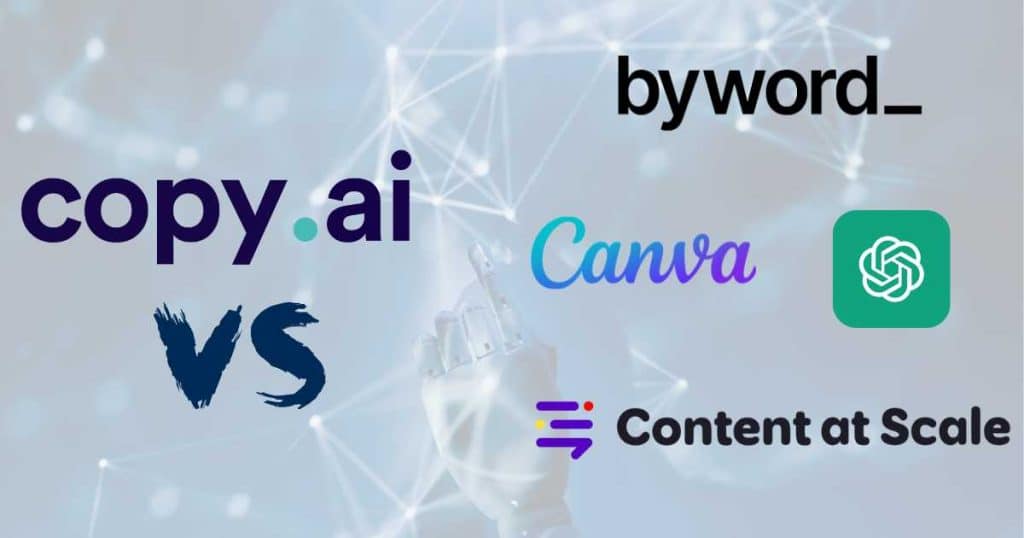 What about other Copy.ai alternatives? Maybe you want to try other leading AI writing software but you're not too sure where to look. Well, here are some other leading options that I like based on more specific requirements.
My top Copy.ai alternatives for business
Canva Magic Write

Content at Scale

ChatGPT and ChatGPT Plus

Byword 
Canva Magic Write tool vs Copy.ai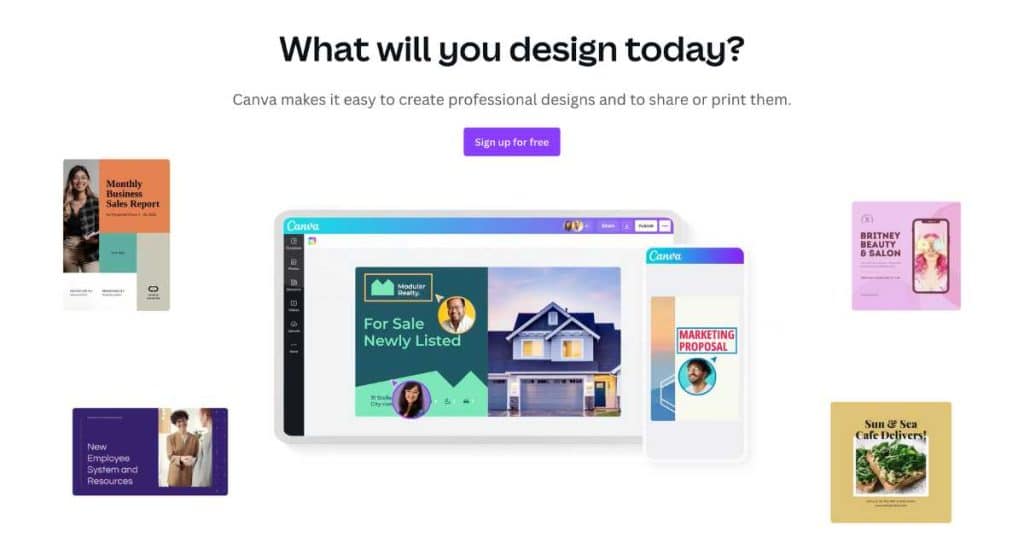 Canva is a free all-in-one design tool and Copy.ai alternative that I use every day to create videos and images for my business.
Canva now offers an AI feature called Magic Write which is ideal for assisting you in creating micro-content and documents inside Canva. This feature is part of the Canvas Pro plan.
Watch my video below on how you can use Canva's magic writing tool.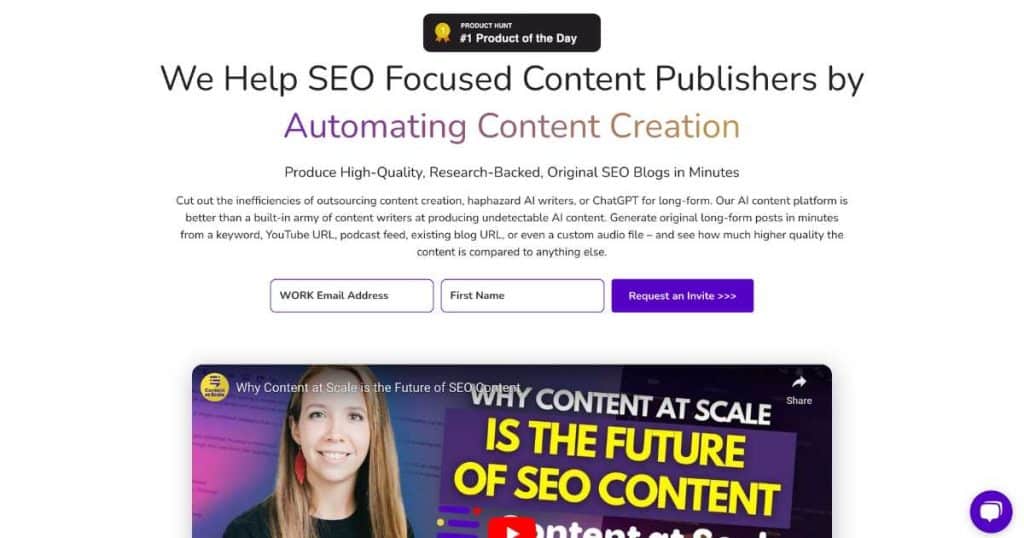 Content at Scale is a Copy.ai alternative designed to help you create long-format content at scale. Prices are relatively high compared to other AI tools starting at $250 for around 8 posts per month. They believe their AI writing software offers AI content that is undetectable.
ChatGPT and ChatGPT Plus vs Copy.ai
ChatGPT is a Copy.ai alternative and was the first of its kind. Developed by Open AI ChatGPT offers a free human-like chat AI platform that is ideal for quickly generating AI content for anything you can think of. Chat GPT is free to use but limited in terms of its capabilities. ChatGPT Plus on the other hand is a premium version that costs $20 per month and offers the current 'best' version of AI.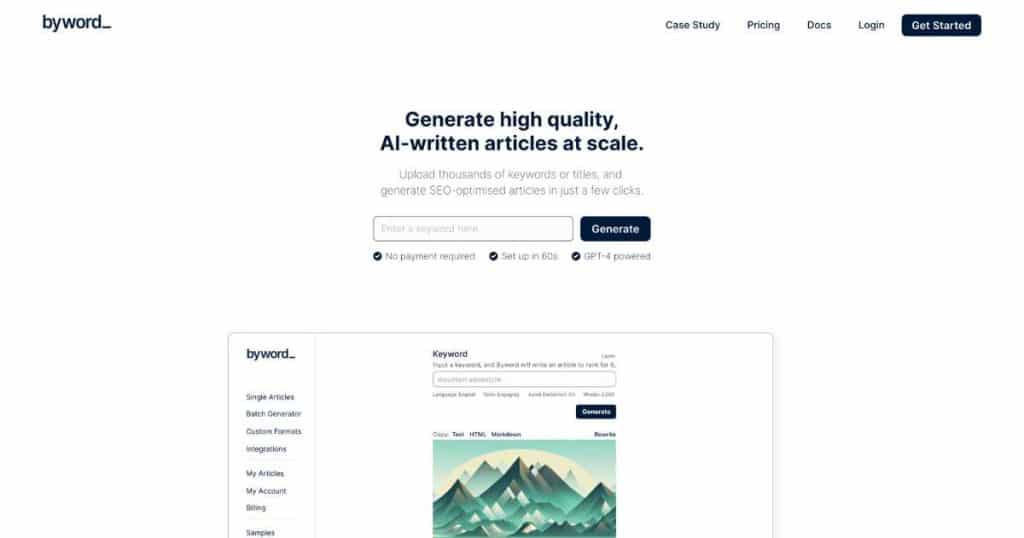 Byword is another content generator and Copy.ai alternative for easily creating content at scale.
This AI writing software works with a credit system. Simply buy a package of credits or purchase credits starting at $5 per month.
This is a more barebone platform, however, many creators/bloggers have found huge success with creating content for their website through this AI tool. 
Read about my top 6 AI writing software for small businesses here.
Final Thoughts
There we have it! That is my updated Copy.ai review for 2023. This post hopefully helped you identify if Copy.ai is the best AI writing software for your small business.
In my opinion, from researching and testing multiple AI writing assistants, Copy.ai is the best AI tool for small businesses. Why? Copy.ai is affordable, easy to use, offers all the tools you need for creating content in one platform and is comparably better compared to other similar AI writers on the market.
I hope you got value from this post! All the best on your content creation journey!