Popups bring conversions. However, they have a reputation of being "in your face", "invasive", or "annoying". But they don't have to be so.
You can create a WordPress popup form that has a high-conversion potential and doesn't compromise the user experience.
In this blog post, we're going to explain how to create a popup form in WordPress for free using an easy-to-use plugin called Popup Maker.
Create a Popup Form in WordPress for FREE
You can follow the steps outlined below:
1.  Install the Popup Maker Plugin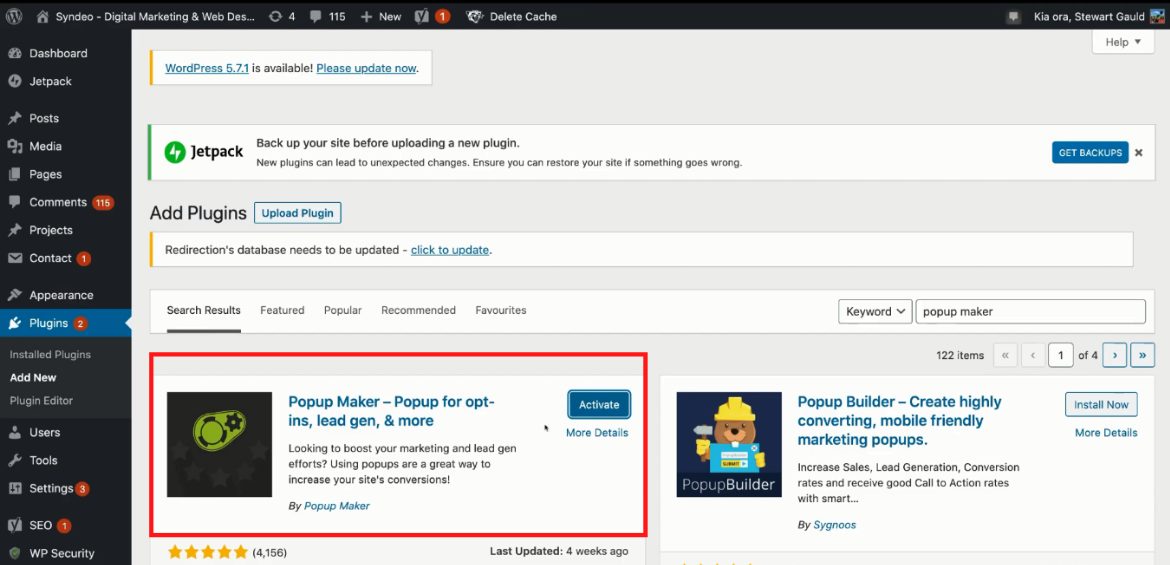 Once you're logged in to your WordPress dashboard, navigate to Plugins on your left-hand side. Simply click on "Add New" and move your cursor over to the search bar on your right.
Type in "Popup Maker", the plugin we're going to use to create a free WordPress popup.
Once you spot the required plugin (designed and developed by Popup Maker), all you need to do is hit "Install".
Before installing this highly rated, popular plugin, you must backup your website if the plugin doesn't work well with your current theme or other plugins on your website.
Any of the above situations can crash your website which is why backing up your website before downloading and activating any plugin is the best idea. After downloading the Popup Maker, just hit "Activate".
2.  Create a New WordPress Popup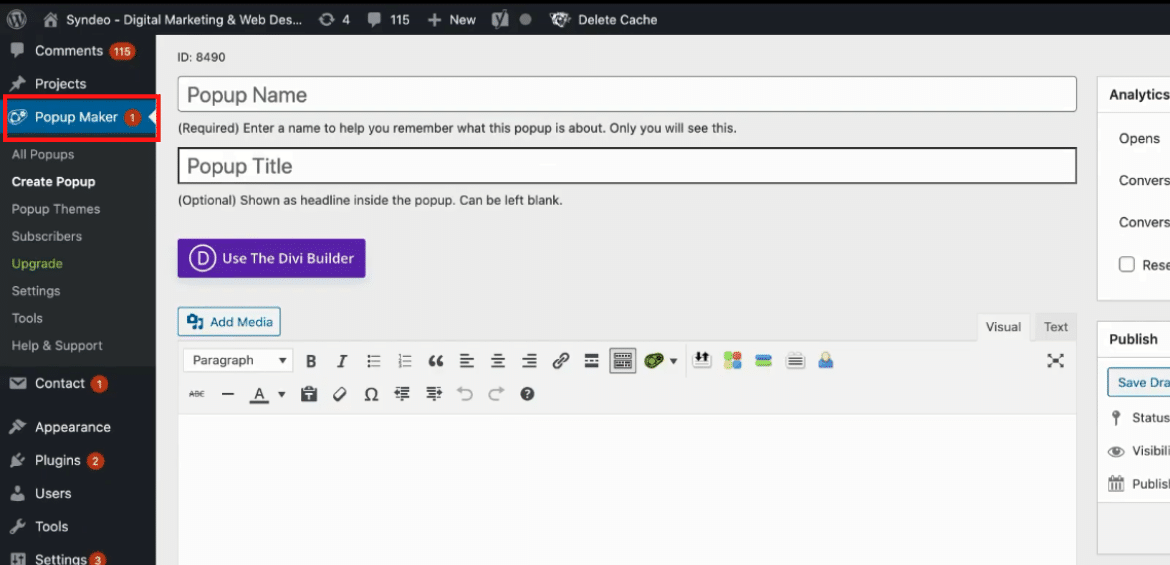 On the left-hand side of your dashboard, you'll find the Popup Maker option. Click on it and scroll down to the bottom until you see "Popups". We currently have zero WordPress popups.
Select "Create a New Popup". For the purpose of this tutorial, we will create an opt-in form to collect emails from potential subscribers. Therefore, the purpose of this free WordPress popup is to create an email list.
You can create any type of popup with this plugin. However, since the opt-in form is quite popular, we've chosen it for this tutorial.
The next steps are outlined below:
Add the name of the form type, i.e., Opt-in Form in this case
Add the title "Subscribe – Join Us!"
The above two elements will show up in the popup form. Adding the title is optional. Try to experiment with and without title and see what works better. You can always remove/include the title later on.
Now, you would want to navigate over to Popup Maker shortcodes, click on it, and then come down to Subscription Form. Under the category "Form" and subcategory "Fields", leave the Name Field Type as "Full".
In another subcategory "Labels", you can add Full Name, Email, and Submit Button. For instance, you can change "Subscribe" to "Join Us!" or "Get Started Today!" In this tutorial, we will stick to the default name.
In the third subcategory called "Placeholders", you change what appears under "Full Name" and "Email". Again, we'll leave it with the default details here. In the fourth subcategory called "Appearance", you can leave the default settings for Form Layout, Form Alignment, and Form Style for this WordPress popup tutorial.
Now, click on "Privacy" on the right-hand side and you'll see various options under it. Even though we'll stick to default options here, you can always come back and change them later.
Below Privacy, you'll find the "Actions" option. Under the "Popup" subcategory, you can check the "close popup" option. You can also set the delay to choose when the popup should close. You can leave it off for now.
Navigate over to "Redirect" on the right. In the next step, you can enter the URL of another internal page here. However, we'll not paste any URL for this tutorial since we just want the form to close.
Hit Save and your WordPress popup form is ready!
3.  Head Over to Popup Settings
After creating the free WordPress popup, you can also add media and text with all the formatting options available out there. For this tutorial, the basic form will do. Now, you can scroll down and head over to Popup Settings.
Under "Triggers", we will create a trigger for when the popup is to open. For that, you can simply click on "Add New Trigger" and then navigate over to "Click Open". From the drop-down, choose the "Time Delay/Auto Open" option.
Leave the box checked and click "Add". In the next step, set a time delay of 5 seconds (or 5000 milliseconds). That means, 5 seconds after a user visits your website, this WordPress popup form will activate. Click on Add.
Come down to "On Popup Close" and change the time to 1 day instead of 1 month. It's called Cookie Time. This means that if the visitor decides not to submit the form, this popup form will reappear one day later should the visitor navigates back to your website again. Click Update.
Under Triggers, you'll find another option called "Targeting". Here, you need to choose a condition when the popup should appear. You can select Home Page from the drop-down. Moreover, you can keep the WordPress popup on for mobile devices and tablets.
Now, head over to "Display" under Targeting. Simply click where you want your form to appear on the screen.
We will select "Center Popup" in this case. Under the "Appearance" option, you can go ahead and select the "Cutting Edge – Custom" theme from the drop-down menu.
You can experiment with each of these themes to determine which popup looks best based on your website colors and themes.
Besides, you can also customize the theme (colors, layout, fonts, and more) by clicking on "Popup Themes" on the left-hand side of your WordPress dashboard.
If you head over to "Size", you can change the size of your WordPress popup form. We'll set it at Medium for now.
You want to keep the form very basic because if there's too much going on, it will distract the visitors.
You can leave the default settings for Animation (fade), Sounds (none), and position (middle center). Under "Close", located below Display, you can set the close delay at 2 seconds while leaving the name as it is.
Under "Form Submission", check the "Close on Form Submission" option and set the delay at 3 seconds.
4.  Publish and Customize Your Popup Form
If you are not ready yet, you can always save the draft for later. For now, you can hit "Publish" on the far right. You can view your free WordPress popup by simply visiting your website.
Just after 5 seconds, your popup form will appear right in the middle of your screen. If you're not happy with how it looks, head over to your WordPress dashboard and click on Popup Themes on the left.
If you don't want to change the theme entirely, simply click on "Edit" under your current theme. Now, change the name to "Cutting Edge – Custom". Here, you can change the background color and opacity.
Under the "Container" option, you can change the Padding and Border Radius of your popup form. You will see dozens of options such as font size, line height, font color, content, etc. By making these tweaks, you can improve the appearance of the WordPress popup form.
On the right-hand side, you'll be able to see the theme preview before you update the changes.
5.  Understand Basic Popup Analytics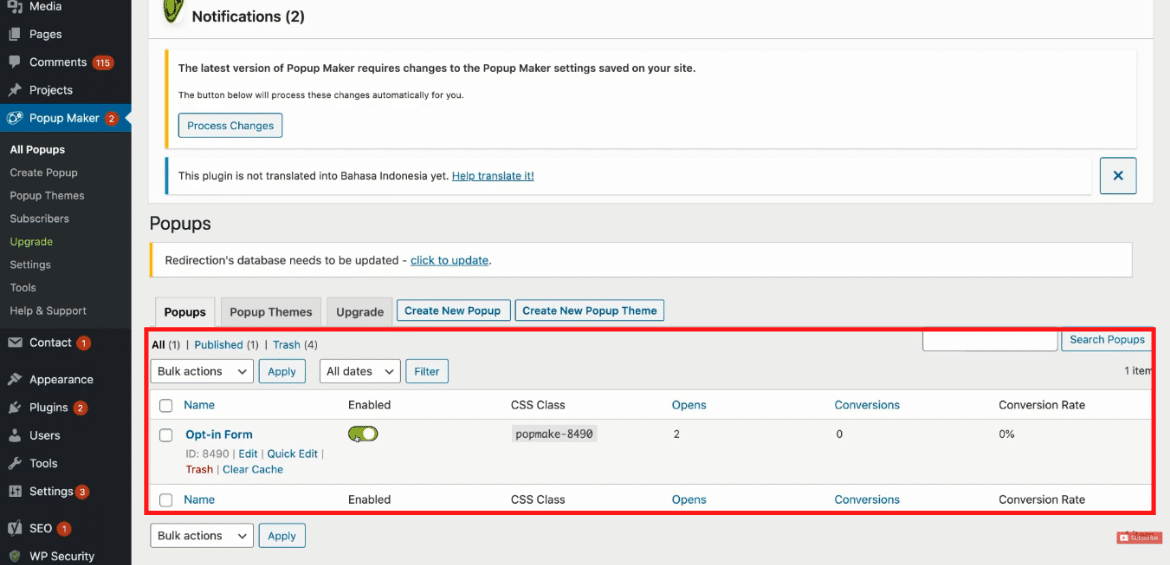 If you navigate over to "All Popups" on the left-hand side. You can choose to enable or disable the popups at any time. For the currently activated popup Opt-in Form, you can see the opens, conversions, and conversion rate.
With time, these basic analytics will help you evaluate the performance. By navigating over to "Subscribers" on the far left, you can see all your subscribers.
Moreover, you can always upgrade to a Premium Plan to unlock more customization and integration options. For instance, you can integrate MailChimp, an easy-to-use yet powerful email marketing tool.
Using the subscriber information, you can then send targeted emails. There are dozens of their features that you can try out. However, small business owners can do with the free version of the popup form in WordPress.
Step-By-Step WordPress Popup Form ( Video Tutorial)
By following the abovementioned steps, you can create a WordPress popup form that boosts conversions and grabs your visitor's attention. All that without disturbing the user experience on your website.
Popup Maker is ideal for small business owners who want to get started with a free, basic lead capture form. Check the beginner's video tutorial to easily and quickly create a popup form in WordPress.