In today's world, it's essential to have an online presence, a website is a professional approach to building your brand online. It is every business owner's dream to create a brand identity for their respective business.  A website gives business owners an opportunity to achieve their goals (drive leads, phone calls, and sales) and also helps them in building trust and credibility with their audience.
Today, there are many powerful and innovative free website builders available online to design stunning and professional websites. WordPress is one such platform that enables individuals and businesses to create websites from the ground up with absolute ease. You can make a free website with WordPress even if you don't have any experience in coding, designing or website building.
WordPress: Your Free Website Builder
There are many reasons why you should consider using WordPress to build your website. However, here are some of the core factors why WordPress should be your first choice for developing a free website.
 WordPress allows you to create SEO Friendly websites which makes the process of promotion easier.
WordPress is a leading Content Management system.
Gives you the flexibility to customize your website as per your requirements.
You can be assured that your website is secure.
There are many customizable themes to choose from, that gives your website a completely professional look with minimum effort.
Small business owners can create websites while saving money on web developers, designers, etc.
Requires much less time to customize and launch your website.
WordPress powers over 1/3 of the internet.
Additionally, WordPress is popular with freelancers, writers, and all types of small business owners.
Make a Free Website with WordPress
Now let's get started with this WordPress tutorial and understand the process step by step of how to build a free website with WordPress.
Step 1: Sign up process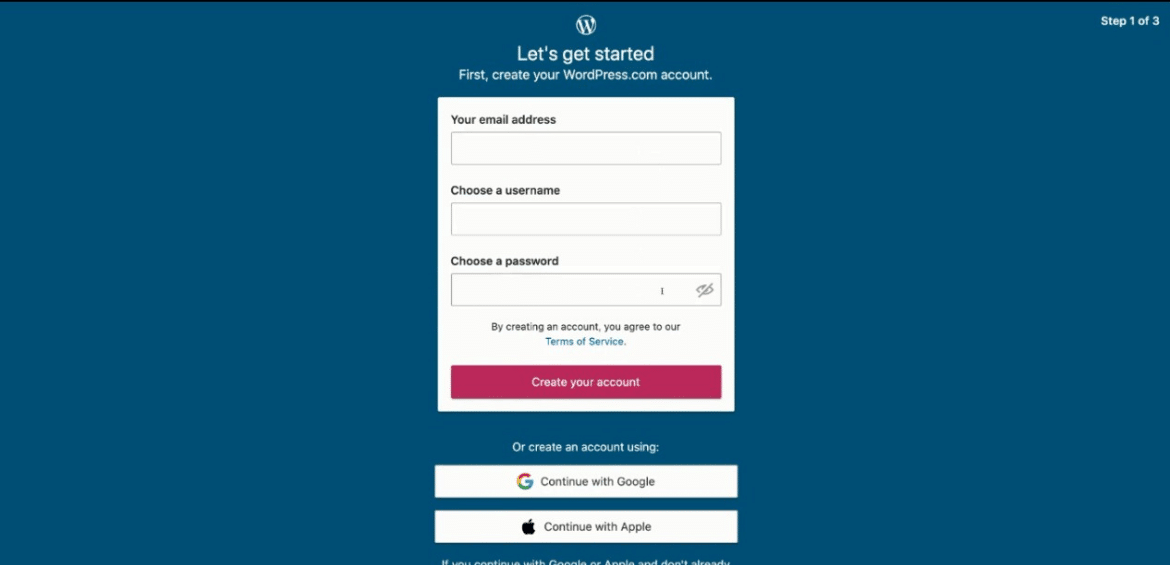 The first step towards building an impressive website is to sign up for WordPress. Once you click on the 'Start your website' option you will be directed to the sign-up page. There you can fill in the details such as email address, a username, and password. WordPress also allows you to sign up with your Google account or Apple account. If you want to sign up with a Google account, then select the desired Google account with which you want to sign up. Then you will be required to select a domain name. Usually, the domain name is your business's name. However, if your business name has already been taken, then create variations of the same name and create a unique domain name for your website. Then select the 'start free website' option and you are good to go.
Following this, WordPress will direct you towards the customization of your website. Meanwhile, you can opt-in for a paid website right at the beginning or you can upgrade your existing website later down the track.
Step 2: Select and Customize Your WordPress theme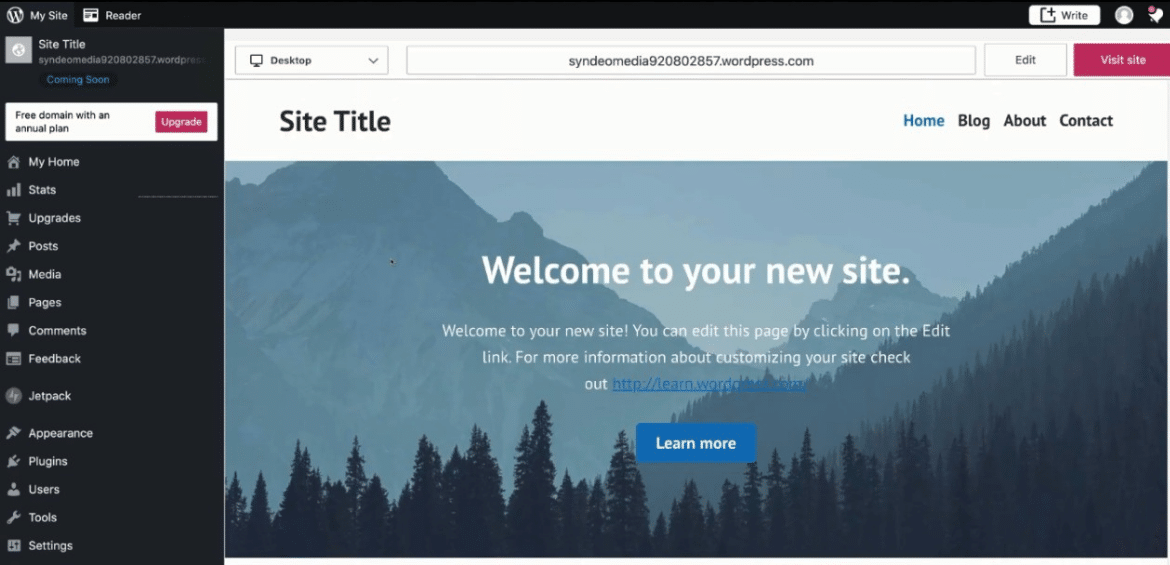 Initially, your website might showcase only basic pages such as the homepage, blog, about page, and contact information page. In order to customize your website, WordPress provides a list option on the left-hand side of the page. There you can select the Site title, an appropriate tagline for the website, site icon, etc. You can change themes for the website from the 'Appearance' option available in the left-hand side list. Moreover, WordPress allows users to add or edit the content on their websites. As a business owner, you can add videos, images, text, and other content in the form of blocks. Additionally, users can explore the options to link their social media accounts like a LinkedIn company page or Facebook Page within the header menu of their website to build credibility among the website visitors.
Additionally, you can make further edits through the following options
Dashboard: For WordPress, Plugins, and Theme
Posts: Allows editing, deleting, and writing new posts.
Media: This editing option is for managing and uploading new media files such as images and videos.
Pages: Here you can add new blogs as well as manage all other blog pages.
Comments: This option allows you to approve, delete and reply to the comments posted below your respective blogs.
Settings: Go through the settings and configure various other parameters as per your requirements.
Step 3: Connect your Social Media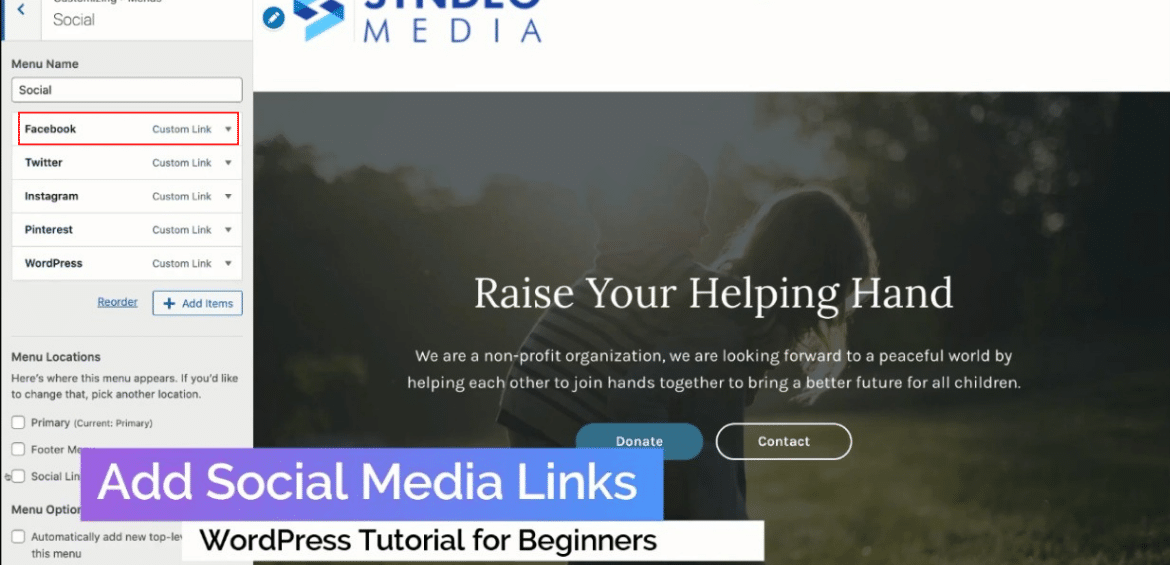 If you wish to link your Facebook account, then you can achieve that with one single click. However, the step is optional, and you can choose to configure these social media buttons later.
Step 4: Complete the process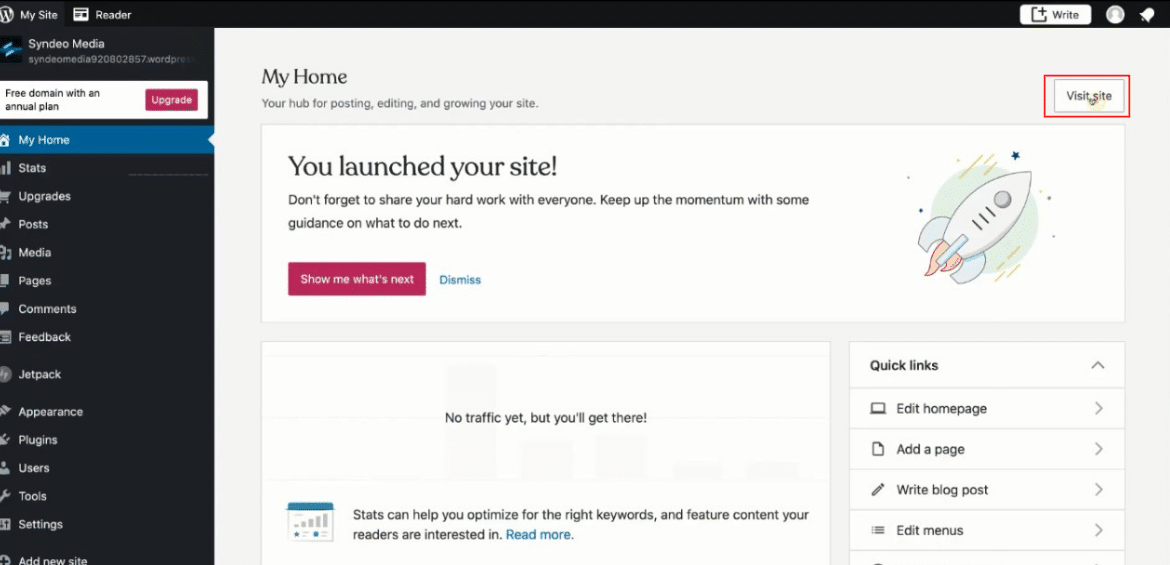 After customizing each section of the website as per your requirements, you will be able to launch your free WordPress website online. After you finish the building process, navigate over to your browser and enter the complete domain name, the browser will display your website.
WordPress Tutorial to Create Your Free Website (Video Guide)
By following the above-mentioned process, you can create an impressive website absolutely free of cost. If you are a complete beginner and want to visually understand how to create a free website, then below is our complete step-by-step WordPress video tutorial.