In this Google My Business SEO tutorial, we're going to talk about how to dominate on Google Maps.
We'll identify seven key steps that can optimize your Google My Business listing to drive more business success.
Google My Business, a free tool offered by Google, helps your business increase its online presence using a location-based strategy.
If you want to drive more website traffic, foot traffic, phone calls, leads, and sales, then creating and optimizing a Google My Business (GMB) listing is the way to go for local businesses!
How to Rank #1 in Google Maps?
Ranking in the top three results on Google Maps (known as the map pack or snack pack) for a search query will drive more people to your business.
In this step-by-step tutorial, we're going to show you how to do that.
1.      Log in to Google My Business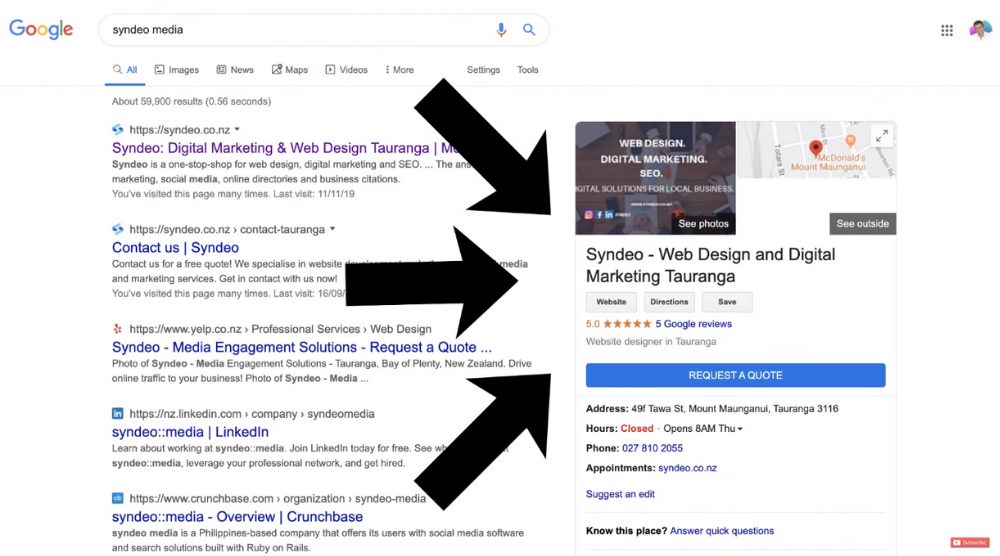 The first thing you want to do is log in to your Google My Business dashboard.
Creating a Google My Business account is completely free and easy to do.
If you don't already have a GMB listing then feel free to watch this five-minute tutorial that will guide you through the process of setting up and verifying your Google My Business listing.
If you're not too sure whether your business is already on Google Maps, then try creating a GMB listing, and in the first few steps, you will be able to identify if your business already has a listing.
If it doesn't, then you will need to create your Google My Business listing by following our tutorial linked above.
Once you've done that, navigate to your Google My Business dashboard.
2.      Update and Optimize Information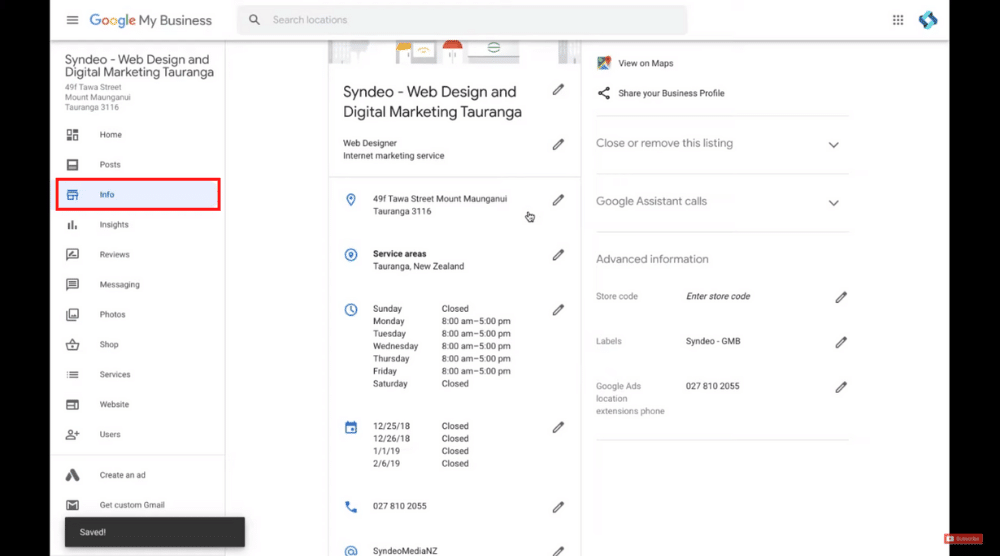 After you've logged into your Google My Business account, head over to 'Info' on the menu you see on your left.
Here you can see all the business information that you added during the signup process.
Since it's a possibility that you might've signed up to GMB a long time ago, some of this information might be outdated.
You want to make this information as accurate as possible so that Google knows that these are relevant and up-to-date details related to your local business.
Any confusion or unclear information tends to push rankings down in Google.
Pay Special Attention to Your:
Business name
Service categories – You want to avoid adding too many service categories, which would otherwise send a signal to Google that your business isn't that specialized. Once you've added/updated the categories, click 'Apply'. (Refer the screengrab). 5 or less categories is currently considered optimal. 
Business address – We recommend adding an address even if yours is a service-focused business. This way, your potential customers will trust that it's a legitimate business.
Opening times.
Closing times (including public holidays)
Phone numbers
Website URL
Appointment URL – if you have a contact form or an appointment form, add that here
Services – make sure these have the relevant keywords embedded in your service descriptions.
Products.
Business Description – You have 750 characters to describe your business. Again, you want to add keywords here to send the right signals to Google The more keywords you embed, the better. But you don't just want to stuff those in the description – ensure that they have context and fit in and flow throughout the text. Also, you want to ensure you add keywords that are relevant to your business, services, or products.
Include as much accurate information as you can before moving on to the next step, which is:
3.      Get High-Quality Google My Business Reviews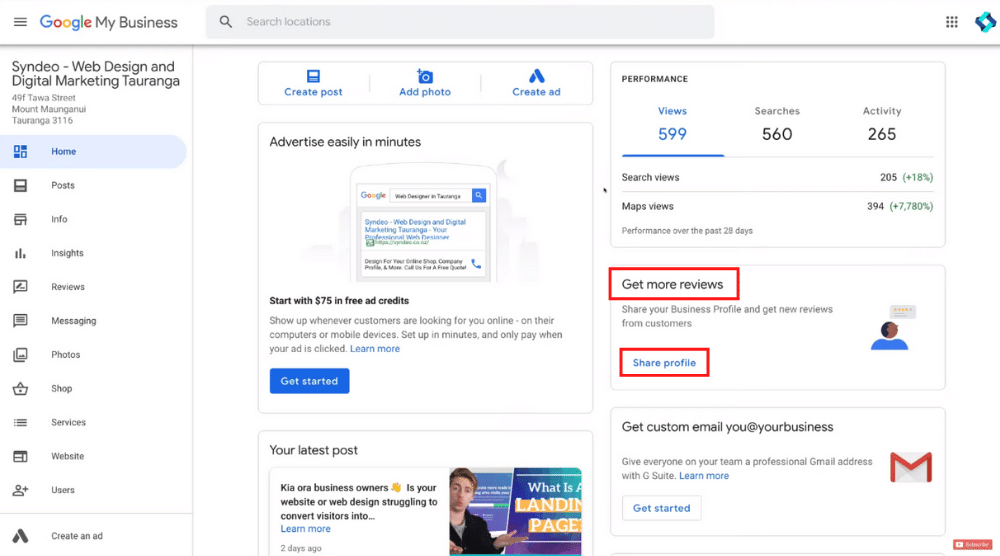 One of the most important local SEO strategies to help your business rank on Google Maps is getting consistent, positive, and high-quality reviews for your business.
Visit your Google My Business dashboard
Copy the review link
Share the link with your existing customers
These reviews are seen by potential customers as social proof, which encourages them to click through your website or call your number and actually buy your product or service.
To understand how you can get high-quality reviews for your business, watch this tutorial.
4.      Add Photos and Videos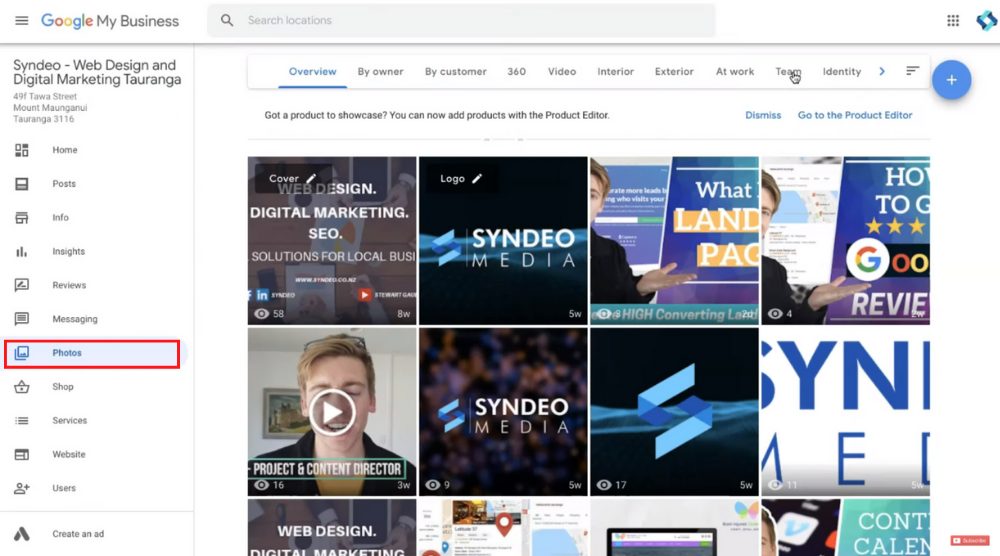 The fourth step in this Google My Business tutorial is about uploading photos and videos to your GMB listing.
You want to add as many videos and photos as you can.
This Will:
Allow people to scroll through your photos to get an idea of what your business is about
Help people find your business on Google Maps more easily
Send strong signals to Google's algorithm
You should upload photos under all the different categories on your Google My Business listing.
5.      Add and Optimize Posts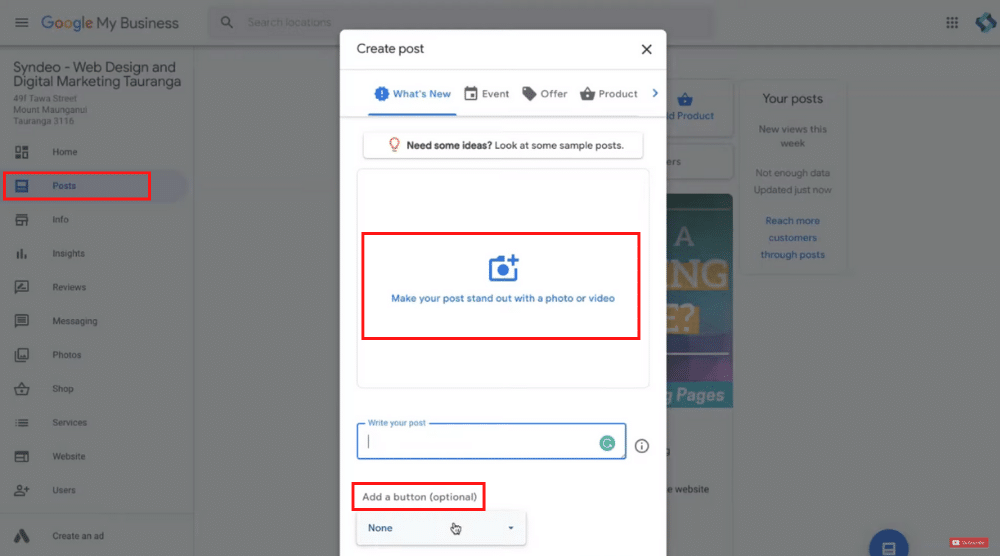 The fifth step to improve the local SEO for your small business and help it rank higher on Google Maps is adding and optimizing posts.
By consistently updating your posts, you're sending a strong signal to Google that your business is still operating.
Posts are also a great way to educate and update your customers with deals, discounts, and the latest updates about your business.
On your Google My Business dashboard, you'll find the 'Post' option on your left.
After clicking on it, you can update photos, videos, and call-to-action buttons that can send potential customers to an article, website, or product page.
Again, make sure you have keywords included in your posts, which is going to help you rank better on Google Maps.
6.      Improve Your On-Page SEO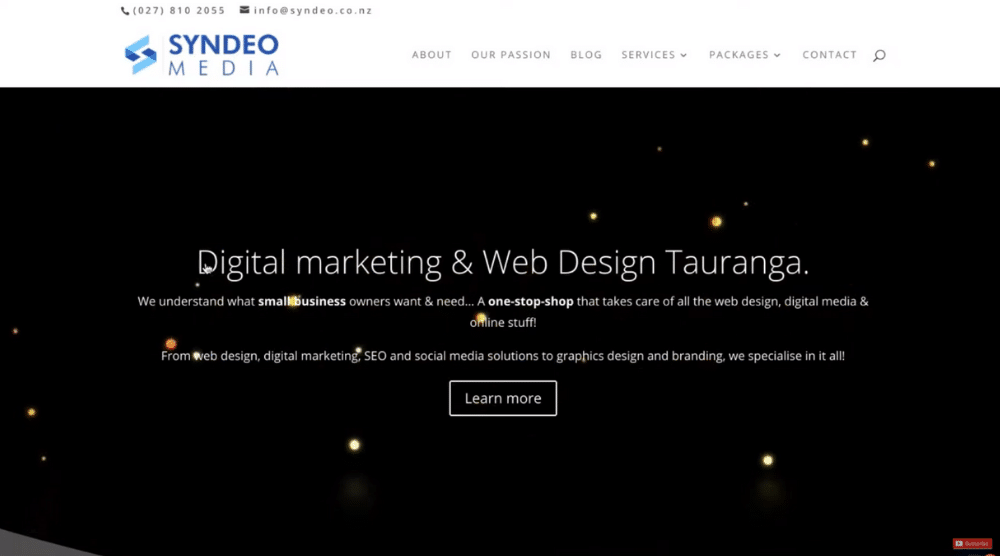 On-page SEO is all about what happens on your website.
Make sure your web copy has keywords embedded into it.
Apart from that, it's great to have a video on your homepage since this content format gets a lot of engagement. Also, the video description and title should also have keywords in them.
Since YouTube is owned by Google, adding a YouTube video to your homepage is going to help with social signals as well.
Let's scroll down and navigate to the footer of the website.
Here we have:
The information that you have here (Name, Address, and Phone Number, i.e., N.A.P.) should be exactly the same on your Google My Business listing.
If you can add a map in your footer, that's even better. But make sure you have this information at the bottom of every page.
7.      Engage in Off-Page SEO
The last step that's going to help your local business dominate Google Maps is engaging in off-page SEO, which is all about citation building.
Citations could be social media and local directories.
For example, Whitespark is a great website where you can find the top 20 citations in your country.
You want to sign up for as many of these citations as possible.
Make sure you're accurate when it comes to providing your N.A.P. Moreover, this information should be consistent across all the citations.
Apart from that, you also want to sign up for your local Chamber of Commerce.
It might cost money but even if it does, it's not going to be much. The whole process is also called backlinking since you're building links from all these authoritative websites that point directly to your website.
This is a bit of a time-consuming process but is ultimately going to help your local business rank higher on Google Maps.
Read More: How To Add Local Business on Google Maps using Google My Business
If you would like an additional overview via a video format, feel free to check out our Google My Business tutorial below: