Adding your business to Google Maps drives more foot traffic, website traffic and phone calls to your local business.
For example, if someone searches for 'coffee shops near me' on Google Maps, your café will appear under the map pack listings (this is where you want to be in order to be found!).
Essentially, with minimal effort, you add your local business to Google maps and gain new customers through your Google My Business listing (it's also a free tool!).
In this Google My Business tutorial, we'll show you exactly how to add your business on Google Maps.
How to Add Local Business on Google Maps?
We'll also make sure that you sign-up to Google My Business correctly.
Step 1: Sign Up to Google My Business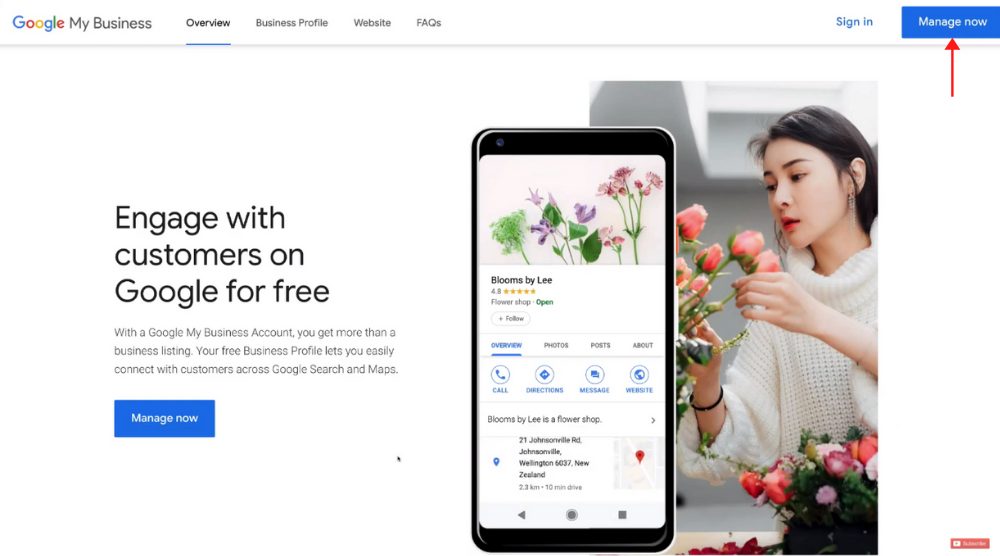 Visit Google My Business. It's completely free to sign up!
Click 'Manage now' and type in your business name in the search bar.
It will help you identify if your business is already listed on Google Maps. If it is, you can go ahead and claim that listing.
For this tutorial, since we already know that the listing does not exist, we'll click "Add your business to Google".
Next, enter your business name (exactly how it appears on the internet) but don't add any keywords here.
Now, select a business category (according to what suits you best). A point to remember here is that once your Google My Business has been verified, you can change this category later if you like.
Later down the road, you may also want to add additional categories. If you own a physical store (a café, for example), you need to add the location. However, if you have a service-based business, you may skip this part.
However, we recommend adding a physical location anyway because this is what makes customers believe that your business is a legitimate business.
Go ahead and enter your location. Google Maps will now identify if your business is already present on Google Maps by suggesting the top three options.
If you see your business in the list, click on it and Google will walk you through the steps of optimizing your Google My Business listing.
If not, select 'None of these' and hit 'Next'. On the Google Map that appears next, move your pin to the right location to ensure the accuracy of your location.
If you also serve your customers outside of this location, you need to select Yes', I also serve them outside my location" in the next step. However, for this Google My Business tutorial, we'll not be adding any other location.
Now, enter your contact number and website URL (which will be visible to potential customers) in the next step.
One of the awesome things about Google My Business is that you get a free website builder that Google can use to quickly set up a website based on your information automatically (if you don't already own a website).
So, if you don't have a website, select "Get a free website based on your info". This is a basic website that you can use until you have a more professional website.
Alternatively, you may select "I don't need a website". However, if you're a local business, we recommend adding or creating one for free.
Click 'Finish' when you're done.
Step 2: Verify Google My Business Listing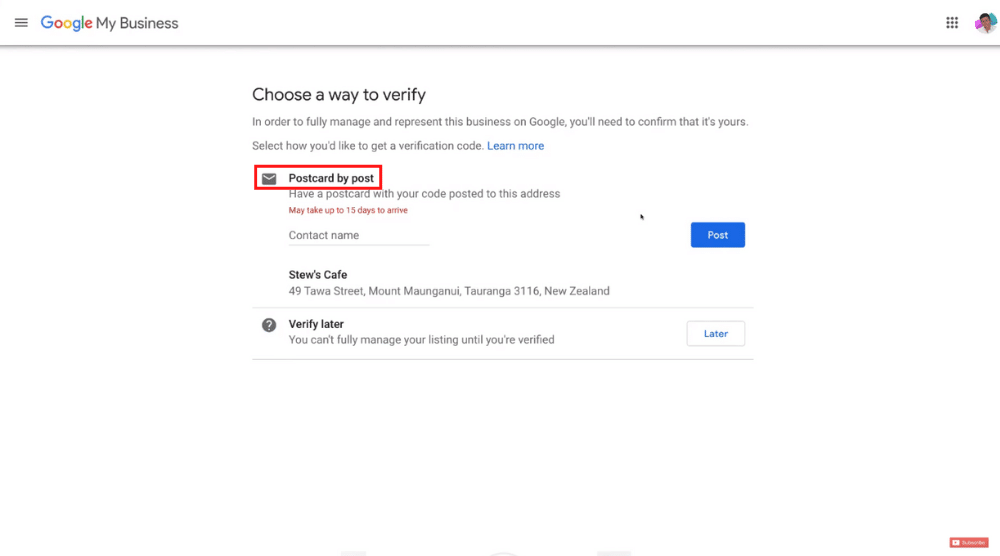 Before your Google My Business listing is live, you need to verify it.
Select 'Postcard by post' and it's now just a waiting game. This can take up to 15 days.
You'll receive a postcard in the mail and all you need to do when that arrives is head back to your Google My Business listing and just click 'Verify'.
Then you'll be asked to add the digits from that postcard to verify your listing.
Once you've done that, your local business will be live online. You may also have other options to verify depending on the nature of your business  – you might have an option for phone call verification.
Now, you need to start managing and optimizing your Google My Business listing once you are verified.
Step 3: Manage & Optimize Your Listing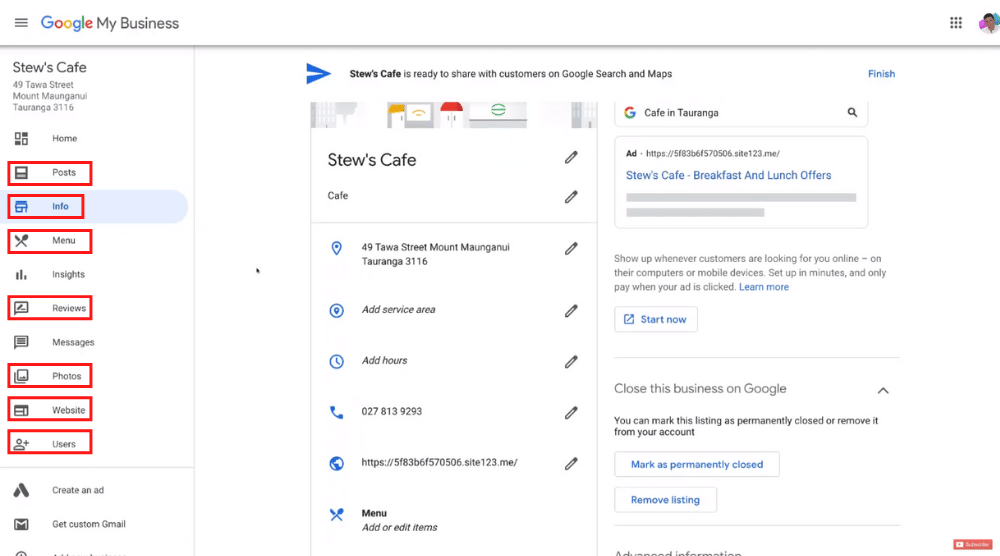 Select 'Home' from the menu on your left.
Here, you can complete the verification process. Now, head over to 'Info' and crosscheck all the information.
Add key attributes, business description, opening hours, etc. so that people visiting can determine what exactly your business is all about.
You can also add photos here or do the same by clicking 'Photos' on the left.
Under each section – menu, food and drink, interior, exterior – upload relevant photos.
This will help Google identify your business and is also going to help customers see what your business is like.
It also pays to add a video. Now, point your cursor to 'Website' and this is where you can manage your website.
You can edit text elements, add photos, customize the theme, and more on this basic, single-page website (use this website feature if you do not have a website).
Under the 'Users' tab on the left, you can add more users to help you manage your Google My Business listing.
You can also download the Google My Business app to respond to messages coming from your listing under 'Messages' on the left.
Once people experience the product/service that your business has to offer, they may leave reviews.
You can find and reply to them under 'Reviews' on your left. You should also incentivize a customer to leave a review.
To add your menu items, simply navigate to 'Menu' on your left.
Using your Google My Business account, you can also update your customers about what's happening with your business by clicking on 'Posts'. This is similar to creating social media posts.
Depending on the nature of your business, you want to create at least one post per week.
Each post lasts seven days, so multiple posts a week will help you gain more exposure online.
And, this is how you add your business to Google Maps!
Watch this more comprehensive tutorial on how to optimize your Google My Business listing for search engines so that you can rank higher than your competitors.
Also, read: Create Google My Business Website
Google My Business Tutorial
A vast majority of business transactions begin with a simple Google search.
Your potential customers are everywhere – they just haven't discovered you yet. And, this is where Google My Business can help.
By adding your business to Google Maps, you will begin to notice increased foot traffic, website traffic, phone calls and ultimately more leads and sales. And, to help you even more with this process, check out our video tutorial below that will help you get started with Google My Business.