So, you're tossing up between Google SItes vs Wix?
Most likely you're here because you need answers…
Maybe you want to build a website for your small business or a client's small business but you're not too sure what is right for you.
Well, don't worry Stew is here! Wow, that sounded super cheesy in my head… But I'm going to leave that there anyway.
I've had tonnes of experience with both of these website-building platforms.
And they are very different in terms of their best use cases, features and useability.
In particular, I want to focus on Google Sites vs Wix for small businesses and help you identify the best option for your website requirements.
I'm going to dive into what each platform is, how to use each website builder, an easy-to-follow comparison between the two and my recommendations.
Alright, let's get stuck in.
Read more: Top 7 Website Builders for small businesses.
Google Sites vs Wix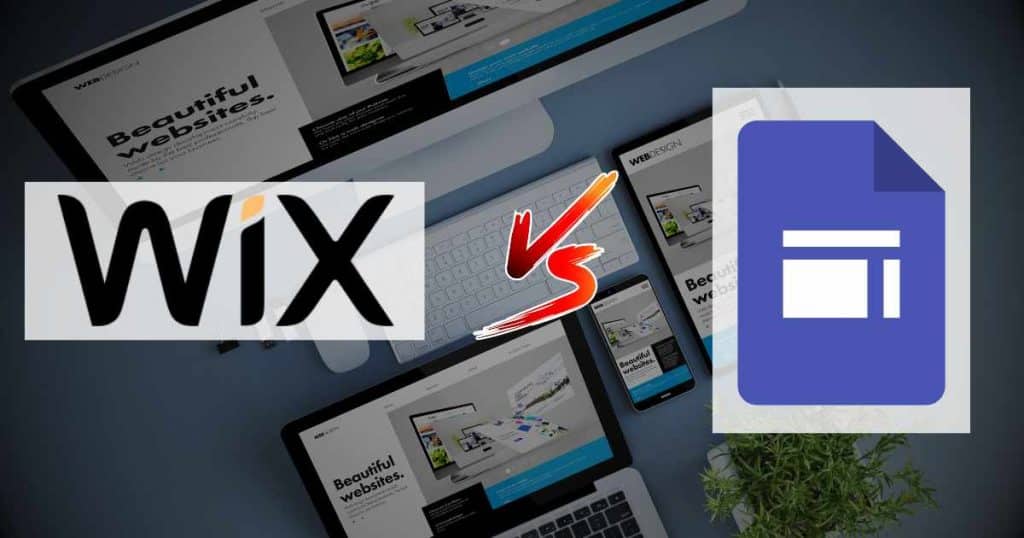 First, we need to briefly discuss what both Google Sites and Wix are.
Let's look into this.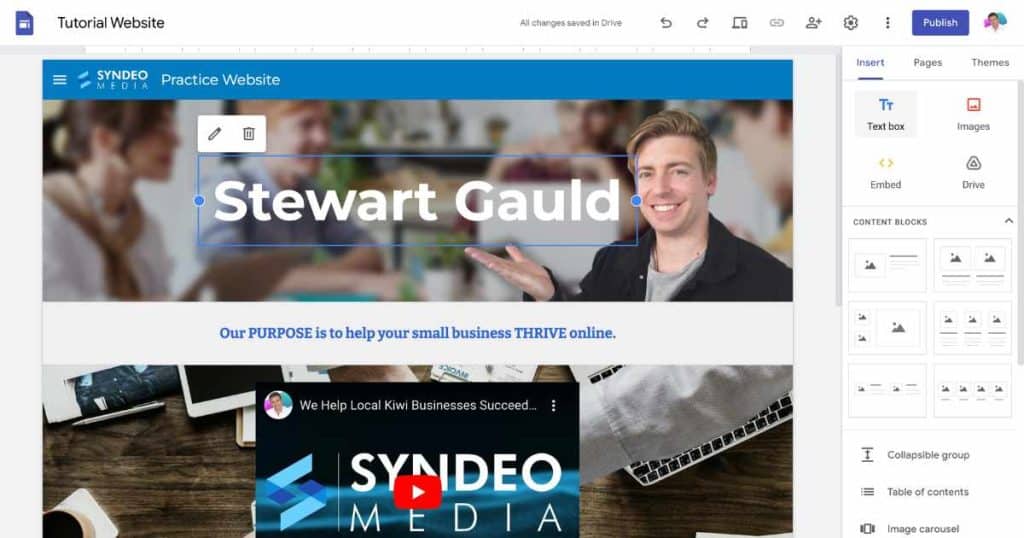 Google Sites is a completely free website builder that is part of Google Workspace – both the free and paid versions of Google Workspace give access to Google Sites.
This means whether you have a free Google account or a paid business Google Workspace account you can access this website builder.
Now, although Google Sites is a free website builder, it is very limited. For example, you only have access to a handful of website templates, themes and page-building elements.
In terms of website features, your website is limited to other Google apps. For example, you can embed videos (with YouTube) and a map (with Google Maps) and add forms (with Google Forms).
So, if you want to add products to your Google site and sell products you cannot, unfortunately.
Although, you can if you use a third-party app like Ecwid which allows you to create a free online store and embed that into your website. Learn more about that here.
What I like about Google Sites
Super easy to use for anyone (very shallow learning curve).
Completely free to create.
Impossible to mess up your website.
Integrates seamlessly with all your Google Apps.
What I dislike about Google Sites
Very limited in terms of what you can create (limited themes, templates, tools, integrations, sections and elements).
Not suitable for e-commerce businesses.
The SEO (search engine optimization is terrible). I know many small business owners that can never find their website in Google Search! It just does not rank well!
Okay, we know that we understand what Google Sites is, let's see how you can build a website with this free website builder.
How to use Google Sites
As I mentioned up above, Google Sites is super easy to use. You can literally build your website in minutes and launch it online.
Check out this video below on how you can build your own website from scratch using Google Sites.
What is Wix? Is it any good?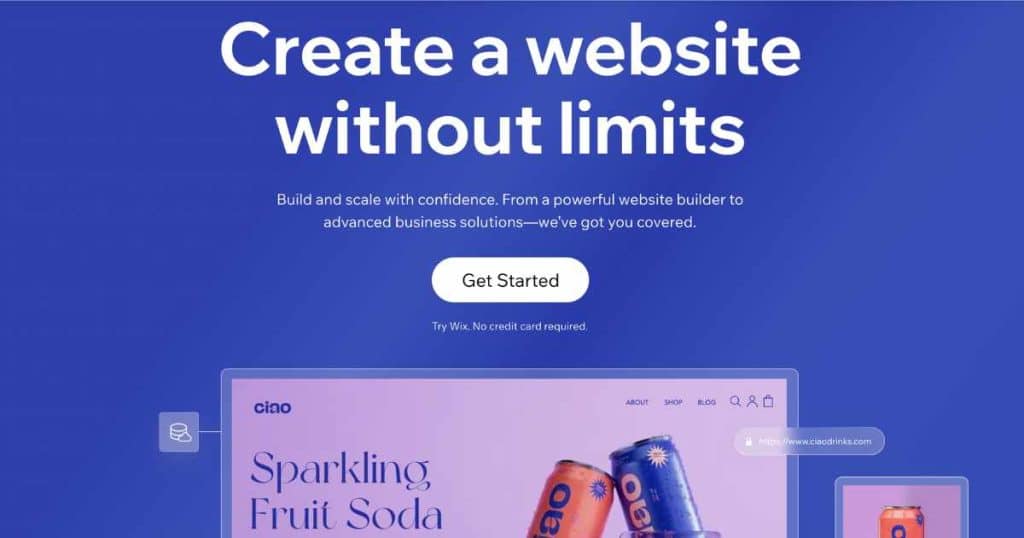 Okay, so we've discussed what Google Sites is and what I like and dislike. Now before we launch into the direct comparison of Google Sites vs Wix, we need to understand what Wix is.
Wix is an all-in-one website builder that how over 200 million users! It is one of the most popular drag-and-drop website builders.
Wix focuses on being the one platform suitable for small to medium-sized businesses.
This dynamic platform offers a cool AI feature called Wix ADI (Artificial Design Intelligence). Basically, you can create a fully functional and responsive website in minutes by just answering a few simple questions.
Read more: Best 11 AI Website Builders.
Not, only this but if you want more control over customizing your Wix website, then you can shift over to the Wix editor (an advanced drag-and-drop page builder).
Another awesome element to building a website with Wix is their Wix app integrations.
Wix has over 300 apps that provide unique features for your website.
This means you can add valuable features like music, newsletter tools, eCommerce features, live chat and more.
What I like about Wix
Relatively easy to use for anyone (low – medium learning curve).
They offer a limited free plan.
Over 300 extensive app integrations.
Over 800 unique website templates.
ADI website builder for complete beginners.
What I dislike about Wix
The drag-and-drop builder doesn't have a clear structure which can make it easy to mess up your website.
The free plan is terrible and you must upgrade to at least the Unlimited plan ($12.5 per month) to get the most of Wix (Apps, integrations etc).
You do not own your site, Wix does and you cannot transfer to another hosting platform.
Okay, so we now understand what Wix is, let's see how you can simply create a website with Wix.
How to use Wix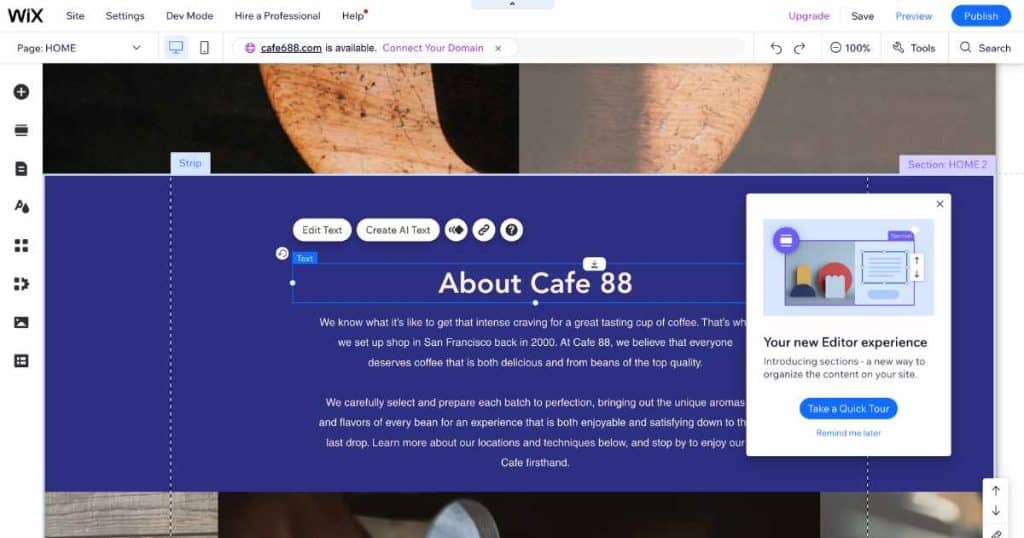 As I mentioned earlier there are a few ways you can create a website with Wix, either by using Wix's ADI builder, choosing a template or building from scratch and using the advanced Wix page editor.
Check out this video down below and learn how to create a website with Wix. I share how to create a website for a restaurant business, however, you can follow the same process and create any time of website!
Google Sites vs Wix: What is best for your small business?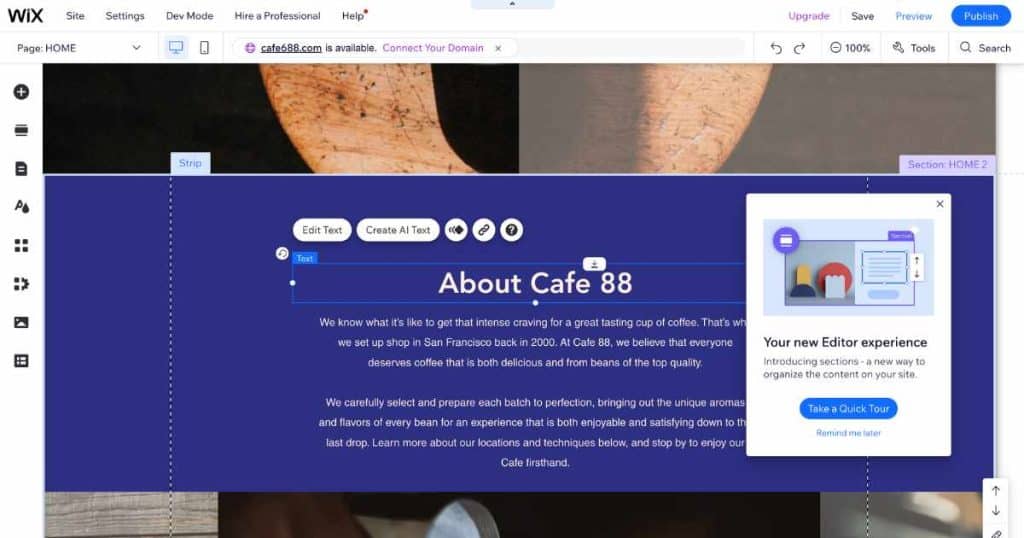 Okay now let's break down and compare Google Sites vs Wix for 2023.
First, let's take a look into the ease of use.
Ease of use – important for beginners
Google Sites is by far one of the easiest website builders in the market for quickly creating a website in minutes and you do not need to touch code or have any website-building experience. Wix on the other hand, is known as an easy-to-use website builder but it can cause some confusion, especially for beginners.
Winner = Google Sites
Website features (apps and tools)
The clear winner for this category has to be Wix. As I discussed above when breaking down both tools, Wix offers over 300 internal and external apps which are essentially tools or features that you can integrate with your website. Literally, whatever you want to build or offer on your website you can do with these integrations without having to ever touch code!
However, with Google Sites, you are very limited and can only integrate 'seamlessly' other Google apps. Although, in saying that they do have a code embed feature that allows you to integrate third-party apps with your website.
Read more: Add an online store to Google Sites with Ecwid for free.
Winner = Wix
Other service offerings (outside website building)
This is all about the other apps, tools and features that you can use to help you grow your business. For example, if we take a look at Wix first, they offer email marketing, business emails, CRM tools, logo maker, business card maker and more.
On the other hand, we have Google Sites which is part of the greater Google Workspace productivity and collaboration suite. Meaning you have access to business emails (paid Google Workspace users), Google docs, slides, sheets, contacts, drive and more.
Although, all these apps are free excluding the business email so you could easily access them when building a website with Wix too. So the winner for complementary tools, features and apps is Wix.
Winner = Wix
Suitability
What about the types of websites that you can build with Wix and Google Sites? Let's take a look:
Google Sites allows you to create:
Basic single-page website.
Basic multi-page website.
Wix allows you to create:
Full feature single-page website.
Full feature multi-page website.
eCommerce websites.
Membership website.
Blogging website.
Saas website.
Multi-step sales funnel website.
Okay, so as you can see, Google Sites really only lets you create basic websites and Wix is for more comprehensive website requirements.
Winner = Wix
After a breakdown and finding our winner for each of the comparable features, what is best for your small business?
What is best for my business? Wix or Google Sites?
Based on my research and first-hand experience with both of these popular website builders, I believe, Google Sites is ideal for individuals that have little to no online marketing or website experience and need to quickly create an online presence.
Google Sites is limited as we have discussed so is only suitable for basic website requirements, for example, if you have a brick-and-mortar business or service-based business and you just need a website that can capture emails and online visitors can call your business, then a basic Google Site website will be fine.
If you are a local business that uses Google Business Profile (GBP) and you need a basic website listed on your GBP listing, then again Google Sites is sufficient enough.
Types of businesses that could use Google Sites (examples)
Landscapers
Cafes
Brick and mortar
Hairdressers or Barbers
Electricians
Plumbers
Builders
And for Wix essentially any other website requirement that goes beyond the limits of Google Sites. So if your business is more serious about building an online presence and you want to grow and scale your business, then Wix is ideal for your business needs.
Types of businesses that could use Wix (examples)
eCommerce businesses (online stores)
Restaurants
Content-based businesses
Construction businesses
Consultants
Web designers
Marketing
I hope that is enough information to help you decide on the best website builder for your small business.
Stew's final thoughts
And that is it for this comprehensive Google Sites vs Wix guide.
The focus was to help you understand and identify the best solution for your small business.
Let me know your thoughts about this article down below.
Did you manage to decide on the right website builder for you?
Thank you again for reading this article all the way to the end!