Video advertising has long been an important element of traditional marketing strategies.
All types of businesses have been leveraging video ads to promote their products and services for years and years, with these video commercials mainly on televisions.
However, an increasing popularity of digital mediums has forced enterprises to publish small video advertisements through other mediums.
And to make these video advertisements more enticing for the intended audience, brands often spend a large amount of money.
However, small businesses may not have the budget or the appropriate facilities to employ experts.!
Nonetheless, with the assistance of free video makers available online, these businesses can produce professional-looking video advertisements with complete ease.
Canva is one of our favorite free video editor tool that allows anyone to make thoroughly professional-looking advertisements for free.
Can We Use Canva for Making Free Video Ads?
Canva is a design platform that provides you with a spectrum of free design templates to create social media graphics, presentations, and other visual content. It's a comprehensive design platform that is easy to use and suitable for beginners as well as professionals.
How to Make a Free Video Ad (Step by Step)
1
The first step is to sign up on Canva. With the help of your unique username and password, you can create your Canva account or you can sign up with Google, Facebook, or your pre-existing Gmail account.
2.

After you login into your account, a dashboard will become accessible to you. There are a number of free as well as paid templates available for you to create Facebook posts, Instagram posts, logos, presentations, resumes and much more.
3.

To create video ads, navigate to the Search bar and search for Video. You can opt to create a standard size video or Canva also offers an option for custom sizes.
4.

As soon as you select the video option, you will be diverted to the template page, where you will find hundreds of free templates. Select a video template of your choice and customize it based on your requirements. Otherwise, you can create a video from scratch and give it your own creative touch. Meanwhile, to identify whether the template is free or paid, you can simply hover over it and you will be able to see a free or paid mark in the bottom right-hand corner. Everyone can use free templates, but paid templates will be available to only those who have upgraded to a paid plan (you can get started with a 30-day free trial).
5.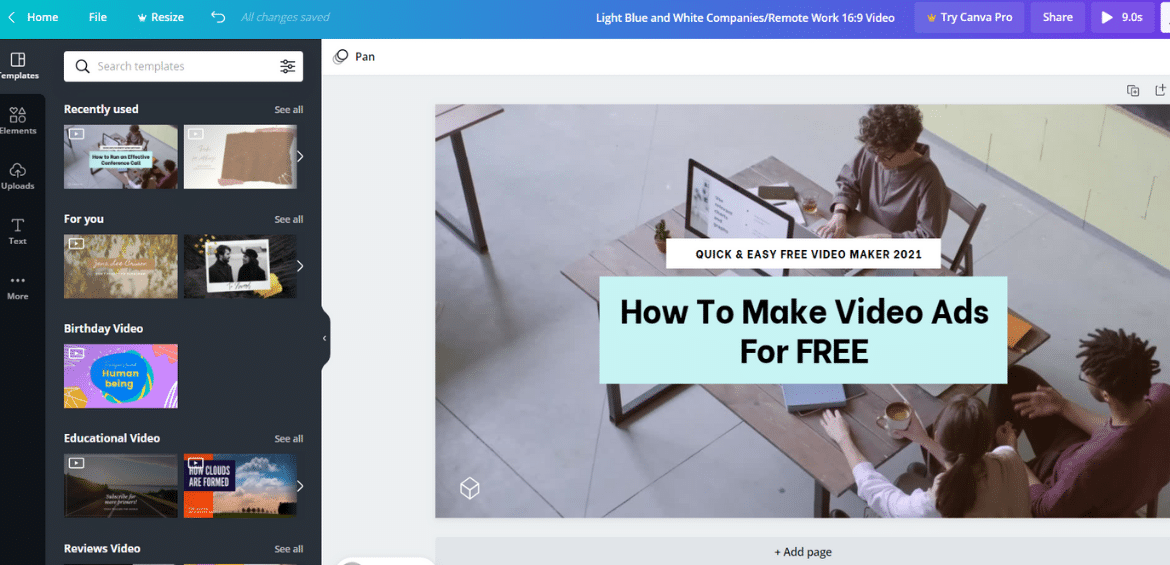 To start making a video ad, click on a video and select a template. Then customize word content, change the time duration of the video content and any other element present in the template. You can change font style, font color, background color, length, add content, elements and access many effects. Additionally, you can add new elements in the video with the help of the easy to use drag and drop building feature. You can also add multiple pages (scenes) for larger video creations.
6.

After you have completed all the necessary editing, you can preview your video changes by clicking 'preview'.
7.

Once you are satisfied with the video scenes/pages, you can simply click on the top right-hand side corner of the page. Then select the option to download your new video in mp4 format.
8.

Now you are all set to publish this video ad across your desired platforms. The same procedure can be followed to make videos for Facebook as well as Instagram ads and other channels.
Video Tutorial to Create Free Video Ad
The free ready-made templates reduce the time required to create video ads. As many of these templates are free to download. Additionally, complete beginners can simply create professional-looking videos in minutes with Canva.
Disclosure: Some of these links on this page a affiliate links, meaning we will get a commission if you buy through them, this helps support our education-based platform and we thank you in advance.
If you would like to follow a step by step video tutorial for creating free professional video ads, feel free to watch the easy to follow video below.