There are several other data or cloud storage and file-sharing platforms available online. However, Google Drive is one of the most popular, powerful, and user-friendly cloud storage platforms. If you have a Gmail account, you are probably familiar with the Google Drive feature. It enables users to share and store vast volumes of data online. To know "why you should use Google Drive" and "How to use Google Drive", read further.
Why use Google Drive for your small business?
Google offers its users up to 15GB of free storage space. This amount of storage space is adequate for personal use. However, for small business owners who wish to store all their files and folders, this might not be sufficient. Therefore, business owners can upgrade their free plan to a paid plan with more storage. You can also sign up to Google workspace for businesses, which has a starter plan that includes 30GB of cloud storage as well as other advanced features. If you want to learn How to Use Google Drive, the best cloud storage platform for small enterprises, then follow the steps outlined below.
How to Use Google Drive?
Step 1:
Sign-in process: Start accessing Google drive directly by typing drive.google.com into the browser. Otherwise, if you have a Google account, log in to your Gmail inbox. Then click on the applications option in the top right corner of the screen and navigate down to Google Drive.
Step 2: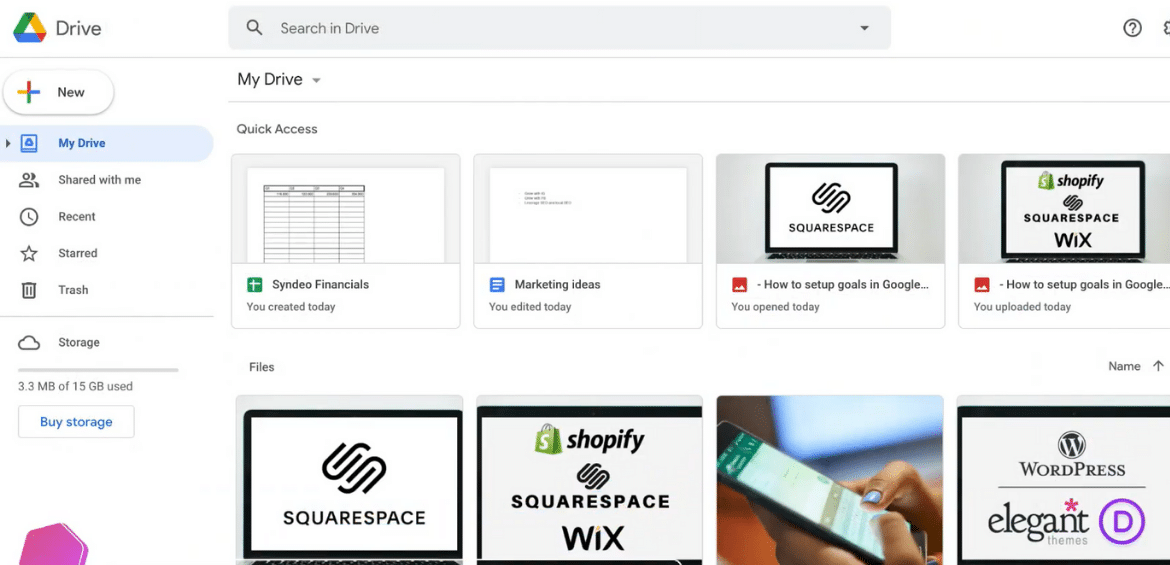 Access your Admin console: After you click on the Google Drive option, it will direct you into the Google Drive window. Additionally, you can sync Google Drive with all your devices, so that you can access all your uploaded files from any of the devices you own.
Step 3: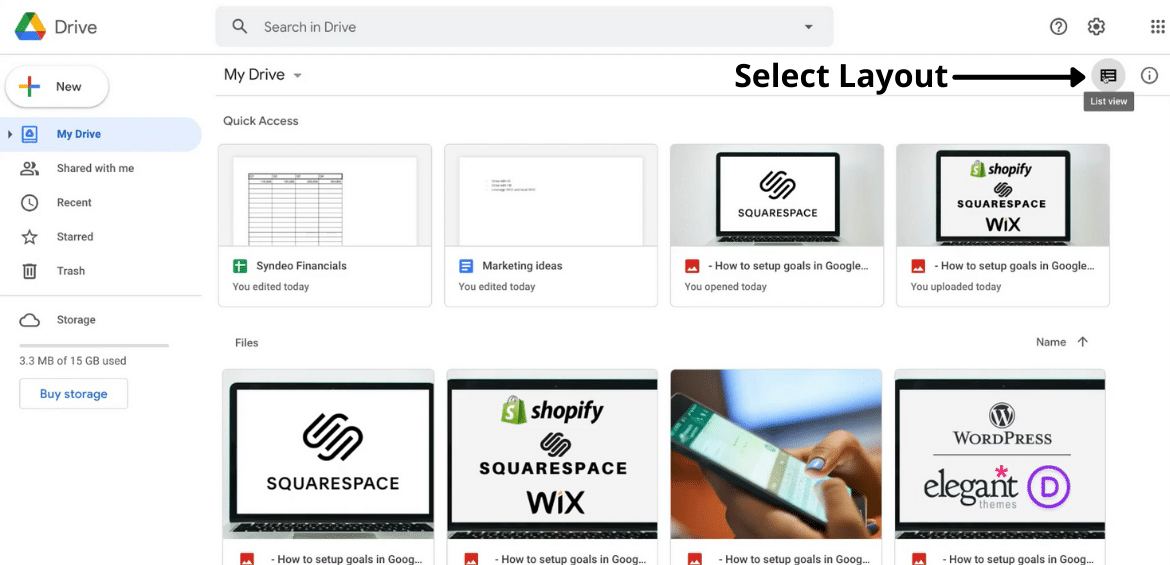 Customize your account: You can alter the style in which documents are viewed in your Google Drive account. You can choose from any of the pre-existing formats.
Step 4:
Method1: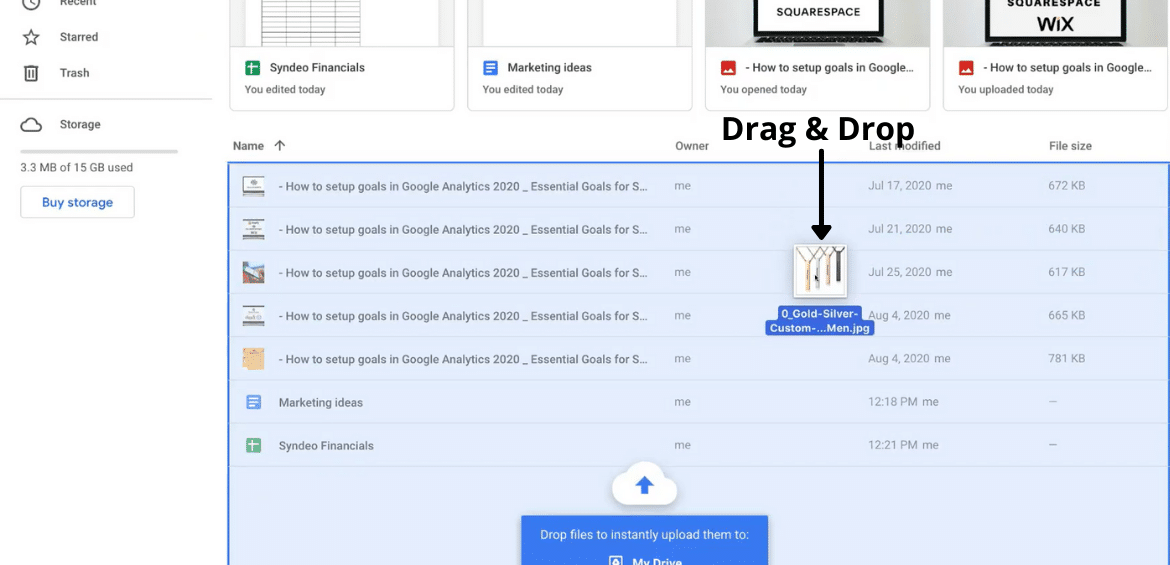 Transfer data to Google Drive: Uploading documents/files to Google drive can be done in two ways. The first method is to simply drag and drop any file from your device.
Method 2: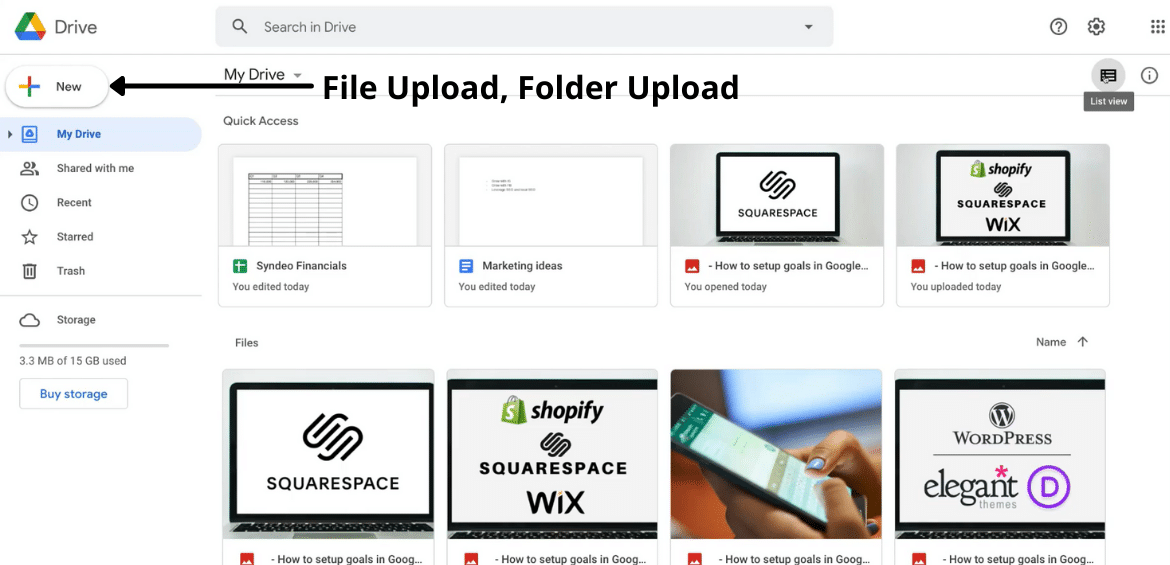 The second method is to upload documents by clicking on the 'New' option at the top left-hand corner of the browser. When you press 'New,' you will be presented with options such as File upload, Folder upload, and so on. Choose any desired option, then select the desired file/folder from your computer to import, and you're good to go. You can also reorganize previously uploaded files by adding a new folder in your drive and simply drag and drop to arrange file and folder placements.
Step 5: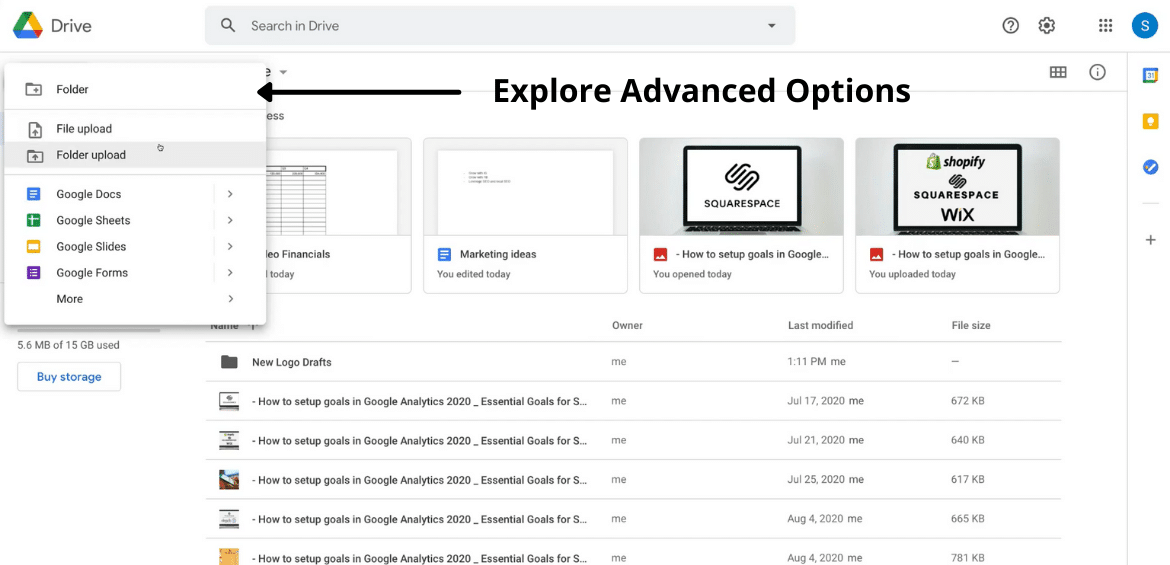 Explore advanced options: Furthermore, you can explore various options provided under the 'New' tab. You will find Google Docs, Google Sheets, Google slides, Google forms, and few others. Google provides you with so many useful productivity applications that will help you in simplifying many of the online operations required for your small business.
Step 6: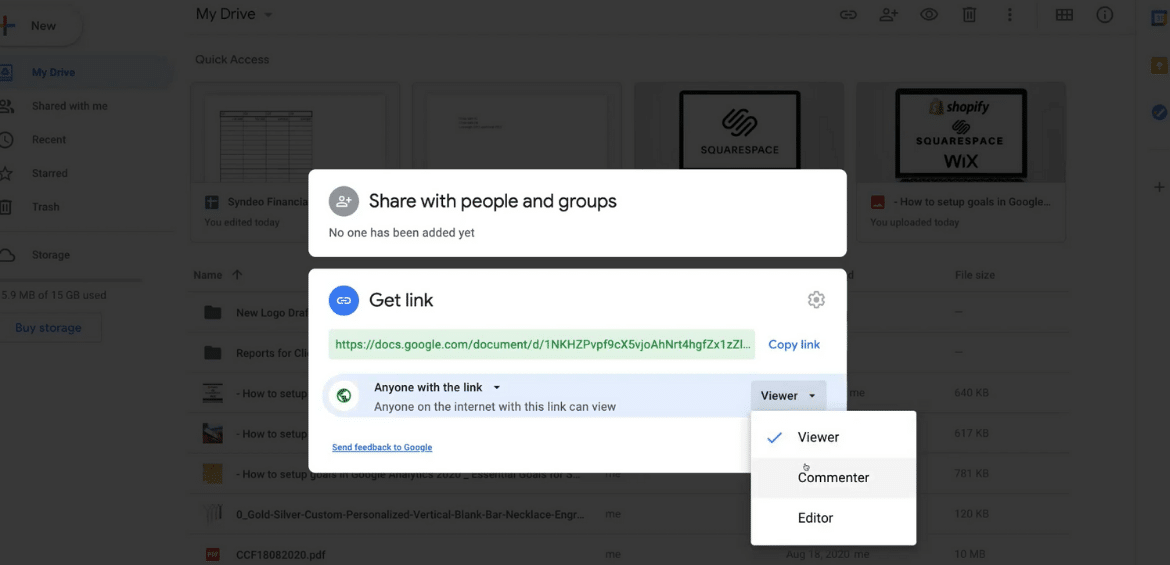 Manage your data accessibility: Once uploaded, you can manage with whom to share documents. Additionally, you can grant other individuals access to edit or modify certain documents or restrict users to only read shared documents. For sharing documents, click on the link icon present on the bar at the top of the browser window. By clicking on the icon, and a link will be generated. Then add email accounts of the individuals, groups you want to share the document with.
Step 7:
Use Team Drives: If you are G Suite Business or Enterprise editions user, then you can have access to Team Drive. Team Drive enables you to set up a group to create a distribution list for teams. It also allows admins to manage all the uploaded documents.
Step 8: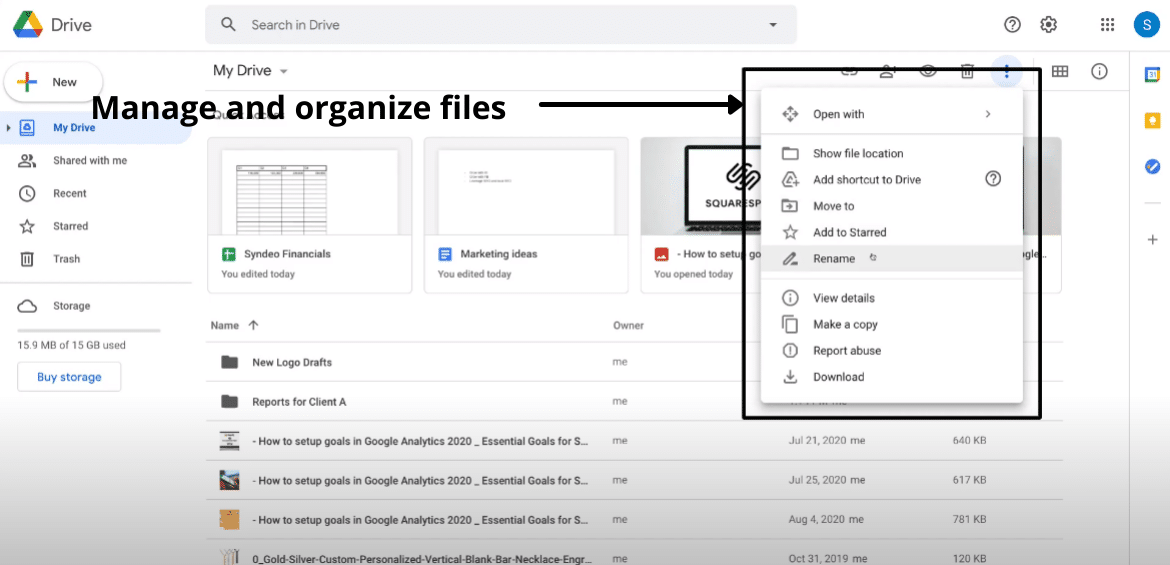 Manage and organize files: Google drive gives you the flexibility to choose more actions to perform on the uploaded files and folders (take the time to navigate through these).
Step 9: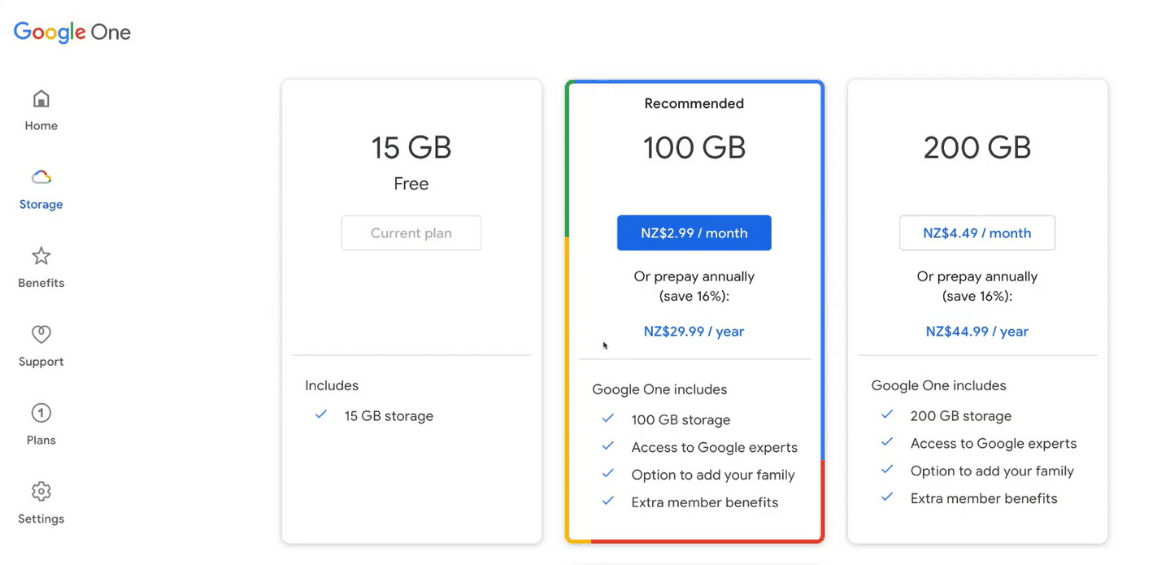 Account upgrading: As a business, you might be handling a significant amount of documents. Thus you may feel the need to have more storage space. You can get more space simply by clicking on 'Buy More Storage'. Then you will be directed to a page specifying different plans. You can opt-in for a plan that completely fulfills your business's requirements.
What are the Benefits of using Google Drive?
You do not require any technical skills or knowledge to handle Google Drive.
Google Drive provides an intuitive interface that is easy to use.
Gain access to your files using different devices and operating systems.
Google Drive provides a high level of safety and security for the data you are sharing, irrespective of the device.
The platform facilitates real-time collaboration between individuals as well as teams.
You can share documents with different file extensions or formats, with just one simple click.
It also allows a backup option, so that you never lose your important data, files, or folders.
Also Read: What is Google Workspace?
Watch our Video Tutorial on HOW TO USE Google Drive
The preceding video guide provides an overview of how to use Google Drive. You will learn how to take advantage of the many wonderful solutions provided by Google Drive to improve the quality of your online business communications and productivity. Since it is a cross-platform technology, businesses can use it on Windows, Android, Linux, or Mac operating systems. Moreover, you can share not only documents, but also spreadsheets, drawings, and a variety of other kinds of documents, making it one of the best cloud storage platforms out there. If you're interested in watching our Google drive tutorial for a more in-depth understanding of Google Drive, you can check it below. Enjoy!