Are you a startup or an established business? A freelancer, maybe? And are you looking for free project management software or/and CRM to manage your day-to-day business activities for Monday.com tutorial for beginners?
Monday.com has the right tools for you! Get started with Monday for FREE here.
Welcome to this Monday.com tutorial for beginners.
Monday.com is now an all-in-one free project management tool and customer relationship management (CRM) software.
Read my complete Monday project management review here (updated for 2023).
It is a user-friendly, visually pleasing tool that enables small and large businesses to collaborate together on one easy to use platform.
In their recent update, Monday.com has come up with a range of innovative solutions for businesses to choose from.
You can leverage their easy-to-use CRM or dive into their project management solution.
How to use Monday.com
So, let's get you started on how to integrate your business with Monday.com and manage your projects and customers, all in one place.
Free Plan!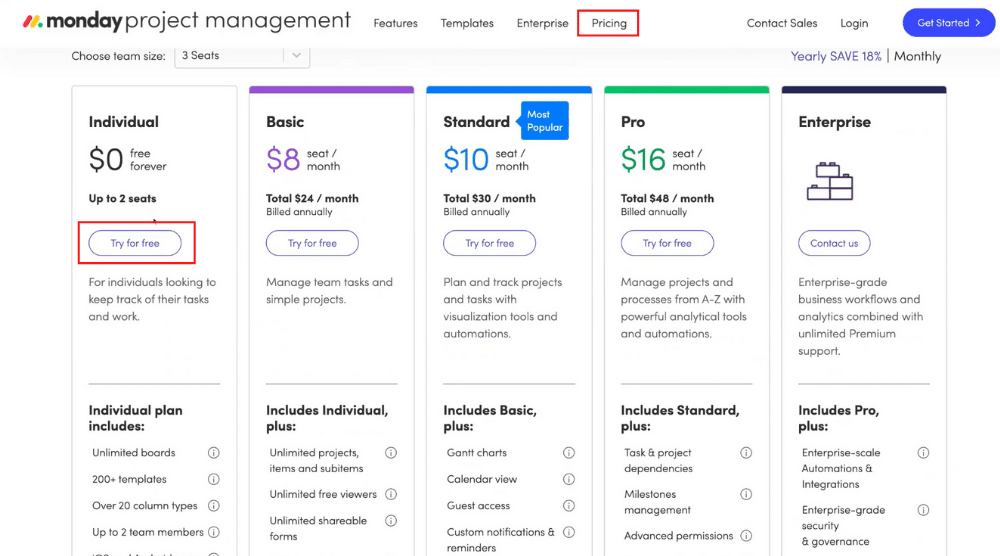 Monday.com now offers a free subscription plan.
This is ideal for new business start-ups or freelancers who want to get started with project management or customer relationship management activities.
Two users can have access to the free subscription plan.
Working With More Than Two People? Not a Problem.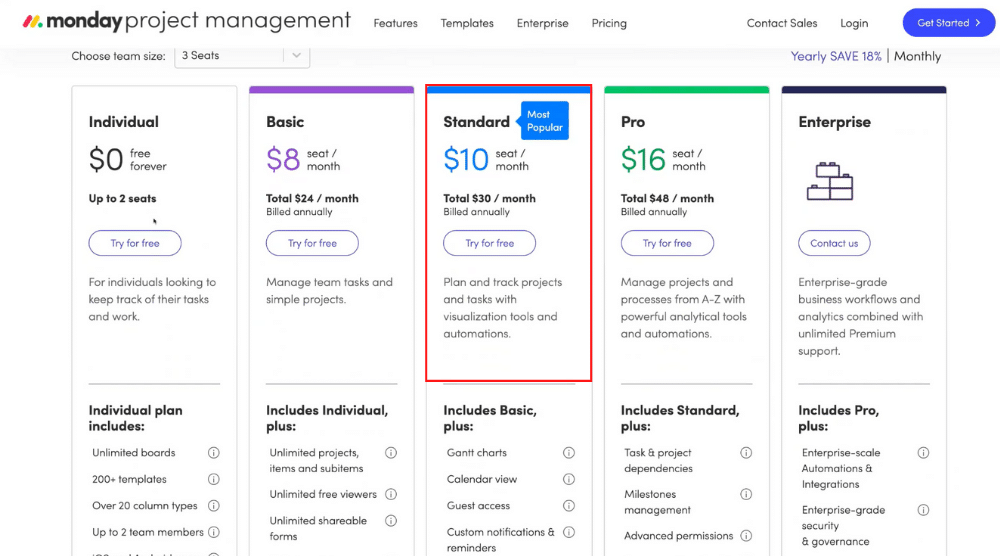 Monday.com has a plan for small teams of 3-10 people (which also offers a 14-day free trial to start with initially).
If you have a team of larger than 2 people then we recommend you begin with the standard plan because it gives you access to more advanced features like automation that are incredibly useful for saving time.
At just $30 per month, it's convenient and affordable for both new and small businesses.
Once you have set up the account, you can add your team members simply by adding their email addresses.
Let The Fun Begin! Create Workspace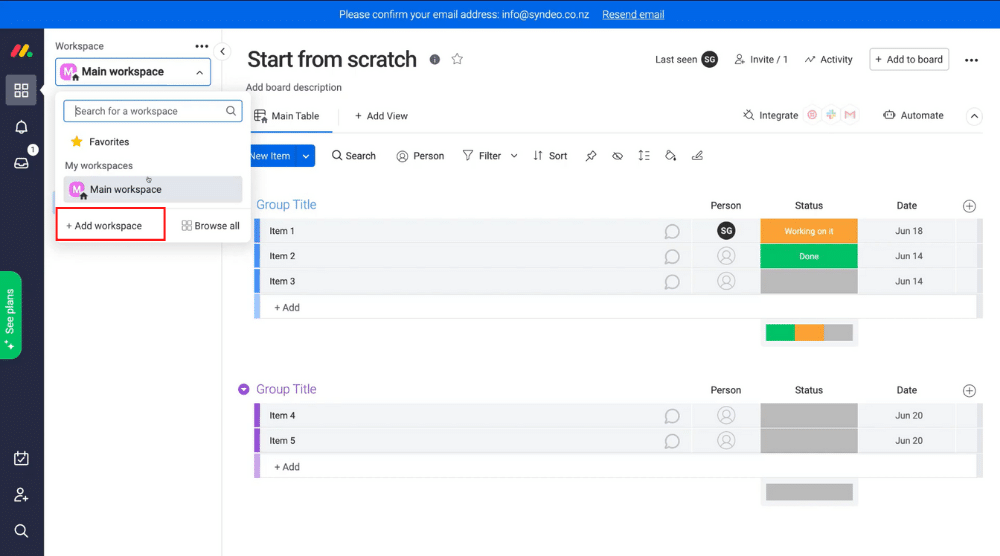 Monday.com offers the facility to create more than one workspace.
But for beginners, only one is usually needed.
The main center of Monday is your workspace where you can manage projects, set up campaigns, sales pipelines or CRM's.
Monday.com has made it easy to organize this space.
You can create boards that are specific to the activity of a project, and Monday gives you the option to share your board with external users meaning your client can see the progress of those activities and monitor progress.
Create Folders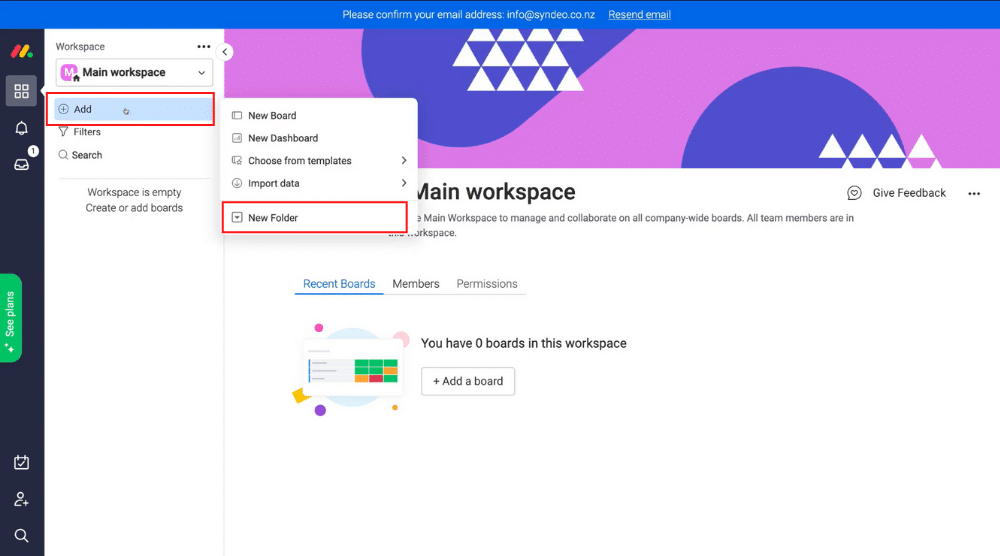 Before we begin with our first project, we need to create folders.
Monday.com offers you space to create different folders within your Workspace.
This will help you organize multiple projects for multiple clients.
Create Boards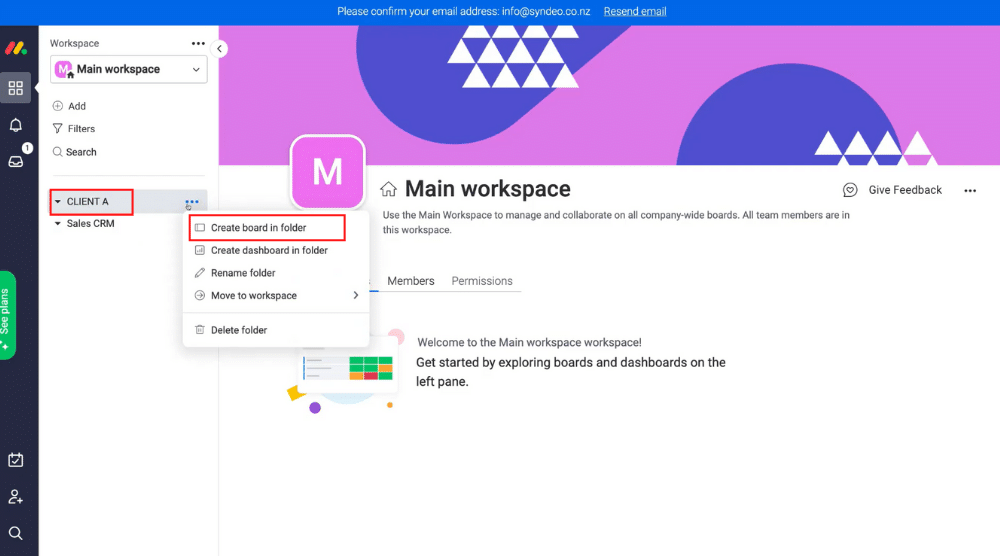 To create a project, you need to click on the 'create new board' button.
Monday.com is very easy to use and almost self-explanatory.
You can select from various templates for the kind of board (project) you wish to create, like Marketing, Content Production, Project Management or Sales and CRM-based projects.
Think about the board as a specific project that you are creating. You can then manage these in your folders in your Workspace.
Creating groups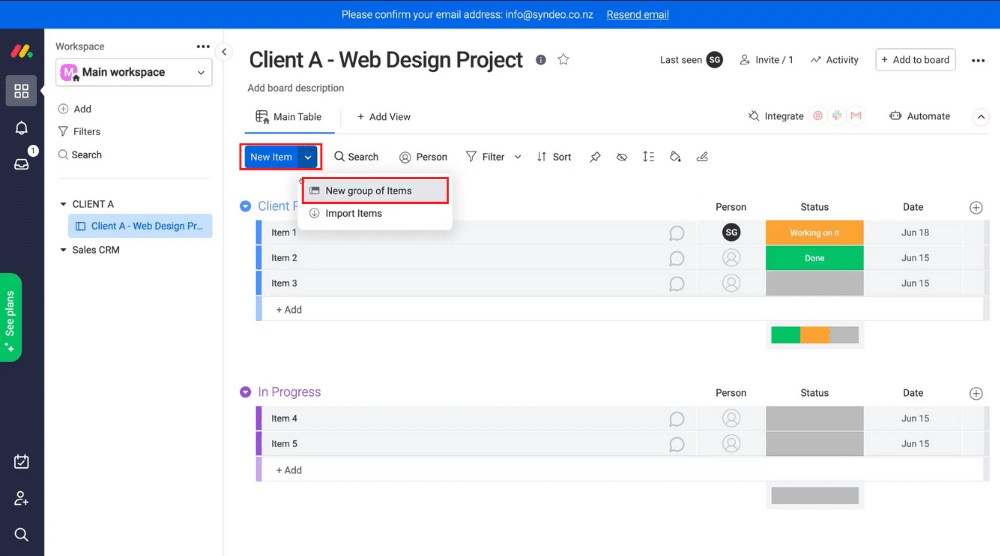 Monday.com's project management software allows you to create groups.
Groups are necessary to efficiently manage your projects. You can create multiple groups to divide the tasks that you have to perform for the client like client requirements, testing, in progress and completed tasks.
Different groups contain tasks, campaigns or features related to one project. They can all be organized according to the progress of the project. Each group can be named according to its completion of tasks. Then you can easily drag the tasks from one phase to another.
Create Items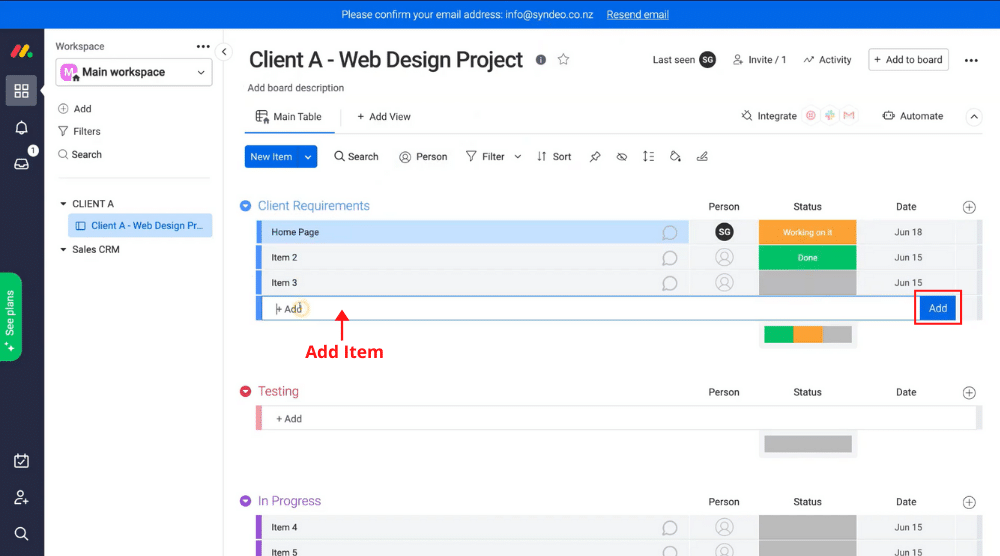 Items are tasks that you need to complete in your project group.
They are your deliverables and Monday.com's project management software makes it a simple process to manage them.
You can simply click the 'add item' button and add your deliverables. Once your task is completed, you can move the item from one group to another.
Create Columns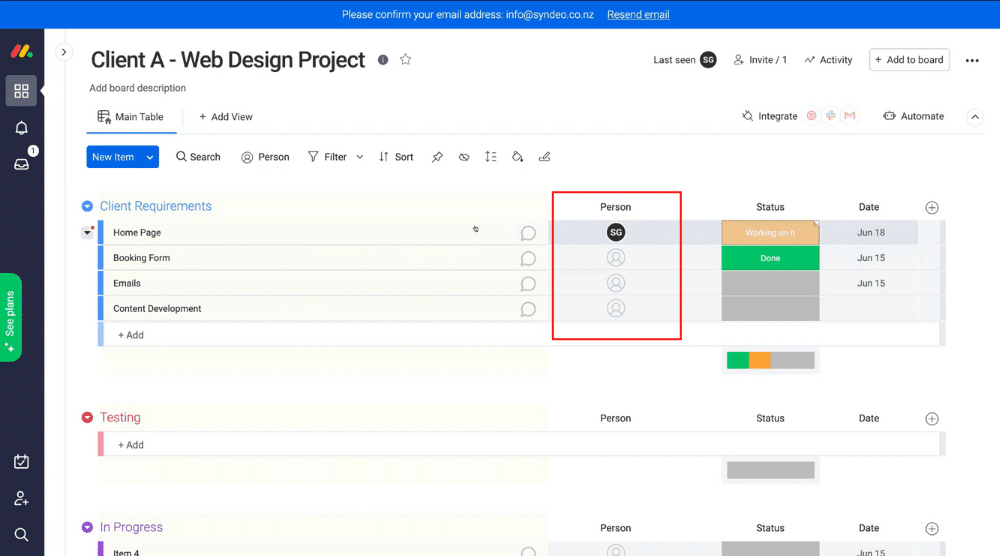 Within items, just beside each item, Monday.com's software offers a feature to add a column/s to define various things like its status, due date, and name of the employee working on it, and more.
One of the default columns is called people. You can define which person is working on the task.
You can also add more people to the task by simply adding their names to the people's column via email address.
A simple right-click on the column button will open a drop-down menu of various items for which you can add a column. They can be things like timeline, tags, dates, sub-items, formula or text, and much more.
Automate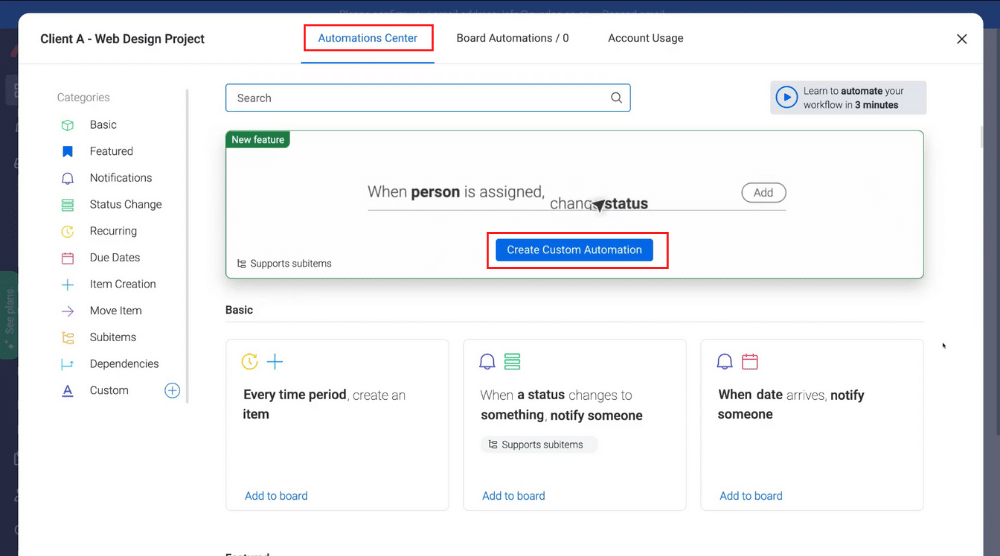 Next in line is a wonderful feature by Monday.com called 'Automate' which allows you to setup pre-decided automations within your projects.
Let me explain how this functions…
You can see a status here saying "when Status changes to something, notify someone".
So here, you can define the parameters for status, something and someone.
You can decide whom to notify when the status of an item or task changes from one status to another.
For example, you can define the software to notify 'John' when 'home page development' task's status changes from 'in-progress' to 'complete'.
This is just one example. There is an abundance of automations that you can leverage to reduce many of the manual, messy and time-consuming activities.
Monday.com tutorial for beginners
Not only can you manage projects BUT you can also engage in CRM related activities!
To get started, you need to select the 'Sales CRM' folder under templates. Monday allows you to select a Sales & CRM template.
Under the CRM folder in the navigation panel on the left, you can find CRM elements like sales pipeline, contacts, lead capturing, sales dashboard, and CRM learning center.
You can select any of these elements and customize every group, task, and column in the different categories.
You can manage your sales targets, see progress, priority and actual real time values of your CRM KPIs.
Wrapping up
If you are going to use Monday.com's project management and CRM software, I highly recommend you begin with a template.
This will help you understand automation, which is one of the key features of Monday.com.
One of the best ways to understand automation is to select a template and have a look at the existing automation.
So all in all, if you are looking to better manage your long-term and day-to-day projects and interactions with customers, then Monday.com is a viable solution for you.
If you liked our Monday.com tutorial for beginners, please refer to the video link below and watch our step-by-step instructional video of how to get started with Monday.com.
You can give us your Monday.com review on my website or YouTube channel by dropping a comment.
Disclosure: Some of these links on this page are affiliate links, meaning we will get a commission if you buy through them, this helps support our education-based platform and we thank you in advance.