Etsy is a global online marketplace ideal for small businesses looking to reach an international audience with their product. They take pride in themselves for being a community-driven marketplace, focusing on creative and unique products.
It's an important sales channel for small businesses. In this Etsy tutorial for beginners, we'll explain how to sell on Etsy successfully in 2021. You can leverage this marketplace as an additional sales channel or independent online store for your brand.
How to use Etsy?
Let's walk you through how to start an Etsy business:
Step 1: Getting Started with Etsy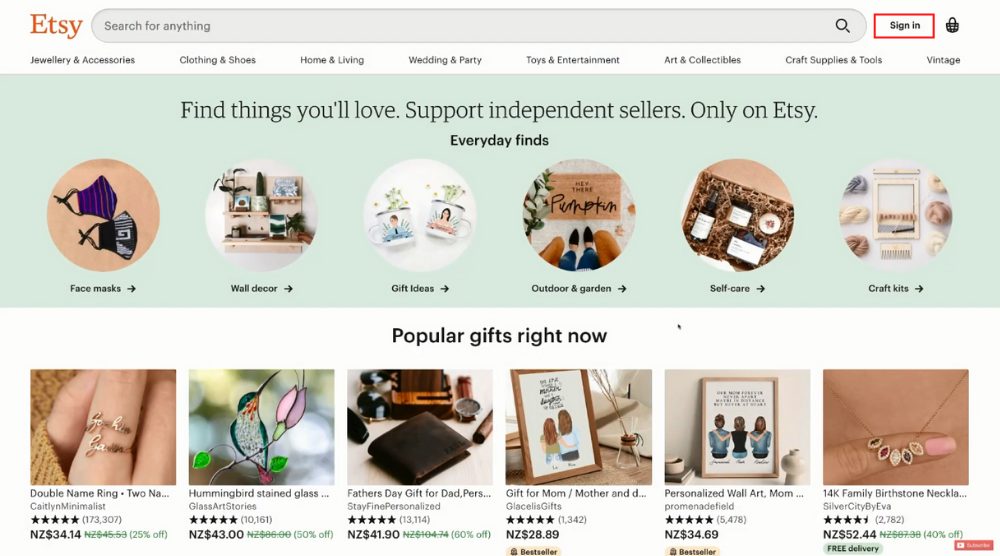 Head over to their official website. Navigate on 'Sign in' and click 'Register'. Add your email, first name, and password. Once you've entered your details, click 'Register'. You can also use Google, Facebook, or Apple to sign up.
Now that you've signed up, we'll learn how to start an Etsy shop in this tutorial.
Step 2: Selling on Etsy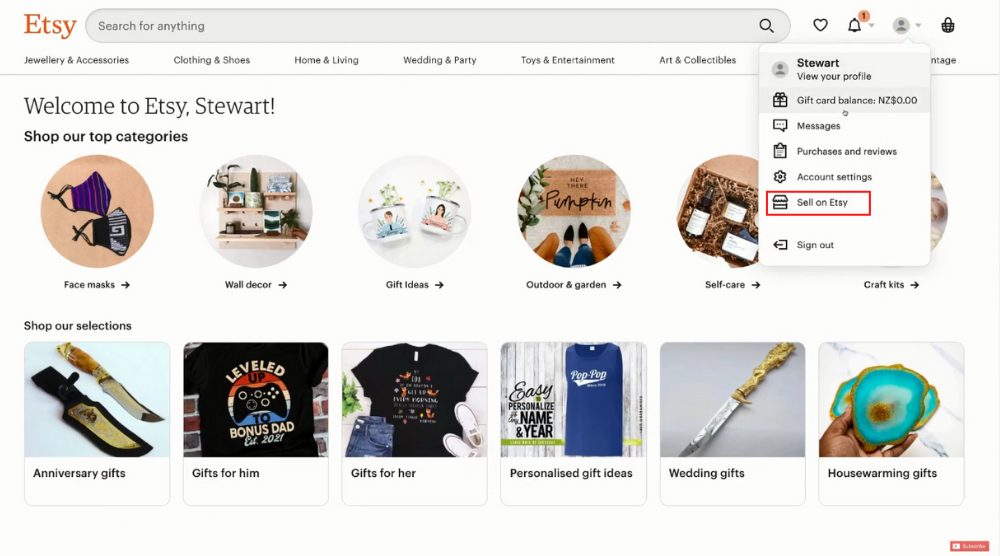 On your top-right, click on 'My account' and then select 'Sell on Etsy'. Now, scroll down the page until you find 'Open your Etsy shop'. Once you locate it, click on it. In the 'Shop language' section, we're going to select English from the drop-down.
Similarly, change the shop country to New Zealand and Shop currency to New Zealand Dollar. Next, select the option that best describes your business and then click 'Save and continue'.
Step 3: Naming Your Etsy Shop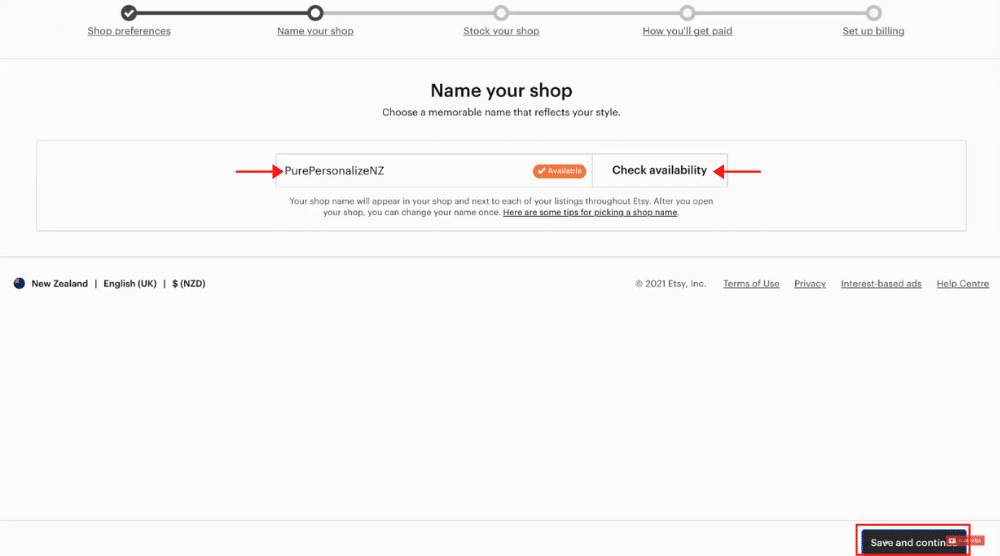 Here, existing brands can enter their shop name. However, for this guide to selling on Etsy, we'll create a store named 'PurePersonalizedNZ' from scratch. Check availability to see if you can use this name.
Once you see it's available, click 'Save and continue'.
Step 4: Adding Product Listings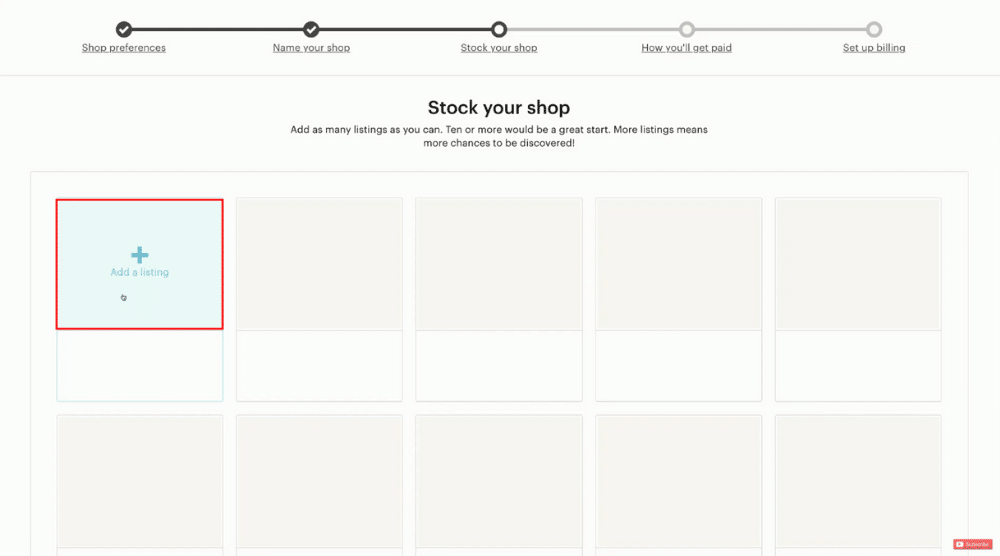 This is the most time-consuming yet crucial part of becoming an Etsy seller. Here, you can add your products and optimize your listings. For this Etsy tutorial for beginners, we'll add one listing.
However, Etsy recommends that your upload at least 10 listings to enhance your exposure and ultimately increase the chance that your listings will be discovered on Etsy. Hence, you can go ahead and click 'Add listing'.
Now, we need to add at least four photos of our new listing (or product). Here, we're going to upload four images of our product – a personalized necklace. Customers can select any of these colors and add their own message to the necklace.
From your images, select an attractive thumbnail for your listing. This is the first image that your potential buyers will see. Besides, it's recommended to add a video (if you have one) of your listing as it's quite engaging.
Not to mention the fact that videos further optimize your product listings. Now, scroll down to 'Listing Details'.
Step 5: Researching and Optimizing the Keywords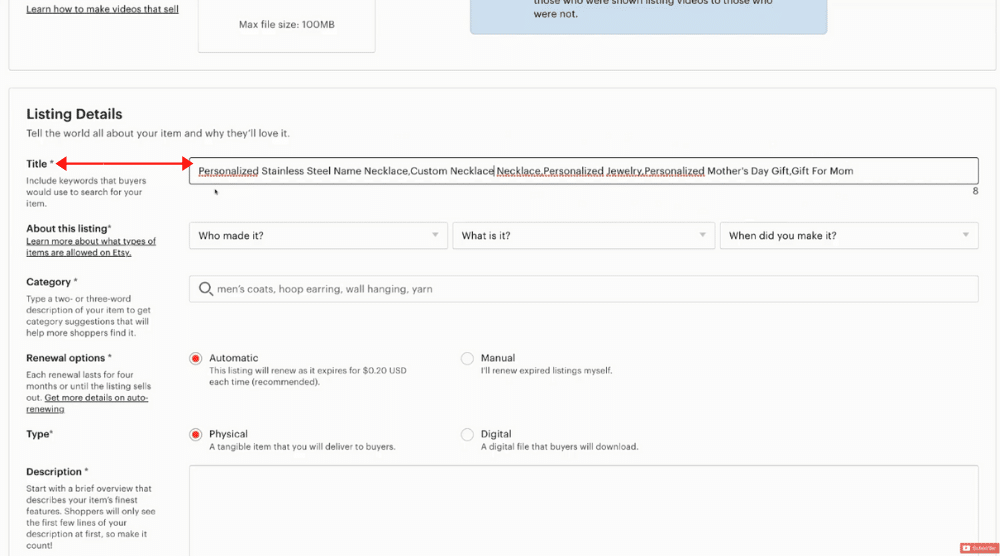 When it comes to adding a title in listing details, basic keyword research is important. To find the right keyword that your potential customers are using to search for similar products, open a new tab in Etsy.
Here, we're targeting 'personalized necklace' as our main keyword. You can see hundreds of listings on the page that are optimized for the same or similar keyword. Identify the popular listings that typically have thousands of positive reviews.
Open the third listing, for example. Now, copy the title. Paste this on your Title under Listing Details. Now you can choose keywords you would like to keep in your title. For this Etsy tutorial beginners, we will customize some of these keywords in relation to our product.
That gives you an idea of how you can engage in keyword research on Etsy to identify the optimal title for your listing.
Evaluating Other Options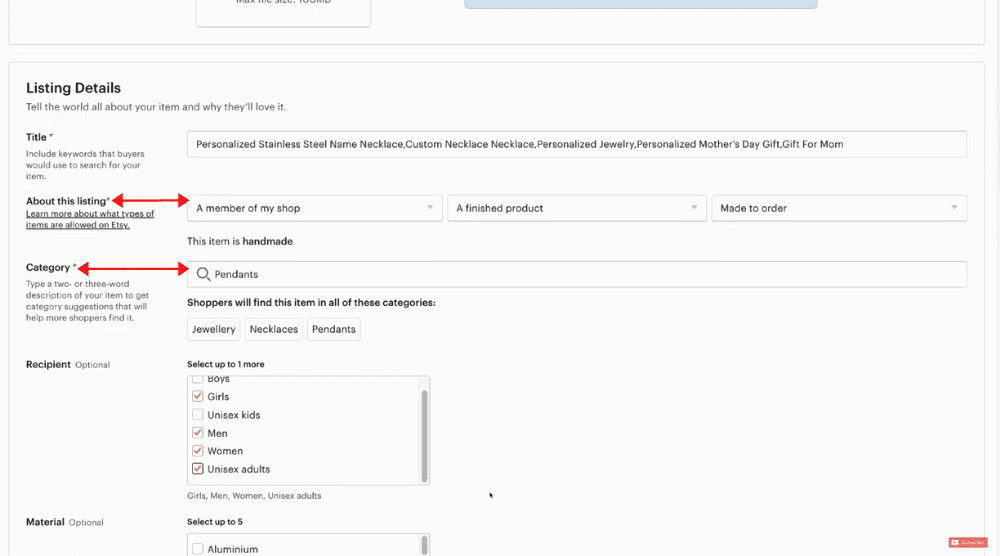 Now, under 'About this listing', select:
'A member of my shop' – for the 'Who made it' section.
'A finished product' – for the 'What is it' section.
'Made to order' – for the 'When did you make it' section (since this a personalized product)
In the 'Category' section, type in 'Necklace' in the search bar. Etsy recommends category suggestions here so we're going to select 'Necklace in Pendants'. Next, you can select your ideal audience and material.
Select 'No' in the recycled field. Apart from that, you can choose the primary color (silver). You also have the option to add a secondary color, necklace length, pendant height, and pendant width.
To become an Etsy seller, it's good to add as many details as possible so that your potential buyers can make an informed decision. Select 'Yes' in the 'Can be personalized' section and 'No' under the 'Spinner' section.
On Etsy, popular products tend to be personalized products, seasonal products, or gift-based products. Hence, if your product is related to a special occasion (anniversary, for example), select the occasion from the drop-down.
Besides, you can also select a celebration day when people tend to shop for gifts for their loved ones. For this Etsy tutorial for beginners, we'll select Valentine's Day under Celebration.
Below that, you have Renewal options. Each renewal lasts for four months when your listing sells out. It's recommended to select 'Automatic' as, after four months, you'll pay 20 cents (USD) to relist for another four months.
Below Renewal, you have to choose the type of product. For example, if you have an eBook, a recipe, an exercise plan, or any downloadable service, then it is a digital product. We'll keep 'Physical' selected for our current listing.
Now, add a keyword-optimized description of your listing down below. Similar to keyword research, find a popular listing on Etsy and modify it to suit your product and related keywords.
While doing so, you want to completely restructure the sentences and not plagiarize them. Use other people's listings just for reference.
Scroll down and under 'Sections' add new sections such as Mother's Day (this is optional). Apart from that, Etsy allows you to add 13 tags that help people discover your product. If you're not so sure about the tags, click on 'Get ideas for tags'.
Answer the questions to find the right tags for your listing. For this Etsy tutorial for beginners, we're going to add three tags – gift, Mother's Day, necklace.
Under 'Inventory and pricing', go ahead and add your product price, the number of products quantity that you have, and your SKU (Stock Keeping Unit) if you have one. Come down to 'Variations' and add three color variations by selecting 'Add variations'.
Choose 'Variation type' i.e., primary color, and then add Silver, Rose Gold, and Copper. You can also add other variations such as sizing options, material options, and more. Click 'Save and continue'.
Under Variations, you will be able to see your three color options now. For each color, you can also add an image. If you offer personalization, go ahead and click 'On'. Down below, add a detailed personalization instruction, select 'personalization is optional', and add a character limit.
Once you're done with personalization, scroll down to 'Delivery'.
Here, we are going to select the following options:
Country of origin: New Zealand
Processing time: 3-5 business days
You also have separate delivery options for customers in New Zealand and elsewhere. Go ahead and change the options. For example, we provide free delivery for NZ customers, and for everywhere else, we have a fixed price of $5.
You can see that delivery time is more internationally. Now, you can save this delivery profile which means that your future listings will have these delivery options set by you. Once you're happy with 'Preview postage price', click 'Save and continue'.
Your first product listing is now active. Hit 'Save and continue' again. Follow the same process to add more listings.
Step 6: Setting Up How You Get Paid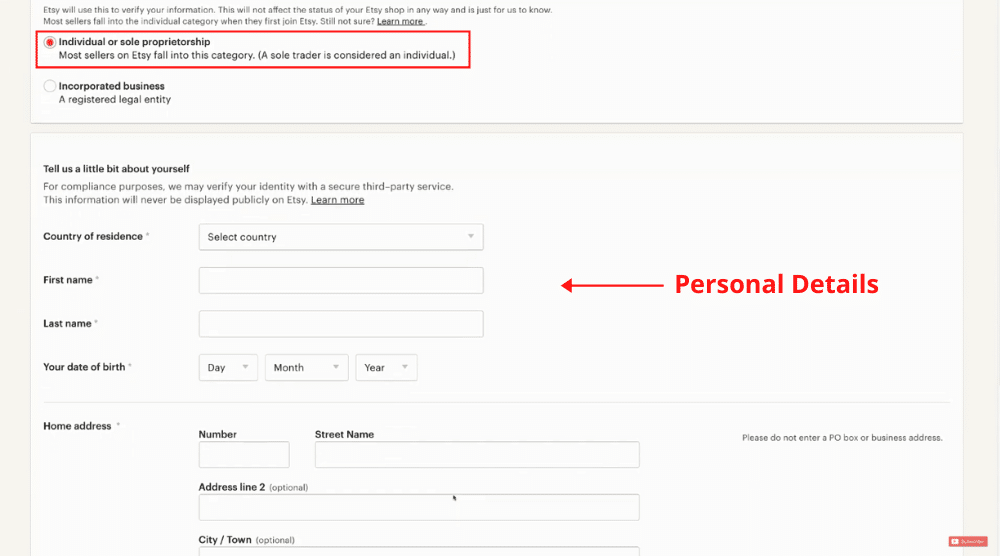 In the subsequent step, select the type of Etsy seller you are – individual or sole proprietorship. Below that, you have to add your personal details, including how you'll be paid. Once you've filled in your details, hit 'Save and continue'.
Step 7: Verifying Your ID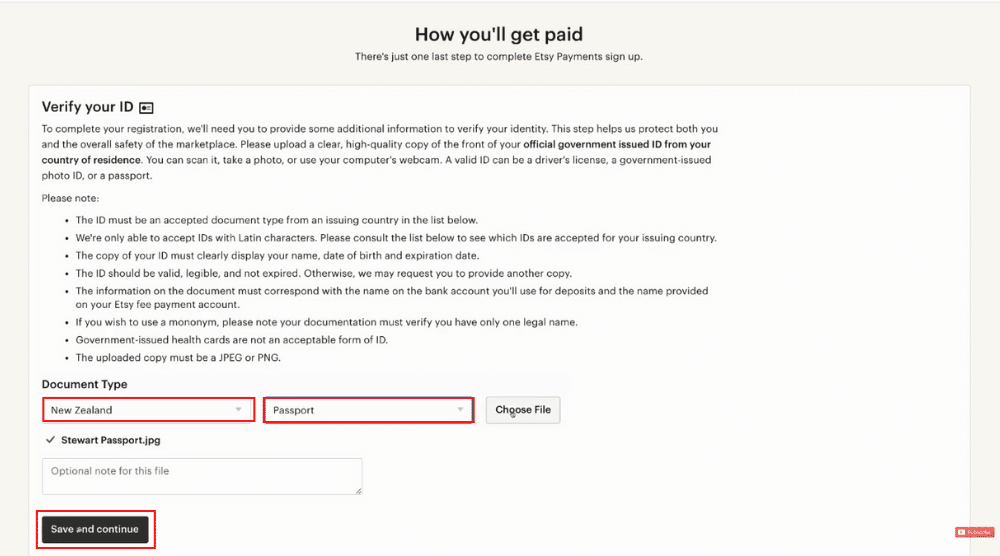 Here, we need to verify our ID. Navigate down to New Zealand and select your document type (passport), and then upload an image of your passport. Click 'Save and continue'.
The last thing you want to do is set up billing. So, come down and add your payment details. Remember your listing fees are 20 cents per listing and this lasts for four months or when your products have sold out.
On your right, if you click on 'How do fees work', you can see different options like listing fee, transaction fee, and payment processing fee.
This is the only downside to using Etsy. You have a bunch of fees that you wouldn't usually pay as much if you use an eCommerce software like Shopify, WordPress, or WooCommerce.
However, the advantages of using Etsy as a sales platform do outweigh the costs that you do have to pay. Etsy is a powerful search engine and marketplace to help you get discovered. Hence, once you've added your payment details, click on 'Open your shop'.
Congratulations! Your Etsy store is now open for business.
Important Etsy Tips for Beginners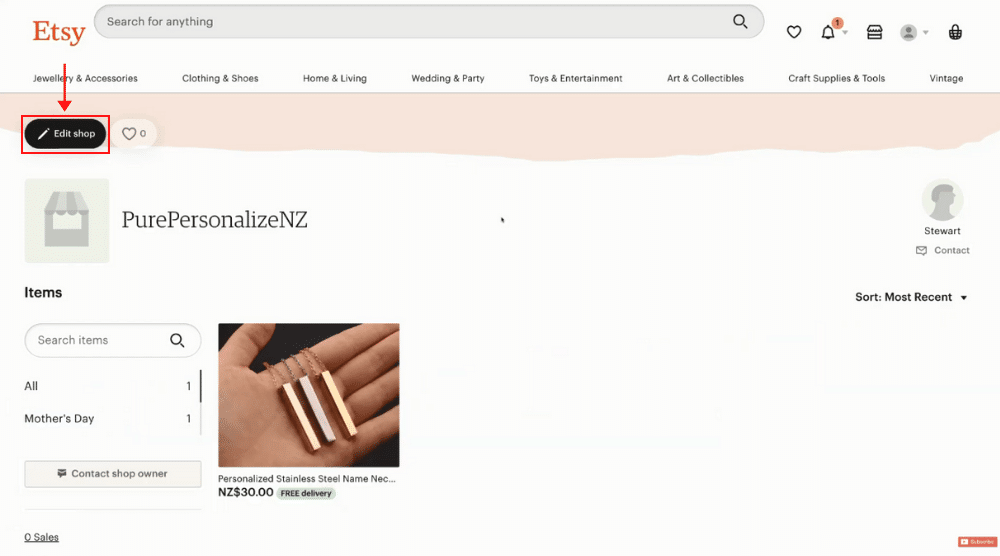 Once you've added your products, you want to navigate over to 'Edit shop' on your left. This is where we can customize our storefront. For instance, you can add a shop icon to set a specific look and feel for your shop.
Apart from that, you can add a description in your 'Shop title' and 'Click Save'. These Etsy tips for beginners are important for further optimizing your listings for Etsy and other search engines like Google. Make sure you add related keywords to the shop title.
Moreover, you can add an attractive banner for your Etsy shop. You can also add more products and renew your listings here. Once you've customized your Etsy shop, you want to share it via different channels (friends, family, and network).
Remember to ask for reviews after the purchases. This is important for social proof which will ultimately work towards improving your listing's quality score. Higher scores build your momentum and inflate your sales.
It's important to think about products that sell well on Etsy. For example, personalized items are popular because of the unique, sentimental value attached to them. Next are seasonal items that you can sell at specific times of the year.
Besides, gift-based products work really well on Etsy. If you click 'Dashboard' on your left, you can view the analytics of your Etsy shop. Here, you can see your total views, visits, and revenue.
Below the dashboard, you can find 'Listings'. Here you can see and manage all your listings. Below listings, there are Messages where you can see and respond to customer messages. You can see your orders & delivery as well.
Under 'Stats' you can see detailed information on what's happening to your Etsy store. Moreover, under 'Finances', you can manage payment information. Etsy also offers you different ways to run paid advertising under 'Marketing'.
Also, read: BEST Website Builder for Online Store 
Etsy Tutorial for Beginners (Video Guide)
Ready to sell on Etsy? That is everything we wanted to cover in this guide to selling on Etsy. If you still find it difficult, we have a video tutorial, which will guide you step-by-step on how to set up, use, and start selling on Etsy. Enjoy the video and start selling on Etsy.