In this Monday.com review, in particular Monday's project management software, we will dive into everything Monday.com has to offer to find out if it's the right solution for your small business.
Do you need a seamless project management solution for your small business to manage projects, and help your team stay organized, streamlined, and productive?
In 2023, so many different online project and product management software solutions are out there, all claiming to be the best in the business.
In this Monday.com review, we will explore whether Monday.com lives up to its name and the hype!
You've probably seen all the overkill Monday.com ads pop up on Youtube, websites, and all your different social media channels… they're everywhere. And to be honest, even I find these ads a bit annoying!
However, there's a reason why Monday.com's project management software is such a popular choice for many types and sizes of businesses!
Join us in this Monday.com review as we explore the features, pricing, what we like, and dislike and Monday.com alternatives of this top-tier project management platform to help you decide if it's the perfect fit for your small business.
What is Monday.com project management software?
Monday.com is a versatile online work operating system (Work OS) designed to help teams manage their projects, workflows, and everyday tasks more efficiently.
One of the biggest appeals of project and product management with Monday.com is that it heavily focuses on processes rather than tasks, which is essentially what management and operations are really all about.
It also offers a visually appealing, colorful, and user-friendly interface, enabling users to create customizable boards, track progress, and collaborate in real-time.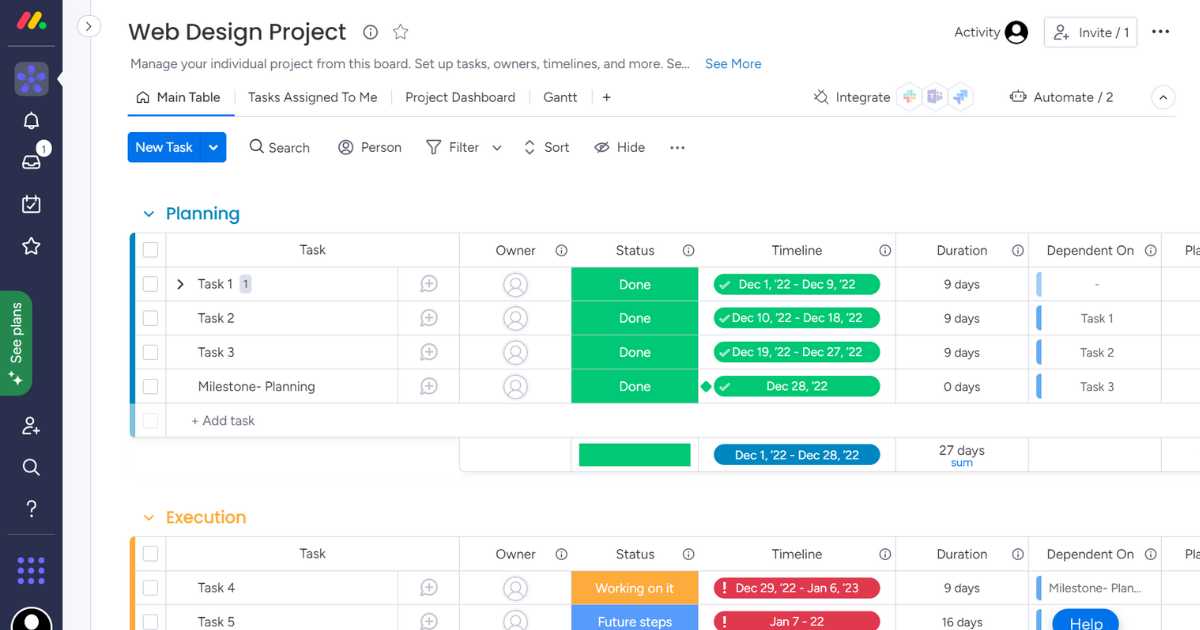 The platform suits various industries and team sizes, ranging from small businesses to large enterprises.
In fact, we'd go as far as to say that Monday.com is the most flexible and user-friendly project management platform out there!
Simply adapt Monday to your specific needs, whether that's project management, team collaboration, resource allocation, or time tracking.
Monday.com operates on a work management hierarchy structure, as follows:
First, you have your Workspace (the department).
Next, you have your folders (used to manage different projects).
Within folders, you have boards (projects)
Inside your boards, there are groups (used to manage your tasks)
Finally, you have items (tasks).
Then items (tasks).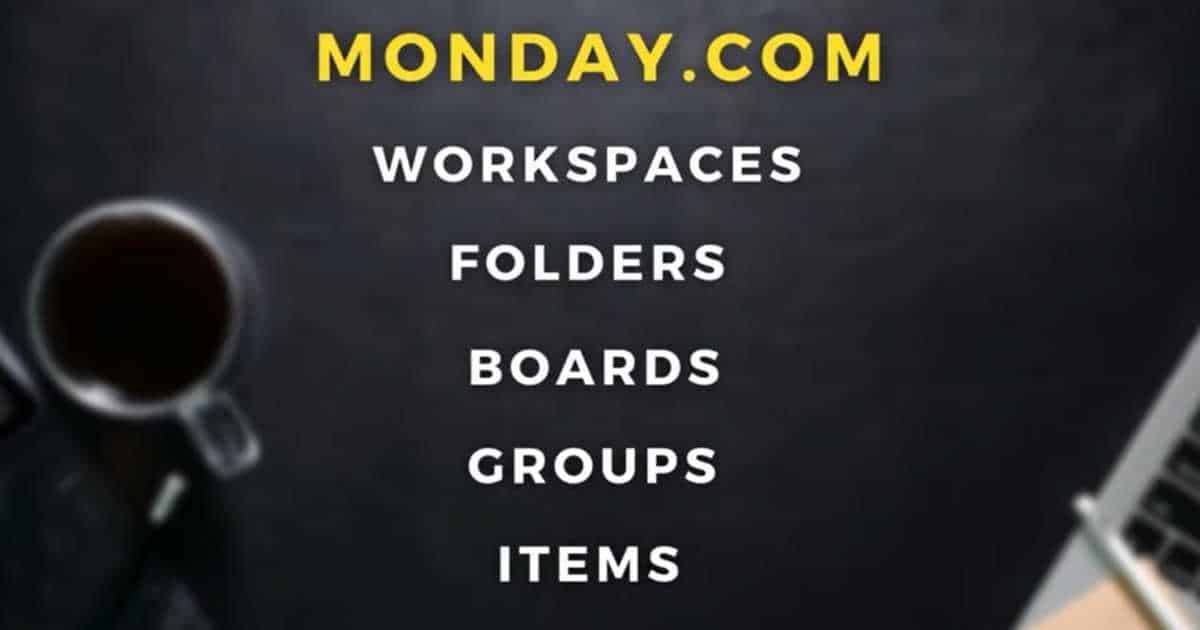 Once you understand how the hierarchy system works, Monday.com is a breeze! Additionally, with Monday's wide range of integrations, automations, and templates, you can be sure to streamline your work processes and reduce all those tedious manual tasks within your teams. Its extensive feature set aims to improve productivity, communication, and overall team performance, which is why it's so popular!
Let's continue with the Monday.com review tutorial for project management.
Also, make sure you read our Monday.com CRM review here.
How to use Monday.com for project management?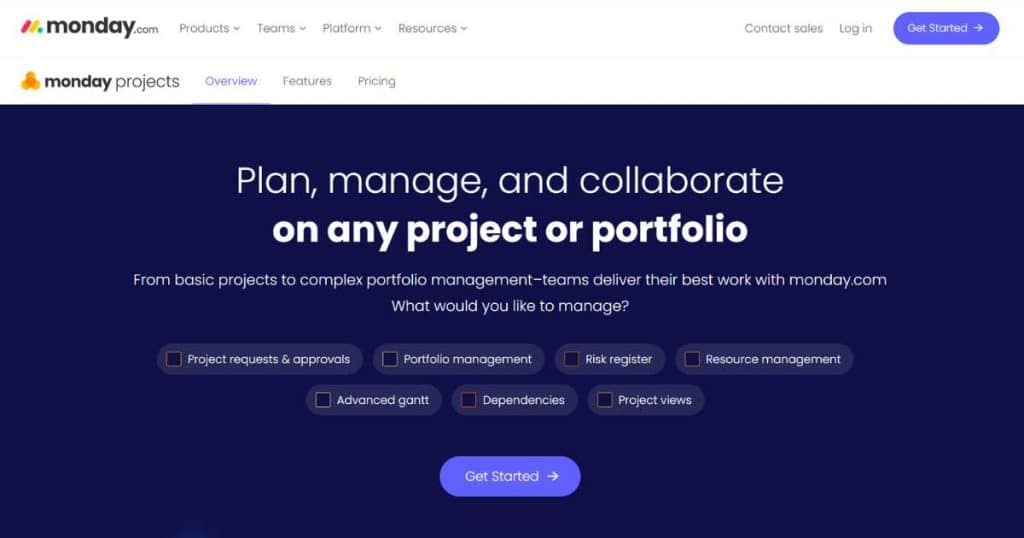 As we've previously mentioned in this Monday.com review, using Monday.com for project management is super straightforward, thanks to its intuitive interface and customization options.
We've created an in-depth Monday.com project management tutorial that'll answer all your questions on how to use Monday.com for project management (see below this section).
However, here's a quick overview of how it all works:
Simply visit Monday.com and create an account. Once logged in, you can select a template or start from scratch to create your first board.
Boards are the foundation of Monday.com's project management structure; each board represents a project or workflow. 
Each board contains columns representing various project details (e.g., task name, assignee, status, due date, etc.). Simply customize these columns to match your project requirements.
Add tasks (items) by adding items to your board. These items represent individual tasks or steps in your project.
Next, assign tasks to your team members for your project.
This helps ensure accountability and allows team members to focus on their responsibilities.
Set a task status to track the progress of each task and input due dates for tasks.
Collaborate with your team, share files, and discuss tasks in real time.
Set up automations and integrate Monday.com with other popular tools your team uses, such as Slack, Google Drive, Microsoft, and more.
In our opinion, Monday.com has some of the best automation capabilities for project management!
Check out our thorough tutorial on how to use Monday.com project management for automations.
What we like:
We believe Monday.com is a powerful project management solution for small businesses. However, no software is perfect!
Let's break down the things we like and don't like about Monday.com project management software to help you decide if the platform is right for your business.
Monday.com's visually appealing and intuitive interface is our number one favorite thing about the platform.
In addition to this, the platform is highly customizable. You can fully edit your project board types, columns, and statuses.
Easy to adopt with a shallow learning curve. Users with no experience can easily use Monday.com. Without training, beginners can easily navigate and manage their day-to-day tasks and long-term projects!
You can easily connect different elements and dependencies across different boards.
Like many project management solutions, Monday.com seamlessly integrates with many popular third-party applications, such as Google Drive, Slack, and Microsoft Teams, enhancing its functionality and streamlining workflows.
Monday allows you to create custom forms to capture important data.
The platform offers many built-in automation options with hundreds of easy-to-use automation templates to improve efficiency and minimize human errors. Automation templates make it easy to set up tasks, reminders, and other manual activities that take time.
What we dislike:
Monday.com can get expensive as you expand your team, as they operate on a per-user pricing structure (more on that shortly). As a result, it can get expensive, especially if you want your team members to have extensive full permission control.
The sheer number of features, templates, and customization options can overwhelm some users when managing complex projects, jumping between different boards, and creating automations.
You can't communicate with your team internally like you can on other tools such as SmartSuite and ClickUp. If you want to chat or email another team member, you'll need to use an external integration software.
Monday.com pricing: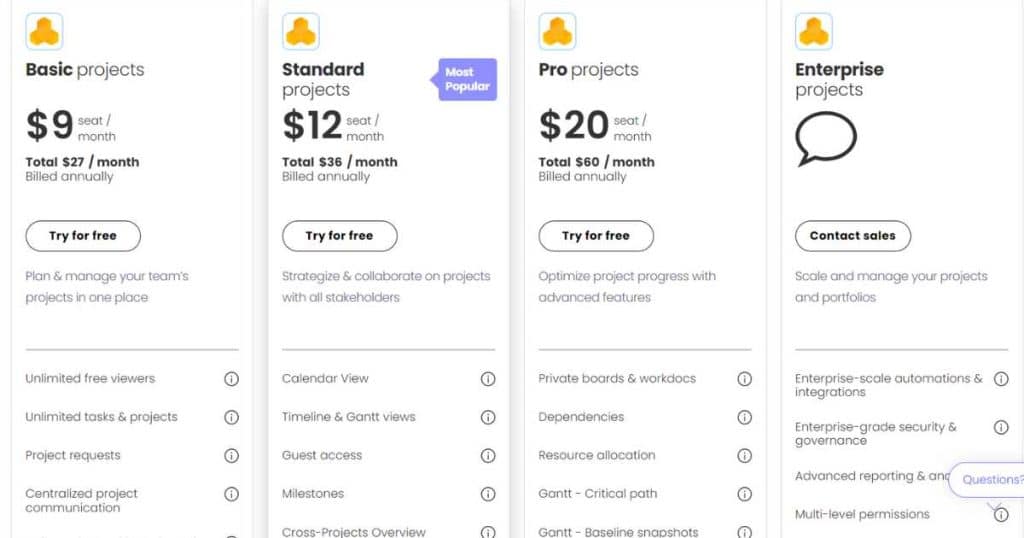 Individual free plan (Free for up to 2 users). Includes limited and basic features and essential CRM tools.
Basic plan ($8 per user per month). Includes all the individual plan features plus unlimited boards, forms customization, and 24/7 support.
Standard plan ($10 per user per month). Includes all the basic plan features plus timeline views, calendar views, automation, integrations, and more.
Pro plan ($16 per user per month). Includes all the standard plan features plus advanced reporting, private boards, and access to the monday.com API.
Enterprise (Custom price) For large organizations and enterprises. Includes advanced features, analytics, and premium support
Let's continue with the feature of the Monday.com review tutorial for project management.
Best feature of Monday.com project management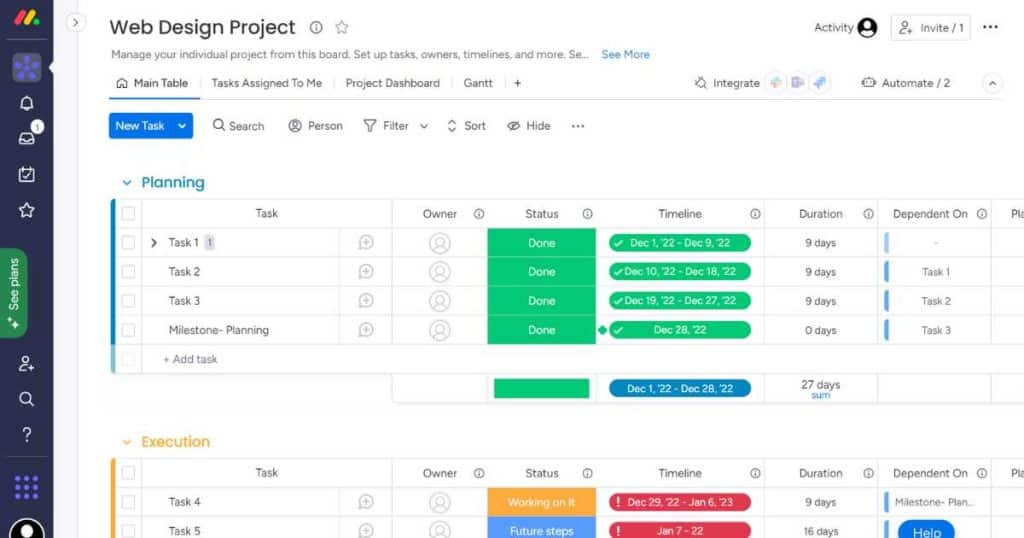 The one feature that truly stands out for us is the unparalleled level of customization and flexibility Monday.com's visual interface offers.
With this power in your hands, you can mould your project management experience into something that perfectly suits your unique needs and style.
This flexibility allows small businesses to tailor the platform to their needs, making it a powerful tool for managing projects, workflows, and daily tasks.
Simply customize your boards for different projects, departments, or workflows, then customize, remove, and add columns as you wish for different projects or tasks.
Additionally, you can view your projects in various views, such as the Table, Timeline, Calendar, or Kanban view, and then set up and connect different dependencies across all your different boards!
Monday.com CRM Software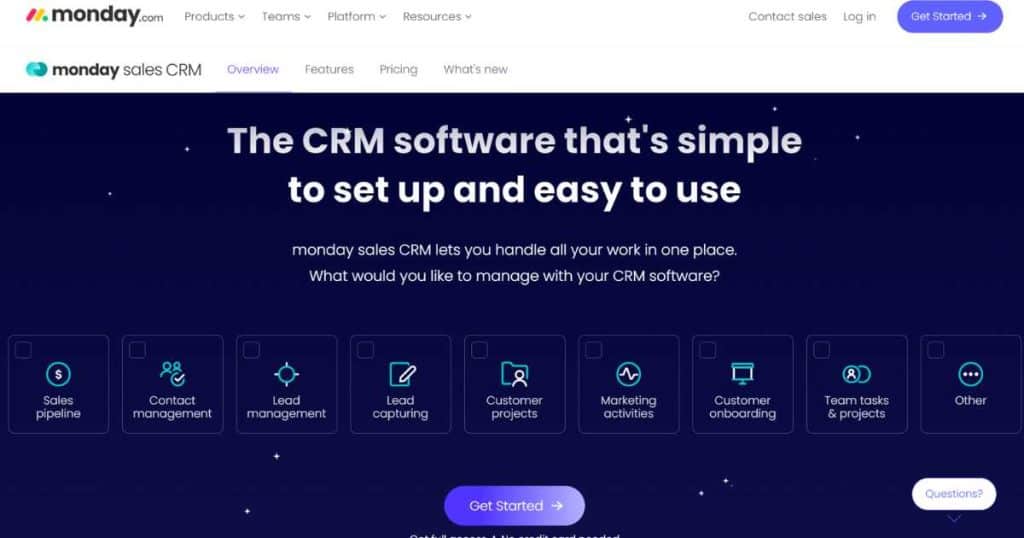 While Monday.com is renowned for its widely-used versatile and user-friendly project management software that works seamlessly for businesses of all sizes.
However, many don't know that the platform also offers an excellent CRM full-featured sales platform!
A CRM is designed to streamline and enhance customer interactions, sales processes, and support tasks all in one place.
If you love the idea of Monday.com's project management system's visual interface, automation and integration capabilities, and customizable features and want the same in a CRM, then you have to check out Monday's CRM!
Simply create tailored boards, columns, and views to manage and organize your contacts and leads, track sales pipelines, and foster team collaboration on deals.
Leveraging Monday.com's powerful automation, integration, and communication features, you can optimize your CRM system to align with their unique business needs and goals.
This results in improved customer relationships, increased sales efficiency, and a more unified approach to customer management.
The Monday CRM pricing structure is slightly different from their project management plans, so we recommend checking out our Monday.com CRM review, where we dive into everything you need to know about Monday's sales CRM.
Also, check out our Monday CRM tutorial down below.
Monday.com alternatives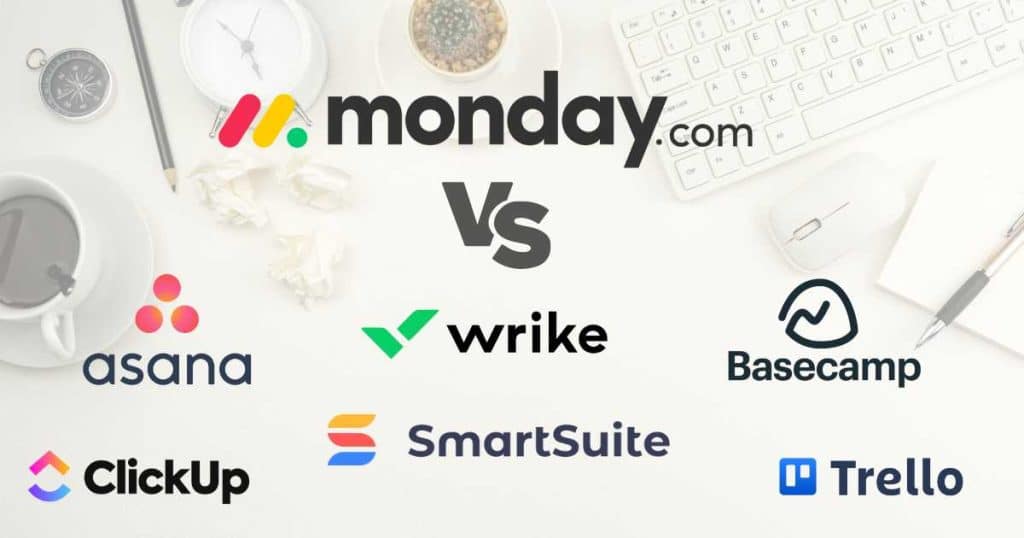 Several popular Monday.com alternatives in the project management and work management space offer unique features and capabilities that are comparable with Monday.
Some of our favorites Monday alternatives for small businesses include:
Asana: Asana is a user-friendly task and project management tool that serves as an online workspace for your team. Asana allows you to easily communicate, collaborate, delegate, and manage projects or individual tasks. If you're after a basic free plan (with up to 15 users) to control you and your small team's day-to-day tasks, then Asana's free plan is a fantastic choice.
Trello: Trello is a project management tool that is visually appealing and easy to use, focusing on a Kanban-style interface. Its boards, lists, and cards provide a fun and intuitive way for users to organize and prioritize tasks. Their free plan has no user limits, and you can add up to 10 boards, making it an ideal choice for growing small teams.
Wrike: Wrike is an excellent option for small teams of up to 5 users after a free project management solution specializing in team and workflow management. Its user-friendly interface and customizable features make it an ideal choice for small teams looking for a practical project, team, and task management tool.
Basecamp: Basecamp is a popular project management and team collaboration tool focusing on simplicity and ease of use. In addition to managing your projects, the most significant advantage of using Basecamp over Monday.com is that you can chat in real-time, store files, automate scheduled events, and more without having to pay for an external productivity or communication app.
ClickUp: ClickUp is a versatile work management platform often compared as an alternative to Monday.com due to the number of customizable features it offers and its visual interface. ClickUp offers more bang for your buck regarding free features; however, ClickUp has a steeper learning curve than Monday.com.
Check out our full ClickUp vs Monday.com guide here.
Smartsuite: Smartsuite is a reasonably new yet impressive work management software that certainly challenges the older and more popular project management systems mentioned above, including Monday.com. Their free plan offers every single feature, meaning even small teams can make the most of SmartSuite. Additionally, the overall navigation and user-friendliness are better. Although SmartSuite has a steeper learning curve than Monday.com, the flexibility and customization options for field types and permission controls are better.
Check out our full comparison between Smartsuite and Monday.com here.
So, how do these Monday.com alternatives stack up?
Is Monday.com better than the above alternatives? 
It's hard to say. However, generally, Monday.com is better for larger-scale project management, with a broader range of integrations, dashboards, and automation tools.
Whereas Trello and Basecamp are better for smaller or more straightforward projects.
ClickUp offers more native integrations and uses gamification to increase productivity, while SmartSuite is highly customizable and flexible for dynamic teams.
Wrike has in-depth reporting and analytics, while Asana strongly focuses on task management and collaboration.
Ultimately, the choice depends on your business's preferences and needs!
We suggest trying one or two free trials on these Monday.com alternatives to see what is more suitable for you and your brand.
Final thoughts
That is it for this Monday.com review.
You're now fully equipped with everything you need to know about Monday.com's exceptional project management software!
In this Monday.com review, you can see that Monday.com is a top contender as a project management software for small business owners, offering one of the best products on the market.
Unlike other project management tools, Monday.com has an exceptional user interface, simple automation templates, numerous third-party integrations, and excellent customer support.
If you're after a project management software that allows you to hit the ground running, we advise taking advantage of Monday.com's 14-day free trial (no credit card required) to find out if Monday.com is an ideal fit for you.
Give Monday.com's project management and Monday's sales CRM software a go for yourself, and make sure to let us know how you get on!