Monday.com vs ClickUp – what is the best solution for managing projects and team collaboration, and what is more suitable for small businesses?
Both are amazing platforms and, in our opinion, two of the best project management software available in the market.
Naturally, this makes it difficult to pick which one to use.
So, what is the difference between the two, and ultimately, what is the better option for small businesses?
Let's dive in and find out what free project management software you should be using for your small business or team!
Monday.com vs ClickUp?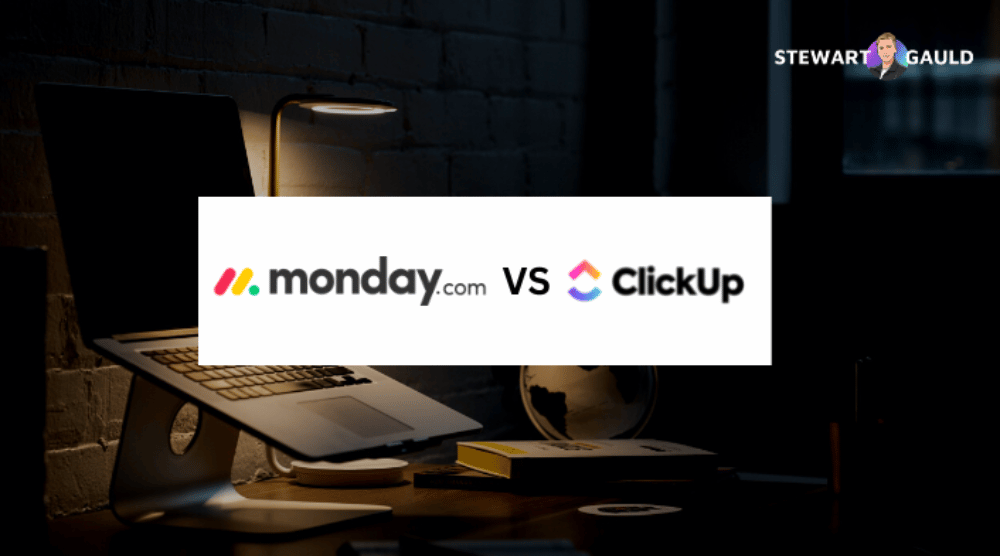 The aim of this tutorial is to help you answer these questions (and more) so that you can identify and choose what is the best project management software for you and your small business.
We're going to break down and identify the value, features, and suitability between Monday and ClickUp specifically for small businesses.
By the end of this tutorial, we can guarantee that you'll be confident in choosing the right solution for your unique small business and project management requirements.
Let's go ahead and launch into this Monday.com vs ClickUp tutorial!
1. Introduction To Monday.com vs ClickUp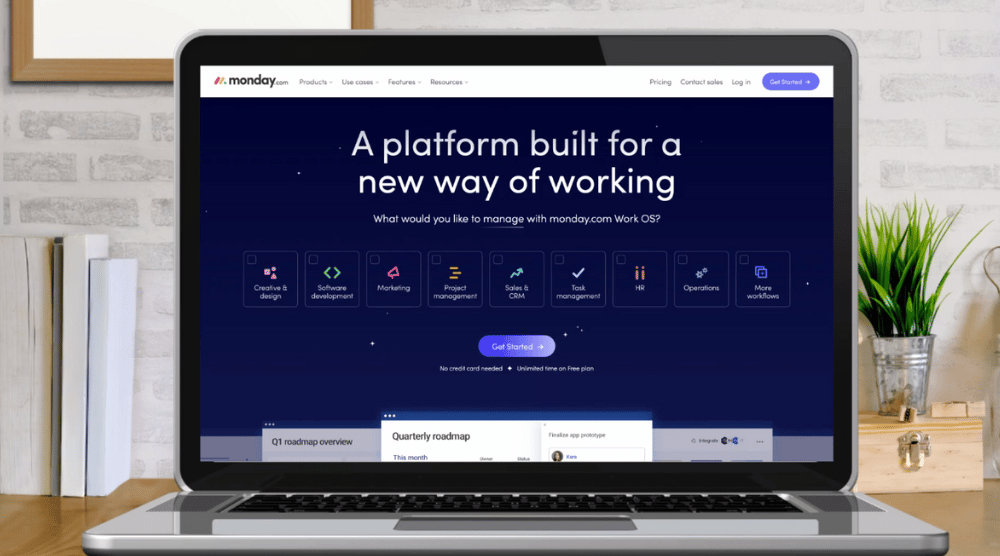 To understand what is the best project management software to choose, we first need to understand what Monday.com and ClickUp actually are and what they offer.
What is Monday.com?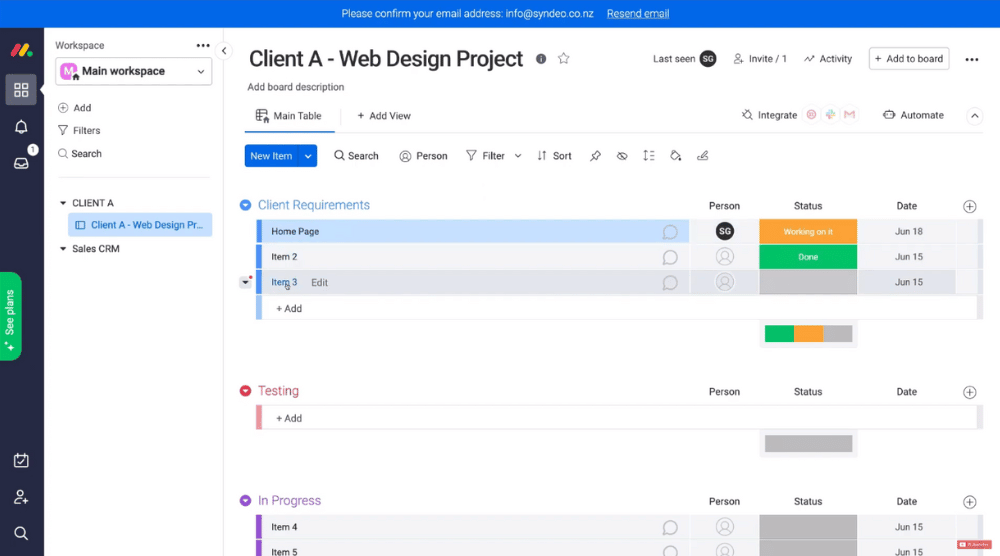 Get started with Monday.com here.
*The link above is an affiliate link, which means we will get a commission if you sign up to Divi (at no extra cost to you). This helps support our education-based website and we thank you in advance!
First, let's take a look at Monday.com.
Read my full Monday project management review here (updated for 2023).
You've probably seen all of Monday's creative marketing ads all around the internet (which honestly can sometimes be quite annoying)!
Monday.com was originally known as a dynamic project management solution, however, have since branched out from this.
You can now use Monday.com for CRM-related activities too like contact, task and pipeline management, and more
What is Monday Known For?
Generally, people hear about Monday.com and its visually engaging user interface and ease of use.
What is ClickUp?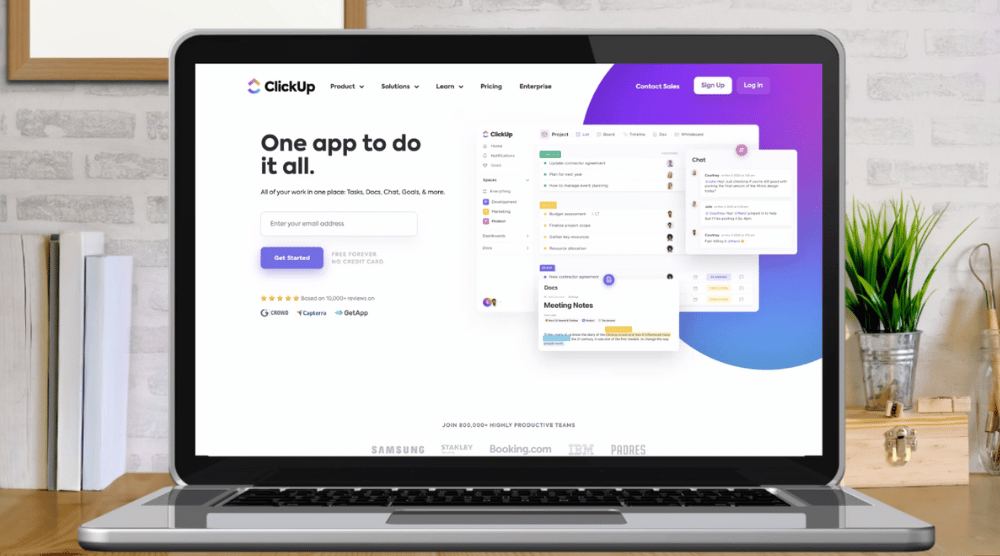 Get started with ClickUp here.
Now let's take a look at ClickUp
Similar to Monday.com, ClickUp has a project management core offering.
However, now ClickUp has become an all-in-one app for your business's day-to-day operations (also similar to Monday).
ClickUp lets you manage projects, engage in CRM-related activities, collaborate on documents and virtual whiteboards, communicate with your team, and more!
What is ClickUp known for?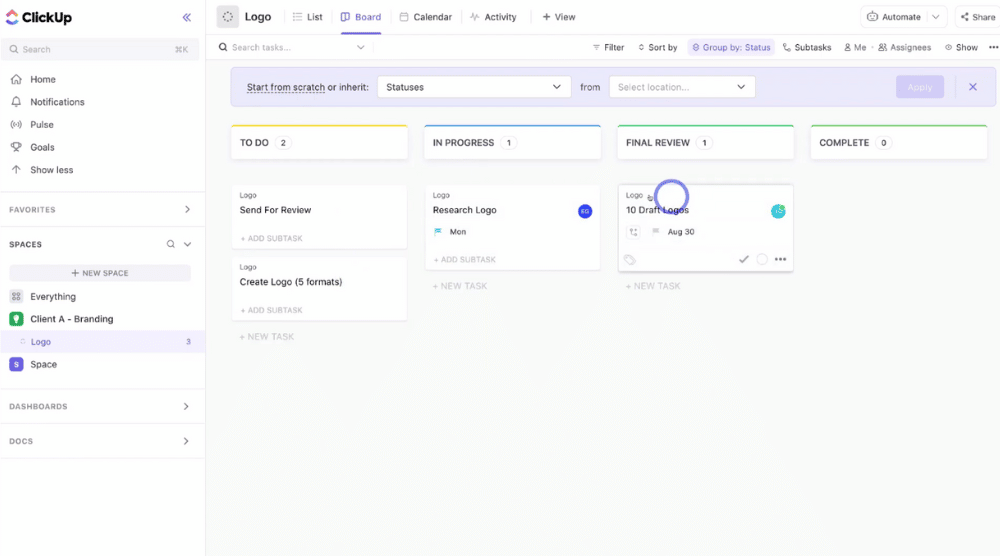 People know ClickUp as a feature-packed all-in-one project management solution.
2. User Experience And Ease Of Use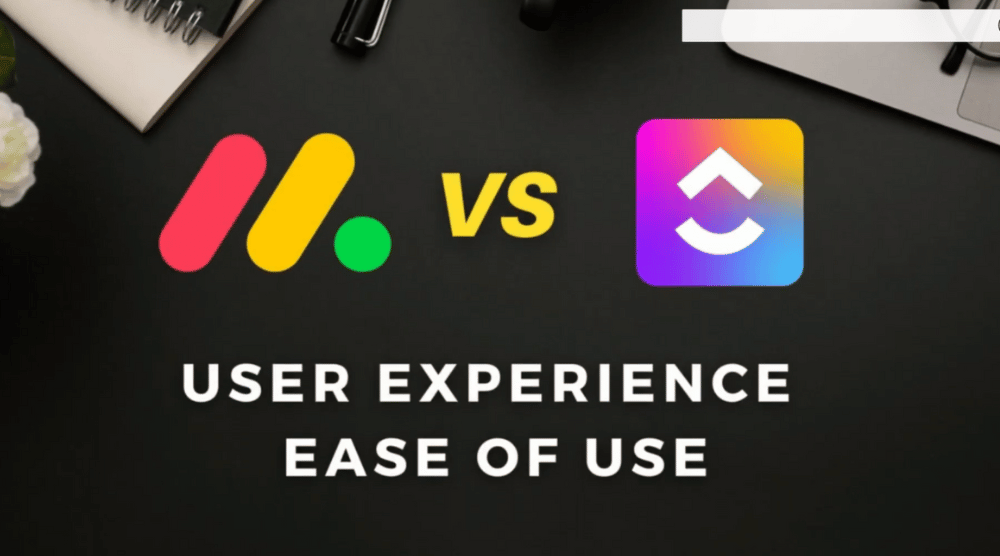 Now that we've shared a brief intro to each platform, let's get stuck in and talk about the user experience and the ease of use between Monday.com and ClickUp.
Both these platforms are similar in the way that they allow you to simply switch between 'Workspaces'.
What Are Workspaces?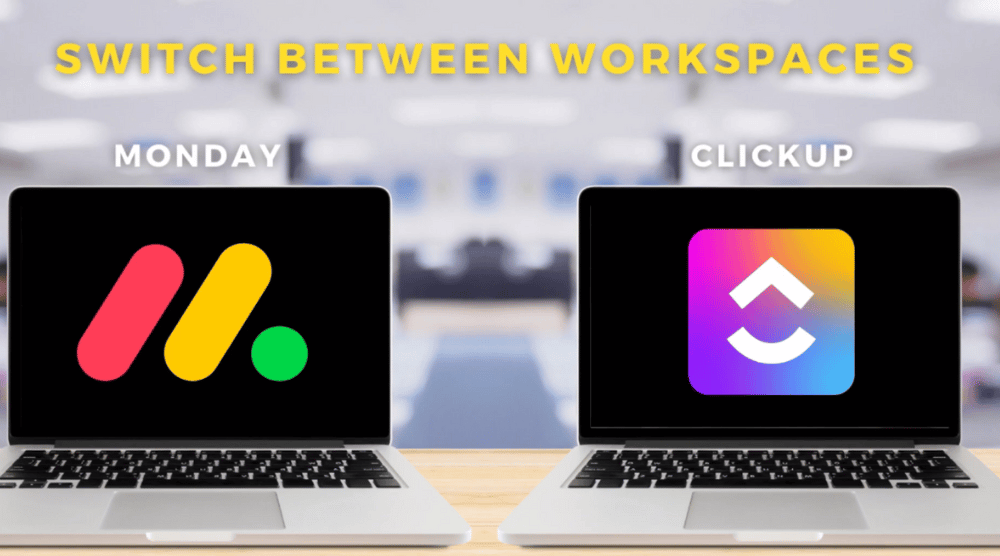 Think of these as areas inside of each platform to separate different businesses or departments within your organization.
It's important to note that typically for small businesses, you'll only need to work with one workspace.
Monday has a stunning, visually exciting interface with an easy-to-use structure for managing projects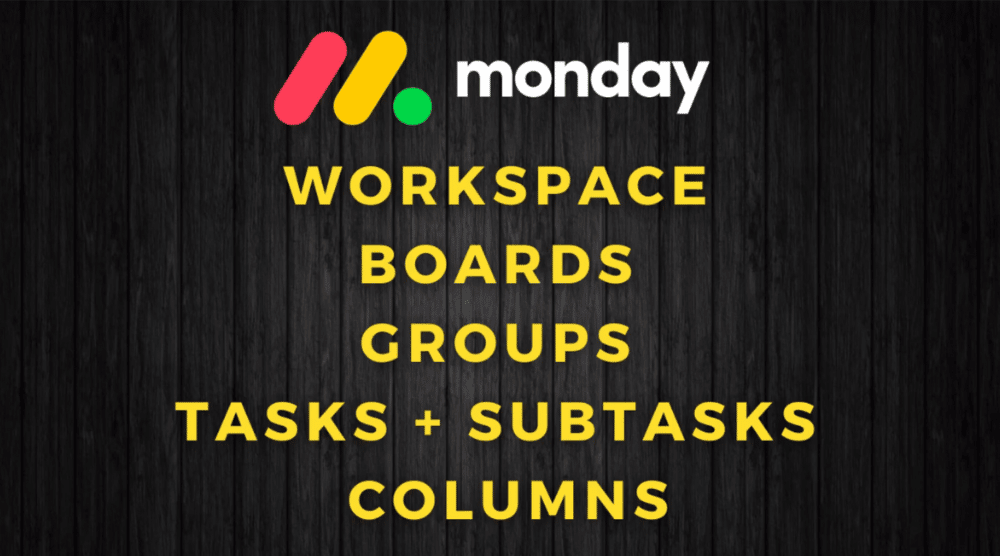 You can simply create boards for managing specific projects and organize your tasks and subtasks within these groups, and tasks and columns are clean and easy to customize.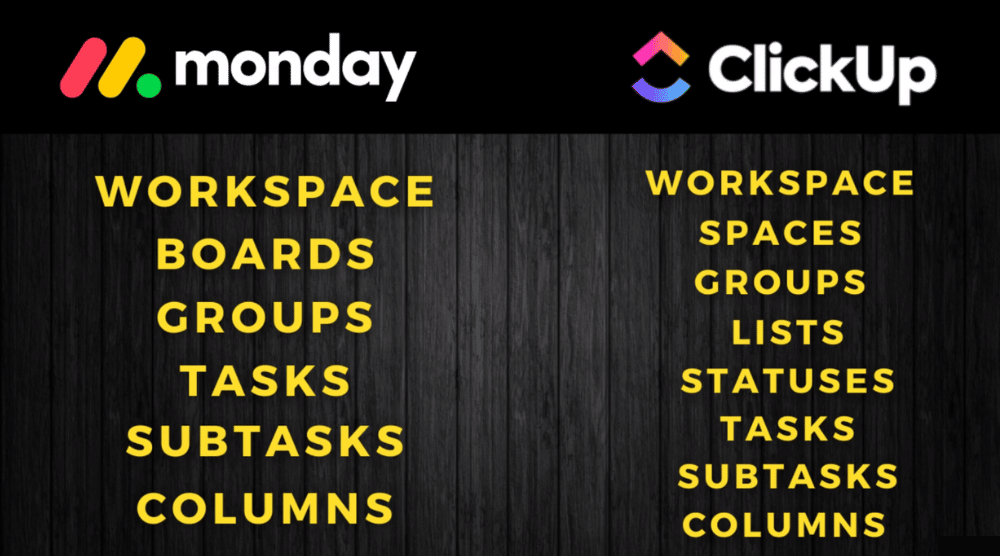 If we compare Monday.com vs ClickUp, you'll notice the visual user experience design is a little overwhelming compared with Monday in terms of managing projects.
Projects are labeled as 'Spaces'. Spaces are used to manage lists, statuses, tasks, and subtasks.
We actually find the structure can be quite confusing (especially for beginners and non-tech-savvy individuals).
Both platforms have a similar layout with left-hand navigation for accessing other features and jumping between folders, projects, and other elements
From our perspective, Monday comes out on top as the best project management tool for small businesses in regard to user experience and ease of use!
3. Monday.com Vs ClickUp – Extensive Features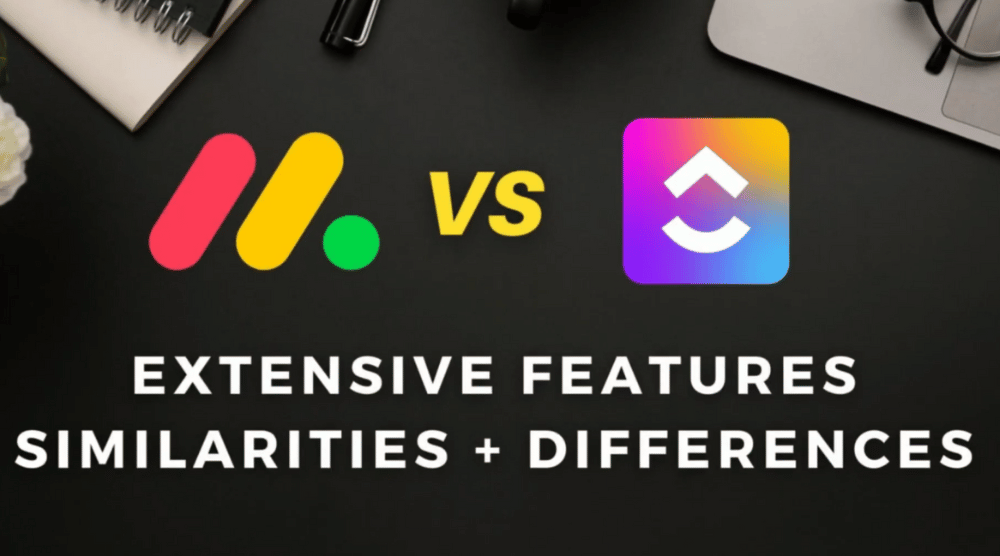 So what about the extensive features that make these platforms stand out for small business operators?
Both platforms offer hundreds of project templates based on your project requirements that you can choose, customize, and get started.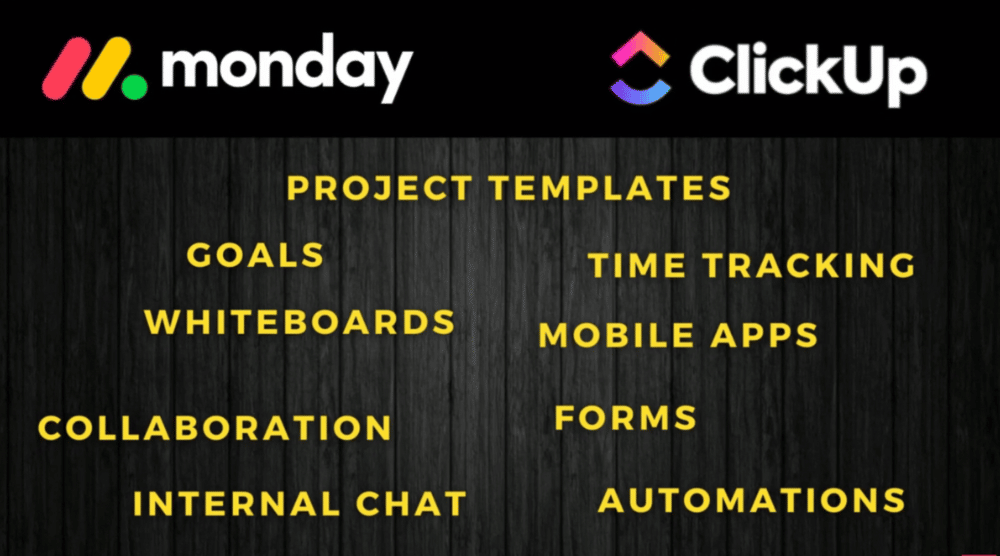 In addition to this, they both offer time tracking, goals, mobile apps, whiteboards, collaboration features, forms, automations, internal chat, and more.
If you're interested in diving deeper into ClickUp, check out our complete tutorial for the platform here.
Alternatively, you can read our step-by-step guide on How to use Monday.com here.
Both of these tutorials walk you through each platform and all its impressive features.
We find the CRM capabilities are more extensive and easier to manage and navigate within Monday compared to ClickUp.
Also, Monday's automations make it simple for anyone to easily automate actions across related boards!
If you'd like to learn more about Monday's automations, you can check out our Monday.com Project Automation tutorial for beginners.
Basically, both Monday.com and ClickUp offer the same features that are important for small teams.
So, in regards to features, both platforms come out on top as the best project management software available!
4. Monday.com Vs ClickUp – Pricing Plans
The real differences between Monday.com and ClickUp come into play when you pull apart and consider the pricing plans and what features each plan offers.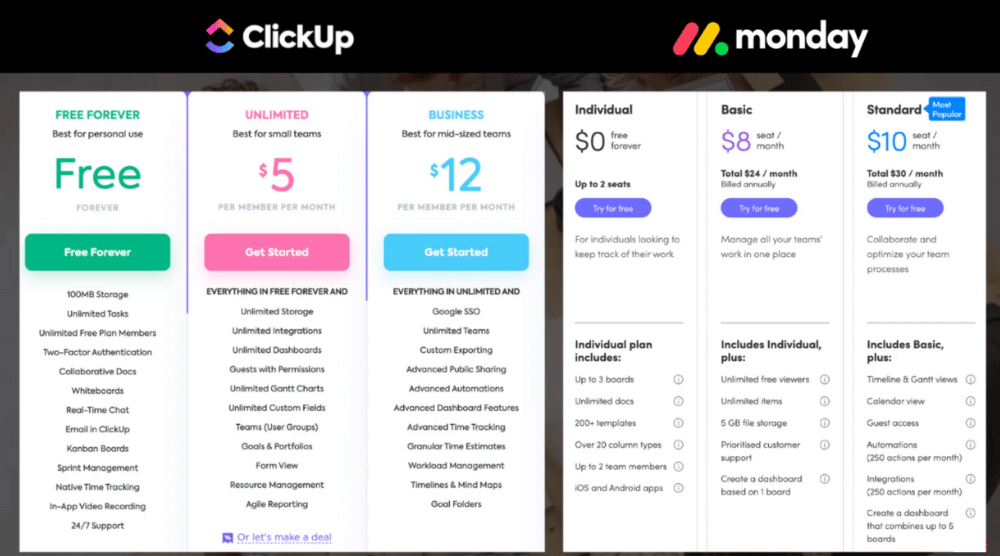 However, let's dive into the first-tier pricing packages that are suitable for small businesses on both.
You'll notice that straightaway ClickUp pricing plans offer a lot more bang for your buck in terms of features
Now if we compare this with Monday.com's pricing plans, you'll see that their basic plan starts at $ 8 USD per user per month, you get access to 5GBs of storage, no integrations or automations, limited project board views, and no time tracking.
Let's compare this with ClickUp's version of Monday's basic plan called the 'Unlimited plan'. 
As the name indicates, this is an unlimited (and unbeatable) plan that costs only $ 5 USD per user per month.
Within this plan, you have access to unlimited storage, unlimited integrations, a hundred automations per month, multiple project views, guest access, and more!
As you increase the pricing plans on both platforms, the value offerings become similar.
However, for small businesses and small teams, the basic 'Unlimited' plan that ClickUp offers is more than sufficient enough and definitely becomes a much more valuable and feature-packed option over Monday's first-tier paid plan.
Therefore in terms of pricing, ClickUp is a no-brainer for better value for money!
5. Monday.com Vs ClickUp – Free Features?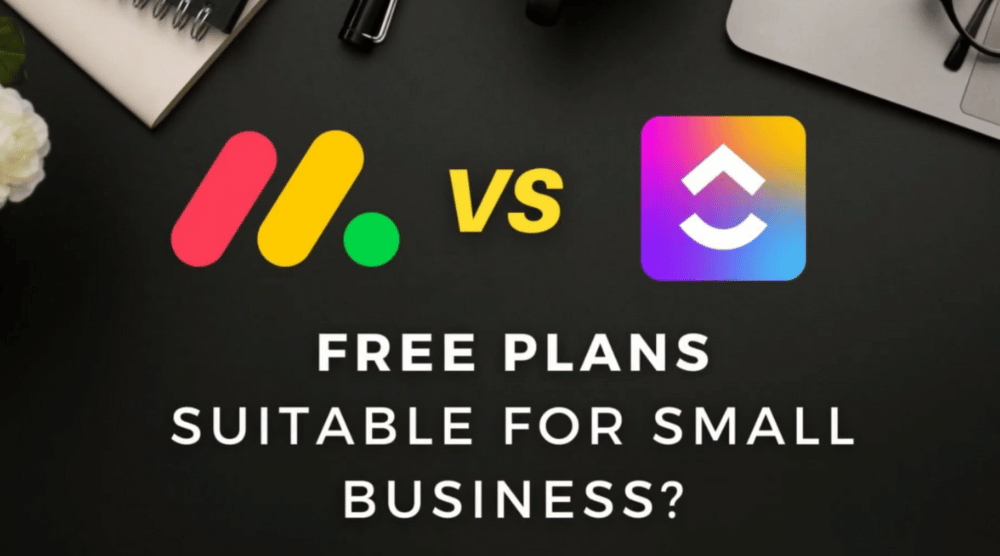 This leads us to the free plan that both platforms offer.
It's important to note that both platforms are considered free project management software as they both offer free plans.
Again, ClickUp takes the cake by offering one of the (if not the most) generous free plans that you will find for a dynamic business management plan platform.
Firstly, their free plan offers unlimited users that you can then collaborate with.
These could be guest users or your internal team.
In addition to this, they offer unlimited tasks, multiple project views, time tracking automations, app emails, and more.
The free plan also is ideal for most small business requirements.
This means that most likely you'll never need to upgrade to a paid plan!
If we compare this with Monday's free plan, you're limited to only two users and bare-bone project management features.
Don't get us wrong, this is a perfect plan for individuals, however not suitable for small businesses.
Therefore ClickUp's free plan takes the lead yet again!
6. Final Thoughts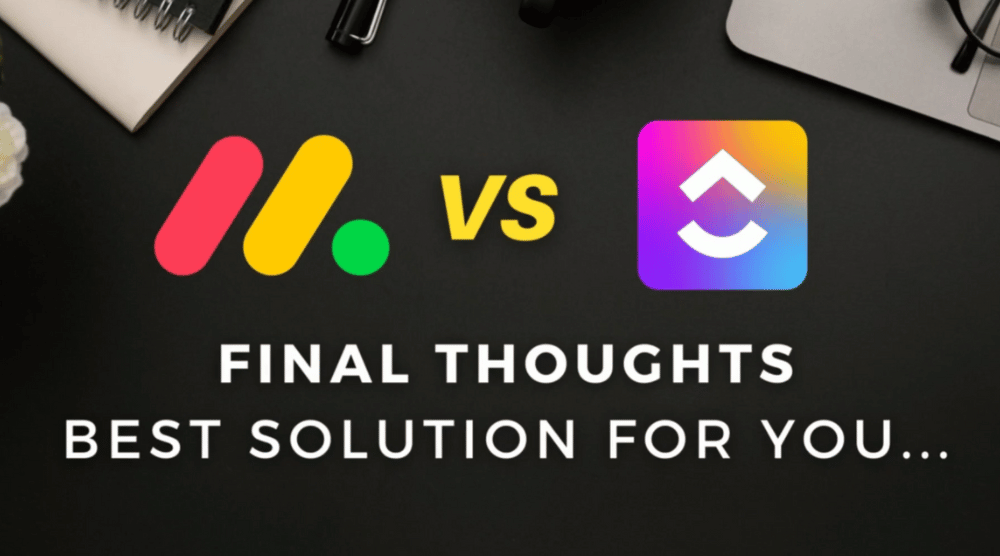 So what that all said, what is the best solution for you?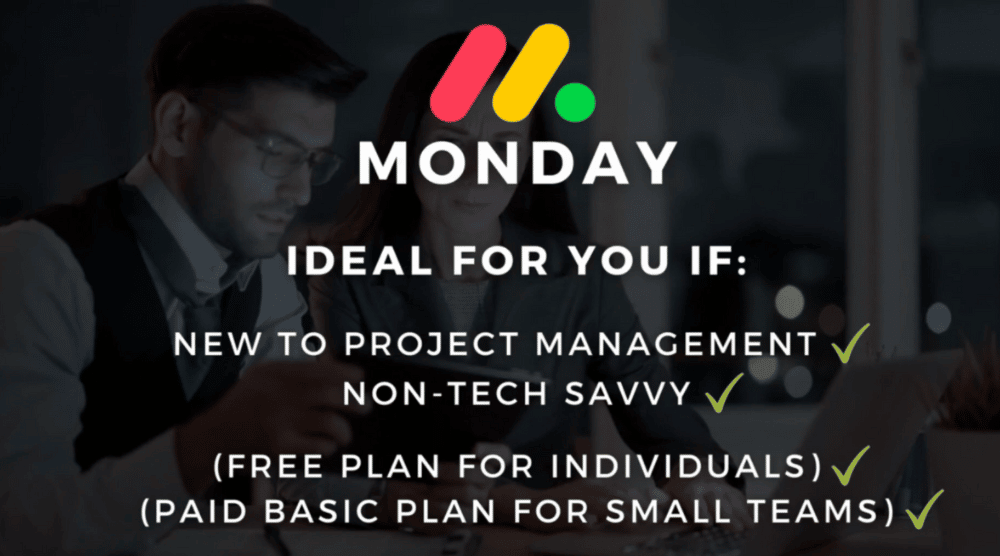 If you are new to project management activities or are non-tech savvy:
Monday.com would be the more suitable option for you.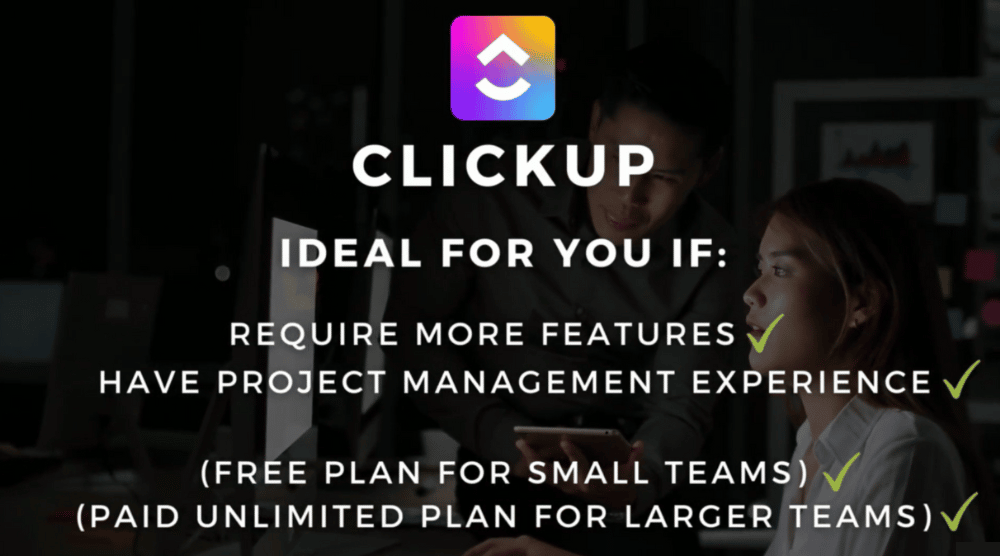 If you require more extensive features:
Although keep in mind the learning curve is a lot steeper with ClickUp compared to Monday.
We suggest giving ClickUps a free plan a go to see if this integrates well into your day-to-day operations.
If you find that you struggle with the adoption of ClickUp, Monday's business plan will be the best bet for you, however, keep in mind that this isn't a free plan.
7. Our Recommendation Monday.com or ClickUp?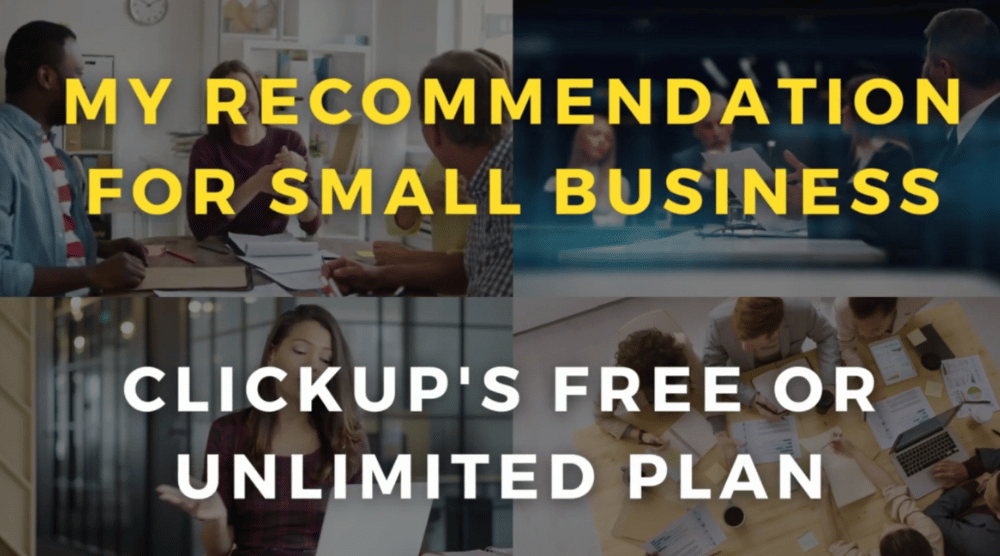 After considering all this, our personal recommendation for small businesses would be ….
Drumroll…..
ClickUps 'Free' or 'Unlimited' plan!
You're able to access all ClickUps amazing wide range of features without paying a single cent!
This truly is an amazing project management software, and is perfect for small businesses.
However, with that all said, that brings us to the end of our Monday.com vs ClickUp comparative guide!
Monday.com vs ClickUp – Best Project Management Software (Video Guide)
We love both of these platforms and believe both come out on top for providing the best project management tool for small businesses.
You should now be well equipped on the pros and cons of each platform, and can now identify which one is the best for you and your small business!
Check out the video below: