Are you struggling to decide on the best email marketing tool between Omnisend vs Klaviyo?
If you're looking to build your brand, increase engagement and sales, and reach more customers, then it sounds like you need to identify and integrate a suitable email marketing software.
However, not all email marketing solutions are equal and many do not offer capabilities like SMS marketing.
So, you'll be pleased to know that both Omnisend and Klaviyo offer everything your online store needs in an email and SMS marketing tool. 
But with both being excellent choices…which one is best for you?
Well, don't worry! I've got you covered. 
Omnisend vs Klaviyo 2023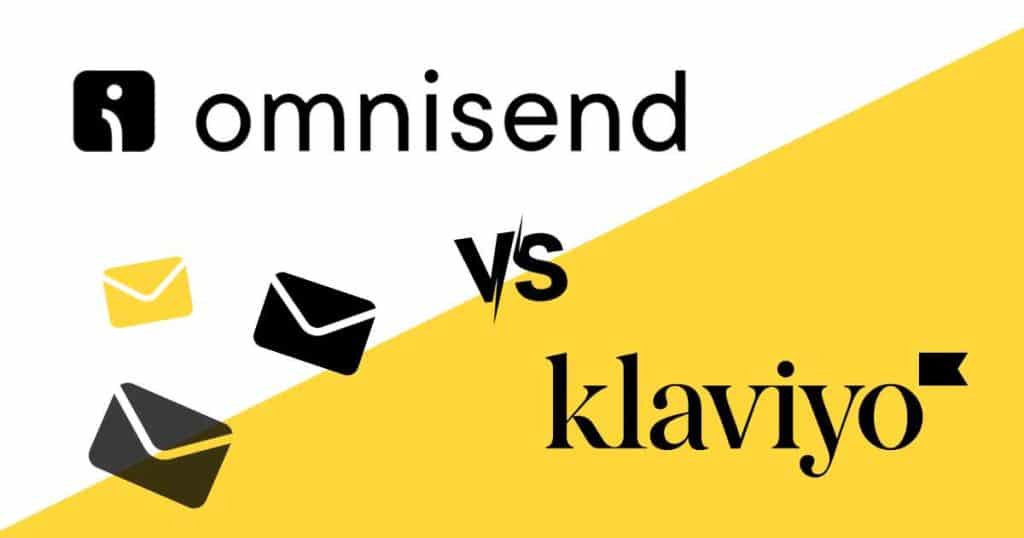 Omnisend and Klaviyo are two leading email marketing platforms specifically designed for eCommerce and online stores.
I'll be honest: both these tools are relatively similar. But is there a difference between the two? Or is there one that outshines the other?
That's exactly what I'm going to uncover!
I will guide you through Omnisend and Klaviyo's key features, interface, pricing structure, and more.
By the end of this article, you should be able to distinguish the differences between the two and be confident in which choice is the best for you.
So, Omnisend vs Klaviyo? Let's get into it.
Read more: Top 5 FREE Email Marketing Software. 
What Are They? Omnisend vs Klaviyo
Since Omnisend's emergence in 2014, it's become a popular email marketing solution for so many eCommerce teams because of its impressive automation and segmentation capabilities.
Founded just a couple of years before Omnisend, Klaviyo is another email marketing platform that aims to manage and deliver highly personalized email campaigns and messages to your audience.
Both platforms offer the same integral email marketing services like pop-up forms, email newsletter templates, automations, email flows, and SMS marketing.
So what are the key differences between the two?
What Are The Differences Between Omnisend vs Klaviyo?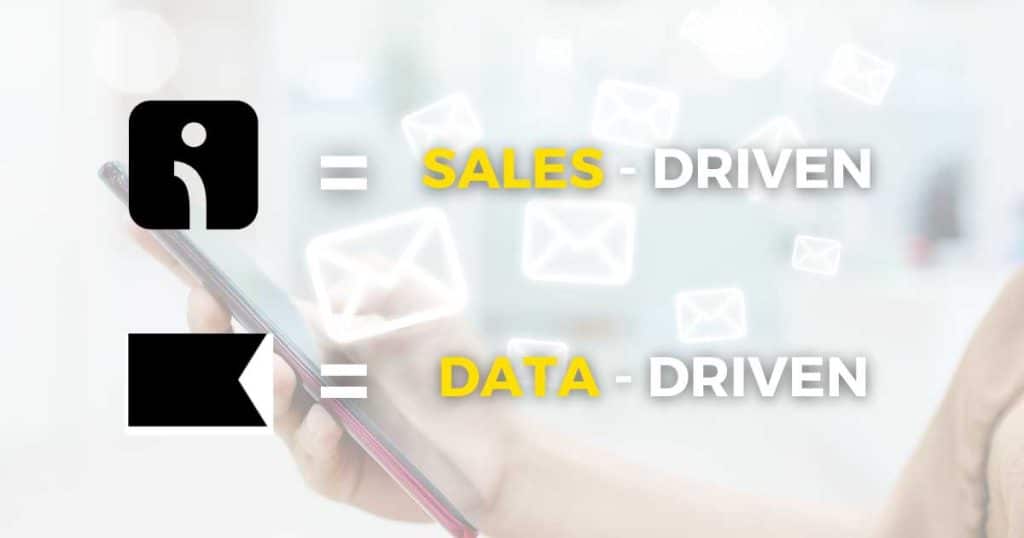 It's no secret that these platforms are pretty similar. But in saying that, there are some key differences.
The most significant difference is each platform's approach towards email marketing.
Omnisend adopts a sales-driven approach to email marketing, with a strong emphasis on driving sales and generating revenue.
It prioritizes achieving sales targets, maximizing conversion rates, and boosting sales over anything else.
Klaviyo, however, is more data-driven and focuses on leveraging customer data, behavior, and analytics to drive email marketing strategies.
With a strong focus on fostering strong customer relationships and boosting sales performance, Klaviyo aims to help elevate the overall customer experience.
Read more: Klaviyo vs MailChimp 
Omnisend vs Klaviyo Ease Of Use
It only took me a few minutes to set up and connect Omnisend with my online store – how good is that?
Once in, I found Omnisend's interface sleek, simple, functional, and generally very easy to navigate.
And although easy to use, Omnisend is not just for beginners! Big brands like Hallmark, Toak, and thousands of other leading companies use Omnisend for their eCommerce email marketing needs!
Klaviyo's interface is a little more overwhelming and slightly more complex to set up.
For example, you'll need to complex a series of steps to get up and running with Klaviyo, whereas, with Omnisend, most of these steps are taken care of for you.
Overall, the learning curve is steeper with Klaviyo. But in saying that, it's still manageable for beginners!
Winner = Omnisend
Omnisend vs Klaviyo Pricing: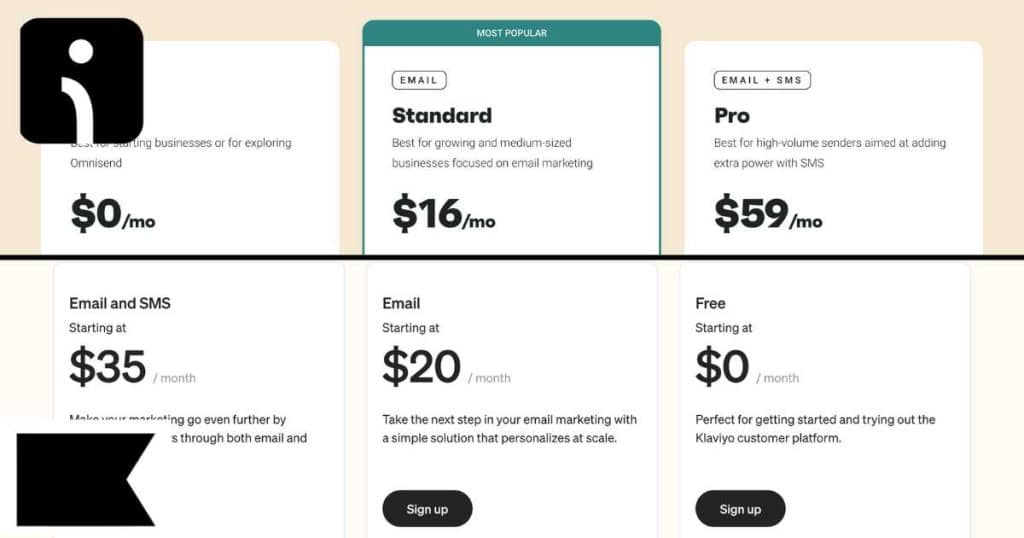 Omnisend's flexible pricing is based on how many contacts you have and how many emails you need to send per month:
Free: Up to 250 contacts, 500 emails, and 60 SMS per month.
Standard: $16 per month (up to 500 contacts). Up to 6000 emails and 60 SMS per month.
Pro: $59 per month (up to 500 contacts). Unlimited emails and 3993 SMS per month.
I love that you can access all features on Omnisend's free plan, which is perfect for small teams with a small client base!
Klaviyo's unique bundle plan options are also based on your email subscribers and monthly email sends:
Free: Up to 250 contacts, 500 monthly email sends, and 150 SMS per month.
Email: Starting from $20 a month (up to 500 contacts).
Email and SMS: Starting from $35 a month (up to 500 contacts).
As you can see, Omnisend is the cheaper option for smaller teams. But what about on a larger scale?
As your email list and brand grows, you'll need to pay more on both platforms.
Omnisend is the more affordable option here, too! Therefore, Omnisend is the stand-out winner for small and large teams!
Winner = Omnisend 
Omnisend vs Klaviyo Email Marketing Features and Tools:
How do Omnisend vs Klaviyo compare when it comes to email marketing services and tools?
Some key Omnisend features include:
A/B testing.
Auto-responders.
Email template library.
Email workflows.
Audience segmentation.
List management.
Event-triggered emails.
Analytics and reports.
Pre-built automation templates.
And with Klaviyo, you'll get:
A/B testing.
Auto-responders.
Templates.
List segmentation.
Event-triggered emails.
Analytics.
Behavioral tracking.
Automated email sequences.
Customer journey mapping.
As you can see, both offer pretty similar email marketing tools and features.
So, who takes the cake on this one? Well, I think it depends on what you value and what you want to get out of your chosen email marketing tool.
In terms of building campaigns, the user experience, in my opinion, is better within Omnisend.
However, Klaviyo's email campaigns offer more when it comes to actually creating and testing your campaign.
So I'll leave this one with you – what do you prefer, ease of use or functionality?
Winner = Draw
Omnisend vs Klaviyo SMS Marketing: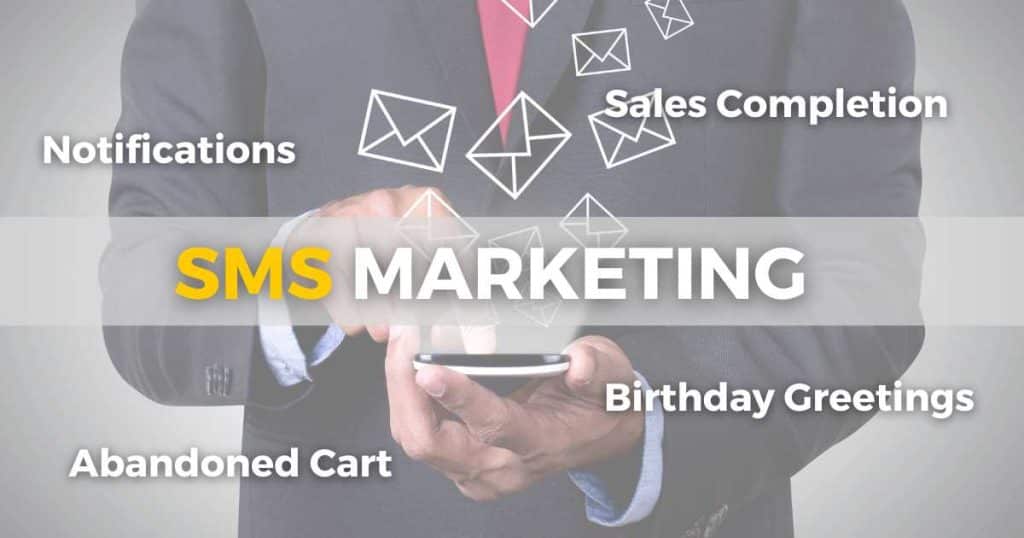 The effectiveness of SMS marketing lies in its ability to grab attention, engage customers, and prompt action.
And luckily, both Omnisend and Klaviyo offer impressive SMS marketing services!
Both allow the opportunity for you to engage with your customers through pre-made SMS message templates.
Some of these include:
Abandoned cart reminders.
Sales completion notices.
Order and shipping confirmations.
Birthday greetings and more.
Omnisend's SMS marketing and text campaigns are tailored to connect seamlessly with your online store and email campaigns.
But the best part about Omnisend's SMS marketing?
You can create SMS automation workflows and push notifications (more on this soon), allowing you to send relevant and timely messages based on particular triggers and customer behavior!
With Klaviyo, I found there were fewer options when it came to setting up a campaign. But some cool features did catch my eye.
In particular, I liked their built-in contact cards feature (so you show up as your brand to the recipient, not a random phone number) and the SMS quiet hours feature (so you only send messages during the business hours of your recipients).
Winner = Draw
Read more: How to Use TextMagic. 
Omnisend vs Klaviyo Forms: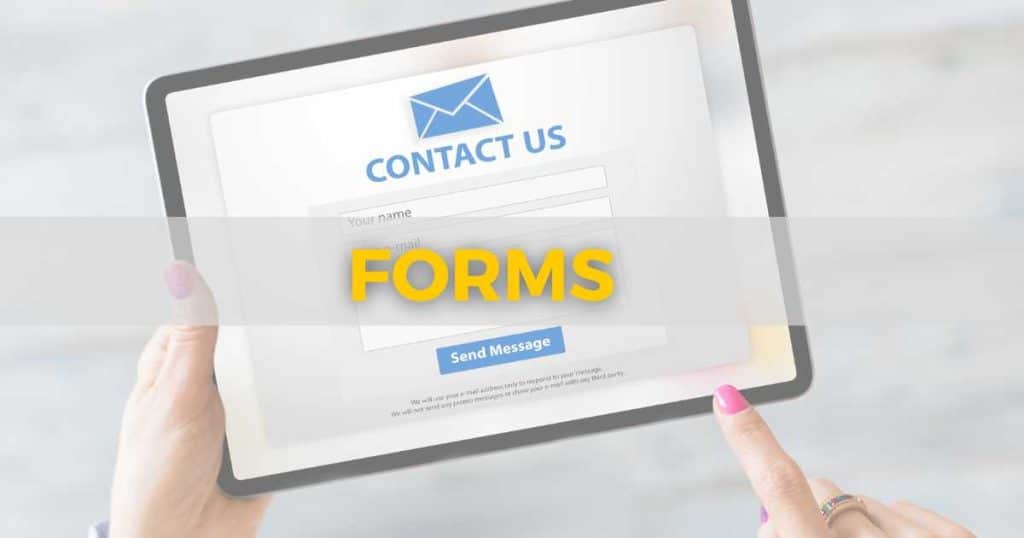 Omnisend offers 4 different types of forms that you can embed onto your website:
Popup Forms.
Signup Box Forms
Wheel of Fortune Forms
Landing Page Forms.
Klaviyo offers similar Popup, Embed, and Flyout form-building options.
In my opinion, the form-building capabilities between the two are nearly identical.
I believe you can create and customize engaging forms with both platforms with the help of each platform's simple drag-and-drop editor.
Winner = Draw
Read more: How to Create a Popup Form with Klaviyo in Shopify. 
Omnisend vs Klaviyo Automation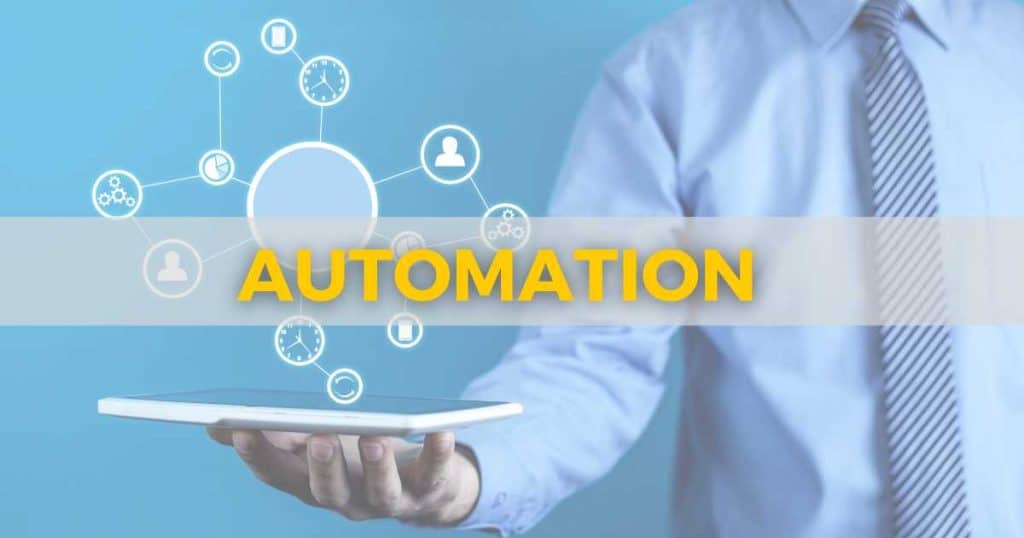 Automation is key in email marketing! The good news?
Both tools let you set up automation workflows to help you automate and streamline your marketing processes.
With Omnisend and Klaviyo, you can create email and SMS automations like welcome sequences, abandoned cart recovery, order and shipping updates, cross-selling, and more.
So, what's the difference between the two? Let's take a look and compare both workflows.
I'll start with Omnisend.
Their automation workflow templates are simple to both use and customize. All you need to do is use the premade triggers and conditions and just change specific flow actions depending on the type of campaign you're sending.
Additionally, you can easily change your workflow messages and customize the content of your workflow through the same drag-and-drop builder I mentioned earlier.
One of the things I love about Omnisend is that you can combine your workflows with multiple channels (email, SMS, web push notifications).
And what about Klaviyo?
Well, their automation workflow capabilities are on par with Omnisend. You can pick from dozens of built-in and customizable automation flows and options.
Want to know more? Check out my full Klaviyo Automations tutorial here.
And if you want to measure the performance of your campaigns and workflows, both Omnisend and Klaviyo make this possible with their built-in analytics!
Personally, I like the crisp, clear layout and interface of Omnisend better than Klaviyo. Plus, most of your campaign details are accessible on the same interface, making things a little easier.
However, that just comes down to my personal preference! Again, I'll have to claim this one as a draw.
Winner = Draw 
Omnisend vs Klaviyo Integrations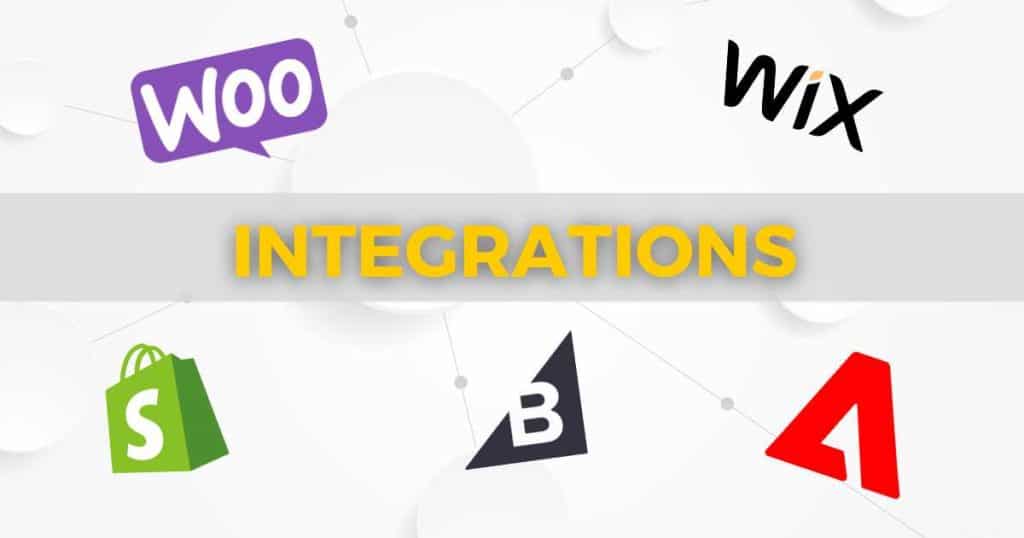 It's crucial to choose an email marketing solution that integrates with your online store; otherwise, you won't get very far!
You'll be pleased to know that Omnisend and Klaviyo seamlessly integrate with popular eCommerce platforms like Shopify, Wix, BigCommerce, WooCommerce, and Magento.
This means that no matter what you choose, you can start sending targeted email and SMS campaigns to your customers right away!
However, Klaviyo's integrations surpass Omnisend in this department, offering double the number of integrations, plus their very own API to extend the platform's functionality.
Omnisend also has its own API. But, in my opinion, it doesn't seem as flexible as Klaviyo's.
Winner = Klaviyo
Read more: Shopify vs WooCommerce. 
Omnisend vs Klaviyo Support
With Omnisend, you'll get 24/7 live chat and email support 365 days a year, plus additional support on popular days of the year for eCommerce businesses (like Black Friday).
And on average, Omnisend's chat response time is under 5 minutes!
Plus, Omnisend's blog, interactive tools, academy, eBooks, and help center are super handy.
On the other hand, Klaviyo's support is a lot more limited than Omnisends.
If you opt for the free plan, you'll only get 60 days of free email support. However, paid plans do include both email and phone support.
In saying this, Klaviyo's array of online and community resources, such as their live training, academy, and knowledge base, should be able to resolve most of your problems.
Some reviews online believe Klaviyo's support is lacking. However, I use Klaviyo for one of my online stores, and I can confidently say I've never had any issues!
Winner = Omnisend
Omnisend vs Klaviyo – Online Reviews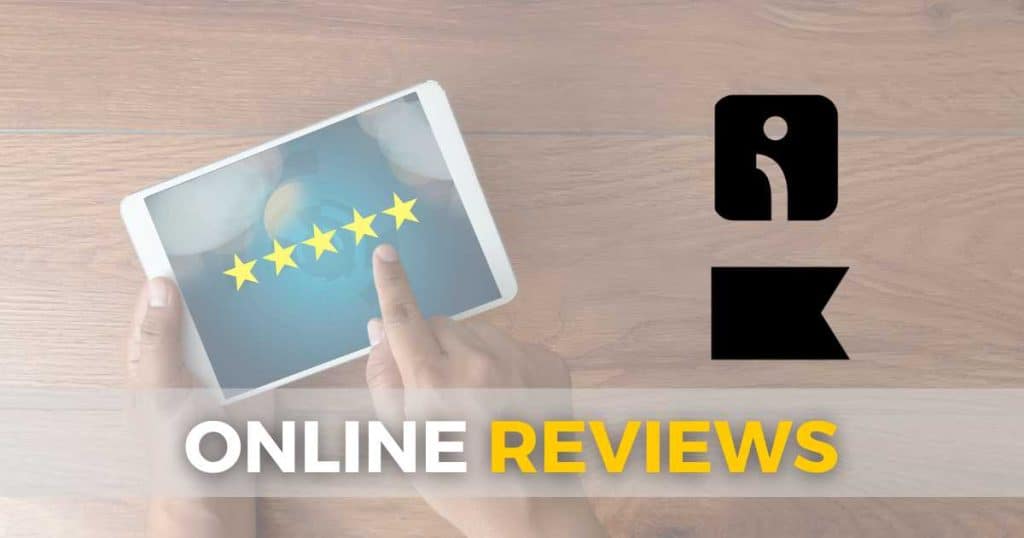 I know what you're thinking…both tools seem pretty similar when it comes to features, user-friendliness, and functionality.
But what do the people say??
Let's take a look at some online reviews with popular eCommerce platforms to find out if one comes out on top.
On Shopify, the Omnisend app has over 5,000 reviews, with an average rating of 4.8 stars. In contrast, Klaviyo has just below 2000 reviews, averaging 3.8 stars.
Over 6,000 WordPress users rate the Omnisend plugin a solid 5-star rating. Klaviyo, on the other hand, has been downloaded an impressive 30,000 times but with an average of just 3.8 stars.
And with Wix, another popular website builder, Omnisend also comes out on top, with 24 reviews and an average rating of 4.5. Klaviyo has just 6 reviews and 3 stars.
So, in terms of online reviews across leading eCommerce solutions, Omnisend is the clear winner!
Winner = Omnisend 
Omnisend vs Klaviyo: Who Are They Best For?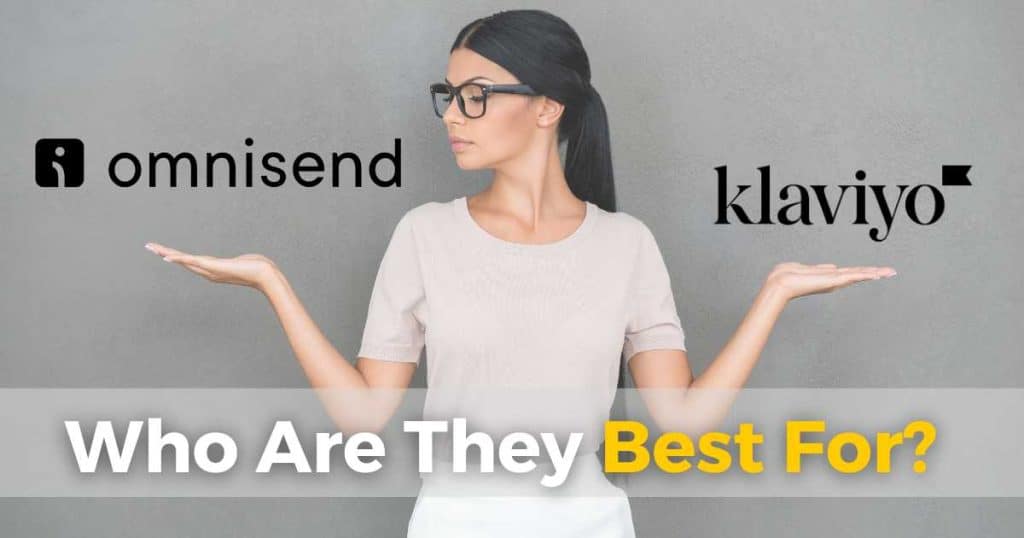 So, which one should you use? Well, it's a close call!
Omnisend and Klaviyo are similar products, and a lot of it comes down to personal preference.
In saying that, if you're a small business after a responsive, easy-to-use, and functional eCommerce email marketing solution, I believe Omnisend is the better choice.
Why? Omnisend is the best cost-effective option for teams looking to scale their brand.
I personally think small businesses will find Klaviyo's higher pricing point hard to justify.
However, Klaviyo is the perfect solution for teams focusing on understanding, targeting, and analyzing their customers' behaviors.
So, if you're a larger business with the budget to spend, why not give Klaviyo a go? 
Stew's Final Thoughts
As you can see, Omnisend and Klaviyo are excellent SMS and email marketing choices.
And I strongly believe you'll be in good hands no matter your choice! So why not give both a go?
I suggest trying out both free plans to see how you like the interface and flow of each platform.
And once you do, let me know! I'd love to know what you think.
Thanks for reading.