Shopify vs Etsy
In this Shopify vs Etsy comparative guide, we're going to dive into both platforms to find out which one is best for your business requirements.
Are you considering launching an online store and wondering which platform to choose to ensure your business thrives?
Well, you've come to the right place!
I personally know how overwhelming this can be, especially for new business owners with no idea where to start.
There are so many platforms, channels and websites out there, and there seems to be more and more popping up on a daily basis.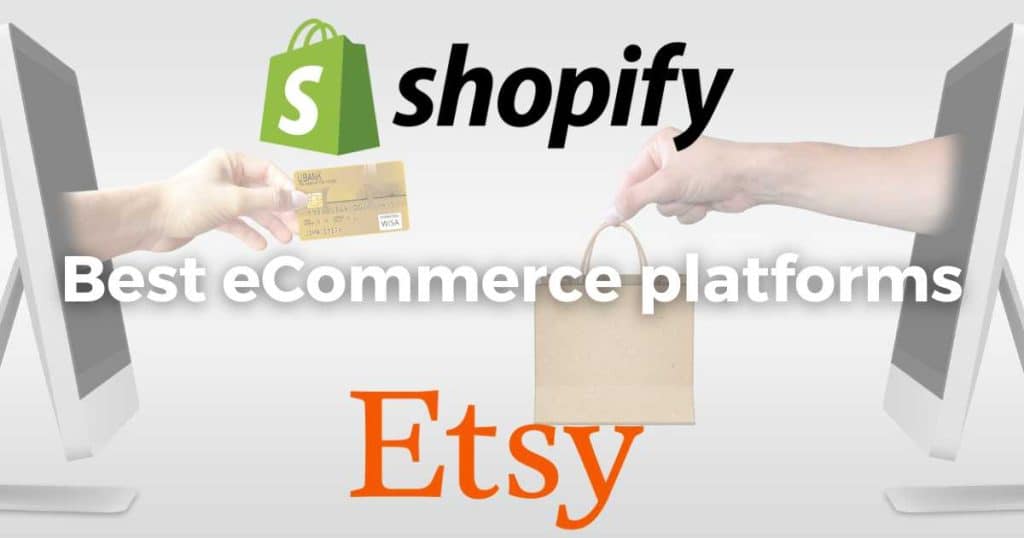 You'd have to be completely disconnected from the online world (or perhaps living under a rock) not to have heard of the e-commerce powerhouses Shopify and Etsy!
In fact, we would argue that Shopify and Etsy are two of the most prominent e-commerce platforms on the web for you to market and sell your products online.
However, both platforms offer unique features and benefits, hence why they're such a popular choice!
So which one is best for you?
In this post, we'll take a deep dive into Shopify vs Etsy and each platform's pros, cons, features and selling on Etsy vs Shopify to help you decide where to sell your products online.
Whether you're a new business owner looking for the perfect place to launch your online store, or an existing eCommerce business wanting to change things up, we've got you covered in this total Etsy vs Shopify review!
So, let's launch and identify which platform is best for you to sell your products online.
First, we are going to break down each platform individually. 
Read more: How to sell digital products
What is Shopify?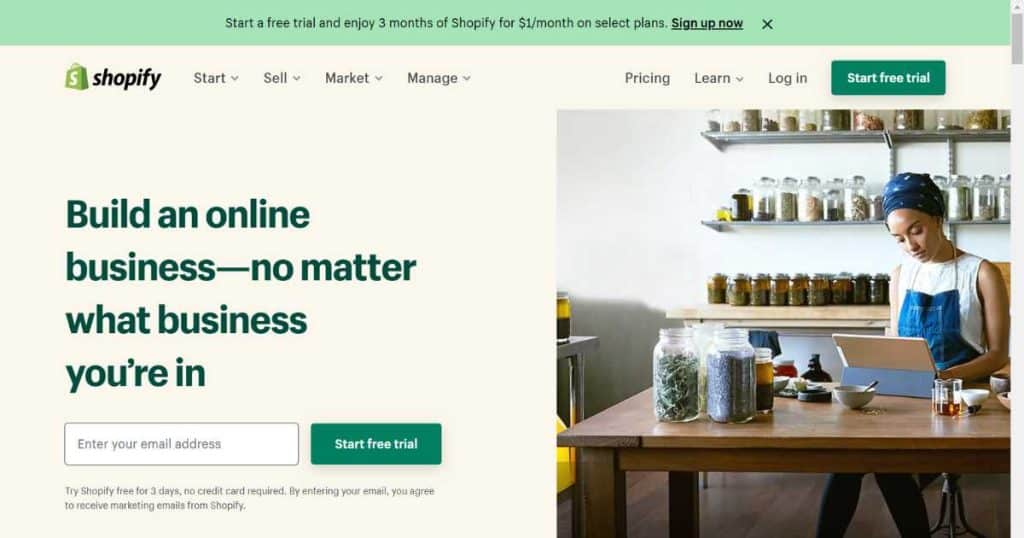 Shopify is a popular eCommerce platform that hit the market in 2006.
The core focus of Shopify is to allow businesses to create, manage and sell their products online through an online store.
However, Shopify is so much more than just an online store builder.
Within one platform, you can use Shopify's dynamic tools and features to build, customize, track, and run your online store efficiently to sell any type of physical or digital product.
In our opinion, Shopify has got to be one of the most accessible platforms to use from both a business and customer perspective.
With professional themes, multiple (100s) payment gateways, dynamic shipping options, and app and channel integrations, even beginners with no experience can create a stunning, easy-to-use online store.
Additionally, managing your products, tracking analytics, and connecting your online store with other platforms, is a breeze, making Spotify a perfect choice for beginners just getting started online.
Read more: How To Connect Shopify to Facebook Shop
One of the key benefits of Shopify is that it grows with you, meaning that any business type or size can get started with Shopify and continue to use it when their business grows!
Shopify is undoubtedly a powerful and versatile platform at the top of our list for e creating Commerce websites and for business owners wanting to quickly and easily sell their products online.
So if you're a small business wishing to establish and grow your online presence, Shopify might be the ideal choice for you.
Check out my full Shopify tutorial for creating an eCommerce store (below).
Shopify Review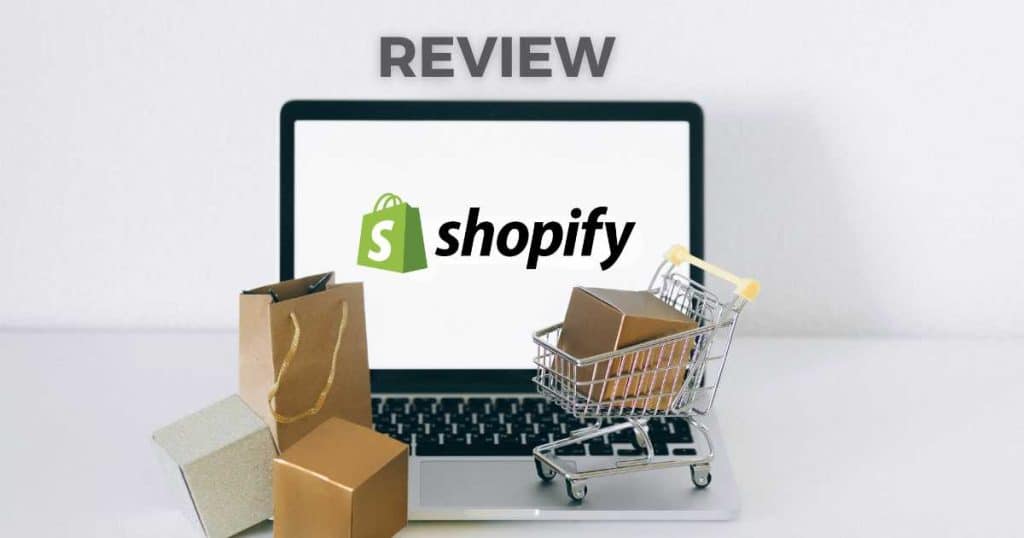 We know Shopify is a popular choice amongst many business owners globally, but what are the specific pros and cons of the platform, and what sets it apart from other leading eCommerce platforms like Squarespace, Ecwid, Wix, or WooCommerce?
Firstly, we find the Shopify dashboard user interface the easiest of our favourite website builders as you can effortlessly set up and manage your store, apps, customers, emails, and analytics all in one place.
When creating your website, Shopify offers a drag-and-drop visual builder tool, meaning even total beginners can't go wrong!
If you want to get involved in drop shipping, email marketing, or advanced features like abandoned cart recovery and customer order analysis, Shopify is your go-to, offering all these capabilities directly within your store.
Also, Shopify's integration capabilities are truly incredible. They provide various integrations with other online platforms such as Facebook, Instagram, and Amazon (just to name a few), allowing you to reach and sell to a larger audience on different channels.
However, Shopify's integration capabilities don't stop there!
They offer over 100 payment gateways, including Apple Pay, PayPal, Google Pay, Stripe, and more, meaning your customers can easily buy your products.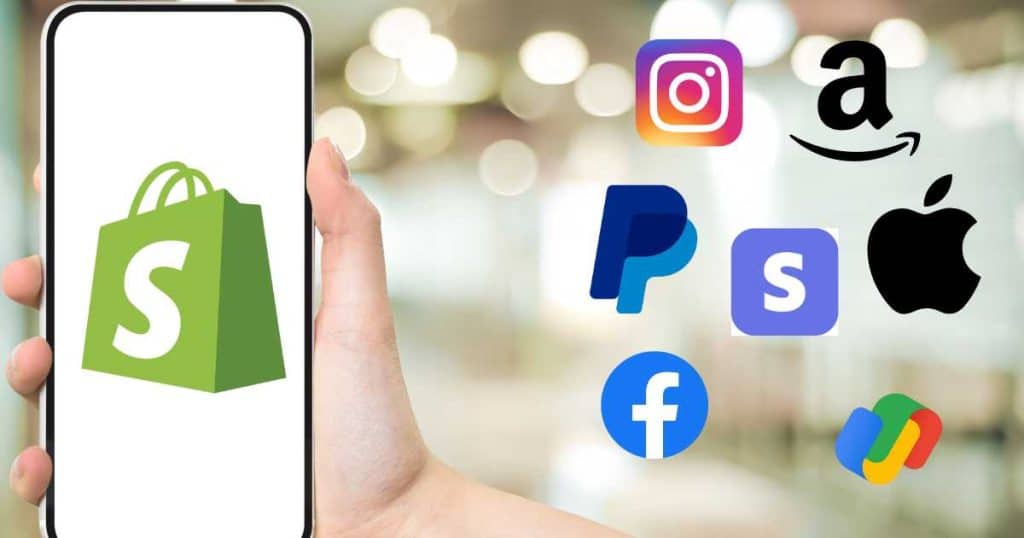 Shopify ensures the security of all websites through SSL encryption and is highly responsive on all devices.
Additionally, Shopify offers a mobile app enabling you to manage your store and engage with customers on the go.
Right, that's everything we love about Shopify, but what about the things we don't love? Every platform has its flaws, and Shopify certainly isn't perfect.
How much does it cost to sell on Shopify?
Basically, Shopify doesn't offer a free plan, which can be a deal breaker for small business owners with little to no budget.
In addition, many of their apps also require monthly fees, and you'll always have to pay a transaction fee for every conversion on your website.
Also, if you are integrating apps, many of these are paid and add extra monthly costs to your monthly plan.
This can quickly increase the price of your month-to-month costs!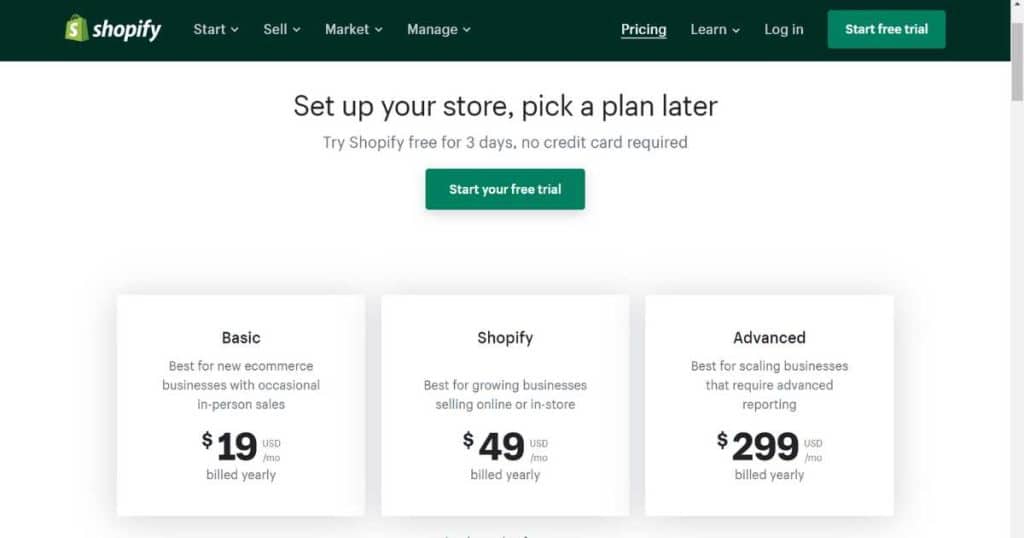 Another thing to consider is that while Shopify offers over 70 templates (some of which are free), their themes aren't as customizable as other platforms, meaning that your design capabilities are limited to the theme structure (unless you want to play around with the theme code!).
Basically, your store may end up looking similar to another Shopify-bought store unless you have coding experience.
While Shopify's transaction fees and hidden costs may deter some users, the overall Shopify experience remains a standout in the world of eCommerce, providing you with all the tools for your business to thrive online!
If you're interested, Check out the tutorial on tow to sell digital products on shopify
What is Etsy?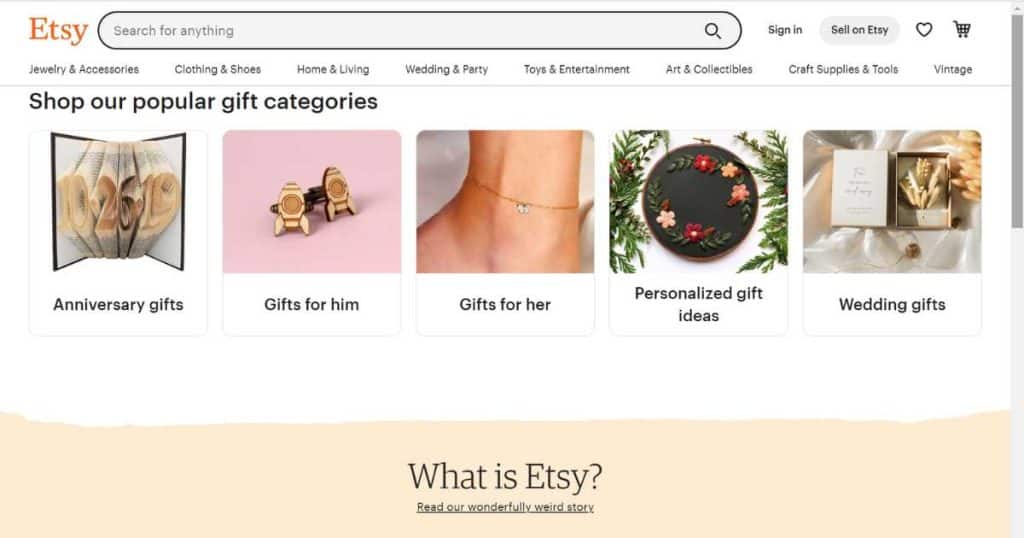 Etsy is a non-traditional online marketplace founded in 2005 for small businesses, creative entrepreneurs, and buyers searching for unique handcrafted, vintage, and custom-made items.
The difference between Etsy vs Shopify or other online stores or marketplaces such as eBay or Amazon is their community. Basically, think of Etsy as a global online small-town weekend market, the idea that every product sold or bought has a story to tell!
Etsy takes immense pride in its identity as a community-oriented marketplace, with a strong focus on fostering creativity and showcasing one-of-a-kind products, and has grown to become a go-to destination for people wanting to sell or buy personal and artistic products.
They aim to support small businesses or independent artists and celebrate original, sustainable, ethically produced one-of-a-kind products from jewelry, clothing, furniture, collectables, home decor, and more.
For sellers, Etsy has an easy-to-use interface, minimal fees, and a loyal audience that appreciates small businesses and independent start-ups.
Etsy is for small businesses that are trying to create an online presence in this overpopulated and competitive world, making it the perfect choice for absolute beginners trying to get their name out there.
Additionally, you can leverage all of Etsy's tools and resources to help optimize and grow your shop, manage your inventory, and streamline your shipping processes.
Etsy indeed has become the go-to hub for like-minded creatives and independent business owners looking to showcase their talents and connect with other like-minded consumers!
If you specialize in selling distinctive gifts, vintage gems, or niche products and value a supportive community, Etsy may be your perfect eCommerce platform!
Let's get into the nitty-gritty of this Shopify vs Etsy review.
Etsy review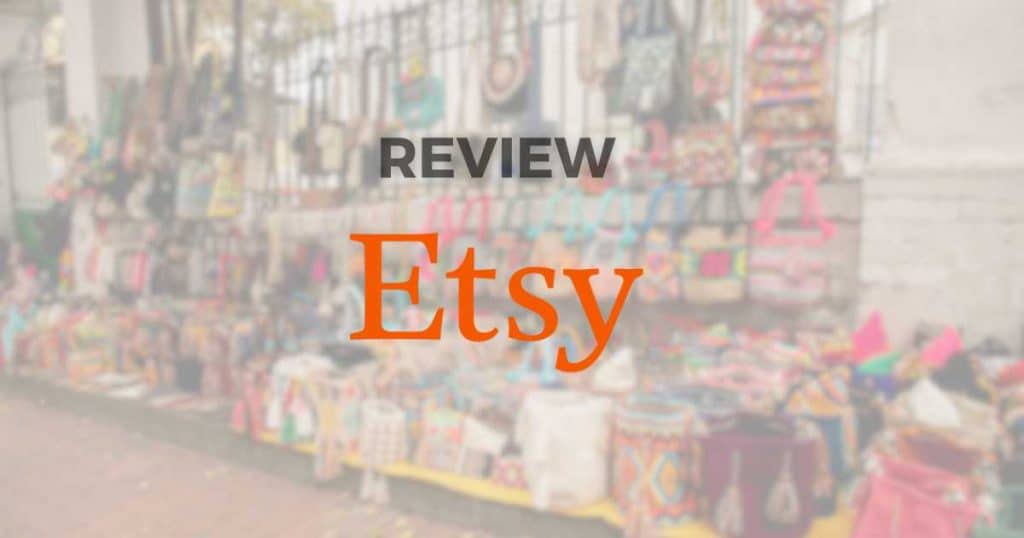 Known for its active and loyal community of 2.5 million plus users, Etsy connects like-minded buyers with independent artists, small brands, or local businesses selling unique products.
Etsy is already a well-known online marketplace, meaning you're sure to get sales just by creating a store and listing your products!
People will naturally come across your store, as the traffic for Etsy is super high.
So, how to sell on Etsy?
Setting up your online store is completely free, ideal for small businesses with little to no budget.
All you have to do is simply sign up, add your shop and product details, and you're good to go!
Their interface is also super easy to navigate; even total beginners can set up and list products without hesitation.
We also love their built-in shipping option, which makes shipping a breeze for newcomers.
Etsy is undoubtedly the best place for sellers to connect with and reach out to customers personally, fostering a sense of community you won't find on other platforms.
Customers can also request custom orders and leave reviews, enticing others to purchase from your store.
Additionally, Etsy is a well-known and trusted website, which automatically gives your brand and product credibility online!
You can even now create an essential website with Etsy through their website builder called Etsy Pattern and connect your website with your Etsy store, giving your brand more exposure and sales.
Although Etsy is primarily a physical product marketplace, you can also sell digital downloads on Etsy if you like.
Etsy is an excellent platform for small and local businesses to list their products, but it does have some limitations and drawbacks, which we'll dive into now.
Firstly, while you don't have to pay anything to sign up with Etsy, it's important to note that you have to pay a fee to list your products and a transaction fee (which can be quite pricey if you have a lot!)
Also, Etsy is quite basic and has some limitations with store customizations and branding compared to other eCommerce websites. This means that it's harder for your brand and business to stand out from the crowd.
In addition to this, as Etsy is just a marketplace, it means you don't technically own your store. Etsy can essentially change things whenever they want, and you get a limited say on it.
Plus, you have to adhere to specific rules regarding your particular niche.
And finally, although Esty is a great way for businesses to get their products out there, there is simply so much competition!
Despite this, Etsy remains a compelling choice for creatives and small business owners after a supportive community and platform to list and sell their products.
Check out our tutorial on How To Use, Setup & Start Selling on Etsy
Shopify vs Etsy:  Differences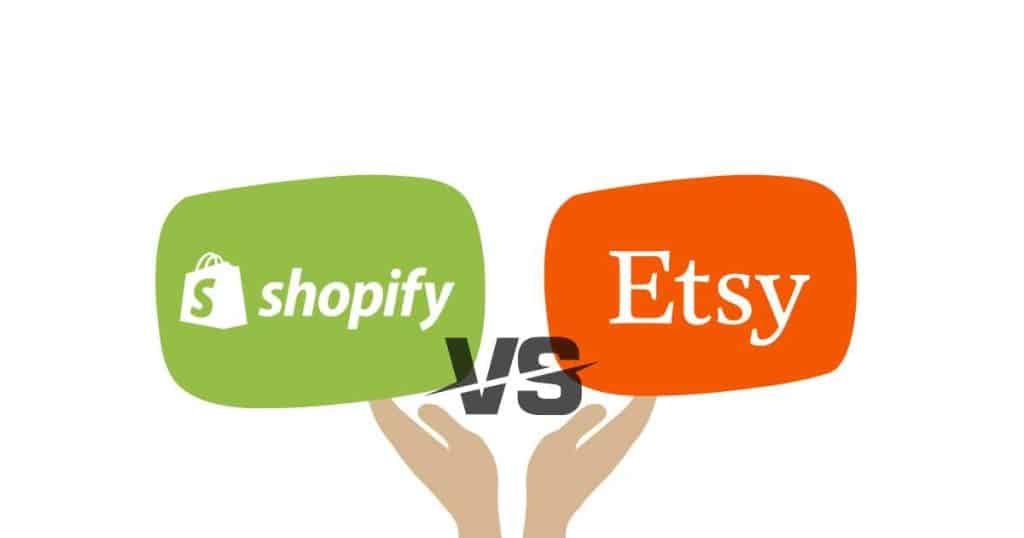 Although both Shopify and Etsy are powerful eCommerce platforms, comparing them is difficult as they offer very different things regarding online selling.
We are going to compare the following:
Types of websites.
What kind of products you will find on both platforms?
Platform utility.
Prices and fees.
What platform is best for you?
Shopify is a versatile website builder platform that lets users create their own branded space, while Etsy is an online collective marketplace for sellers and buyers.
With Etsy, the specific products people sell and buyers look for are handmade goods. In contrast, sellers can sell anything on Shopify.
The easiest way to decipher Etsy vs Shopify is by thinking of Etsy as an art fair where you can take and sell your crafts and homemade goods in a booth along with various other booths selling other handmade products.
On the other hand, Shopify is a bit like a boutique store.
Instead of relying on other similar products to promote your product like you can with Etsy, you have to grow your customer base using marketing techniques from scratch.
Shopify is great for small businesses wanting to grow their business online.
With Shopify's easy-to-use tools and features, you can customize, manage, and integrate your online store with other popular selling platforms.
Simply choose between different themes, utilize their drag-and-drop editing tool, and leverage their dynamic full-featured platform to create a professional and unique website and online store.
Etsy has limited customization options and constraints within the platform, which is harder for brands that want to create a unique identity.
However, it's the best place for independent artists to sell their handmade or vintage items after a built-in audience.
With Shopify, you have to build your audience from the ground up, which takes a lot of work!
Etsy is already a credible platform, so you don't have to build trust and authority online.
In terms of fees, you have to pay transaction fees on both platforms.
The main price difference between the two is that Shopify charges a monthly subscription fee and other fees for external app integrations. Etsy additionally has a listing fee.
Regarding integration capabilities, Shopify, without a doubt, is the winner! You can sell across many platforms like Facebook, Instagram, and Amazon.
On the other hand, Etsy focuses on selling on its own marketplace; however, it's worth mentioning that it isn't completely limited to one platform and can easily connect with a few social media integrations.
Overall, the major differences between the two platforms are that Shopify empowers sellers to build their website and brand, while Etsy is a marketplace that provides a platform to sell handmade and vintage items.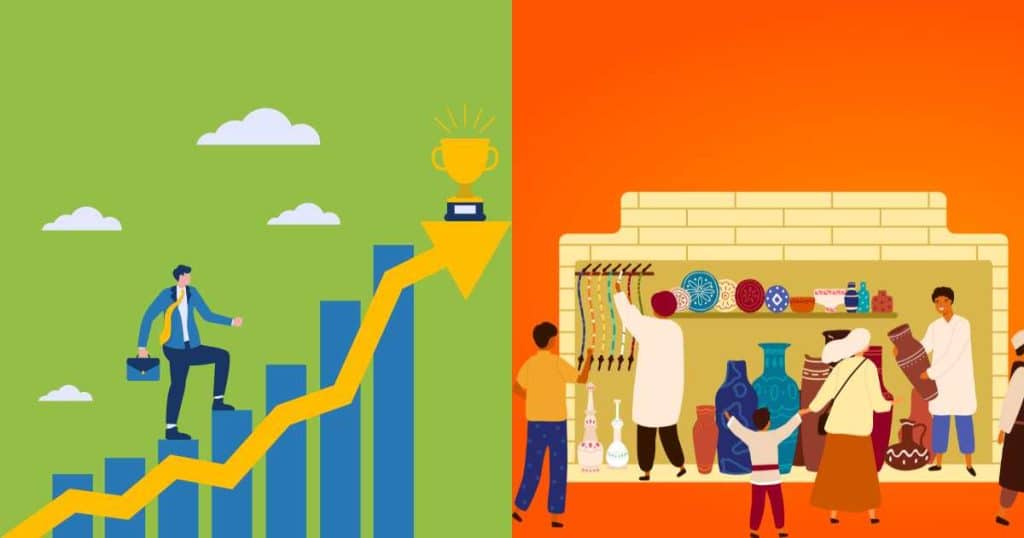 If you're after a platform that can grow with you and your business, Shopify is the one! As your business grows, you can access more advanced features and plans.
Etsy is perfect for smaller businesses and individuals and doesn't offer the scalability that Shopify does.
Shopify vs Etsy: Pricing & Value
Okay, so now that we've discussed the features and differences between Shopify vs Etsy, let's take a look at Shopify vs Etsy fees and pricing structure.
Pricing is a big factor for small businesses when considering where to list their products online.
Before we start, it's important to note that Shopify and Etsy take different pricing approaches.
First and foremost, Shopify doesn't offer a free plan like other website builders such as Wix; however, they offer a 14-day trial.
They offer various pricing plans that cater to businesses of all sizes, from small startups to large enterprises.
So how much does it cost to sell on Shopify?
Depending on your plan, you pay a monthly subscription fee ranging from $29 to $299 and a transaction fee of 2.4% to 2.9% (plus 30 cents per transaction).
If you're a small business with lower sales volumes, this can add up quickly!
Also, when you sign up for Shopify, remember that none of their plans include a custom domain name (another expense).
Their integrations can also be costly, meaning your monthly costs could climb quickly.
In terms of the value and features that you get… There is a lot! This includes:
Inventory management
shipping and tax calculations
customizable templates.
Thousands of apps.
Channel integrations.
Analytics and more.
This is a worthwhile investment to build and scale a professional, premium online store.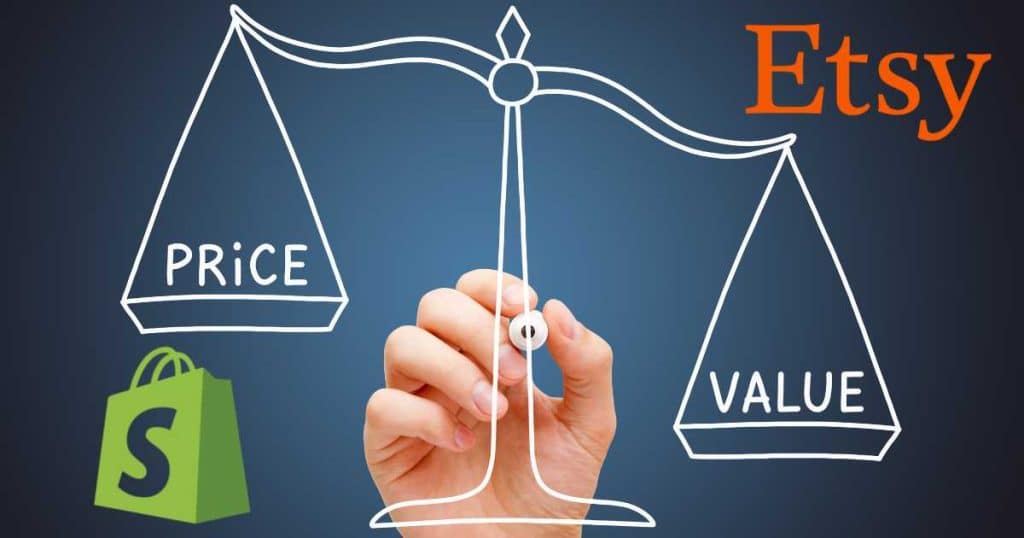 And what about how to sell on Etsy?
Etsy charges a listing fee of 20 cents per item, a transaction fee of 5% plus 20 cents per transaction, and a payment processing fee of 3% plus 25 cents per transaction and can potentially be a  less cost-effective option in the long run.
These fees are definitely lower than Shopify; however, they can still make a dent in profits for sellers with higher sales volumes.
Also, as Etsy is mainly for sellers creating unique, handcrafted products, you must remember how much time was spent making these products against these fees.
Think about your hourly rate, then how much profit you're actually making.
That being said, the value of Etsy lies in its unique marketplace, targeted and niche audience, and supportive community, which is invaluable for small businesses looking to establish themselves online.
The choice between Shopify vs Etsy comes down to a tradeoff between pricing and value, depending on your business's specific needs and goals!
Do you want to grow your business on a large scale? Or are you after a supportive community and platform to sell your handcrafted goods?
Shopify vs Etsy:  What is best for you?
Let's be honest; when it comes down to choosing between Shopify vs Etsy, there is no clear-cut answer; the decision ultimately depends on your business's needs and goals.
So think about it. What do you want to get out of your online store?
If you're looking to build your brand and website from the ground up and want more control over your marketing and sales strategies, Shopify may be the way to go!
With Shopify, you can utilize its robust features, extensive app ecosystem, and various pricing plans to grow and thrive online.
However, if you create handmade or vintage items and want to sell those items to a larger audience of buyers interested in those types of products, Etsy might be the better choice!
Also, if you're just starting to dip your toes into the digital world and don't have a lot of experience with building and managing an online store, Etsy is a perfect choice to test the waters and get your products in front of a wider audience.
Basically, while Etsy doesn't offer the same level of customization and scalability as Shopify, its unique creative flare makes it an attractive option for many sellers.
Take the time and review each platform's features, prices, and value propositions and if they align with your vision for your online store.
By doing so, you can be sure to help your business flourish in the ever-evolving world of e-commerce!
Shopify or Etsy? Why not use both?
Okay, so we've established that Shopify and Etsy are great platforms to sell products online for different reasons.
However, you might think, why should I limit myself to just one platform? Can I use both?
Well, we have good news for you, you can!
By using Shopify and Etsy together, you can take advantage of the unique benefits that each platform offers to create a robust online presence.
So, how does it work?
Simply build a professional-looking website with Shopify (this will be your main online store). Using Shopify's powerful tools and features and its ability to scale and integrate with various sales channels gives you the control and flexibility needed to grow your business.
In addition, you can integrate your Shopify store with your Etsy store and list your products on both platforms through multiple different app integrations on Shopify.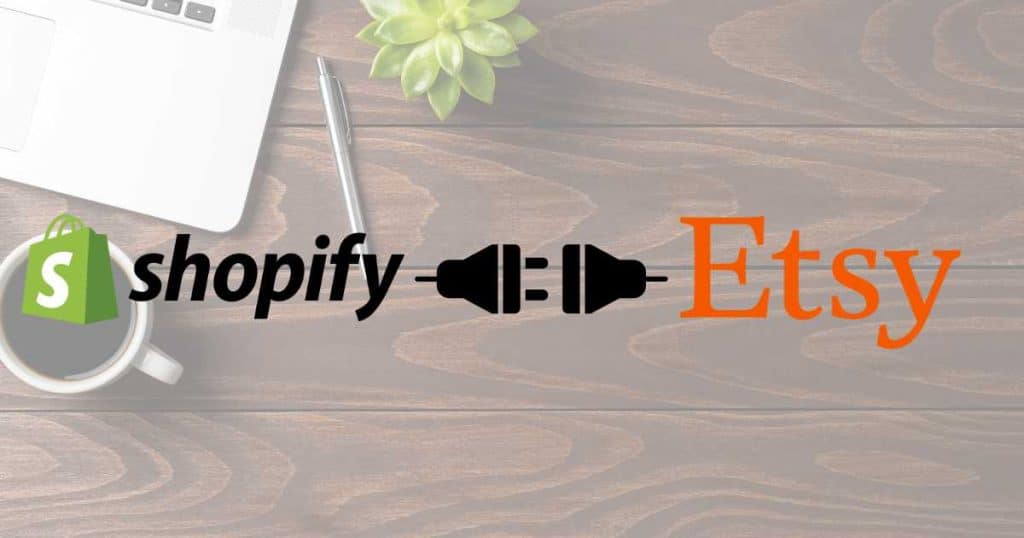 Both platforms can diversify your sales channels, reduce reliance on a single platform and reach a larger target audience.
Of course, this depends on the type of products you sell and your business needs and goals; however, it's a strategy that can provide the best of both worlds with great benefits to help you reach more customers!
And because you can create an Etsy store for free, initially, the costs to start listing your products on Etsy are pretty low.
So if you want to combine the strengths of both Shopify and Etsy to expand your brand and drive sales online in the competitive world of eCommerce, this may be the way to go!
Final thoughts
And with that said, we've now come to the end of this Shopify vs Etsy review!
What do we think? Well, both platforms are excellent ways to sell your products online for very different reasons.
We hope this review has helped you decipher the differences between the two and which option is best for you and your brand.
Take the time to consider your budget, expertise, and target audience when deciding between Shopify vs Etsy, and don't be afraid to take the plunge and use both platforms together to create an absolute powerhouse online store!
We know neither option is free, so we suggest playing around with Shopify's free trial or uploading some products to Etsy to check out the level of engagement.
If you want to sell online and grow your business, you can't go wrong with Shopify or Etsy. With the right approach, both platforms can help you reach your goals.
So, what are you waiting for?
It's time to get started!