Best Inventory Management Software for you
Do you want to find out the best free inventory management software available in 2023 for small businesses?
Inventory management software is just another daunting task that small business owners have to wrap their heads around.
However, with the right inventory management software, you can streamline your operations and save time and money.
So, what is it, and do you really need one?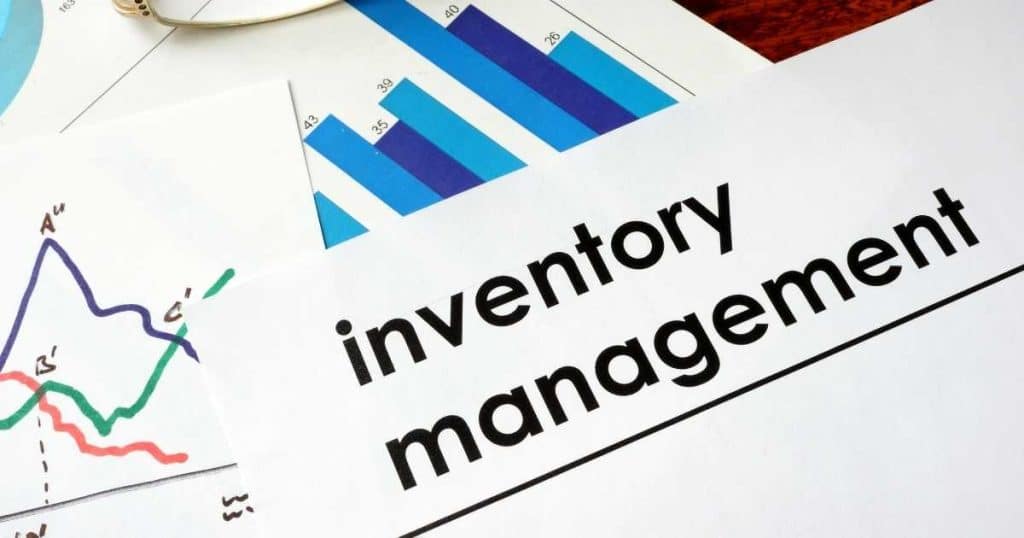 Whether you're a restaurant owner, eCommerce business, manufacturer, or retailer, you all share one thing – physical goods.
Think of inventory management as a trusty GPS for your business.
Inventory management can guide your tools, products, and assets all the way through production to sale with ease and precision.
The right inventory management system will help you keep track of everything, avoiding the stress and chaos of lost or misplaced items along the way
In this post, I'll dive into what I believe are the best free inventory management software options for small businesses in 2023.
If you're just starting out or looking to upgrade your current system, my top 6 inventory management software options are sure to help you keep on top of your inventory!
Top 6 Free Inventory Management Software for Small Business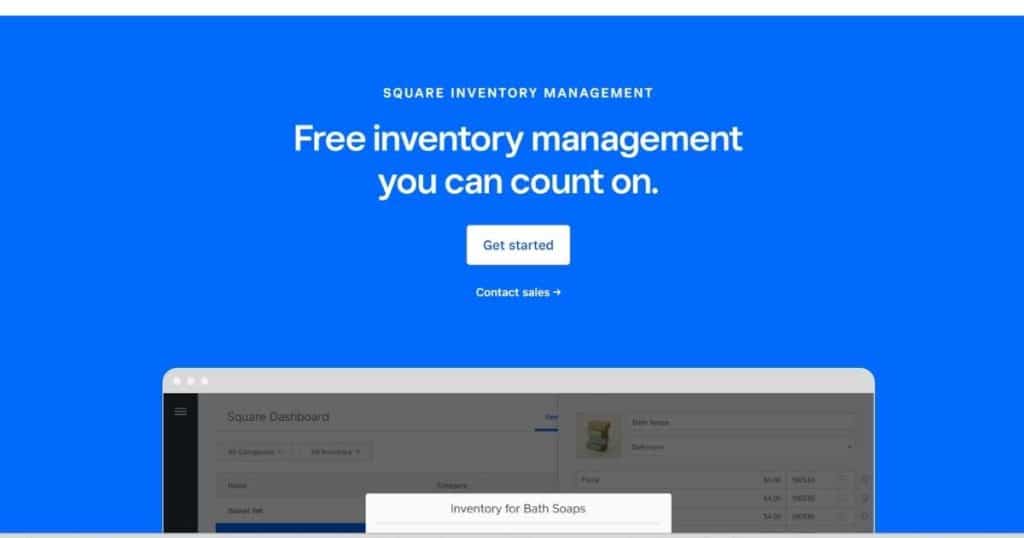 Square inventory management software is a cost-effective and convenient tool within the popular POS (point-of-sale) system Square.
Within Square, you can choose between Square for retail or Square for restaurants, both offering different industry-related inventory management solutions.
If you're a retail or restaurant business and already use Square as your POS choice, you'll receive Square inventory completely for free!
You can use Square's essential inventory management tools and features to simply keep track of the following:
Stock.
Sales.
Orders.
Product variation.
Menus.
Online orders.
Deliveries.
Ingredient levels, and more.
The best part? Everything is linked together, so the stock count will automatically update when you make a sale (through either the mobile app or online).
This means you can be sure to have live and up-to-date inventory information at all times!
Pricing: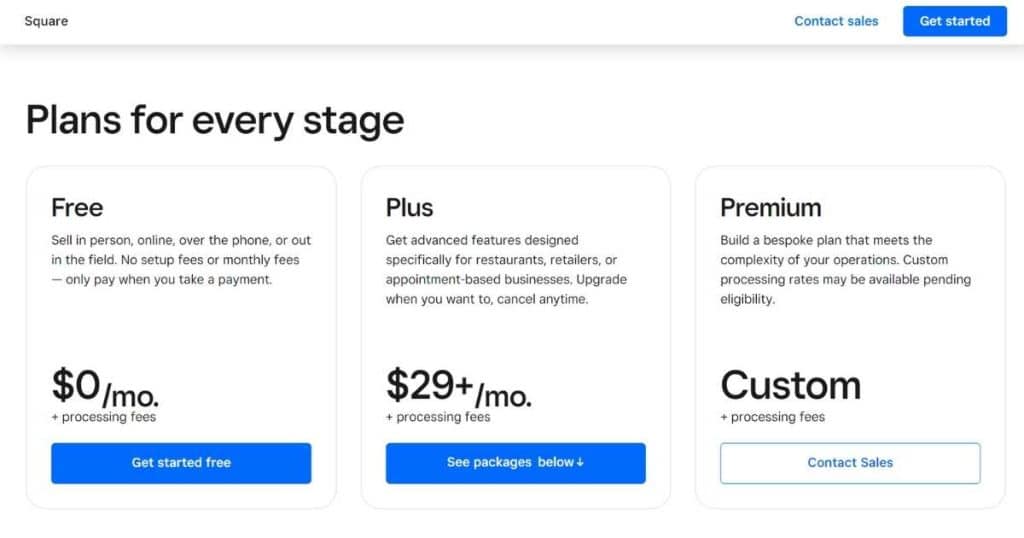 Free: $0.
With the free plan, you'll get unlimited users, locations, items (or products), transactions, and many integrations.
If you're after more advanced inventory, payroll, and marketing services, you'll have to upgrade to a paid pricing plan (starting at $29 per month per location).
However, if you're a small business, this free inventory software has everything you need!
What I like:
Free plan.
Unlimited products.
Integrates seamlessly with other Square products.
Your online store is included in your account.
What I dislike:
The features are pretty basic for larger businesses with lots of inventory (or that need a system with warehouse or manufacturing features).
You can't create invoices within Square.
It only integrates within Square.
They have limited reporting features.
Best features:
The best thing about Square inventory is that it's seamless to use in conjunction with your Square POS account.
I also like how relevant it is to both retail and hospitality!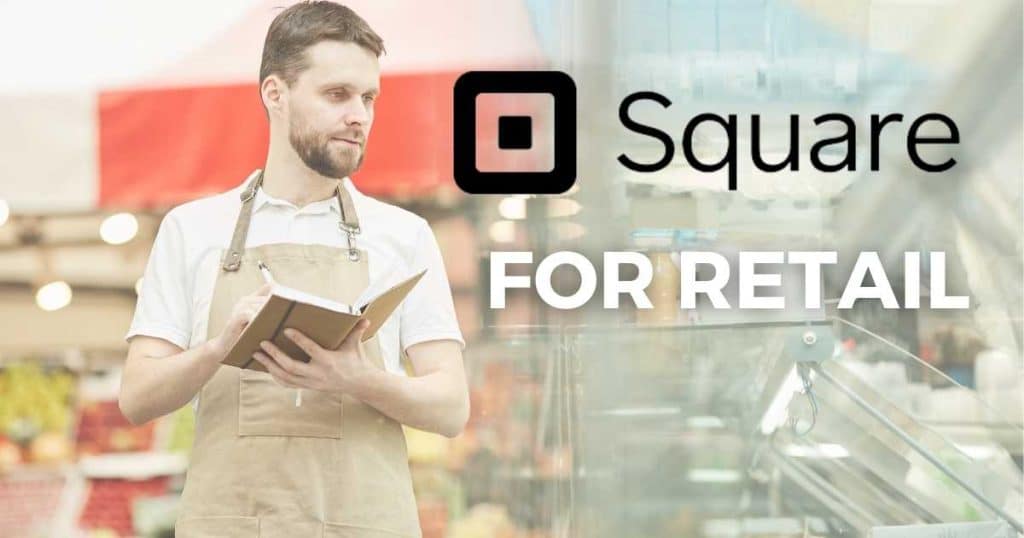 Retail key features:
A great mobile app for POS and inventory counting (including a barcode scanner!)
Product variant capability.
The ability to add pictures, descriptions, colors, sizes, and SKUs to items.
Daily inventory reports (automated inventory system).
Low stock alert.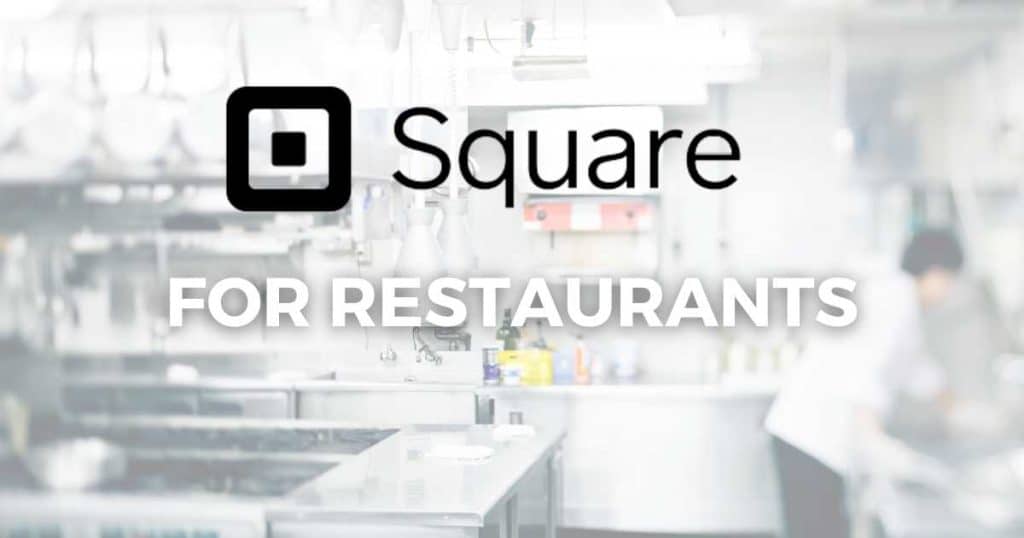 Restaurant key features:
Menu, table, and online order management.
Ingredient tracking.
Time-sensitive product availability.
Low stock alert.
So, whether you're in retail or hospitality, you'll be sure all your inventory needs are handled. And the best part? It's all for free!
Best for:
Small restaurant or retail businesses, ideally, who already use Square for their POS system and need help with their inventory!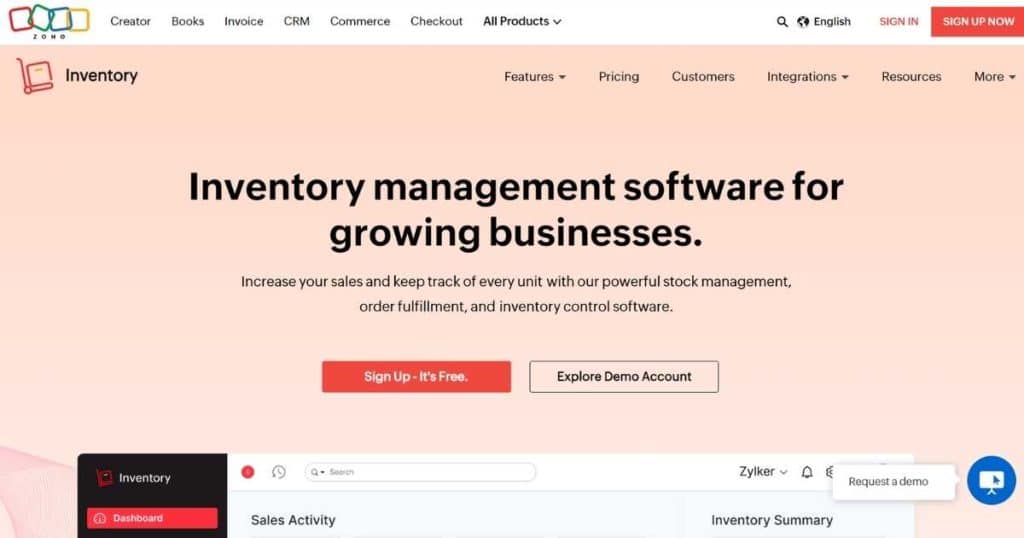 If you already use Zoho for your CRM, project management, and accounting software, Zoho Inventory is the perfect solution for all your product-related management needs!
Catered for small to medium-sized businesses, Zoho Inventory is excellent for companies with a large amount of inventory.
You can do all the basic inventory management tasks like checking stock levels, shipping, printing packing slips, tracking orders, and more.
Plus, Zoho inventory is a cut above the rest, offering:
Built-in shipping estimates.
Purchase orders, backorder, and drop shipment capabilities.
Low stock alerts.
Serial number, batch tracking features, and more.
Zoho Inventory is a solid choice if you're after a jam-packed inventory system that can do more than manage more than just your basic inventory management.
Pricing: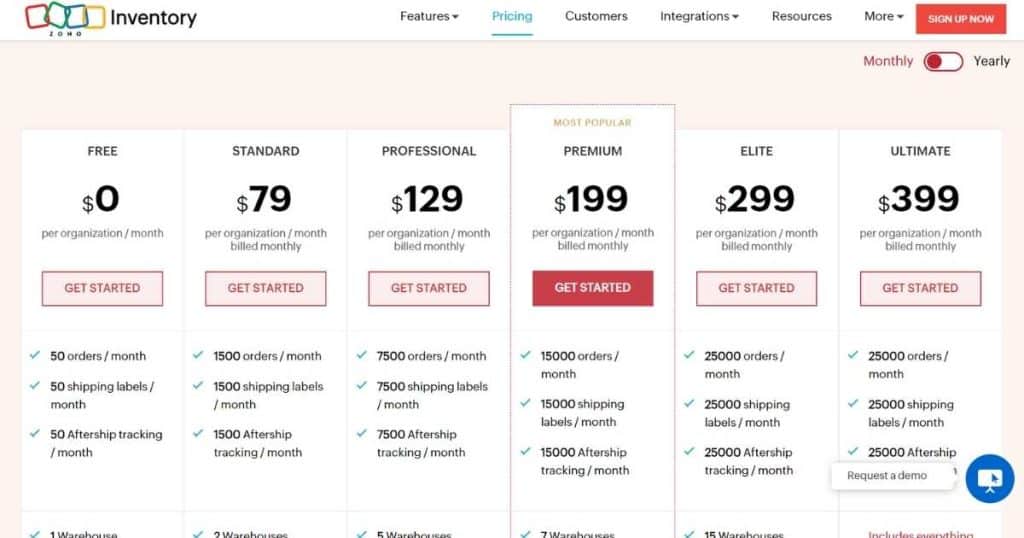 Free: $0 – Two users, unlimited products, 50 monthly orders, and integration capabilities.
Standard: $79 (per organization)
Professional: $129 (per organization)
Premium: $199 (per organization)
Elite: $299 (per organization)
Ultimate: $399 (per organization)
What I like:
Integrations with other Zoho products.
Free plan with unlimited inventory
A wide variety of advanced inventory features than other software (even on the free plan).
What I dislike:
The interface is clunky compared with other sleek interfaces.
Doesn't integrate with Xero.
It has sales and purchase order limits and no forecasting ability.
Best features: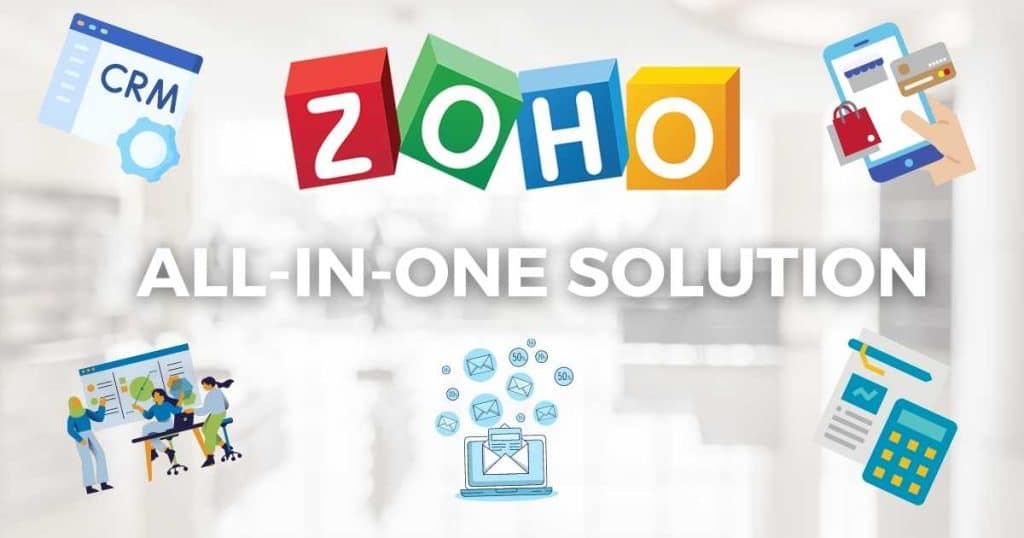 There are two stand-out features of Zoho Inventory.
1)  I've said it before, and I'll say it again! Zoho truly is an all-in-one platform. I love how easy it is to seamlessly integrate Zoho Inventory (and any other Zoho product) with each other, especially Zoho Books.
Additionally, Zoho Inventory integrates with many of our favorite eCommerce platforms.
2) The number of features available, even on the free plan! And once you outgrow the free plan, you can simply upgrade to one of their free plans. This makes Zoho Inventory a perfect choice for small businesses looking to scale their business.
Best for:
Small to mid-size eCommerce businesses with extensive inventories.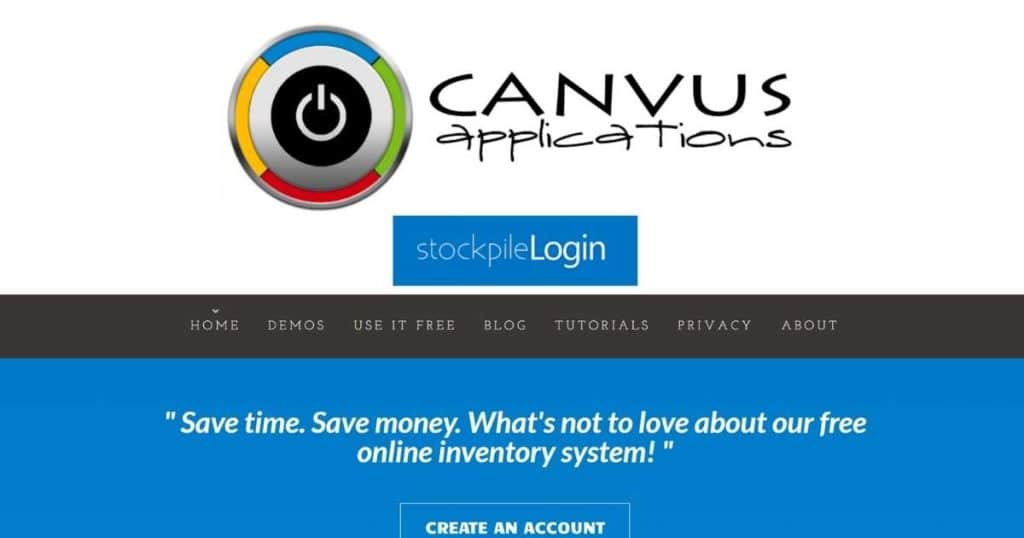 Stockpile is another free inventory software that lets users manage stock and process transactions across multiple locations.
Simply add unlimited items within your catalog, then add the product and manufacturer name, SKU, location, and UPC for easy inventory tracking.
Other dynamic features include:
Customizable currency preferences.
Product label categorizing.
The ability to add mages to your items.
Automated notifications when stock gets low.
Record of damaged items.
Additionally, you can create reports for stock counting, inventory payments, and daily transactions.
That's right – you can get all this for free!
So, if you're after a free online inventory system that can handle all the items, locations, and users you need to run your small business, look no further.
Pricing: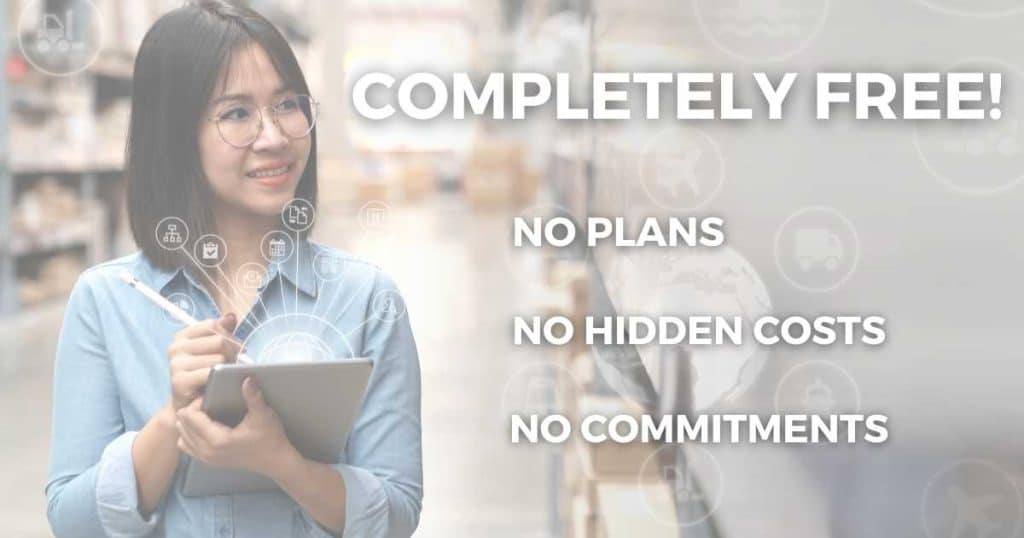 What I like:
Absolutely free!
Unlimited users, items, and locations.
Shallow learning curve.
What I dislike:
Searching for items can be problematic. You have to be very specific when typing in what you're looking for.
No mobile app.
No integration capabilities.
Customer support is limited.
Best features: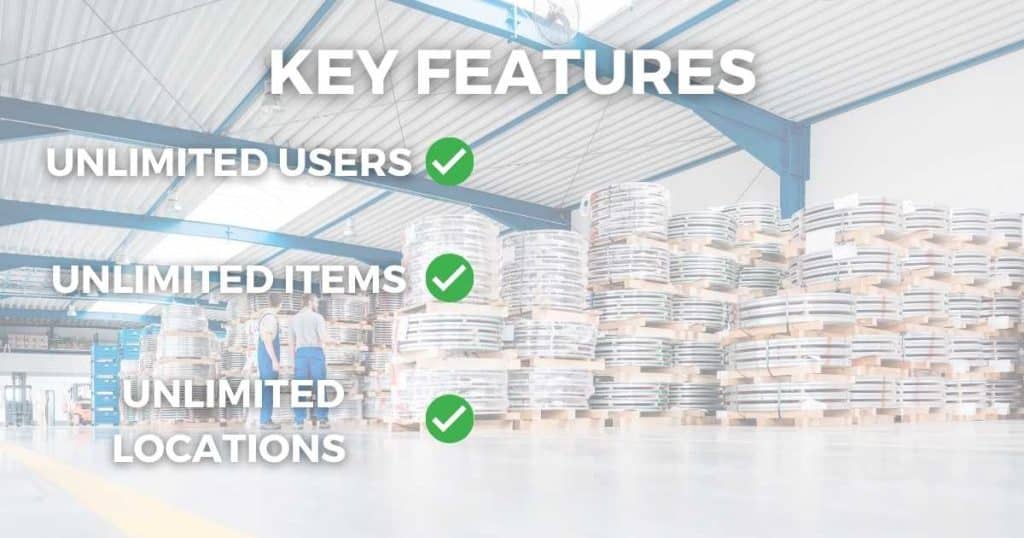 Considering Stockpile is free, the number of features they offer is quite incredible! However, the best thing about Stockpile is that you can have unlimited users, items, and locations.
Some more prominent platforms (such as Zoho Inventory) don't even offer this!
This means that small business owners can use Stockpile to manage as many items as they like in as many locations as they want.
Best for:
Freelancers or small retail and manufacturing business owners on a budget.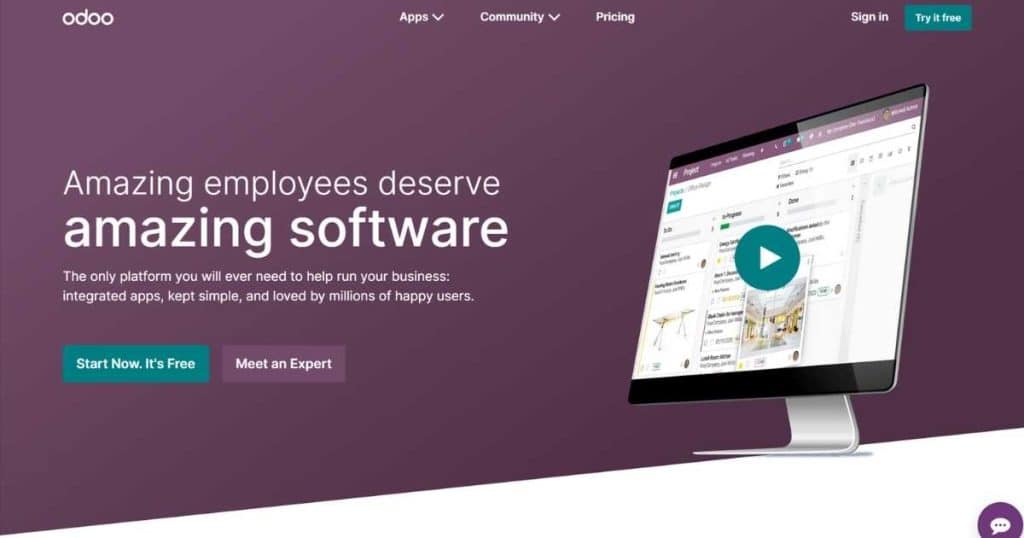 Odoo Inventory management is an online simple inventory management software within the incredible Odoo Business Suite App platform.
With Odoo, you can manage unlimited items and batches within multiple warehouses or locations and track your stock in real time.
Additionally, if you want to link your inventory to Odoo's abundance of finance, HR, CRM, website, eCommerce, or marketing apps, you can easily do this (at an additional cost).
You'll find everything you need within Odoo. And what's more, is that everything you need to get you up and running is available on the free plan!
These include
Barcode scanning.
Order deliveries.
Double-entry inventory.
Real-time tracking.
Dropshipping.
Low-stock alerts.
Automated purchase orders.
Serial number tracking.
Forecasting.
Reports.
Product variants and more.
That's right, Odoo offers ALL its features on the free plan!
With no limitations or no hidden costs, how could you go wrong?
Pricing: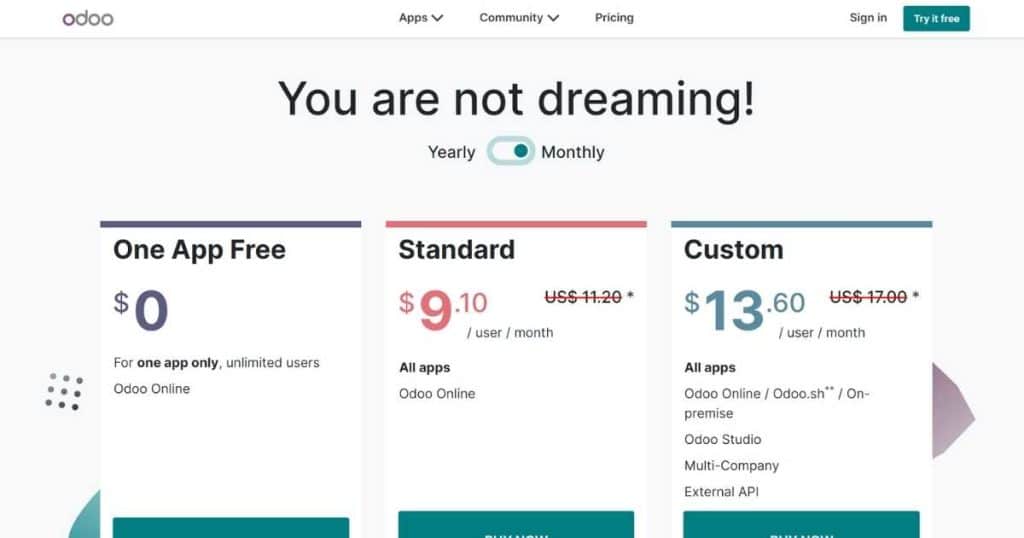 Odoo's pricing structure works slightly differently from other Inventory management systems.
They offer a 'One App Free' plan, which entitles you to one of the many apps available, in this case, their Inventory management app.
Then, if you find you want to utilize the other apps they offer, simply sign up for the 'Standard' plan.
This means you can access the Inventory app (and others) for one price!
These other apps include:
Sales.
Marketing.
Sign.
Website.
Accounting.
CRM.
HR.
Project.
POS.
What I like:
Unlimited users, locations, and products.
Custom reports.
One-stop shop for all your business needs.
What I dislike:
Customer support is limited.
POS and eCommerce tools aren't included in the free plan.
Third-party integration ability is also limited.
Best features: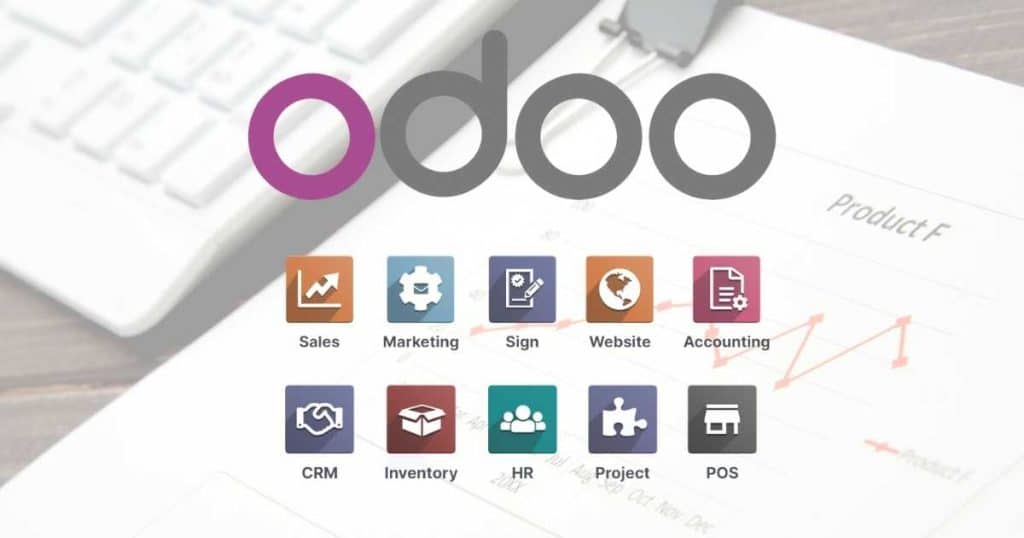 I love that you can access all features on the free plan, so even small businesses don't have to miss out!
Some of these features are unavailable on other free plans I've mentioned, such as customized reports, forecasting, purchase orders, or automation.
Also, you can integrate Odoo Inventory with a wide variety of apps within Odoo (at an additional cost).
This is great for businesses just starting out and for users with growing teams who want to use other tools on the same platform!
Best for:
Small, developing retail, eCommerce, or manufacturing teams after a free inventory software that packs a punch!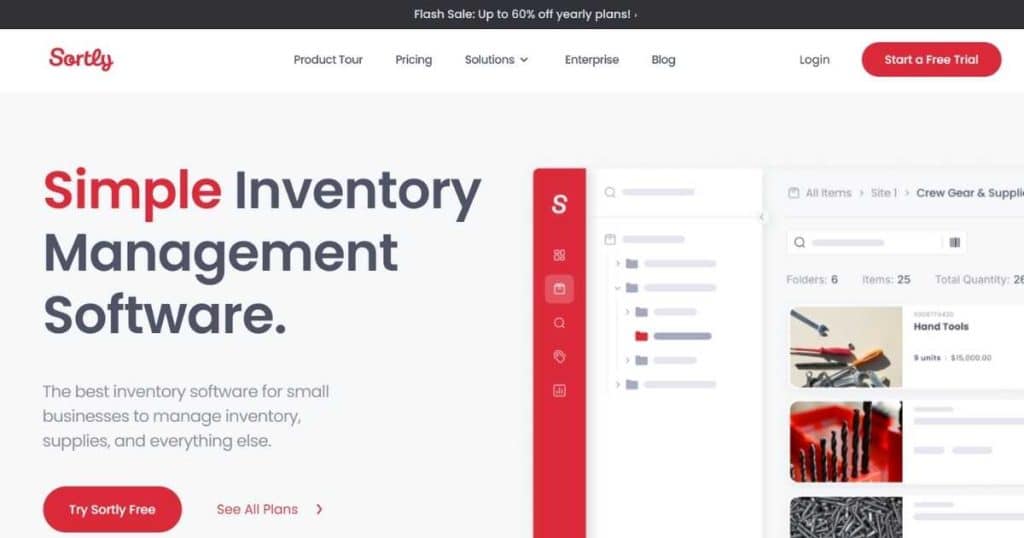 Sortly is a modern online platform built for small businesses after an easy-to-use way to track their supplies and inventory.
Unlike other sites I've discussed above, Sortly is a standalone simple inventory management software. This means they're dedicated to helping you with everything inventory related.
With Sortly, you can:
Track your items over multiple locations.
Add custom tags to your inventory.
Bulk edit details.
Check-in or out items.
Add photos to items.
Organize items into folders.
Create and export reports.
Connect and scan barcodes and more.
Sortly is the perfect solution for those only after inventory management since you can't integrate it with third-party sites.
However, because of this, their inventory game is strong (and free!)
Pricing: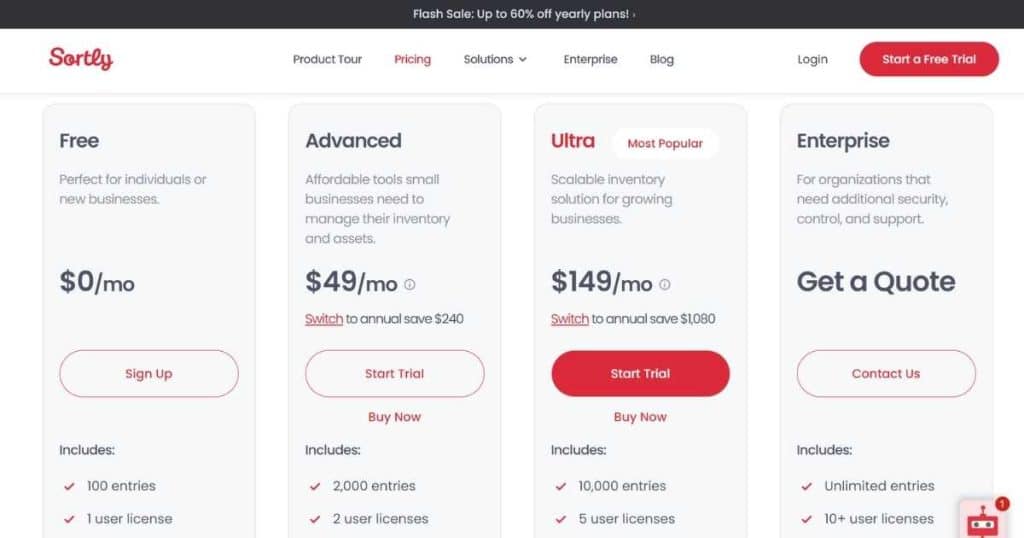 Free: $0 (1 user)
Advanced: 49 monthly (2 users)
Ultra: $149 monthly (5 users)
Enterprise: Custom pricing – 10+ users.
The advance and paid plans also offer a 14-day trial.
What I like:
You can manage multiple warehouses on all plans.
Built-in barcode scanner.
Easy to use.
Custom reports.
What I dislike:
No integrations.
The free plan doesn't include the low-stock feature or unlimited items.
You can't directly sell to customers.
Best features: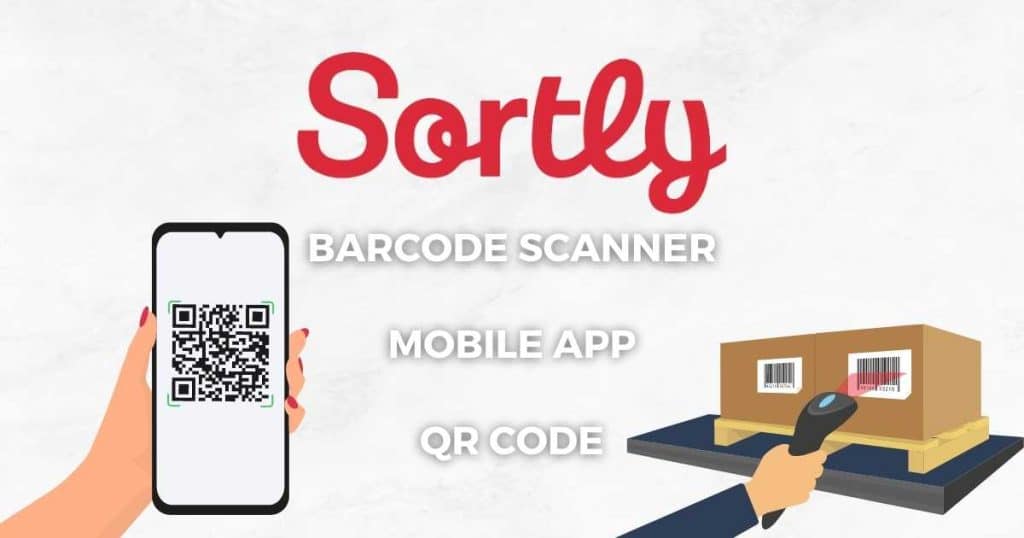 What sets Sortly apart from the rest is its built-in barcode and QR scanner mobile app, available on the free plan.
I know what you're thinking..don't most of these platforms have a mobile app and barcoding capabilities?
You're not wrong. However, Sortly's works even in offline mode!
That's right – this means you can scan incoming and outgoing inventory even when your phone app doesn't have a signal. Then, Sortly will automatically sync your items when you're back online.
With its offline abilities and multilocation tracking, Sortly is the perfect solution for on-the-go inventory management across multiple locations.
Best for:
Small business owners or sole traders with various inventory locations are always on the move.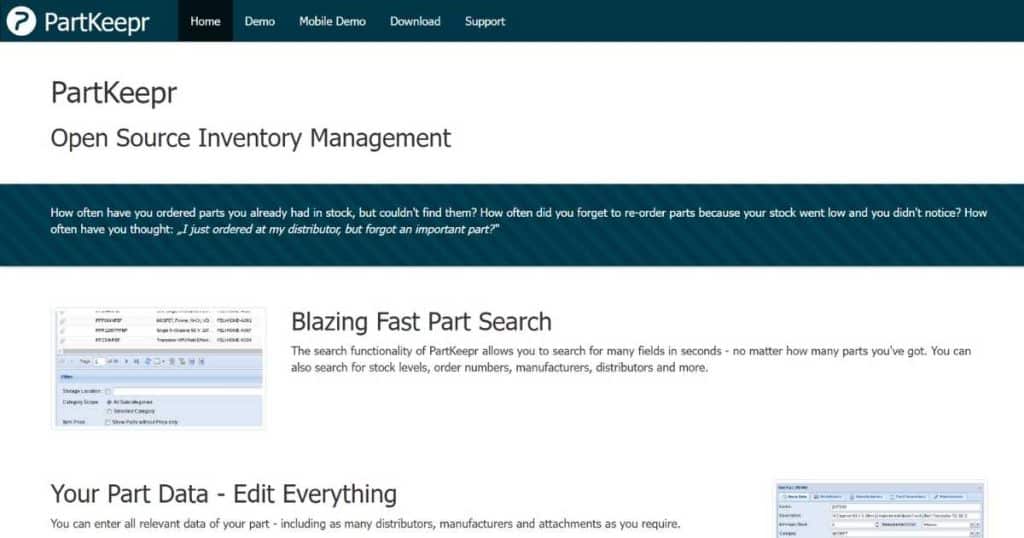 Partkeepr is a free web-based inventory management system that can be installed on your server.
As Partkeepr is open-source, other users can add functionality as time goes on. This means that the software keeps getting better and better!
So if something needs to be tweaked to fit in with your business, you (or your developer) can actually do it yourself! Although, keep in mind you'll need coding knowledge to do this.
Additionally, you can track unlimited products or vendors, including:
Materials.
Components
Finished products.
This means you can easily keep tabs on your components and finished products in multiple locations!
Despite the technical knowledge required to get you up and running, the software itself aims to simplify inventory management.
You can easily filter, sort, and search items by almost any field, making it easy to check if you need the parts for an upcoming order or reorder low-stock items.
Additionally, you can use a barcode scanner with PartKeepr to quickly retrieve part data and manage your inventory without manual data entry.
Pricing: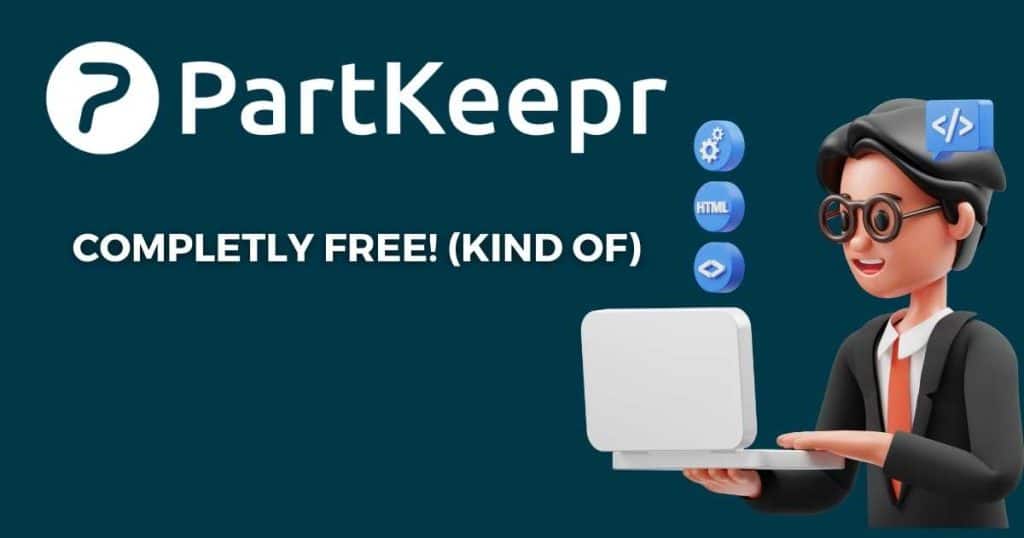 Although, if you decide to go with PartKeepr, make sure you keep in mind any developer costs.
What I like:
100% software customization and flexibility.
Free.
You can track individual parts and group batches.
What I dislike:
Only really suitable for manufacturers.
You must have a high level of coding experience to use it.
No integrations available.
Best features: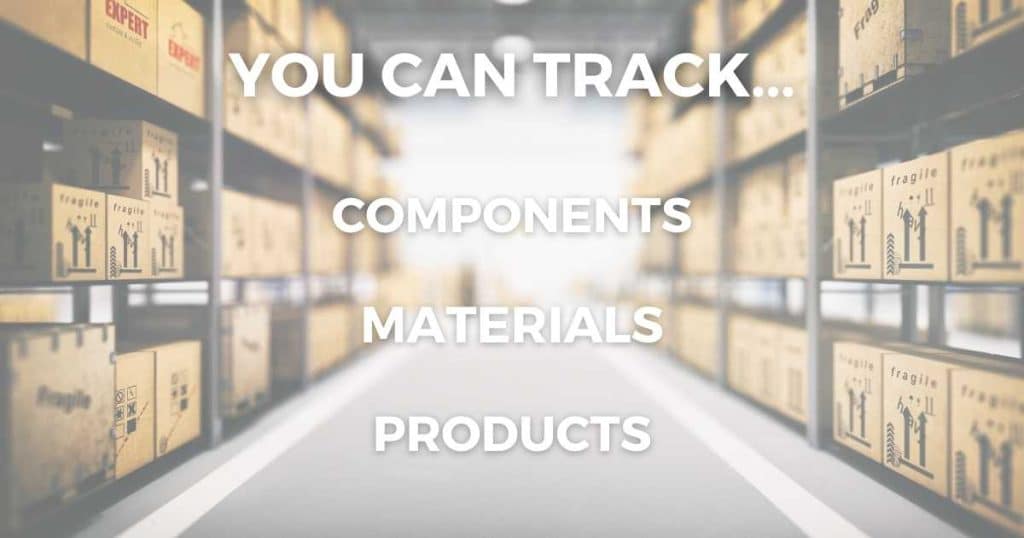 The best feature of Partkeepr is, hands down, its ability to track all your components, materials, and finished goods!
This is a huge plus for manufacturing companies with many components that make up a complete product.
Also, you can easily filter, sort, and batch group your items, which is super handy when checking available parts, stock levels, and reordering parts.
As PartKeepr is fully customizable, you can pretty much filter your items through any field!
Best for:
Manufacturers with coding knowledge.
Read more: 6 Best Accounting Software for Self Employed
Final thoughts
And you've made it!
That is it for my top 6 best free inventory management software guide, helping your small business identify the right inventory software for you.
As you can see, no matter the industry, there are so many free options available.
I suggest giving the ones that stand out to you a go and see what works for you.