Google Trends allows you to engage in free-market research, keyword, and SEO research to help you identify your ideal and viable online business niche.
In this blog post, our focus is on keyword research for your online business.
We will walk you through how to use Google trends for market research, keyword research, and as a free SEO tool for beginners.
Google Trends: Perfect SEO Tool for Market Research
Let's begin with:
1. Get Started with Google Trends
To begin with your free keyword and market research, all you need to do is head over to Google Trends.
This is where you can start exploring specific keywords, search terms, keyword phrases, and topics related to your business type that you want to research and get started with.
First, what you want to do is come down to the search bar and then type a specific keyword that's related to your business or a topic that you want to search using this free keyword research tool.
For this tutorial, we're going to type "home workouts" and then come down to select the search term.
Let's say, you want to create a home workout online brand that provides educational content and workout plans for individuals who want to work out at home.
Just below the search term, you can select the target country.
Since this is an online brand, we will select "Worldwide" to target people across the globe.
Next, navigate over to "Past 12 months" and here we want to select a longer duration so that we can identify the overall trend of this search term.
Hence, we'll select 5 years. You can also select a category but we will leave that as it is.
In the "Web Search" drop-down, you can pick:
Web Search
Image Search
News Search
Google Shopping
YouTube Search
In this tutorial, we want to search the entire web so we will leave it as it is.
2. Observe the Interest Over Time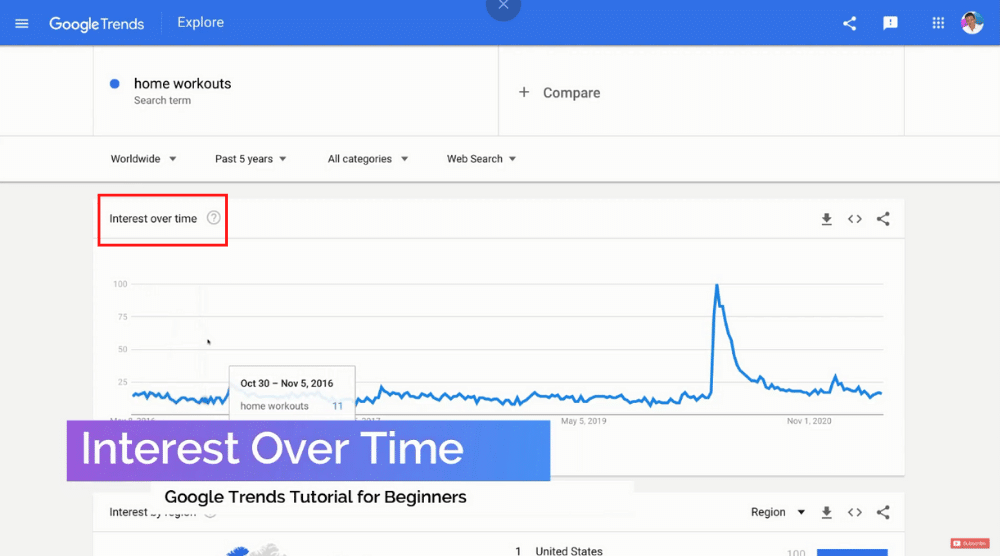 For the search term "home workouts", you will notice the overall interest in the last five years. The "Interest Over Time" is measured between 0 and 100, with the latter being high interest whereas the former being low.
You can see the trend has been slightly dropping over the last four years.
However, when COVID-19 happened, you can see a huge spike for the search term, indicating a heightened interest.
Even though the search interest dropped again, the average search set point has increased in the past year. That could be because people are stuck at home and cannot go to their local gym. Hence, they may now prefer working out at home.
3. Notice the Interest Over Region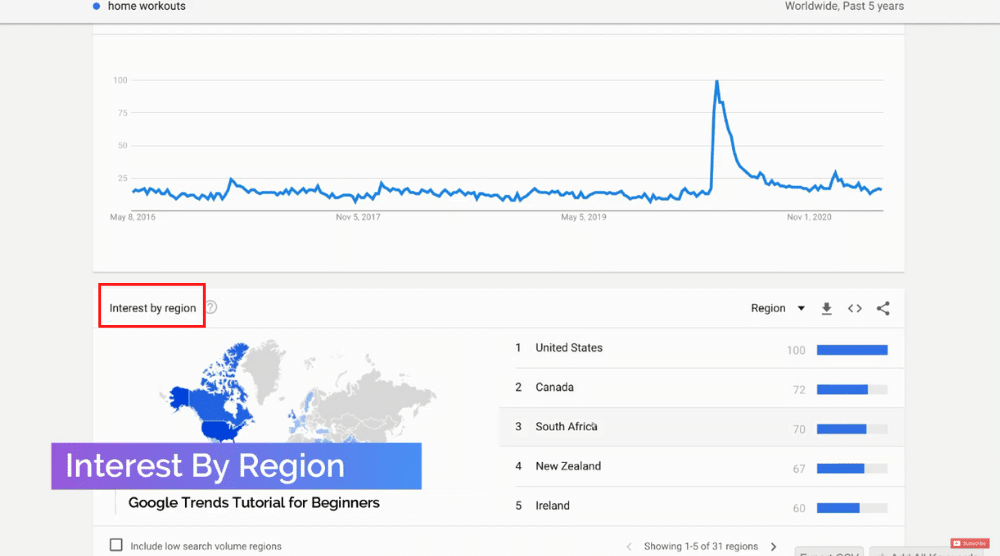 Below the Interest Over Time, you can also see the "Interest by Region" on this free keyword research tool.
For this search term, you can see the popularity by region:
United States
Canada
South Africa
New Zealand
Ireland
These are the top five countries, where the search term "home workouts" is most popular. On your left, you can see the visual representation as well. If you want to narrow down your research, you can select the city from the right-hand side drop-down.
This gives you an idea of the regions you should target for your paid advertising.
4. Find Related Topics & Queries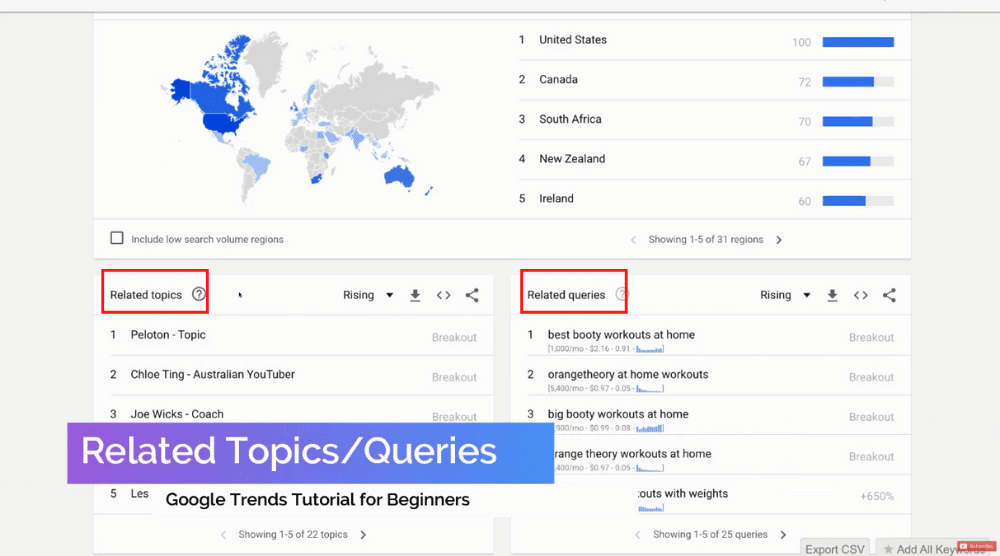 Below Interest Over Region, you will see "Related topics" (on your left) and "Related queries" (on your right) for your search term that are currently popular online across the world.
You can come down and click "More" or navigate up to "Rising" and click "Top".
This will show you related topics such as exercise, weight loss, etc. What you want to focus more on, however, are the related queries.
These will give you keyword phrases related to "home workouts" that people across the world are searching online to find information about a particular search query.
As you can see, some of the breakout topics (related queries of high interest) for "home workouts" are:
Best booty workouts at home
Orangetheory at-home workouts
Big booty workouts at home
At home arm workouts with weights
What you can do is create blog posts, videos, workout plans, and other forms of content around these search queries to drive visitors to your website.
If you click "More" you will find more search terms on this free SEO tool.
For instance, you can create a HIIT workout plan and sell that to the specific markets we have identified including the United States, Canada, South Africa, and New Zealand using organic and paid marketing activities.
5. Compare Search Terms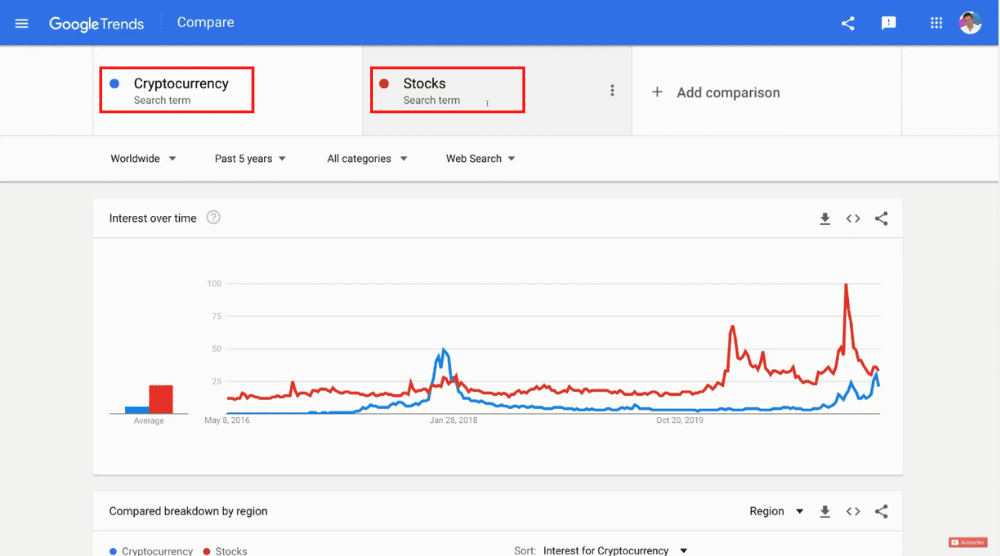 In this section, we will understand how to use Google trends to compare search terms. For a different example, let's say, you're a financial advisor who wants to create an online brand.
You want to talk about topics that are relevant and popular to establish your personal brand. Over time, you want to monetize it with services or products. For that, you need to identify search terms related to investing that people are interested in.
On the top left, type "Cryptocurrency" in the search term and select it. If you want to compare this with Stocks, for example, type in "Stocks" on the right-hand side. After selecting the search term, you can see a graphical representation of the comparison.
You can choose to add one more search term for comparison.
However, we'll stick to Cryptocurrency and Stocks for this tutorial. If you navigate over to the spike between December 2017 and January 2018, you will observe that Cryptocurrency was more popular than Stocks in that duration.
At present, you can see that both Cryptocurrency and Stocks are on the upward trend.
This is what we need. We want to focus on search terms, markets, niches, topics that are historically on an upward trend.
As you can see here, Stocks have had two large spikes last year whereas Cryptocurrency's Interest Over Time has been exponential over the past two months.
Hence, these are two search terms that you would want to focus on to create content, product, or service. You can essentially figure out the viability of your niche using this free keyword research tool.
If you scroll down a little, you can see the complete breakdown of both the search terms by region. You can see that the interest in Cryptocurrency is huge in Nigeria, Indonesia, and Pakistan which you wouldn't find out without research.
This would in turn change your marketing strategy in terms of the location you want to target. Again, from the drop-down, you can select "Stocks" to see the interest by region for this particular search term which in this case is the highest in Canada.
Through this research, it's safe to say that people in developing countries are more interested in cryptocurrency whereas people in developed countries are interested in Stocks.
This would have a significant impact on how you promote your brand, product, or service.
Additionally, you can see related queries for both the search terms below. Take the time to look through these and depending on the structure of your online business or brand, you can create content, products, or services based on them.
Google Trends Tutorial 2023 (Video Guide)
Spend time searching specific keywords that are related to your niche that you want to get started with.
To build and grow an online brand, research is key.
Understanding how to use Google trends is imperative before launching an online brand.
This free SEO tool allows you to identify and compare specific keywords, search terms, and topics that are relevant to the niche and market that you want to target.
Therefore, Google Trends is an incredible tool to help you get started with market research, keyword research and help you identify the niche that you want to grow an online brand for.
Do you prefer video?
We have a video tutorial of Google trends which will guide you on how to use Google Trends for keyword research, market research and finding current trending topics.
Make sure you invest enough time learning how to make the most of this free keyword research tool.