Are you looking to establish an online store for your small business but not sure about the right platform?
An online presence is imperative for generating leads and sales in 2023.
Thousands of people can get access to your products and services, given that you choose the right platform to build your online store that gives a pleasant and predictable customer journey, and outcome.
In this guide, we will help you identify the best eCommerce platform for your business needs.
We will break down and compare two leading eCommerce platforms WooCommerce vs Shopify to help you make the best decision for you and your small business.
WooCommerce vs Shopify: Which is Better?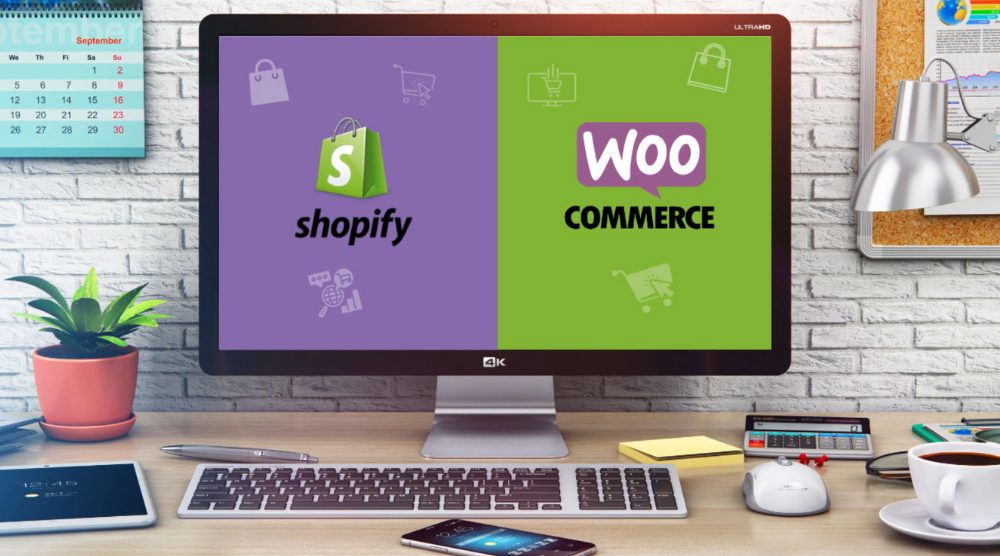 Let's begin with the  differences:
1. Ease of Setup
The first distinct difference between WooCommerce and Shopify is the ease of setup.
Unlike Shopify, the process to get started with WooCommerce is a bit more complex.
With the latter, you will need to choose a hosting provider like HostPapa, SiteGround, Hostinger, or Bluehost.
 With an active hosting plan, you would then need to install WordPress which is a content management system (CMS) used to build your eCommerce store.
Next, you have to choose an appropriate theme for your website.
This could be a free WordPress theme or a premium theme like Divi which we highly recommend.  We recommend Divi because it looks and performs well, and small business owners usually figure out to use it quickly.
Finally, you will need to install the WooCommerce plugin to convert your WordPress website into an online store.
On the other hand, we have Shopify which takes just a few minutes to signup and launch your own online store.
Essentially, if you already have WordPress experience or are open to learning all about WordPress, then WooCommerce is the appropriate choice.
However, Shopify is the best eCommerce platform for beginners in regards to the ease of setup.
2. Ease of Use
In this section, we are going to talk about the ease of use of WooCommerce vs Shopify in terms of integration, themes, and adding products. We will explain which eCommerce platform is easier to actually build your website.
With WordPress and WooCommerce, you have great flexibility to customize your web pages or products.
Also, you get access to hundreds of free and paid themes.
Your best bet is to go for a dynamic and easy-to-use premium theme like Divi that we mentioned earlier.
Divi, with its convenient visual builder, adding new products and integrating payment gateways like WooCommerce Payments is a breeze.  We recommend it because our clients and friends have had such good experiences using it.
Similar to WordPress, Shopify gives you access to free and premium themes.
However, not as many as WordPress has to offer. Apart from that, the designing and customization process of each page is limited compared with WooCommerce, unless you have coding experience.
However, this makes it easier to navigate and build your website with Shopify's simple CMS.
Since each theme provides you with a structure to stick to, it's pretty difficult to mess up anything.
Apart from that, with Shopify, you have access to several integrations that sync directly with it.
Hence, connecting your apps and adding extensive features is easier on Shopify compared to WooCommerce.
On the other hand, themes and plugins may clash and crash on WordPress and WooCommerce causing a lot of trouble at your end (this can get quite costly!).
That's why it's imperative that you have a great hosting provider like HostPapa if you're using WooCommerce.
Shopify, like WooCommerce, has extensive payment gateways that you can simply integrate with your online store. Essentially, WooCommerce offers more customization flexibility in the overall design and structure of your website.
Although you do need a certain level of experience to work on WooCommerce, nothing that you can't learn for free on the internet.
When it comes to design freedom, Shopify is relatively limited. However, it's one of the best eCommerce platforms for beginners in regards to its user-friendly interface.
3. Support
When it comes to supporting, WooCommerce has a very limited response team.
Therefore, you need to hire a developer which can be expensive. Or if you have a good hosting provider you can contact them.
If you have a good hosting provider like HostPapa, they will support you with their 24/7 live chat.
On the other hand, the support you receive from Shopify is unbeatable. With everything hosted in one place, it offers 24/7 support if you come across any issues.
4. Costs
While choosing between WooCommerce vs Shopify, you also need to consider the cost associated with each eCommerce platform.
WooCommerce costs
Web hosting: $150 – $200 per year depending on the web hosting provider you decide to go with.
Themes: $0 – $80 per year depending on whether you go for a free or premium theme.
Payment gateway:9% – 3.9% + $0.30 per transaction with WooCommerce Payments.
Other costs (plugins + maintenance): $0 – $500.
If you decide to upgrade any plugin to a paid plan, it would be included in other costs. Apart from that, whenever you run into a problem, you would need to pay for a developer to support you.
Needless to say, if there is no problem, the developer fee would be zero.
Shopify costs
This eCommerce platform hosts everything in one place. Your hosting costs are also called operational costs and start at $29 a month.
Hosting: $29 – $79 per month ($348 – $948 per year).
Themes: $0 – $80.
Payment gateway:9% + $0.30 per transaction with Stripe and PayPal.
Other costs: Apps ($0 – $50 per month), depending on whether you're using paid or free apps integrated with Shopify.
Hence, WooCommerce is a more affordable eCommerce platform for those that have WordPress experience. That said, variable costs like developer fees can easily surpass the cost of running a Shopify store.
Also Check: Get our recommended WordPress Divi theme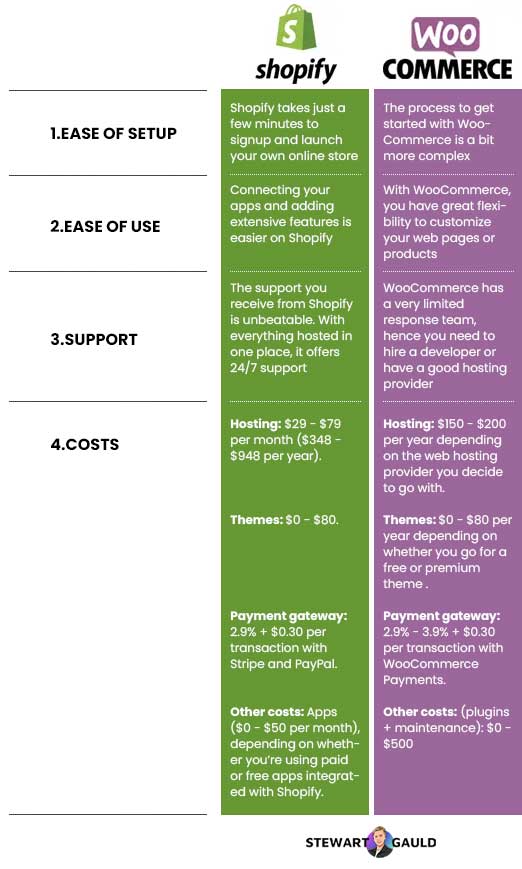 Best Ecommerce Platform for Beginners (Video Guide )
In this WooCommerce vs Shopify comparative guide, we have identified that WooCommerce is more affordable, has more extensive free and paid themes in WordPress, has more flexible customization options, and is ideal for users with WordPress experience.
On the other hand, Shopify is easier to set up, easier to use, has greater support, has simple integrations, and is ideal for beginners.
Take the time to decide on the best eCommerce platform for your small business based on your requirements and skill level.
If you want to have a visual breakdown of these two options, we have a video-based comparative guide (below) for beginners which will explain the difference between WooCommerce and Shopify.
Disclosure: Some of these links on this page are affiliate links, meaning we will get a commission if you buy through them, this helps support our education-based platform and we thank you in advance.