Believe it or not, it only takes a few small steps to make an eCommerce website for free.
In this Big Cartel tutorial, you'll learn how to build an online store for your small business.
Big Cartel is a free online store builder designed for musicians, designers, artists, and other creatives.
This easy-to-use website builder offers several pre-made themes that you can customize to set up your eCommerce store for free and within minutes!
If you are looking for a "lighter" eCommerce platform to sell your products online and that offers the right mix of marketing tools, order management, search engine optimization, and real-time stats, then Big Cartel is the right eCommerce website builder for you.
Beginners will find Big Cartel unbelievably easy to use.
Within a matter of minutes, you can create an online eCommerce store for your business and start selling online.
It's a unique product built specifically for creative people such as painters, designers, woodworkers, jewelry makers, and more…you get the idea!
How to Make an eCommerce Website for Free?
1. Getting Started with Big Cartel – Sign
To create a free account, head over to Big Cartel and click 'Pricing'.
Select 'Sign up free' under the free plan and proceed to enter your email, password, and shop name.
Your shop URL will be automatically generated based on your business name. You have the option to change the URL.
Hit 'Sign up'. Your Big Cartel sign-in is now complete!
2. Adding Products in Big Cartel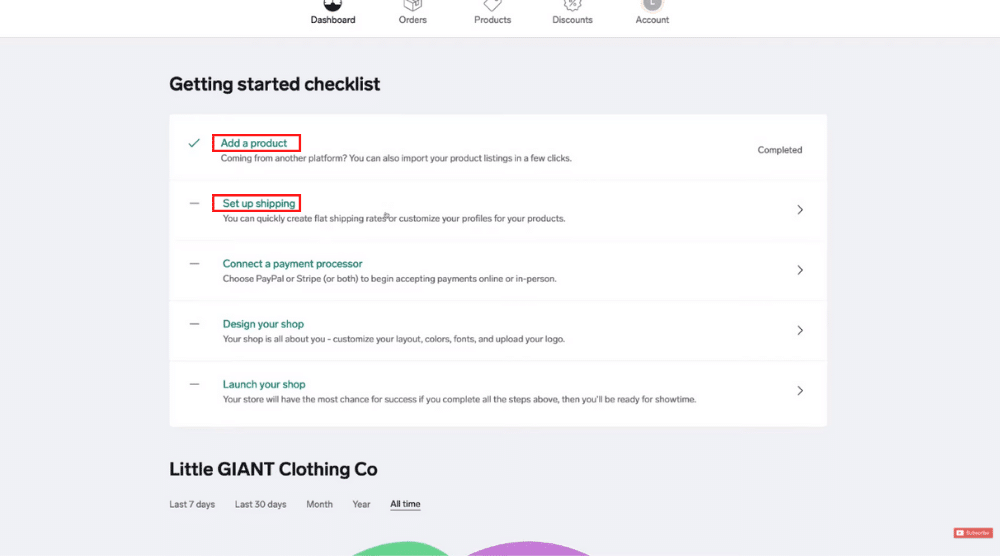 Under the Big Cartels free plan, you can list up to five products.
Click 'Add a product' and proceed to upload an image.
With this free eCommerce platform (the free plan), you can only add one image per product.
Type in the product name and description in the next step.
Also, since we don't have a product category yet, we'll click 'Manage categories' under 'Categories' and enter a category name. Once you've completed the details, save your changes.
Now, pick a category that best describes your product and set the status (Active) and price (example: $39.99).
Make sure your product description is written in such a way that it entices your customers and has all the details they would need to go through with the purchase.
Below that, you may add individual options for your product such as color options.
For this Big Cartel tutorial, we'll add gold, rose gold, and silver options.
For each color, you can set different pricing. And, you can always come back and change the pricing when you like.
Now, under 'Shipping', choose a country and set a shipping price.
And, under 'With others' you may set a different shipping price for combined orders (someone orders two necklaces, for example).
Next, proceed to set up another shipping price for places outside of New Zealand (or the country that you are in) by selecting 'Everywhere else' under 'Country'. You can offer free shipping if you like.
As you may have observed, a product URL has been automatically generated.
On the top, you'll find a section named 'Products'. This is where you'll find your newly created product in Big Cartel.
As mentioned earlier, Big Cartel is one of the best free eCommerce platforms for small businesses that allows you to list up to five products completely for free.
Hence, you can follow the exact steps to add more products if you like. All you need to do is select the '+' icon and proceed as explained. Also, you can also duplicate an existing product.
To do that, open the product details, click on the three horizontal dots on the right and select 'Copy product' (this can save you time when uploading similar products).
You also have the option to delete the product. Change a few details and this will help you to add a second product fairly quickly.
Now, head back to your Big Cartel dashboard. Under 'Set up shipping', you can create shipping profiles for your products.
However, in this Big Cartel tutorial, we have already added shipping details for the first product. So, we will not dive in further.
3. Connecting a Payment Processor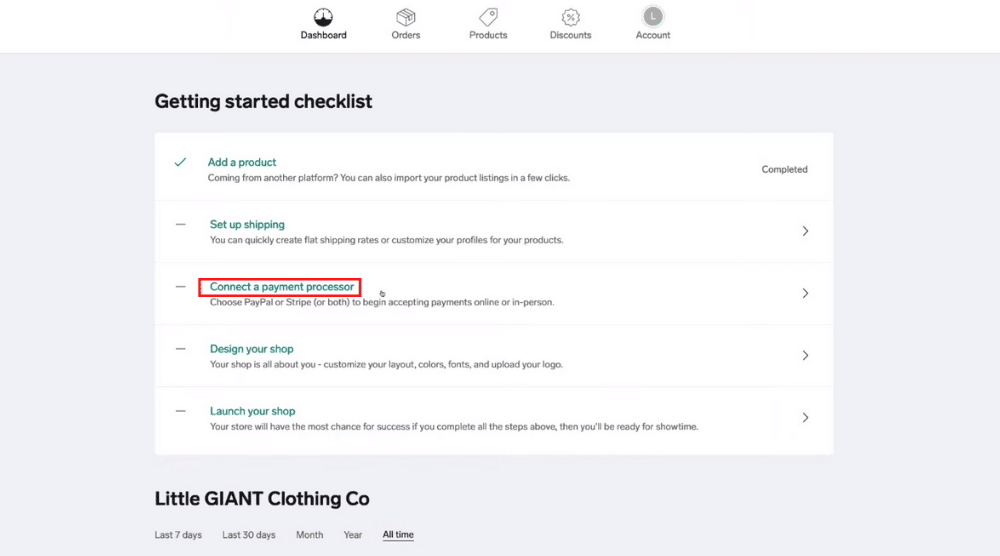 On your Big Cartel dashboard, you'll find a third option called 'Connect a payment processor'.
Click on it to connect a payment provider of your choice.
Of course, you'll first need to create an account on PayPal or Stripe before linking either of them.
Then all you have to do is click 'Connect' and follow simple, step-by-step instructions as directed by Big Cartel.
4. Designing Your Online Shop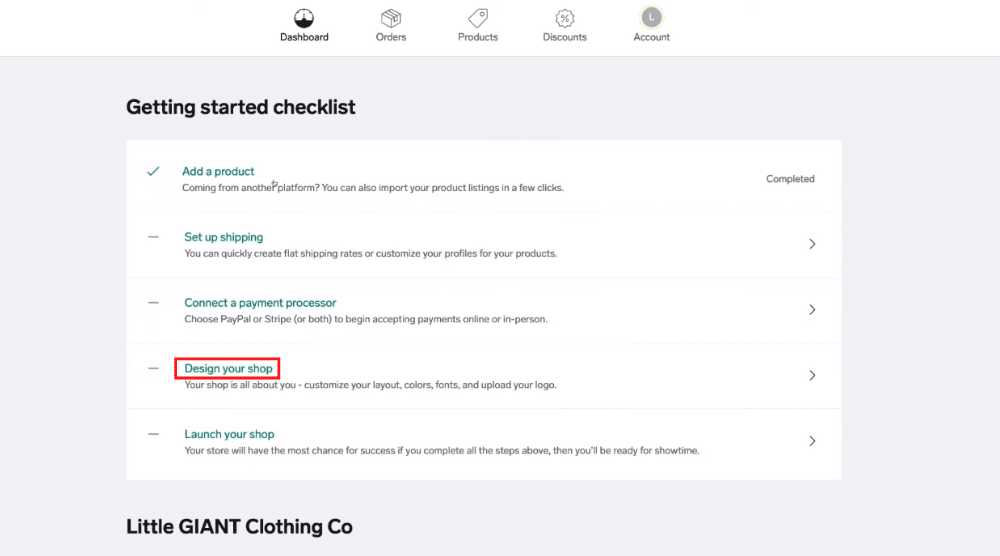 The fourth step on your Big Cartel dashboard is 'Design your shop'.
Click on it to start customizing your ecommerce website. As you can see, we have a pretty basic version of an online store right now.
To make it more appealing, click 'Themes' on the top-left.
Locate one of the Big Cartel themes on the left and click 'Use theme'.
After picking an appropriate theme, you can start the customization process by navigating over to 'Settings' next to 'Themes'. Let's start customizing!
First things first, we need a logo for our online store.
You can upload one under 'Header logo'. If you don't have a logo yet, watch this tutorial to learn how to create a business logo using Canva for free.
Next, you can upload a welcome image of the recommended size.
Below that, you can change the background color, content background, accent background, and more.
In the following steps, you can change the fonts, add announcement text, welcome header, and welcome subheader.
Once you do that, your product will shift down the page.
We also have other basic options in this free eCommerce platform for you to navigate through.
For example, if you select 'Show search', it will add a search bar to your eCommerce website that people can use to find specific products.
Feel free to go through other editing options to customize the template as you like.
Now, if you want to add more pages to your online store, you can do so under 'Pages'.
As of now, we only have the contact page. Unfortunately, we have limited customization options under the free plan.
If you head over to 'Products' on the menu and click 'Necklaces' (which is our category), you'll be able to see the one product we have added in Big Cartel.
A customer visiting this page can pick a color, add the necklace to their cart, and complete the purchase.
And voila! You have created an online store using one of the best eCommerce website builders out there!
5. Launching Your Website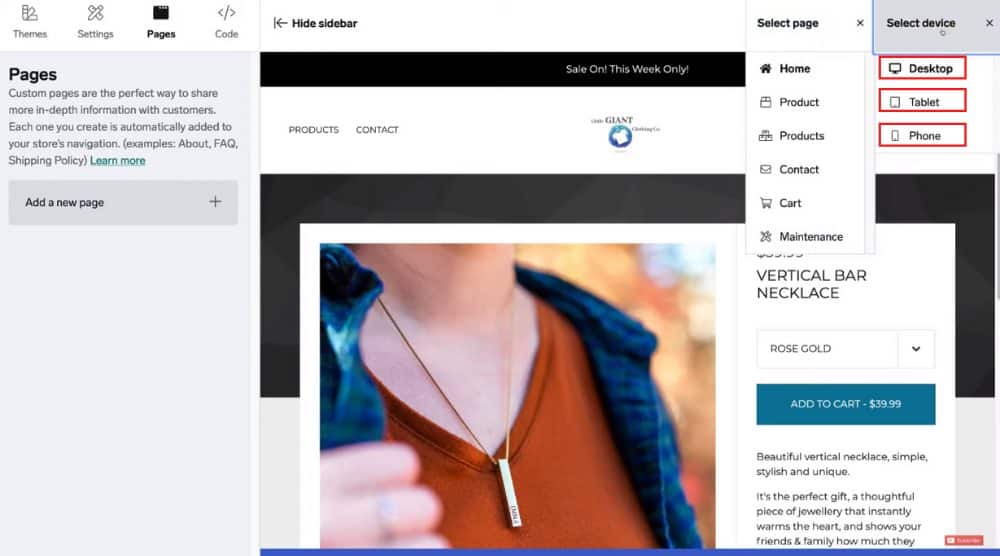 Before launching your free online store, you want to see how it appears on phones, tablets, and desktops.
To do that, click 'Select device' on the right, and select all three options one by one to check the appearance and responsiveness on the respective devices.
Since a majority of searches are carried out on mobile devices, you want to ensure that your online store is mobile-friendly or mobile-responsive.
Click 'Publish' when you're ready to launch your ecommerce website.
Now navigate over to 'Account' where you'll see some basic information about your shop.
To view your website, click on the 'eye icon' next to 'Your shop'. Then toggle off to the 'maintenance mode' option and select 'Launch'.
Go ahead and share your website URL with your contacts or share it via email and social media.
Click 'Done'.
Once your website is live, you'll be able to see some basic analytics such as orders placed, number of visitors, conversion rate, and revenue generated on this free online store builder.
6. Account Information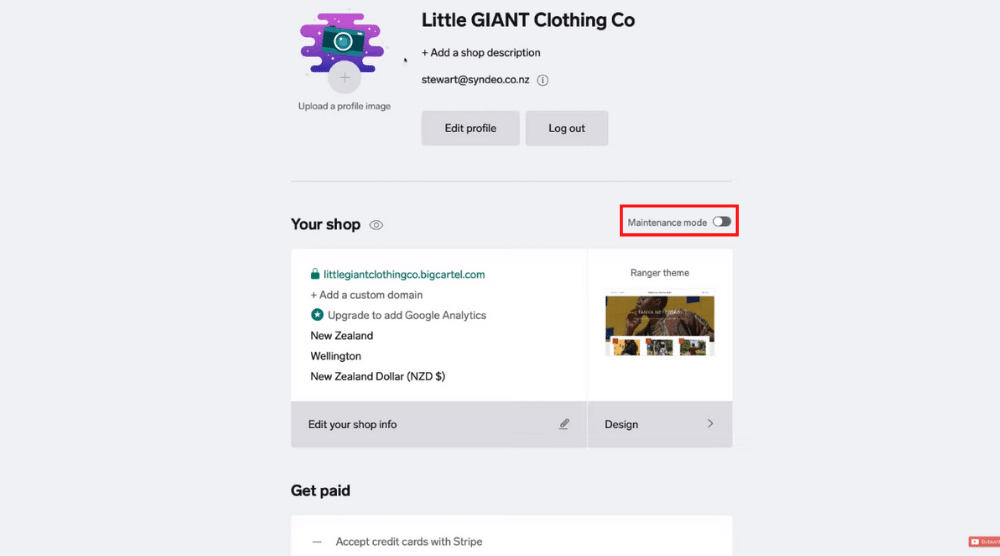 To further edit your account details, head back to 'Accounts'.
Here, you can again take your website offline by turning on the maintenance mode. You can add a profile picture, more shop details, and edit payment, billing, shipping options, preferences, and security.
This is also where you can browse apps that you can integrate with Big Cartel if you decide to upgrade to a paid plan.
7. Orders and Discounts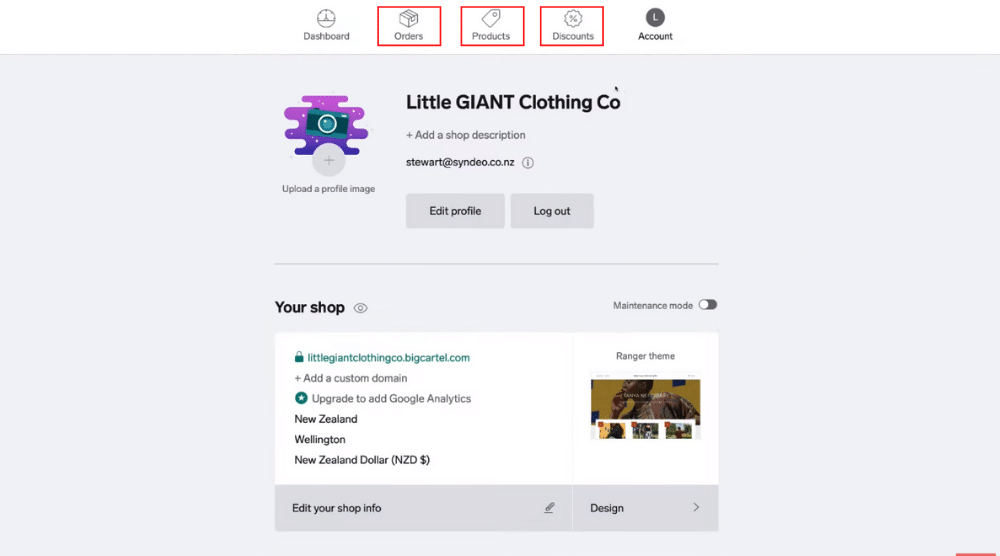 To view all your orders, visit 'Orders' on the menu.
Next to 'Products' we also have 'Discounts'. This is where you can add a product discount.
Click 'Add a discount' and enter information the name of the discount code, description, and other details.
You can send this discount code to your customers or use it in your marketing campaigns. Under 'Discounts' you'll notice your newly created discount code.
Big Cartel Tutorial for Beginners (Video Guide)
If you don't have web building and design skills, worry not!
Big Cartel will help you set up an online store with an impressive visual presence in minutes. It's one of the best eCommerce website builders for creative businesses.
Beginners can keep things simple by leveraging the basic yet multi-feature Big Cartel.
Once you grow out of the free plan, you can always upgrade to Big Cartel's premium plan to utilize all its extensive features.
As a beginner and an artist, you want to focus on getting your business off the ground and there is no other platform better than Big Cartel for it.
Have fun building your own online store!
Check out our complete video tutorial down below to help you get the most out of Big Cartel.