Have you ever felt as though your projects have too many moving parts and you're always feeling overwhelmed?
Are you looking for a free project management software that is free, visually pleasing and easy to use?
Well, if you answered yes to the above questions then ClickUp is for you.
Small businesses can leverage the help of a project management software to take care of all project and task-related activities and workflows. Project management software can assist small businesses in handling projects right from its conception, initiation, planning, execution, performance monitoring phase, and right up until project closing phase.
However, choosing a project management software that perfectly suits your small business can be challenging. Once you start searching for such software, you will notice that there are various free project management tools available for small businesses to choose from.
That's where ClickUp steps in.
What is ClickUp?
ClickUp is a cloud-based project management software suitable for businesses of all sizes.
ClickUp successfully incorporates many important business applications and thus it excels in task management on many levels.
Additionally, ClickUp has a dedicated team of developers that keeps on adding new and advanced features on a regular basis.
Recently, it has added features such as enhanced document integration and automation, etc. This makes ClickUp one of the best project management software to work with.
ClickUp: Free Project Management Tool
Below are the most important features of ClickUp Project Management:
Project management: One of the most important features for small businesses is to help businesses to plan and visualize their projects. ClickUp provides you with multiple view types to view your projects. Moreover, this unique viewability feature allows businesses to achieve effective collaboration between teams for project management as each member can view projects based on their personal preferences.
Get organized using hierarchy: A well-defined hierarchy simplifies all your project management work. Predominantly, hierarchy consists of workspaces, spaces, folders, lists, and tasks, etc. Thus it gives you the flexibility to maintain simplicity or complexity in your tasks based on your needs.
Remote work: Since remote work has become the new normal, this feature has become even more relevant and significant today. It allows remote working teams to continue with their work, complete all the tasks and deliver projects on time without any hassle.
Step-by-Step ClickUp Tutorial
Step 1: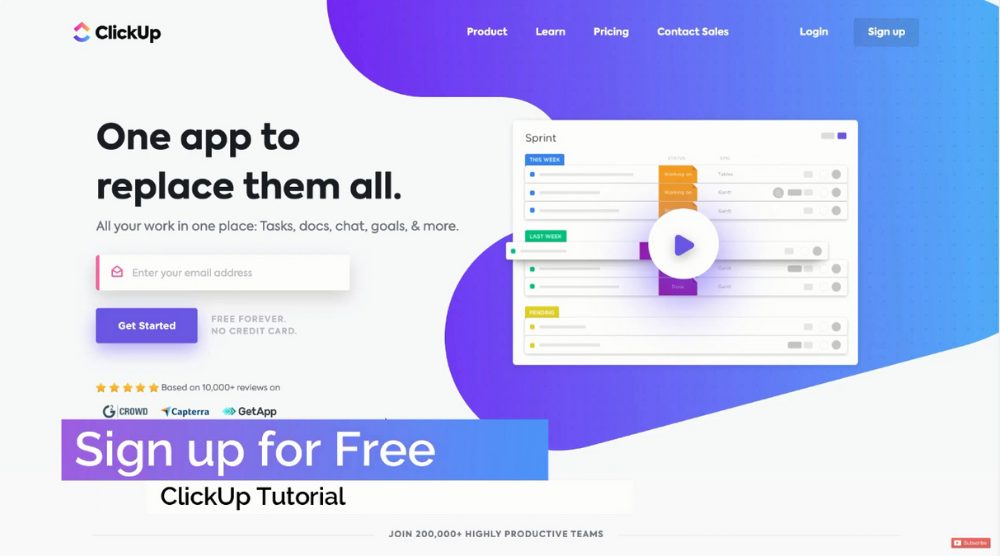 The First step is to sign up. You can create a ClickUp account either with your personal email address or a business email address. Just follow the step-by-step sign-up process, it's quite intuitive.
Step 2: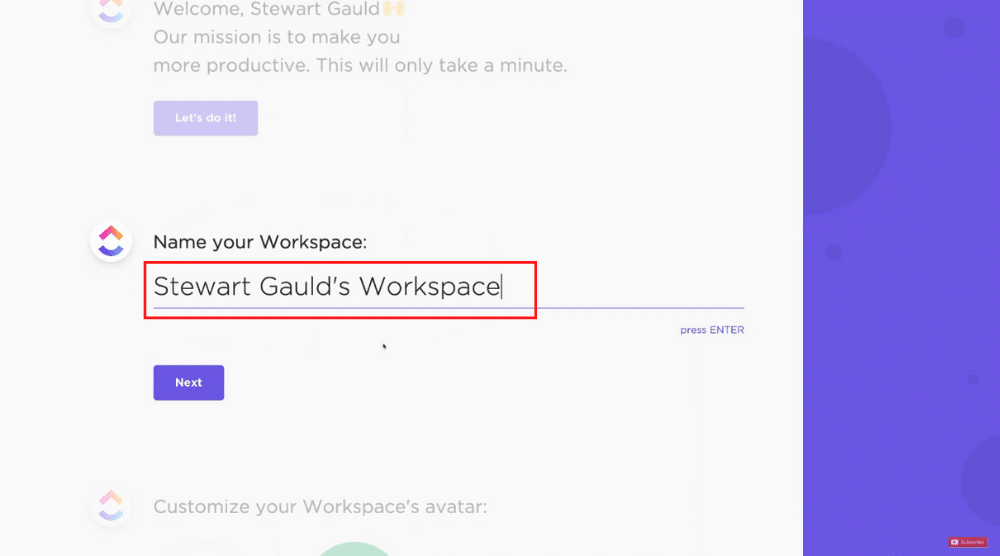 In the next step, ClickUp asks users a series of questions to complete the onboarding process. It will ask users to add a name for the workspace, customize their workspace avatar, specify the number of users you will be working with and specific tasks users want to accomplish with the help of ClickUp. Additionally, during this process users can import tasks from any other project management software that they are using.
Step 3: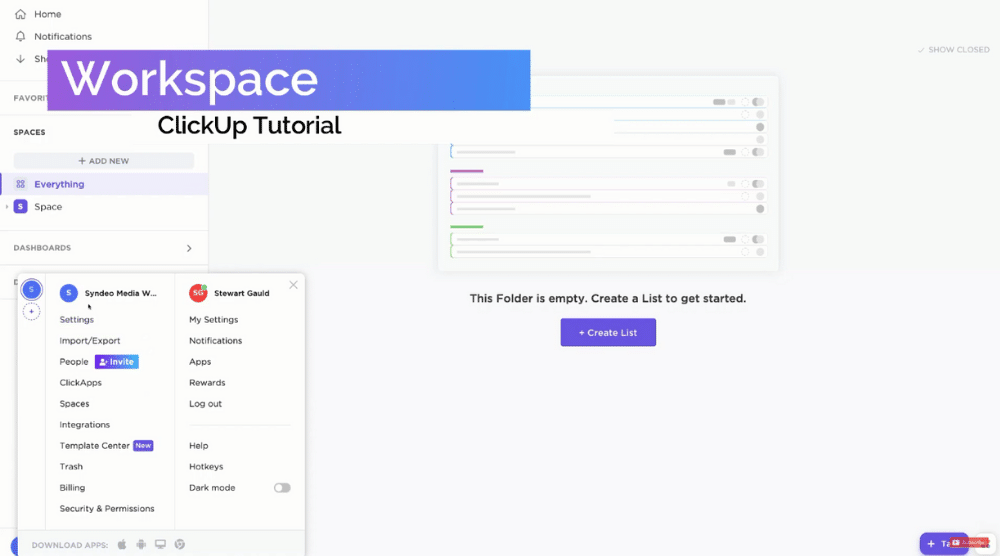 After completing the onboarding process, you will be directed to a ClickUp dashboard. Navigate down to the left-hand corner of the dashboard and click on your workspace icon. Here you can add multiple workspaces as you see fit.
Step 4: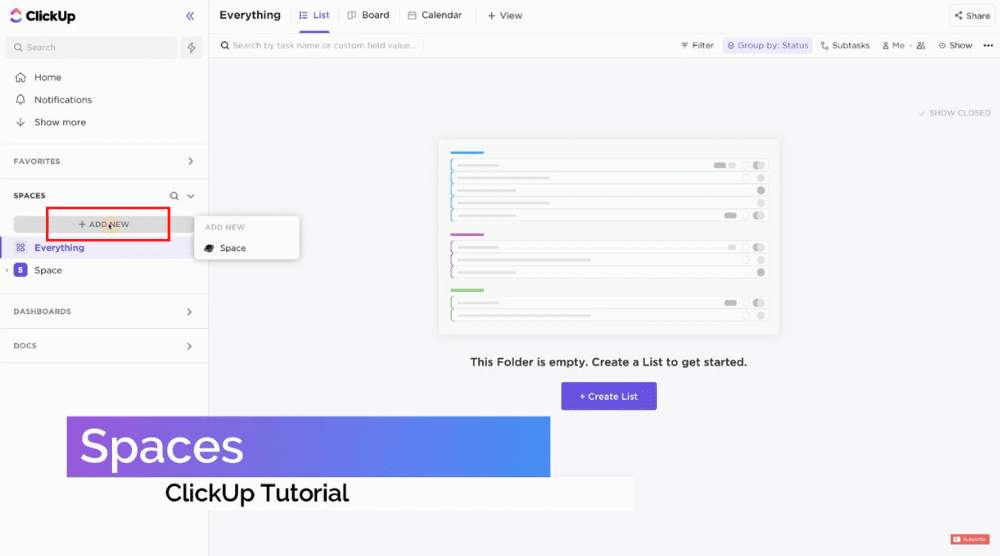 Further down the list, you will find an option to customize spaces within your workspace. These spaces are used to manage departments, clients, etc. Here ClickUp provides you a facility to customize your Space avatar and add members from the workspace. Moreover, it also provides you the flexibility to keep your space private.
Step 5: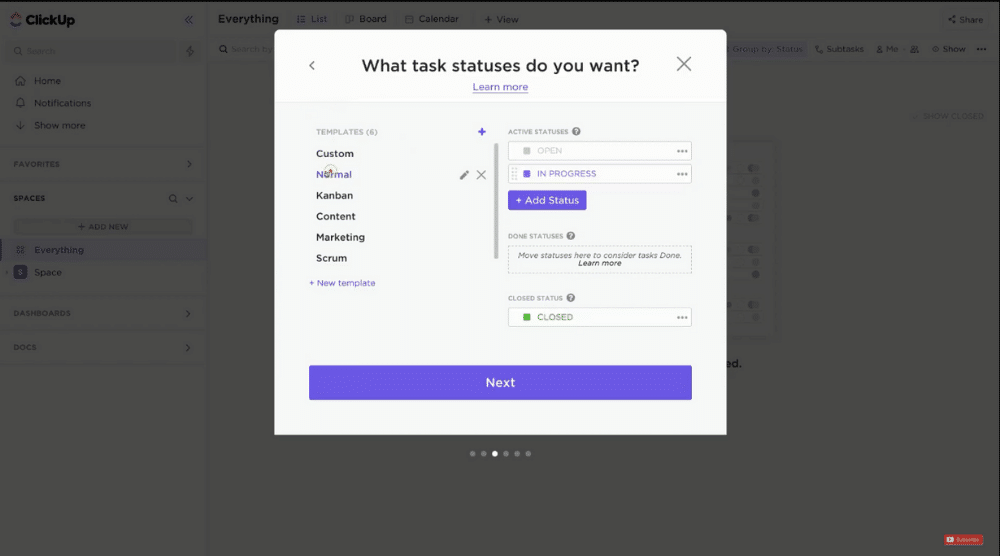 Moreover, you can edit and update, the status of your project, color labels, enable/disable ClickApps, add or remove options from ClickApps as you need and manage default settings for views while creating a Space.
Step 6: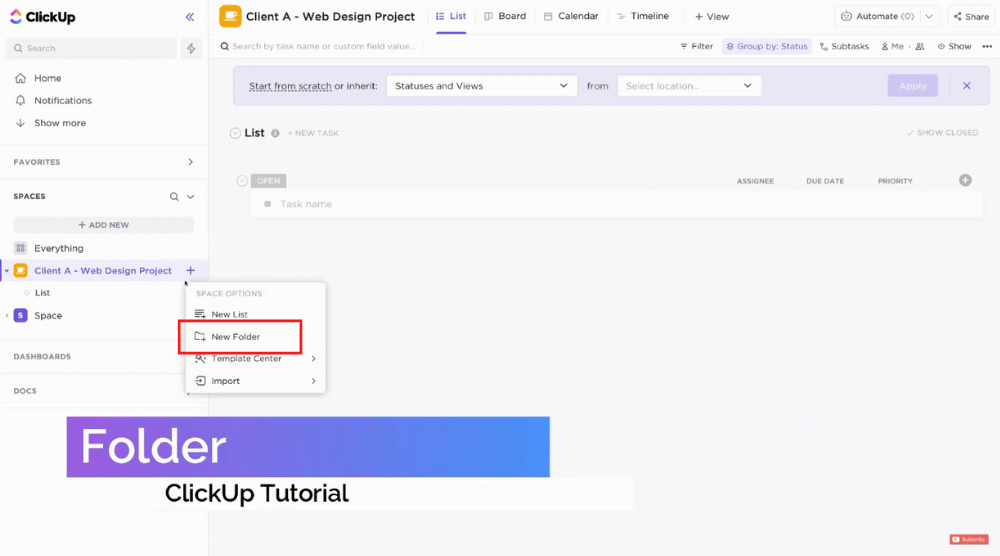 You can proceed with a similar procedure and create a folder in your Space. Furthermore, you can add multiple pages to your folders. Then add tasks and subtasks in those pages as you need to. It also allows you to edit/update page details such as assigning tasks to an individual, due date and priority, etc.
Step 7:
All procedures described above are an overview to gain a decent understanding of hierarchy and set up your Workspace. The complete onboarding process is easy to comprehend and follow.
Step 8: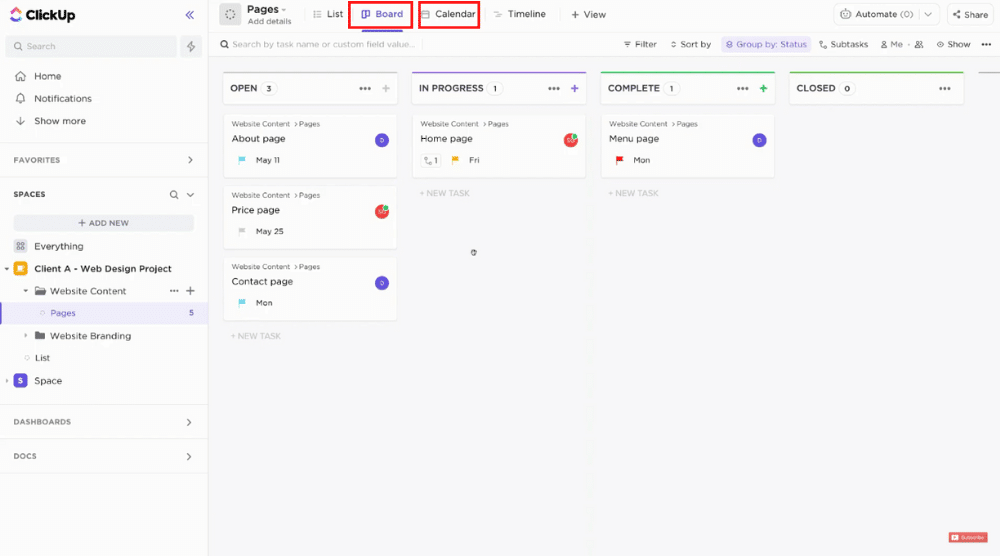 ClickUp enables you to visualize every task assigned in a board format, calendar format etc. This way users can clearly view the status of each task and update further details as the project progresses without losing focus.
Step 9: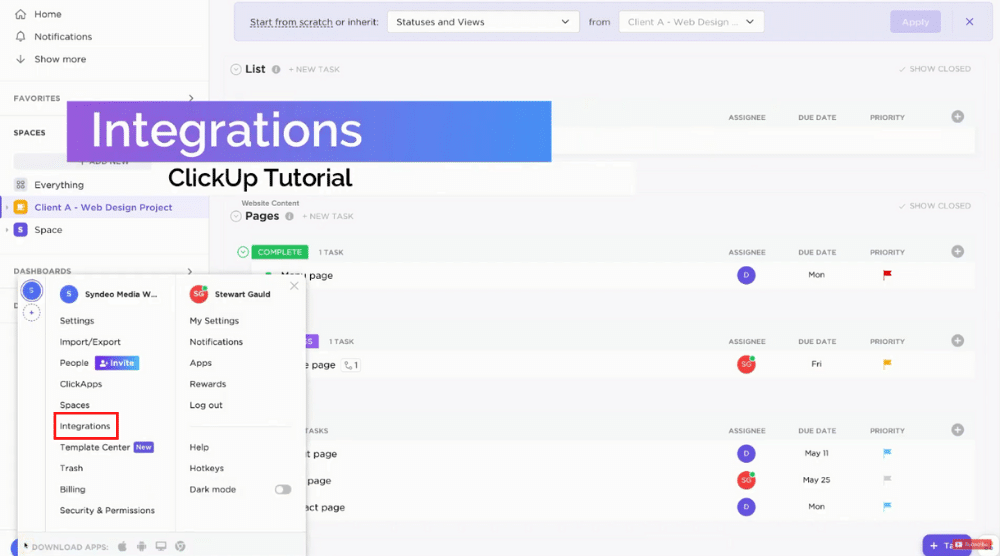 Also, you can integrate various applications such as Google Hangout, Tableau, Zapier, etc. with ClickUp to boost productivity during your project management.
Step 10:
After you have completed all of the preceding steps, you will be able to successfully track and manage the workflow of your project.
Advantages of using ClickUp Tool
ClickUp is suitable for businesses with relatively small teams. Unlike other project management tools available in the market, ClickUp functions best for individual users. As mentioned earlier, its user interface is easy to understand, and the ability to integrate other important applications helps teams save time.
Effective visualization of folders and tasks helps users in keeping track of all the activities in an effective manner. Additionally, switching between different views helps users to gain valuable insights.
Unlike other project management software, ClickUp provides lots of features with its free plan. It makes an ideal software for small businesses with limited budgets.
ClickUp keeps on adding new features on a regular basis to provide their customers an improved experience.
Also Read: Free Agile Project Management Software
Beginners Guide to ClickUp for Project Management (Video Tutorial)
If you are looking for a free project management software that is suitable for both individual users as well as enterprises and is loaded with features, then ClickUp definitely won't disappoint you.
If you are a beginner and don't know how to use ClickUp, then we have a video tutorial just for you.
Enjoy the video and get started with this amazing FREE tool for project management.