Gary Thuerk, a Marketing Manager at Digital Equipment Corp, is credited with being the first person to send out bulk emails for promotional purposes. It was 1978, and his move resulted in a few million dollars in revenue for the company.
Since then email marketing has evolved significantly. Professional marketers already have access to a variety of advanced tools/software. Nevertheless, some of the best email marketing software for beginners can be used free of cost.
Best Email Marketing Software
To name a few MailChimp, HubSpot and Klaviyo are the best software available for beginners to explore.
Here is the step-by-step email marketing tutorial of each of these tools to help beginners as well as small business owners.
1. Mailchimp: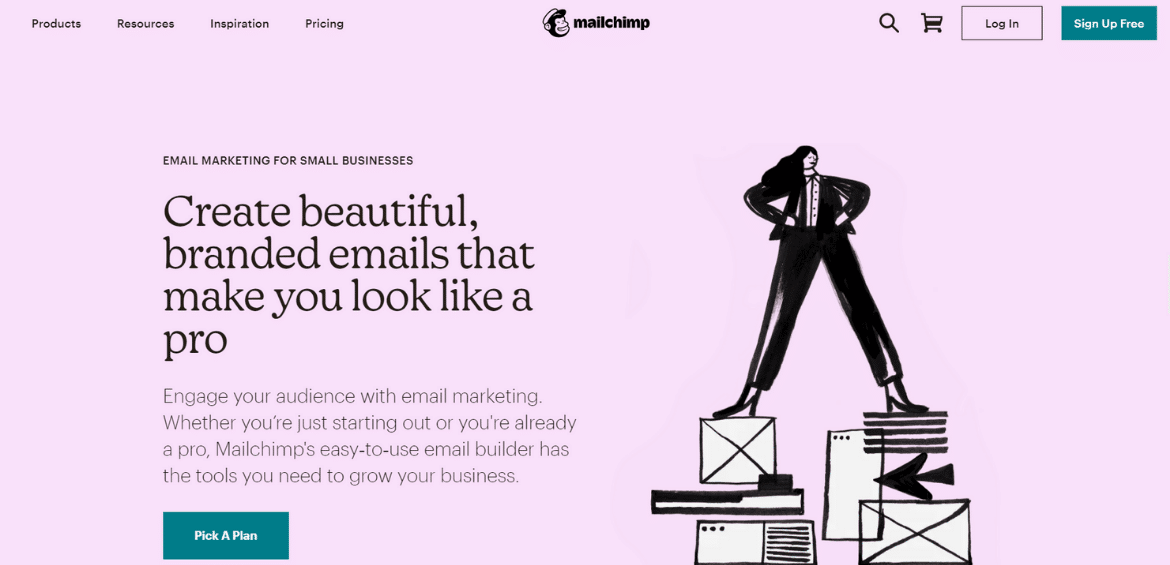 Get started with Mailchimp for FREE here
 *The link above is an affiliate link, which means we will get a commission if you upgrade to a paid plan (with no extra cost to you). This helps support our education-based website and we thank you in advance!
Mailchimp is a well-known email marketing software. The software is easy to use, equipped with world-class features and is absolutely free to start with. While using its free plan, it allows you to build an email marketing list of up to 2000 contacts, provides you access to marketing CRM, forms & landing pages, etc.
Additionally, one does not need any design experience to prepare eye-catching emails from scratch. All these characteristics make Mailchimp popular among small business owners as well as start-ups.  Also, a business can always upgrade their existing free plans to the paid ones. Overall it is a comprehensive email marketing software for any type of business out there.
Benefits of Mailchimp:
Mailchimp has a well-designed interface that is easy to use.
Allow users to easily customize email marketing campaigns.
Mailchimp offers the facility to add up to 2,000 email subscribers and send less than 12,000 emails a month, in the basic free-to-use plan.
It allows users to divide mailing lists into specified groups.
Assists you in monitoring email marketing metrics and gain detailed insights into data such as the number of subscribers who opened your email, frequently clicked links, the number of individuals unsubscribed, etc.
Enables business owners to easily segment mailing lists and send emails to targeted audiences.
Mailchimp also provides an option to identify inactive subscribers and help you in boosting re-engagement.
 2. HubSpot: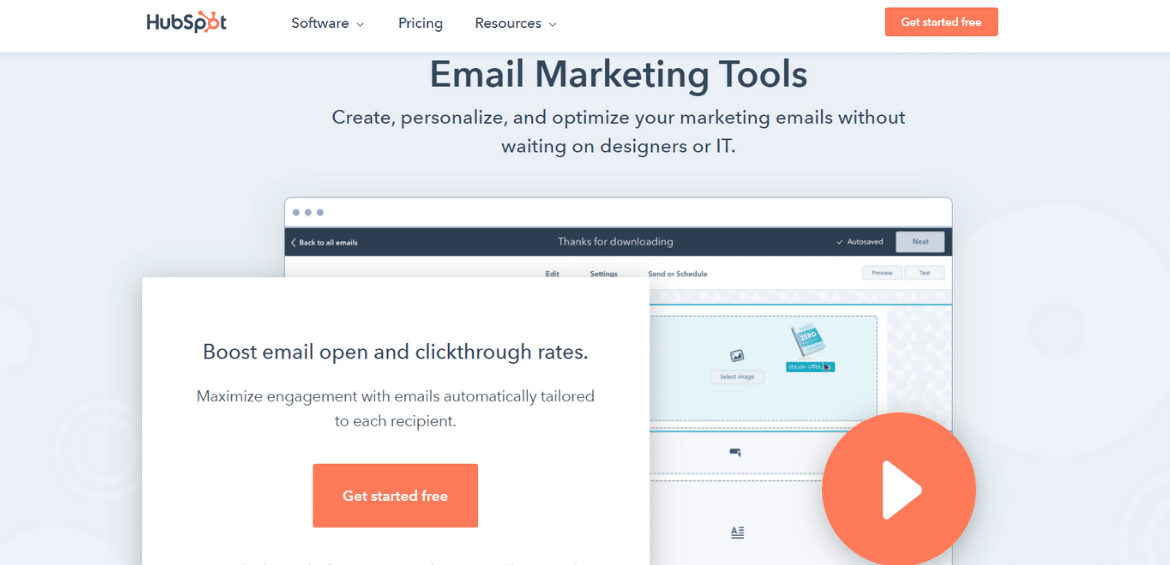 Get started with Hubspot for FREE here
Hubspot is another best email marketing software available for beginners and small business owners.
Hubspot offers a spectrum of integrated features unlike many of its counterparts. In its free plan, it allows users to store up to 1 million contacts and send as many as 2000 emails per month. Thus it is preferred by many business owners to gain the advantage of better functionality. Furthermore, users can create attractive emails with the help of pre-existing templates.
Additionally, you may be promoting your business through different social media channels. You can boost audience engagement further by connecting these social media handles with Hubspot.
Hubspot not only enables you to connect social media channels but also provides a website integration feature. Website integration facilitates businesses to find out the most viewed pages of their website. Based on this information business owners can take necessary actions.
Moreover, you can integrate Mailchimp and Hubspot to enjoy the benefits of both these CRM software.
Benefits of Hubspot:
HubSpot simplifies inbound marketing by putting all the tools in one place, right from generating leads to nurturing those leads to converting those leads.
The software enables you to have access to a great social media calendar and scheduling system to promote your business through social media platforms.
HubSpot offers an efficient analytics tool required for inbound campaigns.
It also allows business owners to produce SEO friendly content and improve their site's ranking
Various third parties integrations have expanded HubSpot's functionality.
Read more: How To Create A Landing Page with Hubspot
3. Klaviyo: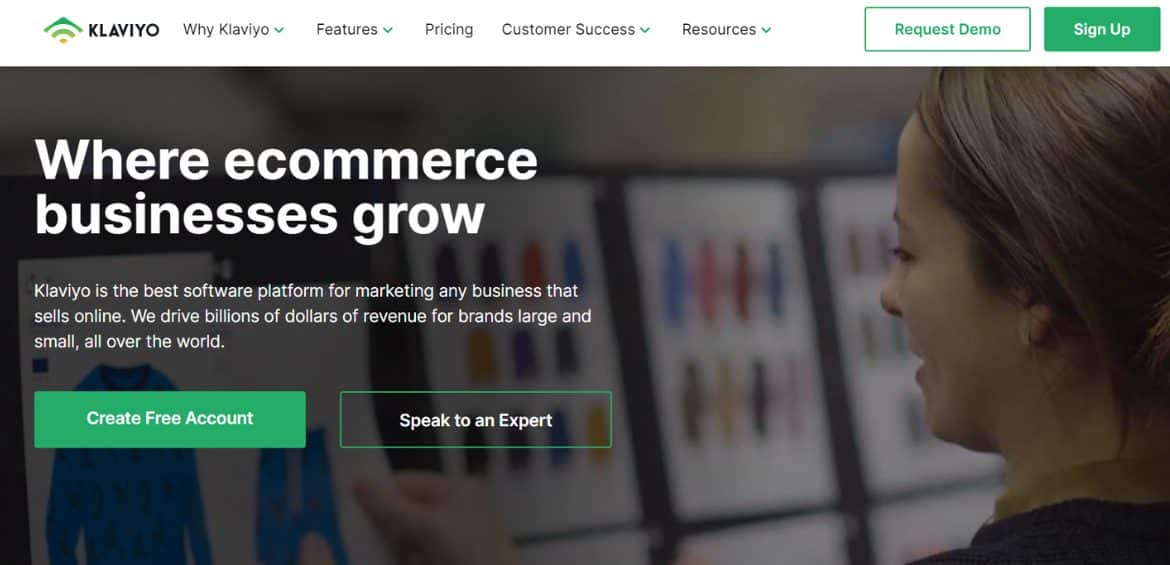 Klaviyo is an email marketing solution for businesses working in the e-commerce space. This platform is ideal for individuals or businesses intending to promote their online stores. Its free plan allows to store around 250 contacts and send around 500 emails per month. Further, as the business grows you can upgrade your plan and gain access to more extensive features.
Additionally, businesses can integrate Klaviyo with Shopify to improve the effectiveness of their email marketing and SMS marketing efforts. In this way, you can grow your business to a multi-million dollar enterprise without switching platforms.
Furthermore, as it is an email marketing platform, you can send personalized emails to target customers based on their preferences. Klaviyo also allows businesses to reach customers via SMS.
Benefits of Klaviyo:
Klaviyo has a Getting Started Roadmap that facilitates streamlining the joining process.
Users can integrate Shopify with Klaviyo to send personal and targeted emails without any hassle.
It offers over 100+ pre-built integrations with supporting tools including Facebook, Shopify, Woo-Commerce, and many more.
Klaviyo allows businesses to connect with Facebook custom audiences and make the most of their marketing efforts.
It provides users the flexibility to choose the budget for their account and the best channel for their business, i.e., whether to use email and SMS, or either.
Klaviyo enables business owners to send 500 emails and 50 texts to up to 250 contacts as part of its free plan.
How Email Marketing Can Benefit Your Small Businesses:
Personalized Content: Personalized content whether in the form of an email has a greater potential in winning, new customers. Various email marketing platforms allow businesses to categories according to their preferences. Thus sending customized emails becomes easier.
Boost Sales: One obvious reason why small businesses opt for email marketing is to boost sales. Data suggests that around 66% of buyers have made purchases after encountering a marketing email. Thus emails can be used to spread the word about products/brands, upsell to existing customers, and much more.
Brand Recognition: Creating a brand identity among customers requires consistent efforts. Apart from logos and other aesthetic aspects, brands gain recognition for consistently delivering what they promise, regularly produce quality content, and keep their customers updated. Emails can be used to gain insights into customer's opinions. Once you understand what your audience wants, you can boost engagement as well as sales.
Email Marketing Tool for Beginners (Video Tutorial)
Email marketing is one of the most important parts of digital marketing strategies for businesses. A well-written email for marketing can help businesses gain new customers and convert one-time buyers into loyal customers. Thus small enterprises can choose any of the best email marketing tools mentioned above to promote their business. If you are a beginner and want to have a visual tour of email marketing tools, the video tutorial is just for you. Enjoy!