Mailchimp is an omnichannel marketing platform popular among small businesses and large corporates alike.
The all-in-one email marketing platform allows you to create, email campaigns, social media content, pop-up forms, websites, landing pages, and powerful email automation workflows.
Using Mailchimp, you can run email marketing campaigns as well as launch & manage ads with ease.
The generous free plan is perfect for SMBs looking to get started and manage all these online marketing activities in one convenient and user-friendly place.
Mailchimp Guide: Free All-In-One Marketing Platform
In this updated Mailchimp tutorial 2022, you'll discover how to use Mailchimp and utilize its generous free plan effectively.
We will walk you through its impressive features so that you can take your small business to new heights.
Let's dive into Mailchimp!
1.      Get Started with Mailchimp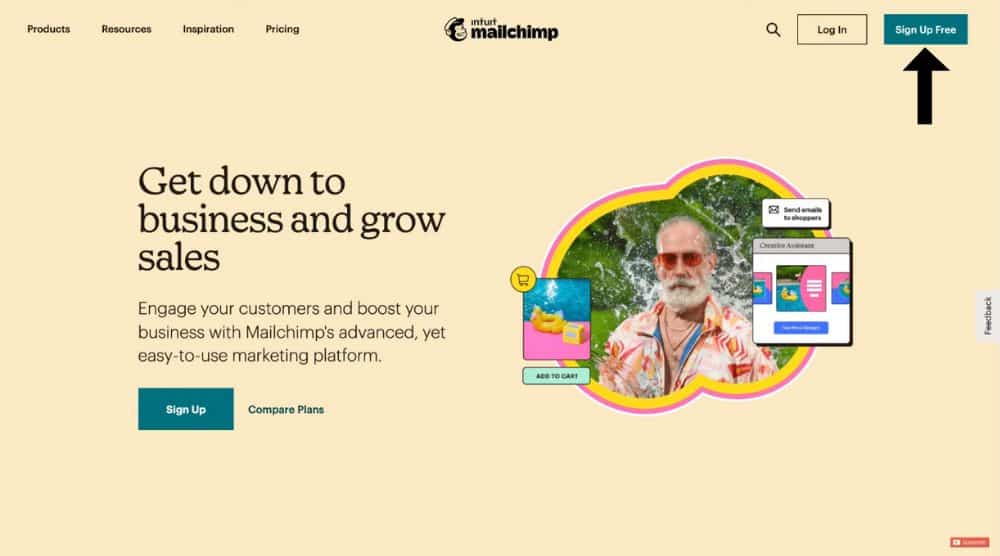 *The link above is an affiliate link, which means we will get a commission if you upgrade to a paid plan (with no extra cost to you). This helps support our education-based website and we thank you in advance!
In this tutorial, we're going to create a fresh Mailchimp account.
To do that:
Select 'Sign Up Free' in the top-right corner
Alternatively, you may tap on 'Log in' if you already have an account but want to understand how the platform works
After you complete the Mailchimp sign up/sign in, you'll be inside your Mailchimp account.
2.      Access the Free Plan
In this Mailchimp guide for beginners, we will cover the free web version.
However, we will also share some paid features if you decide to upgrade your Mailchimp plan in the future.
Note: The free version allows you to manage up to 2000 contacts for free. You can also access 10,000 email sends per month.
In the next section, we'll explain how to build your audience or email list on Mailchimp.
These are the contacts you will engage with through different marketing activities.
3.      Build an Audience (Email List)
Navigate over to 'Audience' on the left and click on it (refer to the screengrab if you need help locating the option).
Select 'All contacts' from the drop-down. This is where you can manage your contacts within Mailchimp.
Notice that we only have one email on the dashboard, which is the email that we used for the Mailchimp sign up
Select the 'Add contacts' tab and click on 'Add a subscriber'. However, if you already have an email list, choose 'Import contacts' instead. Importing your contacts is quite a straightforward process and Mailchimp guides you through that process.
In this Mailchimp tutorial 2022, we'll show you how to add one contact manually.
Note that under the free plan, you can only create one email list.
You'll need a premium plan to create multiple email lists for your business.
To add one contact, these actions are necessary:
Select 'Add a subscriber' as explained before
Type in the email, address, first & last name of your contact
To engage in different marketing activities, you need an email list first (if you don't have one already).
And to build your email list or audience, you will need to start collecting contacts. That's where a signup form on your website comes in handy.
4.      Create a Signup Form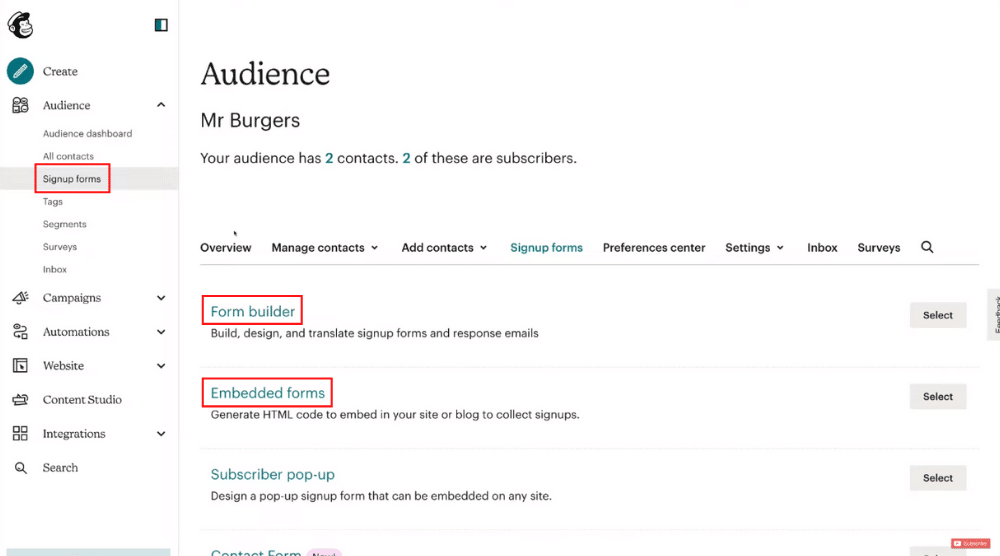 In this part of our Mailchimp guide for beginners, we'll explain how to create a signup form that can then be embedded on a website.
Listed below are the actions you'll require:
Navigate over to the left-hand side menu
Click on 'Form builder' on the right-hand side
Choose the form type from the drop-down. We'll go for 'Sign up form' in this Mailchimp guide
Notice the various fields on the signup form. These include birthday, phone number, address, last name, first name, email address.
On the top of the Mailchimp signup form, you can also add a message. We'll use 'Get Weekly Burger Discounts!'
Use the various formatting options to edit the message the way you like
You can also remove any fields if you want. For example, if you don't want the user's last name, right click on the field > type in 'DELETE' > select 'Delete'. You can also just tap the minus sign instead of the right click and then follow the same process.
Notice if you select a form field, it will generate basic information on the right, such as field label, field tag, field visibility, etc. For instance, you can change the field label from 'Email address' to 'Email' and then hit 'Save Field' at the bottom.
Now, scroll all the way up and tap on 'Embedded forms'
Under 'Form Title', you can change the form title if needed.
To see the preview of your Mailchimp signup form, scroll all the way to the bottom. This is what the form would look like after it's embedded on the website 
Navigate over to 'Embedded Form Code' and hit 'Copy Code'
Send this code to your developer who can then embed it on your website.
Apart from the Mailchimp signup form, one can also collect contacts using a landing page – which is what we're going to discuss next.
5.      Create a Landing Page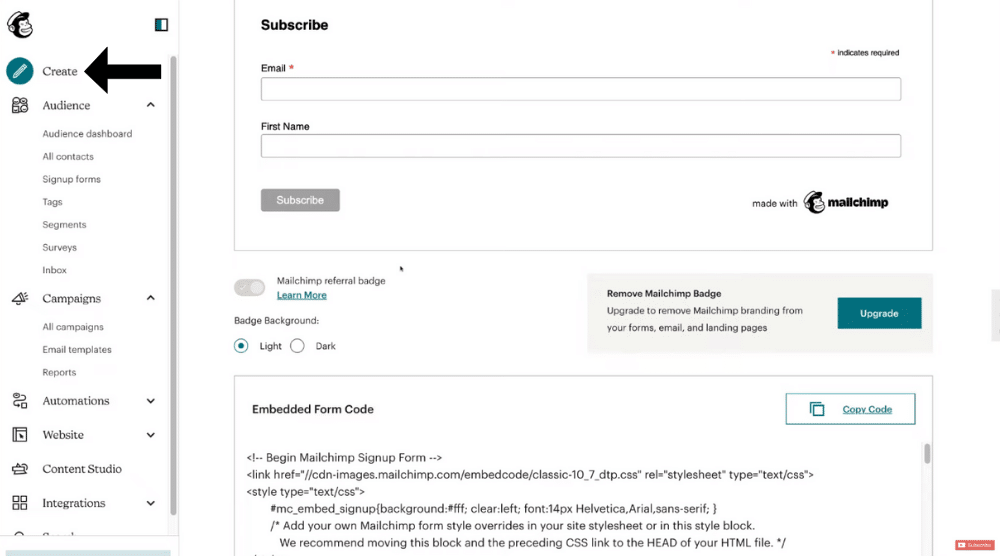 It's time to learn how to use Mailchimp to build a landing page quickly and easily.
Click on 'Create' (see top-left corner)
Pick 'Landing Page' from the menu
Name the landing page. We're going to call it 'Subscribe' for this Mailchimp tutorial
Select an audience from the drop-down in case you have multiple audiences (which is again a paid feature).
Choose a landing page template. We'll pick a template called 'Grow Your List'.
This is where you can start building the landing page using Mailchimp.
On your right, you have access to blocks for different elements, such as image, text, divider, button, social follow, and more.
These blocks can be simply dragged and dropped to the template on left.
After adding an element, you can tap the pencil icon which would bring up editing options on the right.
Begin customizing the blocks using the various content and style editing features offered by Mailchimp.
To edit the logo, for instance:

Click the logo element on the premade template
Point your cursor to the pencil icon and tap on it
Select 'Replace' on your right to upload your own logo
Notice that you have the option to reduce the size of your logo using the bar provided
Read more: Canva Free Logo Maker
Now, to delete a block: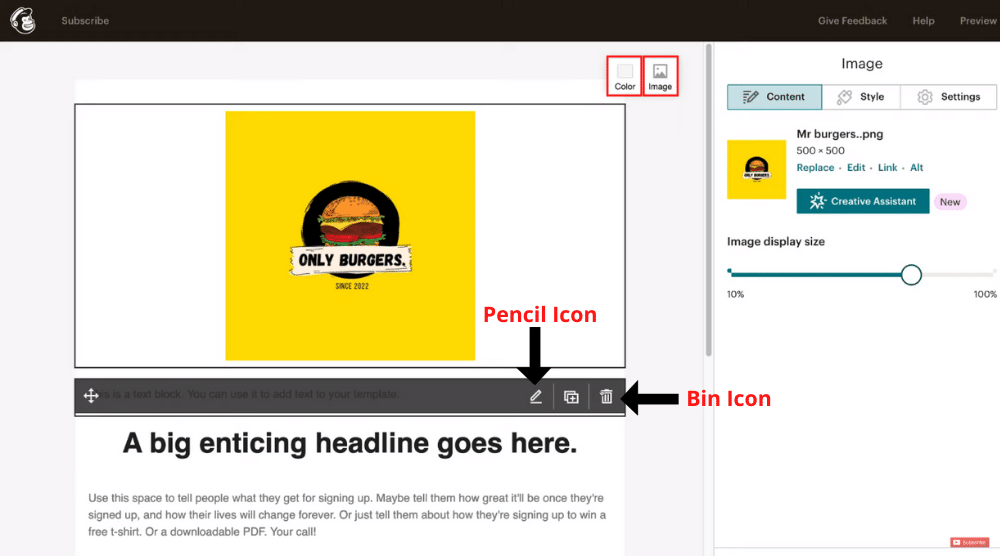 Select the block that you need to remove
Choose 'Delete' from the popup
Using the same customization process, Click on the pencil icon and then add a new headline to your Mailchimp landing page.
Notice that you can also change the background color or add an image.
We've quickly uploaded a background image from the system.
Refer to the screengrab to see what it looks like.
Remember to hit 'Save & Close' and then 'Save & Close' again once you've finished customizing the template.
We've made a separate tutorial that covers how to build landing pages in Mailchimp, in more detail.
Visit the tutorial here to find out.
Once you save the landing page, you have additional options:

Under 'Subscribe', go ahead and change the page title (currently set as 'Subscribe') if needed.
Edit the landing page URL
Edit the landing page design again
When you're ready for the landing page to go live, hit 'Publish' (top-right corner).
Click on the link seen on the dashboard to visit the newly created landing page.
Visitors would enter their email and click 'Subscribe' to join our email list.
Share the landing page using the link on social media or whatever platform your target audience using.
Since you've learned how to expand your email list using Mailchimp signup forms and landing pages, it's time to understand how to engage with the audience using email campaigns.
6.      Launch Email Campaigns with Mailchimp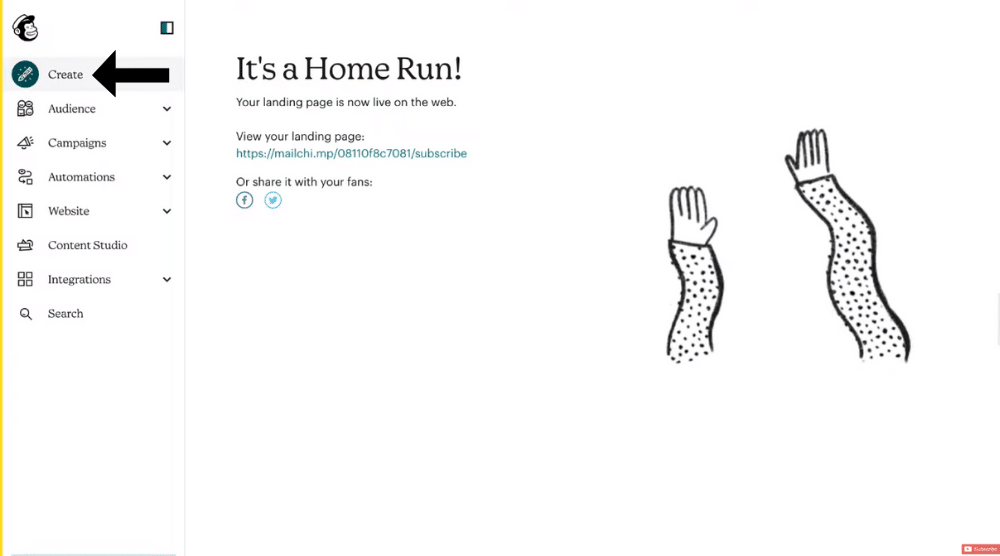 Hit 'Create' in the upper-left corner again
Select 'Email' this time and click on 'Template'
Tap on the 'Get Started' button on your right
Choose an email template that you like. This is a great option for beginners who don't have any coding or design experience.
Start customizing the email template. The process is pretty much the same as what we explained for the landing page.
Name the template and save it.
After the template is customized, you can launch your first email campaign using Mailchimp using the following process:
Click on the downward arrow next to 'Edit' (refer to the screengrab)
Select 'Create campaign' from the drop-down
Name your campaign. For this Mailchimp tutorial 2022, we'll name it 'First Newsletter'
Under 'To', your email list (i.e., your recipients) will be selected. Click 'Edit Recipients' if required.
Under 'From', your own email address would remain selected by default
Enter a compelling subject line and preview text. This is what the recipients would see before they even open the email.
Under 'Content', click 'Edit'
Go ahead and quickly customize the email campaign
You now have three options (see top-right corner):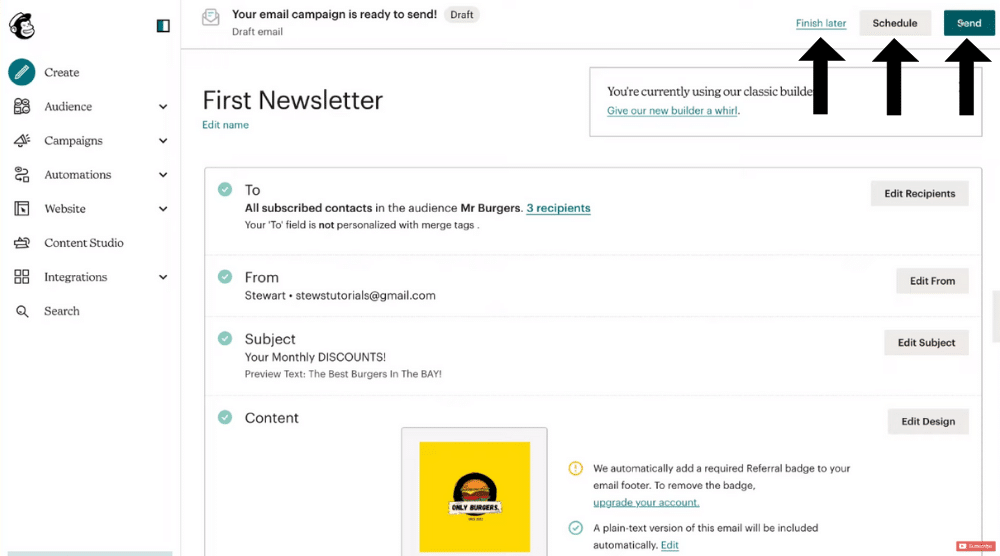 Finish the campaign later
Schedule
Send
To send your email campaign right now, click 'Send' and then 'Send Now'.
You've successfully launched your first email campaign through Mailchimp.
Watch this tutorial on Mailchimp email marketing for more detailed insights.
With the ever-growing customer base, is it possible to send emails automatically to our new contacts, customers and leads?
The answer is YES, and that's where email automation comes in.
Using Mailchimp, you can easily automate email workflows, which we explain in the following section.
Email automation or email sequence (flows) are automatic emails that you can set up for specific actions that your contacts make.
Example: A welcome series email automation will automatically send an email when a contact signs up to your email list, then a few days later, another automatic email will be sent and then another email a few days after that.
7.      Set Up Email Automations (Customer Journeys)
Click on 'Automations' on the left
Select 'Customer Journeys' from the options
This is where you can go ahead and create email sequences.
Unfortunately, the free plan does not allow access to customer journeys.
Although you can build email sequences for free, you just can't launch them without upgrading your plan.
Let's see how to use Mailchimp for building email automation:

Choose a journey, which is the goal of your automated campaign. In this Mailchimp guide for beginners, we will choose 'Nurture relationships'
Click on the 'Build a Journey' button (see top-right corner)
Select your audience and hit 'Continue'
To your right, notice the preview of the customer journey
Listed below are the different parts of the email workflow:

At the top is a trigger that initiates the email sequence. This is an action taken by a subscriber – for this example when they sign up to your newsletter.
After the welcome email, there is a two-day time delay before the next email is sent (in this case – an 'about us' email).
After another delay of two days, there is a condition. Different emails in the sequence will be triggered based on whether or not this condition is met.
You can, of course, customize the workflow to your requirements.
You can add more emails to the sequence, more conditions, and remove certain emails or rules.
Each email in the sequence can be customized too.
This is just an overview of customer journeys. To learn more, we recommend watching this tutorial.
In this tutorial, we dive deeper into how to create customer journeys.
You may now head back to your Mailchimp dashboard.
Read more: Mailchimp Automations Tutorial
8.      Check Out the Website Builder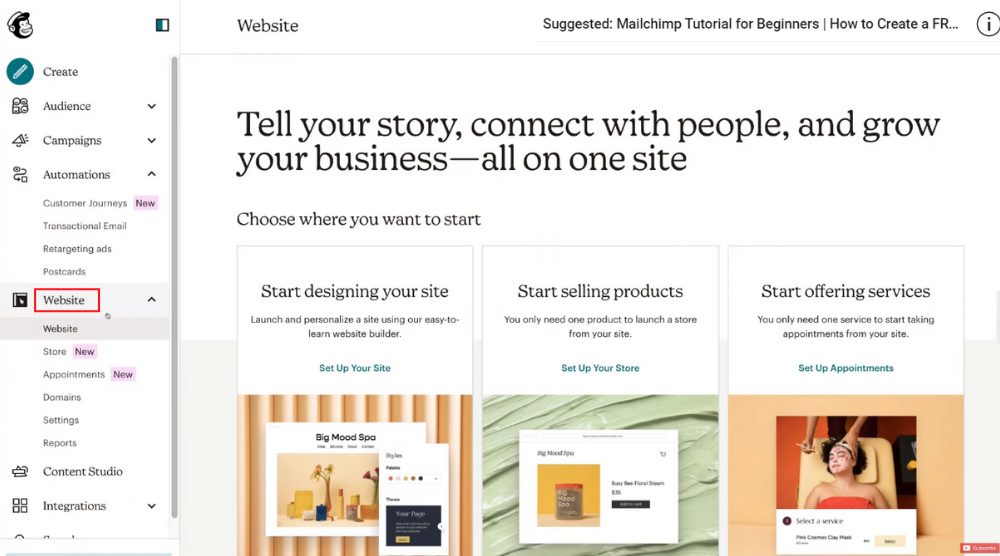 Mailchimp also offers an easy-to-use website builder.
Therefore, it's possible to launch an entire business through Mailchimp.
To access it, select 'Website' from the menu.
To learn more about building a website through Mailchimp, watch this tutorial.
The paid plan also allows you to build an online store and sell products!
9.      Explore the Content Studio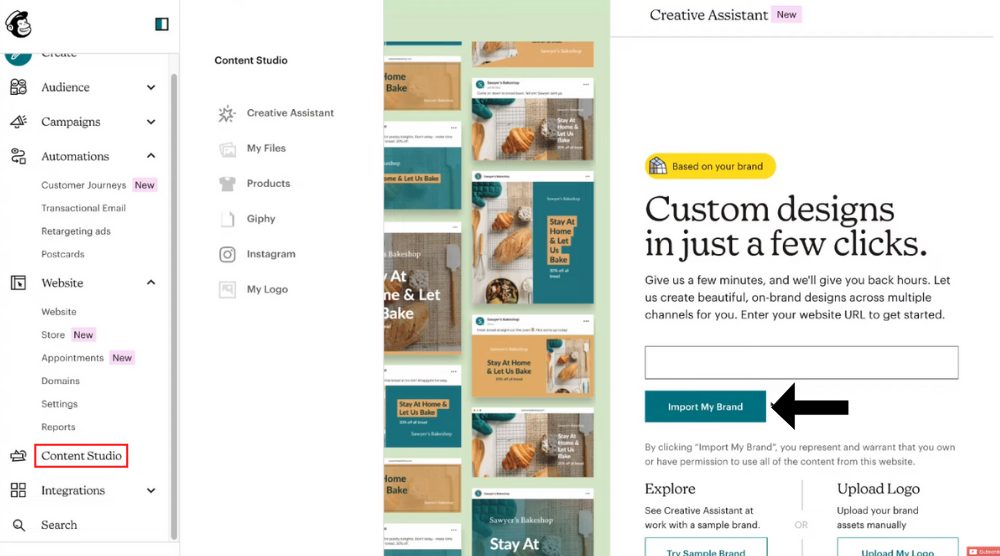 Click on 'Content Studio' from the menu. This is where you can quickly create content based on your brand.
This will allow Mailchimp to create dynamic content for your brand that you can post via different social media channels.
AND that covers all the exciting features that Mailchimp offers in this Mailchimp tutorial for beginners.
There are many other features offered by this dynamic platform, including:
Launching and managing ads
Several integrations with other tools (Example: project management tools or CRMs)
Read more: How To Use MailChimp Tutorial
Mailchimp Tutorial for Beginners
Mailchimp is a dynamic marketing platform that allows you to run multiple digital marketing activities from one place.
That includes ads, email marketing, email automation, and more.
This Mailchimp guide for beginners will help you get up and running with Mailchimp in 2022.
We have a video guide down below that will give you a visual walk through of this incredible email marketing platform. Enjoy!