In this PayPal tutorial for beginners, you'll learn how to set up and use PayPal.
In this guide, we're going to use the web version (however, you can also download the PayPal app on mobile or tablet).
PayPal is a widely popular online payment gateway used by businesses and individuals to send and receive money.
In the third quarter of 2020 alone, it facilitated more than four billion transactions.
Over 360 million active users across the globe use PayPal for online payment transactions.
Clearly, when it comes to digital payment, PayPal has a large market share.
Sending and receiving money via this online payment gateway is so easy that it has made costly wire transfers and checks almost obsolete.
No wonder, it has become a favorite payment method for online shoppers as well.
How to Use PayPal? Tutorial for Beginners
With PayPal, you never have to worry about data safety since your payment information is kept securely within the PayPal platform.
PayPal Sign In/Sign Up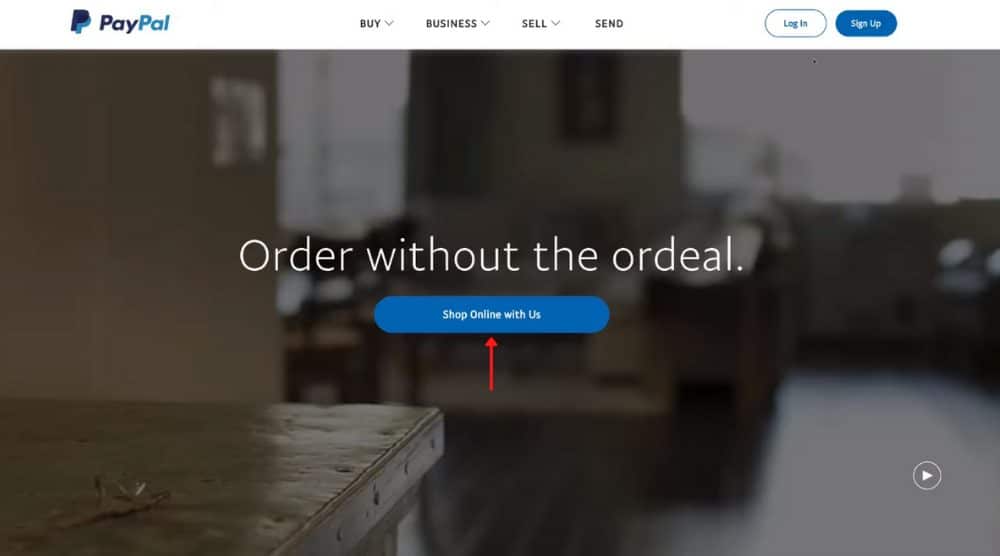 Head over to paypal.com.
Now, if you already have a PayPal account, proceed to log in. If not, you'd have to sign up first.
You can either sign up for a personal or business account, then click 'Continue'.
For this PayPal tutorial, we're opting for a personal account (we will navigate through the business account later too).
After you complete the initial setup, you'll arrive at the dashboard of your personal PayPal account.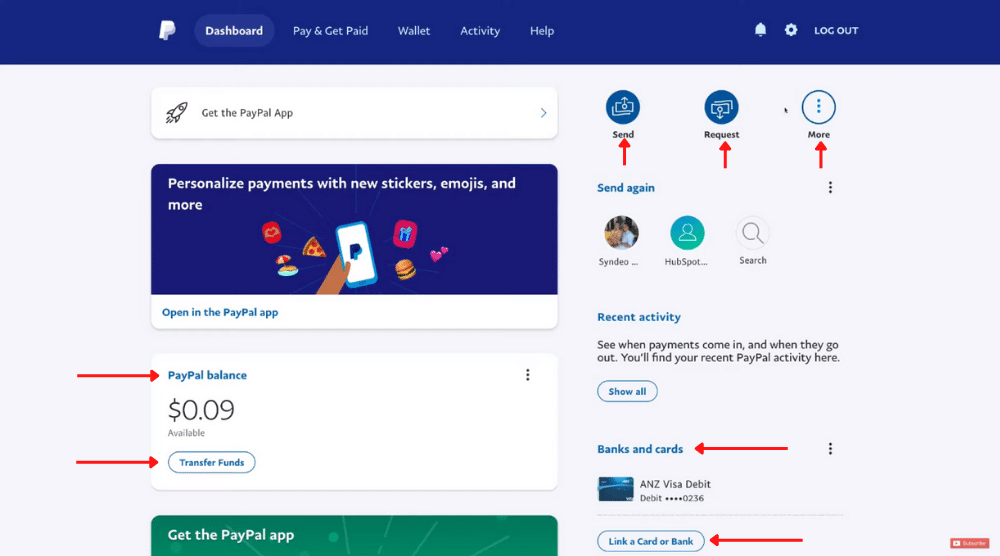 Once you're inside, the first thing you'll notice on your left is the PayPal balance.
Since yours is a newly created PayPal account, the current balance should be zero. Select 'Transfer Funds' to link your bank, which is a very straightforward process.
Back on your dashboard, you can also see recent activity on your right.
Below that, we have 'Banks and cards': this is where you can link your credit or debit cards (to shop online) as well as bank accounts (to receive/withdraw payments). Click on 'Link a Card or Bank' to get started.
You can withdraw payments from PayPal straight into your bank account.
On your right, you'll also notice the options to send and request money.
By clicking on 'More', you can also:
Get the PayPal app
Create an invoice
Create an estimate
Go to resolution center
If you need to dispute any transaction, you can go to the resolution center.
For example, if you received a wrong product and used PayPal to pay for it, you can request a refund here.
How to Send Money with PayPal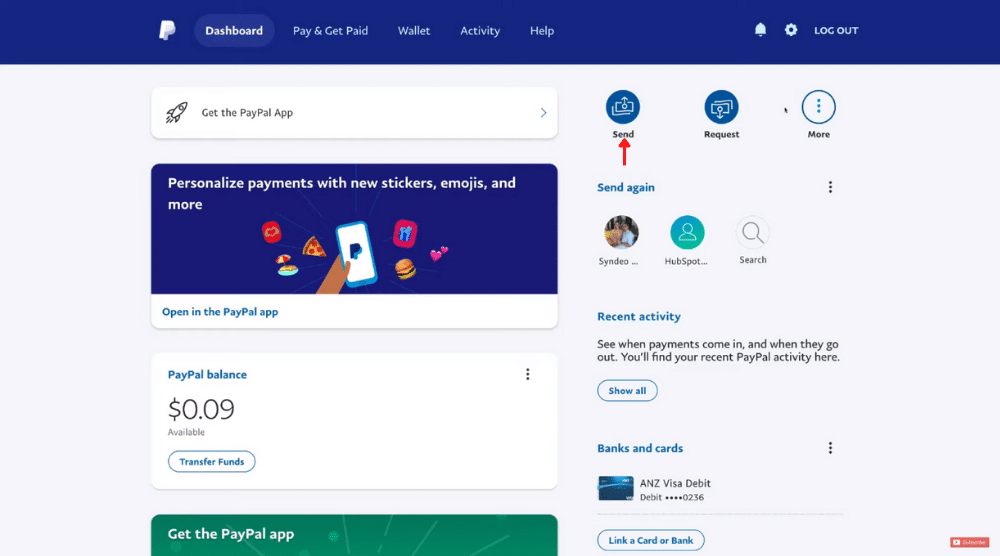 To send money via PayPal:
Click 'Send' on the right-hand side of your PayPal dashboard
Enter your username, mobile number, or email address in the space provided. The most widely used method is email. You need to enter the email address of the receiver (the one that's associated with their PayPal account). Click 'Next'.
Add the amount and choose the currency. We've got NZD selected here. Add a note if you like and click 'Continue'.
You now need to choose your preferred payment option. If you have enough PayPal balance, keep it selected. For this PayPal tutorial, we're using the credit card instead. Alternatively, you may add a new card and then proceed with sending the money.
After selecting a payment option, click 'Next'.
In the next step, you need to choose if you're sending money to a friend or paying for a product or service. You'll also notice the PayPal fee below.
Select a shipping address if you like and click 'Send Payments Now'
Your money has been sent!
What's in the PayPal Wallet?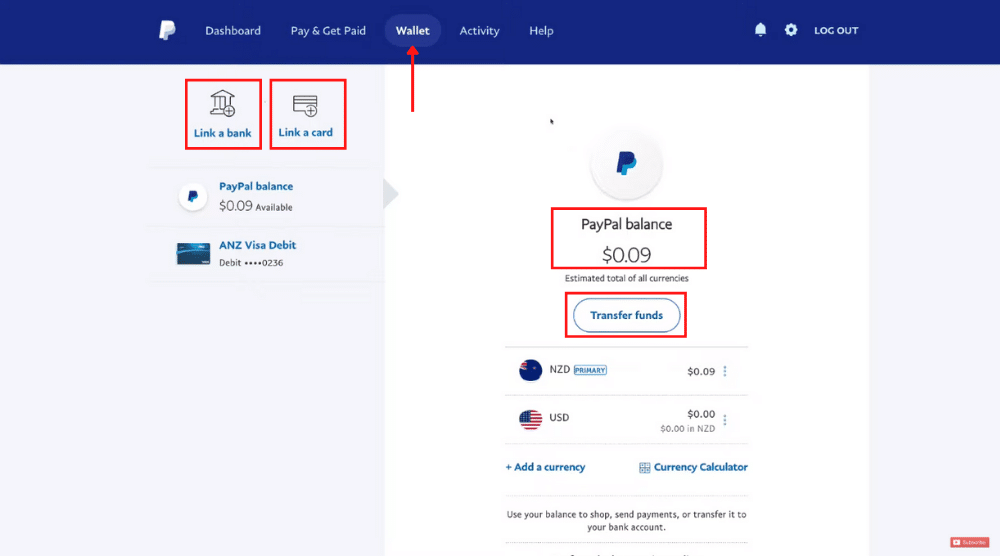 Navigate over to 'Wallet' at the top.
Here you can:
Link a bank account
Link a card
View PayPal balance
See currently linked cards with your PayPal account
Withdraw money into bank accounts by clicking 'Transfer funds'
View Your Recent Transactions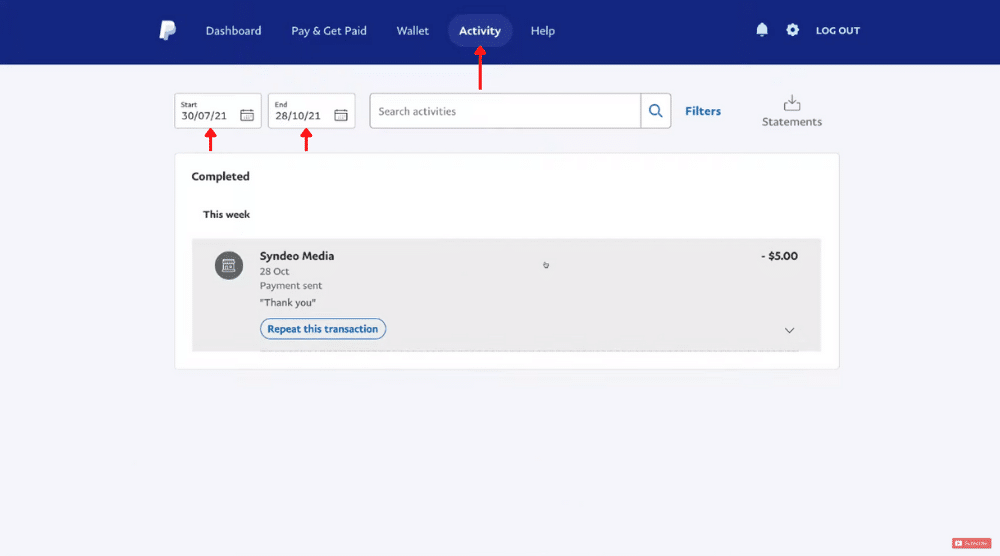 By clicking 'Activity' on the top, you can view your recent transactions.
You can also filter your activities by start date and end date here. (Refer to the screengrab)
How to Request Money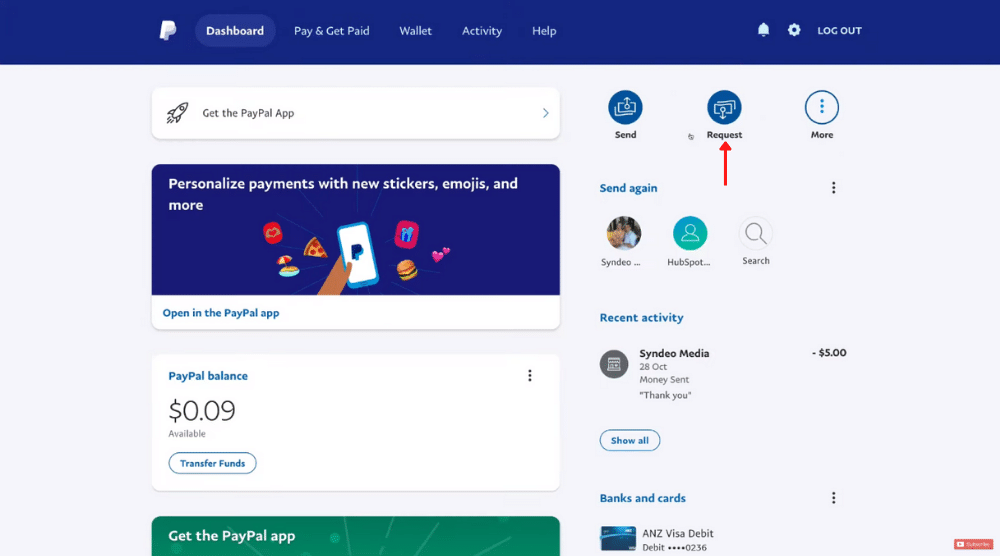 PayPal is one of the best payment gateways to receive payments.
On your dashboard, click on 'Request' and enter the email address of the contact (the one associated with their PayPal account, of course). Click 'Next'.
Now, add the amount that you want to receive and choose a currency you want to be paid in.
You can also add someone else or leave a note. Click 'Request a Payment'.
Refer to the screengrab to see what it looks like from the recipient's end.
How to Create an Invoice Within PayPal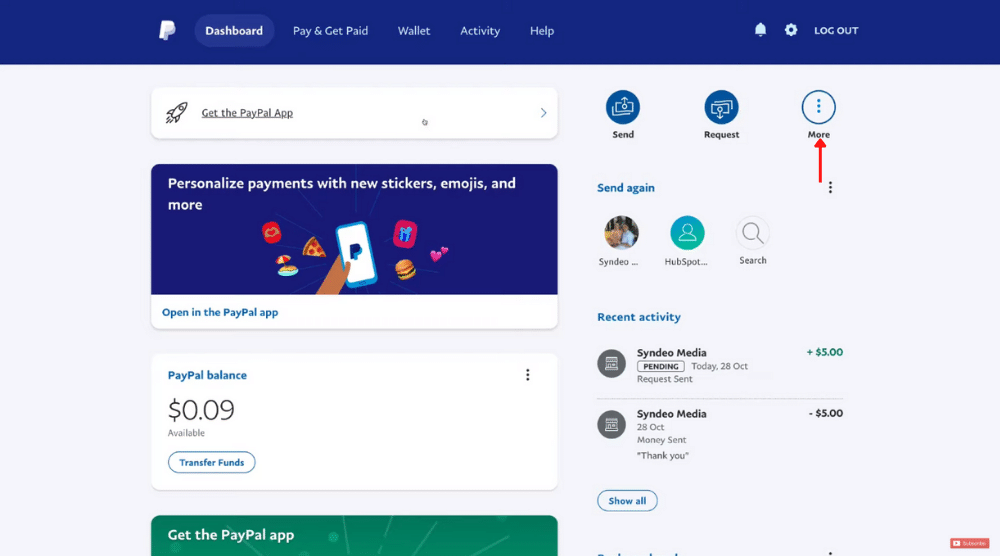 It's time to make an invoice in this PayPal tutorial for beginners.
To do that:
Click on 'More' next to 'Request' on your dashboard
Select 'Create an invoice'
Fill out the invoice details in the next step
If needed, select a template from the drop-down 
Next to 'template', you have the option to choose the currency
On the far-right, you can add a logo to your invoice
Once you've created the invoice, you have three options: Save Draft, Preview, or Send
By clicking the drop-down next to 'Send', you'll find the option to save this invoice as a template for future invoices. Or you can share it as a link directly with your clients
How to Create an Estimate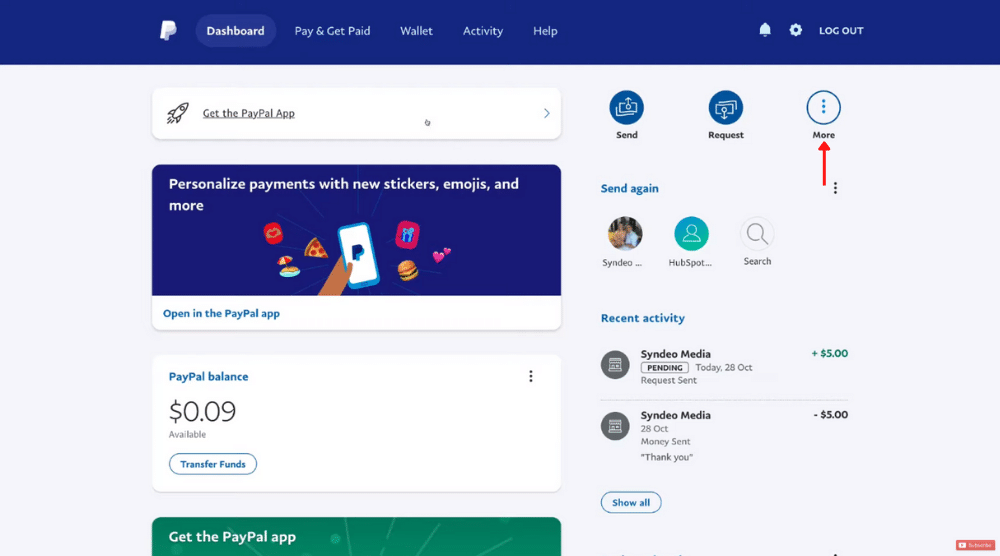 Using your PayPal account, you can create an estimate as well.
To do that:
Click on 'More' and select 'Create an estimate'
Fill in your details. The layout is quite similar to the invoice
This covers all the features you'd need to make use of your personal PayPal account.
Now, let's talk about the business side of things
PayPal Business Account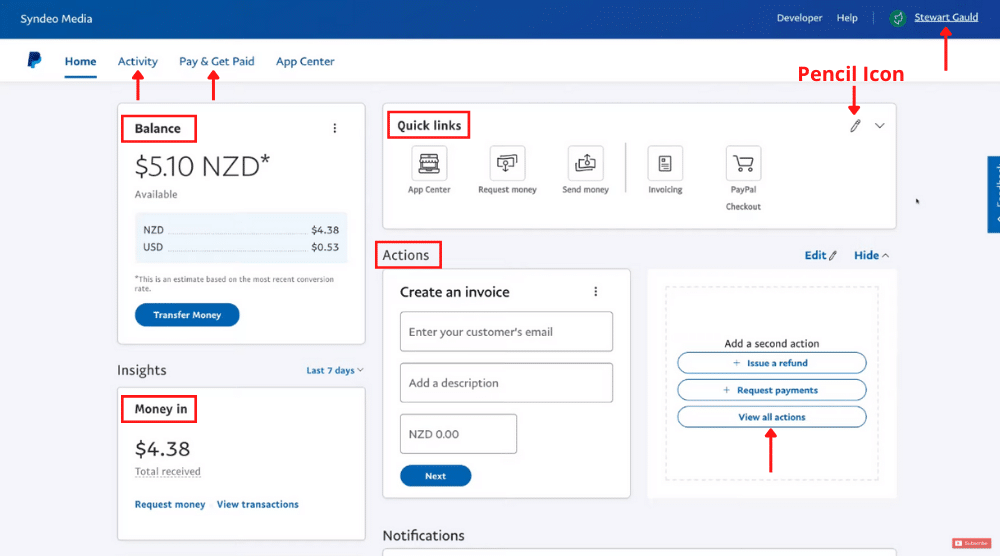 The dashboard of your PayPal business account is slightly different from the personal account. (screengrab of the two accounts to compare)
Here, you'll notice the following:
Balance
'Money in' or money received
'Money out' or total money sent/spent
'Money requested' or your pending payments: Here you can see both unpaid requests and unpaid invoices
Quick links: App Center, Request money, Send money, invoicing, PayPal checkout
How you customize your dashboard is completely up to you.
Navigate up to the pencil icon next to 'Quick links' to change your quick links and dashboard.
Now if you click on 'PayPal Checkout', you can integrate it with various platforms, including your website (get in touch with your developer if you would like to start receiving payments on your website through PayPal).
Back to the dashboard, we have 'Actions'.
This is where you can quickly create an invoice, issue a refund, or request payments.
By clicking on 'View all actions', you can add frequently-used actions to your PayPal business dashboard.
To view the transactions happening within your business, click on 'Activity' on the menu bar and select 'All Transactions'.
Next to that, we have 'Resolution Center' where you can view open and closed cases.
Adjacent to 'Activity', we have 'Pay & Get Paid'.
Feel free to check all the features here, such as wallet, invoicing, make payments, and accept payments.
For example, to view and manage your subscriptions via PayPal, click on 'Subscriptions' under 'Accept Payments'.
The process to receive and send payments is the same as explained for the personal account.
Now, if you click on your profile, you'll find the message center, profile settings, and account settings.
If you want to discuss particular issues, go to the message center.
Now, if you wish to change the profile picture, visit your profile settings. Below that, you'll also find the option to log out.
That completes our PayPal tutorial for beginners!
You should now feel comfortable using PayPal to manage your online payments.
Also Read: Build a Sales Funnel for FREE
Make Hassle-free Online Payments with PayPal (Video Guide)
PayPal is a fast, safe, and easy-to- (sometimes free) online payment gateway that allows businesses and individuals to send and receive money online.
Many websites now have PayPal integrated directly with their check-out for quicker and smoother transactions.
With just a few, simple clicks, individuals can make secure transactions with PayPal.
Check out our complete PayPal video tutorial below to get a visual guide of getting started and making the most of PayPal.