Are you looking to create a free and professional email signature that stands out?
Think about how professionals hand out business cards to their prospective clients…
Email signatures are a modern version of that and a way to enhance your brand, identity, and professionalism.
Moreover, email signatures help improve brand recognition every time you send an email to your leads, clients, employees, contractors, and more.
Email signatures are important for all types and sizes of businesses, let's go ahead and create yours!
How to Make an Email Signature for FREE?
In this brief tutorial, you're going to learn how to make an email signature – completely for free using two different methods.
Method 1: Use Canva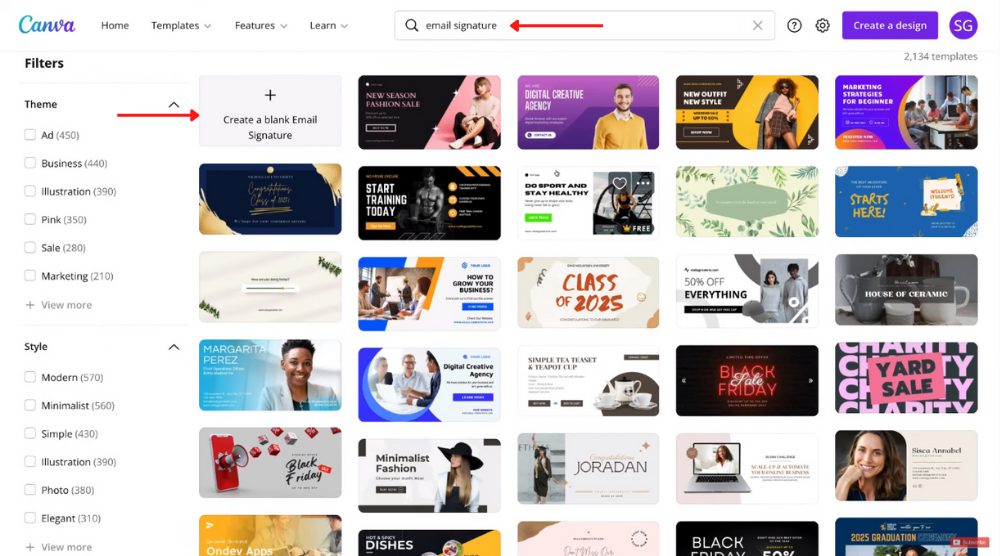 To create your first, free email signature, you need to visit Canva – a free design tool.
When you get there, type in 'email signature' in the search bar.
Select the suggestion below it (400 × 200 px).
Feel free to choose one of the thousands of free email signature templates that you see on your screen.
However, we'll instead click on 'Create a blank Email Signature' and then select a premade template within Canva's designing interface.
Now, to search for a specific template:
Make sure you've 'Templates' selected in the top-left corner
Type 'email signature' in the search bar again
Scroll through all the free email signature templates and select the one that best works for your business (we will choose this template, see image below)
Start Customizing the Template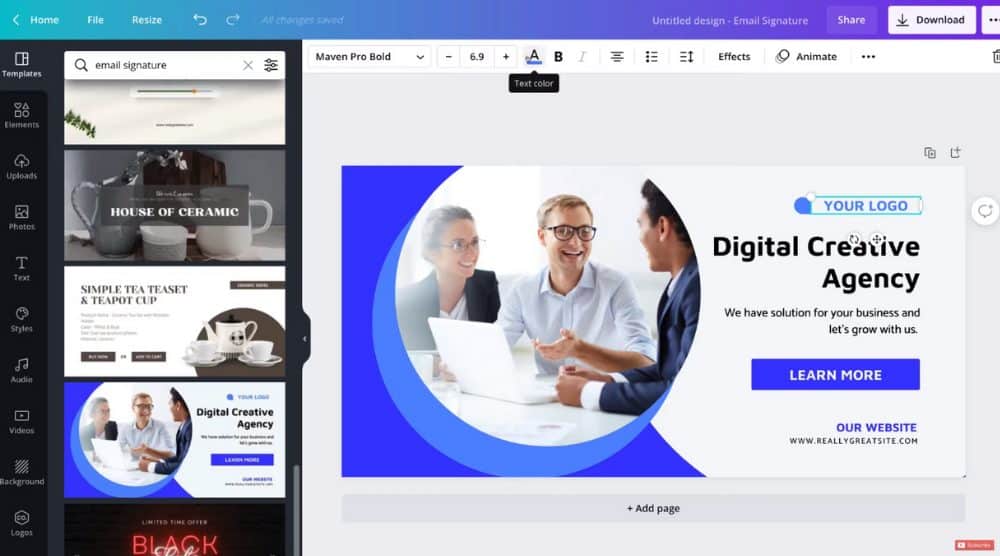 You'll notice dozens of elements on your chosen premade template.
Here, you may proceed to change the text or image element and replace it with your branded image or business name.
Note that, each of these elements can be moved around on the template if you want to change their placements.
Up above, you'll observe a few formatting options, including the font color, font style, font size, and more.
By clicking on the CTA, you can replace 'Learn More' with 'Call Us Now' (of whatever is relevant for your business).
At the bottom, add your business's website as shown in the template (refer to the screengrab).
If needed, you can delete an element through a simple, two-step process: Right Click > Delete.
Add Your Business Logo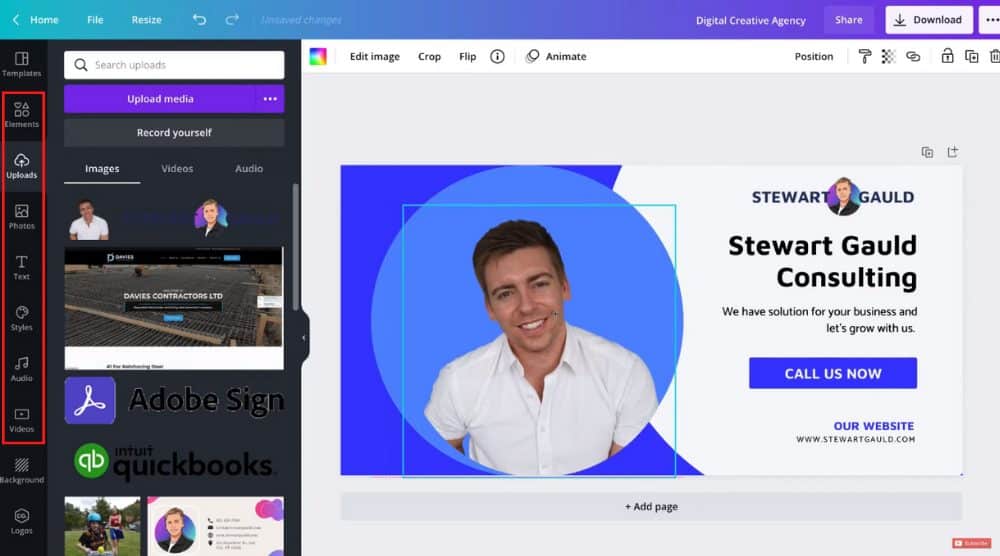 The space where we deleted the top element is now empty for us to upload our own business logo.
To do that:
Click on 'Uploads' on your left
Select 'Upload media' and locate your logo in Canva
Click 'Open'
Your logo will now appear on the left-hand side.
Use the drag-and-drop feature of this free email signature maker to place your logo.
If you've not yet replaced the image (on the left-hand side of the template), the process is the same as explained for the logo.
If needed, resize your image after uploading it to fit the free email signature design.
Now, if you need to add specific elements to your signature, point your cursor to 'Elements' on the left-hand side and pick the appropriate element.
From the same menu, you'll find many other options, such as photos, text, videos, audio, and more.
If you navigate over to 'Text', for instance, you can either search for specific text or choose a font combination suggested by Canva.
To add a header, simply click 'Add a heading' and then change the formatting if you like.
To delete the header, hit Right Click > Delete.
Read More: Canva Free Logo Maker
Add Your Business Phone Number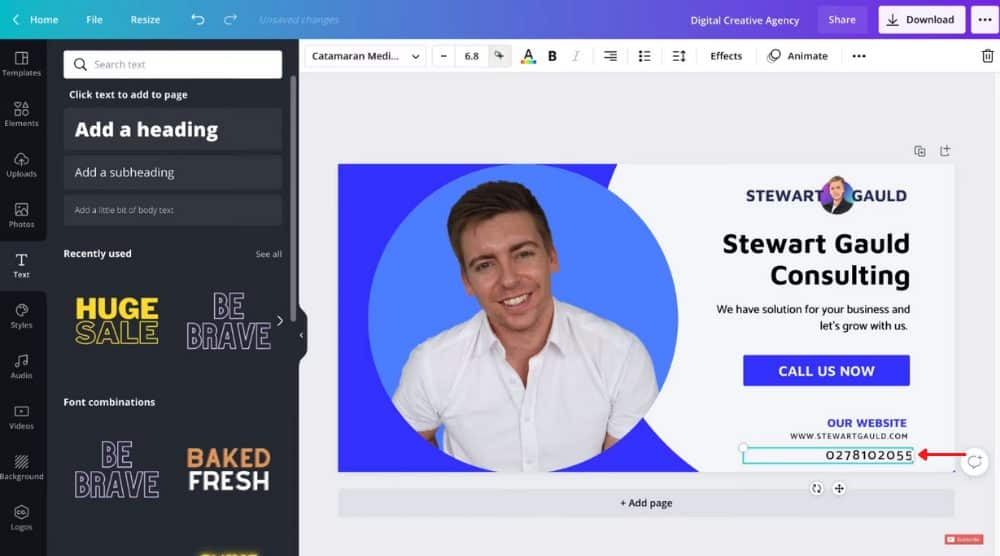 How can we miss adding a phone number to our email signature?
To add your number:
Copy the website element on your template (because we want the text to be the same)
Paste the element just below it
Replace the website with your phone number in the copied element (refer to the screengrab)
Feel free to change the formatting of this new element if you like.
Download Your Free Email Signature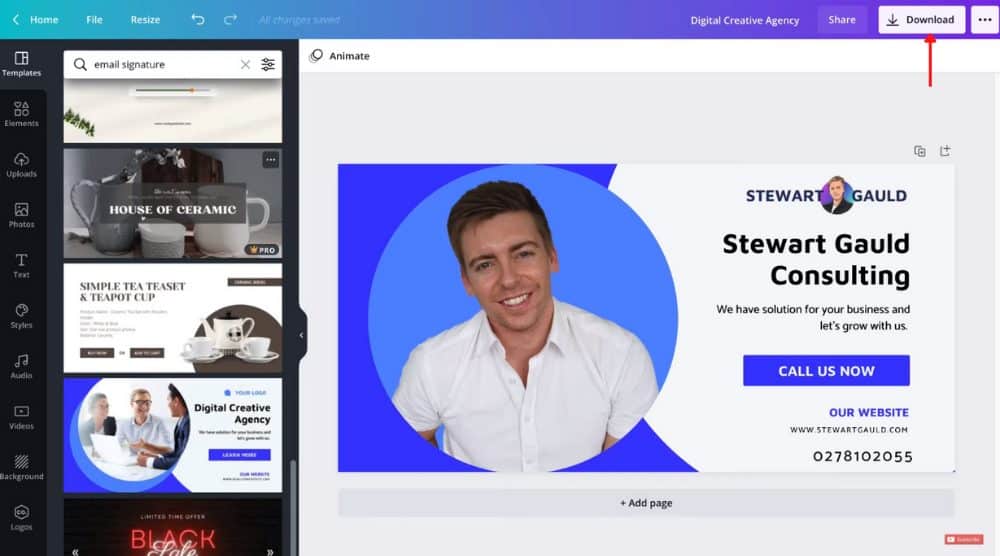 When you're happy with the look of your free email signature, click 'Download' in the top-right corner.
In the 'File type', make sure you've got 'PNG' selected (no clickable elements in this email signature format).
Click 'Download' below.
Your free email signature will be downloaded to your system. Next, you need to add this to your email, depending on which email service provider you use.
To add your signature on Gmail, watch this tutorial
To add your signature on Outlook, watch this tutorial
Resize Your Email Signature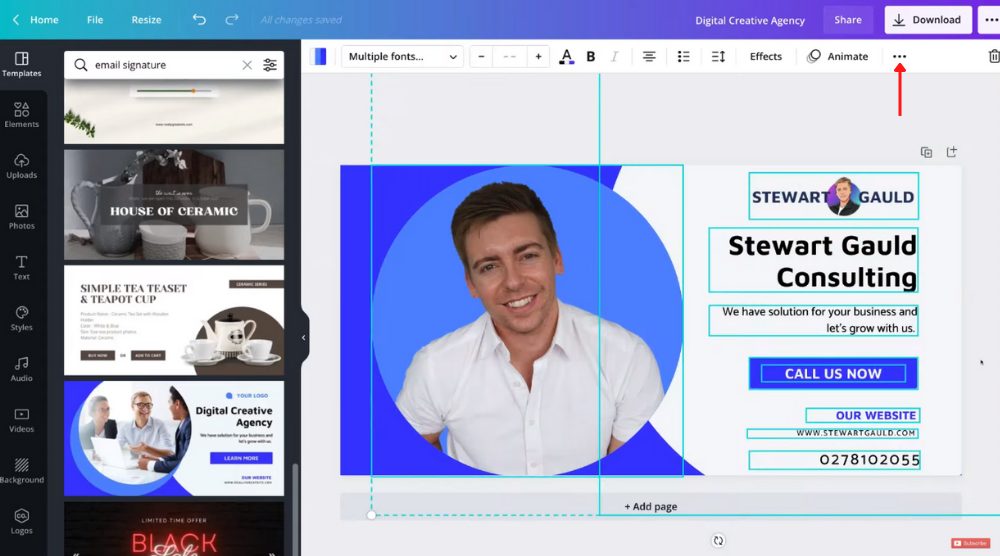 If you feel that the signature is too small, follow these steps below to resize it:
Head back to Canva
Highlight your entire email signature (refer to the screengrab)
Click on the three dots next to 'Animate'
Select 'Group' to group all of the items on your signature together
Hit Right Click > Copy
Head back to the Canva dashboard
Click on 'Custom size' on the far right-hand side
Enter '1280' in the 'Width' field and '720' in the 'Height' field
Make sure that 'px' (or pixel) is selected from the drop-down next to the dimensions
Click 'Create New Design'
Right-click on your blank page and select 'Paste'
Drag your email signature so that it takes up the entire blank page
As you may observe, the background of this new email signature is different.
Be sure to copy the background of your original signature and paste it into the new one to make it identical.
Again, you can reformat each element of your new, free email signature.
Proceed to download it.
Now, if you need a more responsive and dynamic email signature where you can click on the email, website, phone number, call-to-action buttons that can take you to specific links or pages, then you need another free email signature creator.
And we're going to cover this in the second method.
Method 2: Use Designhill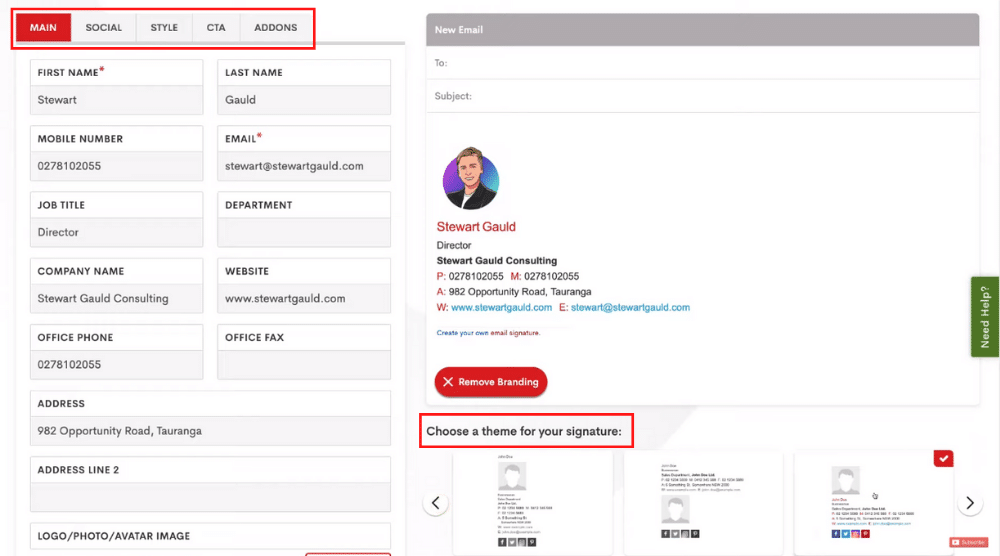 Head over to Designhill and follow these steps below:
Click 'Create Your Free Email Signature' on Designhill's home page
Fill out the details under 'Your Information'
Add a profile picture or logo to your free email signature
Make sure your image is 500 × 500 px. If it's too big or too small, you can always resize it using Canva as we explained in the previous method.
Choose a theme for your email signature (refer to the screengrab). Note that some of these themes with multiple social media links, for instance, are not free. Hence, you'll need to upgrade to a paid plan.
Select 'Social' next to 'Main' on the left
Add your social media links and buttons in this step. Again, some of these require a paid plan (for example, LinkedIn and Facebook). For now, only the Twitter Handle is available for free.
Select 'Style' next to 'Social' to customize the look and feel of your free email signature. For example, you can copy a 'Link Color' and paste it in the 'Feature Color' to ensure a cohesive branding that we talked about in the beginning.
Feel free to change the avatar size, font size, text color, and more using the options given
Select 'CTA' next to 'Style' to add a call-to-action button at the bottom of your email signature. Add your CTA text, CTA link and change the background color, text color, text size, etc.
Under 'Add-ons' next to 'CTA', you can add a disclaimer, if needed. However, we're not going to do that in this tutorial.
When you're happy with your signature created using this powerful free email signature maker, click 'Create Signature'.
Answer the questions and click 'Download Your Signature'.
Now, add your email and click 'Sign Up'. Next, click 'Copy Signature'.
Depending on your email service provider, you'll see a brief description provided by Designhill for the steps that you need to follow to add your signature.
Or you can simply watch our tutorials for adding signatures on Gmail and Outlook.
There's one final step that we need to take care of:
When you paste your free email signature in Gmail, make sure you delete the Designhill branding before saving changes (this will add to the professionalism of your email signature).
Ready to Build Authority & Credibility? (Video Guide)
Now that you've learned how to create a free email signature using Canva and Designhill, you're on your way to building more authority and credibility in the eyes of your customers.
Disclosure: Some of these links on this page are affiliate links, meaning we will get a commission if you buy through them, this helps support our education-based platform – thank you in advance.
If you're interested in following our more in-depth and visual video guide, you can do so below. Enjoy!