Using a QR code is an incredibly effective marketing strategy.
QR codes allow people to engage with your brand directly through their smartphones.
All they have to do is open their smartphone camera and point it at the QR code.
Doing so will redirect the user to a specific online destination.
The destination could be a menu, product page, checkout page, services page, etc.
Now that you know the marketing potential of QR codes, we'll help you create one for free in this Canva tutorial 2022.
Canva is easy-to-use graphic design software.
Canva lets you create any type of marketing materials like social media posts, flyers, banners, logos, presentations, and more.
We love Canva for the 1000s of pre-designed templates that you can customize and use as your own.
How to Create a Free QR Code with Canva?
In this QR code tutorial, we'll not only teach you how to create QR codes for free but also how to use them in your small business.
Let's begin with the step-by-step tutorial!
1. Get Started with Canva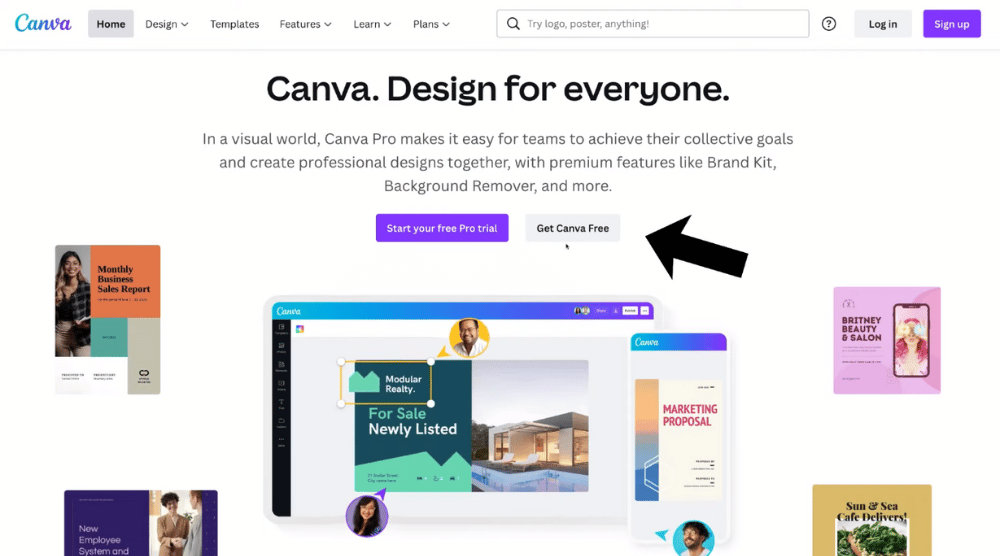 Get started with Canva for FREE here
 *The link above is an affiliate link, which means we will get a commission if you upgrade to a paid plan (with no extra cost to you). This helps support our education-based website and we thank you in advance!
Visit Canva, if you don't have an account yet.
Tap 'Get Canva Free' on the homepage.
Let's meet you inside your Canva QR code generator.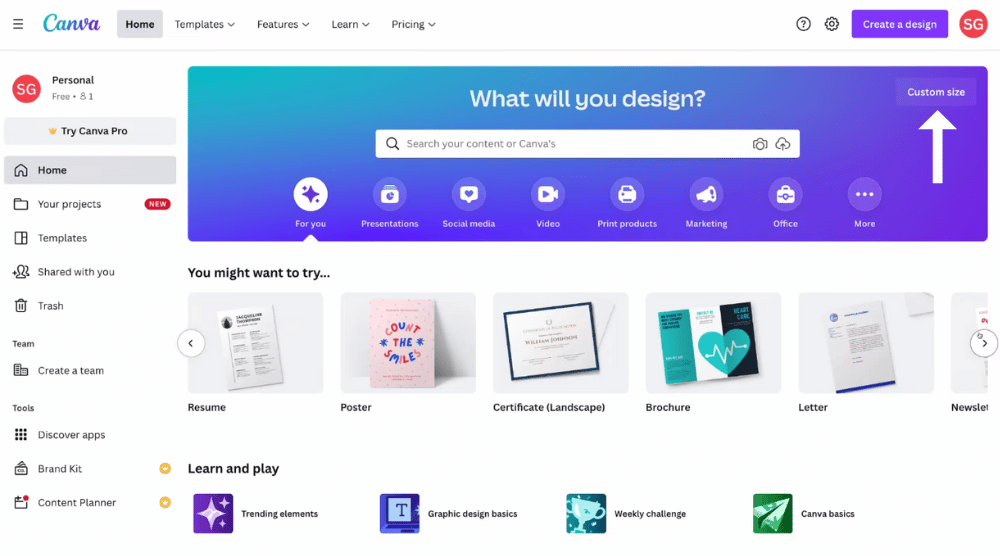 Inside this popular, free design tool, you get access to thousands of Canva templates.
By quickly customizing the templates, you can produce marketing materials in no time.
We're going to follow the same approach in this QR code tutorial.
Not to mention, you have the option to create a custom size as well (see top-right corner).
Now, let's understand how to create QR codes for free using Canva.
3. Create Free QR Codes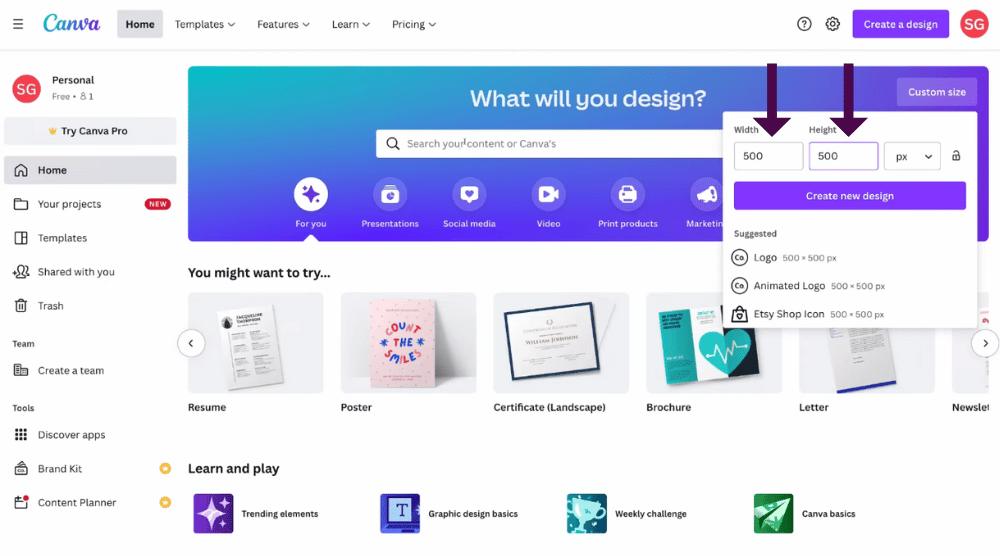 For this Canva tutorial, we'll create a QR code that simply directs people to our home page on our website.
Now, follow these steps:
Enter the unit '500' under 'Width' and 'Height'. We're opting for a square design. You can, however, use other dimensions or a Canva template. For instance, you can search for 'business card' templates and choose the one you like.
After entering the dimensions, we'll select 'Create new design' (refer to the screengrab)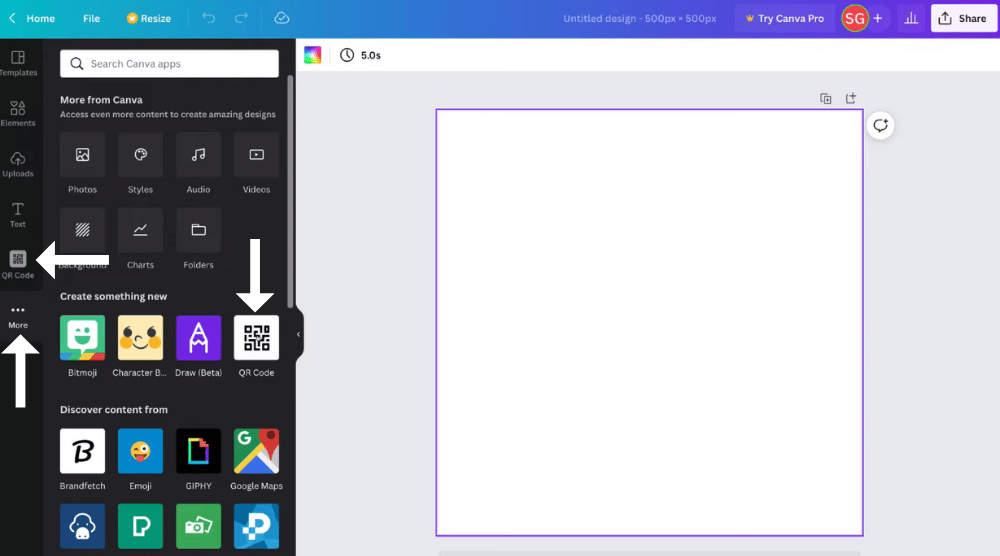 Click on 'QR Code' on your left.
Tap on 'More', if you don't see the QR code option. Locate 'QR Code' and click on it.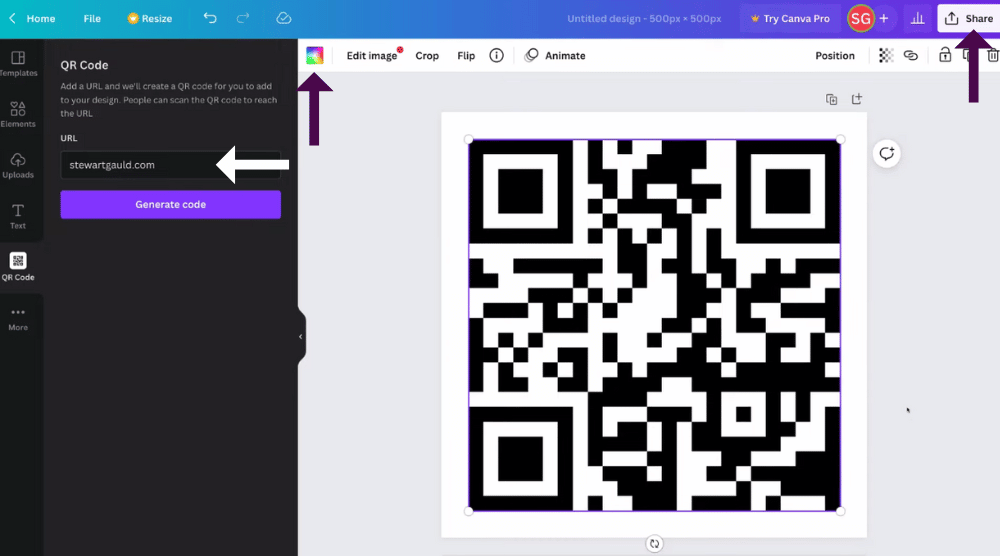 Add the destination you want people to visit upon scanning the QR code.
Your new QR code has been successfully generated!
You can drag the sides to resize the QR code.
Apart from that, you can tap on the colors at the top (refer to the screengrab) and pick a different color for your QR code.
And once your QR code is ready, you can go ahead and download it.
To do that:
Tap on 'Share' (see top-right corner).
Choose a file type. We recommend the PNG file type.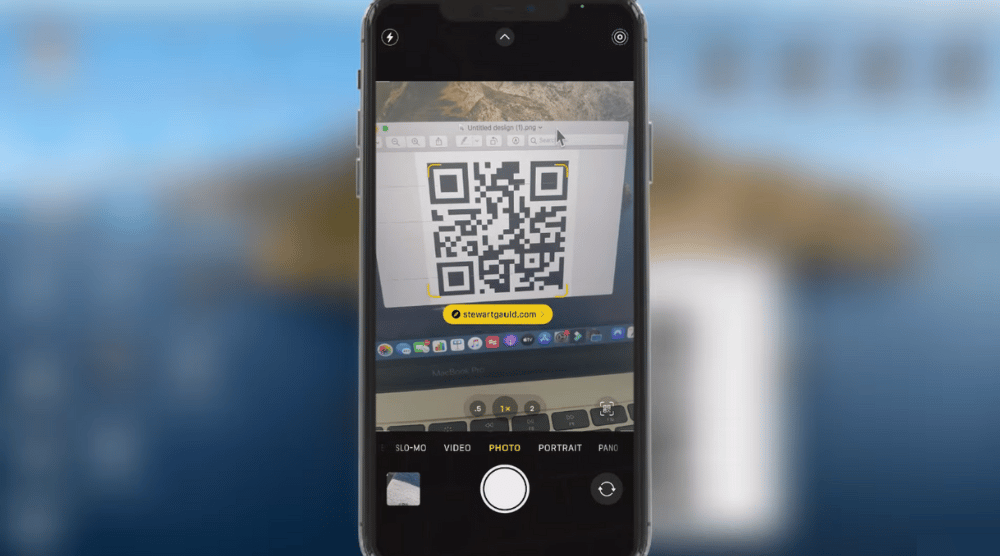 Now, to test if the new QR code is working as it should use these steps:
Open the QR code you just downloaded
Scan the code using your smartphone
After doing so, you should find yourself on the destination URL (in this case, our website i.e stewartgauld.com).
It's that easy!
Now that you know how to utilize the free QR code generator, we'll explain the process to use the newly created QR code for your business.
4. Learn How to Use QR Codes for Business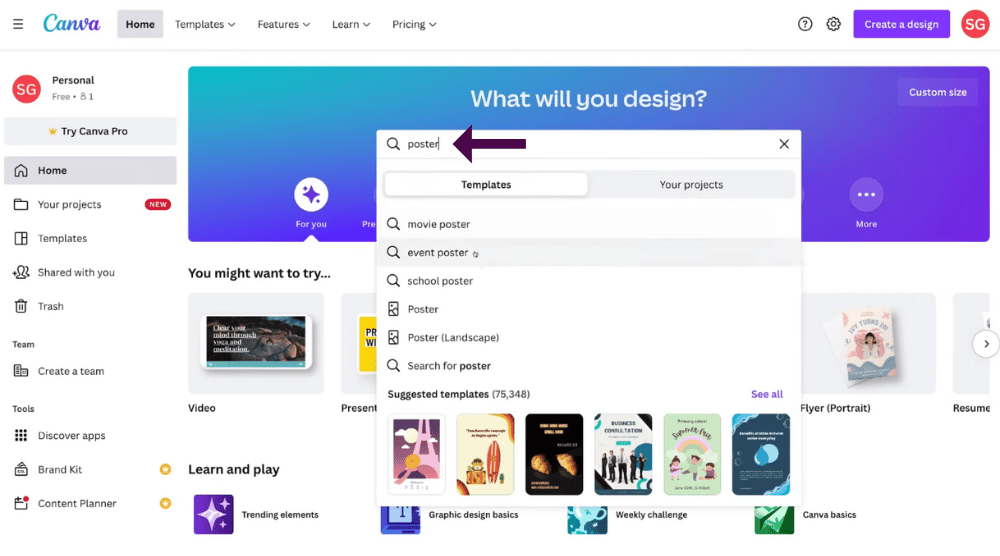 For this section, we'll again require the use of Canva, and its popular QR code maker.
These actions will share how to use the QR code in your business materials:
Head back to the Canva homepage.
Search for poster templates.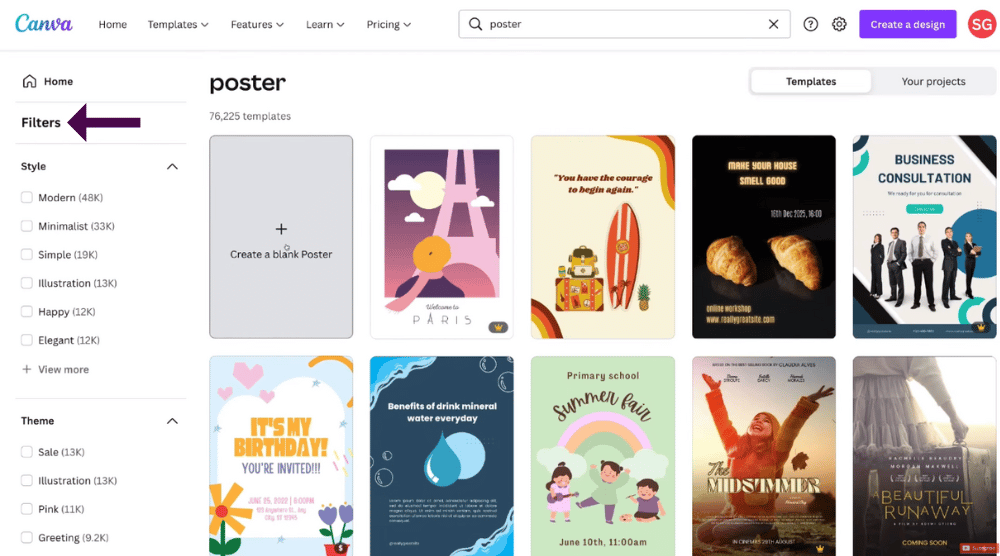 Choose a premade poster template or create from scratch.
Use filters on your left to narrow down your search.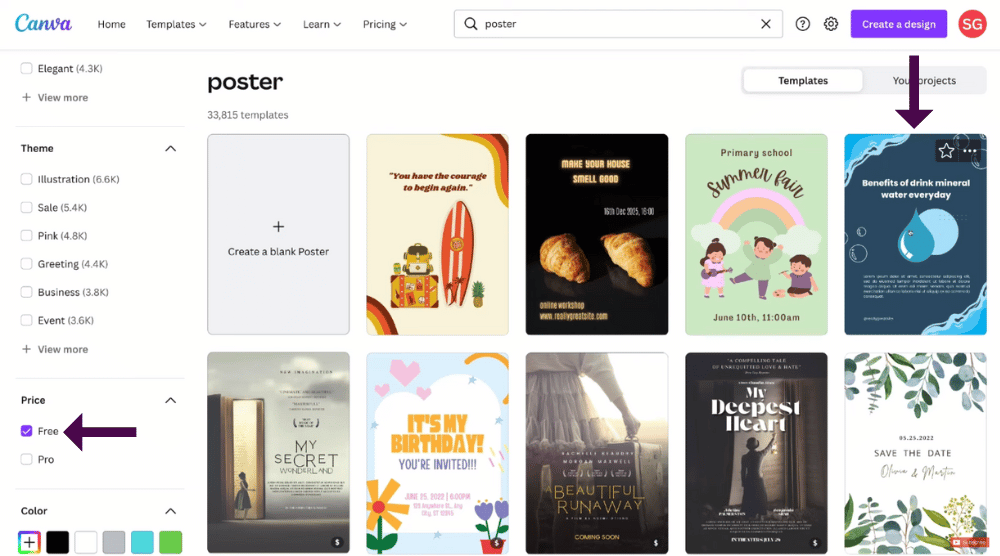 Choose 'Free' under 'Price' to generate free Canva templates. Since we're using a free Canva account, we can narrow down our search by removing the paid templates from the screen.
Customize the chosen template, for example, I will choose a poster template (Refer to screengrab).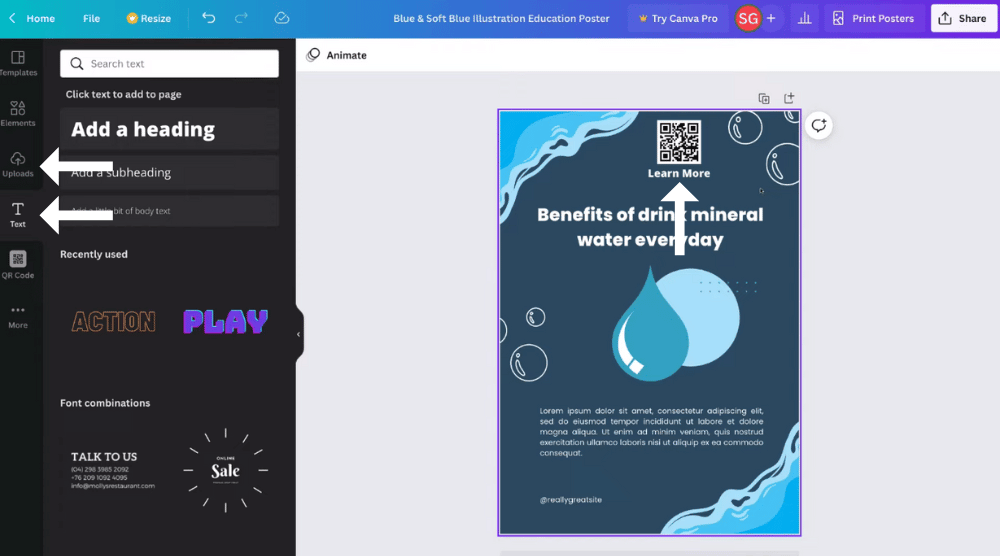 Embed the QR code on the template by clicking 'Upload' and choosing the QR code file.
After the QR code is uploaded, click on it. This will embed the QR code on your template, for us we have added the QR code to our poster! 
Resize and reposition the code as required.
Edit the existing elements on the template or add new ones from the left. For instance, we'll add a text element called 'Learn More' and place it right below the QR code.
You can also design and create business cards with Canva and embed the QR code on them.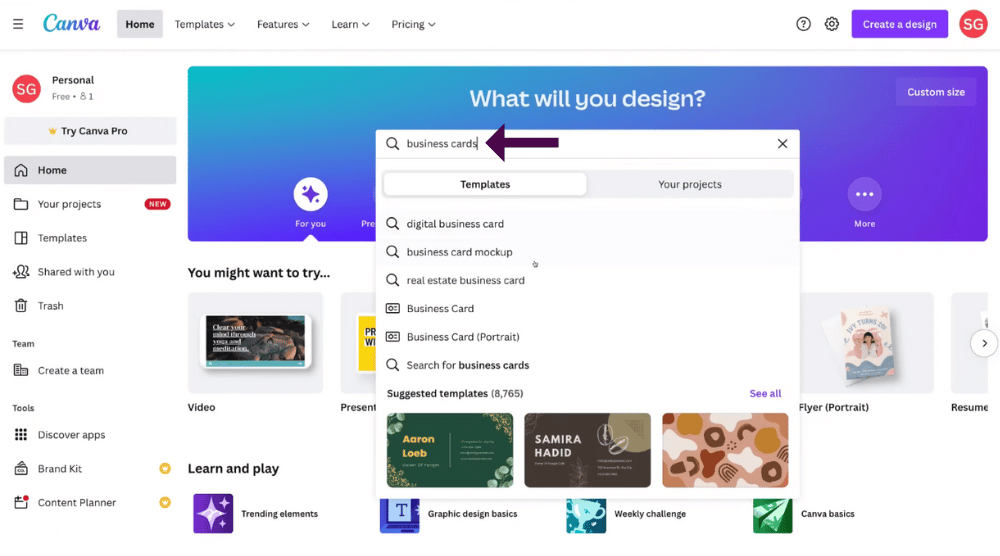 Follow the steps below:
Revisit the Canva homepage.
Search for business card templates.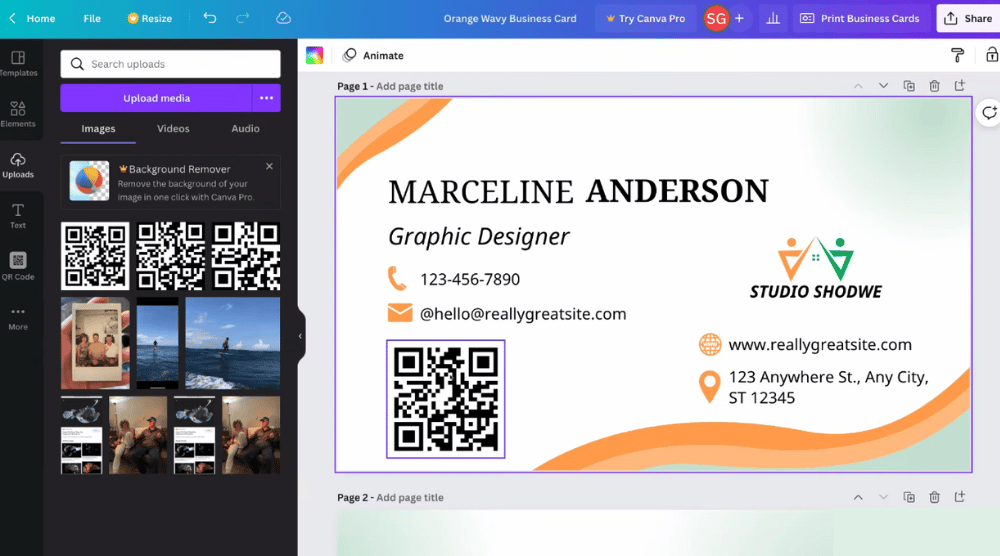 Generate a new QR code or upload the previous one.
Embed the code on your business card.
Edit the business card details.
Resize, reposition, delete, or add new elements
Just like business cards and posters, you can add QR codes to any business material.
By doing so, you can redirect people to your LinkedIn profile, Twitter, website, booking page, consultation page, and more.
Not just that, you can also send people to specific posts on social media!
Quite simple, isn't it?
I have recently seen the use of QR codes at restaurants.
Restaurants use QR codes to generate menus that are used to send customers to their digital menus.
This has been useful during the recent pandemic to enable more non-contact activities.
We've also seen local small businesses using QR codes instore to help generate Google Reviews, further helping their local marketing efforts.
QR Code Tutorial for Beginners! (Video Tutorial)
That wraps up our brief QR code tutorial for beginners.
We hope you've learned how to create QR codes for free using Canva.
Watch the video tutorial below if you need a more detailed guide with visual steps to help get you started.