Are you planning to launch a new business/brand or looking to revitalize your existing brand with a fresh new logo?
Did you know you can make a stunning logo in minutes without needing ANY knowledge or experience of designing?
There are loads of platforms on the market that offer free logo maker features.
Today we will help you navigate a leading design platform that provides a free logo-making feature so that you can start creating a free logo for your brand.
In this post let us walk through the steps to create a professional logo on your own without much effort using the design platform called Canva.
Canva – Free Logo Maker
Canva is a powerful graphic design platform that allows the user to create various designs for social media posts, Facebook covers, magazines, flyers, logos, and much more.
You can also create a great logo within a few minutes.
The power of Canva is beyond measure as it offers hundreds of templates for free.
Today we will use Canva's free logo maker to create a logo for your brand and give it a refreshing new look.
The best part about Canva is that you can make a complete logo with the free version of Canva.
If you are a small or mid-sized business, then the free version is perfect for you.
If you wish to have more variety, you can unlock the premium version (Canva Pro) at a reasonable price. They also offer a free 30 day trial!
Canva is also perfect for social media agencies who want to create tons of logos daily.
Okay so without further ado let's jump into Canva and create a fantastic logo for your brand.
1. Getting Started with Canva (Watch video)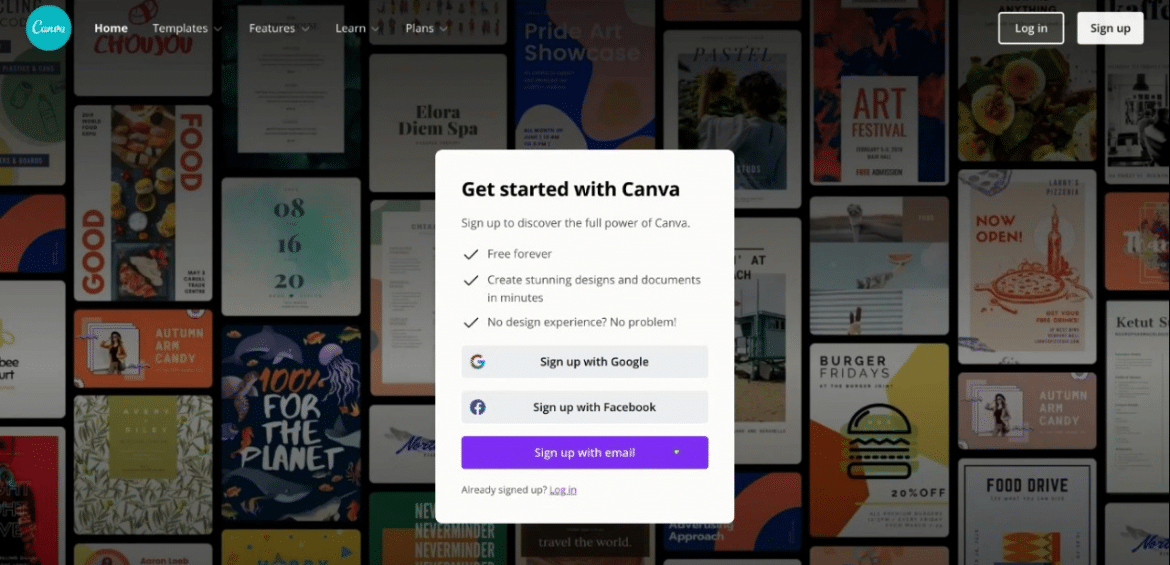 Get started with Canva for FREE here
 *The link above is an affiliate link, which means we will get a commission if you upgrade to a paid plan (with no extra cost to you). This helps support our education-based website and we thank you in advance!
You can go to Canva and create an account to sign-up.
You can simply use a Google account, Facebook account, or signup with an email to use Canva.
The sign-up process on Canva is pretty straightforward.
Once you have signed up for Canva, you will enter the dashboard of your Canva account.
In the dashboard, you can see various options to create different graphics such as posters, infographics, presentations, posters, social media posts, logos and more.
2. Create a Logo For Your Business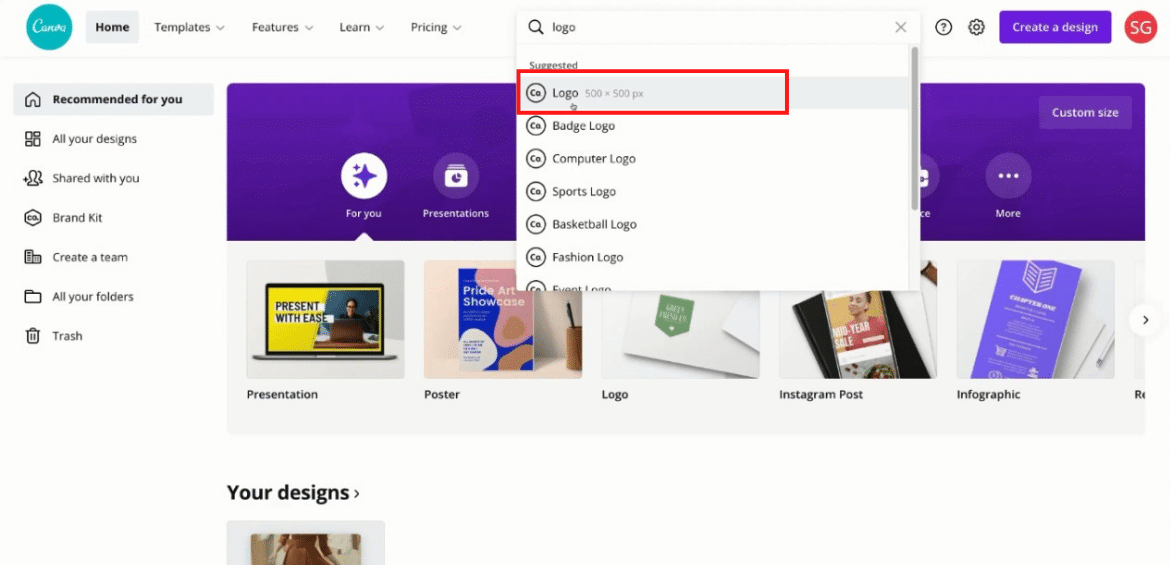 Now it is time for you to create a logo for your business or brand.
To do this, navigate to the search bar and type in the 'logo'. In the suggestion drop-down box, you will get the logo option of 500×500 px.
Click on the option to open it.
This will take you to a hub of more than 1500 logo templates that you can use to build your logo from.
The great thing about Canva is you have access to thousands of pre-made templates that you can build your design from.
In this post, we'll share how to use a template to make a logo for your brand.
3. Choose a Template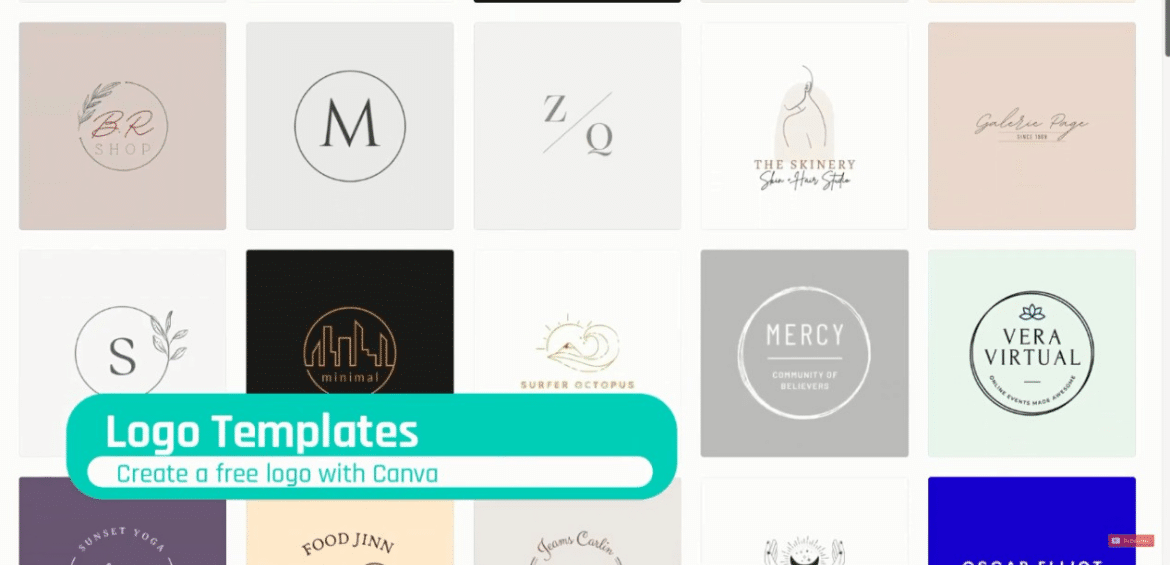 So, first what we need to do is select a logo template from the pile of templates available.
You can select a logo based on one that resonates with your business or interest.
You don't have to use the logo you decide on here, however, it gives you a place to start and shows all the important features and elements to craft your logo.
You also have the option to create a blank logo.
Navigate over to the option to create a blank logo and click on it. You will enter a page with a blank space for you to create a logo from scratch instead of a template.
On the left side, you will see a display bar with templates.
You have the option to select a template to build from.
You can also search for a template in the search bar.
For instance, you can type in the café logo and select a logo from the options.
4. Have FUN With Elements!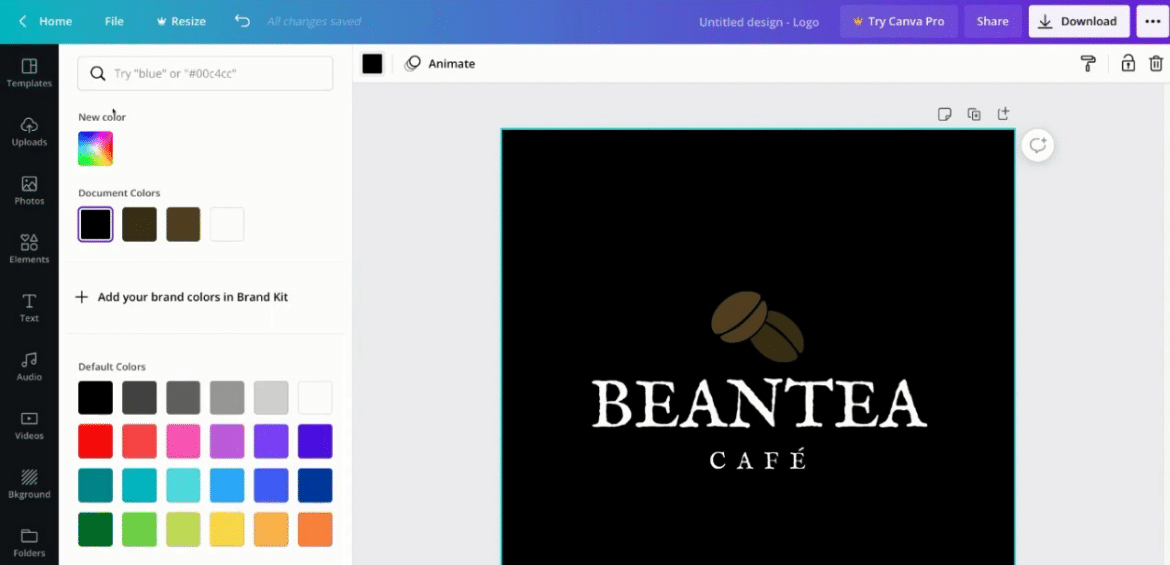 Once you have selected the template, you can start customizing it according to your brand's needs.
You can modify every element of the logo.
For instance, you can change the background color or the design of the background.
You can also change the color effect of the background.
You also have the option to customize the image in the logo.
Here you can be as creative as you like. You can change everything from background color to font style.
5. Change The Logo Image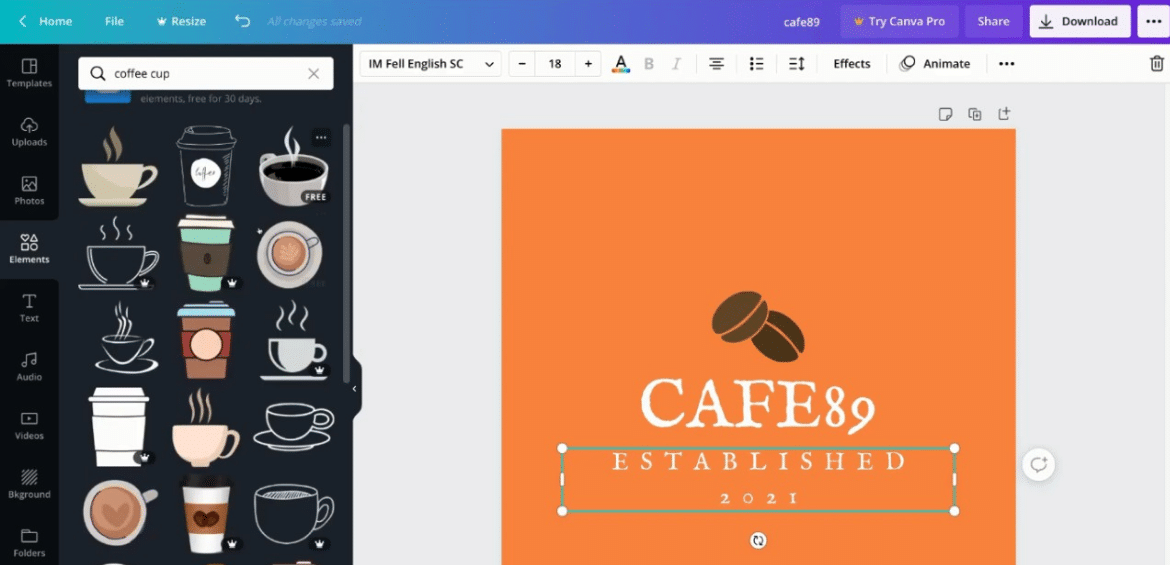 To edit the text of the logo, all you have to do is click on the text and type in the text you require.
In the template I have selected, there is a picture of a croissant which you can change to a cupcake.
In the menu on the left-hand side, click on the element option and search "cupcake."
The results show plenty of free and paid elements.
You can identify the paid elements as these have a crown next to them.
To replace the croissant, click on the image and press delete on your keyboard.
Now all you have to do is drag a cupcake or other element of your choice from the elements and place it in your draft.
You can play with the image by resizing it, adding some shadow effects, etc.
6. Get Creative With Your Text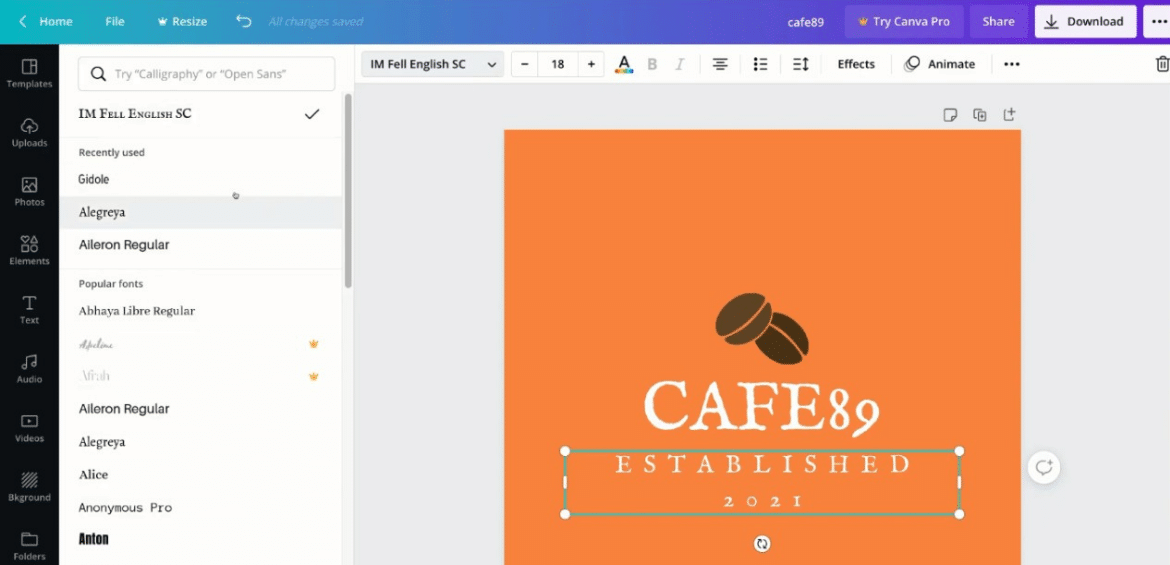 While editing the text of the logo, try using other types of texts from the text option in the left menu.
You get access to a wide array of fancy texts which you can include in your template.
Another interesting option with Canva is you can use elements from a different template in your logo.
To do this, scroll down and click add page.
You will get another page where you can add a different logo template that you like.
If you want to include any element from another template, click on the element in the template and right-click.
Then select ' copy'. Now go to your main draft and click paste to transfer the element.
7. Download The Logo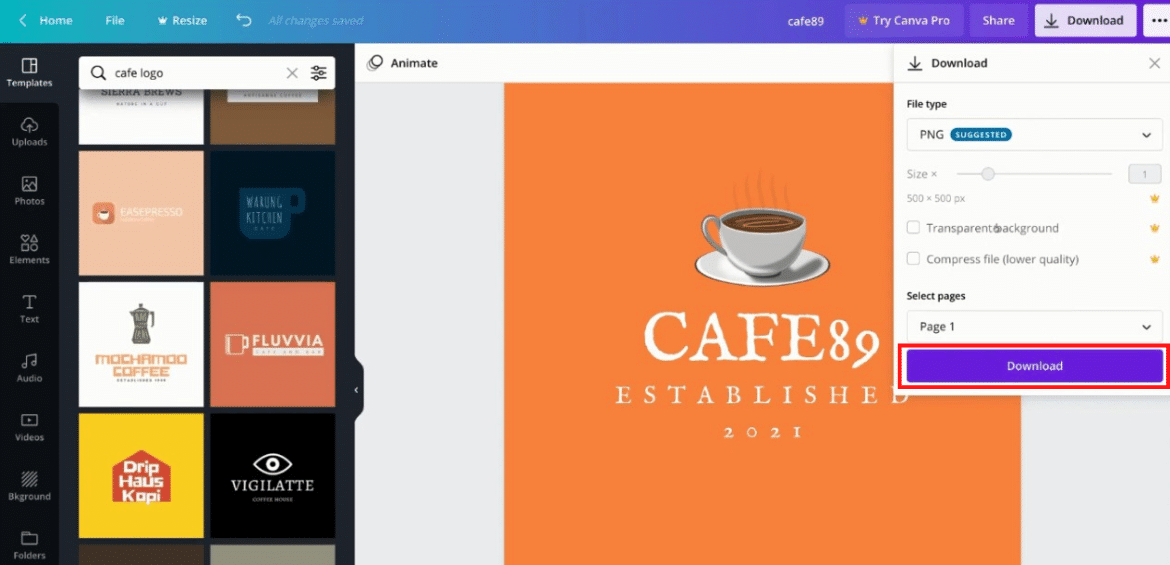 Once you have made all the edits, it is time to download your brand new logo.
On the right top corner, you have a download button click on it and select PNG from the drop-down box.
In pages, select your logo page and simply click download.
Pay attention to premium options as you can't use them in your free template.
Canva Tutorial to Create a Free Logo in Minutes (Video Guide)
Canva is the perfect answer to how to make a logo for free as it makes logo making easy and a hassle-free process (no need to pay a designer!).
You mostly won't need a premium version as the free version provides an ample amount of options.
If you want a visual step-by-step tutorial of canva, then we have a video tutorial to help you create a logo fast, easy, and for FREE.