This tutorial Guides you on how to set up recurring payments in stripe, automatic payments and subscription plans for your customers.
Stripe is an online payment provider that's been around since 2010.
It provides a platform for businesses to receive and make payments over the internet.
Stripe offers a variety of payment processing solutions, including credit card and ACH transactions.
It's the go-to solution for accepting payments online. Not to mention, Stripe integrates easily with many popular business software and applications.
Did you know that you can also leverage Stripe for recurring payments?
A recurring payment is a payment that is made on a regular schedule and is often paid automatically.
Some companies offer a recurring payment option.
This is a convenient way for customers to purchase a product or service and never have to remember to make a payment.
This also saves time by reducing the manual activity of creating the invoice over and over again.
How to Use Stripe for Recurring Payments?
This tutorial, therefore, covers how to use Stripe recurring payments.
1. Get Started with Stripe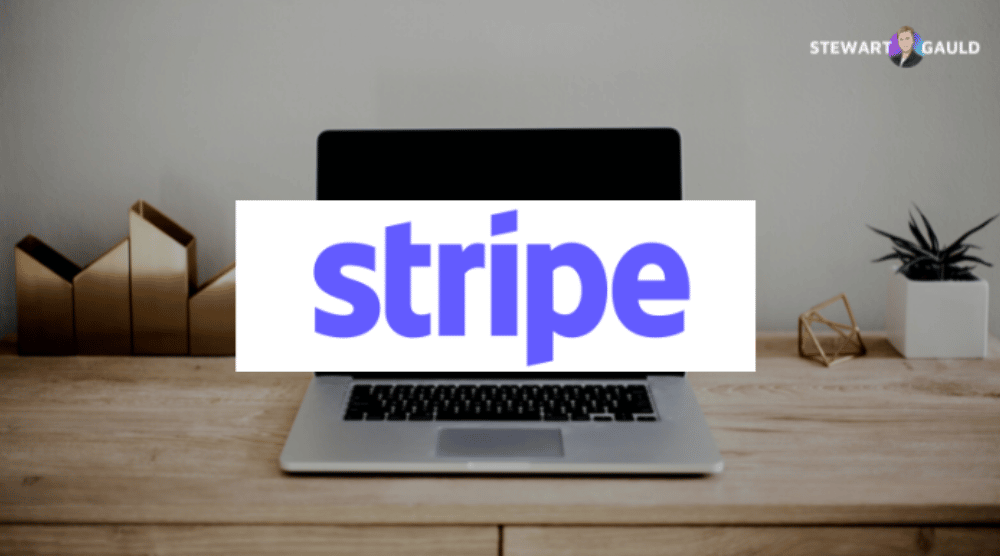 Setting up Stripe subscriptions eliminates the need for creating separate invoices during each billing cycle.
But before we reveal how to set up recurring payments in Stripe, you do require a Stripe account.
If you're entirely new to Stripe and need help creating an account, we suggest watching this tutorial first.
It also covers the many impressive features that Stripe has to offer.
2. Set Up Recurring Payments
Click on 'Products' on your Stripe dashboard
Stripe subscriptions are created within a product. To add a new product, hit 'Add product'
Enter the name of your recurring product or subscription plan. For this Stripe tutorial for beginners, we'll use the name 'Yearly Platinum Consulting/$399 p/m' (refer to the screengrab)
Upload a product/service image
Add a product description if needed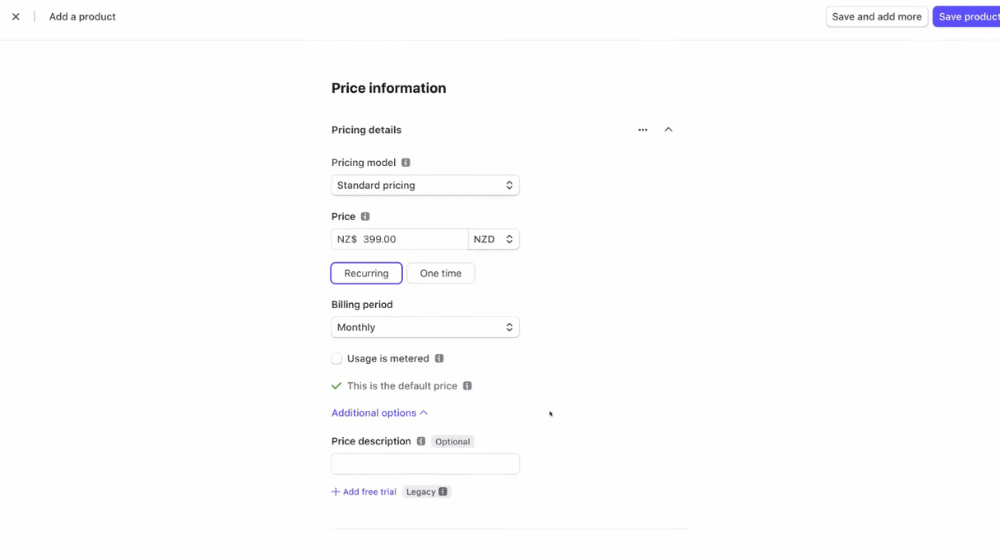 Under 'Pricing model', keep 'Standard pricing' selected for this Stripe recurring tutorial. However, feel free to check out other pricing models like volume pricing, graduated pricing, and package pricing.
Under 'Price', keep 'Recurring' selected
Enter a price in the field given and choose your currency
Select a billing period: weekly, monthly, every 6 months, yearly, custom billing cycle, etc. In this Stripe tutorial for beginners, we'll opt for a monthly billing period.
Keep the 'usage is metered' box unchecked to charge a flat monthly fee
Enter a price description for internal reference if necessary
To add more pricing plans for this product, click on 'Add another price' (refer to the screengrab). We'll skip it for now.
Hit the 'Save product' button (top-right corner).
3. Create Stripe Payment Link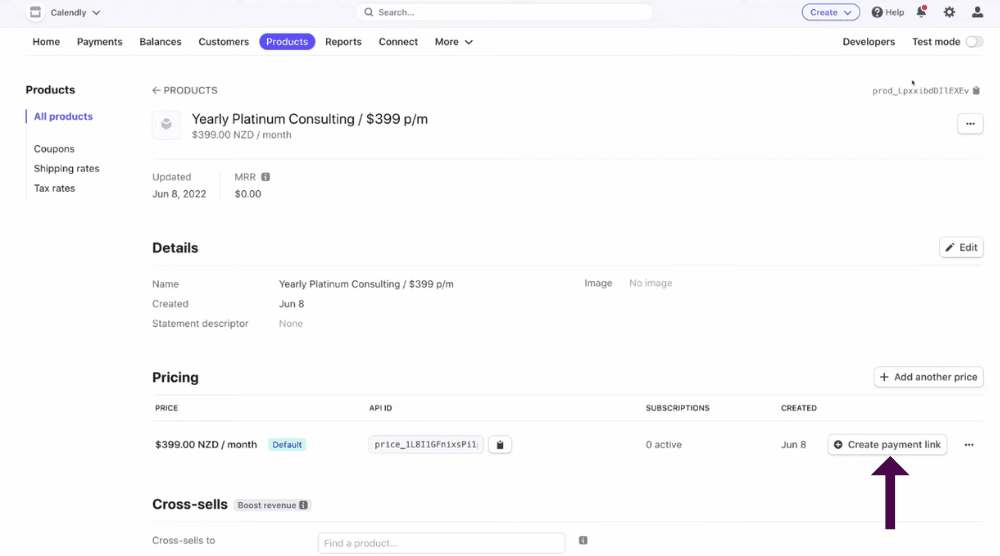 Select 'Create payment link' (Bottom right corner)
This is where you can create a payment link for each of your products.
Send the payment page link to your customers so that they can directly sign up and make the purchase.
You also have the option to add more products to this link.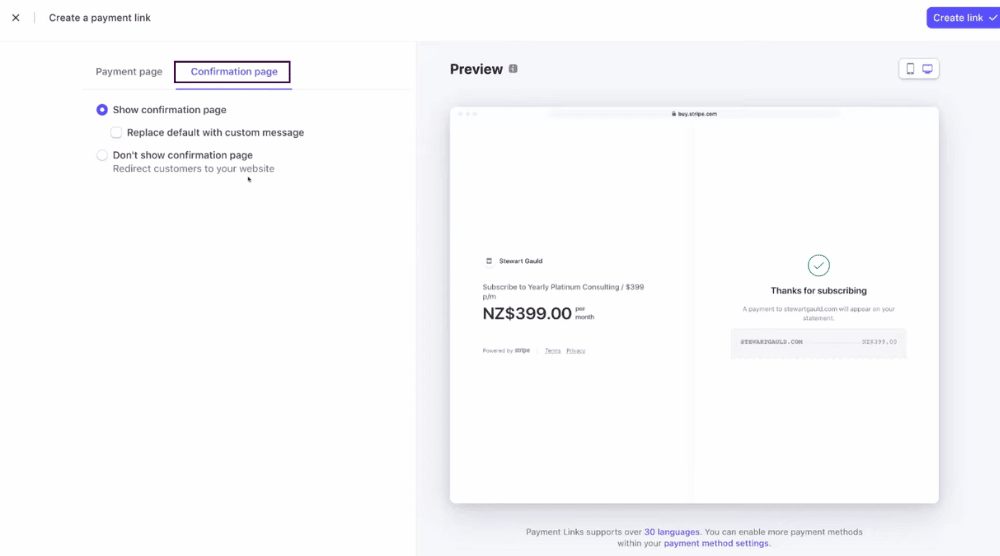 On the payment page, you can:
Tap on 'Confirmation page' > select 'Replace default with custom message' and replace the message. You can also check the preview on your right.
Choose not to show the confirmation page at all, and instead redirect people to your website.
Hit 'Create link' and copy the link on the Stripe dashboard.
Now, let's see how to create Stripe subscriptions:
4. Add Stripe Subscription Plan (#1 Method)

Navigate over to 'Customers'
Select the customer that you wish to offer a subscription to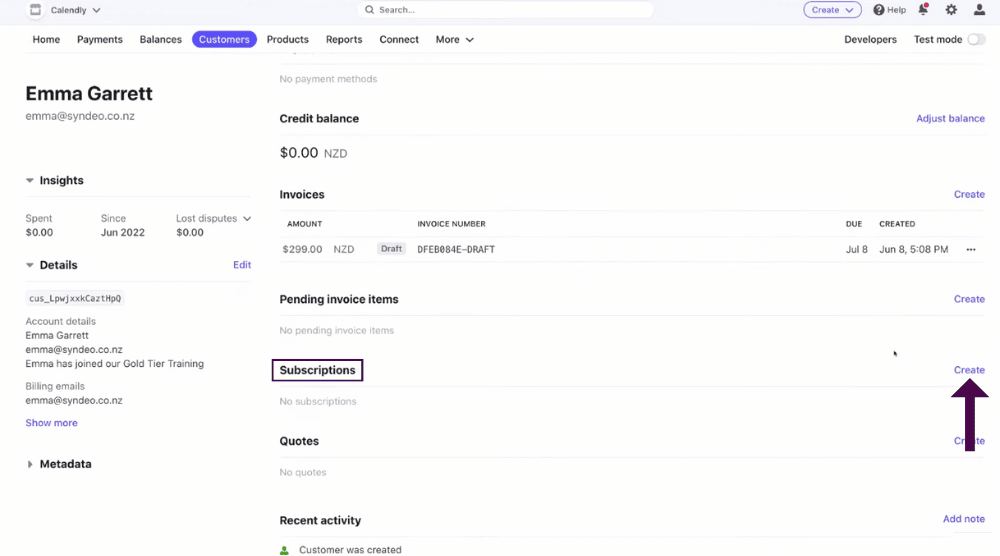 Locate 'Subscriptions' and hit 'Create'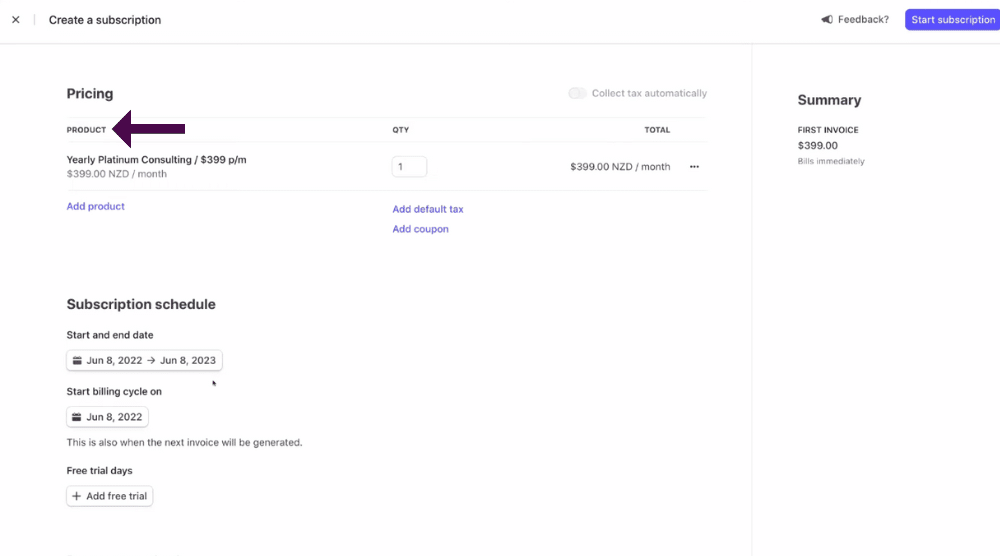 Under 'Product', choose your subscription plan from the dropdown
Under 'Subscription schedule', choose the start and end date of the billing cycle.
You can also click on 'Forever' and choose '12 cycles' since this is a yearly subscription plan.
You need not choose the end date for your plan, and it will continue forever until you or your customer decide to end the subscription.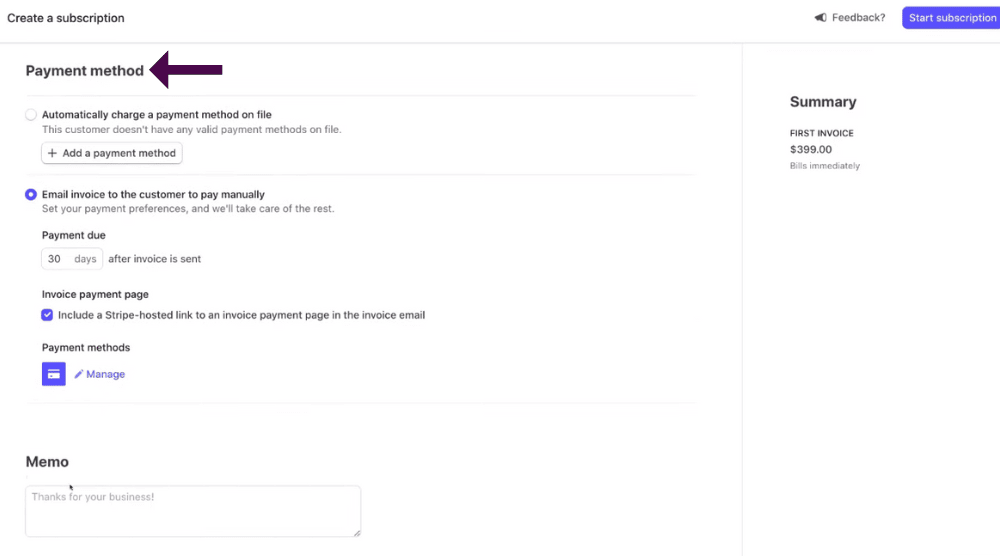 Scroll down to 'Payment method'
Choose 'Email invoice to the customer to pay manually' if the customer's payment method is not on file.
Select the 'Invoice payment page' checkbox.
You can manage payment methods, add a memo, and set up advance options like adding an invoice footer. The footer can include the terms & conditions of your service.
Hit 'Start subscription' (top-right corner)
You've successfully learned how to use Stripe recurring payments!
You can also:
Click on the Stripe subscription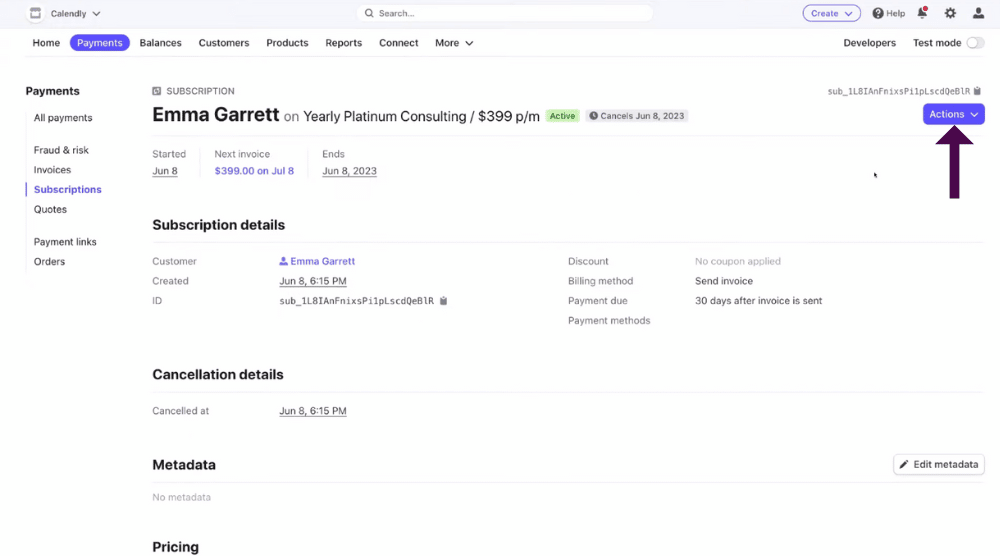 Tap on 'Actions' on the right
Update the subscription, pause payment collection, cancel it, or reschedule cancellation (refer to the screengrab)
Issue refund during the cancellation
5. Add Subscription Plan and Invoice

Head back to the 'Customers' tab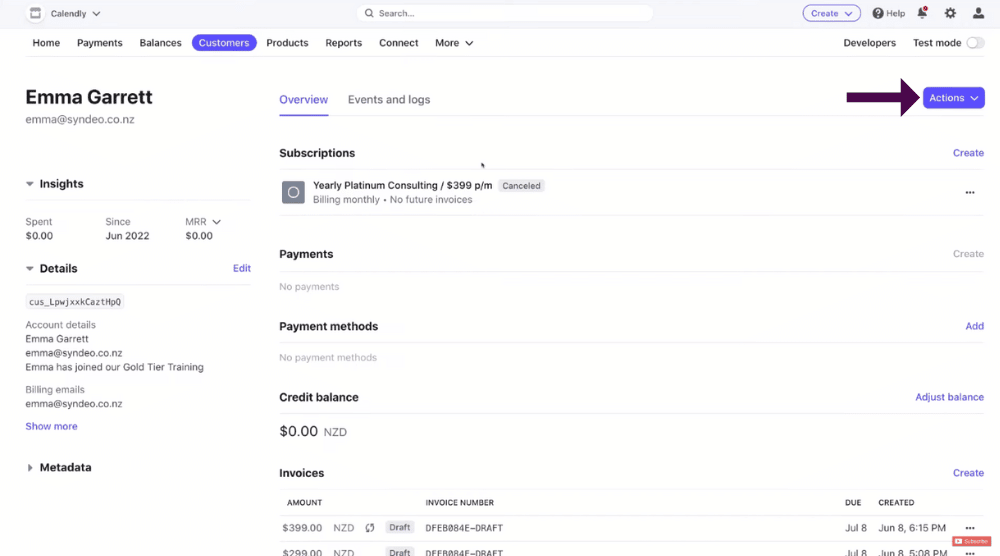 Select 'Create an invoice'
Under 'Items', choose the subscription plan
Add additional items if needed
Select the email invoice option under 'Payment'
Change the payment options if you like
Navigate over to the 'Payments' tab (refer to the screengrab), and you'll find all your subscriptions, on the left-hand side(scheduled, ongoing, and cancelled).
Now, let's reveal a second method of how to use Stripe recurring payments.
6. Add Subscription Plan (#2 Method)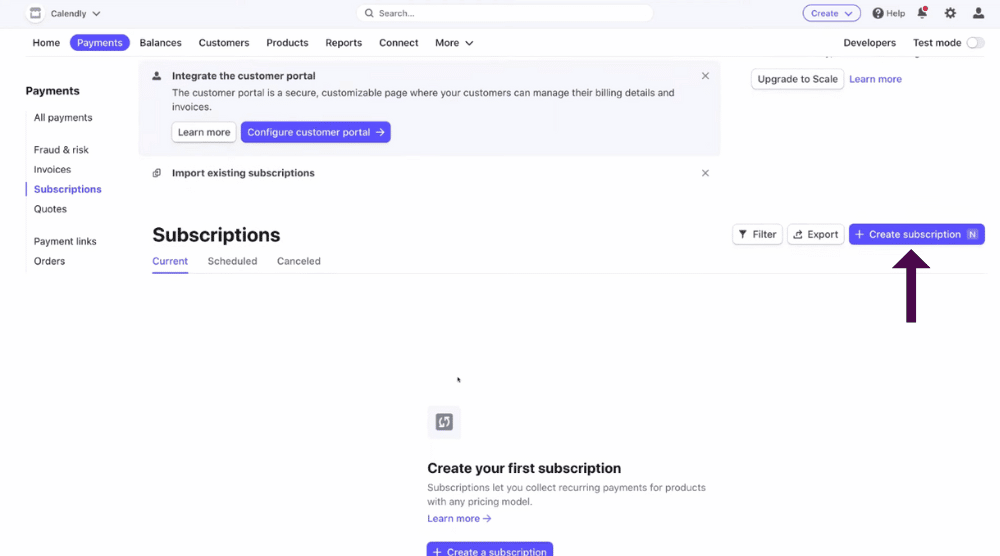 Keep the Payments tab selected
Tap on 'Subscriptions' on the left
Hit 'Create subscription'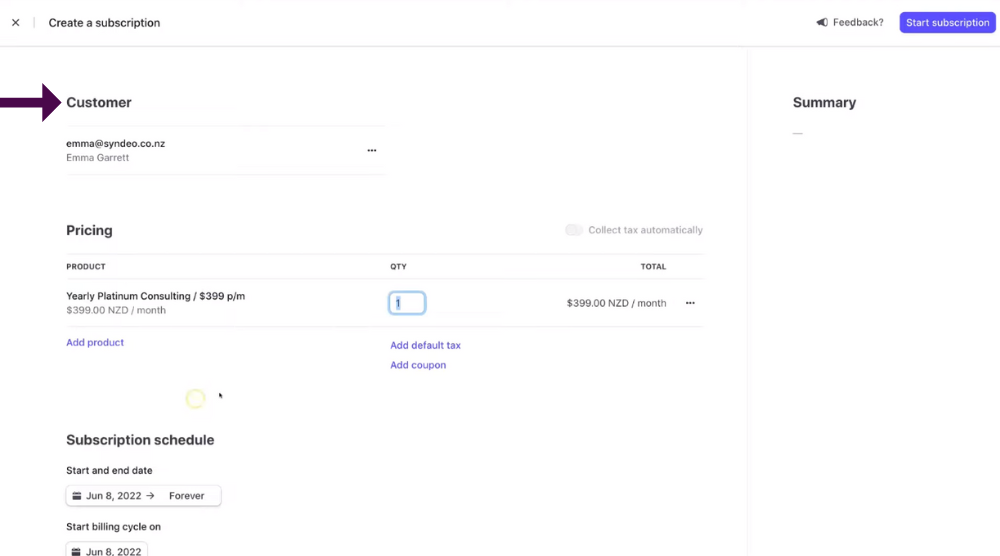 Choose your subscription plan
Set up your subscription schedule
Select the email invoice option
Add memo and check out additional options like adding a footer as explained earlier.
Hit 'Start subscription' (top-right corner)
And that's how you use Stripe for recurring payments!

To view all your payment links:
Select the Payments tab again
Choose the 'Payment links' option on the left
This is where you can locate all the Stripe payment links.
That concludes our Stripe tutorial for beginners!
Stripe Tutorial for Beginners (Video Guide)
You can set recurring payments in Stripe for your customers to make payments on a schedule that you set.
This is a great way to offer discounts to customers who make payments regularly or to charge a fee for a service that requires a monthly payment.
Recurring payments help you set up a regular income for your business. You can create a monthly, weekly, yearly, daily, or custom payment schedule for your customers in Stripe.
It's also an excellent way to establish a regular cash flow from your customer base.
Check out our full Stripe video down below!