Durable AI Website Builder Review 2023
Let's dive into this Durable AI website builder review for 2023.
Durable AI is one of the many AI-powered website builders available to help you create a stunning, professional website in seconds.
But the question remains – is it any good?
You've likely landed on this page because you require a fresh or completely new website.
Website builders aim to offer an easy and affordable solution for people wanting to create a website but don't know where to start.
Stew's Recommended AI Website Builders for Small Businesses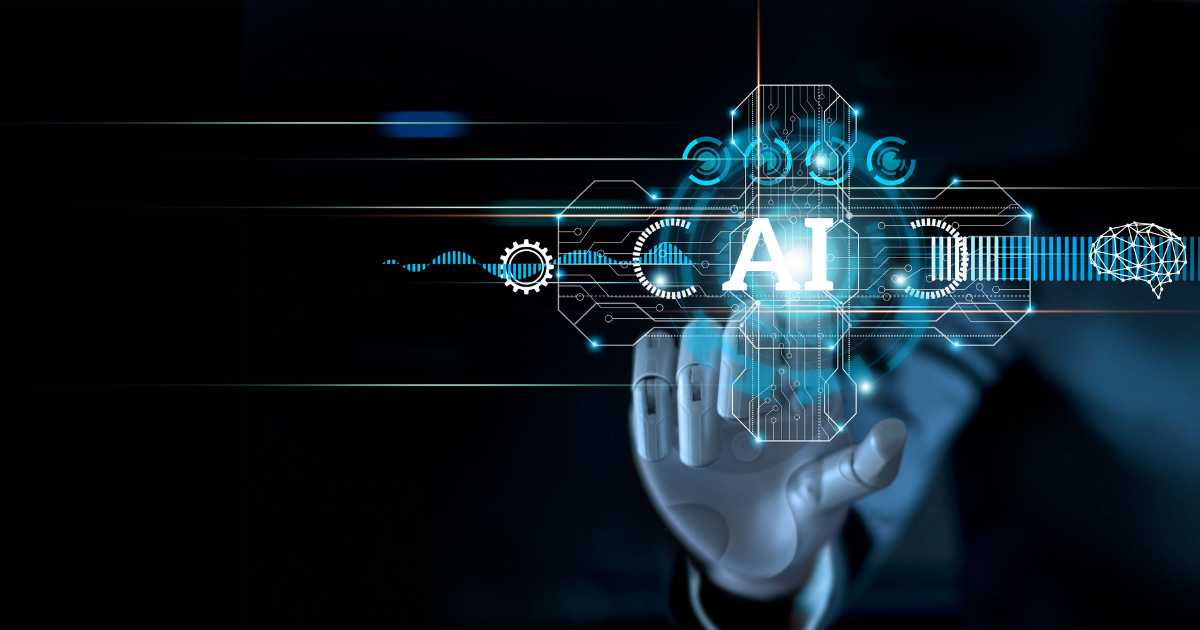 There are so many incredible website builders out there that cater to all business types and sizes!
Want to know more? Check out our Top 10 website builders for small businesses.
Plus, you've no doubt heard about the rise of AI and AI website builders.
These websites use artificial intelligence to create beautiful and functional websites and are revolutionizing how you can create and manage your website.
That's right; you hardly need to lift a finger!
In this Durable AI website builder review, we'll take a closer look at one of the best AI website-building tools to find out if it really is the best option out there.
What is Durable AI Website Builder?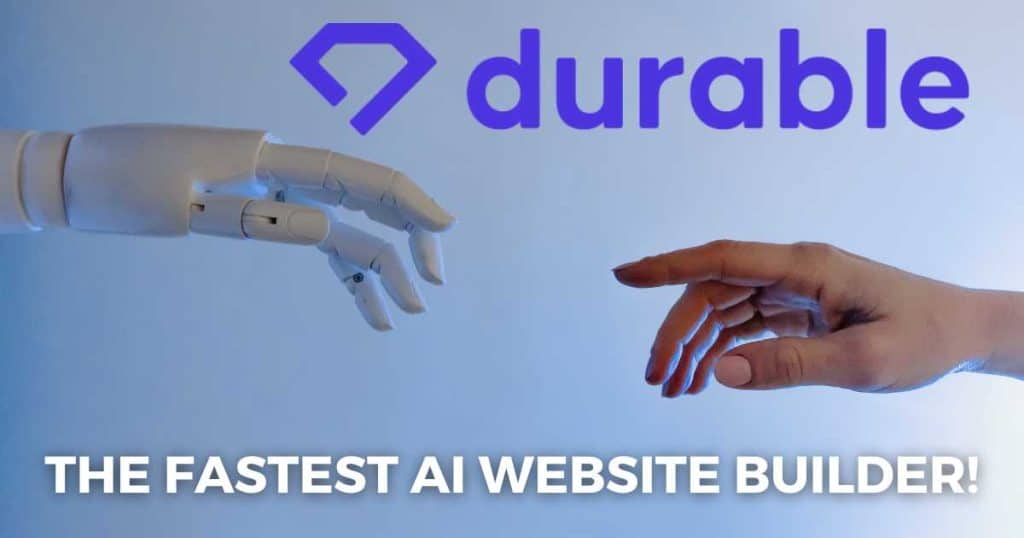 If you haven't heard of Durable AI, then you're missing out!
Durable AI website builder has undoubtedly earned its reputation as the fastest website builder for a good reason.
And all it takes is three clicks to create a fully functional AI website specific to your brand.
That's right..you read that right. Three clicks, and you've got yourself a website!
So, how does it work?
Durable AI simply uses your location and business to generate everything a website needs through AI technology in seconds.
This includes:
Content.
Images.
Colors.
Icons.
Business location map.
Contact forms.
Lead generation forms and more!
Durable AI also offers dynamic AI features like search engine optimization, content creation, and business name and ad copy generation.
This is why Durable AI website builder is perfect for complete beginners! You don't have to worry about a thing!
It covers all the usual technical requirements you need to create a website, such as coding knowledge.
Then, once your website has been created, simply add your own spin to it!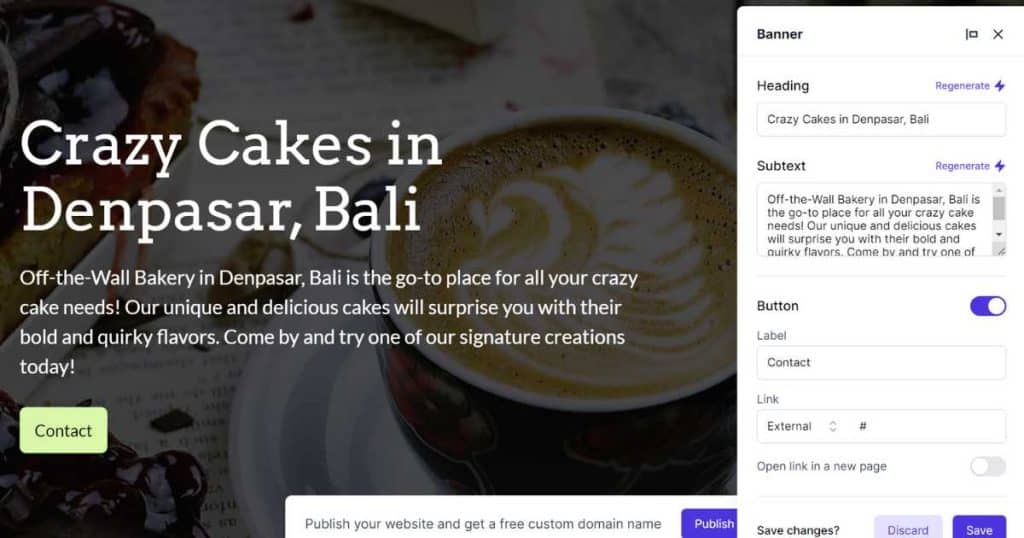 Simply regenerate sections of text, color, or style of the design, or customize your website with Durable's easy-to-use drag-and-drop editor.
Durable's AI-generated sections are an excellent foundation you can build on.
If you thought traditional website builders like WordPress, HubSpot, and Squarespace made things easy, you'll be just as impressed as I am with how effortless it is to create a website with Durable AI!
So, if you simply don't have the time or money to create a website from scratch, Durable AI website builder may be the ideal solution for you.
Durable AI pricing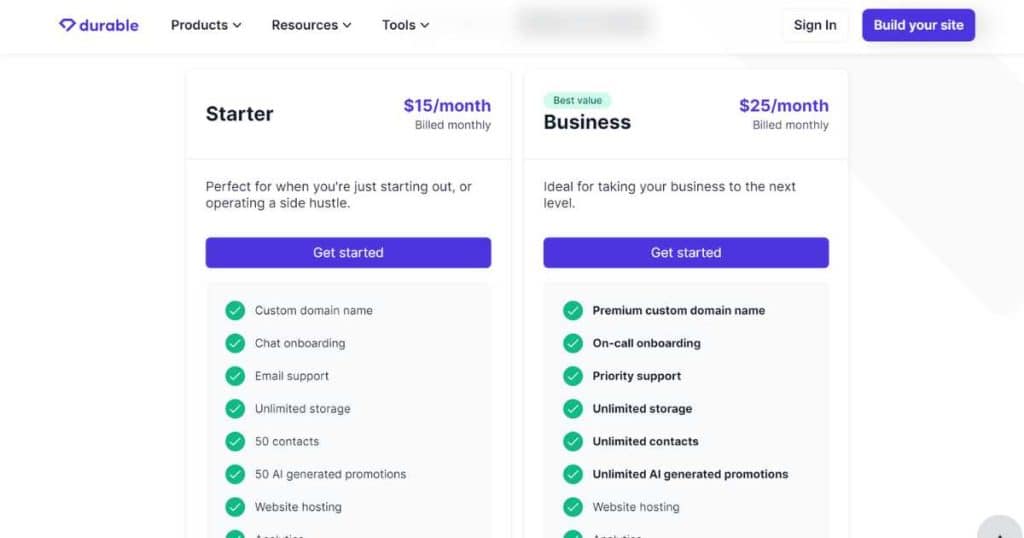 Durable AI has a simple, affordable pricing structure with just two plans.
Starter ($12 per month)
Business ($20 per month)
All plans include a free custom domain name and a 30-day money-back guarantee.
Durable AI Website Builder: It is the Best AI Website Builder?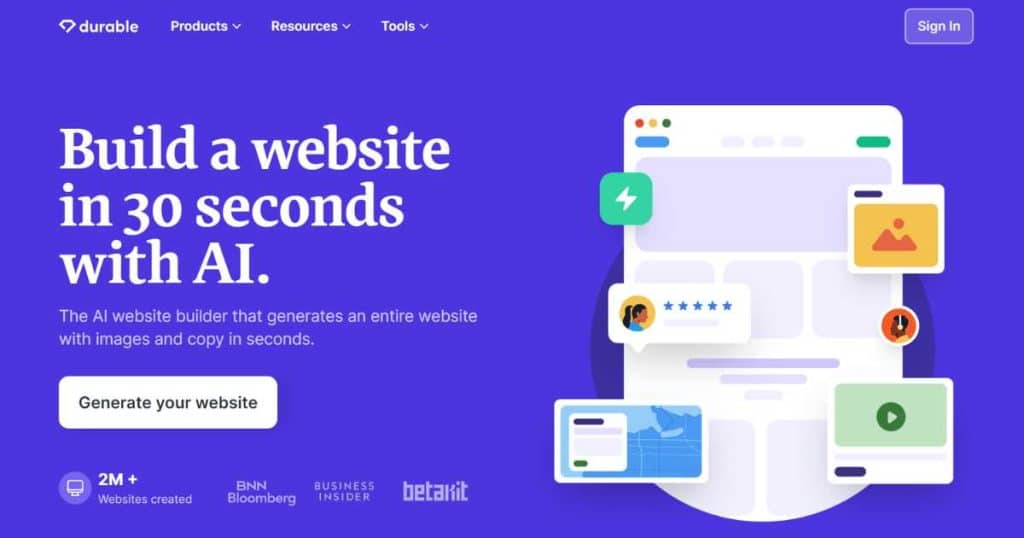 So with that said, is Durable AI the best AI website builder? And how does it stack up next to the abundance of other AI website builders out there?
Durable AI is the fastest and most intuitive of all the AI website builders on the market today.
In just 30 seconds, you can create a responsive and comprehensive website to fit your needs.
Other website builders can take up to 5 minutes (or longer!)
So, if you're after the most efficient AI tool to help build your website, there's no need to look past Durable.
Additionally, Durable AI is so much more than just a website builder!
Some other features include: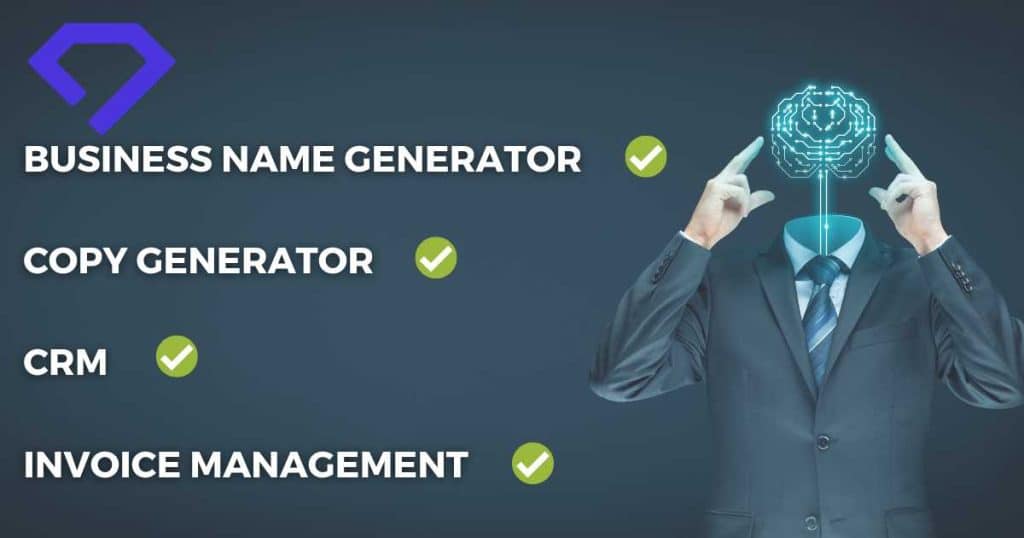 A built-in CRM solution.
Invoicing tool.
AI business name generator.
AI-generated copy.
Whether you're a new business and need a business name or a growing company that needs help managing your invoices, customers, leads, and copy, Durable AI website builder has you covered.
Also, in the near future, Durable AI plans to introduce a new feature where you can manage your business finances directly inside the app.
This exciting feature will allow you to easily organize your spending using either virtual or physical prepaid Durable AI Visa cards.
This is perfect if you want a simple solution to keep track of your expenses!
Therefore, is Durable the best AI website builder?
All businesses have different needs and preferences.
However, if you're a beginner and need a website and an all-in-one business platform, I think it's safe to say you'd be hard-pressed to find a better alternative.
What I like
You can create a quick and responsive website in seconds!
They offer dynamic tools, like the AI copy and business name generator.
Easy drag-and-drop interface.
Caters to most business types.
What I dislike
There's no blog functionality.
Designs aren't as unique as other website builders.
Not suitable for larger businesses that require custom pages.
My Favorite Feature of Durable AI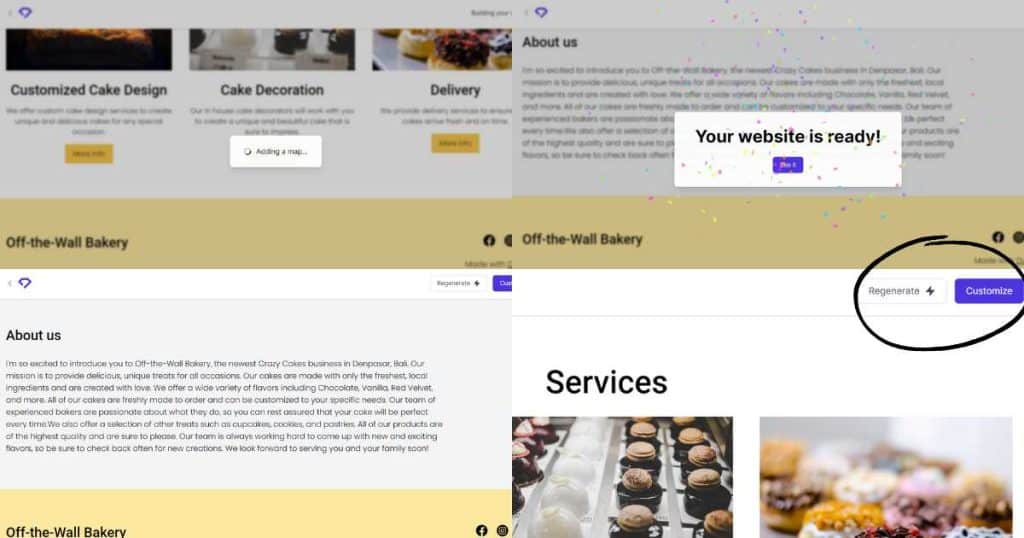 Durable AI literally cuts down hours and hours of designing and creating your website images, layout, copy, and more.
I love that in under a minute, you'll have responsive, clean, and professional website pages that anyone can regenerate or edit sections and pages to represent your brand.
For small business owners who need help figuring out where to begin, Durable AI is an excellent choice!
So who are Durable AI's competitors? Let's continue with this Durable AI review and find out.
Durable Alternatives: Best AI Website Builders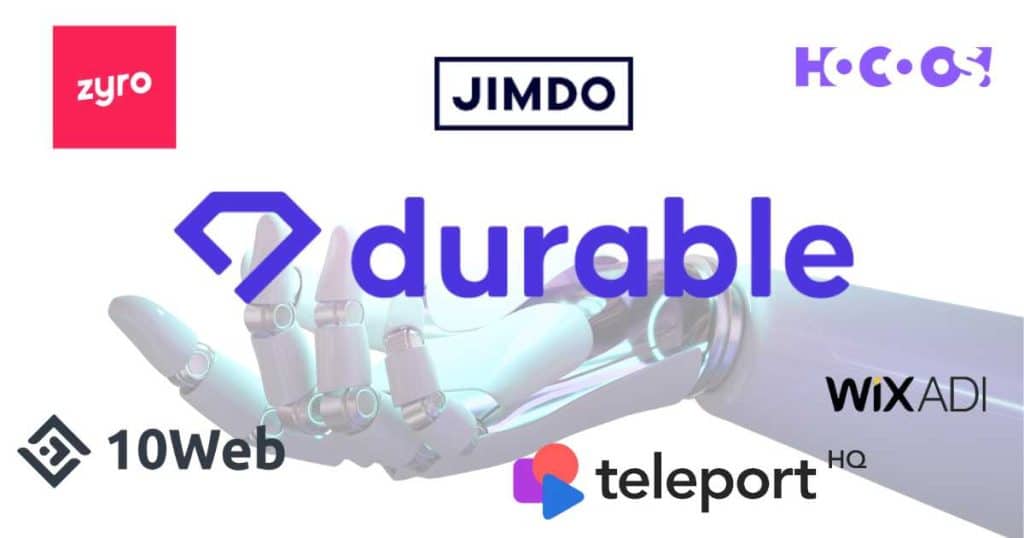 So, now that you've got the low-down on Durable AI, what about all the other AI website builders out there?
Many AI platforms can help small business owners quickly and easily create professional websites, saving you both time and money!
But do they stand a chance against Durable AI?
Let's find out.
Read more: Best AI Website builders
Also, here is a video comparison of my Top 5 Best AI Website Builders for small businesses.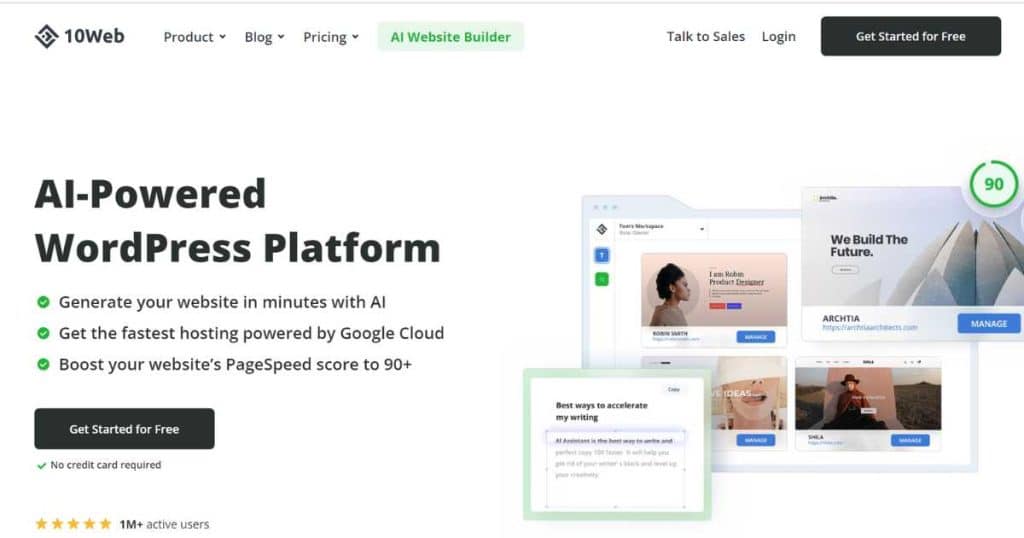 10Web is my favorite AI website builder for those wanting to create a WordPress website.
WordPress is a leading website builder platform. However, it comes with many challenges. But with 10Web, you don't have to worry about one of those challenges – hosting (a major WordPress headache).
It's all taken care of for you!
With 10Web, you can create a premium and fully customizable AI-generated WordPress website in minutes by simply answering a few questions.
You can learn more about WordPress here.
Then, easily utilize their Elementor-based page builder to further customize your:
Website pages.
Elements.
Sections.
Content.
Additionally, 10Web offers an AI feature that allows you to recreate any website page you like and customize it to reflect your brand.
The best part? It's built with WordPress, so you have the freedom to customize your website as much as you like!
With that said, I'd recommend 10Web over Durable AI if you want to build your website with WordPress.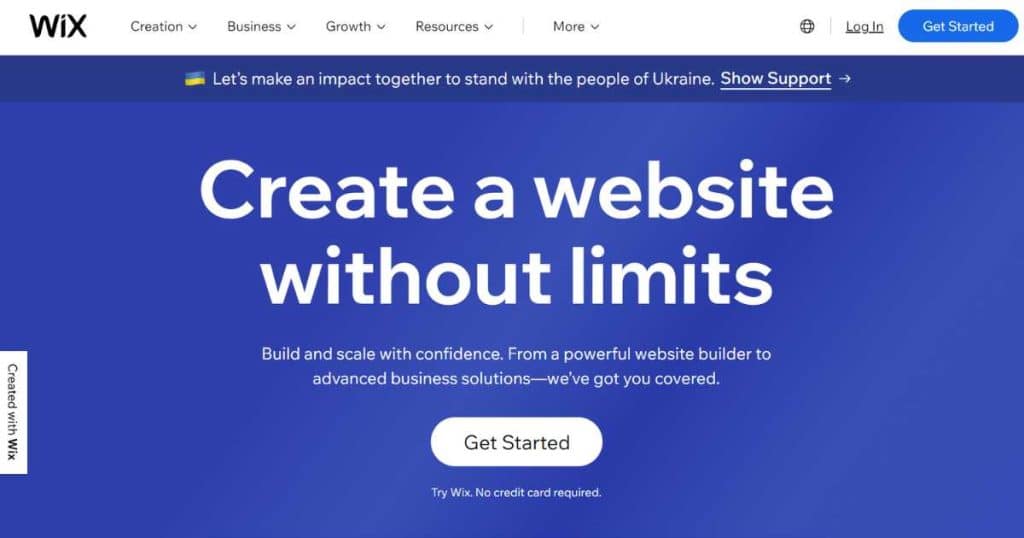 Wix is another incredible website builder I'm constantly raving about!
With Wix ADI, you can efficiently create a powerful and stunning website in just a few steps.
How does it work?
Simply answer a few questions.
Choose a theme and style you like.
Customize your content, sections, and elements.
Find out more about how to create your website with Wix ADI here.
With thousands of templates and various integrations, you can be sure to create a truly unique website with Wix ADI, no matter your business type, needs, or preferences!
Also, all your website back-ups and updates are taken care of, which is a huge advantage over other website builders like WordPress.
Born in 2006, you can trust Wix knows what they're doing.
So if you're after an experienced and feature-packed AI website builder with infinite customizations, Wix may be your best option!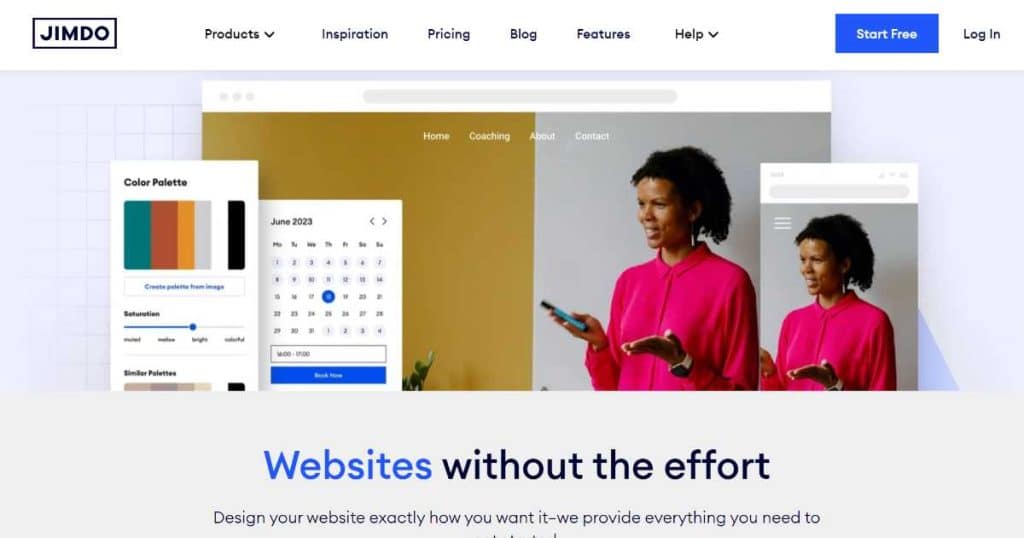 If you're looking for a free and easy-to-use AI website builder, Jimdo may be your answer.
Jimdo is a relatively new website builder developed in Germany, but don't let that fool you! They've already generated over a whopping 32 million websites!
In my opinion, Jimdo is perfect for small service-based businesses and online stores, with a simple user interface that even complete beginners can use.
Like other website builders, Jimdo's AI technology asks you a few simple questions to generate a website.
Then, you can customize your website using their drag-and-drop editor and create your own logo using their logo creator tool.
One of the things I love about Jimdo is that your website is fully optimized for all devices, even before you make any changes!
But that's not all – Jimdo also offers AI marketing tools to help you grow your website online.
For instance, you can use their SEO AI tool to rank for target keywords and boost your website's visibility.
Both responsive and easy to use, Jimdo is one of the simplest and quickest ways for you to start selling online.
If you're looking for the best AI website builder to create a basic fundamental website, I'd go with Jimdo!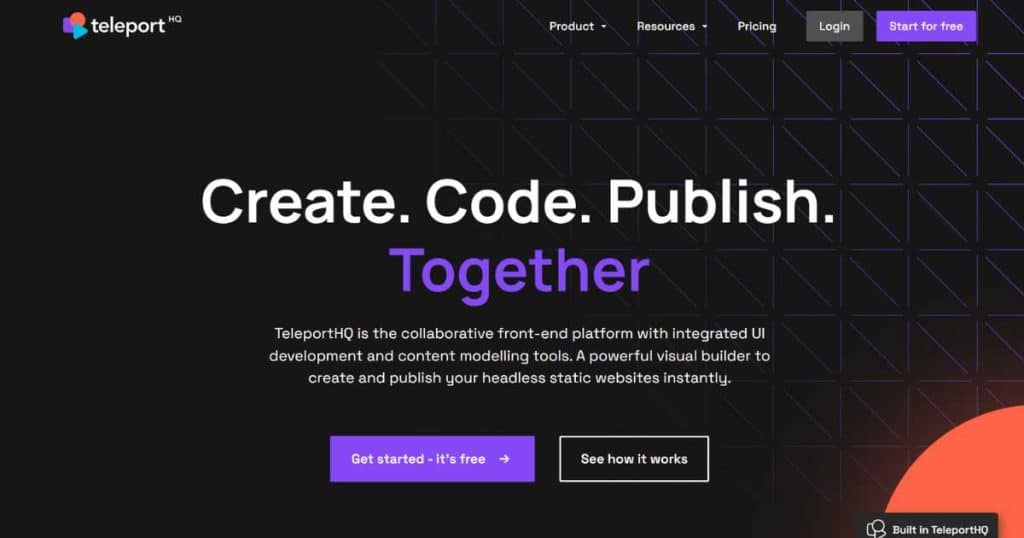 Are you an experienced web developer after advanced AI and UI technology to help build your clients' websites?
Teleport HQ uses Chat GPT to generate unique code for your website, and what's really exciting is that you can even create websites from hand-drawn plans!
It's cutting-edge AI-driven web development at its finest.
To get started:
Simply create a basic sketch on Teleport HQ of your website page, including the layout and elements or
You can upload a hand-drawn sketch of your own.
The vision API will then generate your design in minutes using AI-generated code.
That's right, rather than writing the code yourself, AI will do it for you.
Think about how much time this will save!
Then, you can completely control your pages with the advanced built-in editor.
It's pretty impressive, and something I've never seen before.
I wouldn't recommend Teleport HQ if you're a complete beginner, as it's a pretty complex process.
However, Teleport HQ is the best ultimate solution for you if you're an agency with intermediate or advanced experience and want to use AI to bring your clients' websites from a concept to reality.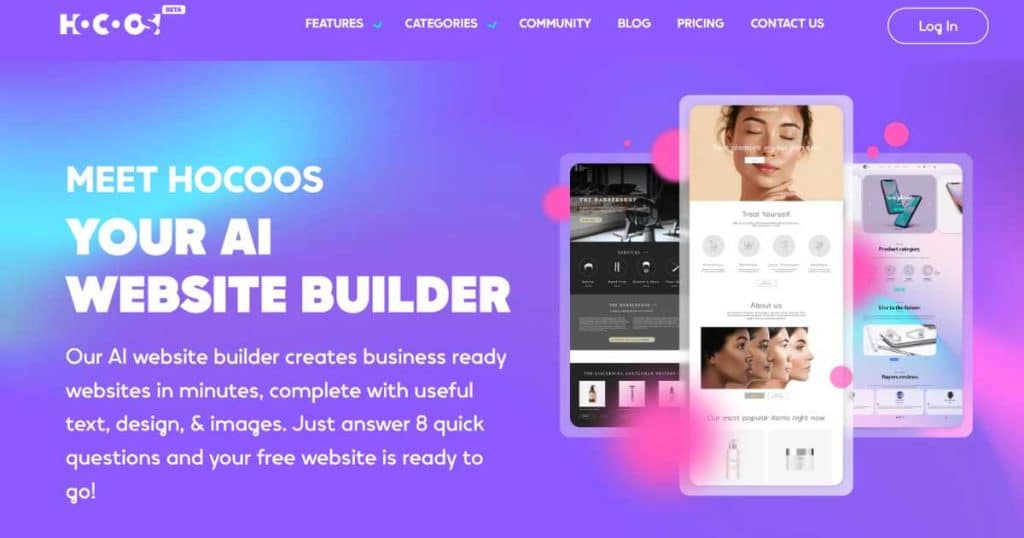 Hoocos is another AI website builder that can help you create a website in minutes!
Simply answer 8 questions, and Hoocos will quickly generate your free AI-generated website.
And with their easy-to-use AI page editor, customizing your website is a breeze.
Whether you want to create:
A small business website.
Online store.
Booking website.
Marketing tools.
No matter the purpose, Hoocos has got you covered!
They even offer a powerful built-in booking feature to simplify managing clients and appointments.
Also, their smooth and user-friendly internal appointment booking platform is perfect for small service-based businesses.
The best part of Hoocos? You can leverage all their features in the free plan!
And with impressive template layouts for all sorts of small businesses, you're sure to find the perfect design for your needs.
This is undoubtedly the best AI website builder for service-based businesses after an affordable, basic, beautiful website.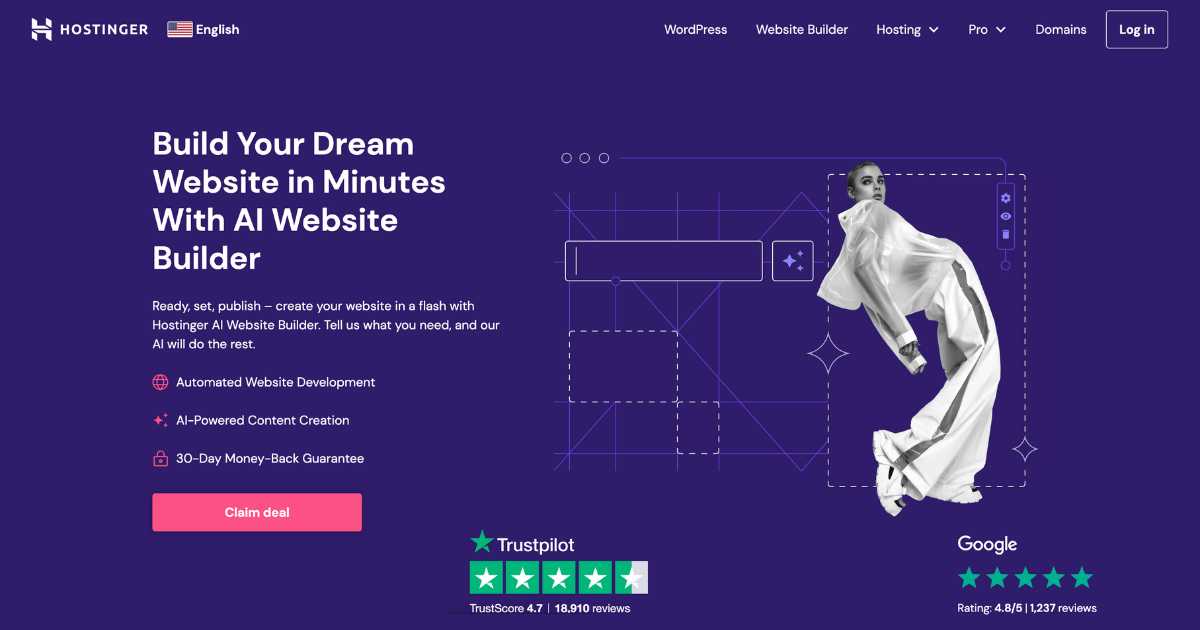 Hostinger AI Website Builder is an all-in-one website builder perfect for small businesses within Hostinger.
Hostinger's website builder offers many AI tools that can help complement your website and ultimately help you succeed online.
Which is why it's made our list!
Hostinger's website builder offers a comprehensive website builder and high-quality hosting for just a few dollars per month.
In my opinion, Hostinger is one of the most affordable yet comprehensive website builders out there.
When it comes to building your website, you can choose from a wide variety of responsive, pre-made, and fully customizable templates.
And with Hostinger's powerful AI tools, you can take your website to the next level on every single website page.
Some of the AI tools include: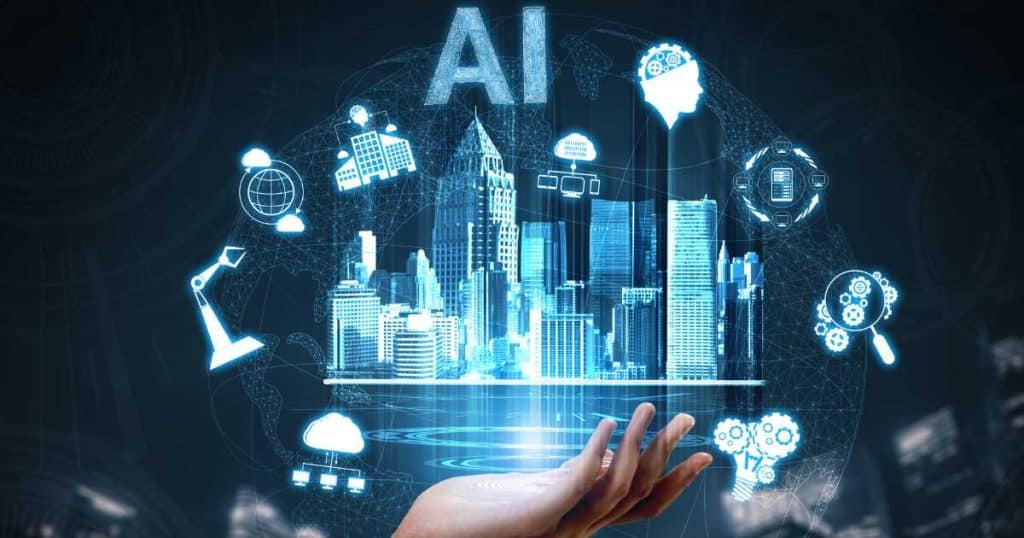 Business name generator.
Logo generator.
Slogan generator.
Blog content generator.
Favicon generator and more.
With Hostinger, you've got everything you need to build a successful online presence!
If you're a growing eCommerce business and want a full-featured AI website builder at an affordable price, this is the best choice for you!
My Final Thoughts
And there you go! We've now covered everything you need to know in this Durable AI website builder review in 2023.
So, what did I think? Is Durable the best AI website builder?
In my opinion, Durable AI website builder is the quickest AI tool out there and offers some really cool dynamic AI copy and SEO features.
However, it's not the only choice!
The choice ultimately depends on your budget, business type, goals, and experience.
I recommend playing around with Durable and each of the other alternatives above to find one that suits you.
And when you do, let me know how you get on.
I'd love to know, do you think Durable AI is the best AI website builder?