Maybe you're thinking about creating a website with Google Sites or you want to learn how to get the most out of this free website builder.
Well, I have an exciting article for you today, that covers everything you need to know about creating a dynamic website with Google Sites.
This is a complete Google Sites 101 guide that will help you identify if Google Sites is right for you.
I'll also cover website tips, tricks and how to best use this free website builder to create a fully functional website.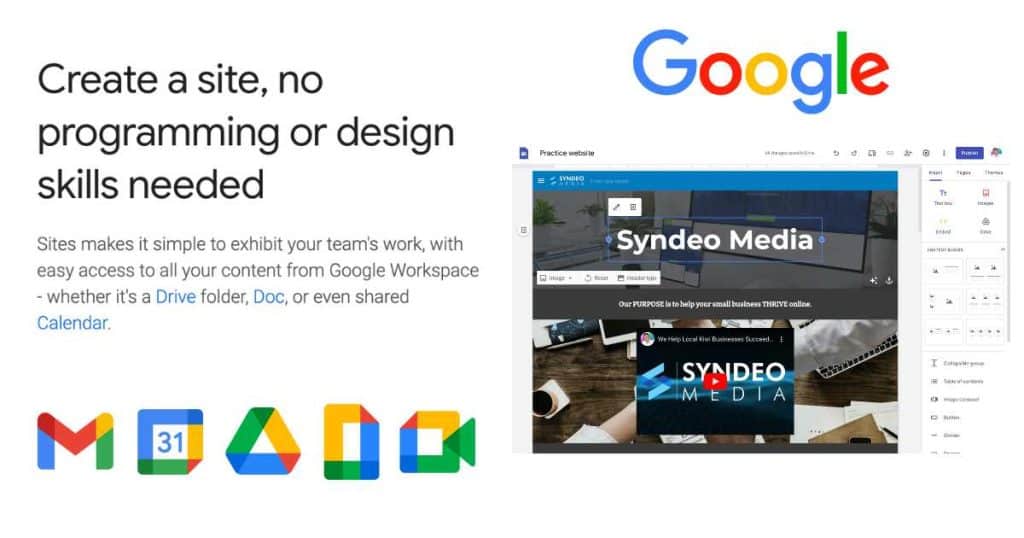 The one thing often hear and you probably hear something this too is; Google Sites is so limited and it doesn't offer any of the features that I need…
Well, it's a pretty accurate statement! However, there are many creative ways and integrations that you can use to create a full-feature website with Google Sites.
Let's get into it!
Read more: Top 7 Website Builders for small businesses.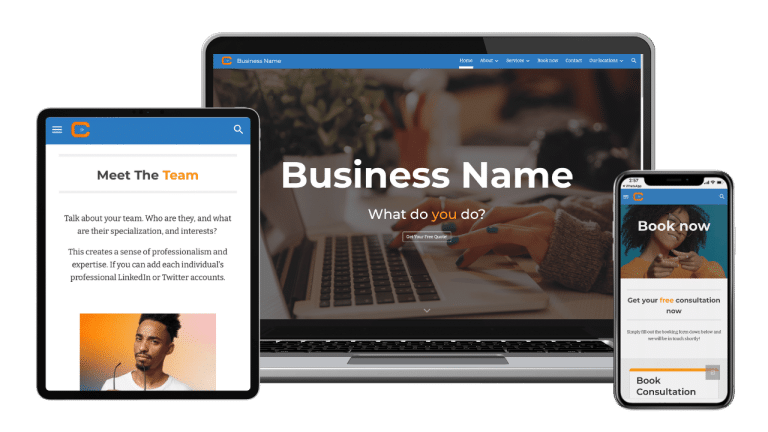 Ready to start a service business and need a conversion-focused website? Get our stunning customizable Google Sites website template for service-based businesses. Lead generation form included and more!
What is Google Sites & How does it work?
Google Sites is a completely free website builder that comes with Google Workspace – both the free and paid versions of Google Workspace include access to Google Sites.
This means that whether you have a free Google account or a paid business Google Workspace account, you can utilize this easy-to-use website builder.
However, Google Sites, being a free website builder, has its limitations. For instance, you only have access to a limited number of website templates, themes, and page-building elements.
In terms of website features, your site is basically restricted to other Google apps.
For example, you can't sell products, add forms or dynamic buttons and more unless you use third-party tools.
However, you can achieve this by using a third-party app like Ecwid, which allows you to connect an online store and sell through Google Sites. I'll talk more about this later!
Advantages of Google Sites
Extremely user-friendly for everyone (minimal learning curve)
Completely free to create
Virtually impossible to ruin your website
Flawlessly integrates with all Google Apps
Disadvantages of Google Sites
Highly restricted in terms of customization (limited themes, templates, tools, integrations, sections, and elements).
Inappropriate for e-commerce businesses.
Poor SEO (search engine optimization); many small business owners struggle to find their website in Google Search due to low rankings.
Now that we have a clear understanding of Google Sites, let's explore how to build a website using this free website builder.
They offer limited website templates.
How to build a website: Google Sites website builder
As stated earlier, Google Sites is incredibly simple to use. You can create and launch your website in just a few minutes.
The best way to show you how to create a website with Google Sites is through a step-by-step video.
Feel free to watch the video below to learn how to build your own website from scratch using Google Sites.
You can also read this article: How to create a free website with Google Sites.
Templates
Unfortunately, Google Sites only has a limited number of templates that you can use to build a website. As of June 1st 2023, they only offer 17 website templates that can be found in their template library.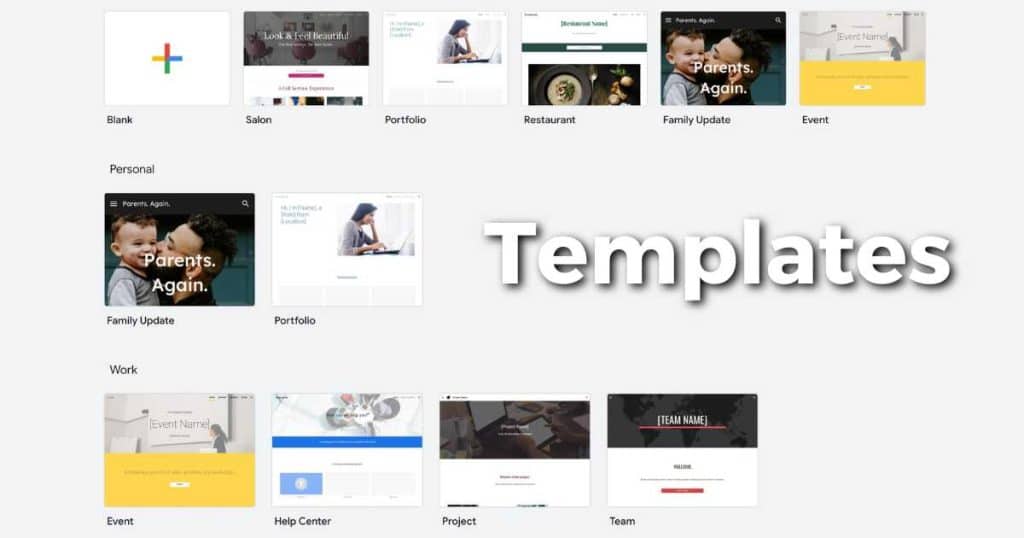 Templates are important because they give beginners an idea of a good website structure. This is definitely something that Google needs to improve on.
Themes
In terms of the look and feel of your website, Google Sites offers 6 themes that you can choose from (June 1st 2023).
These are very basic, and the main difference between the themes is the fonts and colors.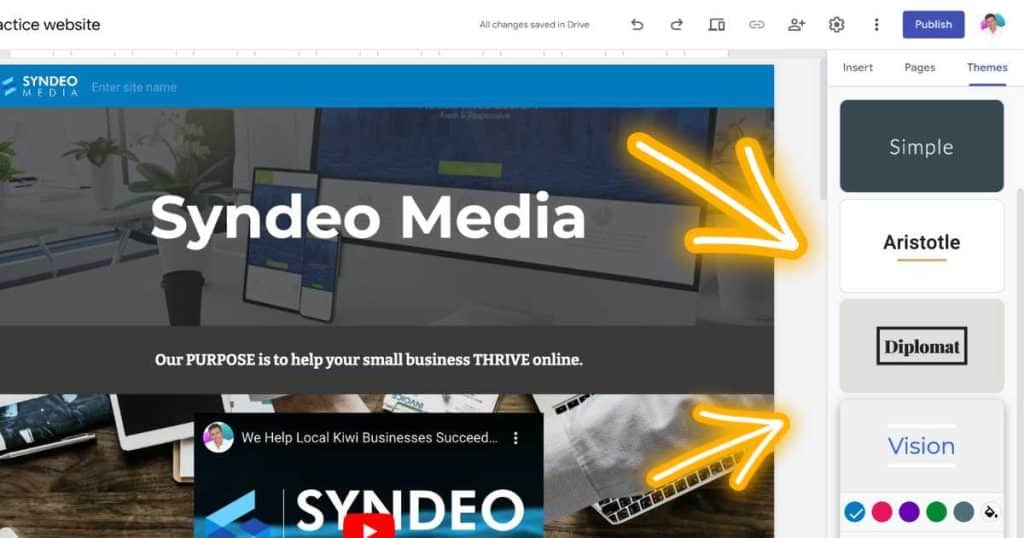 However, you can now upload your own Theme and create one. Again, these two options are very limited.
Features
Google Sites is quite limited in terms of the internal features that they offer. However, let's see what you can use to create your website with Google Sites.
Simple Content Editor – page builder
When you build and customize your website with Google Sites, you have access to a super easy content editor, just click on the different sections and elements that you want to customise on your website pages.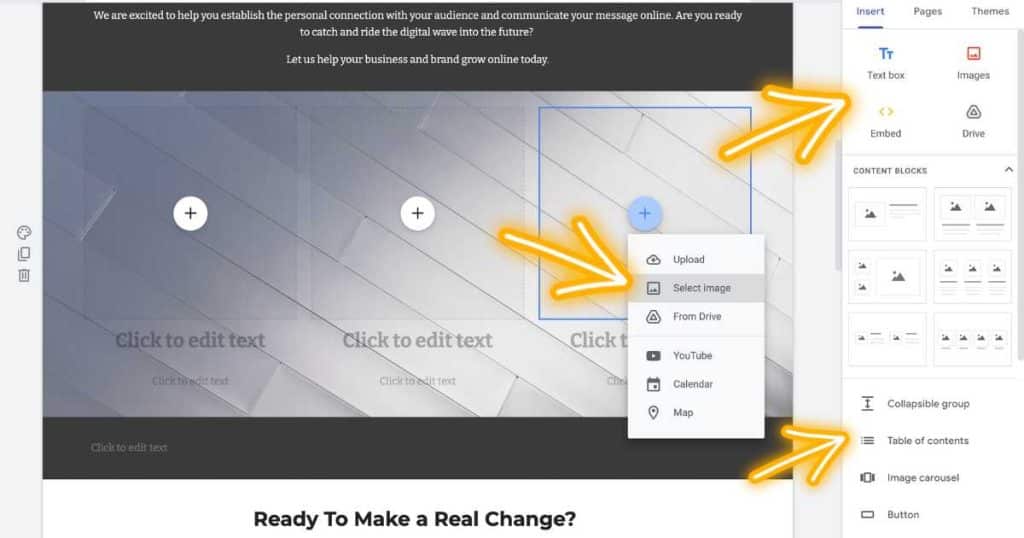 The drag and drop feature allows you to drag any element like an image, text block, video or structured content block into your website. You can also arrange the different elements on your pages with drag and drop too.
You have these options on the right-hand sidebar:
Insert elements (Google Apps, content blocks and more).
Pages (Manage and add pages).
Themes (Change and customize your theme).
Google Apps
One of the cool things about Google Sites is you can simply embed different Google apps directly into your website. This includes Google calendars, maps, videos (YouTube), forms, sheets, slides, docs and more.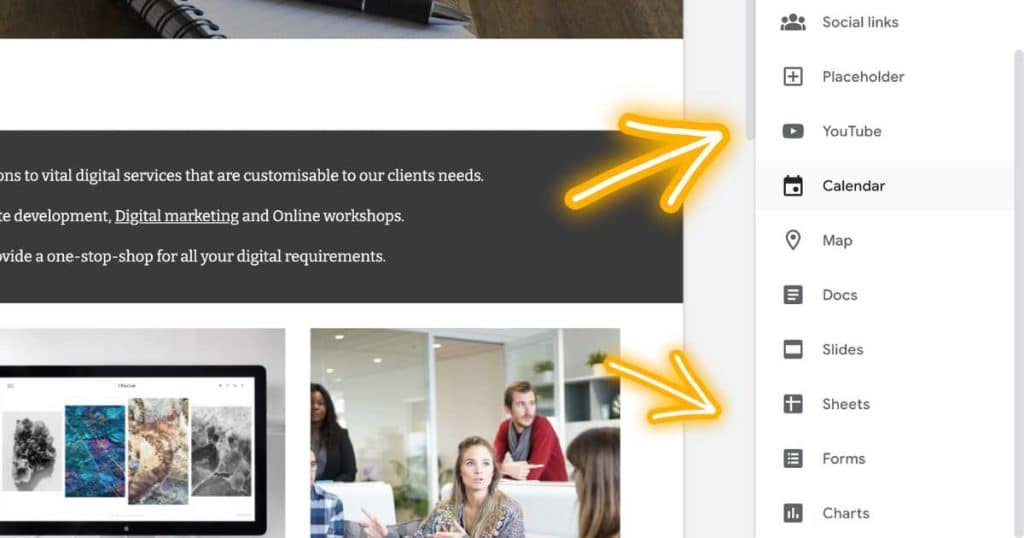 This is one of the main benefits of creating a website or landing page with Google Sites.
Embed
This is the code embed feature, this is great because if you want to connect and embed a third-party tool or feature into your website, you can do so with this embed feature.
We will talk more about this feature soon!
How to add an Online Store to Google Sites
So, as you can see Google Sites they do not offer an online store or eCommerce features. It's a relatively bear-bone website builder.
However, that is only if you use the tools and features inside of Google…
One great online store builder that you can seamlessly integrate with Google Sites is called Ecwid.
All you need to do is sign up for free and list your products and then embed the online store code onto your Google Site's page, this will then turn your Google Site into an online store!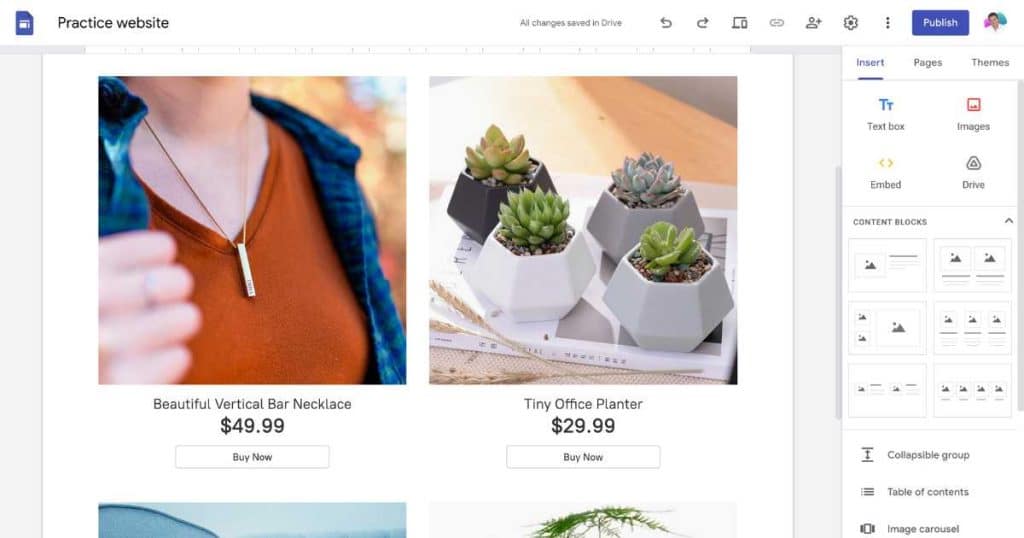 All orders will be processed and found inside Ecwid. However, the whole setup process is simple.
Feel free to check the video below on creating and setting up an online store for your website.
How to add a form to Google Sites
Now there are two methods that I like to use when adding forms to a Google site website.
The first way is to use Google Forms. This Google app is great because you can simply create a form (contact form, booking form or Quiz) and then add the form to your website pages in one click.
Feel free to watch this video below.
The second way is using a third-party form builder like Calendly to add a booking form to your Google Site.
I use Calendly all the time to set up different types of meetings and appointments.
Once you create a form then all you need to do is either copy the code and embed it into Google Sites (using the embed feature) or you can link the form from a button you have created on the Google Sites page.
Both these options are really easy to execute on.
As you are probably aware now, Google Sites is very basic in terms of design aesthetics. However, you can use a free tool like Canva to create stunning images and graphics for your website with just a few clicks.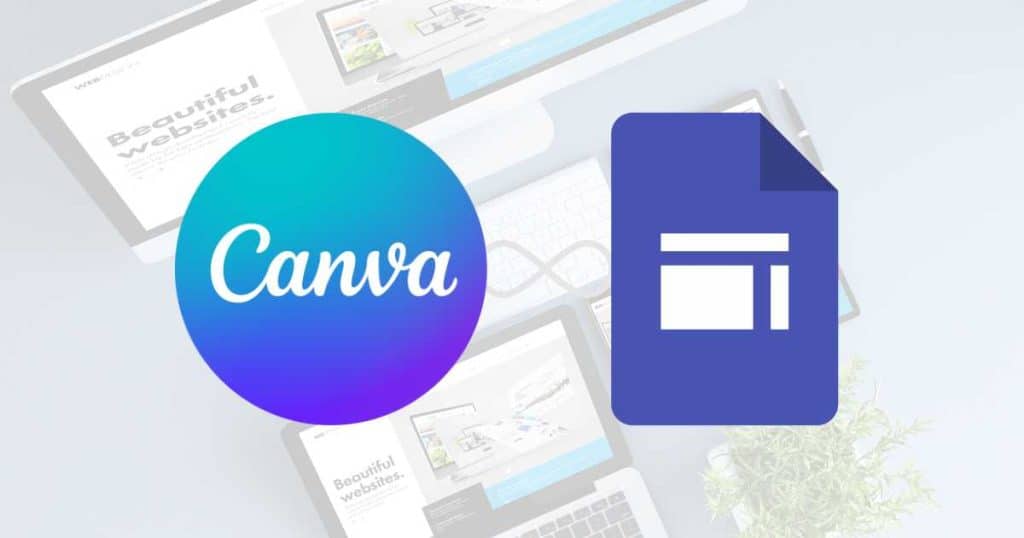 This includes a logo, cover images, favicon, website images, videos and more for your Google Site website.
It's one of the most useful design tools that anyone can use.
Here is a video to help you get started with Canva.
Google Analytics for Google Sites
Did you know you can also connect Google Analytics to your Google Site? This allows you to measure your website's analytics and further optimize your website.
Learn how to connect Google Analytics with your Google Site.
I'll also add a video down below.
How to connect Google Domains to Google Sites
As I mentioned before Google Sites is completely free. However, that means, you have a branded (unprofessional) domain name connected to your website. One of the best investments that you can make is by buying a branded domain name.
And you can simply do this through Google Domains and then connect it to your website.
The process is really easy to follow. I will add a video tutorial down below if you want to check that out.
Is Google Sites a good website builder for you?
Okay, so now we need to identify if Google Sites is an appropriate free website builder for your requirements.
Essentially, I would recommend Google Sites as a basic standalone landing page that you can use to promote something. For example, if you want to collect contact information and want to create a beautiful landing page.
Also in terms of using Google Sites for a full-feature website, it's appropriate for basic website requirements. If you have a local business, maybe a cafe or service-based business, then Google Sites could work for you. Especially, if people come to your location for business.
Moreover, if you run a local business that uses Google Business Profile (GBP) and you need a simple website listed on your GBP, then Google Sites is sufficient.
Types of businesses that could use Google Sites (examples)
Landscapers
Cafes
Brick and mortar
Hairdressers or Barbers
Electricians
Plumbers
Builders
Google Sites is a basic website and you can only do so much with this free website builder.
Therefore, if you're interested in reading about Google Site alternatives, you can do so here.
My favorite small business website builder alternative is Hostingers AI Website Builder.
This website builder is not free, however, one of the most comprehensive, easiest to use and affordable website builders on the market.
My final thoughts
That is it for this ultimate Google Sites 101 guide.
I hope this helped you understand if Google Sites is for you and how you can create an awesome website with Google Sites.
Let me know what you think about Google Sites. Is it sufficient for small businesses?
Thanks again for reading this article all the way to the end.