Formerly known as AdWords, Google Ads is one of the most effective marketing platforms that helps you drive sales, leads, and phone calls to scale your business.
In this Google Ads tutorial for beginners, we're going to focus on using Google Ads for service businesses.
To follow this tutorial, you don't need to have any prior experience with Google Ads.
We'll start everything from scratch and go all the way up.
Before moving forward, if you have zero ideas of Google Ads, we recommend you start What is Google Ads from here.
Let's go ahead and create a Google Ads campaign for your service-based business!
Step 1: Create a Google Ads Account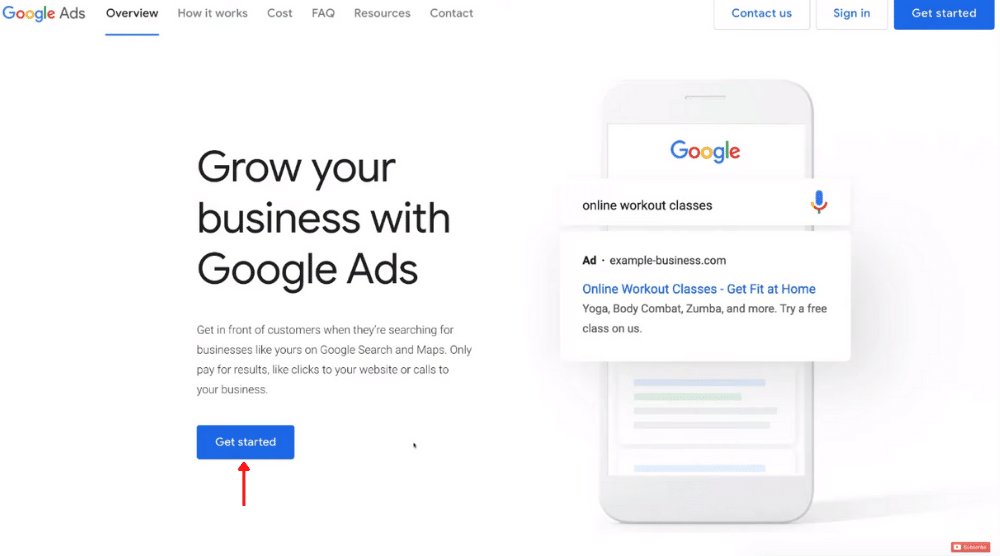 Visit ads.google.com to sign up for Google ads.
In this Google Ads tutorial, we'll learn to create a Google Ads account from scratch.
Once you arrive at the home page, follow these steps below:
Click 'Get Started'.
Sign in to your Google Ads account using your Google account or create a new account from scratch. To do that, enter your email and hit 'Next'. Of course, if you don't own a Google account yet, you'll need to create that first. And it is completely free to create an account.
Enter your Google account password and hit 'Next' in the third step.
Scroll down the page and tap 'Switch to Expert Mode'. This will help you access all the extensive features that Google Ads has to offer.
Click "Create an account without a campaign" in the following step.
Confirm your business information and click 'Submit'.
Click on 'Explore your account'.
Your Google Ads account is now ready!
Read More: How to use Google ads for small business
Step 2: Update Your Payment Information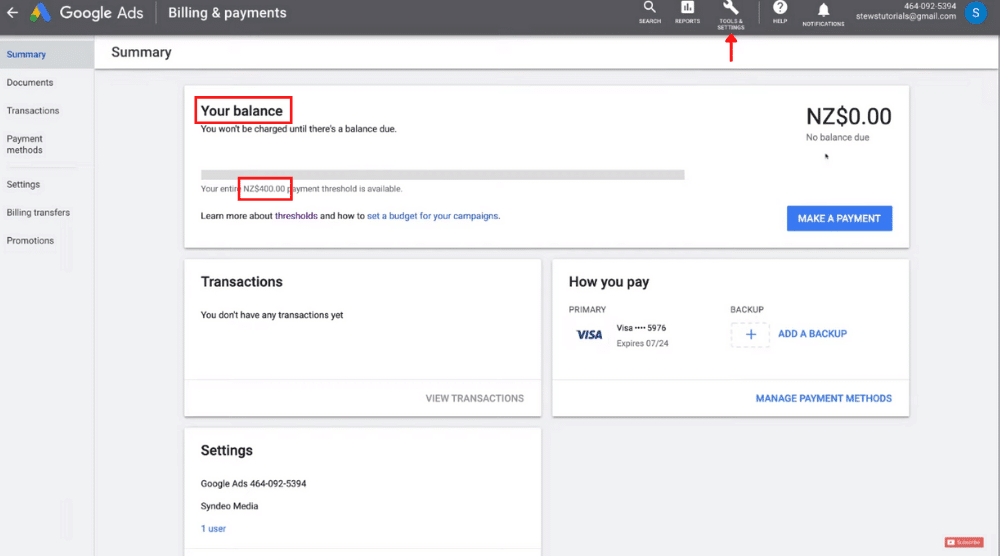 You'll now arrive at your Google Ads dashboard.
Before we launch our first campaign, we want to ensure that our payment information is set up.
To do that:
Click on 'Tools & Settings' in the upper-right corner.
Select 'Settings' under 'Billing'
Under 'Payment Set-up', check if you have the right billing country selected. For this Google Ads for beginner's tutorial, we have 'New Zealand' selected.
Ensure that you've filled out all the details under 'Customer info'. This includes the account type, tax information, name and address, and primary contact.
For this Google Ads tutorial, we're going to create a campaign for a marketing consultancy called 'Syndeo Media', a service-based business.
Now, under the 'Payment method', you need to choose how you want to be charged for your ad spend.
And don't worry, you won't be charged anything at this point in time.
Enter your card details and proceed to check the 'terms & conditions' box.
Hit 'Submit'.
Under 'Billing & payments', you'll notice:
Your balance – which is currently zero for this new Google Ads account.
Transactions and payment methods
Payment threshold – when you reach this threshold before the end of your monthly billing cycle, then you'll be charged. In this example, the payment threshold is $400 (NZD). If you want to clear your balance, you can also make a monthly payment by clicking 'Make a Payment'.
Click the back arrow in the upper-left corner to head back to your Google Ads dashboard.
Now that we've set up our Google Ads account as well as the payment information, it's time to finally launch the first campaign:
Step 3: Create a Google Ads Campaign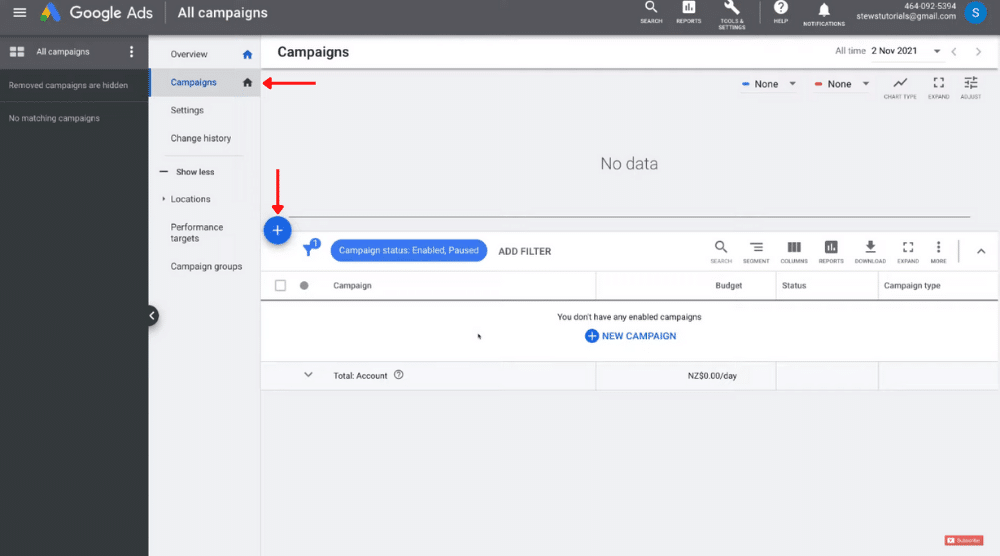 Listed below are the necessary campaign-creation steps:
Under 'Overview', click on 'Campaigns'. This is where you can find all your previous Google Ads campaigns. Since this is a fresh Google Ads account, we don't have any campaigns at the moment.
Click on the '+' icon and select 'New campaign' to launch the process of creating a Google Ads campaign for your service-based businesses (a marketing consultancy in our example).
We'll select "Create a campaign without a goal's guidance" in the following step.
Navigate over to 'Search' on the left because this is the campaign type that we want to create.
As a service-based business, you want to target specific keywords (or search queries) that potential customers are typing in on Google Search.
When a prospective client uses these specific keywords, you want your Google Ads to appear on Google's first page.
Next, you'd need to select the result that you want from this campaign.
For this Google ads tutorial for beginners, we'll select 'Website visits' and enter our website url.
If you don't have a website yet, then we highly recommend checking out our tutorial on the top 7 website builders for small businesses.
After adding your website, select 'Phone calls' and put in your business phone number.
Select the country you're located in and click 'Continue'.
Read More: What is Google Ads
Step 4: Set Up Your First Campaign (Campaign Level)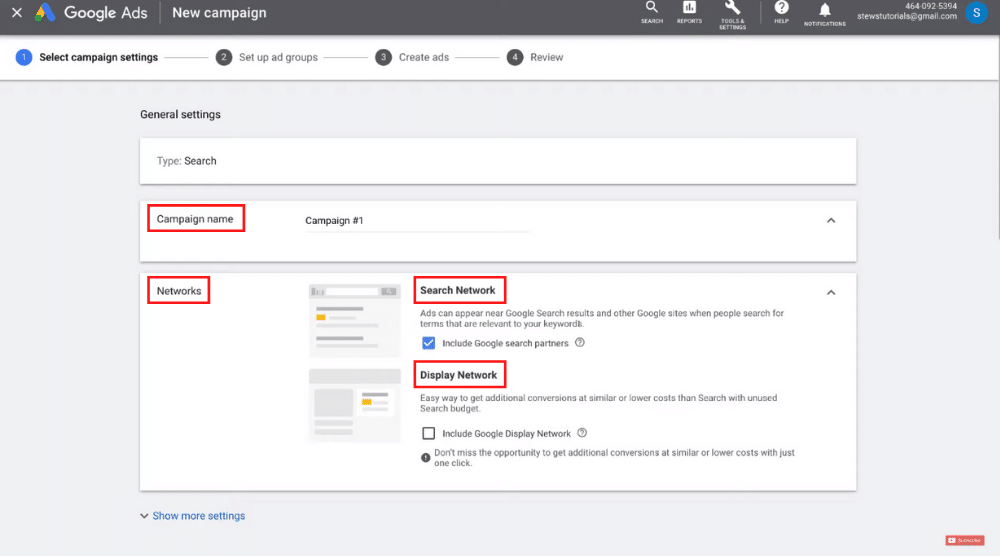 In order to learn how to use Google Ads, we need to set up our campaign first.
To do that:
Type in your campaign name. For this Google Ads tutorial, we're going to name it 'Campaign #1'. However, you can choose to name your campaign anything you like to identify the type of campaign you're running.
Next to 'Networks', keep 'Search Network' selected. And, unselect 'Display Network'.
Under 'Targeting and audience segments' and 'Target', select "Presence: People in or regularly in your targeted locations". 
Next to 'Locations', choose 'Enter another location'. Now, enter the geographic location where you offer your services. When you pick a targeted location (Tauranga, Bay of Plenty, New Zealand city, in our example), you'll be able to see the number of people you can target right next to it.
Go ahead and add multiple locations that you want to target or exclude.
Select the languages that your target audience Your ad copy should be in that language as well.
Under 'Budget', set your daily budget for your first campaign.
For this Google Ads for beginner's tutorial, we're setting $10 (NZD).
However, if you feel that the budget is too high or low while running the campaign, you can change this at any time.
For example, if your cost per click (CPC) is $3 per click, you can get a maximum of three clicks with this budget.
Likewise, if your CPC is only $1 per click, then you can get 10 clicks with this average daily budget.
This varies with the keywords you've selected (more on that later).
Now, under 'Bidding', you want to make sure that 'Clicks' is selected.
This is where you can set your maximum CPC/bid limit as well.
In this Google ads tutorial for beginners, we're setting it NZD (New Zealand Dollars) $2 CPC/bid.
This means that when someone clicks on our ad, we're going to be charged up to $2 per click (Max cost per click).
However, as a beginner, you want to get the most out of your daily budget, so we recommend keeping this selected instead:
"This campaign will use the Maximise Clicks bid strategy to help you get the most clicks for your budget"
Step 5:
Ad extensions are used to bulk up your ads and to provide more information to your target audience.
You can get a 15% higher clickthrough rate by including additional information in your Google Ads.
Click on 'Add additional links to your ad' next to 'Sitelink extensions' under 'Ad extensions'.
Add at least two sitelink extensions. These are basically linked to different pages on your website. For each site link extension, enter the sitelink text, description line 1, description line 2, and URL. In this Google Ads tutorial, we're adding 'Contact Us' and 'Marketing Consultation' 
Click 'Save'.
Scroll down to 'Callout extensions' and add 2-4 callout extensions. Hit 'Save'.
Navigate over to 'Call extensions'. This is an important one for small businesses. Here, you'd need to ensure that your phone number is selected, which will then be added to your ad. Now, when someone stumbles upon your ad (and likes it), then they can call you directly using this number.
You can further add more extensions by clicking the '+' icon. Ideally, you want to have the promotion extension and price extension.
If you wish to learn about various ad extensions, watch this video.
Click 'Save and Continue'.
Step 6: Ad Group Setup (Enter Your Keywords)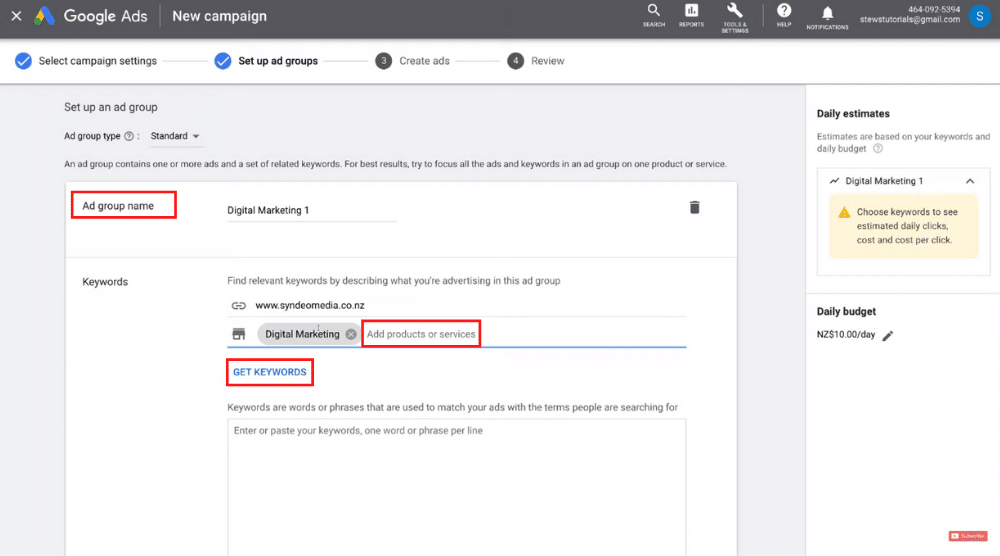 This is all about keywords that you want to target with your ads.
Now, you need to:
Enter your 'Ad group name'.
In the 'Add products or services' field, type in your service type. For this Google Ads tutorial, we're typing 'Digital Marketing'.
Click 'Get Keywords'.
Now, Google Ads will recommend some keywords. You'd need to remove a few of these that don't make sense. (Refer to the screengrab)
If you're completely new to keywords and not sure which one to use, we recommend watching our beginner's guide on the Keyword Planner, a free keyword research tool by Google.
This will help you select the right keywords for your campaign.
We recommend writing these keywords down on a piece of paper because you'll need these later on.
Or you can just copy and paste them into a document.
Finally, click 'Save and Continue'.
Read More: How To Use Google Keyword Planner
Step 7: Proceed with Ad Creation Setup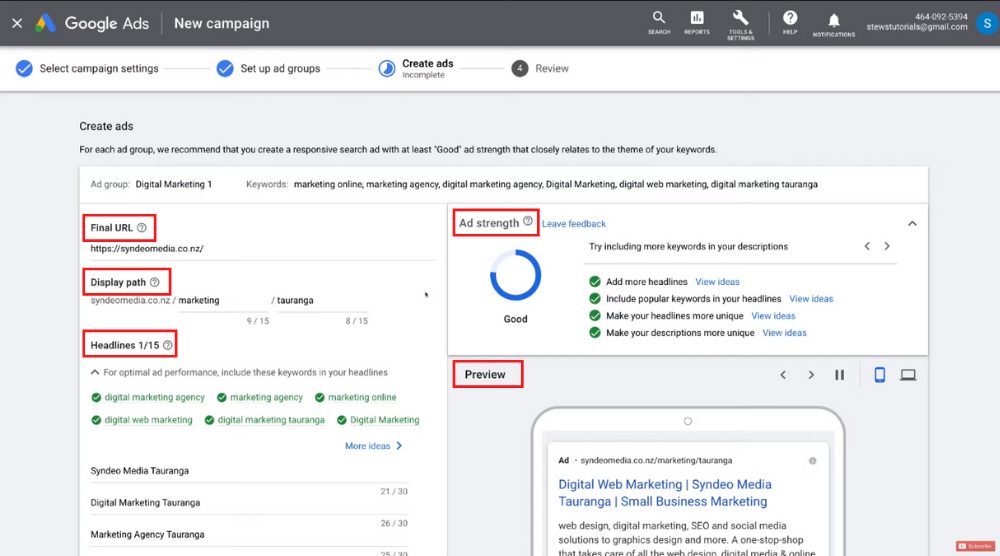 At this stage, you need to create the first ad copy.
Go through each field shown in the screengrab and quickly fill in all the information.
Before you enter your site URL, make sure it is HTTPS (which means secure). If your website isn't secure, watch this beginner's guide on how to get a free SSL certificate.
You can also promote your services page via Google Ads.
However, since the home page contains all the information that a potential customer may need, we'll promote that instead in this Google ads tutorial for beginners.
Below 'Final URL', we have 'Display path'.
This is where you can enter business-relevant keywords and those would appear in your URL. (See the screengrab)
Now, you want to experiment with different headlines and see what looks best in the preview on your right. Apart from that, it's important to embed keywords into your headlines and descriptions.
You need to add as many titles as possible and then Google would automatically generate headlines based on what users would want to see as Google's primary goal is to satisfy the user intent. You want to add at least four descriptions as well.
These could be text snippets from your website or you can create them from scratch.
Under 'Ad strength', you'll be able to see recommendations to make your ad more appealing.
On your right, you can preview what your ad would look like on desktop and mobile.
Once you've created your ad, scroll down and click 'Save and Continue'. Hit 'Publish' next.
Read More: How To Get A Free SSL Certificate for WordPress
Step 8: Publish Your First Google Ad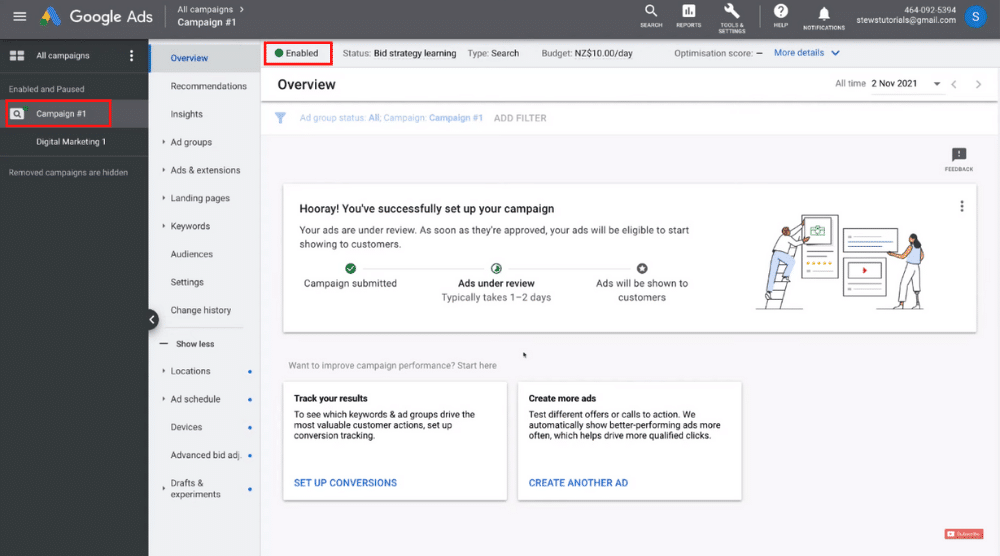 Now, as you may observe, we have our campaign selected on the left.
Currently, this campaign is enabled. To pause this campaign, click on 'Enabled' (the green text next to 'Overview') and select 'Paused'.
It's a great option if you don't want to launch your ad just yet and you're still learning more about how to use Google Ads.
When you visit the ads under your Ad Group (Digital Marketing), you'll see the status as 'Not eligible' since we've paused our campaign.
However, you can enable your campaign and still pause certain ads (that is if you have multiple ads running).
Step 9: Create Multiple Ad Variations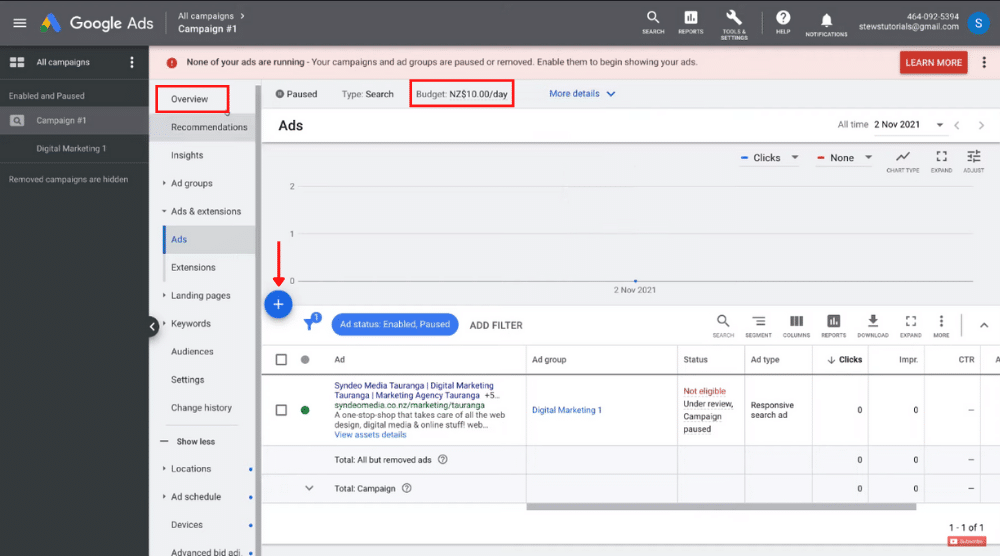 Before you enable your campaign, we recommend creating multiple variations of it – at least 3-5 versions of your ad.
To do that:
Click on the '+' icon.
Select 'Ad variation' to create multiple ad variations so that you can compare their performances.
It's also recommended to create a 'responsive search ad' since it automatically adapts to show relevant messages to your customers.
Enable your campaign
If you want to learn more about optimizing your Google Ads, watch this tutorial where we have explained this in detail.
Under your campaign, you can also modify your daily budget by simply clicking the pencil icon.
You can view your campaign's performance in 'Overview'.
That wraps up our Google Ads tutorial for service businesses!
Check out our complete video tutorial below for a visual step-by-step guide.