Did you know that you don't actually have to spend any money or time backing up your WordPress website?
Although there are many premium backup solutions out there for your website, UpdraftPlus is the easiest, most reliable, and most popular way to create a backup for your WordPress website!
In this tutorial, we're going to share how to backup your WordPress website both manually and automatically (As well as share how you can do this through your cPanel).
Before we dive into this brief guide, lets discuss why backing your WordPress website is imperative.
Why is Your WordPress Website Backup Necessary?
Most WordPress users are probably familiar with the importance of backing up their websites.
However, for some small business owners who might have just created a new website may not truly understand how critical backing up their website is!
We are here to change that and equip you with the knowledge so you can back up your website yourself.
Despite your hosting provider's promises, their server may go down – and your website will go with it.
Basically, without a WordPress backup, there's no recovering your website.
Occasionally things can go wrong when you update a plugin, theme, or the WordPress core things .
And as a result, this can cause irreversible damage to your site!
Therefore, it's imperative to backup your website to avoid this. 
With new viruses, malware, and other cyber threats looming in the online world, you need to know how to backup your website to retrieve your data if someone hacks your site.
Any website downtime will damage the user experience, your online authority and your ranking on Google.
If you're a WordPress website owner, you want to make sure you have the least amount of downtime as possible when something happens to your website.
Essentially, by creating a WordPress backup, you'll have peace of mind knowing that you can restore your website if anything goes wrong.
It's important to note that you should always back up your website when making any changes to your website.
For example, updating and adding themes and plugins.
Introducing UpdraftPlus for WordPress Backup
With millions of active installations and positive ratings, UpdraftPlus is an incredible free WordPress backup solution.
You're able to manually create website backups and schedule automatic backups.
Automatic backups meanyou never have to worry about manually backing up your website again!
Apart from that, the UpdraftPlus plugin allows you to store your site's files and data on secure cloud-based services such as Google Drive and Dropbox.
The best thing about UpdraftPlus is that its free and easy to use, thus this is an ideal method for beginners.
How to Backup Your WordPress Website using UpdraftPlus?
In this guide, we're going to discuss two methods of creating a WordPress backup.
Method 1: WordPress Backup Plugin (UpdraftPlus)
A backup is essentially a copy of your WordPress website.
To download the required plugin:
Log in to your WordPress dashboard
Click 'Plugins' on the left-hand side menu
Select 'Add New'
Type in 'Updraft' in the search bar
Locate the 'UpdraftPlus WordPress Backup Plugin' with 3 million + active installations (refer to the screengrab)
Click 'Install Now' and 'Activate'
Now, to create the site backup manually: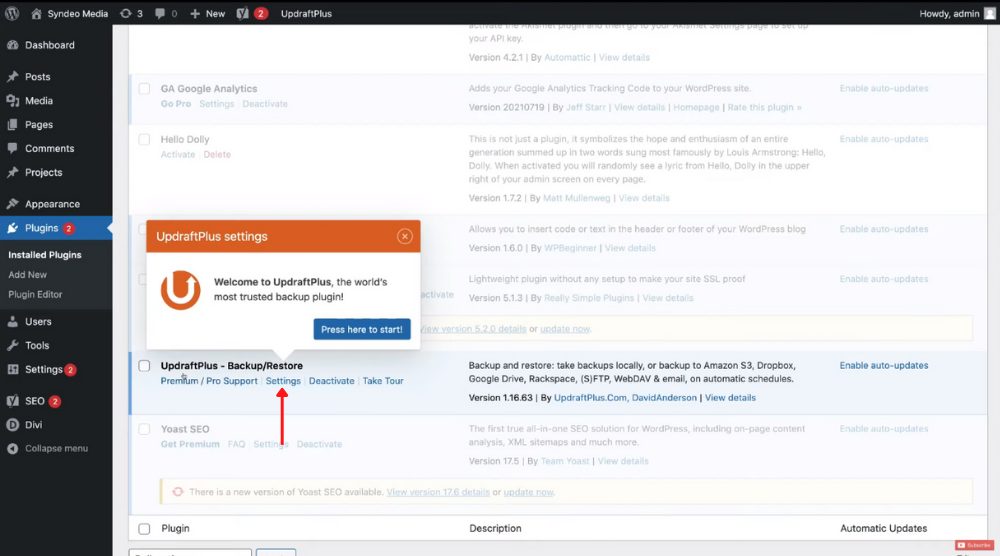 Head over to 'Settings' once the plugin is activated
Click 'Backup Now' under the 'Backup/Restore' tab
Ensure that you have the database and files selected before clicking 'Backup Now'
Your WordPress backup has now been created.
You can then download the website onto your computer!
Below you can observe the existing backups (including the one we just created).
To backup your WordPress website automatically, simply enable Updraft to create regular backups for you, instead of going to the backend and doing it manually every time.
Listed below are the series of actions required to do this: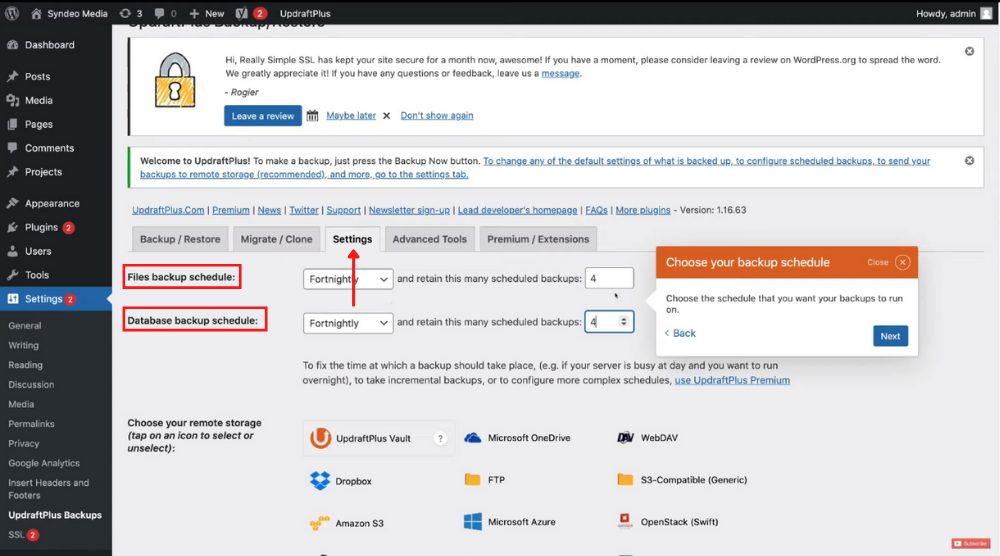 Navigate up to 'Settings'
Select the frequency of backup next to 'Files backup schedule'
We've selected 'fortnightly' from the drop-down menu.
Next to 'Database backup schedule', select 'fortnightly' again
You also need to set the number of WordPress backups you want to create automatically (refer to the screengrab)
Scroll down to choose cloud-based storage for your files and database.
Examples are Google Drive, Dropbox, Microsoft OneDrive, Google Cloud, and more.
We're going to select Google Drive.
Hit 'Save Changes'
Click the link on your screen (if you selected Google Drive) and choose the Google account associated with your Drive
Click 'Complete setup' in the following step
…and that's it!
Under 'Existing backups', you'll be able to see both your manual and automatic WordPress backups.
How to Restore Your WordPress Website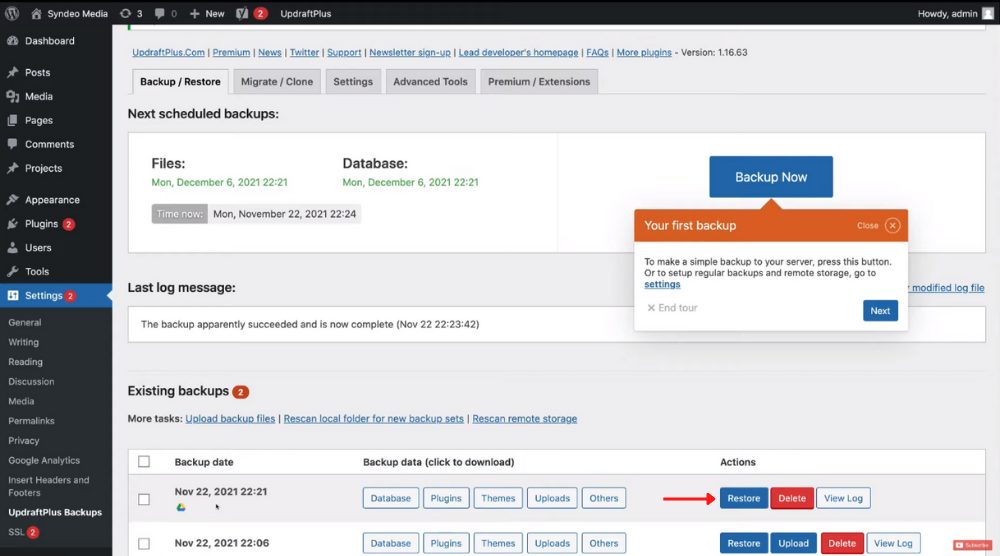 To restore your website with a backup:
Head over to 'Existing backups' again.
This time, you'll need to select 'Restore'.
It's that simple!
Now, pick the components to restore.
Click 'Next'.
When you see the message 'The backup archive files have been successfully processed':
When your screen reflects the message 'Restore successful!':
Click 'Return to UpdraftPlus configuration'.
And this brings us to our second method!
Also Read: How To Make A Premium Small Business Website
Method 2: cPanel Method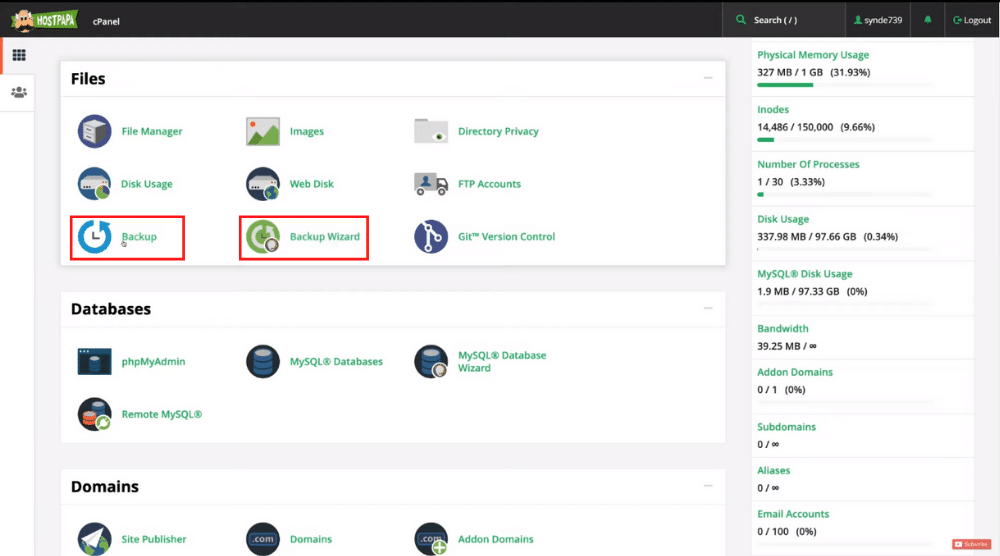 How to create a manual backup of your website using cPanel:
Log in to your cPanel
Under 'Files', select 'Backup Wizard'
Click 'Back Up' and then 'Full Backup'
Under 'Backup Destination', make sure you have 'Home Directory' selected
Ensure that the correct email address is selected (where you'll be notified once the backup has been completed)
You may choose to not get an email notification.
However, this is not recommended.
Depending on your website's size, the backup can take a few minutes to generate.
Wait for the email notification for confirmation.
Now, head back to your cPanel dashboard.
Under 'Files', locate 'Backup' to view and download your WordPress website.
Click 'Download a Full Account Backup' to proceed.
However, restoring your website through cPanel is a bit complicated .
Thus, we recommend hiring a developer to do that for you.
However, that wraps this tutorial on two simple methods of creating a WordPress backup!
Also Read: Create a Free Website with WordPress
Taking A WordPress Backup Is Must! (Video Tutorial)
Backing up your WordPress website is a vital security activity for ensuring that your site is protected.
Your website can go down any time due to hackers, server downtimes, malware, and updates.
Therefore, creating a WordPress backup absolutely crucial.
If you struggled to follow the steps mentioned above, then feel free to watch our video tutorial below.
So, take the time to watch the video tutorial above and let us know if you have any questions or feedback in the comments below.