Customer relationship management software (CRM) enables businesses to communicate and manage their leads and customers' activities all in one place.
Unlike using Spreadsheets and messy notes, a free CRM software like HubSpot offers an all-in-one CRM platform designed to improve business productivity, communication and relationship development.
Every customer interaction and contact detail is kept safe and secure in a cloud-based system.
When it comes to the best free CRM software for small businesses, one tool that always tops the charts is the HubSpot CRM.
What's more, HubSpot CRM provides email tracking, email campaigns, landing pages, live chat, Sales pipeline management, meeting scheduling, and more (all for FREE!).
Also, you get numerous integrations with third-party software (such as email marketing, social media integration, website integrations, and more) to ultimately foster leads into lifetime valued customers.
The free HubSpot CRM offers:
Unlimited users
Up to 1,000,000 contacts
Unlimited customer data
HubSpot CRM will take your business to the next level.
How to Use HubSpot CRM?
Beginners will especially love HubSpot CRM because of its user-friendly interface (it's easy to use!).
In this HubSpot tutorial, you'll learn how to use HubSpot to streamline your sales process and manage all your leads and customers in one place.
Let's begin!
Step 1: Create a Free HubSpot Account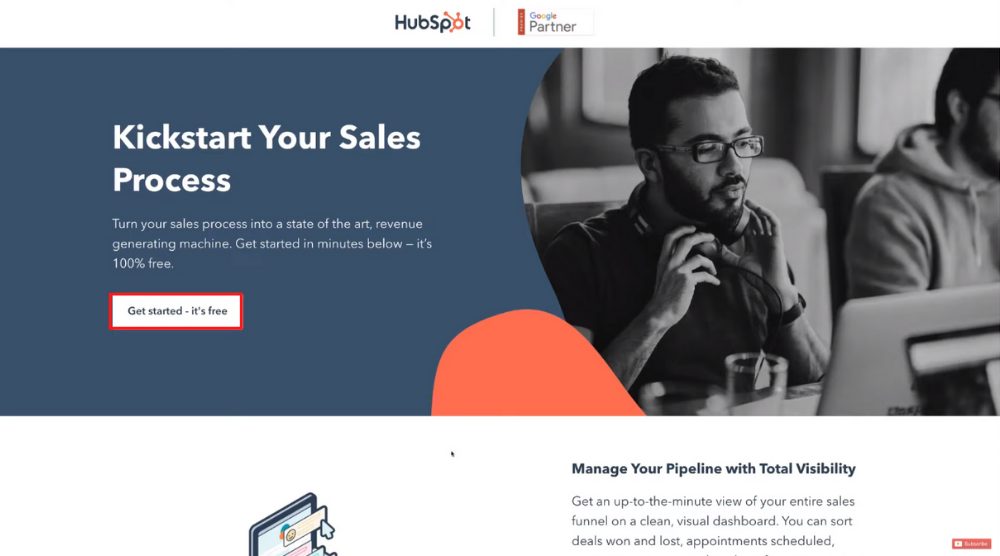 Head over to HubSpot (this is an affiliate link, which means we'll get a small commission if you ever upgrade to a paid plan).
When you see the home page, click 'Get started. It's free'.
Proceed with the steps to sign up with Google and then choose the industry your business operates in.
Follow the simple steps required for the initial setup and your account will be created.
Once you've done that, you may skip the demo since we're going to cover all the features offered within the free plan in this HubSpot tutorial for beginners.
Step 2: Head Over to Account Settings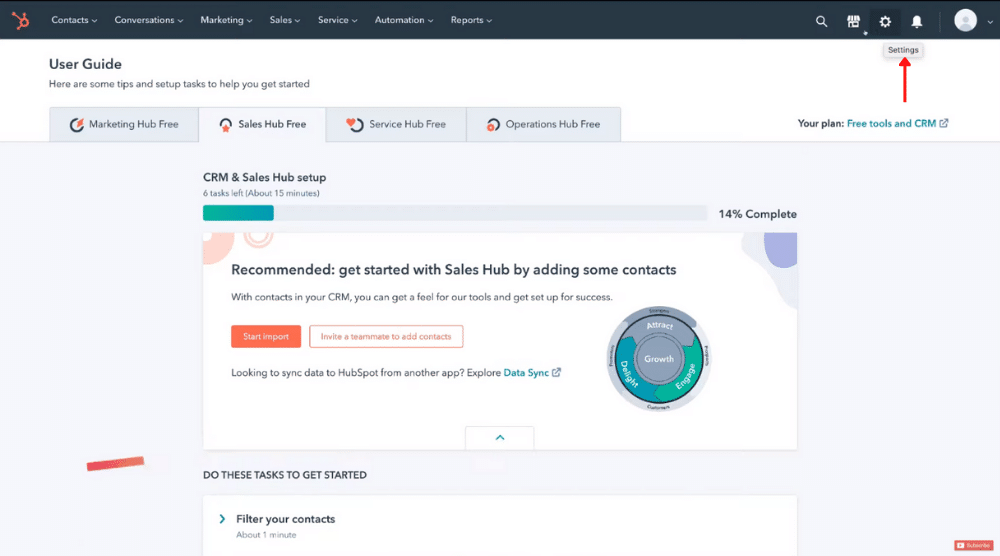 After the initial setup, you'll be greeted with a user guide.
But for now, we're going to go to account settings on the top right.
Under 'Profile', ensure that the information is accurate and make edits if needed. If at any time your preferences change, this is where you can update your information.
Step 3: Connect Your Email with HubSpot CRM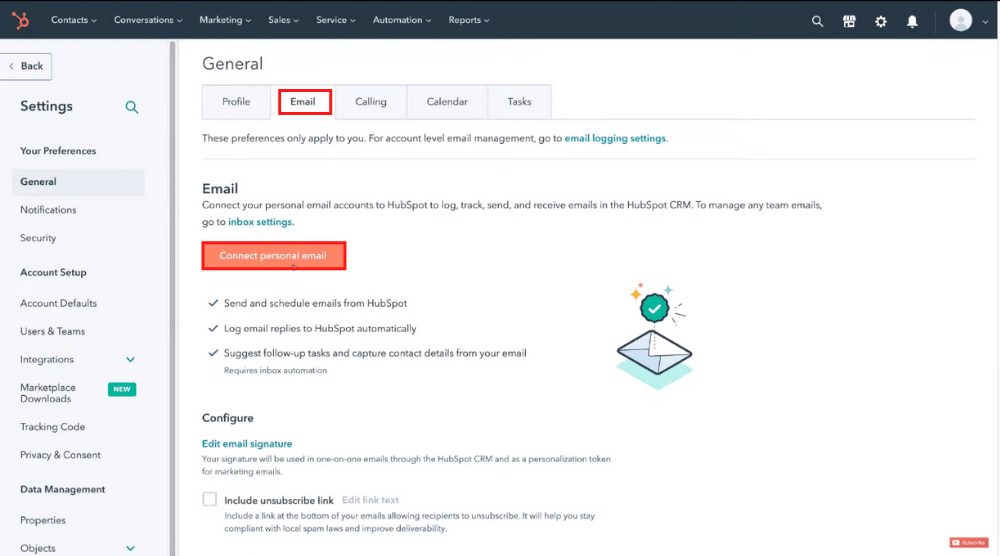 Next to 'Profile' is where you'll find 'Email'.
Using this free CRM software, you want to engage with your contacts, leads, and contractors and this is one of the best features you should leverage.
You can schedule emails, log email replies automatically, capture contact details using emails, and suggest follow-up tasks. That's a lot of features for a free plan!
Select 'Connect personal email'. Choose your email provider (Gmail account for this tutorial) and then check the box that says 'Turn on inbox automation'.
Click 'Connect your inbox' and hit 'Continue'.
In the following step, select the Google account that you want to connect with this free CRM software for small businesses.
Scroll down to click 'Allow', and voila!
Your email has been connected with HubSpot CRM. If needed, download the extension or select 'No, thanks'.
We can opt-in for the latter in this HubSpot tutorial. Now, if you click 'Edit email signature' under 'Configure', you can add your email signature that will be used in all one-on-one emails with your contacts.
Next to 'Email', we have 'Calling'. With the free plan, we have limited calling features, so we're not going to dive deep into this in this guide.
Step 4: Connect Your Calendar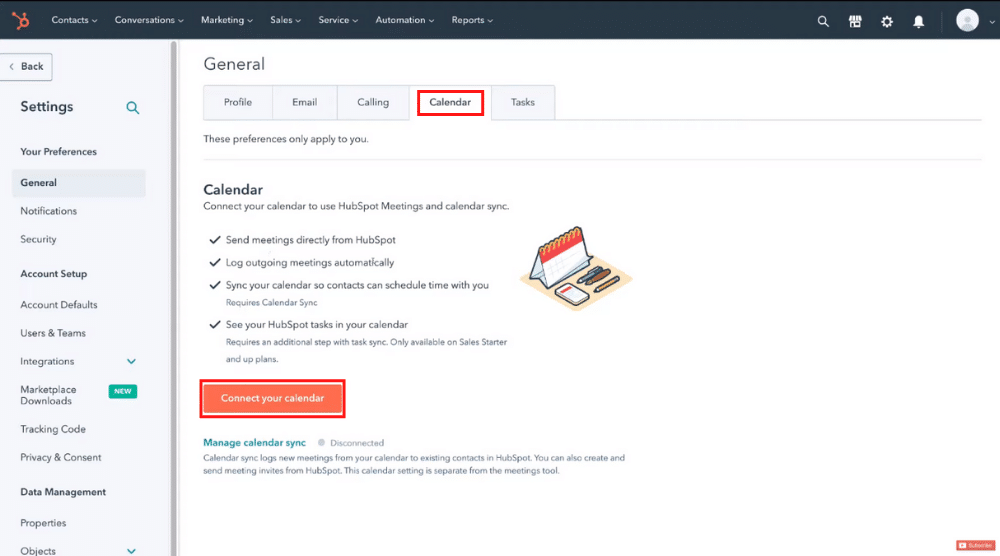 Next to 'Calling' is where you'll find 'Calendar'.
Here, you can link your business calendar to log outgoing meetings automatically, send meetings from HubSpot, sync your calendar, view your HubSpot tasks in the calendar, and more.
For this HubSpot CRM tutorial, we'll click on 'Connect your Calendar'.
We will go ahead and select the same Google account and follow the simple step-by-step process.
Step 5: Setup Preferences for Task Creation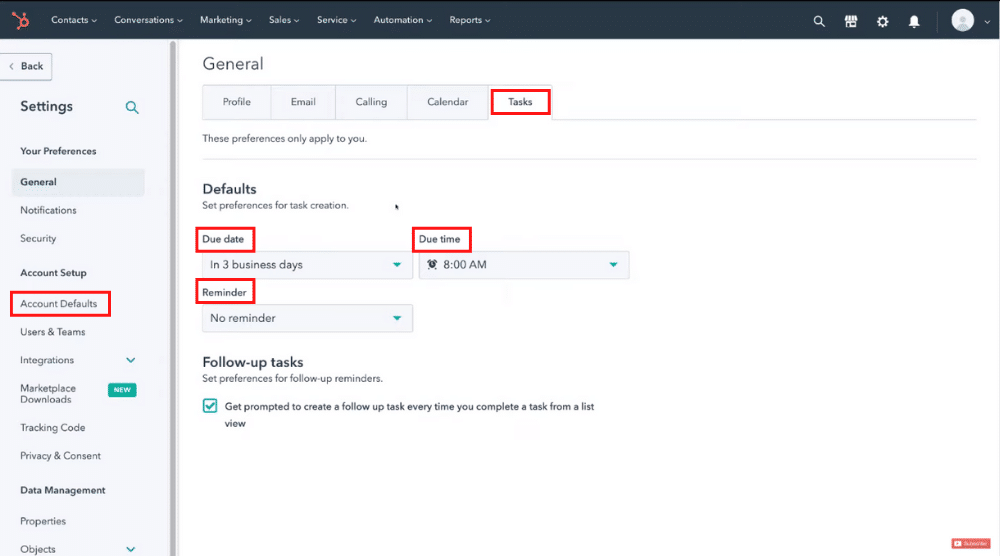 Moving on from integrating the calendar, we have 'Tasks'.
This is where you can choose your preferences for creating tasks.
Under 'Default', select:
Due date
Due time
Reminder
These are, however, default task settings.
We'll cover this in detail later in this HubSpot tutorial. Also, under 'Account Defaults', you want to ensure that your company information is accurate.
Step 6: Add Users to HubSpot CRM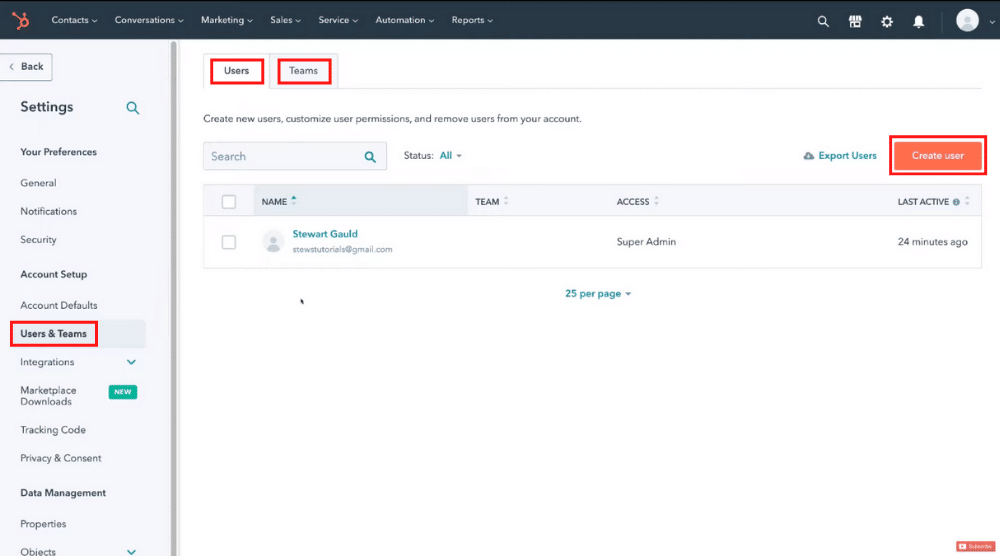 Now, it's finally time to add users to your CRM for collaboration.
The good news is you can add unlimited users with the free HubSpot CRM, making it easier for you to scale as your business expands.
Click 'Users & Teams' on the left and make sure 'Users' is selected.
Go to your right and click 'Create user'.
Now, you can either add a single user or multiple users at once by uploading a CSV file.
For this tutorial for beginners, we'll simply add a single user.
Go ahead and type the user's email in the given field. Use a comma (,) to add more than one email.
Hit 'Next' and you'll be asked to manage the permission levels for this user.
We will, however, click 'Next' again. If you click 'Send' in the subsequent step, HubSpot will send an invite to the intended user.
After that, you will see that the invitation is pending. The status will update once the invitation is accepted.
Next to the 'Users' tab, we have 'Teams'. Using HubSpot's premium plan, you can create teams here.
However, since this tutorial is about making the most of the free CRM software, we'll skip it for now.
Step 7: Add & Manage Contacts Within the HubSpot CRM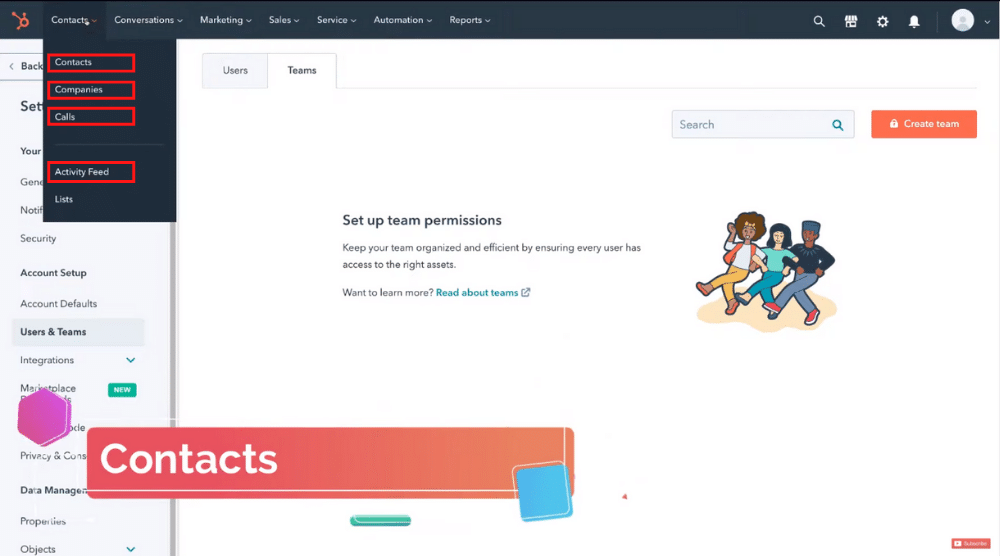 Now that you've learned how to use the HubSpot CRM to add users, it's time to add contacts as well.
Contacts are your customers and lead that you want to streamline your communication with – which is the whole idea of CRM.
So, on the top-left, select 'Contacts' and then 'Contacts' again.
You can either choose 'Create contact' or import your contacts through the bulk upload or by connecting an app.
We'll create a single contact in this tutorial so that you understand what goes into creating a contact within the HubSpot CRM.
Go ahead and enter the relevant information regarding your contact such as email, first name, contact owner (person responsible for managing this contact), job title, phone number, lifecycle stage (lead, for instance), lead status, etc. (refer to the screengrab).
After you've typed in all the contacts information, click 'Create contact' or 'Create contact and add another' to follow the same steps and add multiple contacts to your CRM.
For each of your contacts, you will be able to see their corresponding activity, notes, emails, call, tasks, and meetings.
On the left, you'll find the contact editing options and this is where you can create notes, schedule meetings, make a phone call, or create tasks in relation to that contact.
If you select 'Contacts' on your left, you'll be redirected to the Contacts dashboard to see all your contacts in one place.
As your customers increase, you can apply filters to sort them.
Create Companies and Lists
Navigate over to 'Contacts' on the menu bar again and select 'Companies'.
You'll be once again confronted with a choice to either import your contacts or create them from scratch. The process is exactly the same as we explained for adding contacts in this HubSpot tutorial.
Under 'Contacts' (on the menu), you can also see:
Calls – this is where you'll find your call logs. This feature is limited in the free plan
Activity Feed – this is where you'll notice all activities
Lists (segments) – this is where you create lists to manage segments within your CRM. By clicking 'Create list', you can start creating contact-based or company-based lists based on specific properties that your contacts or companies have. Examples include Facebook advertising lists, contacts captured through a lead capture form, contacts captured through a landing page, etc. This allows you to create marketing materials for specific segments.
Alright, it's time to talk about conversations!
Step 8: Head Over to Conversations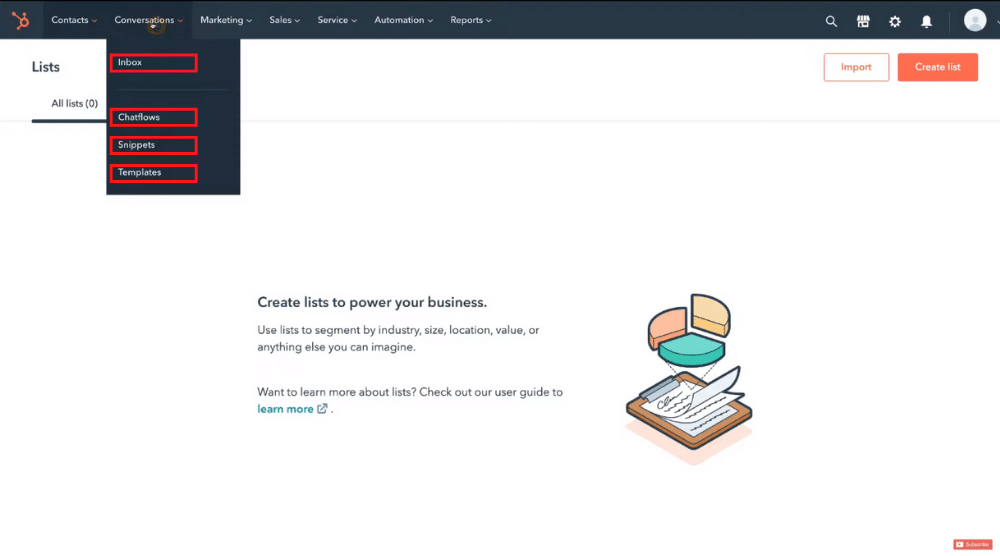 On the menu, you'll find 'Conversations' adjacent to 'Contacts'.
Click on it and then select 'Inbox'.
In order to communicate with your audience, you need to connect different channels such as chat, email, forms, and Facebook Messenger with your CRM. And, you can do that in 'Conversations'.
We recommend connecting at least your email with this free CRM for small businesses.
In the steps that follow, you may either use a personal or shared email account to connect with HubSpot.
If you want everyone to have access to your business's email conversations, go with the shared email address and click 'Next'.
Chatflows
Head back to 'Conversations' and this time select 'Chatflows'.
HubSpot is one the best free CRM tools that allow you to create semi-automated messages to enable custom chat experiences for your visitors across platforms like your Facebook page or website.
All you need to do is click 'Create chatflow' and get started with Facebook Messenger (recommended).
The process is pretty straightforward and HubSpot will guide you through it. If you want to connect a chat flow to your website, you need to install a tracking code on your website. This process is a bit more complex and we recommend hiring a developer for this activity.
Snippets
Move your pointer over to 'Conversations' and choose 'Snippets' from the drop-down.
You can create basic, automated text-based snippets (which are shortcuts to the most common responses) that you can use to engage with your leads, prospects, or customers. With HubSpot CRM's free plan, you can create up to five snippets.
Click 'Create snippet' to begin. Add internal name (for your reference), snippet text, and shortcut (the symbol to generate the snippet) in the following step.
This would help you save time when interacting with your contacts.
Templates
Under 'Conversations' you'll find 'Templates'.
Using the free CRM software, you can create up to five templates of your most repetitive emails. Click 'New template' to get started.
Step 9: Manage Marketing Activities Within HubSpot CRM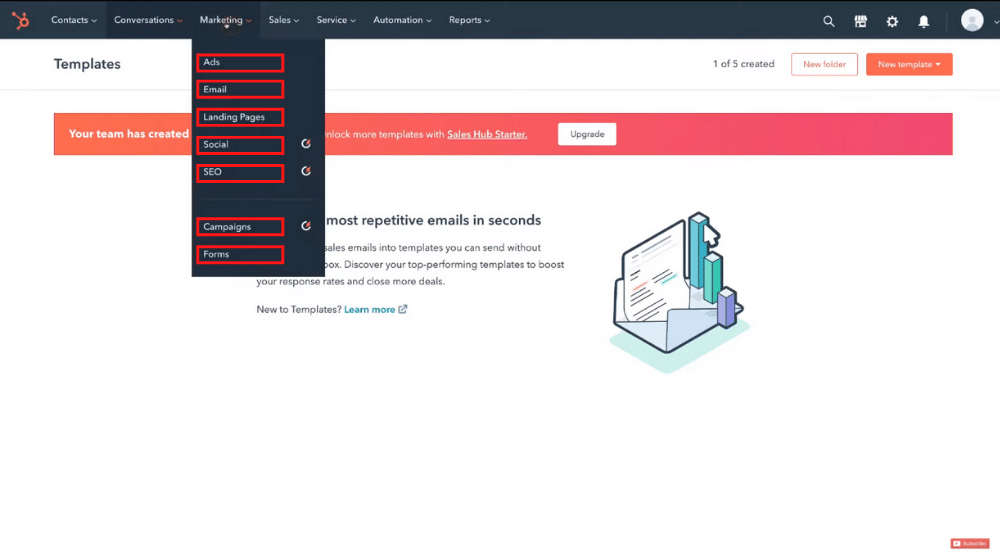 Move the pointer over to the menu and click 'Marketing'.
From the drop-down, go ahead and choose 'Ads'. HubSpot allows you to manage all your ad campaigns in one place.
By clicking 'Connect accounts', you can connect Facebook, Google Ads, or LinkedIn.
With this free CRM software, you can connect up to two ad accounts. Exit out of that and click 'Create ad account' if you don't have an existing ad account.
Below 'Ads', we have 'Email' and this is where you can engage in email marketing.
Under the free plan, you can send up to 2000 emails every month, which includes five smart lists and 25 static lists.
However, to leverage more extensive features such as automation, tests, and personalization, you will need to upgrade to Marketing Hub Professional.
Here's how you can create email campaigns using HubSpot.
By clicking 'Marketing' again, you can navigate over to 'Landing Pages'. HubSpot allows you to build 20 landing pages for free using a block builder which is quite easy to use – a big advantage for beginners.
Here's how you can create landing pages using HubSpot CRM and start capturing contact information through them.
The contacts captured through these landing pages will be automatically added to your CRM. And then you can engage in email marketing.
You can always upgrade to Marketing Hub Started if you want to leverage more extensive landing page features.
Other marketing features offered by HubSpot such as Social, SEO, and Campaigns can only be accessed via Marketing Hub Professional.
We'll now directly head over to 'Forms' under 'Marketing'.
To turn your visitors into contacts, you can create regular and popup forms here.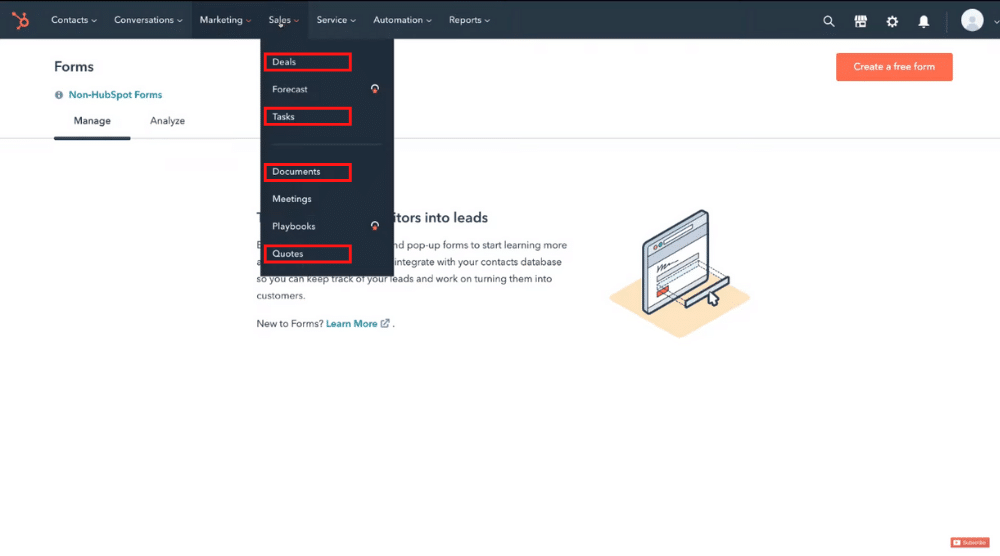 Click on 'Sales' on the menu and then select 'Deals'.
This is all about managing your sales pipeline or sales journey.
Go ahead and select 'Create deal'. Enter relevant information about this deal in the subsequent step (refer to the screengrab).
Once you've done that, hit 'Create'. Similar to how we explained the process of managing your companies and contacts, you can manage the deal as well.
By simply dragging and dropping each deal, you can move it through the sales pipeline.
For example, if the client decides not to go through with the project, you can move this deal to 'Close Lost'.
At the bottom right, you can see the value of each stage of your sales pipeline.
Manage Tasks
Under 'Sales' you'll find 'Tasks'.
Click on it to engage in project management using HubSpot CRM.
This is where you can create and manage tasks related to your projects and corresponding day-to-day activities.
Start by selecting 'Create task' and fill out all the relevant information.
You can also see the queue here: Due Date > Overdue > Upcoming > Most engaged > Completed
As mentioned at the beginning of this HubSpot free CRM tutorial, you can change the default settings like due date, due time, and reminders.
Since we have already connected our calendar, we'll be able to see these tasks in it.
Documents
Under 'Sales' and below 'Tasks' you'll find 'Documents'.
Using a relatively simple process, you can upload up to five documents that you can share with your teammates.
Meetings
Under 'Sales' click 'Meetings', you can create a scheduling page and send it to customers and potential leads. As you can see, a scheduling page has been created for you by default. All you need to do is click the link to visit your scheduling page.
If you send this to a potential lead, they can go ahead and schedule the meeting.
Choose a date and time that best works for your contact. With the free plan, you only have access to one scheduling page.
Upgrading it would help you create more pages and remove the HubSpot branding as well.
Click 'Edit' to change the duration, time, availability, and more under 'Scheduling'.
You can also enable the confirmation email option (sent after the attendee schedules a meeting) and pre-meeting reminder.
Quotes
Navigate back to 'Sales' and find 'Quotes'. To create a new quote, simply click 'Create quote' or download existing quotes.
Step 11: Create Support Tickets (Support Pipeline)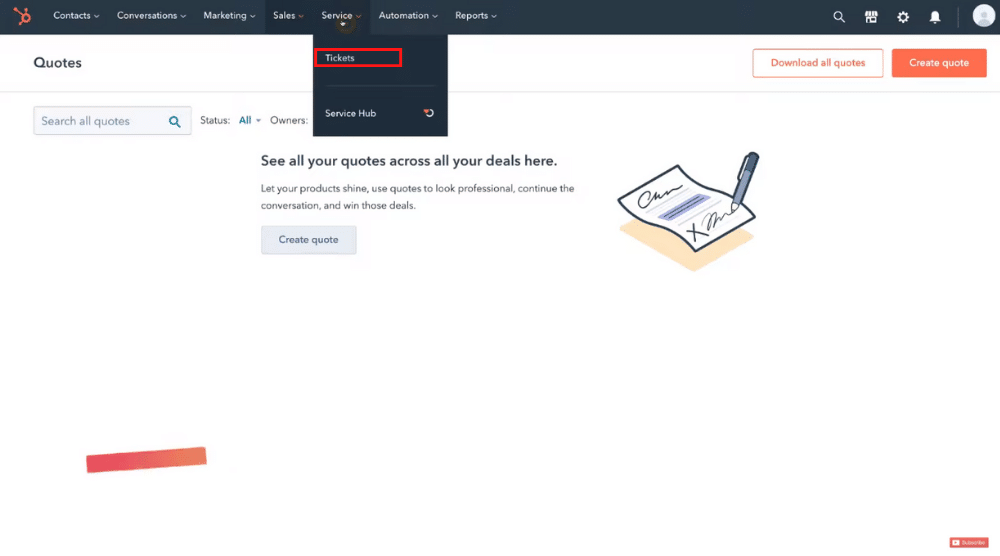 Head over to 'Service' and click 'Tickets'.
This is called a support pipeline. To resolve any issues that your contacts may have, you can create support tickets here.
The process of creating tickets using the free CRM software for small businesses is pretty straightforward. Begin by selecting 'Create ticket'.
Next to 'Tickets' we have 'Automation'.
You will, however, need to upgrade your plan to access these HubSpot CRM features.
This leads us to the final section:
Step 12: Generate Reports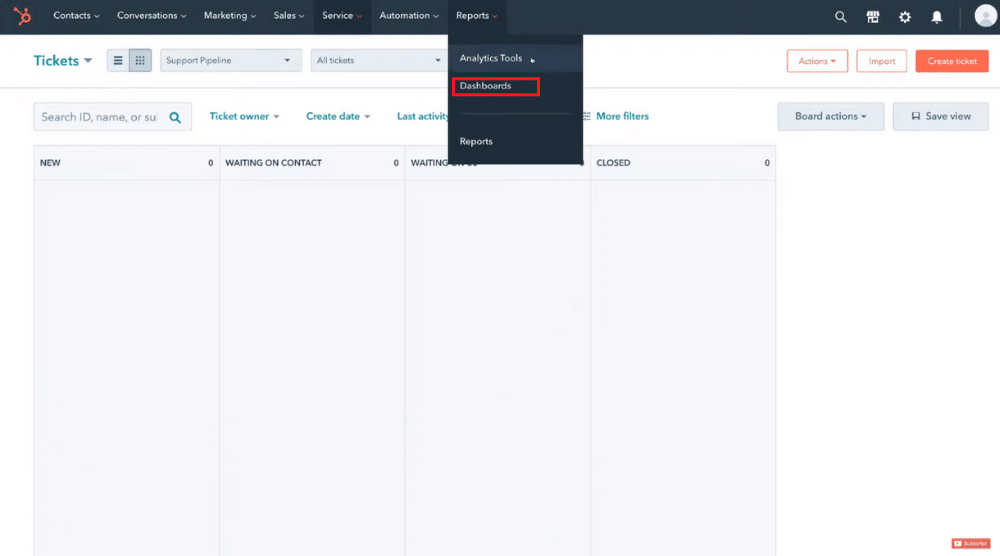 Under 'Reports' you'll find the dashboards and reports offered by HubSpot.
Click 'Dashboard' to find all the reports in one place.
At the moment, we don't have any. Go ahead and select 'Sales' from the left to create a sales report.
Click on the blank dashboard, name the dashboard and fill in other details (called the sales overview).
In the next step, click 'Add report to the dashboard' and choose 'From my analytics library'.
On the left, you can apply filters such as deals, documents, emails, meetings, etc. to generate reports.
Save the report and choose whether you want to add it to the existing dashboard.
Click 'Save and add'.
You can also add a new dashboard, or edit the existing one by simply dragging the reports to their preferred location.
HubSpot Tutorial for Beginners (Video Tutorial)
HubSpot is rightly called an all-in-one CRM software. Using its generous free plan, you can streamline communication and relationship development with your customers and leads.
You can leverage extensive marketing activities such as creating landing pages, engaging in email marketing, managing your sales pipeline, sales activities, project management activities, and more with this free CRM software.
Disclosure: Some of these links on this page are affiliate links, meaning we will get a commission if you buy through them, this helps support our education-based platform and we thank you in advance.
This wraps up our HubSpot tutorial for beginners!