Zyro vs Wix
Which website builder is right for you?
IMPORTANT: Zyro is now being rebranded as the Hostinger Website Builder – They are essentially the same product.
Two popular website builders that have been around for a while are Zyro and Wix.
Both these website builders are known for their easy-to-use building interface and affordability for small businesses.
However, in this post, I want to identify the best website builder for you between Zyro vs Wix.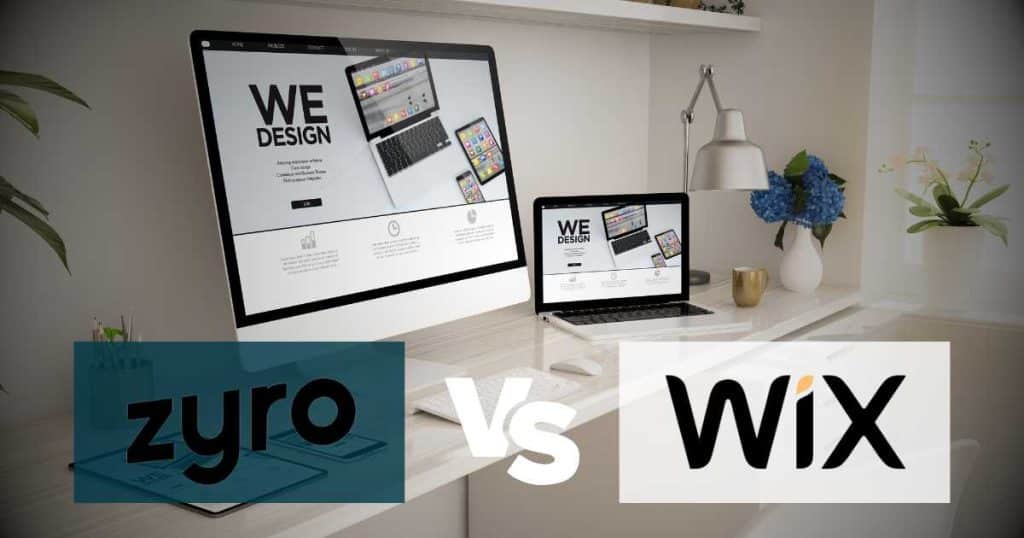 Also, it's important to note that both these platforms are great solutions for most small businesses. However, there are a few differences and contrasts between these two platforms that will determine the right choice for your business website.
I've personally had experience building small business websites with both of these website builders and I've also heard of the pain points that my audience and clients have faced.
Okay, let's get into it!
What are they? Zyro vs Wix
Both Zyro and Wix are all-in-one website builders that not just offer a platform to build your website, but also extensive tools built to help you grow your business and brand online.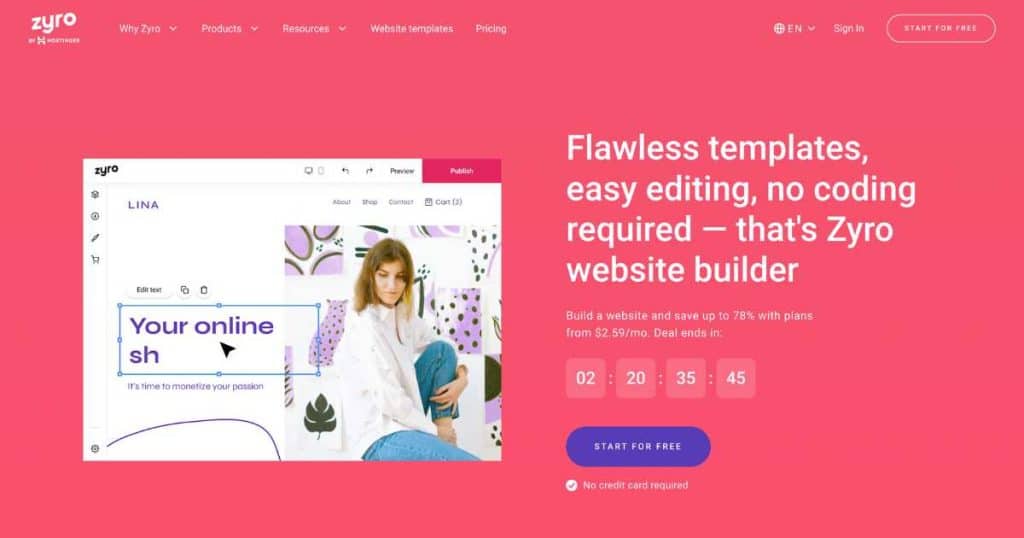 Zyro is a powerful website builder that is now part of Hostinger (A web hosting company). This website builder is dedicated to proving an all-in-one solution for small businesses.
Zyro allows you to either create a website from scratch or choose a stunning premade template that you can use to build your website.
Not only do they offer a simple drag-and-drop page builder to create your website pages but Zyro also provides many complimentary AI tools to optimize your brand online.
These AI tools include:
Logo maker.
AI writing assistant.
AI background remover.
AI slogan maker.
AI image upscaler.
AI business name generator.
AI blog title generator.
AI heat map and more.
Zyro allows you to create a standard website or an online store. They have the most affordable plans on the market in terms of monthly fees associated with creating and managing your website.
Watch my complete Zyro tutorial below if you are interested in getting started with Zyro.
Also, feel free to watch my complete Hostinger AI website builder tutorial here.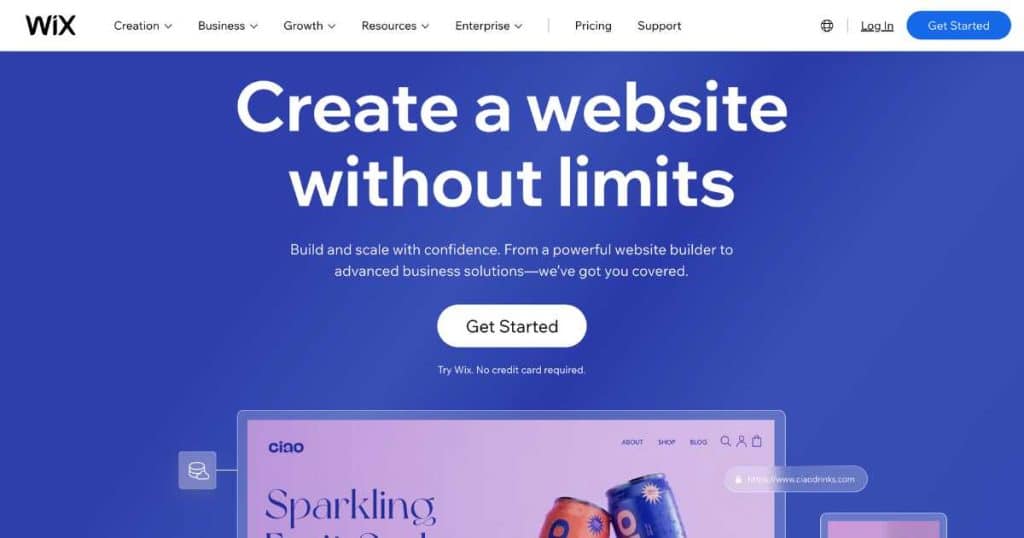 Wix on the other hand is one of the oldest website builders on the market (established in 2006). However, they have evolved with the times and are now offering built-in AI tools similar to Zyro.
And with time on its hands, Wix has become the most comprehensive website builder in the marketplace. They offer 1000s of apps, templates and features that you can leverage to build your online presence.
Similar to Zyro you can build your website from scratch or choose a professional premade template. In addition, you can use the built-in ADI (Artificial design intelligence) builder, all you need to do is answer a few questions and Wix will create your website for you! Then you can customize it further with their basic or advanced page editor.
With Wix, you can create essentially any website you like or add any feature to your website without touching any code. The design and customization capabilities are limitless with Wix.
What are the differences between Zyro and Wix?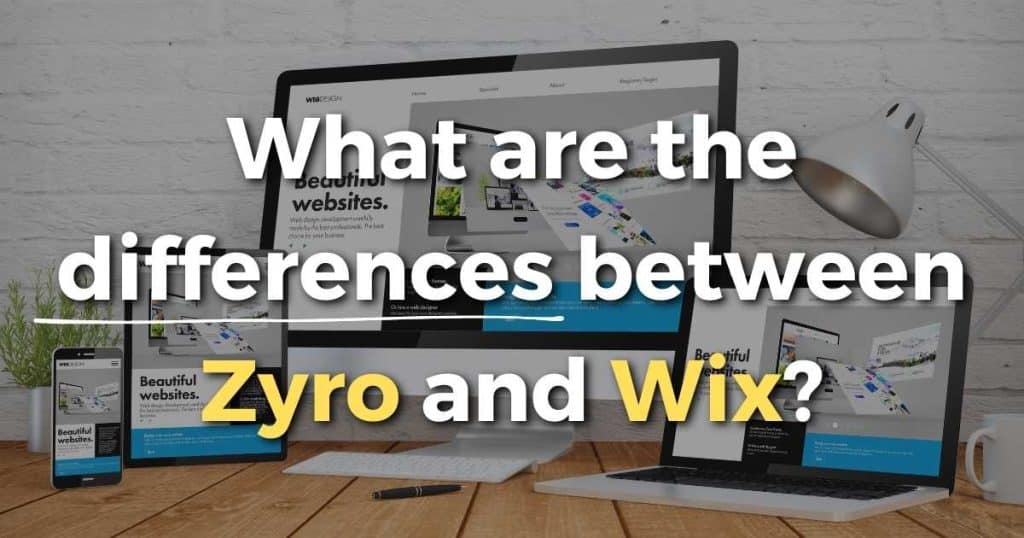 Okay, let's break down the difference between Zyro vs Wix by comparing the key tools, functions and features. Based on each category, I will identify the winner between Zyro vs Wix
Let's dive in!
Zyro vs Wix: Page Building Experience
Both Zyro and Wix offer an amazing page-building experience, this is one of the main reasons why they are leading platforms.
First of all, Zyro offers a simple block builder that allows you to drag elements or page widgets from the left-hand side of the section.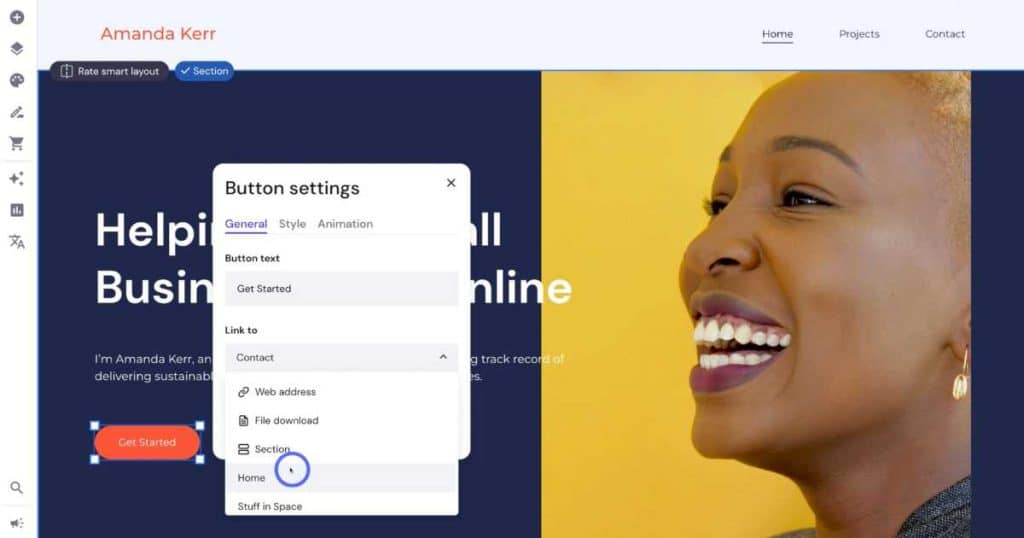 You can then click on each of the elements and an editing module will appear for you to customize that element (image, text, video, button, gallery and more). You can also add new sections to your pages from scratch or by selecting a customizable section template.
Although the page builder itself is easy to use for anyone, unfortunately, it is quite limited in terms of the elements that you can add to your website.
On the other hand, we have Wix which offers two types of page-building editors depending on your skill level. First, they offer a standard content editor that is similar to Zyro's page builder which is ideal for beginners.
Secondly, Wix offers an advanced X editor that gives you complete control over your page design. So, you can choose how you want to create your website pages.
Wix gives you complete control over your website pages, you can add any element you can think of. Within each element, Wix offers variations of those elements too.
Similar to Zyro, you can add sections from scratch or choose from premade section templates. Although, Wix offers many more template options for building out your website pages.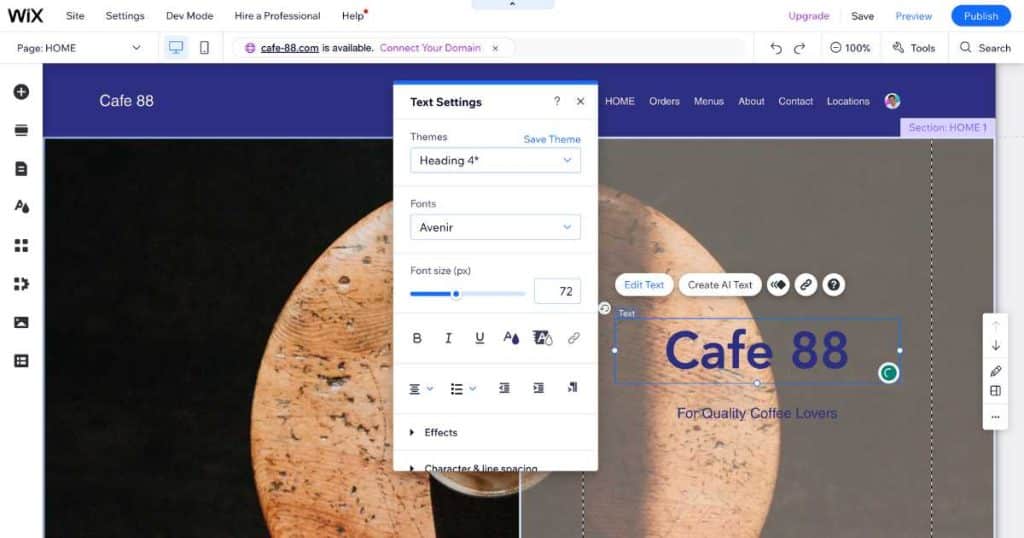 Wix also allows you to access an App market. Apps are useful for adding functionality to your website pages or to your website in general. For example, you can add an online store, reviews, payment widgets, live chat and more. This is all done through Apps.
In summary, Wix takes the lead in terms of offering more value and functionality when it comes to building your website pages.
The only issue with Wix is it can get quite confusing with all the elements, features and apps available. Sometimes, less is more, especially for beginners.
Winner of the page-building experience = Wix
Zyro vs Wix: Website Templates
Both Zyro and Wix offers a wide selection of templates that are built for all types of businesses.
Zyro on the one hand offers over 100 professionally built website templates that are designed for small businesses with over 16 website categories. The templates are well thought out and most seem very sleek.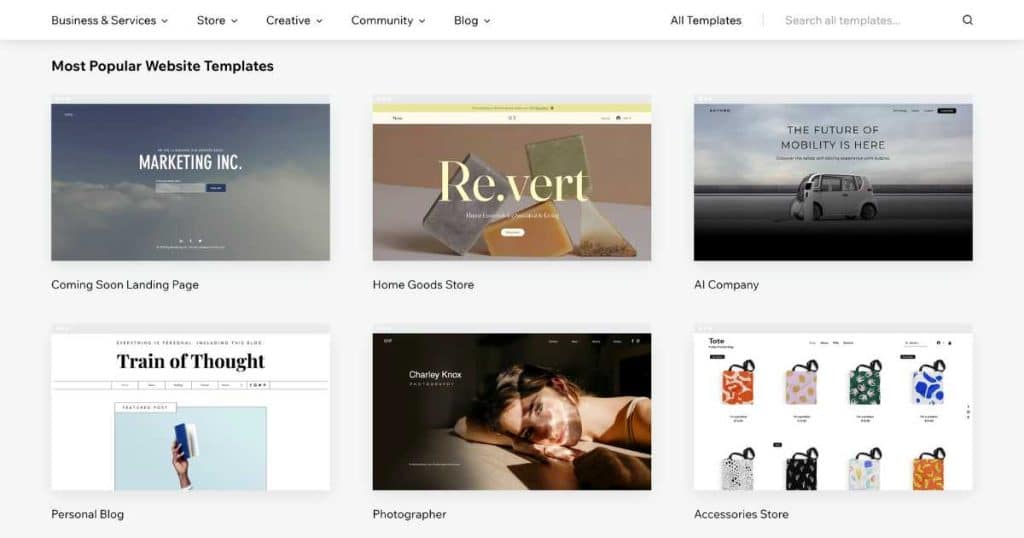 On the other hand, we have Wix. Now Wix has an advantage here as they have been around much longer. They offer over 800 website templates that you can use to craft your website. All these templates are dynamic and offer unique themes and functionality.
So, what website builder has the best templates? Well, Wix takes the lead again on this front in both quantity and quality.
Winner of the website templates = Wix
Zyro vs Wix: Business Tools
Both Zyro and Wix have useful tools that you can take advantage of to grow your business online.
Let's take a look at Wix first. They offer tools like a logo maker, video maker, business name generator, QR code generator, invoice generator and more. Many of these tools can be very useful. They also offer many built-in tools to help you improve your website's performance.
Next, let's look at Zyro. They offer many AI-driven tools as I mentioned up above.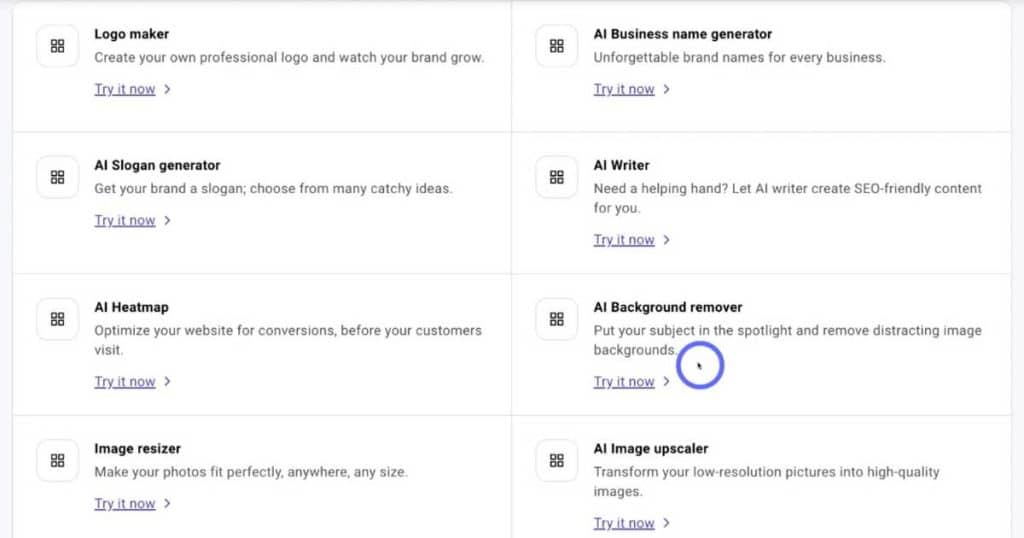 These AI tools are built-in so that you can seamlessly work with them when building your website. The AI tools are ideal complementary tools for small business owners looking to get more out of their website.
In my opinion, I prefer the built-in tools that Zyro offers. They are easier to use and access when you need them when building your website.
Winner of business tools = Zyro
Read more: 11 + AI tools for small businesses.
Zyro offers two pricing options and Wix offers 8 as well as a completely free plan.
Zyro keeps it simple with its two pricing plans. $2.59 per month for a standard website (like a service-based business website) and $3.59 per month for an eCommerce website if you want to start selling products online (Current price June 2023).
One thing that annoyed me is that they always have a discount offer when you land on the pricing plan (76 – 78% off for a limited time). However, the same pricing has been in place for at least the last few months.
However, this is the best pricing (if it stays discounted) on the market. Zyro also offers a 30-day money-back guarantee on both plans and a free professional domain name.
On the other hand, we have Wix and its 8 different plans. Prices start at $4.50 to $35 per month and more for enterprises.
Here is the full pricing list here:
Free plan (Wix branding and Wix domain)
Connect domain ($4.50 per month with Wix branding)
Combo ($8.50 per month)
Unlimited ($12.50 per month)
VIP ($24.50 per month)
eCommerce plans ($17 – $35 per month)
In my opinion, Wix offers way too many pricing plans. Most businesses that use Wix are small businesses, so you would think they would offer just one solution for that group.
Zyro has a simple pricing option that is ideal for small businesses. Basically, if you're a service-based business then the website plan is for you and want to sell products then the business plan is for you. Simple!

Winner of pricing = Zyro
Who are they best for? Zyro vs Wix
Okay so after breaking down each of these platforms, what is the best solution for you?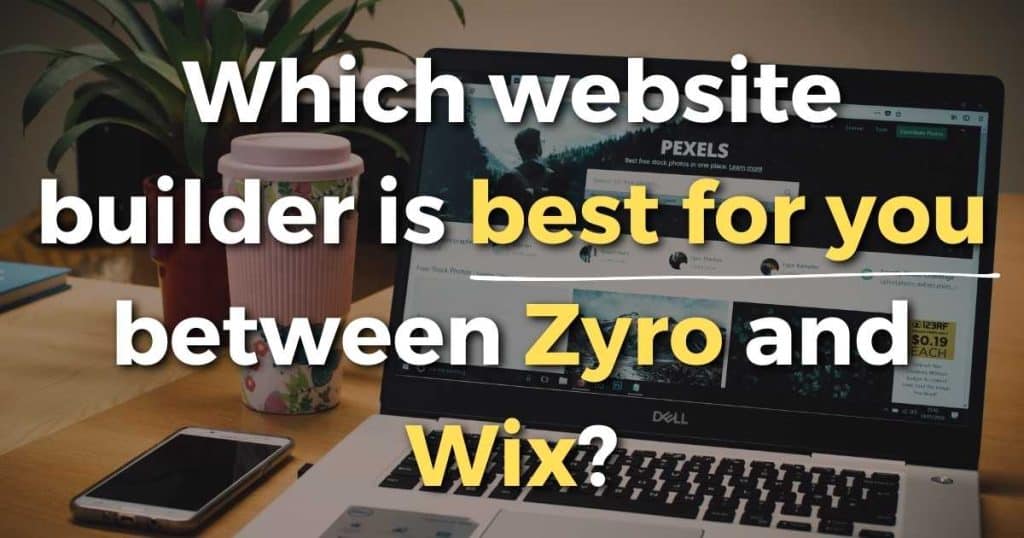 It comes down to your personal and business preferences.
I would recommend Wix to small business owners that run any type of business and are looking for a website builder that will grow with their business. The fact that Wix is a comprehensive and dynamic platform, it has everything your business needs.
However, costs can add up and remember I mentioned that the entire platform can be quite confusing due to all its extensive integrations. So, because of this, I would not recommend Wix for small teams that have very little web design or online marketing experience.
Therefore, I would recommend Zyro as the ideal solution for business owners that need a standard service-based website or e-commerce platform without all the fluff that Wix offers.
Again, Zyro is more beginner friendly than Wix. So, keep that in mind if you are not very tech-savvy. Also, if your business is on a budget but you still want to create a premium website, then Zyro is for you.
Read more: Google Sites vs Wix: Which is best for you?
Stew's final thoughts
Both Zyro and Wix are incredible platforms. However, each website builder has its place.
Make sure you spend some time playing around with each website builder to identify the one you feel has everything your business website needs.
Make sure your check out my video tutorials to help you get started with each website builder.
Thank you for reading through to the end. Let me know what you think about each website builder in the comments below. Thanks!