Obsidian vs Notion are undoubtedly two of the biggest productivity and note-taking tools in 2023.
But what one is best suited for you?
Let's face it; you already have so much to remember on a daily basis. Am I right?
From capturing those important thoughts at 3 am to organizing daily to-do lists and tasks, it's impossible to remember everything!
This is where note-taking software swoops in.
Sure, you can go old school and use a pen and paper to jot down your notes.
However, the sheer convenience and flexibility of these apps make them the perfect solution for capturing and organizing your ideas, tasks, and notes.
And in this comparison article, I will dive into two of the biggest players in the game – Obsidian vs Notion.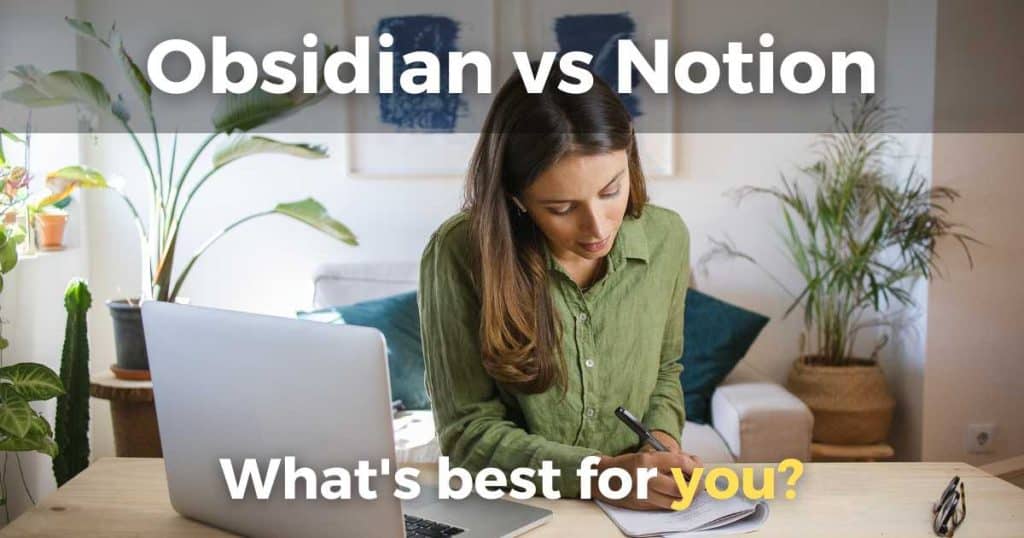 Both have been gaining traction in recent years and offer a range of features.
Are you ready to find the best note-taking app for your business needs?
Read on to find out.
Obsidian vs Notion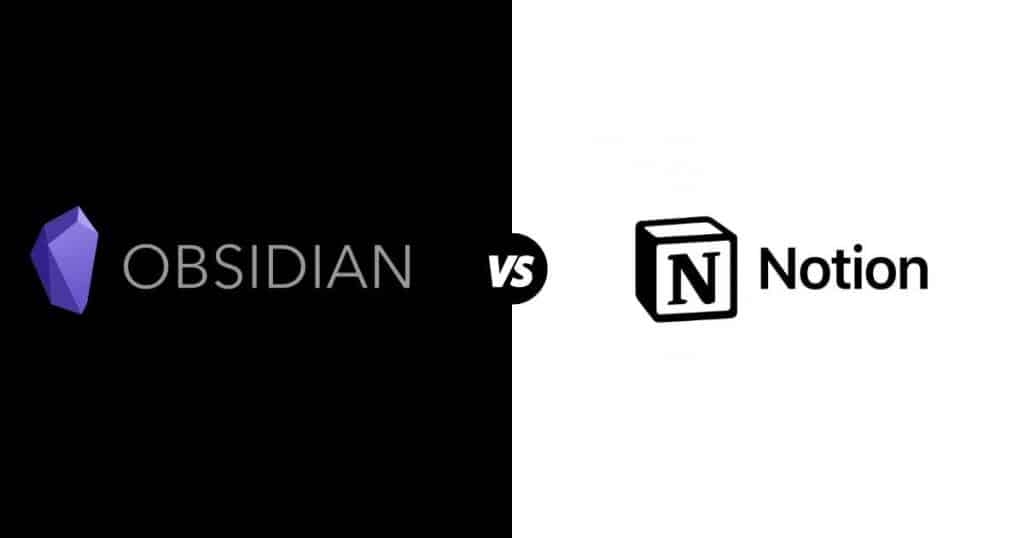 Say goodbye to cluttered notebooks and say hello to a more efficient and streamlined approach to note-taking!
No matter who you are or what business you run, I can guarantee you'll reap the benefits of using a streamlined note-taking app.
And Obsidian and Notion are certainly some of the best in the business!
They both offer unique features and customization options, so what is the difference between the two?
Let's get into it.
What are they? Obsidian vs Notion
Okay, so we've established that both apps are tools that assist you with organizing your notes.
But let's take a deeper look into what both have to offer.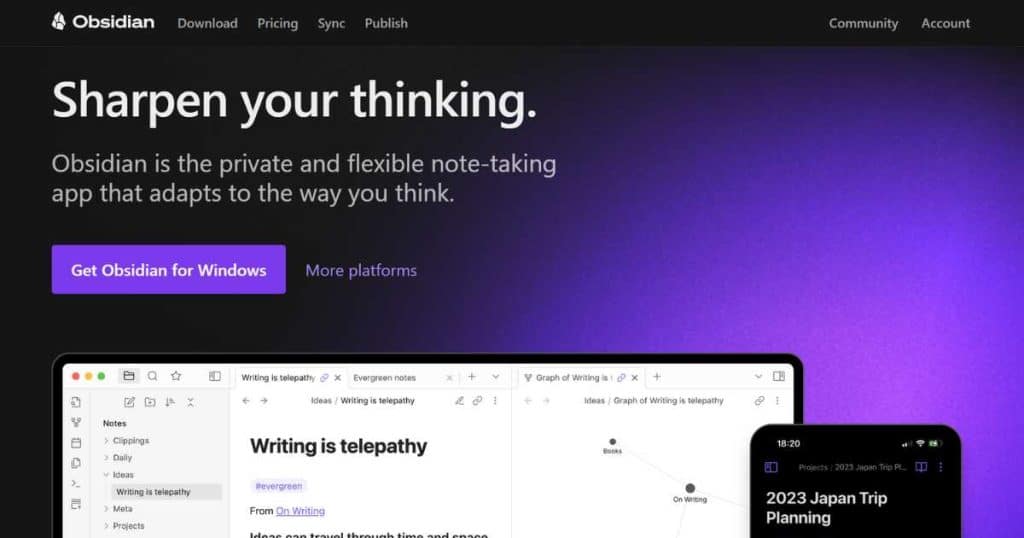 How does Obsidian work? It's actually a little bit different from other apps I often talk about.
Basically, it's an application that you download on your computer for creating and organizing your notes using plain text Markdown, an easy-to-use writing system.
Obsidian note taker is well known for its backlinking capabilities to create interconnected notes or research and its wide range of customization options and plugins.
Obsidian software is a desktop application, so your data remains secure and easily accessible on your computer.
Plus, you don't need an internet connection to use it!
However, one of the biggest downsides is that you'll have to pay extra to sync your notes across different platforms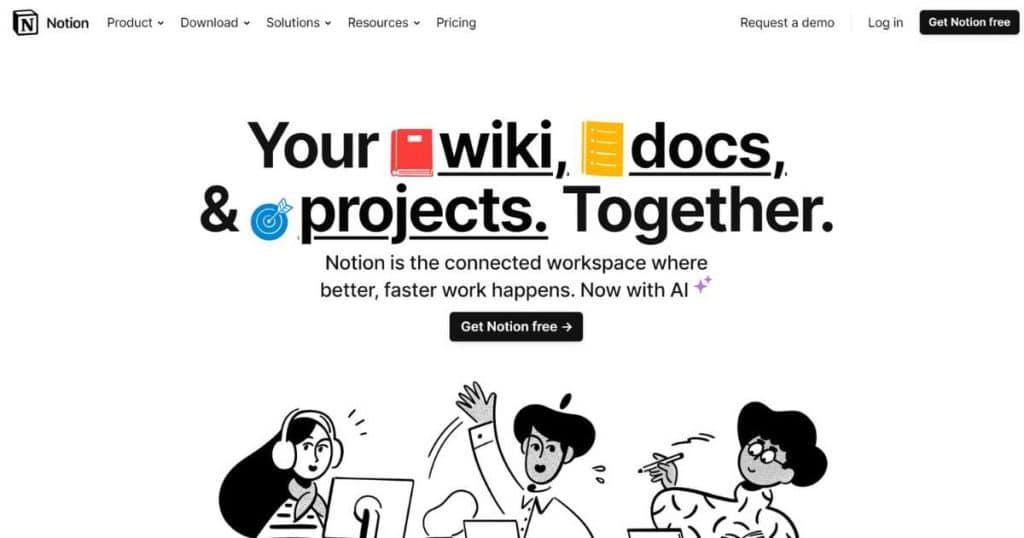 What is Notion? Notion is a productivity and organization app that lets you create and organize your tasks, notes, wikis, and projects.
With a huge emphasis on team collaboration and project management, Notion is the perfect place for teams to work together on one easy-to-use interface.
Notion is available as a web-based or desktop application and offers a useful mobile app. This means you can use it in the office, at home, or on the go!
Plus, they save all your notes automatically, just like popular cloud-based applications Evernote and Google Docs.
Read more about Google Docs in my Google Workspace tutorial here.
What are the differences between Obsidian vs Notion?
At first glance, both sound like they do the same thing. I know what you're thinking…how many different ways can you write notes?
Well, they're actually quite different! And I'll tell you why now.
Obsidian vs Notion user-interface and note-taking:
One of the biggest differences between the two is their approaches to note-taking.
Notion's intuitive user interface works similarly to other project management tools like ClickUp or Monday.com.
Read more on Monday.com Vs ClickUp.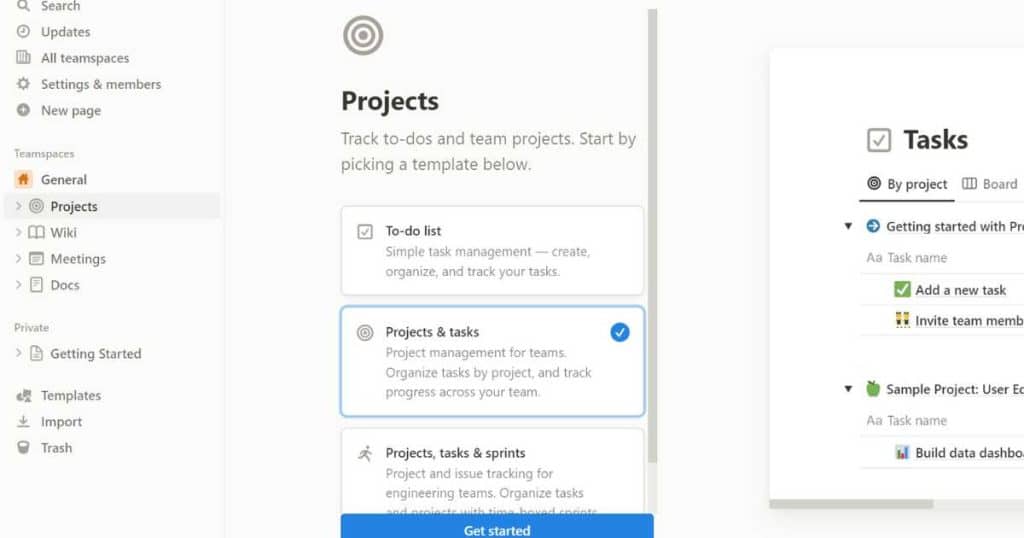 You'll first need to create a Workspace. From there, you can add other pages, subpages and backlinks to connect your pages through a visual structure.
You can even add your 'Frequently accessed pages' to your workflow for quick access.
As I mentioned earlier, Notion also offers tools such as :
Project Management
Database Creation
Team collaboration
But don't let that overwhelm you! All these features and more are available from one dashboard.
Simply customize all your notes, tasks, and projects through their drag-and-drop editor, then add things like banners, headings, and checkboxes.
Notion does a great job of helping you enhance your notes and stay organized.
Check out our other project management tool articles here.
On the other hand, Obsidian's interface is more traditional than Notions, relying on markdown formatting and plain text notes.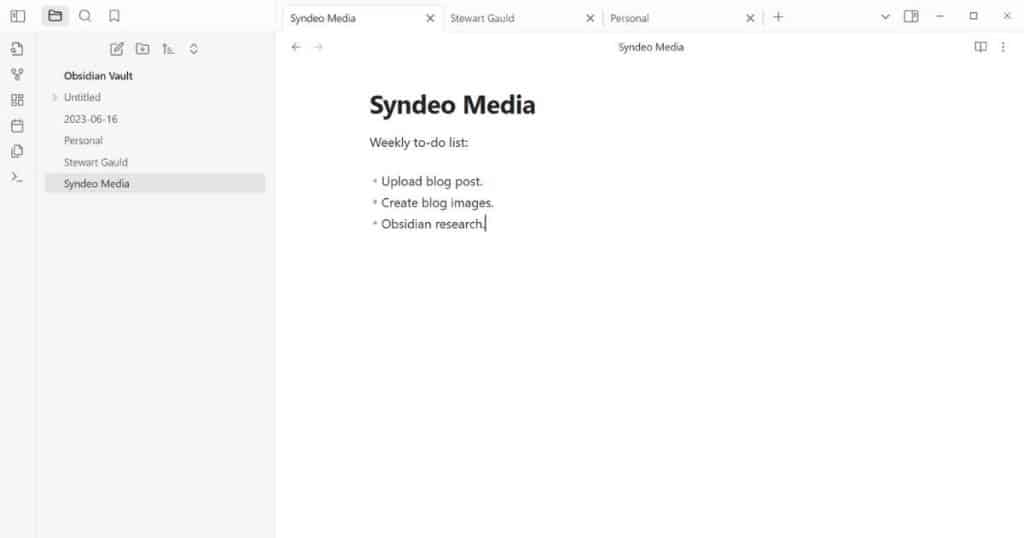 They talk about Vaults instead of Workspaces.  A vault is essentially a folder that stores your notes (and you can create more than 1 vault).
Once you've created your first vault, you can start taking notes in plain text format.
One of the standout features of Obsidian is its ability to open multiple files simultaneously.
These are called Panes.
Panes can be split into two copies of the same pane, which is ideal if you want to preview and edit your notes simultaneously.
Plus, you can open up different panes simultaneously for reference when writing.
Obsidian software really goes the extra mile regarding flexibility and customization in your note-taking experience!
Additionally, Obsidian offers a feature that lets you view all your notes related to a particular topic and any similar topics you've linked to.
Draw – if you're after a more streamlined and comprehensive solution, Notion might be the way to go, whereas if you value simplicity and customization, you'll prefer Obsidian.
Obsidian vs Notion Pricing: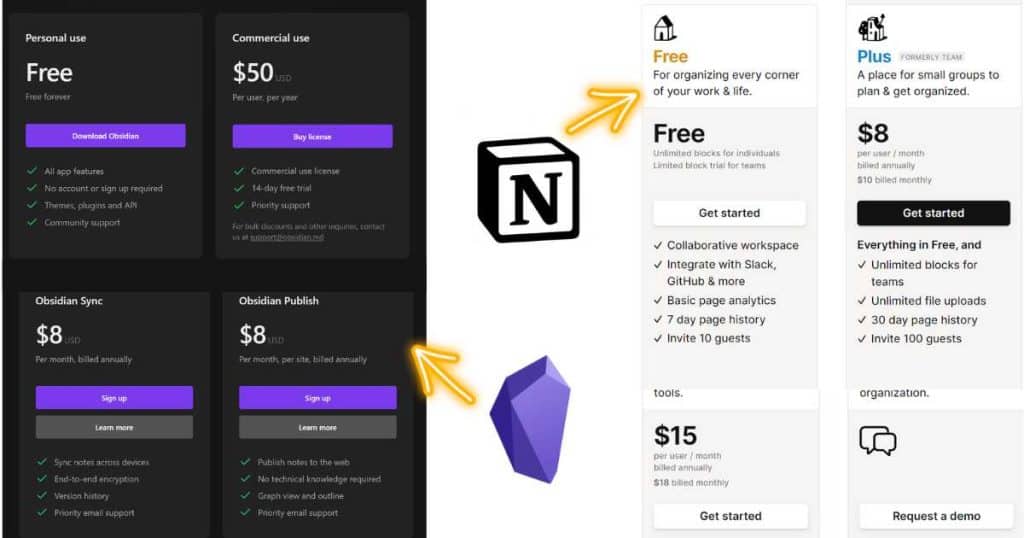 Obsidian:
Free: $0
Commercial: $50 per user per year.
Catalyst: $25+ one off payment.
Add-ons: Obsidian Sync ($10 per month) and Obsidian Publish ($10 per month).
Notion:
Free: $0
Plus: $10 per user per month.
Business: $18 per user per month.
Enterprise: Custom price.
Add-ons: Notion AI ($10 per user per month).
Winner = Obsidian
Obsidian vs Notion Backlinking:
Backlinking is basically a way to connect your thoughts, ideas, and tasks.
So, how do both stack up?
In Notion, backlinks are created automatically when you '@ mention' a particular page.
You can make your way around your Workspace using these backlinks as an alternative to creating hierarchical and sub-pages.
Plus, you have the option to hide or expand all backlinks related to that specific page.
Backlinking is the backbone of how Obsidian functions and is why so many people love and use it for their notes!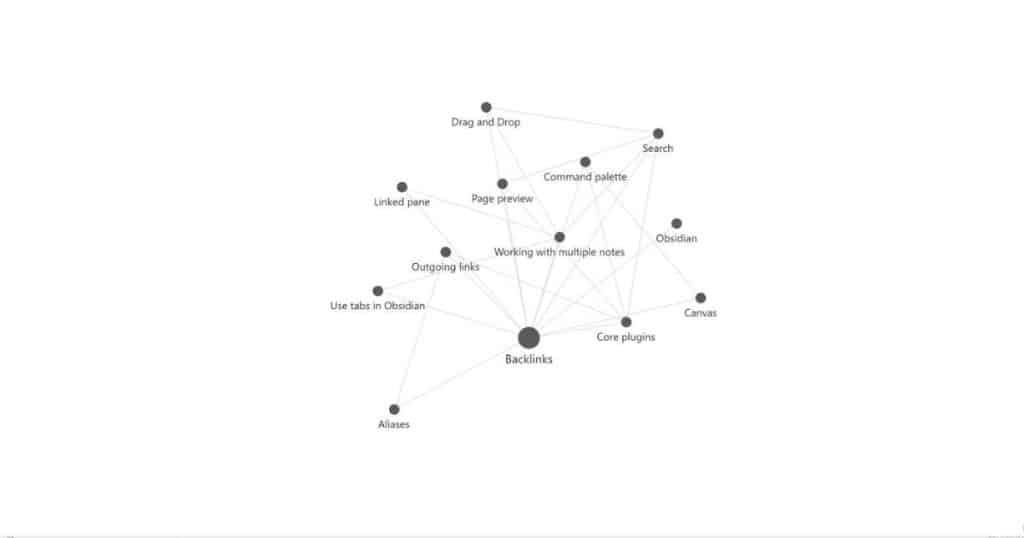 To create a backlink:
Simply type the double square brackets around the note name you want to link to.
For example, if one of your notes is called "Meeting Agenda," just type in [[Meeting Agenda]] in the body of another note.
This will automatically link both pages together!
Another cool backlink feature is Obsidian's Backlink Pane, where you can view all your linked and unlinked mentions.
Unlinked mentions identify notes that mention another note without a direct backlink and are a helpful resource for connecting notes together that you haven't thought about!
You can then view your ideas, notes, and backlinks through their useful knowledge graph, which is essentially a mind map of all your notes.
Winner = Obsidian
Obsidian vs Notion Team Collaboration: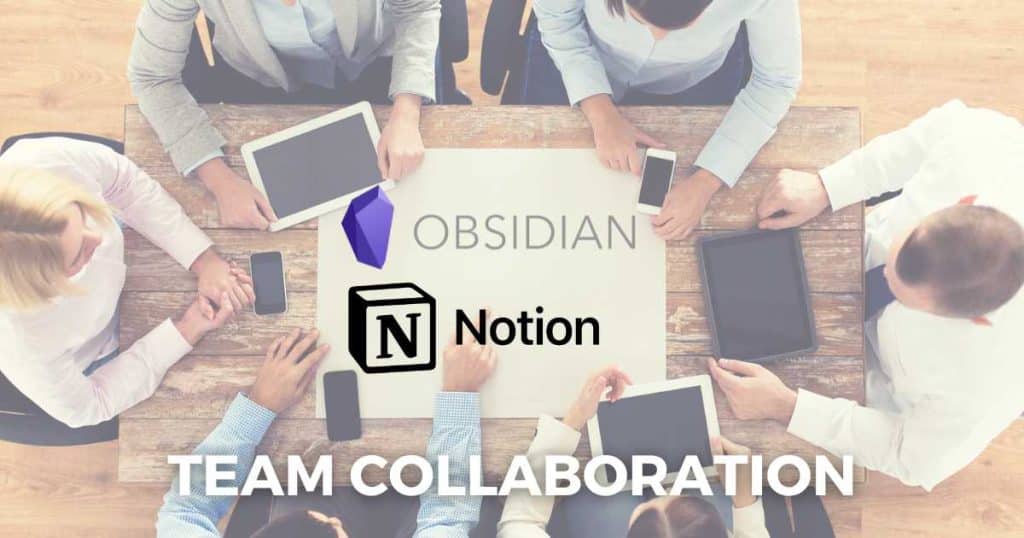 If you're a small team, you'll no doubt want to share your thoughts, tasks, and notes with others.
Therefore, team collaboration is super important when comparing Obsidian vs Notion.
So, let's find out who takes the cake!
Notion prides itself on its team collaboration tool and for a good reason!
Firstly, there's no limit on how many people can access and edit a page.
Everyone has their own avatar, and this appears next to the block they're editing or viewing, so you always know whos working on what.
That's right; you can see in real-time what your team is doing.
Plus, you can communicate directly with your team members through a chat room or comment by '@ mentioning them.'
Additionally : 
Create groups for specific teams working on particular projects,
Assign tasks to team members,
Set up notifications to help you remind yourself about something that's due.
Obsidian isn't really built for collaboration like Notion is.
For example, you can't send a team member or client a link to your vault. To do this, you'll have to export it in either a PDF or text format.
Collaborating on Vaults and Panes within Obsidian is possible, but you'll have to do it through a plugin, which is a bit more mucking around.
Winner = Notion
Obsidian vs Notion Integrations: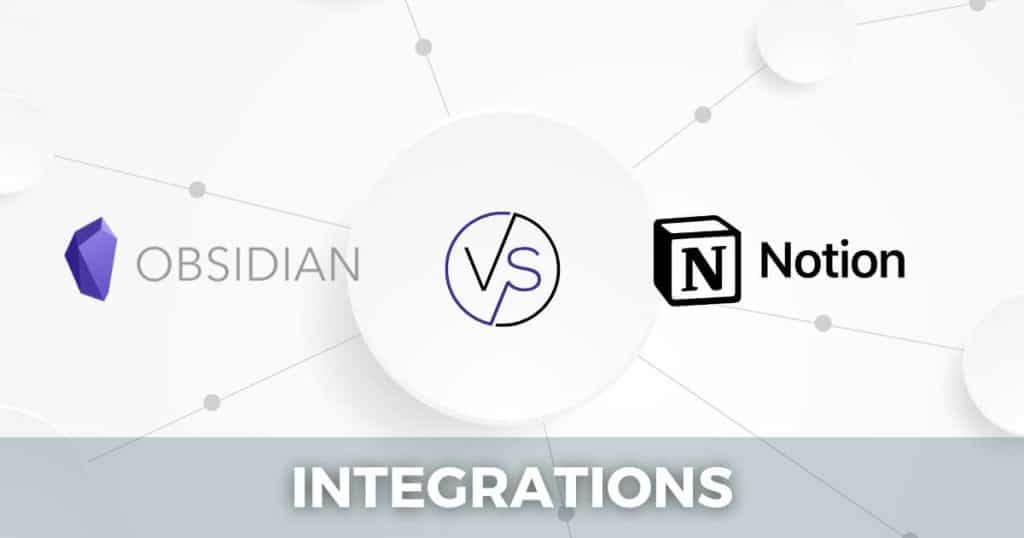 Both Obsidian and Notion have pretty good integration capabilities.
Obsidian offers :
25 core plugins
659 community plugins
131 themes available.
So, whether you want to add advanced functionality or just tweak the appearance to your liking, Obsidian gives you the flexibility to make it exactly what you want.
For those with programming skills, there's even the option to create your own plugin.
However, you can stick to plain writing even if you prefer a simpler note-taking experience.
The only downside is that they're not built-in plugins.
Notion offers 59 integrations with other popular apps and services you already use, including Google Drive, Trello, Jira, Asana, Slack, and more.
Additionally, you can build custom integrations and automate tasks through Notion's API.
Winner = Obsidian
Obsidian vs Notion AI tools: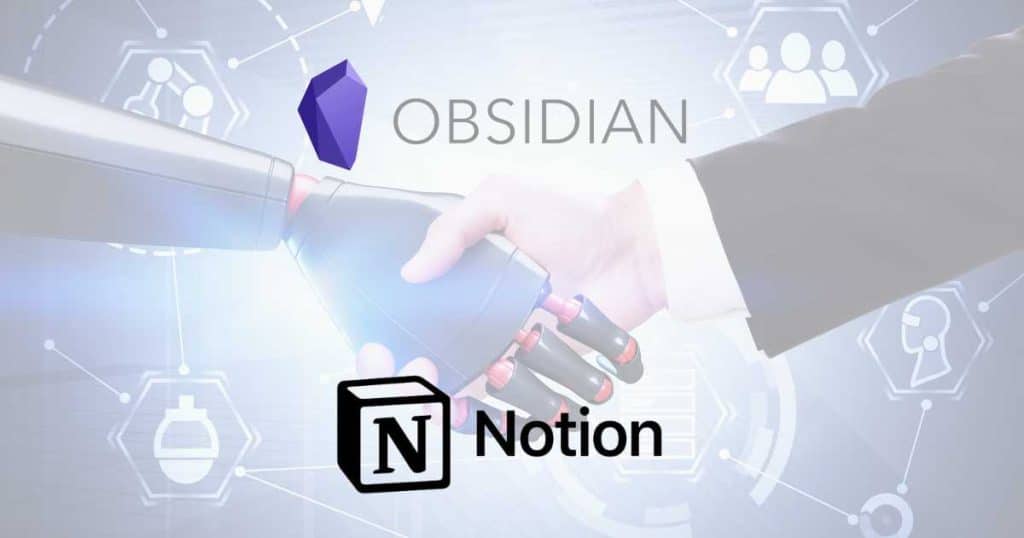 It's no secret that AI is certainly changing the way we work.
You'd be hard-pressed to find any software in 2023 that doesn't offer any sort of AI tool in some shape or form.
Check out our top 11 AI tools for small business here.
Notion has just recently released its new AI feature – Notion AI, which is available as an add-on to your plan.
With Notion AI, you can:
Generate new content.
Improve existing content.
Get suggestions for related content.
Automatically write notes, agendas, and even blog posts,
Extract text from images.
Summarize lengthy articles.
Suggest tags and more!
On the other hand, Obsidian doesn't directly offer any AI tools (yet). However, you can install a bunch of AI plugins to use inside your Obsidian account.
These plugins can help boost your creativity, productivity and overall add value to your note-taking process!
If you're interested in other AI tools, make sure to read my abundance of AI articles here.
Obsidian vs Notion – Who are they best for?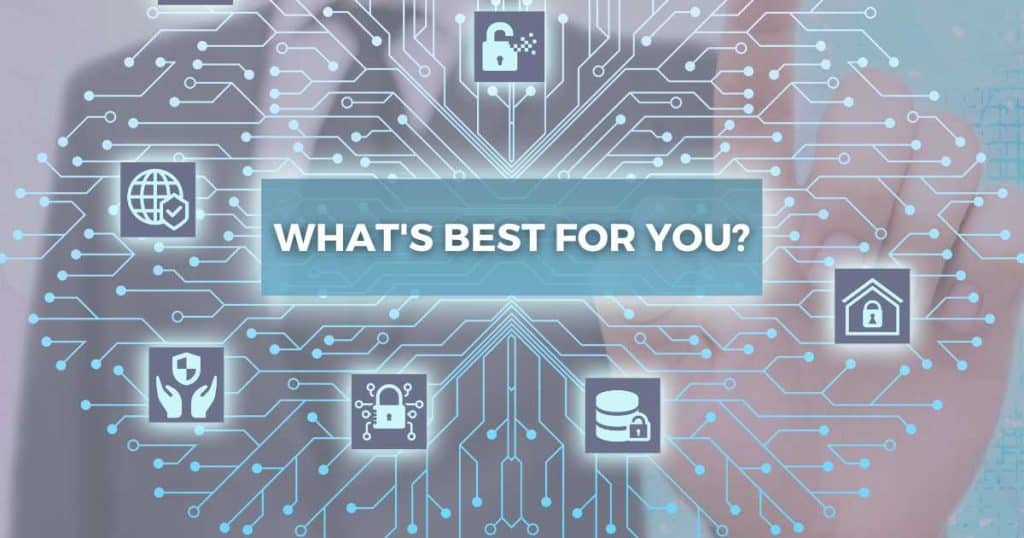 So, with all that said, what is the best option for you?
Obsidian and Notion are two popular productivity and note-taking tools, each with its own unique features and strengths.
I would recommend Obsidian for writers, freelancers, bloggers, researchers, or individuals who want to visualize, customize and connect all their ideas!
However, I wouldn't typically suggest Obsidian for small (or large) teams, because it lacks dynamic collaboration features.
If you're after a total collaboration, project management, and note-taking software, Notion is by far the better choice!
Alternatively, if you're looking for an alternative project management tool, make sure you check out my top 7 project management tools for small businesses.
Stew's final thoughts
Both of these note-taking tools are incredible tools for helping you organize your notes, tasks, and thoughts.
With that said, I hope you now have all the information you need to choose the best option for you!
And if not, why don't you check out both options? After all, they both offer free plans.
Thanks for reading all the way to the end.
Let me know what you think of both Obsidian and Notion in the comments below!