If you're considering using Later for your social media choice and are wondering…
What is Later.com? Is it any good?
I'm sure you know (because you clicked on this article) how important social media is in 2023 to help you grow your brand and connect with your audience.
With so many social media channels nowadays, how do you keep up with consistently posting engaging content that your audience wants to see?
This is where social media management tools come into play.
Social media management tools are an impressive and beneficial way for businesses to keep on top of all their social media.
In this Later review for 2023, I will jump into Later –  arguably the most popular social media management tool on the market to find out…is it actually any good?
I'll walk you through everything from its features, how it works, pricing plans, and more to help you determine if it's the right tool for you!
So with that said, what is Later.com?
Later Social Media review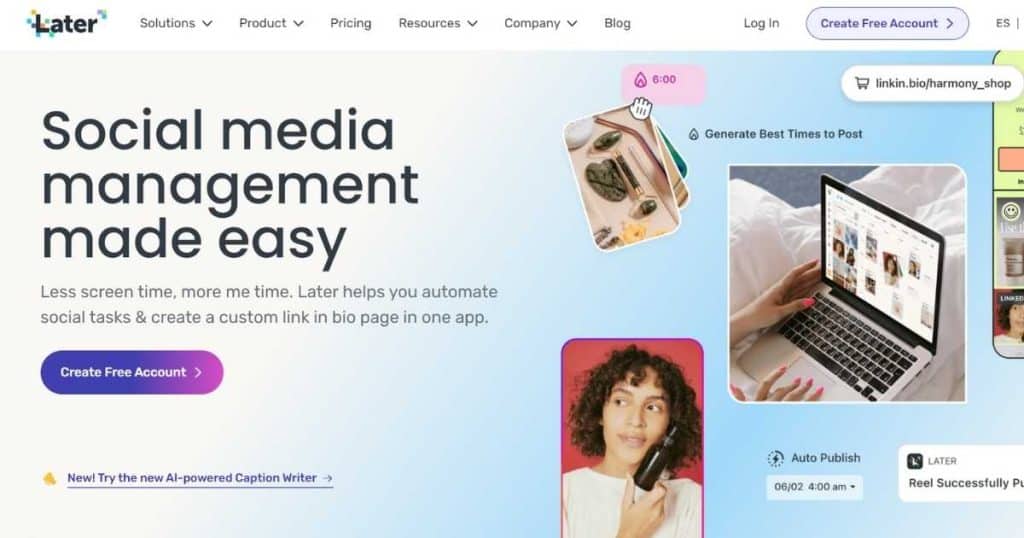 Later offers a range of features for scheduling, publishing, and analyzing content on your social media channels.
Most people know Later as an online social media management platform that'll help improve their Instagram presence and engagement.
But, is there more to it than that? Let's find out in this Later social media review.
What is Later & How does it work?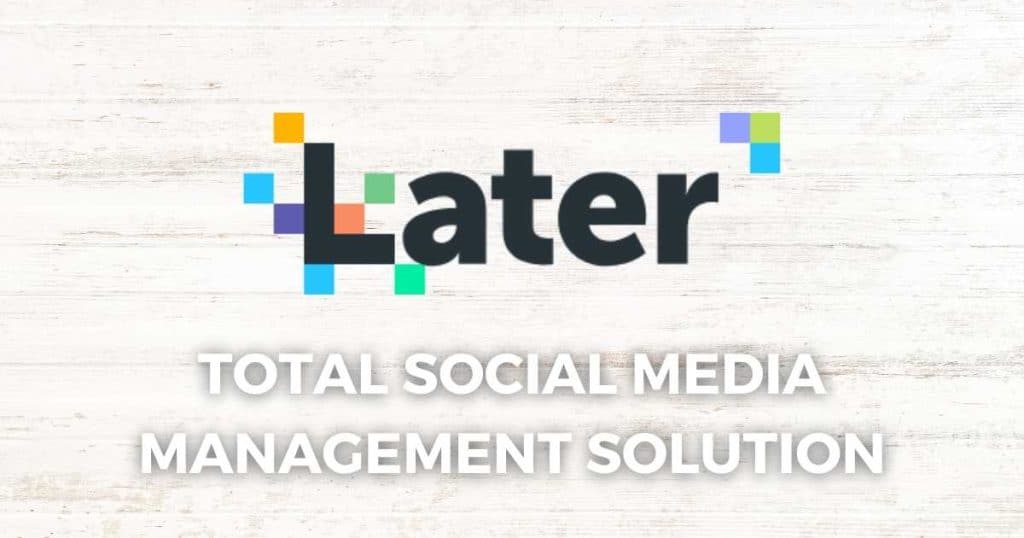 Later is essentially a complete social media management tool. So, how does it work?
Here's the quick rundown:
Upload your videos or posts.
Schedule your chosen content to go live on specific days or times.
Publish your content to different channels.
Analyze how well your posts perform on each channel.
Now that you know how it all works, let's dive deeper.
Channels: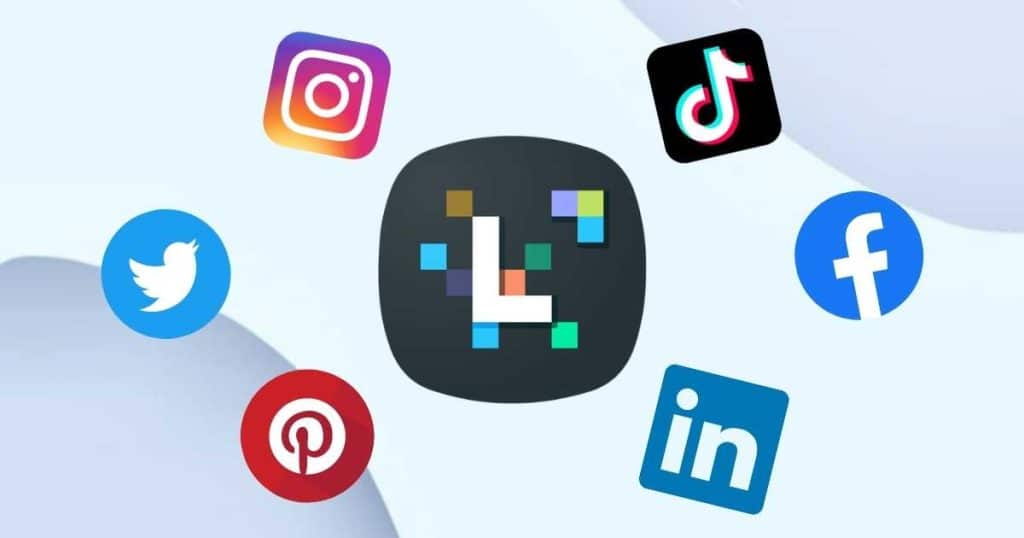 The whole idea of a social media management tool is to simplify the process of scheduling and publishing your content across various platforms, right?
So, how does Later stack up with the list of social media channels you use?
Although Later is geared more toward Instagram use, it is compatible with other channels!
However, you'll find that most of these other channels have basic scheduling and publishing features.
The total list of channels supported with Later are:
If you're nodding your head thinking you and your team use all 6 channels (with Instagram as your primary focus), Later might be a good fit!
Keep reading to find out more.
User-friendliness: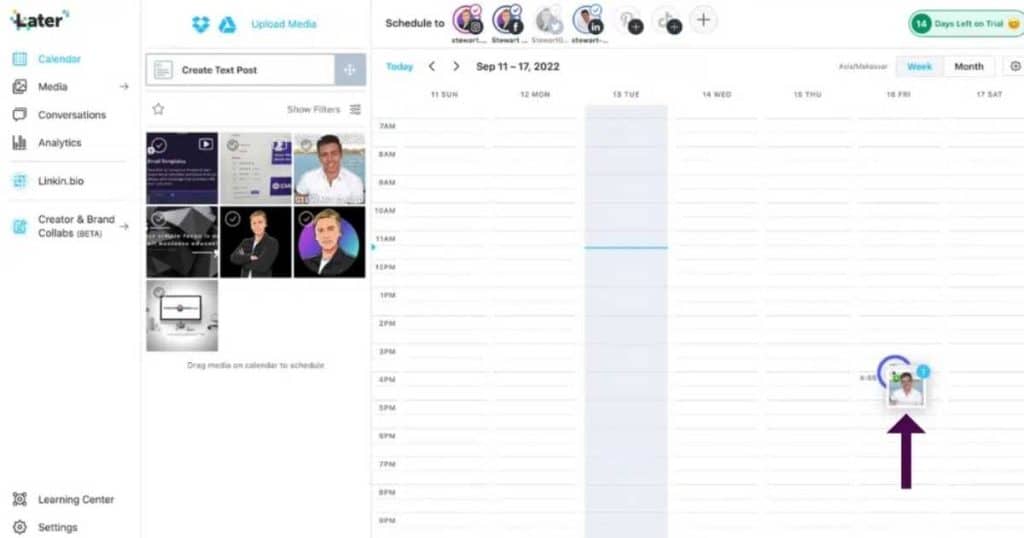 One of the top things we look for when considering any type of online software..is it easy to use?
Well, the main idea behind Later is to assist with the planning and organizing of your posts and videos in advance.
This is done through Later's visual content calendar.
The easy-to-use visual content calendar is precisely that. It literally gives you a visual representation of your upcoming posts!
All you have to do is:
Save your content to either Dropbox, Google Drive, or your desktop.
Upload it to Later.
Choose your channels.
Drag and drop your content onto calendar to the day and time you want it to go live.
You can't get much easier than that.
Editing content: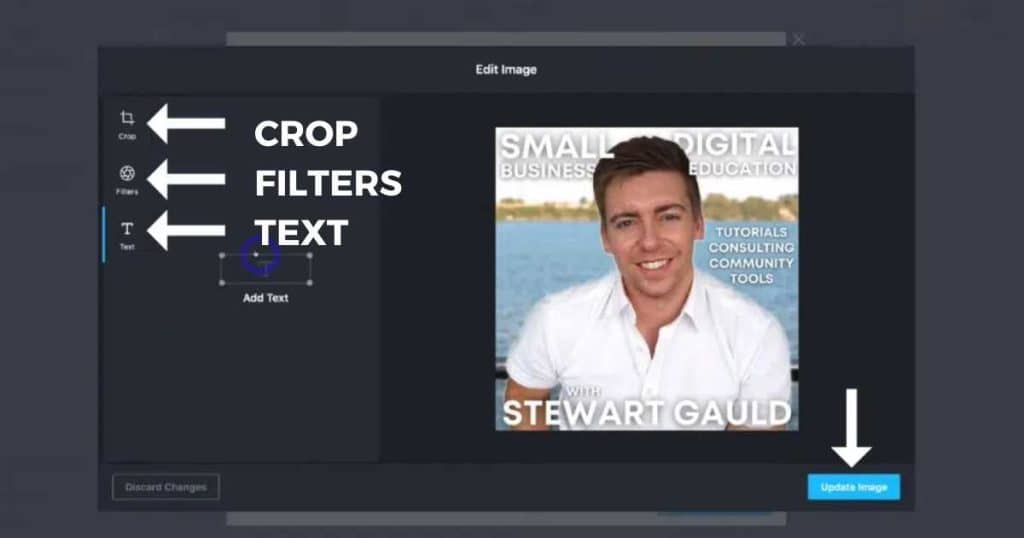 One of the most fantastic things about Later is that you can customize each post depending on the publishing channel.
For example, say you wanted to post on both Instagram and Linkedin. Naturally, these audiences are slightly different.
Therefore, you may require another caption.
This is absolutely no problem with Later!
You can then crop your image and add:
Filters.
Text
Captions.
Hashtags and more to your post for each channel!
Plus, you can leverage their innovative AI tools for Instagram content. These include Best Time to Post, Caption Generator, and Hashtag Suggestions, to get maximum engagement on every post.
And lastly, simply add a landing page with all your important links to your posts through Later's Link.in.bio tool.
Trust me when I say it doesn't take long to work out how to use Later to create engaging content!
Scheduling content:
There are 2 main ways to schedule your content:
Auto-publish: If you have an Instagram business account, you can 'Auto publish' your content. Simply schedule your posts and let Later do the rest of the work!
Push notifications: When it's time to publish your post, choose to receive a notification.
Additionally, you can bulk schedule different post types.
You'll never forget to post again with Later!
Pricing: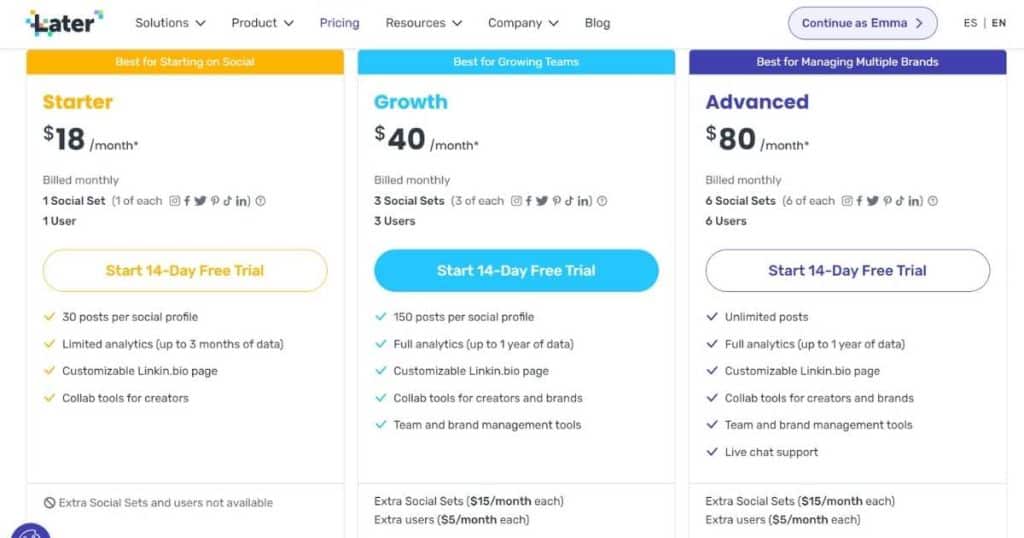 Free: $0
Starter: $18 per month – 1 social set.
Growth: $40 per month – 2 social sets.
Advanced: $80 per month – 6 social sets.
All paid plans come with:
Auto Publishing.
Instagram Best Time To Post.
Visual Instagram Planner.
Instagram Reels and Carousel Auto Publishing.
Hashtag Suggestions.
Instagram Stories Scheduling.
Plus, all plans come with a 14-day trial.
Analytics: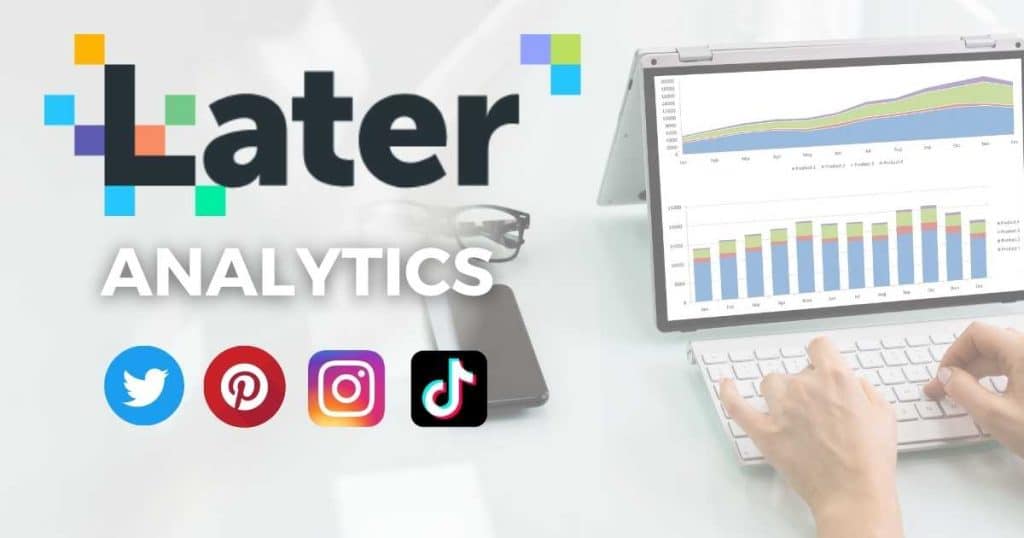 If you're serious about social media marketing, tracking and measuring your content's performance is crucial. This is where Later's analytics tools come into play.
Let's talk about the free plan first. You'll get basic Instagram Analytics to track growth and engagement.
If you upgrade, you can analyze and compare your posts, reels, and stories and rank your stories by impressions.
Additionally, Later allows you to track clicks and sales for your 'Linkin.bio' page to see which Instagram posts drive the most traffic to your website.
But that's not all!
You'll also get essential Twitter and Pinterest post analytics. Plus, you can check out your TikTok audience demographics and see when your TikTok and Instagram followers are online.
With Later's analytics tools, you can make data-driven decisions to improve your social media presence.
What I like
Easy to use.
Their media library is super simple to upload, organize and store all your media in one place.
The AI tools are handy to help you create engaging content quickly.
The number of dynamic Instagram content features.
What I dislike
Limited analytics compared with other platforms.
The mobile app can be glitchy at times.
You can't connect to as many social media channels as other alternatives.
The free plan is quite basic and limited.
My Favourite Feature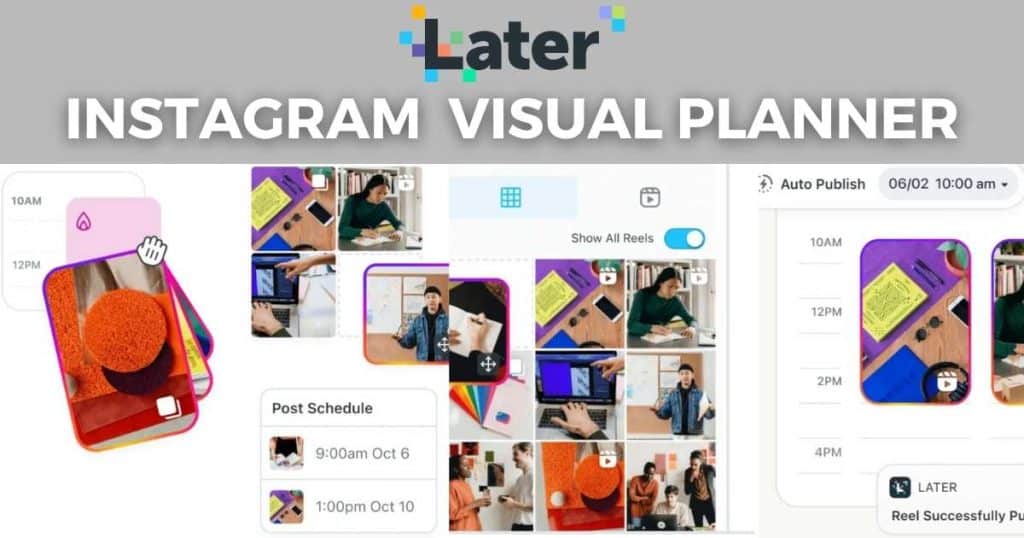 I mentioned earlier that Later primarily focuses on scheduling Instagram content.
So, therefore, the best part about Later has got to be the abundance of incredible Instagram scheduling features and tools…right?
I've already talked about the 'Caption generator,' 'Hashtag suggestions,' and 'Best time to post' features (all Instagram based).
These are pretty cool features, but my personal favorite is the Instagram visual planner.
What is it, and how does it work?
Simply create, upload, and edit your content to Later, then preview your upcoming posts to see how they'll look to your followers on your Instagram feed.
The visual planner tool means you can plan and curate the perfect Instagram aesthetic grid – just the way you like.
If you're a content creator, have a personal brand, or just want to focus on your brand aesthetic, this is what you need!
Later Social Media Alternatives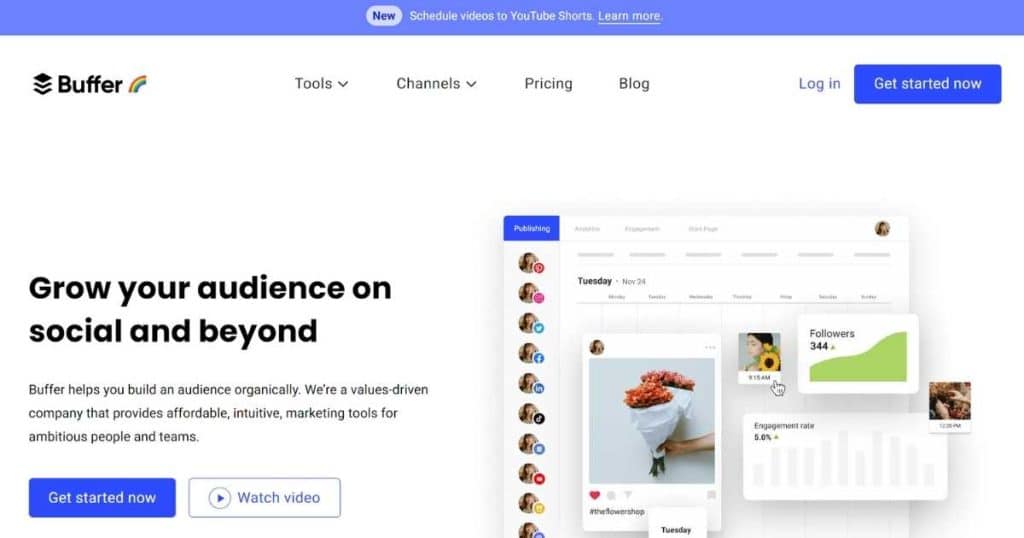 Buffer is another popular social media management tool that lets you schedule and publish posts across multiple channels.
Although similar to Later, there are a few key differences. Buffer offers more AI tools, leading to more targeted, high-quality, optimal posts.
The plans are also slightly cheaper and offer more advanced analytics tools.
And finally, Buffer connects with more social media channels, including Google Business Profile, which is perfect for small or local businesses.
Hootsuite is another versatile social media management platform where you can schedule and publish content for all your social media networks.
Later is the cheaper option, but there's a good reason why Hootsuite's full-featured advanced management platform is pricier!
While Later primarily focuses on Instagram scheduling, Hootsuite goes above and beyond by providing scheduling tools and in-depth analytics for Facebook, LinkedIn, and more.
With over 150+ integrations (including Canva, Shopify, and Zendesk), you can design and post beautiful posts in seconds.
Similarly to Later, you can use AI tools to write captivating captions and hashtags – all for free!
Hootsuite's unified inbox also brings all conversations, including comments, mentions, and messages, into one organized space across Facebook, Instagram, LinkedIn, and Twitter.
In contrast, you can only reply to public TikTok and Instagram comments with Later.
Check out how to use Hootsuite here.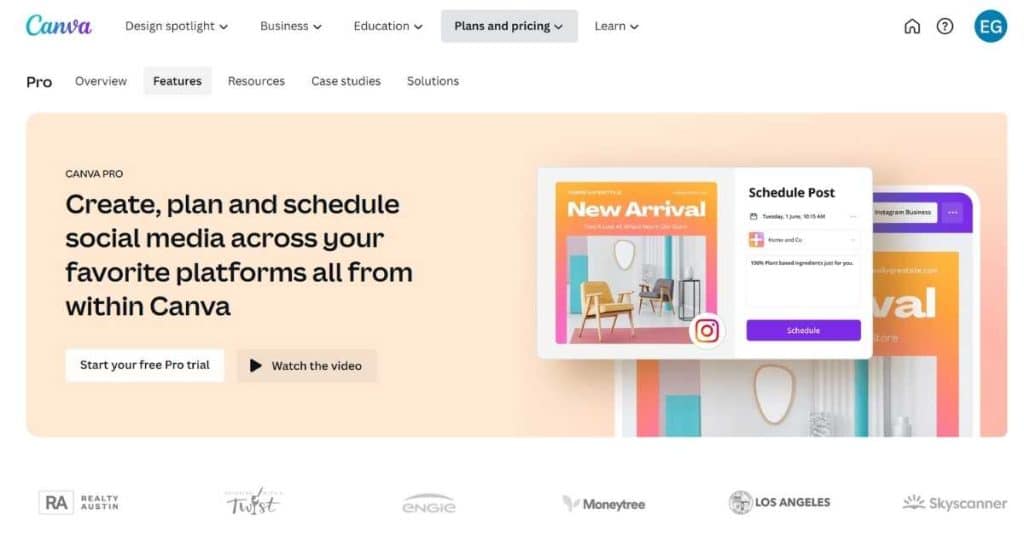 Canva Content Planner is a social media planning and scheduling tool offered by Canva Pro (Canva's paid plan).
With Canva Content Planner, simply schedule and automate all your social media posts over different platforms!
The difference is that this Later alternative lets you design your social media posts using the all-in-one graphic design tool.
Simply browse your recent projects, start a new design from scratch, or use one of Canva's handy pre-made templates to create the perfect post.
Once published, you can easily track your impressions, clicks, likes, or comments right within the platform.
Although basic, the content planner is inside your Cavna paid subscription (and does the job!) So, if you already use Canva, there are no additional costs!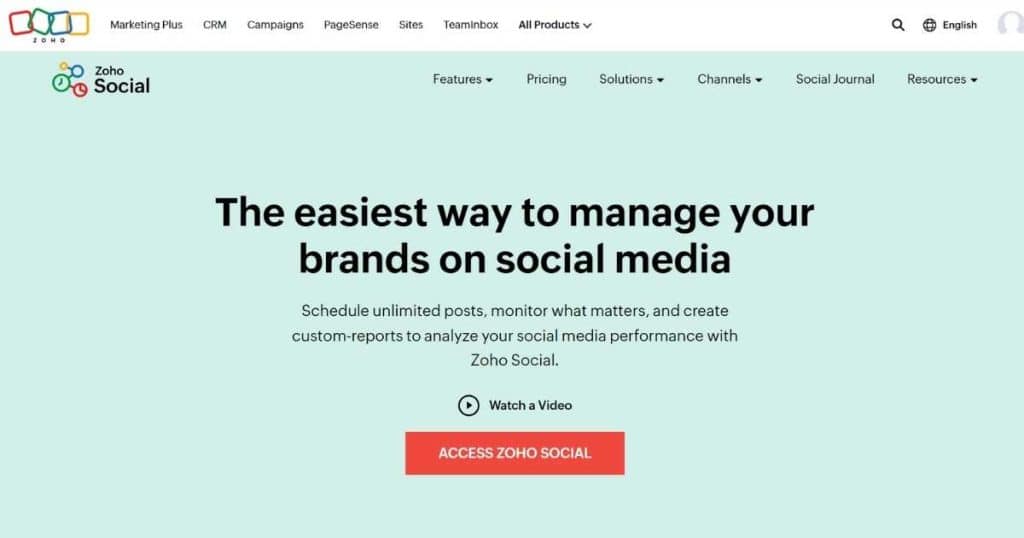 Zoho Social is another product that aims to help you manage your social media content and presence.
This versatile tool supports various platforms, including Facebook, Twitter, Instagram, and LinkedIn.
Similarly to Buffer, you can connect your Zoho Social account to Google My Business.
One of the biggest differences between Zoho Social and Later is the amount of advanced analytics and reporting capabilities it offers.
You'll also get 'Best time to recommend' and 'Real-time performance' monitoring to help you with optimal posting times.
Unlike Later, Zoho Social additionally provides CRM integration capabilities.
Do you use other Zoho products and are already familiar with the interface? Zoho Social might be the way to go.
Is Later ideal for you?
Do you receive most of your engagement, sales, or impressions through Instagram and TikTok? I believe Later is the ideal choice for your social media management needs!
Why? Because it offers a mammoth amount of features designed explicitly for Instagram management, of course!
If you're a freelancer, content creator, or have a personal brand, you'll find Later's visual content calendar and easy-to-use interface an absolute dream to work with.
On the other hand, I'd consider a more comprehensive platform like Zoho Social or Hootsuite if you're a larger company and require advanced analytics tools.
Stews Final Thoughts
And that is everything I wanted to cover in this Later review in 2023!
I hope you now understand what Later is and if it suits your business goals and needs.
I personally love and use Later for my business to manage all my social media posts, videos, reels, and stories.
So with that said, I genuinely believe it's a great tool!
What do you think? Do you agree with me?
Does Later live up to the hype?
Let me know your thoughts below.