Are you considering Buffer vs Later for your business social media management?
Look no further!
It's no secret that social media management tools are absolute game changers for all business types and sizes.
So, how do you decide what's best for you?
I'm here to save you from the hassle of testing and researching the many social media management platforms out there.
How? I'll be taking a deep dive into two of my favorite social media management tools – Buffer and Later.
I'll be comparing everything from the differences, similarities, key features, pricing and much more for both platforms to find out….which is best for you?
And with that said, let's get stuck in.
Buffer vs Later for Social Media Management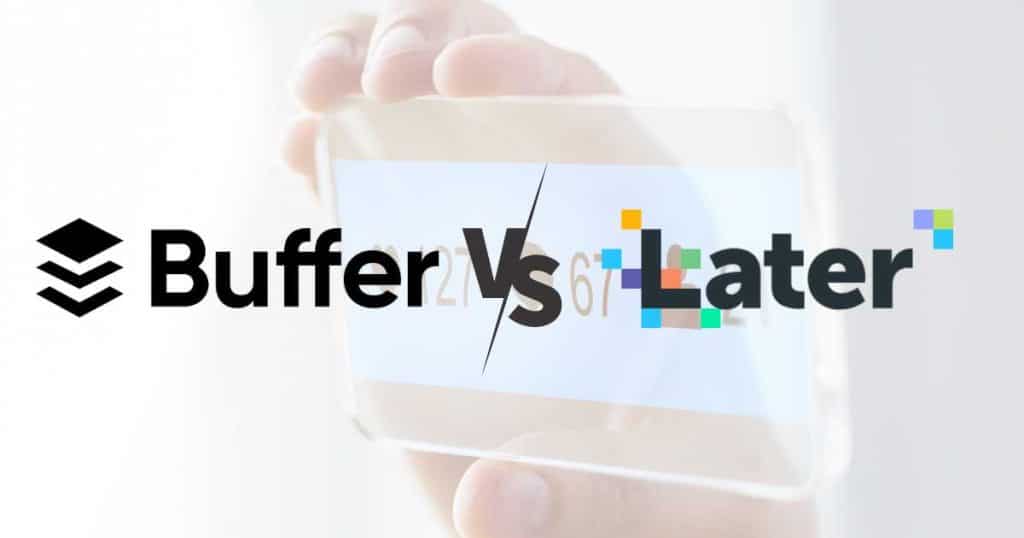 No doubt you would have heard me talk about the importance of all businesses having a strong social media and online presence.
This is because an estimated whopping 4.9 billion people around the world are on at least one social media platform.
However, there are simply SO many channels to keep up with! Think about it..you have Facebook, LinkedIn, Instagram, TikTok, and Twitter, just to name a few.
Because of this, many business owners struggle to keep up with consistently posting and managing the ever-growing list of social media channels.
Plus, it just takes so much time to post each post, video, or story individually, right?
That's where Buffer and Later step in.
Both of these tools offer a range of features to help you easily schedule and publish your social media content.
My aim is to find out – which one is right for you?
What is Buffer?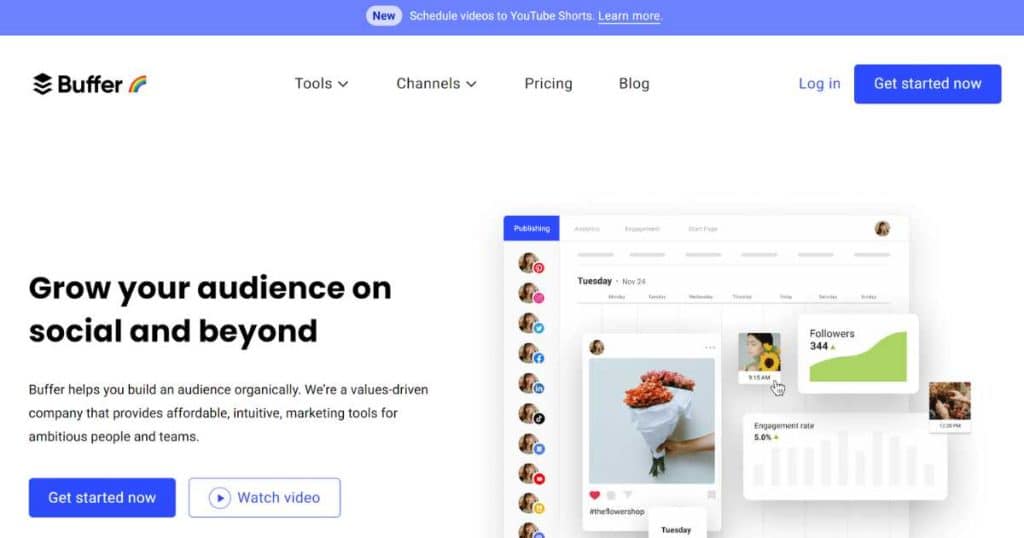 Buffer is a powerful social media management tool that allows users to schedule and publish posts across multiple platforms.
Known for its user-friendly scheduling interface, dynamic analytics and reporting tools, and team collaboration capabilities, it's no wonder Buffer is at the top of my list for social media management!
What is Later?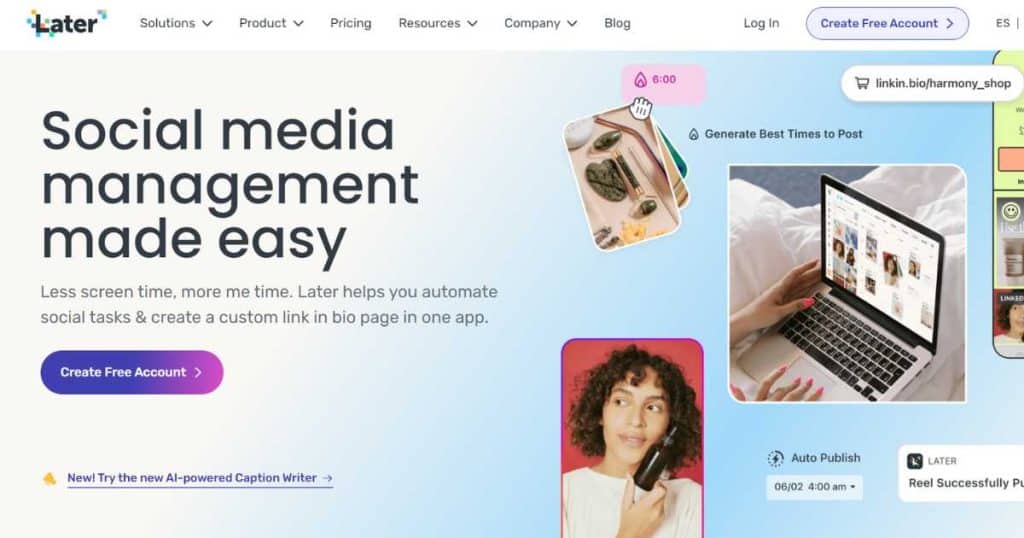 Later is another popular social media scheduling and management tool contender.
People love Later for its visual content calendar, editing tool, media library, and 'Linkin.bio' tool that allows you to link to multiple web pages from your Instagram bio.
With Later, you'll no doubt boost brand engagement, reach, and visibility.
Buffer vs Later: Channels
The primary purpose of a social media management tool is to help you schedule and publish your content across multiple platforms.
Therefore, the first thing you'll need to consider when choosing between Buffer vs Later is how many channels they're compatible with.
So what channels can you connect to with each platform? Let's take a look: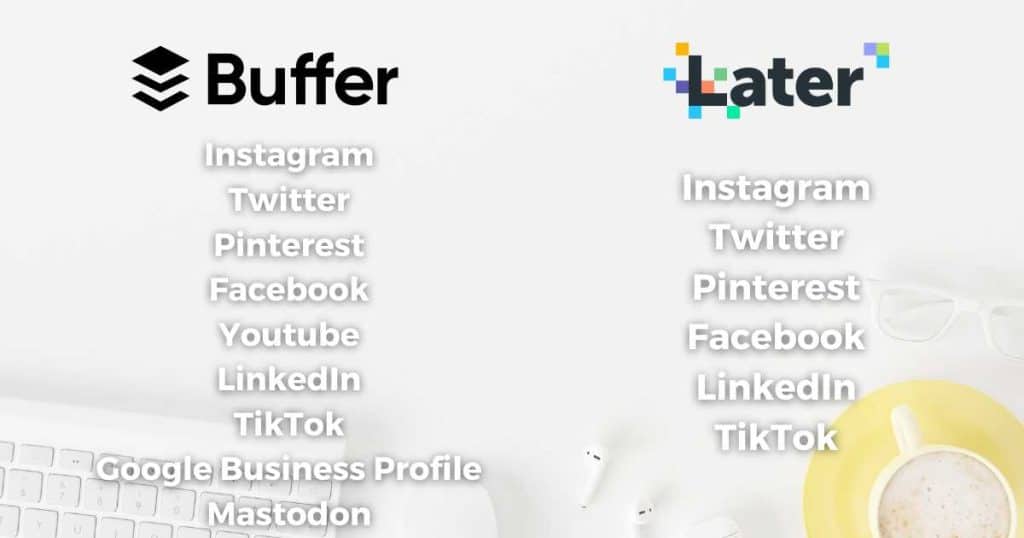 | | |
| --- | --- |
| Buffer | Later |
| Instagram | Instagram |
| Twitter | Twitter |
| Pinterest | Pinterest |
| Facebook | Facebook |
| Youtube | LinkedIn |
| LinkedIn | TikTok |
| TikTok |   |
| Google Business Profile |   |
| Mastodon |   |
As you can see, Buffer offers a few more options than Later.
The main difference in my eyes is that Buffer lets you connect and post to your Google Business Profile – catering to small and local businesses.
Read more about Google Business Profile here.
Plus, if you have an online store, Buffer also connects with Shopify to help you with analyzing your storefront and website.
However, if your focus is mainly on Instagram, Later may be your best choice.
Why? They offer specialized Instagram features, such as its popular Linkin.bio tool (more on that soon).
Essentially, the choice between Buffer vs Later channels ultimately comes down to your social media platforms and how often you use them!
Buffer vs Later: Publishing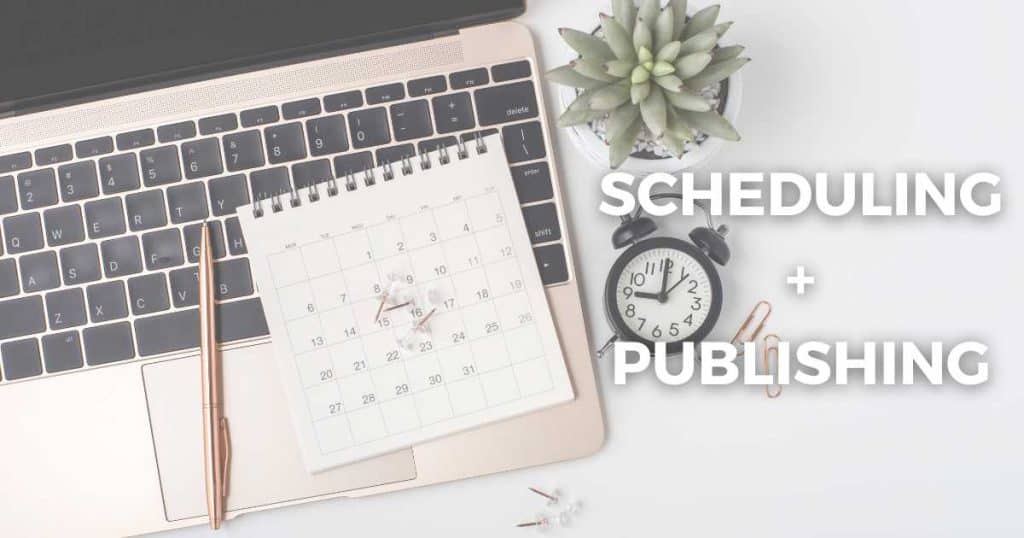 It goes without saying that both Buffer and Later make creating, scheduling, and posting content easy.
But exactly how does each platform do that?
A key difference between the two tools is their approach to scheduling and publishing content.
Buffer's scheduling features, in general, are more customizable.
This is done through the 'Queue' feature, where you can create automated or custom posting schedules for different times for your posts.
Later has a more visual approach to scheduling, allowing users to drag and drop photos and videos into a calendar view.
Then, switch between your monthly or weekly calendar view to see your upcoming scheduled posts.
There are some similarities between the two when it comes to publishing and scheduling :
Automate or bulk post your content.
Customize each specific channel's post caption.
Select or deselect which social media channels you want to schedule and post content to.
For example, if you want to post on Facebook and LinkedIn (but not Instagram), or vice versa, both platforms make it easy to select or deselect specific channels.
Buffer vs Later: Analytics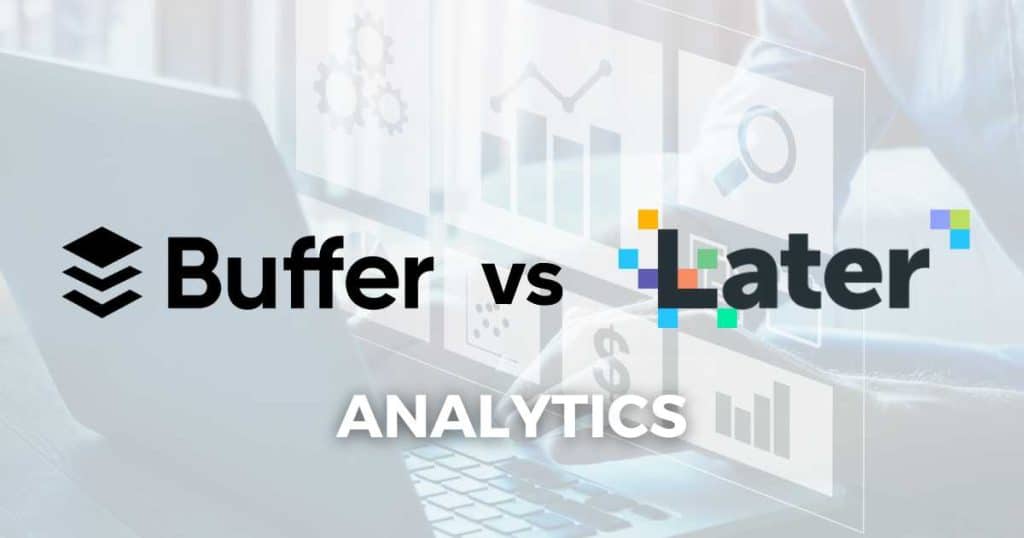 Do you want to track and measure how well your content is doing on each platform? This is where analytics come into play.
You'll be pleased to know that both platforms provide analytics tools! So let's dive deep and find out exactly what each offers.
Let's start with Buffer.
You can analyze anything from:
Engagement rates.
Follower growth.
Audience demographics.
All for each social media channel and post!
Additionally, you can compare and measure different post types and times. This is where you can really get inside your audience's heads.
Do they like videos or static images? Stories or posts? How many people click on your links? The list goes on.
And once you're done, simply create and export custom reports and share those with your team or clients.
The one major downside is that free plan users won't be able to use any of these Analytics tools. You'll have to upgrade to the 'Essentials' or higher plan.
Now let's take a look at Later:
As I've mentioned, Later's analytics primarily focuses on Instagram.
And you'll get (basic) Instagram analytics on the free plan.
Paid plan users can analyze and compare their posts, reels, and stories, and can rank their stories by impressions.
Plus, you can reach and track clicks and sales for your 'Linkin.bio' page (again, I'll get to this soon!)
And finally, you can see what Instagram posts drive the most traffic to your website.
Although Later generally focuses on Instagram, all paid plan users also get basic Twitter and Pinterest post analytics.
Plus, you can see your TikTok audience demographics and post-performance.
You can even see when your TikTok and Instagram followers are online!
Learn how to drive more leads with TikTok marketing videos here.
Buffer vs Later: Standout features & main differences
Both tools share many similarities. However, there are a few standout features that set them apart!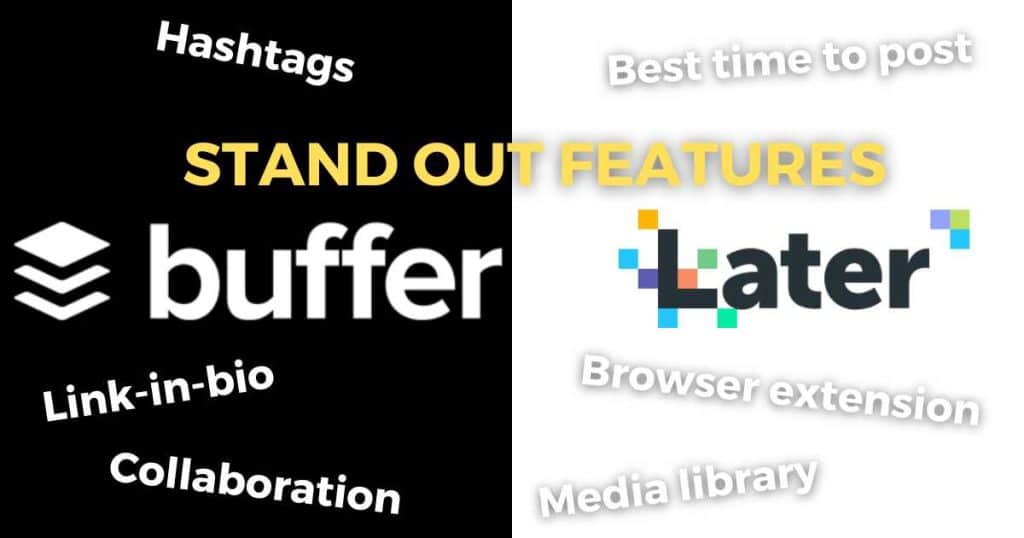 One noticeable difference between the two is what you can do with Hashtags. With Buffer, you can measure how well a particular Hashtag does.
But with Later, you can use the 'Hashtag Suggestions' feature to help you find the best-performing hashtags in your specific industry or niche.
Both Later and Buffer offer a tool that allows users to create a clickable landing page from their Instagram bio link.
Later's tool is called "Linkin.bio," while Buffer's tool is simply called "Landing pages."
While both tools serve a similar purpose, they have two main differences.
The level of customization available: Later's Linkin.bio tool allows for more customization, such as buttons or text. Buffer's are more streamlined with fewer customization options.
Analytics: Later's Linkin.bio tool offers detailed analytics on clicks and traffic. You won't get this with Buffer.
 Both Buffer and Later offer similar team collaboration features.
With both platforms, you can:
Add team members.
Assign tasks.
Set user permissions to control access to social media accounts.
With Buffer, your team can also utilize the 'Drafts' features to create and edit content before it gets published.
Additionally, Buffer's 'Reply' feature lets any team member write comments on already published content directly from inside Buffer.
That's right! Say goodbye to flicking between different social platforms to reply to all your comments!
However, it's worth mentioning that team collaboration is only available on the top two paid plans.
Later, on the other hand, also offers a dynamic collaboration feature called 'Conversations'. This means other team members can openly discuss content ideas and strategies within the platform.
Plus, Later's visual content calendar makes it easy for all team members to see what content is scheduled and when, helping ensure everyone is on the same page.
Both Buffer and Later offer a 'Media library' feature, where you can upload, store and organize your photos, videos, and other media content in one place.
The most significant difference between the two?
Later's 'Search by hashtag' feature lets you easily find and use your content tagged with specific hashtags.
From my research, It's unclear whether Buffer offers a 'Best time to post' feature.
However, with Later, you'll get an AI-driven tool called 'Best time to post' for Instagram posts. This means you can optimally schedule and post your content to gain more engagement!
How does it work? They analyze your old posts, identify the times they generated the most engagement, and look into factors like time zones and post frequency.
The Buffer browser extension is a tool that lets you share your content to your social media directly from your web browser without having to go back to your Buffer dashboard!
Basically, the extension opens the Buffer 'Composer' on any image, blog post, or webpage, meaning you can simply schedule your content anywhere on the web!
Buffer vs Later: Pricing
Buffer Pricing:
Free: $0
Essentials: $6 monthly for 1 channel.
Team: $12 monthly for 1 channel.
Agency: $120 per month for 10 channels.
Later Pricing:
Free: $0
Starter: $18 per month – 1 social set.
Growth: $40 per month – 2 social sets.
Advanced: $80 per month – 6 social sets.
Buffer vs Later AI Tools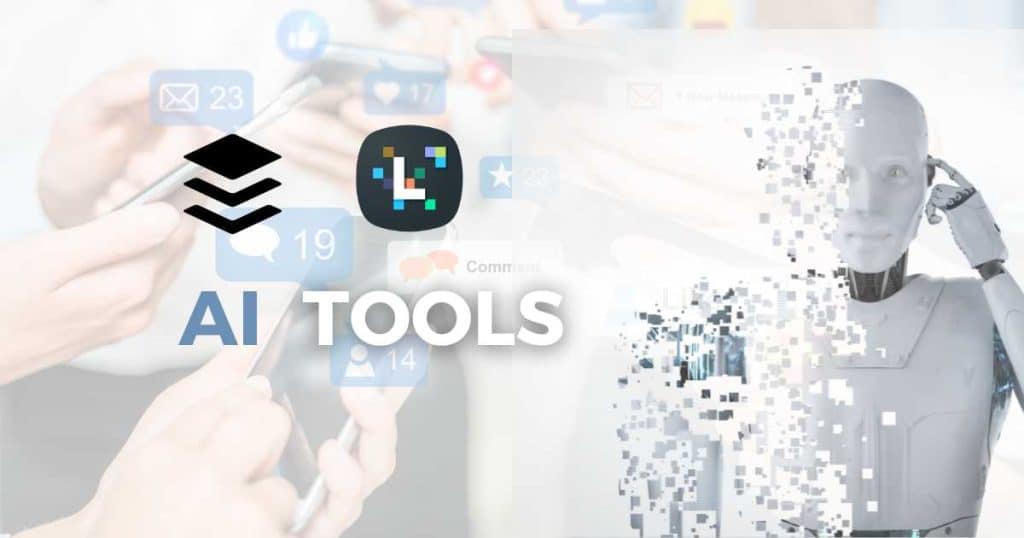 AI is taking over how we work online in more ways than one – and social media management is no different.
With that said, it's no surprise that both platforms use smart AI tools to help you create engaging content quickly!
With Buffer, you can use their newly created AI assistant to generate new posts, repurpose old posts, or develop new and exciting content ideas to drive engagement.
The AI assistant can help you:
Make your post less formal.
Repurpose and regenerate your best-performing post.
Write a caption for your Instagram Reel.
Create a post for your blog and more.
Maintain a consistent tone and style.
Translate your post into another language.
And more…!
The best part? It's available on ALL plans. That's right, even the free plan!
Later, on the other hand, offers AI technology within their 'Hashtag suggestions' and 'Best time to post' features I mentioned earlier.
Additionally, they've just introduced a 'Caption generator' feature!
The software aims to mimic your voice tone from your previous captions to create consistent, engaging captions that match your brand.
All you have to do is write a prompt describing your post, and they'll generate it for you in a few seconds!
Then, simply tweak your caption to add specific brand or audience details, and you're good to go!
How cool is that?
To learn more about how you can use AI for your small business, check out my AI tools article here.
What is best for you?
With all that said, the question still remains..what is best for you? Buffer or Later?
Take some time to think about what type of business you are, what channels you currently use, and what channels you'd like to dip your toes into.
I'd recommend starting with Buffer if you're a small or local service or eCommerce-based business.
This is because they offer Google My Business as a social media channel option. Plus, you can easily integrate your online store with Shopify.
However, I'd choose Later if you receive most of your engagement, sales, or reach through Instagram and TikTok.
Later is more suited towards freelancers, content creators or creatives with a personal brand.
Also, their visual content calendar is perfect for creatives.
In my opinion, both social media management platforms are neck and neck and offer pretty similar services.
So no matter your choice, you should feel confident that both platforms will manage your social media effectively!
Stews final thoughts
And that wraps up my Buffer vs Later 2023 comparison video!
It's safe to say that social media management tools are so necessary in this day and age.
They help you create and run consistent, effective, and compelling social media content for your brand.
Plus, they save you a whole lot of time!
If you don't already use Buffer or Later to help you manage your social media…
What are you waiting for? Get started TODAY to make your social media seamless!
I hope you found this comparison article helpful, and thanks for making it all the way to the end!