What is Linktree? Well, in short, it's a 'Link in bio' tool. 
If you've ever scrolled through social media, you've probably come across that phrase.
And when people direct you to a link in their bio, they're probably sending you to their Linktree URL.
Linktree is a simple premise. It offers a single landing page that can be filled with links, directing social media users across your business.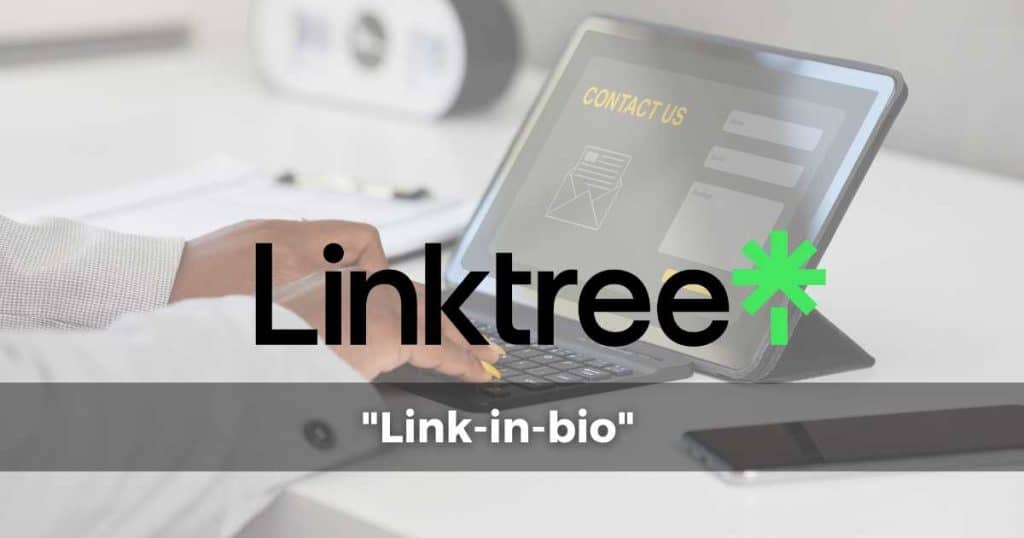 The slick design and intuitive user interface have made it a top choice for social media marketing.
But is Linktree right for your business?
In this guide I'll explore the advantages of the simple platform, plus why you might not need a Linktree at all.
Linktree Basics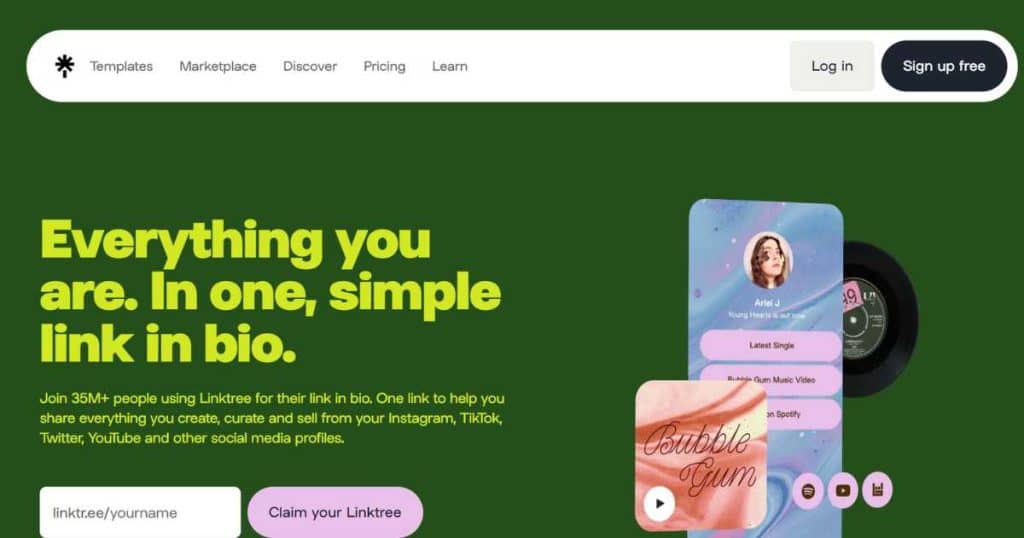 Linktree allows businesses and individual users to connect their various social media and web presences into a clearly linked landing page.

With one unobtrusive URL, visitors to your page can find all that you have to offer!
Linktree took off because it allowed users to collate multiple links into one single URL. This is an easy way to navigate social media character restrictions.
Instead of picking and choosing links, or cluttering your bio with a bunch of URLs, you can use Linktree.
This can be used to drive traffic from social media to your sales page — or wherever you might want the customer to go.
It's a simple way to add extra information to social media without overcrowding the bio space.
Want to know more about Lintkree? Check out my comprehensive Linktree tutorial here.
Linktree Features
When a user clicks on a Linktree link, they open a secondary landing page.
This will feature your brand name, logo, and a hamburger-style menu of links with a simple description. It acts as a simplistic homepage.
What Does Linktree Offer For Free?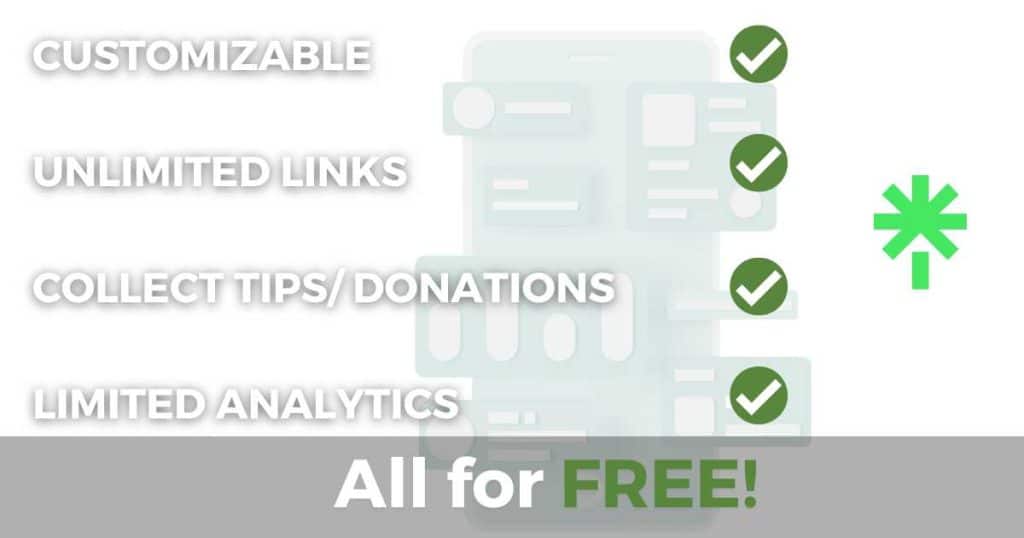 A free Linktree account gives you access to unlimited links on a customizable Linktree landing page. You can use this to direct users to other areas of your brand.
The free account has quite a lot to offer a small business.
There are several options for taking payments and you can collect tips and donations (although affiliate links are limited).
Limited analytics give you a basic idea of how your links are performing. And the customization can be used to create a personalized page.
For small businesses, there are limits to the free plan. There's less room for customization, both with the overall design and the link you can include. You can't schedule links or spotlight essential links.
Without potential automation, the free tier requires more hands-on usage.
However, the main issue businesses are likely to encounter with the free tier is the lack of analytics.
You get basic lifetime analytics, but that's it. If you want to know the ins and outs of your Linktree performance, you'll need to upgrade. 
What Does Linktree Offer For Paid Customers?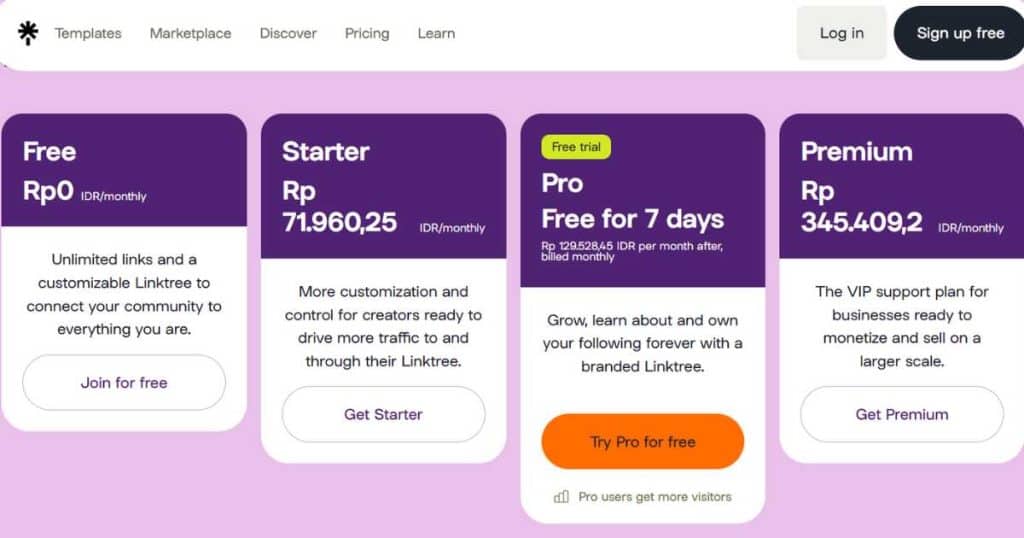 There are three Linktree paid plans:
These advanced plans grant users access to a diverse range of features.
The Starter plan builds on the free plan. There are more customization options and you can create a larger range of links.
You can also add affiliate links and the number of analytics parameters opens up.
However, the Starter tier has minimal integrations, making it harder to market your Linktree.
The Pro plan opens up essentially everything that Linktree has to offer. You can embed your latest Tweet or Youtube video, link to a mobile app, and create a code lock for special access.
Pro users can also:
Gain access to the full range of analytics (as well as marketing tech).
Integrate Linktree into your existing business.
Hide the Linktree logo for a better brand statement.
The main benefit of the Premium plan is that you get access to the full Linktree customer service team.
You're offered a customer support response in just 4 hours (compared to 24 hours on the Starter and Pro plan), and exclusive content teaches you how to expand and prioritize your use of Linktree.
For businesses, it's worth upgrading to the Pro plan to get access to the analytics and marketing integrations, as well as the greater customizations.
It's an affordable plan that allows you to see how well your Linktree is working.
The Premium plan does have its advantages.
Primarily, if something goes wrong, you won't have to wait a day for a fix. However, this is best for larger businesses looking for rapid expansion.
Read more: Beacons vs Linktree 
Linktree Prices
As a basic service, Linktree is free for users. You simply need to sign up for an account and get creating!
The Linktree free service does have limited options for users, but if you want to simply bring all your links together, it's an easy way to get the job done.
The Starter Linktree service is incredibly well-priced. A monthly subscription is less than your standard cup of coffee.
Even new businesses should consider paying the extra for the Starter service, to improve customization and access certain analytics.
But the Pro service is only a small pricing upgrade and you get a lot more for it.
Want to learn more about how you can manage your social media? Check out my Buffer vs Later article here.
What Can Linktree Do For Your Business?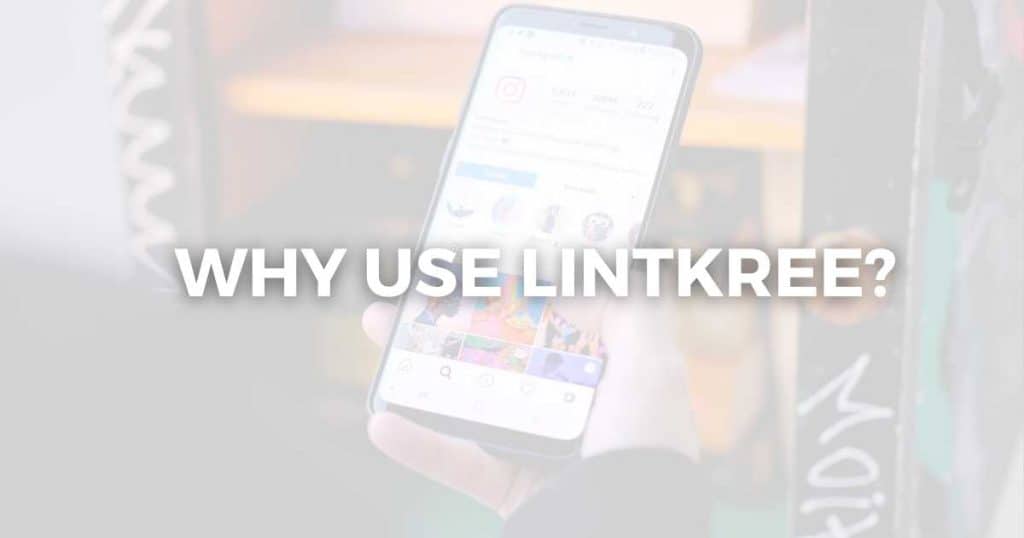 Linktree collates all your links into one single landing page, offering users at-a-glance access to everything you do. By copying the Linktree URL into your social media bios, you create easy links across multiple platforms.
For businesses, this allows you to direct users where you want them to go.
If you're selling a service, social media is often a great way to attract customers, but a bad place to make sales. With Linktree, you can direct them to your main site.
It's also an opportunity to educate your users. With the ability to create a large range of links, your Linktree can send users to your "About" page, your instructional videos, or even your press coverage.
Essentially, it's an easy way to direct potential customers to where you want them to go next.
Read more: How to use Buffer social media management 
How To Sign-Up For Linktree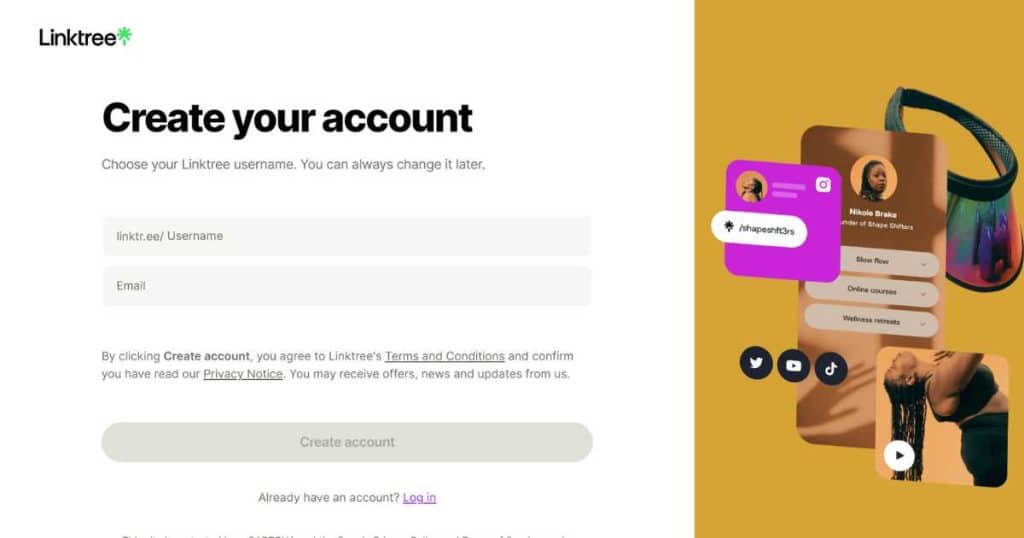 To create a Linktree account, you simply need to head to the Linktree website and sign up! You'll need to choose a Linktree username, but you can change this at a later date if you decide on a rebrand.
Once you've signed up, it's time to start experimenting with your design choices. Have a play around to see what will work with your branding and what links you want to prioritize.
When you're happy with your design, grab the URL and add it to your social media.
Linktree is incredibly easy to use and once you have the basic template in place, a few quick adjustments will allow you to prioritize the links as your business evolves. 
Is Linktree Right For Your Business? (Linktree Review)
The major benefit to Linktree is its ease. Setting up a page of links takes no time at all, you can direct visitors all around the web.
And if you're happy to pay for a premium service, you can automate certain actions for a hands-off experience.
However, the thing about Linktree is that you don't actually need the service.
If you have a website already set up, you can:
Simply build a links page.
Collect your links.
Add the URL to your social media.
You don't even need a ready-built website to do this! Simply sign up for a free WordPress account and create a links page.
Read more: WordPress.org vs Wordpress.com
The advantage of Linktree is that it does most of the work for you.
The design is ready-built, optimized for social media, and easy to customize. You can link all across the internet in just a matter of moments, with automated services at a low price.
Linktree works best if you want to focus on the business, not the website. You want a URL that you can share across social media that will direct potential customers where you want them to go. With Linktree, you can create this in minutes.
It's also good for the solo business owner who might have a few side hustles on the go.
With Linktree, you can show everyone exactly what you do, without having to take time out of your day to organize a website.
In addition, Linktree is an easy way to connect a variety of media. You can link to your sales page, your charity work, and your favorite YouTube channel in one single place. It's a good method for building a persona.
But if you already know how to create a website, and you don't mind dedicating time to the upkeep, Linktree doesn't have much to offer.
Bypassing Linktree to build your own site allows you to create an optimized page with more possibilities.
Whether Linktree works for you depends on just how much time you want to dedicate to web design. If you're happy to make the effort, sidestep Linktree and head straight for WordPress.
But if you prefer simplicity, Linktree is a cost-effective way to gather all your links in one place. You only need to put in minimal effort and you'll have an easy linking page ready to go.
It doesn't have to be an either/or choice. Sign up for a free service and you can have a Linktree stop-gap on your social media in under 30 minutes.
And while Linktree directs customers where you want them to go, you can get on with building your own custom landing page!
Linktree Alternatives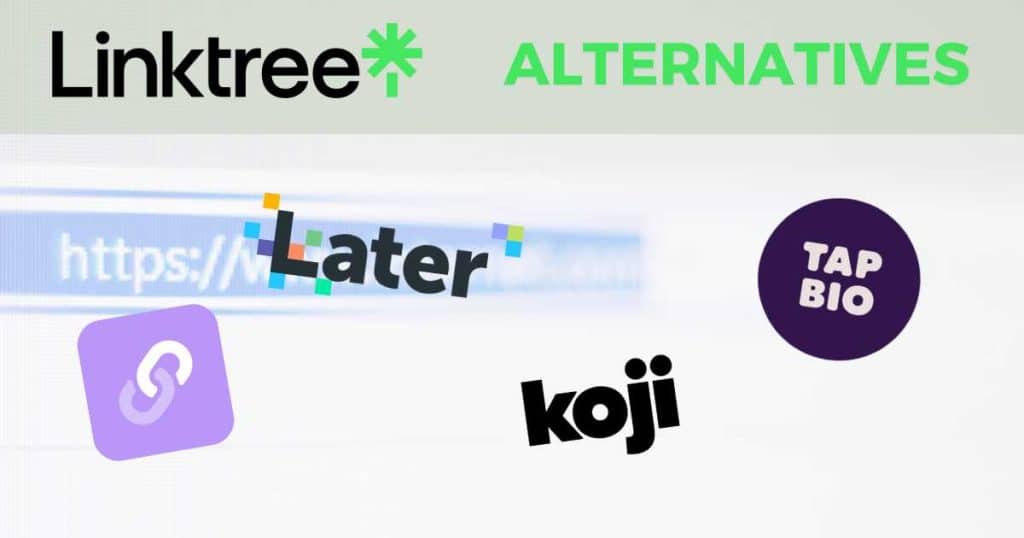 There are plenty of services offering a link landing page for social media.
Linkin.bio by Later Media offers grouped links, which can benefit users with multiple side hustles.
Koji is a digital sales storefront that also provides a linking service, allowing you to bring several sales tools together.
Tap.bio provides swipeable link pages, for a more dynamic user experience.
Lnk.bio is excellent for any user with a lot of links, offering more than 40 icons for a smooth linking experience.
Read more about Later in in my full review here.
Of course, the other alternative is to create your own Linktree — it's basically a webpage. If you want, you can sign up for a free WordPress account, create a page of links, and add the URL to your social media bios.
If you already have a website, creating a link landing page is an excellent way to direct users around the site.
Once the page is built, add the URL to your social media bio, and you'll have your own personalized Linktree service.
If you do decide to build your own, make sure it's optimized for mobile access. As a social media link, the majority of visitors will be accessing the page from their phones. 
Stews Final Thoughts
A Linktree URL is a common feature of the social media bio. The single link directs users to a landing page of further links, helping potential customers navigate the site.
For a small business, the main advantage of Linktree is its easy use and intuitive design. You can build a personalized Linktree page in minutes, paste the URL into your social media bios, and you're ready to go!
But if you're comfortable with web building, Linktree is an unnecessary service. Instead, it's better to design your own links page, customized to your needs.
Frequently Asked Questions
Is It Free To Make A Linktree?
Yes, you can build a Linktree landing page for free. If you want access to a larger number of features, Linktree also offers paid subscriptions.
Is Linktree Worth Using?
Linktree is a great way to quickly and easily design a link landing page. However, if you already have a website, and you're comfortable with web design, it might be better to create a customized landing page.