Growing prospects can be one of the hardest requirements of a new business.
It's difficult to establish yourself in your market without the right contacts, but finding the right contacts is time-consuming when you're starting out.
This is where Apollo.io comes in!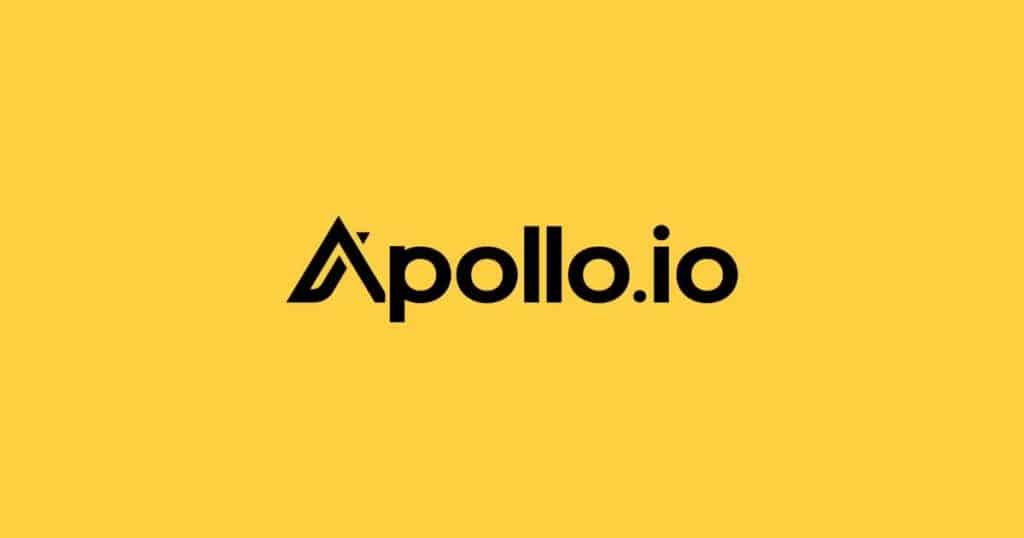 Apollo.io is a prospecting and sales automation tool. It provides users with access to a large database of verified contact information.
This data can then be searched and transferred to established sequences.
Apollo has become incredibly popular in the sales engagement space, with success stories across the industry.
In this review, I'll explore what Apollo does, how much it costs, and if it's right for your business.
What is Apollo.io?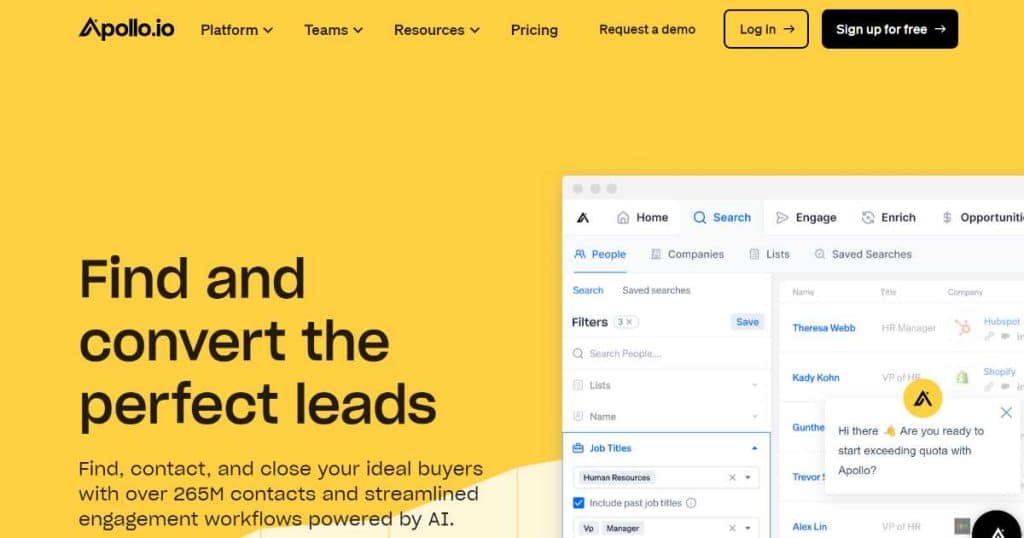 Apollo.io is a sales intelligence platform that combines an extensive contact database with outreach tools.
The two-in-one platform allows users to run wide-reaching outbound campaigns to achieve impressive results.
Apollo.io stands out from the crowd as an end-to-end sales platform. It begins with Prospect and Enrich.
The extensive B2B database can be filtered to find the perfect leads for your company, or used to keep existing records in your CSM up-to-date.
After Prospect and Enrich comes Engage. The Engage features allow the user to pack their pipeline with meetings that promise results. From building a sequence to connecting with your contacts, Engage is a complete outreach platform that allows you to prepare, execute, and manage tasks.
The End-to-End Workflows offer automation across the whole funnel.
AI insights can be used to close deals, while analytics tools help users tailor their campaigns for better results.
And because everything is in one place, analytics can take it all into account for accurate insights.
Read more: 7 Best Free Project Management Tools for Small Business 
Apollo.io Features
Apollo.io is an all-in-one platform, so there are a lot of features to cover.
In this section, I'll provide an overview of some of the stand-out Apollo.io features.
While many of the features are included in all price tiers, some features are exclusive to certain plans.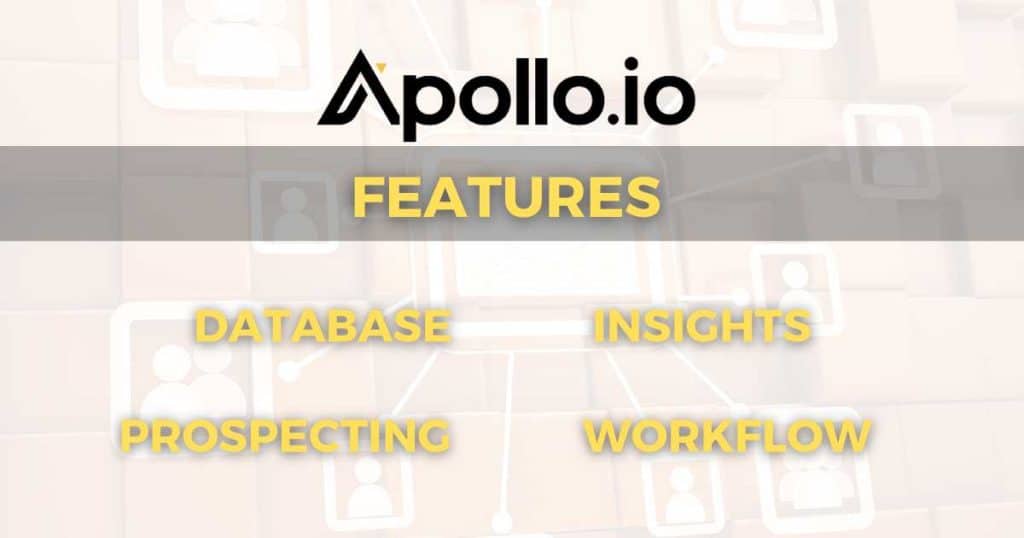 The Apollo.io Database
One of the jewels of the Apollo.io system is its incredible database.
Apollo has a living database of over 265 million contacts, drawn from a wide range of high-quality sources.
For small businesses that might struggle to find premium contacts, the Apollo.io database is an invaluable resource.
Apollo also offers data enrichment. This allows businesses to integrate their existing CRM with the Apollo.io database tools. The existing CRM is then kept fresh with accurate information drawn from the database.
Read more: 7 Best CRM software for small businesses
Overall, the accuracy level of the Apollo.io database is high-quality. Some areas lag behind, and personal phone numbers are an issue, but this is to be expected with any B2B database.
While Apollo.io might not be perfect, it's still an excellent way to source contacts.
Apollo.io Prospecting
You have access to potentially more than 265 million contacts — what are you going to do with them?
No single business is ever going to need the breadth of contacts available on the Apollo.io database. Instead, the platform provides multiple ways to search and analyze potential contact points.
There are more than 65 filters that can be used to search the database for accurate prospects.
These precise filters allow users to find leads with a future and ensure you have all the data points that might affect your marketing strategy.
Apollo.io also allows users to set up customer personas to be used when prospecting.
Apollo frequently adds new features to its prospecting tools to better assist searches. For example, Buyer Intent was added in 2022, helping users identify the markets that are actively searching for the solution you provide.
Apollo.io Workflow
Apollo.io is an end-to-end service. As well as providing the contact database, it also offers users a way to turn those contacts into leads and sales.
The Apollo workflow places all your outbound channels in a single place, allowing you to fill your pipeline with notable opportunities.
The workflow includes:
Emails.
Calls.
LinkedIn Tasks, so businesses can target potential contacts where they are.
The Apollo.io sequencer includes all the typical features you'd expect from an outreach tool, including automated emails and A/B testing.
While it might not stand out from the crowd in this regard, Apollo isn't lagging behind its competition.
Read more: How to create email automations with MailChimp
Apollo.io also provides a dialer service, so users can make quality cold calls. Calls can be made, received, and recorded, with Apollo logging conversations automatically into your CRM.
With everything included in the Task Manager, including automated scheduling, it's easier to stay on top of your marketing efforts.
And with the Rules Engine providing standards for salespeople, you can ensure quality outreach across the sales team.
Apollo.io Insights
Having found your contacts and reached out to them, Apollo has tools for users to see where they went right — and where they went wrong.
The insights and analytics tools allow businesses to streamline and build their sales strategy, for more effective results moving forward.
Pre-built analytics dashboards and reports are built into Apollo.io, providing insights to every member of the sales team.
And for a more personalized analysis, users can build their own custom reporting.
Apollo offers the big picture view, with the ability to combine multiple reports into a single dashboard. With just a glance, you can see a general overview of what's going on.
Or, you can zoom in. Granular insights allow users to analyze everything the effectiveness of the current approach to team engagement.
Working alongside the analytics system is the Apollo scoring engine. The scoring engine ranks prospects based on the likelihood of positive interaction.
Once you've reached out, the Apollo engine will monitor the behavior of the prospect, to guide further actions.
When taken together, Apollo.io has features for finding prospects, building successful outreach campaigns, and then analyzing what to do next time.
It's a large tool, but a customizable one. Even small businesses can wade into the large database and find high-quality contacts.
From there, the user can effectively target prospects through various outreach methods. When the campaign is over, they can customize tools to see what they can do better next time.
Read more: How to use Google Analytics 4
Will Apollo.io Integrate With Your Business?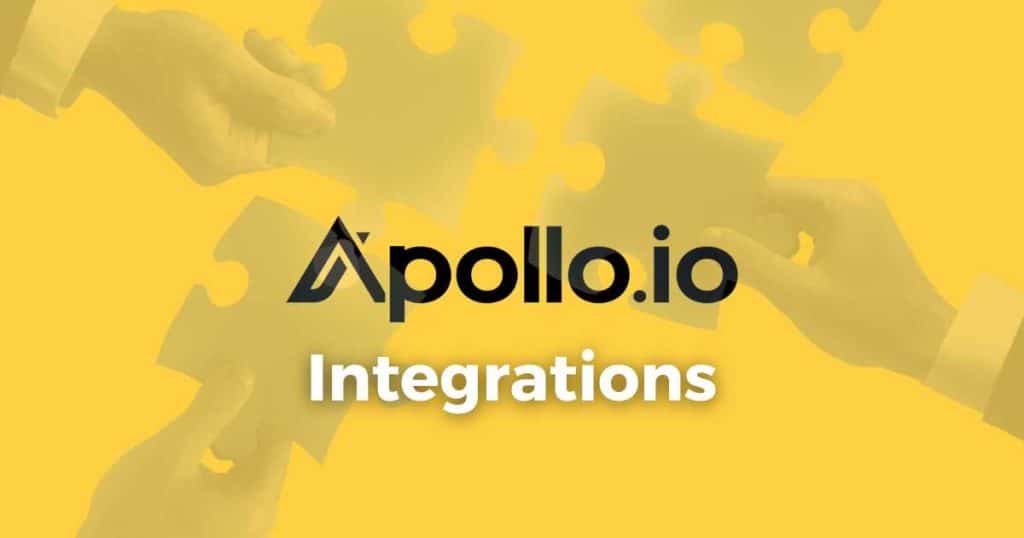 Apollo has a lot to offer from its features alone. But integrations ensure you don't have to throw out your entire business stack just to add a new tool.
What integrations does Apollo.io have to offer?
Apollo offers all the standard integrations a business would expect from a sales platform. It has native integrations with LinkedIn, allowing you to sync contacts directly to your CRM.
Native integrations with Gmail and Outlook allow you to sync emails, build templates, and track prospect interactions.
Other important integrations include: 
Read more: How to use HubSpot CRM
It also has Zapier integrations — including Slack, Google Sheets, and TypeForm — allowing for easier data sync.
Overall, Apollo offers enough integrations to easily sync with your current systems.
The Apollo Google Chrome extension ensures that the tool is always where you need it to be, automating everyday tasks for a smoother workflow. 
Apollo.io Pricing Tiers
As you can probably tell, Apollo.io is designed to do a lot.
As an end-to-end service, combining a database with marketing outreach and analyses, it aims to act as several tools in one. What can you expect to pay for these services?
In this section, I'll take a look at the Apollo.io pricing tiers.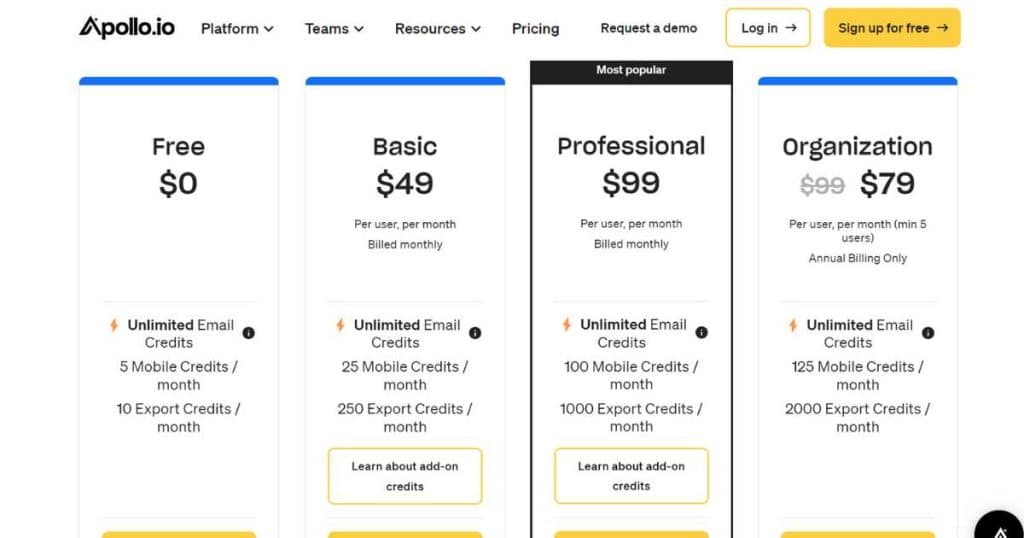 Apollo offers monthly or annual billing across the majority of its pricing plans.
Overall, the annual billing system works out cheaper across 12 months, although you are locked into the system for a year.
Apollo.io bills per user. 
Free
The Free tier offers basic access to the Apollo.io service. Users have unlimited email credits, but only 5 mobile credits and 10 export credits.
In terms of finding contacts, the Free tier has basic filters and 1 buyer intent topic limit. Having found your contacts, users are limited to basic sequence automation and 250 emails per day.
The Free tier is incredibly limited, but it is free. A small business can find some contacts, begin an outreach campaign, and start to see some results. Anyone looking to grow their business will likely outgrow the Free tier relatively quickly.
Another advantage of the Free tier is businesses have a chance to familiarize themselves with Apollo. You can see how well the contacts and filters appeal for your business, before making a financial investment.
One big disadvantage of the Free plan is you can only integrate with Gmail. If you aren't set up with Gmail, then you'll lose significant functionality.
Basic
A step up from the Free tier, the Basic plan adds more credits, more search terms, and better filters.
With the Basic plan, users gain access to A/B testing, which is a feature worth paying for. There are no sequence limits, so you can test your messages as much as you'd like to see a better success rate.
On this plan, users can make more use of the Apollo database. The buying intent topics limit is increased, you have access to advanced filters, and you can create custom fields to store your contacts efficiently.
Professional
The Professional plan allows for better database searches and once you've found your contacts, you can do more with them.
This tier gives you access to the dialer feature and call recordings, and users can add tasks manually or automatically to a sequence.
One of the main advantages of the Professional tier is that once you've completed a campaign, you can analyze the results.
The pre-built advanced reports and dashboards help you tailor your campaigns for better results.
Organization
The Organization tier is the top plan offered by Apollo.
This gives you access to everything that Apollo.io provides, including call transcriptions and local presence numbers, customizable reports, and permission profiles.
The Organization tier is designed for businesses with a full outbound team. Many of this tier's exclusive features are designed for collective working.
In addition, the Organization plan has a minimum user requirement (at least 5) and only allows for yearly billing.
Which Apollo.io Price Tier Is Right For You?
If you have no experience with Apollo.io, the Free plan is an excellent starting point.
It allows you to familiarize yourself with the system and the database at no cost. You can begin to grow your outreach, even if you have limited usage and options.
However, most businesses will find it's worth paying the extra to upgrade to the Basic tier or the Professional tier.
The A/B testing alone is worth the cost and for email marketing, the Basic price plan can provide a lot.
At the Professional level, Users can access the dialer, upgrade to 5 plays, and create custom stages. This is also where you unlock the majority of the analysis tools.
Businesses can reflect on how their campaigns have performed, to ensure better results next time.
The Organization tier is a step up from the Professional tier at a similar price. You get access to everything.
But the Organization plan requires a minimum of 5 users. It's only worth it for businesses with a larger outreach team.
For getting to know Apollo.io, you can't beat the Free plan!
But it isn't a long-term option. As the business grows, you'll quickly burn through the Free plan features.
For most small businesses, the question is whether to go for the Basic plan or the Professional plan. I recommend the Professional plan. If you opt for an annual plan, it's incredibly well-priced and you can do so much with it.
However, a smaller business can benefit from the Basic plan. It's a significant step up from the Free plan while remaining affordable, and it supports the growth of your business.
If you're predicting big growth, subscribe to the monthly plan, and upgrade to Professional when you're ready.
Who Can Benefit From Apollo.io?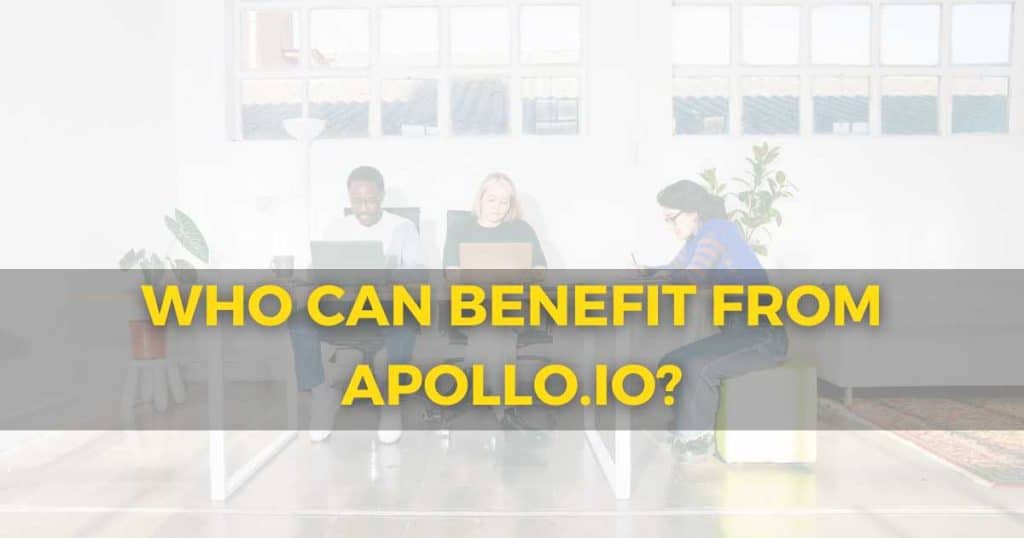 Apollo.io claims to support both small teams and larger businesses, but it's the smaller teams that will benefit most from the tools.
Finding contacts can be hard for a small business looking to get their feet under the table.
Apollo.io provides those businesses with an incredible database to search and prospect. You can discover contacts, reach out to them, and see how well your outreach is working.
By quickly importing contact information into outbound sequences, a small business or startup can easily begin an outreach strategy that works.
Larger businesses can benefit from Apollo.io, but it won't be the best tool for the job. If you have a large outreach team, consider looking elsewhere for a sales platform.
Read more: Top 10 MUST HAVE digital tools for small businesses
Apollo.io Success Stories
Apollo.io might sound good on the surface but before you subscribe, you want to know that it can actually perform for you.
Can Apollo deliver success for your business?
Apollo has provided a robust selection of success stories for potential clients to browse. These success stories detail different ways businesses have implemented Apollo to enhance growth.
Of course, success for other startups doesn't guarantee success for your business. But if you're on the fence, reading through the success stories can help you determine if Apollo will provide what you need.
In addition, Apollo allows you to request a demo.
Does Apollo.io Offer Good Customer Service?
Having a problem with Apollo.io? Apollo has a customer service email that subscribers can use to reach out with any inquiries. They also have a general contact email, although you might find more generic responses from this service.
The Apollo customer service is well-organized and replies are typically helpful. A phone number would be better, especially for time-sensitive issues, but you can generally receive the help you need via email.
Apollo also offers a massive knowledge database. This covers the basic topics of how to use Apollo.io, what features are available, and what to do when things go wrong.
This is very helpful if you're just getting to know the platform or you have a minor issue.
Is Apollo.io Worth It? (Apollo.io Review)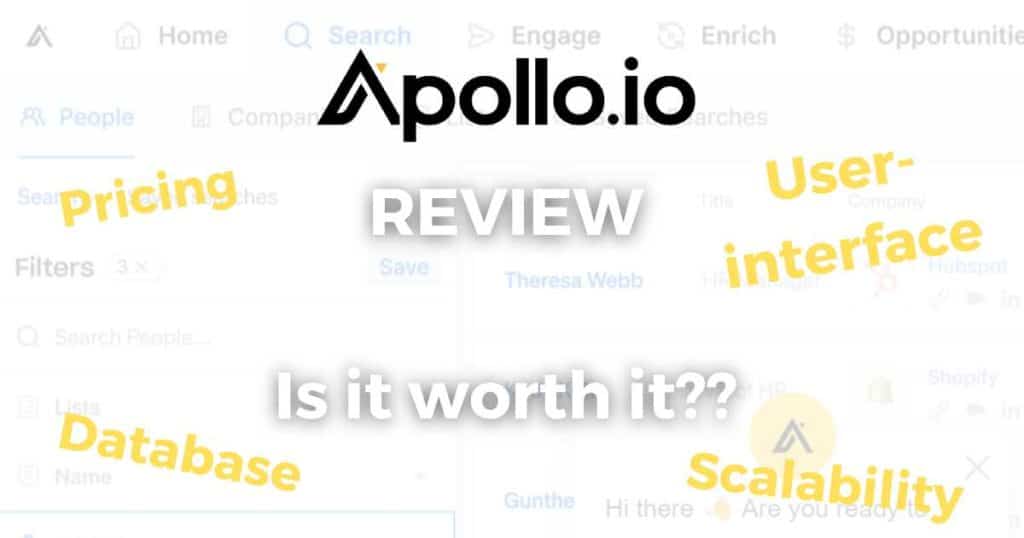 The complete service offered by Apollo.io has some obvious benefits for small businesses.
The contact database is massive, so if you're struggling to get started with outreach, you'll soon find yourself some options.
To be able to then transfer that information into sequences means you can efficiently take advantage of the database to pack your calendar.
The reasonable pricing of Apollo.io is a definite bonus. It combines several tools in one, but you only have to pay for a single service.
In addition, you can use the Free tier (and the free trials) to experiment with the system before making a financial commitment.
There are some issues with Apollo.io. The database is huge, but there are definite gaps in knowledge.
You might need to supplement the information with manually sourced emails. I recommend experimenting with the Free plan to see how much additional sourcing you might be expected to do, before choosing Apollo.io.
In addition, Apollo has a clunky user interface. It's certainly not intuitive. Expect to play around for a bit before you can explore all that Apollo has to offer.
As your business grows, you might find you outgrow Apollo. However, as a starting point, it's pretty fantastic, especially for the price.
The numerous free options sweeten the deal — you can play around before you commit. 
The Future Of Apollo.io
Apollo has shown a willingness to expand its features to meet the market, so I expect them to keep on expanding the platform as the user base grows.
One thing any potential subscriber should keep in mind is that Apollo.io has changed what features are included in price plans before.
For example, A/B testing was previously only available on the Professional plan. So, keep an eye out for changes.
Apollo.io Alternatives
I think Apollo.io is an excellent database and sales outreach tool, but it isn't the only option on the market.
If you're after a large database, Zoominfo, Seamless.ai, and Hunter.io are all hugely popular options.
For sales outreach, consider Groove or Mixmax. Larger businesses looking for excellent sales outreach should consider SalesLoft or Outreach.io.
And this is just the tip of the iceberg! It's an incredibly busy marketplace, so you aren't short of options. 
Stews Final Thoughts
By bringing together a large contact database with a sales engagement platform, Apollo.io has become an exciting tool for new businesses.
Users can grow their contacts, engage with prospects, and even analyze their sales strategy.
There are some issues with Apollo, primarily the database and UI, but the impressive price point does make up for some of the problems.
And with the Free plan, you can give it a go before you subscribe.
Frequently Asked Questions
What Is Apollo.io Used For?
Apollo.io is used for finding contact information, transferring that data to sequences, and prospecting.
Is Apollo.io Legitimate?
Apollo.io is a legitimate sales and marketing tool offering users access to a large database of contact information and a sales execution platform.
Is Apollo.io Safe To Use?
Yes, Apollo.io is safe to use and has been trusted by thousands of businesses worldwide.
Does Apollo.io Offer A Free Trial?
Yes, users can subscribe to the limited free plan of Apollo.io, or sign-up for a 14-day free trial of the Basic or Professional price plan.